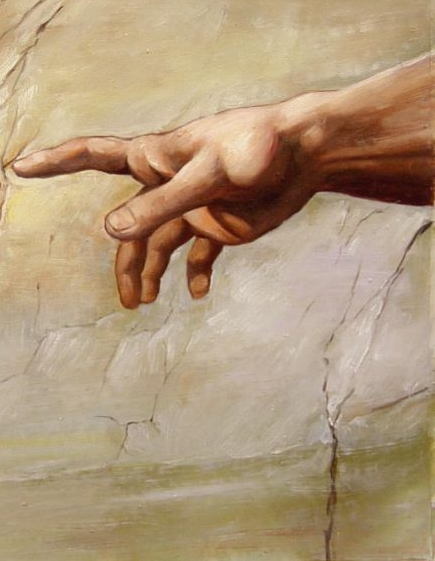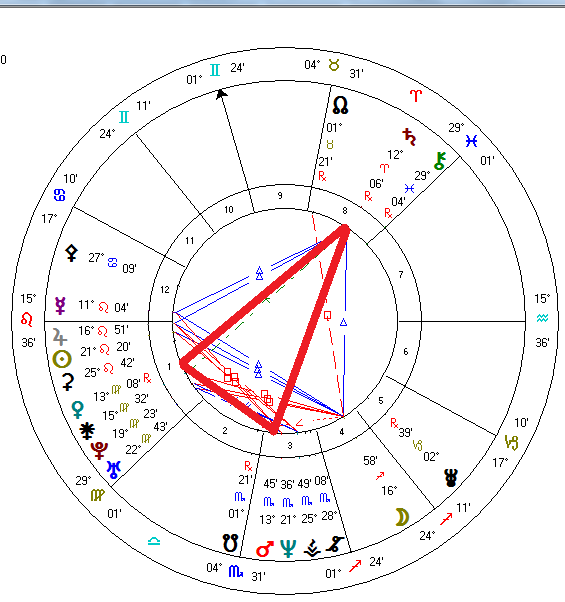 Yods in astrology are talked about as rare and 'fated', the finger of destiny, which sounds scary. The truth is they are fairly frequent occurrences in birth charts and while they do give rise to their own specific issues they can be a blessing rather than a curse.
  They are formed by two planets in sextile both inconjunct a third planet. Because the focal planet is in an element with no natural connection to the base planets – for example, Fire sextile Air inconjunct Earth or Fire sextile Air inconjunct Water there is a sense of discomfort, of things not fitting, of the individual not being the same as everyone else. They feel different and initially unworthy.
All configurations bring their own challenges. Trines and sextiles make the energy of the planets in aspects flow easily. Too many in a chart can bring a problem of laziness and discontent and in the case of a Grand Trine getting stuck in a comfortable rut. Individuals with easy aspects tend not to place value on their achievements and talents because results tend to come without effort.
Squares pull together planets in the same modality although in a clashing way – Cardinal to Cardinal, Fixed to Fixed and Mutable to Mutable – and have the advantage of fostering a problem-solving approach. There's a hurdle to overcome and finding the solution leads to a stronger and resourceful personality.
Oppositions create a see-saw effect, or being pulled constantly in opposite directions – the grass is always greener somewhere else – but can be helpful in understanding the Other point of view. The best example being Ted Kennedy, who had several oppositions and for all his shortcomings was a past master politically at the art of cross-party negotiations.
Howard Sasportas who had a yod in his chart had an interesting take, describing the focal planet as trapped, not free to operate because it was stuck between dissimilar energies – and yet, perhaps precisely because of that, it becomes the person's destiny. He says you have to grow through something you can't escape from.
The yod more than any other element of a birth chart headlines Carl Jung's epithet – "Free will is the ability to choose that which we must do." With a yod the focal planet must be lived out. The switch from an early sense of never fitting in and being different is triggered by a seemingly random outer event and not a willed one. Being different with its sense of unworthiness now becomes a uniqueness which has a singular purpose.
The examples on this forum are not helpful to those struggling with less elevated lives. Celebrities, Royals and turbo-charged business types have by and large made the transition from outsider to finding their niche, and, however edgy their personalities, have found a way to make their yods work – Disney's Bob Iger (below), Martha Stewart, Pablo Picasso, Marine Le Pen, actor Jim Caviezel, Prince William and Harry, Princess Diana, Meghan Markle.
Howard Sasportas said of his yod: 'I was led by an instinct, a feeling of being pushed along by the Yod formation of the Sun and Uranus to the MC – and it affected my choice of work. It drove me. I didn't have to make a lot of conscious choices.'
  Princess Diana in her book Diana: Her True Story, made remarks about always feeling different, of carrying a burden that she was unable to articulate, but always knew was there. Her intuition, she said, told her that life would be a winding road, always feeling separate from others; never feeling in the right place. What happened to her ultimately was not the result of her Jupiterian yod though they can be mishandled, especially with Saturn, Mars or Pluto focal points.
Not everyone lives out the full potential of their chart though Gauquelin (I think) found that the most successful are the ones who do. That means knuckling down to accept the hand of cards that come at birth over which there is no choice. Which means finding a life and career context in which those energies can be used to their fullest. The patterns of life are not always kind but cause less damage if they are embraced.
Howard Sasportas as a lowly 9 to 5 civil servant or a factory conveyor belt operative would never have worked. Homing in on your individuality, valuing your originality and being pleased at your difference is the sacrifice a yod demands and its reward.