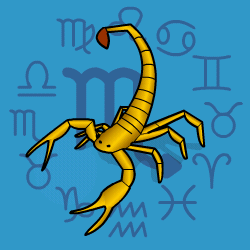 Scorpio
October 23 - November 22
---
Today's Horoscope for Saturday September 18th
Although you can at times get stuck in the past seeing only the bright side, and finding it difficult to let go, you are gradually learning to take a more realistic approach to family matters. You know it's important to stand up for yourself if family members take your good nature for granted. Understanding how you got into one muddle by acting without thinking things through clearly, means you can prevent yourself repeating the same mistake in future.
The Weekly Outlook from 13th September
Ducking arguments and believing the best of everyone you meet will make for an easier life. But if you attract yourself to less than honest people, they could try to pull the wool over your eyes. You need to be clear-eyed and put down limits or you'll end up disappointed. After midweek it may take an effort, but staying cheerful in spite of the circumstances around you may just be the best way to sail through in good form. Stay calm and serene and smile gently if close companions get sulky or too tricky.
Your Monthly Horoscope for September
Energetic and decisive friends and team mates will hustle you along and not take no for an answer when they find you dithering about future plans. Looking backwards over your shoulder and getting sentimental about the way things used to be won't be an option. You'll be prompted to not only set new goals and ambitions but also work out the practical details of how to fulfil them. You won't be as sociable for the first ten days but thereafter will be back out on the party scene, looking good and attracting compliments for your appearance and your charming way of putting others at ease. A loved one may be vague, elusive or downright evasive but trying to pin them down won't get you far. You'll be better leaving well alone until they come back into line. The second half of the month will be slower going and require patience.
and Next Month's Horoscope for October
Nothing will speed along as you might wish so learning patience and finding advantages in standing on the side lines will help. Let others do the running around while you step back to reflect over the past year. Getting recent events into perspective will help in your planning process as you prepare for what begins towards the end of the month into your new birthday year. It may be frustrating but you will pull strings effectively behind the scenes and others can be nudged into doing what circumstances are preventing you from tackling instantly. You will have relaxing moments at home with the support of those who matter most to lift your morale. You'll be keen to expand your domestic setup to allow for more entertaining and comfort in future. Try not to get wound up and discouraged if there is a difference of opinion after midmonth for a few days. You may be over-reacting to what's being said and sometimes ignoring criticism is the best way to squash it. Then from the 23rd you'll bounce with renewed enthusiasm.
Year Ahead 2021
Your material security in terms of money are being highlighted by the Eclipses through 2021, which doesn't mean problems. It's more a hint that if you take the initiative with your long-term future in mind then you'll get better results. The first half year will find you suppressing the urge to throw money around to impress, knowing full well that saving more and getting new schemes underway will be a more sensible approach. Your other priority will be to resolve family tensions, sort out practical domestic problems and reach better agreements with close partners. You'll be kicking against restrictions, yet need to stay persevering when there is no alternative. Being tolerant of the differing needs of those close will help to maintain equilibrium. Both of you need to offer the other a good deal of space to pursue your own individual interests. From May for a few weeks and again late year your social self-confidence will rise and you'll push old self-doubts to one side, stepping out boldly. You'll notice an improvement out on the party scene and at work as well. As you put a higher value on yourself you'll find others do as well. From June onwards for a few months you'll be prompted to share, care, relate and co-operate in a different way both over emotional as well as financial matters. Changing the habits of a lifetime won't be easy but if you want fulfilment and prosperity ahead you'll need to try. Negotiating better agreements with those who share responsibility with you over money will require compromises on both sides and won't happen overnight. As a fixed, enduring sign, you'll be better placed than most to stand firm through the tricky patches. You'll take the rough with the smooth, enjoy the triumphs and sunny patches, and push on determinedly through the bumpier phases.