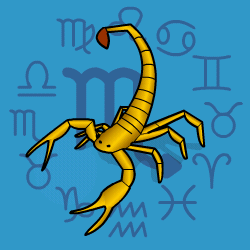 Scorpio
October 23 - November 22
---
Today's Horoscope for Tuesday November 28th
You have not been socially outgoing recently but this quiet patch has only a few more days to run. Soon you will be out and about having fun. But it has not all been wasted time since you will have been in touch with your creative or spiritual side and will emerge softer, wiser and revitalised because of the deep connections you have made. Stay with your emotional responses even if they are intense but as you mix with strong minded people it will be wise to tread softly and not say everything you feel or think.
The Weekly Outlook from 27th November
Your mood will be intense so it'll be important not to over react to what will be a passing cloud. You know you are having to be more self-sufficient for a while but truthfully you could do with leaning on someone close for support and advice. Try not to get too distracted. Anything which feels difficult or harassing will not suit your quiet mood. You want tensions to be soothed and wound down. Just don't try to make cash decisions or add up the budget since your concentration will wander.
Your Monthly Horoscope for November
Your birthday Sun will bounce up your confidence and enthusiasm and turbo-charged with Mars beside it, you'll be speeding ahead in good form. The morale-boosting support of a close partner will keep you smiling early on. But relationships in the second week could move through a stormy phase largely because you will decide to go your own way no matter what and won't agree to compromise. Try not to rock the boat or burn your bridges behind by being too blunt or going to extremes since you'll want to get back to normal after a few days. You won't be as sociable and love may be a touch lacking so pamper yourself in the quiet moments if no one else is. It is only a temporary blip so not a concern. Getting to grips with your personal finances will gradually take up your attention and into the final week you'll be knuckling down determinedly to ensure that common sense and security drive your decisions. Loved ones may not be enchanted and could cause you concern but you won't budge.
and Next Month's Horoscope for December
In a practical, not to say materialistic mood, you'll be tackling essential tasks and in particular focusing on your personal finances for three weeks. You know that taking the initiative will bear fruit and there is no sense in ambling along as before. Perseverance will pay off. Even if loved ones are being evasive and not playing their part, you won't let anything distract you. Relationships of all varieties will blossom as your knack of making everyone you meet feel special will send your popularity soaring. One close relationship will be going from strength to strength as you see how it can develop in the time ahead. But try not to expect all loved ones in the family to behave as you would like. If you pitch your hopes down and be realistic you're less likely to be disappointed. In the final days you'll be racing around, talking constantly and rarely bored. You may cut a few corners in order to fit in as many visits and chats as you can.
Year Ahead 2023
A speedy start to 2023 will find you multi-tasking like mad, talking constantly and rarely bored. Clearly you'll need to pace yourself as time wears on, not the least because there will be family and domestic matters which need your attention. Long ranging changes in your emotional life will start slowly as you aim to pull away from the past. There will be tensions and strains with those close but gradually you will be able to re-establish connections in the future which are stronger and more mature. As you push to make practical improvements in your immediate surroundings you'll be up against resistance from those who have different ideas so you'll need to be subtle and strategic about getting what you want. There may be less time for fun and playing than usual with too much work, duty or responsibility getting in the way. But you will be learning valuable lessons about priorities where loved ones are concerned. What you have to give now will come back to you tenfold in the future. Your efforts to boost your stamina and stay fit will pay off handsomely as long as you curb a temptation to over eat. From May onwards close relationships will improve noticeably. You will still want the freedom to operate independently at times but the partnerships which mean most will be going from strength to strength. Socially your upbeat, enthusiastic approach will bring favourable responses. If you have any bonds which have past their sell-by date you'll let them go without regret. Taking time out for reflection towards October and after for a month or two will be wise so schedule fewer commitments.