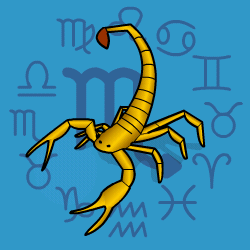 Scorpio
October 23 - November 22
---
Today's Horoscope for Sunday December 15th
You'll pick yourself up, give yourself a shake and aim to inject more excitement and adventure into your life. You'll insist on the freedom to express your individuality in a more visible way. But will be keen to keep a balance. So it doesn't mean you won't keep smoothing round rough edges and acting as a mediator. Your easy way with words means you can put others right with a happy smile and no one minds But you also need quality time for you.
The Weekly Outlook from 09th December
If you are off a mind to do a little clearing out, try not to throw away too much. Not just literally, but emotionally as well, you feel the urge to get rid of some old baggage. But remember if you are too impulsive, you may want to backtrack in a few days' time. Moderation in all things is always a good motto. In one tricky situation you'll be charming in a business-like way. You know what you want, even if you are not saying, and will use all your wiles to bring companions round to your way of thinking.
Your Monthly Horoscope for December
With the Sagittarius Sun in place, the sign after yours, you'll be focussed on pleasure and security. The first costs money and the second pulls in the opposite direction, so you'll need to balance your spending with savings and put energy into improving your situation. Part of that may mean resisting a sad story from a loved one. This is no time to be overly generous if it puts your position at risk. You'll find your everyday schedule flows along more enthusiastically and your ability to communicate what you want to say will be persuasive. You'll be more tolerant in the months ahead, happy to listen to feedback and broaden your viewpoint. Relationships with workmates, neighbours and relatives will be more amiable. With Mars in your own sign until early January you'll be pro-active and ultra-determined, so despite your upbeat words, you'll won't put up with delays or mistakes without letting rip. After the 22nd you'll fly into a busy few weeks with constant short trips, conversations and encounters. You'll need to pay attention to details and organisation otherwise you'll end up frayed. Luckily your confidence will stay high.
and Next Month's Horoscope for January
Your priority this month will be to keep your sense of humour, lighten up and not to get stuck in unwinnable discussions. A challenging everyday schedule will tend to leave you feeling weighed down and negative. As a sign you have penetrating insight but if you look too deeply into situations you can end up only seeing the dark side. Staying tolerant, listening to feedback and alternative viewpoints will give you better answers. Sorting out your personal finances will require that direct action and taking the initiative will bring results if you keep up the pressure for a few weeks ahead. A full social diary will prove a welcome distraction and loved ones will rally round to let you know how much admired and appreciated you are. After mid month you'll gradually slow down your pressured schedule to put your feet up more frequently at home. One close partner won't always be co-operative but you'll find plenty of support from the family.
Year Ahead 2019
A non-stop-go schedule for the first half year means you'll need to manage your time well, get organised and communicate clearly. Too much rushing around can run the risk of messages getting lost or misunderstood. If you feel cold-shouldered or that your views are not getting the right kind of attention then you'll need to rethink your approach. Don't become discouraged and withdraw. Be persistent. Close relationships will be moving into a changeable phase where both of you need more elbow room. With tolerance and an appreciation of partner's need for more independence as well as your own, you'll manage well. Though with the pressure of events and pulls on your time and energy, you may not always have a chance for sensible heart-to-heart chats. When you do, you may express yourself a touch too forcefully or be looking too much on the negative. Lighten up and keep your sense of humour handy. If loved ones, especially children, come across as evasive or inaccessible, not there when you need them, or worse try to lean on you, be firm about them standing on their own two feet. After mid year you'll want to shrug off restrictions and fly higher, allowing your imagination and sense of vision to point your way ahead. You'll find more stimulation and adventure and be broadening your horizons with determination. August will be a month to flaunt your talents and push ambitions ahead vigorously. Money should roll in faster all year though it'll probably disappear as fast since you're likely to be spending happily. Try to save some of your good fortune for a rainy day in later years. In the final month you'll notice more smiles and morale boosts in your everyday schedule. You'll be increasingly tolerant and positive-minded which will prove a hit with those around.