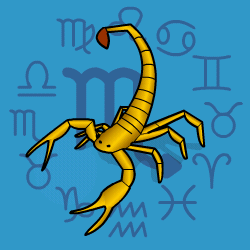 Scorpio
October 23 - November 22
---
Today's Horoscope for Friday July 23rd
Into a hard-working, high-profile few weeks your heart will have to take second place to practical or career matters, but there is a time of year for striving and a time for sinking into familiar surroundings or playing. Concentrate on what is important for now. You will be putting a good deal of emphasis on personal reputation, disliking being passed over for attention or praise. Proud and dignified, you intend to be noticed, not made to feel one of the crowd.
The Weekly Outlook from 19th July
Laid back and mischievous, you'll insist on freedom and independence in your social and emotional life. You will mean to stay loyal but you will have odd moments of insecurity which make you suddenly switch your affections off. Close relationships and one-to-one commitments won't be as free flowing as before but this is only a temporary phase, so do not say or do anything too abrupt. You will want to go back to the status quo fairly soon. Explain to partners you'll be happier if allowed to go your own way.
Your Monthly Horoscope for July
With a head full of grand plans and enthusiastic opinions, you'll be on your toes raring to go. Adventure will be on your agenda and even if you can't travel to find it, you will lift your life out of a rut and ensure there's plenty of lively challenges in your daily routines to keep you intrigued. At times you may come across as bossy since you will expect everyone around to dance to your tune and move at your speed. A loved one may be critical or presenting you with a problem to solve. You will try your best though you may not have enough time or energy to cope with everything. You'll need to prioritise and manage your schedule and commitments sensibly. There will be an opportunity to speak more freely after the 11th so that will clear the air. But taking everything to heart or getting resentful won't help after mid month. Lighten up. Affectionate friends will wave away your cares after the 22nd and though you'll still be coping with a busy lifestyle you will feel appreciated.
and Next Month's Horoscope for August
This is your moment to shine or at least to take the lead and ensure others follow behind. Hiding away in a corner won't do. You need to demand recognition for your talents and achievements and ensure you get the credit you deserve. OK it'll mean hard work and pushing family or domestic distractions to one side, but you will end up in a stronger position. Try not to rock the boat with one close partner in the first week since it won't help. Be tactful and flexible and give them a long rein. Warm-hearted friends will keep you company and let you know how appreciated you are. They'll also be on hand when you want feedback on your future plans. You'll be surrounded by fun company throughout but after midmonth won't be as romantic or sociable as before. Giving to those close will store up goodwill for the days ahead so don't feel deprived. From the 22nd you'll be into a friendly, forward looking few weeks.
Year Ahead 2021
Your material security in terms of money are being highlighted by the Eclipses through 2021, which doesn't mean problems. It's more a hint that if you take the initiative with your long-term future in mind then you'll get better results. The first half year will find you suppressing the urge to throw money around to impress, knowing full well that saving more and getting new schemes underway will be a more sensible approach. Your other priority will be to resolve family tensions, sort out practical domestic problems and reach better agreements with close partners. You'll be kicking against restrictions, yet need to stay persevering when there is no alternative. Being tolerant of the differing needs of those close will help to maintain equilibrium. Both of you need to offer the other a good deal of space to pursue your own individual interests. From May for a few weeks and again late year your social self-confidence will rise and you'll push old self-doubts to one side, stepping out boldly. You'll notice an improvement out on the party scene and at work as well. As you put a higher value on yourself you'll find others do as well. From June onwards for a few months you'll be prompted to share, care, relate and co-operate in a different way both over emotional as well as financial matters. Changing the habits of a lifetime won't be easy but if you want fulfilment and prosperity ahead you'll need to try. Negotiating better agreements with those who share responsibility with you over money will require compromises on both sides and won't happen overnight. As a fixed, enduring sign, you'll be better placed than most to stand firm through the tricky patches. You'll take the rough with the smooth, enjoy the triumphs and sunny patches, and push on determinedly through the bumpier phases.