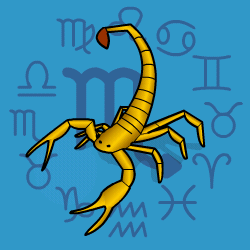 Scorpio
October 23 - November 22
---
Today's Horoscope for Tuesday March 28th
You may be prophetic today in a small way, getting a glimpse of a possibility of something to come. But don't run away with the idea that you can always trust your hunches. Not all of them will turn out as you expect. Later you will be in a romantic mood, looking for a relaxing bliss-out experience but you may be a touch perplexed as loved ones turn out to be weaker than you imagined. Maybe they are looking to you as a saviour, when really you could do with a prop for yourself.
The Weekly Outlook from 27th March
You want to broaden your horizons, travel or lift your life out of a rut in coming weeks so start planning. Keen to communicate with a wider group of people you'll be looking for adventures though it will be sensible not to cram too much into your schedule. Midweek you will have to watch that you're not draining your energy too much or trying to force yourself into activities or actions that are not what you want. Too much will power can make you can push past your limits.
Your Monthly Horoscope for March
You may be puzzling how to fit in time for fun and enjoyment while being landed with heavier responsibilities involving loved ones and more duty. But it'll be important that you try since this is an issue that will be around for a while. For several months you have been struggling behind the scenes with tricky emotional and financial dilemmas and the good news is that before the month's end you will shake loose from such considerations and move on. Loved ones may prove a let-down mid-month or be evasive but it will be best to forgive and forget. What will bring significant changes will be Pluto moving into Aquarius from late March initially till June but returning next year to stay for two decades. This begins a long phase of revaluating your ways of relating and cooperating at home and in your family relationships. There may be differences and tensions as time goes on but you will reconnect at a more mature level eventually. You may also be considering making alterations to your home and domestic set up.
and Next Month's Horoscope for April
Hard work will keep your nose to the grindstone for three weeks as you go about the chores and your responsibilities in a conscientious way. Since there will be little let up from a heavy schedule you need to turn your attention to boosting your stamina and staying fit. Eat healthily, rest when you can and exercise. Luckily the affectionate support of a close partner will on offer and you'll be able to benefit from their words of wisdom since they have a sensible take on any problems which crop up. After the 11th you'll be secretive, responding intensely to situations but not letting on how you feel. Generosity will come your way in cash and in kind to put a smile on your face. What is crucial is to take time out to grasp the changes ongoing in the family and in your own attitudes that will require adjustment in the days ahead. Try not to be edgy about the old ways disappearing. What will come slowly in time will allow you to reconnect in a deeper and more mature way. If differences and tensions surface, try not to over react or get confrontational or try to control the situation. Be patient and tolerant. Togetherness will be the key to your contentment in the final few days.
Year Ahead 2023
A speedy start to 2023 will find you multi-tasking like mad, talking constantly and rarely bored. Clearly you'll need to pace yourself as time wears on, not the least because there will be family and domestic matters which need your attention. Long ranging changes in your emotional life will start slowly as you aim to pull away from the past. There will be tensions and strains with those close but gradually you will be able to re-establish connections in the future which are stronger and more mature. As you push to make practical improvements in your immediate surroundings you'll be up against resistance from those who have different ideas so you'll need to be subtle and strategic about getting what you want. There may be less time for fun and playing than usual with too much work, duty or responsibility getting in the way. But you will be learning valuable lessons about priorities where loved ones are concerned. What you have to give now will come back to you tenfold in the future. Your efforts to boost your stamina and stay fit will pay off handsomely as long as you curb a temptation to over eat. From May onwards close relationships will improve noticeably. You will still want the freedom to operate independently at times but the partnerships which mean most will be going from strength to strength. Socially your upbeat, enthusiastic approach will bring favourable responses. If you have any bonds which have past their sell-by date you'll let them go without regret. Taking time out for reflection towards October and after for a month or two will be wise so schedule fewer commitments.