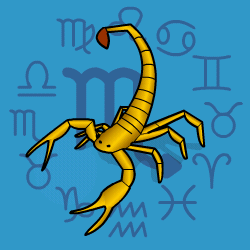 Scorpio
October 23 - November 22
---
Today's Horoscope for Friday August 12th
Maybe the family and loved ones are beginning to mutter that they never see you. So take the hint, and find time for your nearest and dearest. You have ambitions to fulfil and commitments but you also need to lead a more balanced life, where there is play and relaxation as well as work. Your busy schedule will not allow you to play truant for long, but you must take a break along the way otherwise you will get over stretched. Even your own company will not be a hardship for a short time.
The Weekly Outlook from 08th August
In a rebellious mood, you'll be tempted to rock the with close partners. Forget co-operation. Go your own way and do your own thing and offer the same freedom to everyone else around. Tolerance will pay off. The Full Moon falling at the lowest point of your chart is not gloomy, but is a warning that you need to draw back from too much work to consider your feelings more. You cannot allow your head to over-rule everything and forget your heart. Slow down and enjoy being instead of constant doing.
Your Monthly Horoscope for August
This should be your peak time of year for getting attention and being respected for your talents and achievements. But there will be complicated relationship dilemmas to handle with a close partner and a family member. No one will be in a mood to compromise and there could be rising tensions as well as sharp words spoken. Your best bet is to refuse to be provoked into saying too much in the heat of the moment or leaping into action recklessly. If you can maintain a strong grip on self-control you will do best though there's no doubt that one domestic situation will need ingenuity to settle it back down. Luckily you'll be in a mood to cover over certain feelings with a tactful smile and should manage to defuse quite a few awkward moments. After midmonth you'll sigh with relief though there will be confidential discussions running on into next month to resolve outstanding issues, financial and emotional. Friends will rally round with support.
and Next Month's Horoscope for September
Friends and team mates will be your main support offering advice and lively, warm-hearted company as you speed along. You'll be sorting out your goals for the coming year, keen to give yourself a focus and inspiration. Group activities of all varieties at work and in your leisure hours will find you in your element. Your knack of putting others at ease and keeping them entertained will mean you're welcome wherever you go. There will be moments in private where you ponder on confidential dilemmas, financial and emotional. The solutions will be slow in coming so you'll need to stay persevering and be flexible at the same time since you won't get it all your own way. The result of your efforts will be to build up greater security for the future so it's worth ploughing on. Luckily your energy will stay high and you'll sail through the chores in double quick time. There may be a muddle or two midmonth with a loved one but thereafter you'll be on top of events. In the final week you'll do best to stand back and let others take the strain while you recharge your batteries.
Year Ahead 2022
2022 will be a year at a crossroads for you with the Eclipses moving through your opposite sign of Taurus and then Scorpio around your birthday. You will be facing significant decisions about your path ahead and need to be clear that whatever course you embark on is the right one. Resolving issues with a close partner will be your task across the middle months. Then from your birthday you'll need to plough an independent furrow, making your own judgements and not being distracted by anyone else's agenda.rnYou'll start the year in a mood of high confidence with old self-doubts being swept away. As you put a higher value on yourself so will others. You'll be popular socially and finding growing appreciation at work as well.rnThere may be tensions at home and in the family as you attempt to sort out old grievances and reorganise to give yourself a more orderly and secure base. It will be jolting and jangling at points since not everyone will be in agreement with your plans. But you'll persevere.rnAfter May you'll move through a few months with enthusiastic support at work and around the chores and you'll feel fitter than before.rnGetting to grips with confidential financial tangles will be your task in the final few months and there will be no quick fixes or easy answers. You'll need to stay persistent and be flexible.