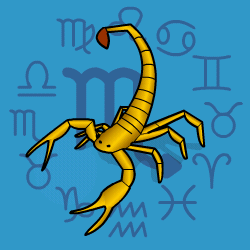 Scorpio
October 23 - November 22
---
Today's Horoscope for Wednesday May 12th
You may have to exercise a touch of restraint. Otherwise you could go flying into a situation or reaction that you might have been better to stop and think about clearly. Part of the problem may be that your self-esteem may not be that great. Don't judge yourself by other people's standards. Just because others don't always agree with your views, it doesn't mean you are necessarily wrong. Give yourself a pat on the back for what you have accomplished recently.
The Weekly Outlook from 10th May
Creative change will be possible but there's no point in turning everything on its head. You could end up throwing out the baby with the bathwater. As you aim for challenging new experiences make them positive ones. After midweek you'll be confident and flamboyant, keen to entertain loved ones and friends. You won't be under estimating your talents, though you will be sensitive to criticism. Companions may envy your self-confidence and social charm but they will also crowd round hoping to be cheered up.
Your Monthly Horoscope for May
With the Sun in your opposite sign for three weeks, you'll be reaching out to close partners, looking for support and offering co-operation in return. There'll be no sense in flying solo when you could make faster progress and feel more fulfilled as part of a twosome. You will have to be more adaptable and less self-sufficient but it'll be worth the effort. Once over an early family problem you'll be sailing ahead in good form. Keen to spread your enthusiastic views around, you won't stay silent and should meet a positive response as long as you tone down your more forceful opinions. Your emotional responses will be increasingly intense after the 9th though you'll be playing your cards close to your chest and not letting much away. Even those close may have to second guess what you're thinking or feeling. But what will put a sparkle back in your eye is Jupiter moving into Pisces by midmonth for several weeks to boost your morale and self-confidence. You'll put a higher value on yourself and find others do the same.
and Next Month's Horoscope for June
The Gemini Sun until the 21st is moving through the deepest, most confidential area of your chart, so your emotional responses will be intense. You'll be prompted to sort out financial and emotional matters, to reach new agreements and to see where you can leave old baggage behind. Not everything will go the way you wish so you'll need to compromise and find a middle ground solution where there are differences. Luckily your social life will be light-hearted, even adventurous, as you mix with a fun crowd and search out challenging leisure activities. A loved one may not offer the support you want towards midmonth but a forgive and forget attitude will ensure life gets back to normal quickly. A hard-working, ambitious few weeks after the 11th will keep you occupied and rarely bored. You'll expect everyone around to be on their toes and will be issuing orders left, right and centre. You'll emerge from what will have felt a restrictive phase after the 21st to aim high, think big and not allow anyone to damp your enthusiasm.
Year Ahead 2021
Your material security in terms of money are being highlighted by the Eclipses through 2021, which doesn't mean problems. It's more a hint that if you take the initiative with your long-term future in mind then you'll get better results. The first half year will find you suppressing the urge to throw money around to impress, knowing full well that saving more and getting new schemes underway will be a more sensible approach. Your other priority will be to resolve family tensions, sort out practical domestic problems and reach better agreements with close partners. You'll be kicking against restrictions, yet need to stay persevering when there is no alternative. Being tolerant of the differing needs of those close will help to maintain equilibrium. Both of you need to offer the other a good deal of space to pursue your own individual interests. From May for a few weeks and again late year your social self-confidence will rise and you'll push old self-doubts to one side, stepping out boldly. You'll notice an improvement out on the party scene and at work as well. As you put a higher value on yourself you'll find others do as well. From June onwards for a few months you'll be prompted to share, care, relate and co-operate in a different way both over emotional as well as financial matters. Changing the habits of a lifetime won't be easy but if you want fulfilment and prosperity ahead you'll need to try. Negotiating better agreements with those who share responsibility with you over money will require compromises on both sides and won't happen overnight. As a fixed, enduring sign, you'll be better placed than most to stand firm through the tricky patches. You'll take the rough with the smooth, enjoy the triumphs and sunny patches, and push on determinedly through the bumpier phases.