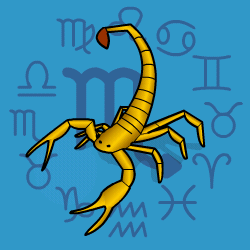 Scorpio
October 23 - November 22
---
Today's Horoscope for Monday May 23rd
Close partners both at home and at work really want to hear what you have to say in coming days. You have a sensible view of your joint situation and the ability to sort out tangles faster than most. Though just for today you may be overspending or feeling like indulging yourself. Watch you are not assuming if you let money float out of one hand, it'll float back in the other. You could be right but an easy come, easy go approach could end up in a minor budget crisis.
The Weekly Outlook from 23rd May
If you're normally under-confident, lacking in self-esteem, this week's Jupiter boost will do wonders for you, picking your morale up several notches. But if confidence is your hallmark it could send you sailing off into the stratosphere. Try to avoid the temptation to think you're right about absolutely everything. Watch health since you could get over heated, even accident-prone. Put as much attention towards getting your body fit as you do towards practical work matters.
Your Monthly Horoscope for May
In an exuberant, high-energy and confident mood you'll be filled with passionate enthusiasm and leaving nothing to chance. Close partners won't always act as you expect so you'll need to be tolerant and adaptable, leaving them to their own devices when they ask. But mainly you'll be together and happy to share. You will be keen to get your own way but luckily you'll be able to charm most of those close into fitting in without much trouble. Work will be unavoidable but you'll gradually find the mood around the chores is more enjoyable and from the 11th onwards a spirit of camaraderie will make you rollick through essential tasks. If you've been feeling under-par recently Jupiter now in your chart area of fitness for months ahead will give you a boost. Around midmonth certain loved ones or family members may prove a disappointment or be evasive so you won't easily sort out muddles and misunderstandings. If you forgive, forget and let it drift, all will be soon forgotten. In the final days you'll be secretive, intense but pleased that you're making progress shifting one stuck situation over.
and Next Month's Horoscope for June
The affectionate support of a close partner will warm your heart and make you smile. You'll still insist on having elbow room and not being tied in too much but will be cheered knowing you are loved and popular. Behind the scenes you will be pushing ahead trying to reach fair agreements on financial and emotional differences. Slow but sure will be the way to go since it won't happen overnight or without compromise on both sides. You will have to put in effort especially where family members are involved but your straightforward and balanced approach should make a difference. Getting down to the nitty gritty after midmonth will require you stay calm and negotiate persuasively, rather than stamping your foot and being forceful. There will be fewer restrictions after the 21st and the mood will lighten as you see new prospects opening up in front of you. You'll be working hard all month, possibly over committing yourself but your meticulous methods will work.
Year Ahead 2022
2022 will be a year at a crossroads for you with the Eclipses moving through your opposite sign of Taurus and then Scorpio around your birthday. You will be facing significant decisions about your path ahead and need to be clear that whatever course you embark on is the right one. Resolving issues with a close partner will be your task across the middle months. Then from your birthday you'll need to plough an independent furrow, making your own judgements and not being distracted by anyone else's agenda.rnYou'll start the year in a mood of high confidence with old self-doubts being swept away. As you put a higher value on yourself so will others. You'll be popular socially and finding growing appreciation at work as well.rnThere may be tensions at home and in the family as you attempt to sort out old grievances and reorganise to give yourself a more orderly and secure base. It will be jolting and jangling at points since not everyone will be in agreement with your plans. But you'll persevere.rnAfter May you'll move through a few months with enthusiastic support at work and around the chores and you'll feel fitter than before.rnGetting to grips with confidential financial tangles will be your task in the final few months and there will be no quick fixes or easy answers. You'll need to stay persistent and be flexible.