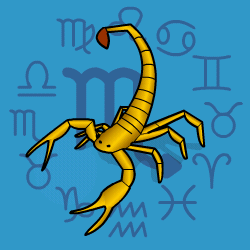 Scorpio
October 23 - November 22
---
Today's Horoscope for Tuesday January 26th
In emotional partnerships you need to give each other space. Possessiveness on one side will only result in the other flying for freedom, rebelling against ties and commitments. Shaky partnerships may go through a rough patch but long running ones will strengthen through this time of change and upheaval. What is crucial is to realise it is not a time to hang on to security at all costs and insist on keeping life the way it was. Open up to new experiences, be less stuck in a rut.
The Weekly Outlook from 25th January
If you have been sweeping things under the carpet, forcing yourself into situations that aren't good for you, you'll have a moment of enlightenment. You'll waken up, come to your sense and make a determined stand to push back against what isn't in your interests. Perhaps in the past you have been too laid-back and not wanting to be bothered to tackle problem situations. You relied on a wing and a prayer to sort out dilemmas. Now you realise you have to be more realistic and take responsibility.
Your Monthly Horoscope for January
Racing around in top gear, chatting constantly, you won't have a moment to draw breath. You'll need to manage your time well. Streamline your organization and communicate clearly for best results and you'll avoid mishaps and crossed lines. Close partners at home and at work will be fired up and raring to go. They won't always be tactful so you may need to keep the peace. Throwing your energy behind their plans means together you'll go further than flying solo. Your home life will be contented and restful at times and dutiful at others as practical problems need attention and family tensions surface. Try not to be provoked into hasty responses even if a loved one is acting erratically or staging a rebellion. If you lighten your tone and sound less dogmatic then they'll calm down faster. Into the final days you will be delighted with a piece of positive family news.
and Next Month's Horoscope for February
Just when you want to snuggle down at home and do less or even better be indulged by those close, there will be various family and domestic tangles and chores to sort out. You will have bliss-out moments when you'll be warmed by the affection of certain loved ones. But you'll also have to gear yourself up to tackle emotional tensions and problems requiring a practical solution. Close partners will be wound up and raring to go but not always co-operative or tactful. You'll need to keep the peace which won't always be easy given sudden events which blow up and threaten to upset your settled existence. What to keep in mind is that airing differences within the family if handled sensibly can clear old resentments out of the way once and for all. Into the final days you'll be into a fun, sociable few weeks.
Year Ahead 2021
Your material security in terms of money are being highlighted by the Eclipses through 2021, which doesn't mean problems. It's more a hint that if you take the initiative with your long-term future in mind then you'll get better results. The first half year will find you suppressing the urge to throw money around to impress, knowing full well that saving more and getting new schemes underway will be a more sensible approach. Your other priority will be to resolve family tensions, sort out practical domestic problems and reach better agreements with close partners. You'll be kicking against restrictions, yet need to stay persevering when there is no alternative. Being tolerant of the differing needs of those close will help to maintain equilibrium. Both of you need to offer the other a good deal of space to pursue your own individual interests. From May for a few weeks and again late year your social self-confidence will rise and you'll push old self-doubts to one side, stepping out boldly. You'll notice an improvement out on the party scene and at work as well. As you put a higher value on yourself you'll find others do as well. From June onwards for a few months you'll be prompted to share, care, relate and co-operate in a different way both over emotional as well as financial matters. Changing the habits of a lifetime won't be easy but if you want fulfilment and prosperity ahead you'll need to try. Negotiating better agreements with those who share responsibility with you over money will require compromises on both sides and won't happen overnight. As a fixed, enduring sign, you'll be better placed than most to stand firm through the tricky patches. You'll take the rough with the smooth, enjoy the triumphs and sunny patches, and push on determinedly through the bumpier phases.