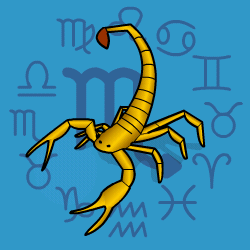 Scorpio
October 23 - November 22
---
Today's Horoscope for Tuesday December 01st
No one will shout you down at the moment since you are coming across as determined. Though on the whole you'll aim to avoid confrontations, since you prefer a harmonious mood. You seem preoccupied with money matters at the moment, but all to good end. You will get yourself better informed about your situation. Then you can keep close partners you up to scratch as well. Your concentration will be good once you settle down to tasks and dig in your heels.
The Weekly Outlook from 30th November
Your mood will be intense so it'll be important not to over react to what may be a passing cloud. You know you are having to be more self-sufficient but frankly you could do with leaning all over someone close either for support or advice. Try not to get too distracted. If you are tempted to start a general clear out, try not to throw away too much. Remember if you are too impulsive, you may want to backtrack in a few days' time. Moderation in all things is always a good motto.
Your Monthly Horoscope for December
Putting on the charm you'll be attracting compliments, admiring glances and invitations as you go about your daily routines. Hard work won't ease up until early next month so you'll need to boost your stamina however you can in order to cope. But easing back slightly will also help and not nit-picking over every last detail. Or assuming you're the only one who can do tasks well. That is the way to over burdening yourself. Your finances will be in focus because you know there will be opportunities to improve your security though you'll also be likely to spend happily as you go. Try not to let sentimentality or carelessness get in the way of common sense. The pressures of recent months should begin to ease slightly after the middle of the month as Jupiter and Saturn move out of Capricorn into Aquarius. You'll gradually over coming months shift your attention to your home and family life, noticing a calmer mood in certain quarters. But also have to sort out family tensions or attend to practical reorganisation. Towards the 23rd try to avoid getting embroiled in a no-win discussion. If you can let it all wash over you then as you speed towards New Year you'll have a glint of adventure in your eye.
and Next Month's Horoscope for January
Racing around in top gear, chatting constantly, you won't have a moment to draw breath. You'll need to manage your time well. Streamline your organization and communicate clearly for best results and you'll avoid mishaps and crossed lines. Close partners at home and at work will be fired up and raring to go. They won't always be tactful so you may need to keep the peace. Throwing your energy behind their plans means together you'll go further than flying solo. Your home life will be contented and restful at times and dutiful at others as practical problems need attention and family tensions surface. Try not to be provoked into hasty responses even if a loved one is acting erratically or staging a rebellion. If you lighten your tone and sound less dogmatic then they'll calm down faster. Into the final days you will be delighted with a piece of positive family news.
Year Ahead 2020
2020 will be all about communication for you in an everyday schedule that will be challenging and pressured at times. You'll be inclined to take certain situations or comments to heart, looking for a hidden significance in everything. And being tempted to withdraw if your opinions don't meet with agreement. But it would be a mistake. Listen to feedback and where necessary alter your approach. Try, try, try again should be your motto and you will eventually get your message across. Gradually you'll notice a growing sense of confidence in speaking your mind and because you'll be tolerant and less blinkered, you will be respected for your views. And you'll begin to realise that what was holding you back wasn't bad luck but too limited an attitude on your side.rnYou will want more elbow room in close partnerships with each of you happy to allow the other to go their own individual way. It will mean that co-operation won't always be easy since it'll demand compromise. At home you'll be putting in effort after March to sort out practical problems and also to address any family tensions which emerge. If you go about it tactfully then you can clear old resentments out of the way once and for all. Though it won't always be easy to stay calm.rnFrom July onwards you'll be working exceptionally hard and staying on top of detail. You will tend to be a perfectionist, assuming you're the only one who can do tasks well, which means you'll land yourself with too many commitments. Looking after fitness and stamina will be important. And being cautious, since you could be slightly accident prone at times if you over burden yourself or get impatient with mistakes and end up tripping over your feet.rnTowards the year end you'll focus on your finances since being pro-active will bring results and be aiming for a calmer phase on the home front.