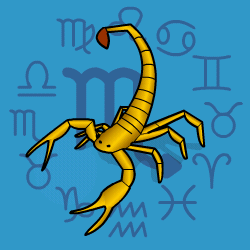 Scorpio
October 23 - November 22
---
Today's Horoscope for Friday September 25th
Your self-esteem may be sagging when you reflect on your speaking or writing abilities. You imagine you are less bright or less good with words than you would like and get discouraged when others do not listen to your opinions. But your self-doubts are in your head and don't reflect the reality. Keep persevering and you'll find that you are more than capable of getting your message across when you make the effort to think through bullet points in advance.
The Weekly Outlook from 21st September
You may find yourself counselling and caring for close companions in the weeks ahead since your sensitivity to their needs will make you a good listener. But you may have to watch since you'll tend to soak in the emotional undercurrents like a sponge and may end up overloaded. Protect yourself against casual acquaintances or friends who are jangled, or gloomy, so you might end up the same way. Luckily Mercury will keep you usefully distracted with a speedy everyday schedule.
Your Monthly Horoscope for September
Looking ahead, you'll be sorting out which ambitions need to be put up as priorities and then you'll settle down to getting the practicalities in hand. You'll know it's not the time for grand plans and wild schemes, you need a workable stratyegy which you can sensibly expect to bring results. Your confidence in putting your views across will help, as will the force of your personality. No one will think you're indecisive or a pushover when it comes to discussions. Friends and team mates will rally round and you'll make faster progress in group activities than you would flying solo. Out at special occasions you'll be keeping up appearances and putting on quite a performance, charming all the right people. Just have a care to stay close to what you feel inside. There may be arguments along the way since you'll insist that your way is best with tasks but being perfectionist may cause irritation and you'll get landed with everything to do yourself. Into the final week, you'll sigh with relief and step back, into a quieter few weeks with more chances to put your feet up.
and Next Month's Horoscope for October
A challenging schedule with chores piling up and demands on your time coming from various directions you'll be stretched. Really you'll prefer to step back and let others take the strain and do the running around. But you won't have much option and your own perfectionist streak will make it tricky when it comes to delegating since you reckon no one else can perform tasks as well as you can. Try not to over commit yourself and take time out to recharge your batteries and look after fitness and stamina. You will have a few lucky breaks and fortunate encounters along the way to boost your morale but you need to be wary of a tendency to become too intense or dogmatic. Lightening up will bring you more support from everyday mates. Warm-hearted friends will also be there when you want them and will make you aware how popular and appreciated you are. Finally from the 22nd the restrictions will lift and you'll be bouncing with renewed vigour.
Year Ahead 2020
2020 will be all about communication for you in an everyday schedule that will be challenging and pressured at times. You'll be inclined to take certain situations or comments to heart, looking for a hidden significance in everything. And being tempted to withdraw if your opinions don't meet with agreement. But it would be a mistake. Listen to feedback and where necessary alter your approach. Try, try, try again should be your motto and you will eventually get your message across. Gradually you'll notice a growing sense of confidence in speaking your mind and because you'll be tolerant and less blinkered, you will be respected for your views. And you'll begin to realise that what was holding you back wasn't bad luck but too limited an attitude on your side.rnYou will want more elbow room in close partnerships with each of you happy to allow the other to go their own individual way. It will mean that co-operation won't always be easy since it'll demand compromise. At home you'll be putting in effort after March to sort out practical problems and also to address any family tensions which emerge. If you go about it tactfully then you can clear old resentments out of the way once and for all. Though it won't always be easy to stay calm.rnFrom July onwards you'll be working exceptionally hard and staying on top of detail. You will tend to be a perfectionist, assuming you're the only one who can do tasks well, which means you'll land yourself with too many commitments. Looking after fitness and stamina will be important. And being cautious, since you could be slightly accident prone at times if you over burden yourself or get impatient with mistakes and end up tripping over your feet.rnTowards the year end you'll focus on your finances since being pro-active will bring results and be aiming for a calmer phase on the home front.