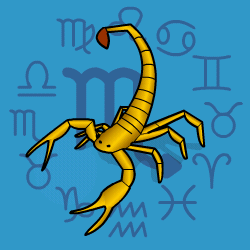 Scorpio
October 23 - November 22
---
Today's Horoscope for Wednesday April 21st
Home and family matters will be occupying your attention. There may be emotional tensions to resolve with those close. Or you may even be thinking of moving home or having work done on the one you live in. Life may not be rapturous and ecstatic but you are building more solid foundations for the future.rnYou will let your feeling show more than usual which may feel strange, but it lets others see your vulnerable side. You will attract sympathy and be more sensitive to what's going on around you.
The Weekly Outlook from 19th April
Into a sharing, caring and cooperating few weeks ahead, you will want the support of close partners in coming weeks. Togetherness will be the key to your happiness both at home and at work. It'll be to your advantage to be more adaptable and less self-sufficient The more you fit in and the more you give the more you'll get. Which doesn't mean you want to hide away. You'll have hopes of travelling more widely or at least lifting your life out of a rut. Try not to cram too much into your schedule.
Your Monthly Horoscope for April
Resigning yourself to a few weeks of exceptionally hard work will make it easier to put one foot in front of the other and push on. You won't always feel appreciated for the effort you put in so you'll need to pat yourself on the back as you go. Staying on top form fitness-wise will be crucial which means eating sensibly, exercising when you can and relaxing regularly. Boosting your stamina means you'll cope with everything that is essential. You may feel held back by behind-the-scenes tangles over money or other matters. There'll be no instant solutions so be prepared to wait it out until a change of circumstances opens up the answer. A loved one may be leaning more than you like, or not be there when you want support. But your charm will win the day after the 14th as you discover how to catch their attention. Tread lightly and keep smiling. The mood at home and amongst the family will warm up considerably towards mid month. You'll be less drained by duty and better supported in the final days. One set of red lights will turn green so you'll shoot ahead.
and Next Month's Horoscope for May
With the Sun in your opposite sign for three weeks, you'll be reaching out to close partners, looking for support and offering co-operation in return. There'll be no sense in flying solo when you could make faster progress and feel more fulfilled as part of a twosome. You will have to be more adaptable and less self-sufficient but it'll be worth the effort. Once over an early family problem you'll be sailing ahead in good form. Keen to spread your enthusiastic views around, you won't stay silent and should meet a positive response as long as you tone down your more forceful opinions. Your emotional responses will be increasingly intense after the 9th though you'll be playing your cards close to your chest and not letting much away. Even those close may have to second guess what you're thinking or feeling. But what will put a sparkle back in your eye is Jupiter moving into Pisces by midmonth for several weeks to boost your morale and self-confidence. You'll put a higher value on yourself and find others do the same.
Year Ahead 2021
Your material security in terms of money are being highlighted by the Eclipses through 2021, which doesn't mean problems. It's more a hint that if you take the initiative with your long-term future in mind then you'll get better results. The first half year will find you suppressing the urge to throw money around to impress, knowing full well that saving more and getting new schemes underway will be a more sensible approach. Your other priority will be to resolve family tensions, sort out practical domestic problems and reach better agreements with close partners. You'll be kicking against restrictions, yet need to stay persevering when there is no alternative. Being tolerant of the differing needs of those close will help to maintain equilibrium. Both of you need to offer the other a good deal of space to pursue your own individual interests. From May for a few weeks and again late year your social self-confidence will rise and you'll push old self-doubts to one side, stepping out boldly. You'll notice an improvement out on the party scene and at work as well. As you put a higher value on yourself you'll find others do as well. From June onwards for a few months you'll be prompted to share, care, relate and co-operate in a different way both over emotional as well as financial matters. Changing the habits of a lifetime won't be easy but if you want fulfilment and prosperity ahead you'll need to try. Negotiating better agreements with those who share responsibility with you over money will require compromises on both sides and won't happen overnight. As a fixed, enduring sign, you'll be better placed than most to stand firm through the tricky patches. You'll take the rough with the smooth, enjoy the triumphs and sunny patches, and push on determinedly through the bumpier phases.