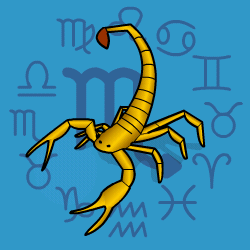 Scorpio
October 23 - November 22
---
Today's Horoscope for Thursday July 18th
Maybe you pitched your expectations too high about one family matter, and reality was never going to match your visions. Try to see clearly what you have got in your nearest and dearest and be satisfied. If you want perfection, you will always be dissatisfied. Astrologers always say that Neptune misleads because it makes you see life through a soft focus lens. But do you need to see all the flaws? Enjoy your vision while it lasts for a while longer.
The Weekly Outlook from 15th July
An everyday mate may be demanding that you do what they want. Trouble is you want them to do what you want. Maybe you cannot change everything you would like, but you can make more of an impression than you imagine by the way you rise to the problem. Though the Capricorn Lunar Eclipse may get you bogged down in trivia. If you can stand further back to see the full picture without losing sight of the details, then you will reach better judgements.
Your Monthly Horoscope for July
Pushing ambitiously ahead, you'll intend to make your mark and having everyone around dancing to your tune. Your go-ahead enthusiasm will prove infectious though laying down the law and coming across as bossy won't help to speed your progress since you'll ruffle feathers. Better by far to teach by example and when others see you exerting yourself they're more likely to follow suit. You'll want to travel more or broaden your horizons not just this month but until the end of the year, so will be laying down plans and discussing options. Not all of your schemes will be workable but you won't hold back. This is your time to let your visions flourish. Your social life will be more adventurous as you mix with a fun crowd and explore new leisure activities and venues. Though you won't always want to fit in and at times will be flying for freedom no matter what the reaction of those close is. Partners may also be rather wayward. Just try not to burn your bridges. In the final week you'll be attracting praise and appreciation.
and Next Month's Horoscope for August
August is always your month to shine, not necessarily out on the social scene but at work or as far as visibility is concerned. You'll be taking the lead, expecting others to follow behind, showcasing your talents and achievements and demanding more attention. You'll also have to put in the legwork and sweat to make it all happen but hard work won't bother you as long as you get the results. Your social status will also be on the rise with invites to special occasions where you can put on quite a performance. You'll be sprucing up your appearance and attracting compliments. You'll be in demand for your views so don't hold back. After mid month you'll be happy to throw your energy into team efforts at work and with friends in your leisure hours. Ensuring that everyone pulls together will be a priority though at times you'll demand the freedom to suit yourself,
Year Ahead 2019
A non-stop-go schedule for the first half year means you'll need to manage your time well, get organised and communicate clearly. Too much rushing around can run the risk of messages getting lost or misunderstood. If you feel cold-shouldered or that your views are not getting the right kind of attention then you'll need to rethink your approach. Don't become discouraged and withdraw. Be persistent. Close relationships will be moving into a changeable phase where both of you need more elbow room. With tolerance and an appreciation of partner's need for more independence as well as your own, you'll manage well. Though with the pressure of events and pulls on your time and energy, you may not always have a chance for sensible heart-to-heart chats. When you do, you may express yourself a touch too forcefully or be looking too much on the negative. Lighten up and keep your sense of humour handy. If loved ones, especially children, come across as evasive or inaccessible, not there when you need them, or worse try to lean on you, be firm about them standing on their own two feet. After mid year you'll want to shrug off restrictions and fly higher, allowing your imagination and sense of vision to point your way ahead. You'll find more stimulation and adventure and be broadening your horizons with determination. August will be a month to flaunt your talents and push ambitions ahead vigorously. Money should roll in faster all year though it'll probably disappear as fast since you're likely to be spending happily. Try to save some of your good fortune for a rainy day in later years. In the final month you'll notice more smiles and morale boosts in your everyday schedule. You'll be increasingly tolerant and positive-minded which will prove a hit with those around.