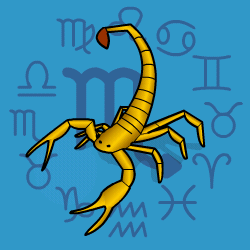 Scorpio
October 23 - November 22
---
Today's Horoscope for Friday December 03rd
With high-octane Mars in your own sign for another two weeks you'll continue to be competitive and energetic, and allowing yourself the opportunity to take action where caution has prevented you in the past. In a restless mood, you won't stand still for long so you'll need steady mates on hand to steer the ship and take on the practical chores. When you slow down you will be good at giving reassuring support, coming across as kind, caring and emotionally sensitive.
The Weekly Outlook from 29th November
Make sure that you've got a game plan up your sleeve for the next few weeks where home and family matters are involved. You need a realistic goal, strategy and practical plans for getting there. You will dig your heels in over a difference of opinion involving money. You know the time to take a stand has come. You'll mull over alternatives carefully and once you have reached a considered decision, you'll take steps to resolve the argument.
Your Monthly Horoscope for December
Pushing ahead with great determination you won't allow anything to get in your way. Mars in your own sign until the 13th will intensify your will-power and ensure that you get results by sheer force of personality. Try not to come across as bossy since it may stir up resistance and that will slow you down. Aim for influence rather than control and you'll do better. Your primary concern will be to get your finances knocked into better shape. Part of the way to achieve that will be to curb your spending which may not be easy but will help. You'll set to with ingenuity to find a way of balancing your books without depriving yourself too much. A varied everyday schedule will start to wind up from midmonth with lively encounters, informative conversations and no room for boredom. Into the final ten days you'll be dashing here and there, chattering animatedly. There may be a few family tensions but nothing you can't smooth over and as you get to the New Year you'll sense a growing self-confidence in yourself as a sociable 2022 beckons.
and Next Month's Horoscope for January
You'll have a sense of urgency at no time to lose as you race around an increasingly busy schedule with trips here and there and conversations galore. Your head may spin at points with too much going on and you'll cut a few corners but you won't be bored or lonely. Charm will speed your progress so you'll be handing out the compliments and finding friendly and affectionate gestures come your way to make you feel appreciated. You'll keep an eye on your plans to upgrade your finances since you know direct action and determination will pay dividends. Though there may be one cash muddle towards the 11th which caution can prevent if you pay attention to detail. At home you'll find heart-to-heart chats iron out a few wrinkles and the advice of loved ones will also help you understand yourself better. Getting too intense or stubborn around midmonth won't win the argument, so lighten up and be subtle. Your focus will shift to home and family matters in the final days though you'll continue speeding along outside.
Year Ahead 2021
Your material security in terms of money are being highlighted by the Eclipses through 2021, which doesn't mean problems. It's more a hint that if you take the initiative with your long-term future in mind then you'll get better results. The first half year will find you suppressing the urge to throw money around to impress, knowing full well that saving more and getting new schemes underway will be a more sensible approach. Your other priority will be to resolve family tensions, sort out practical domestic problems and reach better agreements with close partners. You'll be kicking against restrictions, yet need to stay persevering when there is no alternative. Being tolerant of the differing needs of those close will help to maintain equilibrium. Both of you need to offer the other a good deal of space to pursue your own individual interests. From May for a few weeks and again late year your social self-confidence will rise and you'll push old self-doubts to one side, stepping out boldly. You'll notice an improvement out on the party scene and at work as well. As you put a higher value on yourself you'll find others do as well. From June onwards for a few months you'll be prompted to share, care, relate and co-operate in a different way both over emotional as well as financial matters. Changing the habits of a lifetime won't be easy but if you want fulfilment and prosperity ahead you'll need to try. Negotiating better agreements with those who share responsibility with you over money will require compromises on both sides and won't happen overnight. As a fixed, enduring sign, you'll be better placed than most to stand firm through the tricky patches. You'll take the rough with the smooth, enjoy the triumphs and sunny patches, and push on determinedly through the bumpier phases.