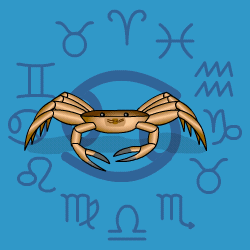 Cancer
June 22 - July 23
---
Today's Horoscope for Tuesday March 02nd
You will be looking with a critical eye at certain close relationships and examining below the surface to find what the strengths and weaknesses are. Shaky bonds will become obvious and will at some point run into tensions since neither of you will be willing to compromise. Even if you are on your own for a while through the day, it won't bother you. The Libra Moon is a hint to calm down and get away from hassle, hustle and aggravation. You won't want to be overwhelmed by the things of the outside world.
The Weekly Outlook from 01st March
You love life is due for a creative change so turn your mind to exploring new shared interests and activities. Admit to yourself if things have become dull and routine. Use your ingenuity to zip up the mood, to introduce a livelier and more fun-loving atmosphere. This is not time to be timid. Get hold of life. At work in coming weeks you may feel frustrated because circumstances won't allow you to act directly in an up-front manner. Your forward gear will be trapped but this is only temporary.
Your Monthly Horoscope for March
Not everything will be possible instantly but you can always let your visions fly and follow your dream, even if you're still in the plotting and planning stage. Mars stuck out of sight till late April says you'll need to tread water, pull strings behind the scenes and learn patience. None of which will be easy since you'll be thinking big and yearning to travel further afield or at the very least broaden your horizons in other ways. Neptune will be casting an aura around, mesmerising and seductive but won't lead to realistic judgements or sensible decisions. Better to go with the flow, drift with the tide and float with the currents for three weeks. Gradually from the 16th onwards, a close partner will prod you onto a better track. Together you'll make progress. And from the 20th there'll be nothing stopping you as you aim high and demand attention.
and Next Month's Horoscope for April
Unfairly dubbed as a home-loving, apple-pie-baking sign, you are in reality creative, ambitious and resourceful. All of which will be evident with the vibrant Sun, artistic and charming Venus and chatty Mercury at your midheaven. You'll glow in the spotlight of others' attention and appreciation. And OK you'll also be working hard but your efforts will pay off as you take the lead, keep everyone around well entertained and informed and generally spread harmony around. There will be times you'll need to grit your teeth and not be too direct since circumstances won't always allow you to stamp your foot as you might like. Be patient and pull strings behind the scenes. Money and generous support will come in towards mid month to boost your bank account and keep your spirits up. In the final ten days you'll be forward looking and dynamic with certain restrictions clearing. You'll be pro-active and fast-moving and in good company.
Year Ahead 2021
Into 2021 with high hopes and some fair winds behind you, there will be new opportunities financial and emotional hinting at better times coming. But you'll still need to cope with contradictory events, some bringing success and others landing you with responsibilities and problems to solve. The Eclipses point to a hard-working first half year with a need to boost your stamina however you can to be able to cope. And a quieter second half when you'll be given a chance to recharge your batteries and let others do the running around. With expansive Jupiter and restrictive Saturn both moving through Aquarius which is your chart area of confidential financial and emotional concerns, you will find that money news will be good and not so great at different times. More may come in with less effort than you might have expected. But you will also be thrown back on your own resources, not in a position to rely on anyone else's generosity and having to put your mind to reorganising your long-term security. Perseverance will pay off and it need not be a disaster as long as you don't take risks or expect miracles. Needless to say, your plans will chop and change since the world at large will be going through continuing unpredictability and a few jangled upheavals. Your emotions will follow a similarly up and down journey with greater intimacy coming in one relationship as Jupiter dissolves the barriers you have erected in the past to keep intimacy at bay. But you may also sense of coolness and separation in another. Try not to be resentful if you're landed with heavier responsibilities by a loved one since you may feel you're doing double-duty at points. You'll get your rewards in time. The ten weeks after the middle of May will find you with your head above the clouds, basking in the sunshine, with the opportunity to travel or broaden your horizons in other ways and pursue enthusiastic schemes. And once you've ambled through the final months of the year, you'll be on top form and raring to go just before next New Year.