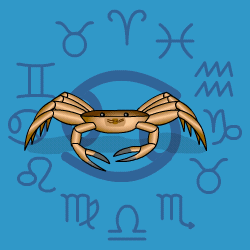 Cancer
June 22 - July 23
---
Today's Horoscope for Sunday December 15th
The Jupiter Uranus connection today will allow you to see that your world can be a bigger, better and brighter place than before. The trouble is you've got to make fairly speedy decisions about one scheme. Just don't rush ahead without doing some double checking. You will know now clearly which close relationships in your life have room for more sharing and caring. Any which have grown stale and dull will be quietly dropped with a minimum of fuss.
The Weekly Outlook from 09th December
Keeping yourself healthy is always discussed as if it only applied to your body. You know you have to get yourself into good shape now physically, but it is also important to look after yourself psychologically. Think about what calms you down, and make sure that today at least you schedule that activity into the diary. There is a need for change in one close partnership. If you can let go and allow changes to take place without fearing that you will be handing over control, then you will find your connection deepens.
Your Monthly Horoscope for December
Head down and slogging on, you'll feel as if it's all work and no play for a few weeks. But needs must that the chores get done so looking after health and fitness will be crucial. Energy going out needs to be replenished by rest, good food and exercise. Relationship tensions will gradually ease through the month with easy-going Jupiter moving into your opposite sign of Capricorn from the 2nd for a year ahead. There will still be wrinkles to be ironed out and dilemmas to be resolved. But there will be luck around to smooth round a few rough edges. Out on the social scene as well you'll be popular for your knack of putting others at their ease. A new opportunity mid month will pout the sparkle back in your eye whether it is romantic or on the work front. Then after the 22nd you'll be less drained by overwork and able to wind down with more support around. The Capricorn Solar Eclipse will prompt you to rethink your attitudes to one close partnership. Being less self-sufficient and more flexible will help.
and Next Month's Horoscope for January
Focussing your attention on close relationships of all varieties will be vital now with so much planetary activity in your opposite sign. Some will be great, some less so or you'll be blowing hot and cold alternately. Remember when the going gets tough that loyalty lasts and means more than frivolous gestures of affection. You may feel slightly bleak towards mid month but that is almost certainly an over-reaction. Don't be negative or too stubborn. A little positive thinking and tolerance will go a long way. You know you have to find a better balance between independence and interdependence. The Lunar Eclipse in your own sign hints that this will be a theme for some months to come. You will be working hard and taking on perhaps too many commitments. Try to delegate and don't assume only you can do tasks perfectly. In the final days you'll be sorting out confidential dilemmas, financial and emotional, and pushing to reach better agreements with those close.
Year Ahead 2019
This is a key year for you with Eclipses in Cancer and your opposites sign of Capricorn. You\'ll sense you\'re at a crossroads and need to make major decisions about your path ahead and about close relationships. Partnerships may be strained as the year opens but the loyal bonds will remain steadfast. Only the shaky, flaky ones will go to the wall. What is vital is that you aim to be more adaptable and co-operative in the first half of the year, giving the needs of those close as much attention as you do your own. Health and work look well-starred with Jupiter in Sagittarius till December. You\'ll recover from minor ailments faster than usual and apart from weight gain you\'ll be on top form. More enthusiasm and support in your career will make for fun times with the promise of better pay and conditions. New friends will zip in and out of your life like fireflies - exciting when they\'re there but fairly erratic. They\'ll give you the courage to try out new and exciting ventures. What\'s for sure is that your plans for the future will be changing radically. By mid year you\'ll know certain resolutions which have been bubbling cannot be pushed aside any longer. A more independent phase for a few months will see you making your own choices, which may not always meet with agreement or approval. But you\'ll know that any commitments must be made by you and you alone. A more amiable mood in love and relationships will gradually set in from December onwards pointing to a more co-operative and sociable 2020.