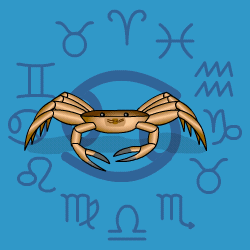 Cancer
June 22 - July 23
---
Today's Horoscope for Friday December 03rd
Your exuberance will bounce you into high-vitality action in a major way. Promoting yourself with vigour, you'll be looking for the limelight, flirting, laughing, singing and dancing. There will be emotional depth in relationships with loved ones and you will find it difficult to conceal your feelings, so your playful, dramatic whims will be on display. At your happiest when heading for enjoyment, you'll have to tread softly with children or those under your care since you could come across as bossy.
The Weekly Outlook from 29th November
There may be a passing cash dilemma to tackle and put to bed. Tightening your belt for a day or so will help and pushing aside extravagances. If you knuckle down and do what is required then you'll find be pleased that you did. The New Moon in your chart area of fitness and work comes round once a year to nudge you into getting more practical about your body and your daily schedule. Find ways of boosting your stamina in the months ahead and try not to waste energy going the long way round chores.
Your Monthly Horoscope for December
Zipped up and raring to go, your determination to enjoy yourself and get others dancing to your tune may hit a few obstacles in the first two weeks as duty demands that you knuckle down to work hard and be of service when required. If you're burning the candle at both ends you'll need to boost your stamina however you can otherwise you'll end up drained. One close partner will be particularly affectionate and you'll be in demand socially so you won't go short of compliments or invitations. Just before mid month there may be travel or communication muddles so you'll need to stay on top of details. Money news will be good in patches to keep you cheerful and though you won't escape chores all month you will get more support after the 21st. As you head for the New Year your head will be rattling with grand plans to travel more or broaden your horizons in other ways into 2022.
and Next Month's Horoscope for January
Togetherness and cooperation will be the key to your fulfilment and progress through the month. Luckily one partner will be affectionate and your charming responses will keep you popular not just at home but socially as well. Hard work will be unavoidable so you'll need to stay fit especially if you are burning the candle at both ends. Not being too perfectionist and insisting only you can do tasks well will also help. There's no sense in over burdening yourself. Behind the scenes in private you'll be holding intense discussions over financial or emotional matters, trying to reach better agreements. It may be a bore but whatever work you can do in advance will help since the Sun moving into Aquarius from the 20th will throw up a few crucial questions. Those close may not always agree with your approach so you'll need to negotiate a compromise there. Into the final days, you'll be talking fast, pushing for closure on various matters. Stay persevering.
Year Ahead 2021
Into 2021 with high hopes and some fair winds behind you, there will be new opportunities financial and emotional hinting at better times coming. But you'll still need to cope with contradictory events, some bringing success and others landing you with responsibilities and problems to solve. The Eclipses point to a hard-working first half year with a need to boost your stamina however you can to be able to cope. And a quieter second half when you'll be given a chance to recharge your batteries and let others do the running around. With expansive Jupiter and restrictive Saturn both moving through Aquarius which is your chart area of confidential financial and emotional concerns, you will find that money news will be good and not so great at different times. More may come in with less effort than you might have expected. But you will also be thrown back on your own resources, not in a position to rely on anyone else's generosity and having to put your mind to reorganising your long-term security. Perseverance will pay off and it need not be a disaster as long as you don't take risks or expect miracles. Needless to say, your plans will chop and change since the world at large will be going through continuing unpredictability and a few jangled upheavals. Your emotions will follow a similarly up and down journey with greater intimacy coming in one relationship as Jupiter dissolves the barriers you have erected in the past to keep intimacy at bay. But you may also sense of coolness and separation in another. Try not to be resentful if you're landed with heavier responsibilities by a loved one since you may feel you're doing double-duty at points. You'll get your rewards in time. The ten weeks after the middle of May will find you with your head above the clouds, basking in the sunshine, with the opportunity to travel or broaden your horizons in other ways and pursue enthusiastic schemes. And once you've ambled through the final months of the year, you'll be on top form and raring to go just before next New Year.