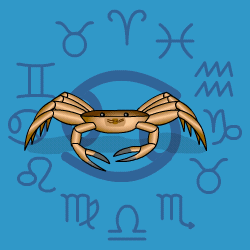 Cancer
June 22 - July 23
---
Today's Horoscope for Monday October 26th
You may not be practical or good with details but you'll be entertaining and mischievous. What you lack in discipline you will make up for in fun.rnA restless mood will make it tricky to settle to any tasks requiring concentration. But why should you? You don't want to be stuck in a corner. Let your imagination soar. Your intuition will be working well, so you can look ahead and know a little of what is coming. That will help you put your energy in the right direction and see a result.
The Weekly Outlook from 26th October
Adding decorative touches to your intimate surroundings will be a top priority for a few weeks ahead. Having beauty around will make you feel happier. Get out the colour charts, buy a few more pot plants and see what you can do. Though freedom will also be important. Recently you may have been stuck in a rut, with others tying you down. You won't always be tactful since your excitement will be high. If anyone gets in your way you will not stand for it with a few noisy responses.
Your Monthly Horoscope for October
All you'll yearn for is a few weeks of quiet home-time, having heart-to-heart chats with those you trust the most and giving yourself a chance to reflect over recent events. But with the month starting on a see-saw Full Moon and moving on through a rollicking series of planetary drama is won't be as feather-bedded as you might wish. Close partners will blow hot and cold, be stubborn one moment and delightfully supportive the next. You'll want to push ahead with a few pet projects and may ruffle feathers by insisting that loved ones dance to your tune when they have other ideas in mind. Everyone will be at sixes and sevens so there's not point in trying to make set plans since they'll change constantly. Luckily your charming way with words won't desert you so you should be able to pour oil on troubled waters and issue compliments at exactly the right moment. All's well that ends well and into the final week you'll be beaming ear-to-ear as loved ones rally round to applaud and admire you and party invitations flowing in thick and fast.
and Next Month's Horoscope for November
Bubbling over with joie de vivre and good humour, you won't be hiding away in a corner or being modest. You'll throw caution to the winds and demand attention, admiration and applause. Loved ones and social mates will rally round to make you feel warm and wonderful. Even if you're not always practical, you will be so entertaining that others will be pleased to take on your chores. Taking time out for heart-to-heart chats with family members will iron out a few wrinkles and put your mind at rest. Great news about a partner or a joint venture towards mid-month will find you bouncing with excitement and you won't hold back when it comes to promoting yourself as someone who deserves respect. Whatever you turn your hand to should work well as long as you act in a spirit of co-operation. More work will be on the cards after the 21st but party invitations will continue to flow in so you'll need to boost your stamina if you intend to burn the candle at both ends.
Year Ahead 2020
2020 will bring challenges and a reappraisal on the relationship front. No one can be an island unto themselves so compromises are always an essential part of any partnership. With the heavy duty Saturn Pluto conjunction together in your opposite sign of Capricorn there may be some criticism hanging around or times of separation when work and practical responsibilities get in the way of warmth. The strong bonds in your life will stay loyal and steadfast. Only the shaky ones will give you pause for thought. You will see clearly which connections have potential for development in future and which can be quietly dropped with no fuss. Those you treasure will be there with you every step of the way, sharing more activities and dreams for the future.rnFriends will be erratic, one moment there and next moment off somewhere else so you'll find them never dull but unpredictable. Your future plans will chop and change as you decide on one set of goals only to shift over to what seem more exciting aims. Try not to give yourself problems by being too fickle.rnLooking after health and fitness will be a theme flagged up by the eclipses all year so you'll need to stay on top of your regimes both in terms of diet and exercise. Being pro-active and taking the initiative will forestall any problems.rnYour finances will also need care between March and July since there'll be less generosity coming your way from the universe. You'll be thrown back on your own resources and will become more resilient as a result. Though money may be tighter than usual which will force you to reorganise your budget more sensibly.rnAn extra-hard-working and ambitious six months from July onwards will find you putting down your foot, sweeping obstacles to one side and going straight ahead. You'll lay down the law and expect others to dance to your tune.