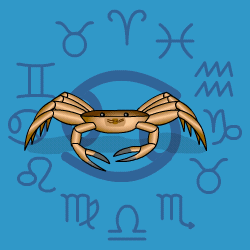 Cancer
June 22 - July 23
---
Today's Horoscope for Friday January 18th
Today you will find you are particularly happy around other people and putting energy into getting their approval. There is a tremendously light-hearted and dynamic feel about getting to grips with whatever is under your nose, and making the most of it. Although you'll also be utterly determined to get to the bottom of one emotional problem which has been niggling at you. Try not to get so fixed about seeing things the way they are, that you can't see any alternative.
The Weekly Outlook from 14th January
Try to express what you really want. Being too reserved will not pay off now. If you don't ask you may not get. In the past you may have missed chances because you were scared of being turned down. You do need to take a small risk every now and then. There will be surprises later in the week. The Sun in aspect with Uranus is slightly explosive and disruptive, because it tells you that you can't afford to compromise any longer.
Your Monthly Horoscope for January
Into an ambitious, hard-working and rather bossy few weeks, you'll expect everyone to dance to your tune which may ruffle a few feathers. One close partnership at work or at home will be going through a sticky phase with coolness and a few tensions around. A radically new approach will be needed with the Solar Eclipse in your opposite sign. Being less self-sufficient and more adaptable will be required. Saturn will tend to make you nit-pick over flaws and mistakes but remember there's always a positive as well as a negative side to any situation or person. Valuing loyalty over passion will be the way to go. Being confrontational won't work since both of you will dig in your heels and you'll end up in a no-win stalemate. A tetchy few days around the 20th will make you rethink your priorities. Then you'll be in an upbeat, get-it-together few days, tackling your pet projects with high enthusiasm and good results.
and Next Month's Horoscope for February
February is never your favourite month with too many confidential matters to concentrate on and agreements to be negotiated which always takes time. So slowly, slowly should be your watchword. Be firm and flexible, since you will need to compromise to ensure everyone feels well treated.rnIt won't always be easy to keep your cool especially where close relationships at work or at home are concerned. You'll tend to flare up and want those close to toe your line. But if you come across as bossy it's likely to backfire. You'll push ambitiously ahead despite a few setbacks and one sparky difference towards mid month. Jumping ahead too quickly and over-reacting because you feel your self-esteem has been threatened won't be wise. If you can wind down and focus on your own original ideas, you'll do best.rnA change of gear towards mid month will see your enthusiasm rise and your focus will shift onto friendships and future plans. You'll be keen to ensure everyone pulls together, which won't always be possible but the glitches of early in the month will have disappeared. You'll sigh with relief in the final days as you move into a less restrictive phase with the chance of more travel or adventure.
Year Ahead 2019
This is a key year for you with Eclipses in Cancer and your opposites sign of Capricorn. You\'ll sense you\'re at a crossroads and need to make major decisions about your path ahead and about close relationships. Partnerships may be strained as the year opens but the loyal bonds will remain steadfast. Only the shaky, flaky ones will go to the wall. What is vital is that you aim to be more adaptable and co-operative in the first half of the year, giving the needs of those close as much attention as you do your own. Health and work look well-starred with Jupiter in Sagittarius till December. You\'ll recover from minor ailments faster than usual and apart from weight gain you\'ll be on top form. More enthusiasm and support in your career will make for fun times with the promise of better pay and conditions. New friends will zip in and out of your life like fireflies - exciting when they\'re there but fairly erratic. They\'ll give you the courage to try out new and exciting ventures. What\'s for sure is that your plans for the future will be changing radically. By mid year you\'ll know certain resolutions which have been bubbling cannot be pushed aside any longer. A more independent phase for a few months will see you making your own choices, which may not always meet with agreement or approval. But you\'ll know that any commitments must be made by you and you alone. A more amiable mood in love and relationships will gradually set in from December onwards pointing to a more co-operative and sociable 2020.