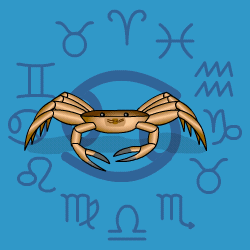 Cancer
June 22 - July 23
---
Today's Horoscope for Sunday May 28th
Well-organised Saturn is in your chart area which rules the higher mind, belief systems, and long distance travel for months ahead. You will be working hard to improve your understanding of the world and perhaps also struggling to find new spiritual beliefs. Your old outlook does not hold the same appeal any more. If you feel cut off from certain people, as if you were not getting the support and encouragement that you expected, don't sit behind a brick wall and feel sorry for yourself. That will just make things worse. You have to break out of the vicious circle and find a way of bridging the gap.
The Weekly Outlook from 22nd May
Mars now moving through your chart area of personal finances should boost your security in the weeks ahead though it is also likely to drift irresistible temptations under your nose. Pleasure will be high on your priority list but try not be too impulsive about taking on new commitments just to impress other people. You will be swinging along with an enthusiasm that is infectious, so everyone will be pulling together and results will pile in faster. Though you may cut corners and not double-check the details.
Your Monthly Horoscope for May
Surrounding yourself with friends and getting involved in team or group activities will be what keeps your morale high and your mind in forward gear. Sorting out long term plans may not be easy with Pluto in Aquarius putting a drag on certain plans. But you do need to work out a strategy which includes ways of honouring old obligations. Money may be an issue but with determination and a little nifty footwork you'll find a way through a complicated situation. Venus in your own sign will find you turning on the charm full blast and attracting compliments and invitations. Good luck will come through acquaintances old and new after the middle of the month. They will be cheering you on and keeping your optimism high. And not just for two weeks but for a year to come. Into the final days you may start pushing too hard to get your own way financially and in other areas and then have to backtrack. Be sensible.
and Next Month's Horoscope for June
Nothing much moves at the speed you would like with the Sun in the sign before yours until the 21st. Take the hint and slow down. Give yourself a chance to reflect over the past year and get events into perspective and start to plan. If you have all your ducks in a row you will speed ahead later. Spending money on extravagances will prove all too tempting but if you can turn your imagination to earning more there will be plenty of surplus. Pleasure and possessiveness will go hand in hand so loved ones will be expected to show their affection in tangible way, in hugs or presents.rnPluto reversing back into Capricorn, your opposite sign, from the 11th for a few months may throw up a few challenges on the relationship front but nothing you haven't coped with before. Try not to get into no-win discussions since they only waste energy and leave a sour taste behind. Keep your own counsel and say less for a short while.rnYour birthday Sun in the final ten days will boost your morale and find you bouncing out with enthusiasm to make your mark. No one will miss your sunny presence. You'll be making up for lost time and talking non-stop. A surprise turn of events with a cash matter may tempt you to make a hasty decision. Take a deep breath and be sensible.
Year Ahead 2023
Praise, recognition and respect rolling your way will start your 2023 with success in the air. At work or in your community activities you'll be sailing high and sensing that your moment has come. Whatever you tackle over the next four months will work out better and faster than even you could imagine. The only thing which could get in your way is to become over-confident and think you can't lose. That way you could trip yourself up. Putting in a little self-discipline, planning and hard work and your achievements will be rock solid and long lasting. Certain financial restrictions will ease as the year wears on but you will still have to be strategic moving ahead and play your financial cards skilfully. Circumstances beyond your control will delay certain plans so you may need to tread water and be patient. It won't be a time to raise loans or look to others to bale you out. Being self-sufficient will be the way to go. Fun and inventive friends will open your eyes to new possibilities and though they'll be unpredictable and not always reliable you'll be grateful for their insight. Your future plans will be changing as you launch into this new phase and you may not commit to a settled plan for a whole. Hanging loose and keeping your options open will be wise. Jupiter will boost your optimism from May onwards so you won't be short on high hopes. Your enthusiastic approach will attract new helpers and you won't go short of good company.