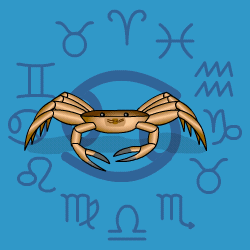 Cancer
June 22 - July 23
---
Today's Horoscope for Thursday May 28th
You'll be coming up with bright inspirations but you won't always be good at following your ideas through. Maybe you are trying to juggle too many balls in the air at once. Spouting off opinions in all directions, you will be jumping onto the next point before companions have had a chance to understand what you say. You could also be point scoring or trying to have the last word, which may not always go down too well. Your boredom threshold will be low so you may jump into action to avoid having to make considered decisions.
The Weekly Outlook from 25th May
You could be careless, dashing into situations without thinking them through. Your confidence and courage will surge but maybe too much so. You may not have as much common sense as would be helpful so put safety first. After midweek you'll be a chatter-box, lively and enthusiastic, determined to get your ideas and opinions across to everyone in sight. Your mind will be racing ahead of you, leaping from subject to subject at computer speed, so slower-witted companions may have problems keeping up.
Your Monthly Horoscope for May
Friends will not be in short supply as you sail hopefully through three weeks of discussing plans and picking up advice. You'll revel in team activities, be happy to co-operate and will be putting in effort to ensure everyone pulls in the same direction. Close partners will be giving you a boost and taking a positive stance. They may not always be realistic but they will be good at motivating and encouraging. You'll sense that recent tensions have been overcome and you'll have learnt from past mistakes which you won't repeat. Sorting out your finances will be crucial since you'll be thrown back on your own resources and having to draw on your resilience to find answers. After the 13th certain pressures will lift and you won't feel so hemmed in. Thereafter you'll be spreading your opinions far and wide and aiming higher. But you'll need to pace yourself since the final ten days will be quieter, a time to take a step back and sit on the side lines for a few weeks.
and Next Month's Horoscope for June
You'll be taking life easily and giving yourself a break for three weeks with the Sun and Venus out of sight in your chart. Pampering yourself in the quiet moments if no one else offers will keep you feeling good. It's a time to reflect over the past year and prepare for the one about to start when your birthday Sun rolls round from the 20th onwards. Don't think that standing on the sidelines and letting others take the strain is wasted time or a humiliation. What it does is give you a chance to recharge your batteries and get your ducks in a row. You will have adventurous schemes in mind and grand plans but most will have to wait. The Solar Eclipse in your own sign on the 21st, a powerful New Moon, is an infrequent occurrence, and an indication that you are at a crossroads and need to make far-reaching decisions about your path ahead. Rushing into impulsive judgements won't be wise. Consider all the options and alternatives carefully. From the 28th you'll be in a position to put your foot on the accelerator and forge ahead with the full support of a close partner.
Year Ahead 2020
2020 will bring challenges and a reappraisal on the relationship front. No one can be an island unto themselves so compromises are always an essential part of any partnership. With the heavy duty Saturn Pluto conjunction together in your opposite sign of Capricorn there may be some criticism hanging around or times of separation when work and practical responsibilities get in the way of warmth. The strong bonds in your life will stay loyal and steadfast. Only the shaky ones will give you pause for thought. You will see clearly which connections have potential for development in future and which can be quietly dropped with no fuss. Those you treasure will be there with you every step of the way, sharing more activities and dreams for the future.rnFriends will be erratic, one moment there and next moment off somewhere else so you'll find them never dull but unpredictable. Your future plans will chop and change as you decide on one set of goals only to shift over to what seem more exciting aims. Try not to give yourself problems by being too fickle.rnLooking after health and fitness will be a theme flagged up by the eclipses all year so you'll need to stay on top of your regimes both in terms of diet and exercise. Being pro-active and taking the initiative will forestall any problems.rnYour finances will also need care between March and July since there'll be less generosity coming your way from the universe. You'll be thrown back on your own resources and will become more resilient as a result. Though money may be tighter than usual which will force you to reorganise your budget more sensibly.rnAn extra-hard-working and ambitious six months from July onwards will find you putting down your foot, sweeping obstacles to one side and going straight ahead. You'll lay down the law and expect others to dance to your tune.