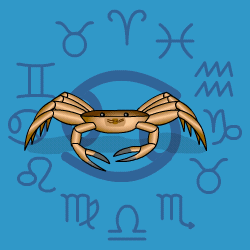 Cancer
June 22 - July 23
---
Today's Horoscope for Friday August 12th
The Aquarius Full Moon is focussed for you on financial and emotional matters. You may be inclined to think you have to alter the way you share, care, relate and co-operate, but it might not be a good idea to decide anything on the spur of the moment. Getting your own security pulled together is something only you can do and that needs to come first. If you have an urge to do a clear out, try not to throw away too much. If you are too impulsive, you may want to backtrack in a few days.
The Weekly Outlook from 08th August
Whatever moves out of your life, which you have been hanging onto for security isn't as useful as imagined. A sudden flash of insight will allow you to see new possibilities ahead if you can let go of inessentials have a clear out. Your mood will be intense so it's important not to over react to distractions or trivial muddles. You know you are having to be self-sufficient and it won't be easy not leaning on someone close either for support or advice. But it is important to try.
Your Monthly Horoscope for August
Spending and saving money will be your two main preoccupations since you'll want to spoil yourself while keeping a watchful eye on your long term security. And given that your future plans are changing suddenly and shifting your outlook considerably you won't be clear about what comes next. Friends and team relationships may also be heated and not cooperative. If everything goes up in the air for two weeks you'll do best to stand back and wait for the dust to settle. Making impulsive decisions and reacting too emotionally to unexpected events won't bring the results you need. Just tread softly through a tricky few days. Accept you will be thrown back on your own resources and won't be on the receiving end of as much support or generosity as you might wish. Charm and tact will soothe a few tense moments early on and after the 11th you'll reckon treats are in store to make up for lacks elsewhere. A busy final ten days will blow the cobwebs away though circumstances won't allow you to be as pro-active as you might wish.
and Next Month's Horoscope for September
A busy everyday schedule will keep you on your toes and boredom well at bay. Chatting as you skip around at speed, you'll be making new friends and catching up with old mates. Thoughtful gestures of appreciation will make you aware you don't have to move far to attract affection. It won't be grand passion but will leave you feeling reassured. You may be frustrated because certain projects are on a go-slow but if you keep pulling strings behind the scenes and be patient, you'll get to where you want to be eventually. Rope in support from anyone who is in a position to be pro-active and that will help as well. Taking time out to chat to loved ones at home will draw you closer to those who make you feel secure. Into the final week all you'll care about is withdrawing into your own nest at home, relaxing and having time with the family. You need a chance to reflect over recent events before you push on with dynamic plans late next month.
Year Ahead 2022
2022 will put you in the mood for travel as you step across the New Year. At the very least, if you're stuck in one place you'll want to broaden your horizons in other ways, taking up new hobbies and interests and aiming to inject adventure into your life. Your enthusiasm will soar and you'll be chatting animatedly to anyone who will listen.rnSorting out longer term plans will be a prompt from the April Taurus Eclipse since you can't drift along hoping for the best and playing away the day. Getting a definite strategy pulled together will take time but will be well worth it.rnJupiter moving across your midheaven from May onwards until December will bring success and recognition your way along with appreciation from workmates and those out in the community. Anything you tackle should bring results better and faster than you expect, so you'll be swinging along in good style.rnFinancial responsibilities may weigh heavily through the year but there'll be no escaping the chore of resolving problems and reaching for fairer agreements over money. You will feel thrown back on your own resources, emotionally as well as financially, since those close may not be in a position to be as generous or supportive as in the past. The benefit is you will emerge more resilient because of your experiences and having to cope.rnFuture plans will chop and change along with the company you keep. Friends will be there one day, not the next and back again later. You may get uptight about their unpredictability but they will be lively and stimulating when they are around.rnYou'll be pacing yourself from August onwards for a few months since certain projects will be on a go-slow and you'll need to pull strings behind the scenes rather than dashing ahead at full speed. But before the New Year you'll be back on a high and attracting compliments and attention.