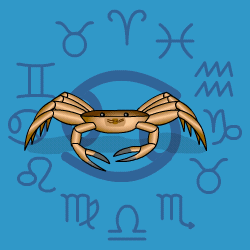 Cancer
June 22 - July 23
---
Today's Horoscope for Friday January 24th
The New Moon in the deepest part of your chart could pass you by without any noticeable effect. But if you can find space to ponder you may be able to answer questions which have been bothering you recently. Your emotional responses will be more intense but you need to tread softly, and not say everything you feel or think. You will be still waters that run deep. You will be controlling your feelings, putting up a calm exterior. Watch that jealousy or possessiveness does not get in the way of closeness.
The Weekly Outlook from 20th January
In the weeks ahead you will be concentrating on confidential matters, both financial and emotional. You'll need to persevere and be flexible since you won't get everything your own way. There will be a surprise towards the weekend which may come from a friend. What events tell you is that one future plan has to change which may be unsettling but you'll know you can't afford to compromise any longer. The areas of your life which have become dull need a reboot and a major re-think.
Your Monthly Horoscope for January
Focussing your attention on close relationships of all varieties will be vital now with so much planetary activity in your opposite sign. Some will be great, some less so or you'll be blowing hot and cold alternately. Remember when the going gets tough that loyalty lasts and means more than frivolous gestures of affection. You may feel slightly bleak towards mid month but that is almost certainly an over-reaction. Don't be negative or too stubborn. A little positive thinking and tolerance will go a long way. You know you have to find a better balance between independence and interdependence. The Lunar Eclipse in your own sign hints that this will be a theme for some months to come. You will be working hard and taking on perhaps too many commitments. Try to delegate and don't assume only you can do tasks perfectly. In the final days you'll be sorting out confidential dilemmas, financial and emotional, and pushing to reach better agreements with those close.
and Next Month's Horoscope for February
Slow and steady will need to be your motto for three weeks since you'll be wrestling with secret and personal dilemmas which won't be quickly resolved. But they will be if you keep pushing so play a long game and keep your goals in mind. You will find your efforts pay off with more security ultimately. You will need to knuckle down for two weeks to hard graft and pay attention to detail. Being meticulous may cause partners to complain that you're being perfectionist but you know that attention to detail will bring results. Put effort towards staying fit and healthy as well. Your social status will rise with invites to special occasions where you'll put on a sparkling performance and charm all the right people. Keeping up appearances will be all important to you but don't forget to stay close to what you feel inside as well. Close partners will be revving up their engines from mid month onwards and be heated at times, so try to go with them and act as peacemaker. After the 19th you'll be les intense and more enthusiastic, keen to spread your wings and broaden your horizons.
Year Ahead 2020
2020 will bring challenges and a reappraisal on the relationship front. No one can be an island unto themselves so compromises are always an essential part of any partnership. With the heavy duty Saturn Pluto conjunction together in your opposite sign of Capricorn there may be some criticism hanging around or times of separation when work and practical responsibilities get in the way of warmth. The strong bonds in your life will stay loyal and steadfast. Only the shaky ones will give you pause for thought. You will see clearly which connections have potential for development in future and which can be quietly dropped with no fuss. Those you treasure will be there with you every step of the way, sharing more activities and dreams for the future.rnFriends will be erratic, one moment there and next moment off somewhere else so you'll find them never dull but unpredictable. Your future plans will chop and change as you decide on one set of goals only to shift over to what seem more exciting aims. Try not to give yourself problems by being too fickle.rnLooking after health and fitness will be a theme flagged up by the eclipses all year so you'll need to stay on top of your regimes both in terms of diet and exercise. Being pro-active and taking the initiative will forestall any problems.rnYour finances will also need care between March and July since there'll be less generosity coming your way from the universe. You'll be thrown back on your own resources and will become more resilient as a result. Though money may be tighter than usual which will force you to reorganise your budget more sensibly.rnAn extra-hard-working and ambitious six months from July onwards will find you putting down your foot, sweeping obstacles to one side and going straight ahead. You'll lay down the law and expect others to dance to your tune.