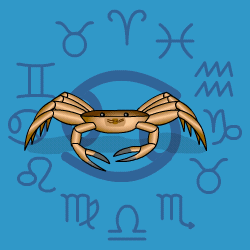 Cancer
June 22 - July 23
---
Today's Horoscope for Wednesday May 12th
Anyone who orders you around won't be popular. But if you can avoid arguing, there is a chance that sudden bolts from the blue will bring the solution that resolves differences. If you are holding back from a serious discussion with a loved one or friend you'll need to think of a way of breaking the ice. There may have been criticism or negativity around recently but you could also be misconstruing something you have only half heard. Check it out before jumping to conclusions.
The Weekly Outlook from 10th May
You could get careless or go dashing into situations without thinking the consequences through in advance. If you can soften your approach and move more cautiously, you will get away with almost everything. You will be frank but your charming manner will let you away with it. Your mind will be alert, active and wide-ranging now and for months ahead. You will want to learn and travel more. Let yourself communicate with as many people as possible but do realize that you are not at your most realistic.
Your Monthly Horoscope for May
Revved up and raring to go with dynamic Mars in your own sign until next month, you won't put up with delays or anyone saying NO to you. But for all that this needs to be an all-hands-on-deck team-spirited phase where you pull together in group efforts to ensure faster progress. You'll be looking ahead sorting out your plans for the rest of the year and keen to get cracking. Though you can't speed through the preparation phase since you'll only end in a muddle. Try to listen more and be as helpful as you can to loved ones and tread water for a while. Being too impulsive or impatient won't pay dividends. Slowly but surely you'll be getting a firmer grip on recent problems and seeing positive results around mid month. Your enthusiasm will rise with the prospect of travelling more or broadening your horizons in other ways in the weeks ahead. After the 20th you'll be pulling strings behind the scenes and waiting the right time for action.
and Next Month's Horoscope for June
In a slow month, you'll be drumming your fingers and complaining about being pushed onto the side-lines. Instead of getting uptight, you should treat downtime as a blessing in disguise. Until the 21st, wind down, recharge your batteries, reflect over recent events and plan and prepare ahead. Let others take the strain and you'll bounce out revitalised later. Close partners will be digging in their heels and not budging over a tricky situation up to the 5th. Laying down the law and insisting they fall in line with your wishes won't work. Turn on the charm instead which will bring better results. Focusing your attention on your finances from the 11th for a few weeks will pay dividends as long as you curb your tendency to let surplus slide through your fingers. Crucial decisions need to be taken in complicated, fast-changing circumstances. You'll be in a better position to make your presence felt after the 21st.
Year Ahead 2021
Into 2021 with high hopes and some fair winds behind you, there will be new opportunities financial and emotional hinting at better times coming. But you'll still need to cope with contradictory events, some bringing success and others landing you with responsibilities and problems to solve. The Eclipses point to a hard-working first half year with a need to boost your stamina however you can to be able to cope. And a quieter second half when you'll be given a chance to recharge your batteries and let others do the running around. With expansive Jupiter and restrictive Saturn both moving through Aquarius which is your chart area of confidential financial and emotional concerns, you will find that money news will be good and not so great at different times. More may come in with less effort than you might have expected. But you will also be thrown back on your own resources, not in a position to rely on anyone else's generosity and having to put your mind to reorganising your long-term security. Perseverance will pay off and it need not be a disaster as long as you don't take risks or expect miracles. Needless to say, your plans will chop and change since the world at large will be going through continuing unpredictability and a few jangled upheavals. Your emotions will follow a similarly up and down journey with greater intimacy coming in one relationship as Jupiter dissolves the barriers you have erected in the past to keep intimacy at bay. But you may also sense of coolness and separation in another. Try not to be resentful if you're landed with heavier responsibilities by a loved one since you may feel you're doing double-duty at points. You'll get your rewards in time. The ten weeks after the middle of May will find you with your head above the clouds, basking in the sunshine, with the opportunity to travel or broaden your horizons in other ways and pursue enthusiastic schemes. And once you've ambled through the final months of the year, you'll be on top form and raring to go just before next New Year.