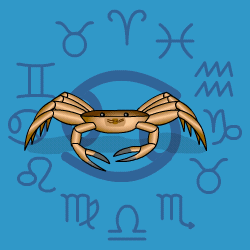 Cancer
June 22 - July 23
---
Today's Horoscope for Tuesday March 28th
You will want to smooth round rough edges and bounce any down in the mouth mates into better humour. You'll be feeling good and bouncy, so everyone else needs to be the same. Just do it with good humour and sprinkle a few compliments around. There's nothing worse than a joker when others are feeling gloomy. You may lean towards off beat beliefs about the world. But be wary of putting anyone on a pedestal since no one will match up to your ideals. You will be disappointed if you invest too much hope in someone else having all the right answers.
The Weekly Outlook from 27th March
Your engine will be revving and you be keen to make your mark in the weeks ahead. Your close relationships may suffer since you won't always be sensitive or tactful and at times your foolhardiness could lead you into trouble. There is an old saying that anything which shoots up fast like plants growing in a swamp, wither just as quickly. Diamonds on the other hand which are produced slowly under great pressure last for ever. Persistent effort over time will produce long lasting results. Don't dash in expecting overnight miracles.
Your Monthly Horoscope for March
Putting on your charming face and stepping out enthusiastically looking as if you had not a care in the world, you'll start the month in good style. With adventure in mind and travel, you'll be keen to broaden your horizons however you can. If you are stuck in one place you'll be taking up new interests and spreading your opinions far and wide, promoting your pet causes. Certain financial restrictions will lift but you'll need to tread cautiously since there will be significant changes coming which will prompt you to alter your attitude towards what is of value and what isn't in your life. Your outlook and philosophy of living will be under review and you'll abandon what no longer fits with the shifting circumstances of your life. Warm hearted friends will be an encouraging support and offer advice after mid month. The past few months have been slow going with Mars tucked out of sight but in the final days you'll rev up and be firing on all cylinders with red lights turning green. More praise and recognition will come your way as you move into a higher profile few weeks at work and in your community activities.
and Next Month's Horoscope for April
Firing on all cylinders, you won't let anything or anyone stand in your way. Your assertive approach may stir up odd arguments but will get results. With the Sun and successful, lucky Jupiter together at your midheaven you should be experiencing a triumph or two at work and in your community activities. Whatever you tackle will work out better and faster than you expect. Just try not to let over confidence trip you up. Add a touch of caution and humility to your approach and you'll fly ahead. Warm hearted friends will be around to offer support and appreciation as well as fun invitations. You realise however that life can't be all picnics and roses with Saturn now in Pisces for two years ahead. Adopting a more serious outlook will require that you rethink old attitudes and opinions and abandon outdated viewpoints. There will be pressures behind the scenes either over financial matters or emotional ones which will require a strategic approach in the final days. You won't always have total control but with a determined push you will make modest progress.
Year Ahead 2023
Praise, recognition and respect rolling your way will start your 2023 with success in the air. At work or in your community activities you'll be sailing high and sensing that your moment has come. Whatever you tackle over the next four months will work out better and faster than even you could imagine. The only thing which could get in your way is to become over-confident and think you can't lose. That way you could trip yourself up. Putting in a little self-discipline, planning and hard work and your achievements will be rock solid and long lasting. Certain financial restrictions will ease as the year wears on but you will still have to be strategic moving ahead and play your financial cards skilfully. Circumstances beyond your control will delay certain plans so you may need to tread water and be patient. It won't be a time to raise loans or look to others to bale you out. Being self-sufficient will be the way to go. Fun and inventive friends will open your eyes to new possibilities and though they'll be unpredictable and not always reliable you'll be grateful for their insight. Your future plans will be changing as you launch into this new phase and you may not commit to a settled plan for a whole. Hanging loose and keeping your options open will be wise. Jupiter will boost your optimism from May onwards so you won't be short on high hopes. Your enthusiastic approach will attract new helpers and you won't go short of good company.