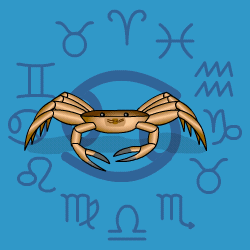 Cancer
June 22 - July 23
---
Today's Horoscope for Tuesday November 28th
If you're around others too much, you'll end up being pulled into activities that don't interest you. Give yourself permission to do what you want to do for yourself. You'll be surprised in the quiet moments how inspiration suddenly hits you about problems and concerns that seemed to have no answer. Don't worry if you feel tentative or cautious. When needed, you will be kind, sensitive to those who need help though you won't voice your own wishes for a day or so.
The Weekly Outlook from 27th November
When the Moon falls in the sign before yours, you really want to retreat into a protected space and shut out the world. But this week sees a Full Moon which will pull you between conflicting wants and oughts. Your sense of duty says work and service to others comes first. But you also have your own needs to consider. There are times when making a determined push is the right approach. Then there are others when doing nothing at all seemingly ends you up in the right place at the right time, saying the right thing to the right people without making too much of an effort.
Your Monthly Horoscope for November
Fun and high jinks will be the order of your day at least for three weeks as you set sail on a round of parties and social jaunts and sparkle in the spotlight of the attention of loved ones. You will insist on getting your own way so watch you don't come across as bossy but with your passionate enthusiasm and high vitality your requests will be hard to resist. Keeping active will soak up any surplus energy. Though you will need to watch not to be too headstrong or reckless when Uranus is around for a few days between the 10th and 14th since you could trip yourself up. Luckily the mood at home will be affectionate and inviting so you will have chances to relax and cuddle up close or invite friends and family round for supper. You'll also be mulling over redecoration plans. By the 20th you'll have reached agreement with a close partner. The final days will involve hard-work, sorting out mistakes and being conscientious.
and Next Month's Horoscope for December
You'll be burning the candle at both ends, working and playing hard. Duty calls and getting on with essential tasks will be unavoidable so you'll need to keep fit to stay on top of all the demands on your time and energy. Try not to get discouraged if you are not given more appreciation for your labours. Take pride in doing what you do well and reckon the rewards will come later on. Your social diary will fill up fast and you'll relish the chance to sparkle in the spotlight and be complimented by everyone you meet. Romance could be in the air for those on the lookout and loved ones will rally round with applause and votes of affection. There may be a few muddles over travel plans after the middle of the month so be sure to double check all details. If you energy slumps briefly, take a break. Into the final days there will be support and reassurance on offer from close partners. Togetherness will be what keeps your world spinning smoothly. Your optimism will soar as good news comes your way from a friend.
Year Ahead 2023
Praise, recognition and respect rolling your way will start your 2023 with success in the air. At work or in your community activities you'll be sailing high and sensing that your moment has come. Whatever you tackle over the next four months will work out better and faster than even you could imagine. The only thing which could get in your way is to become over-confident and think you can't lose. That way you could trip yourself up. Putting in a little self-discipline, planning and hard work and your achievements will be rock solid and long lasting. Certain financial restrictions will ease as the year wears on but you will still have to be strategic moving ahead and play your financial cards skilfully. Circumstances beyond your control will delay certain plans so you may need to tread water and be patient. It won't be a time to raise loans or look to others to bale you out. Being self-sufficient will be the way to go. Fun and inventive friends will open your eyes to new possibilities and though they'll be unpredictable and not always reliable you'll be grateful for their insight. Your future plans will be changing as you launch into this new phase and you may not commit to a settled plan for a whole. Hanging loose and keeping your options open will be wise. Jupiter will boost your optimism from May onwards so you won't be short on high hopes. Your enthusiastic approach will attract new helpers and you won't go short of good company.