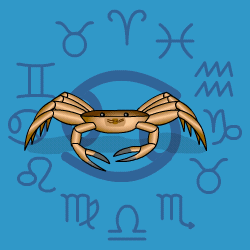 Cancer
June 22 - July 23
---
Your Birthday Horoscope
IF ITS YOUR BIRTHDAY TODAY your year ahead will be successful, confident and go-ahead. Almost everything you attempt should work out better and faster than you expect with praise and recognition coming your way. You will be working hard, taking the lead and expecting others to follow along behind. Try to negotiate with close partners since a compromise will bring more cooperation. You'll be chopping and changing your mind about your future plans as new friends open your eyes to unexpected opportunities.
Today's Horoscope for Saturday June 25th
You will be provoking reactions in others, either because they are seduced by your charm or put off by your obstinacy. One is obviously great, the other could be a nuisance. If you feel one close relationship is creaking, you need to be honest. Sweeping disagreements under the carpet will only make things worse. You can only clear the air of grievances if you speak them first, but do it tactfully. If you leave things to simmer under the surface, they will only continue to fester.
The Weekly Outlook from 20th June
Everyone you encounter should respond well to your presence in coming weeks since you'll be so warm and outgoing, bringing a breath of sunshine when you sweep into rooms. Though you'll also appreciate quiet times as well. With Venus in the secret area of your chart you'll be yearning for a beautiful, spiritual connection in your love life. Try not to be too sentimental and impressionable. You will be inclined to retreat into your inner dream world at the slightest setback.
Your Monthly Horoscope for June
Warm-hearted friends will be boosting your morale and showering you with compliments as you amble through a slow-going three weeks with little progress on various projects. You can use the time wisely to rest and recharge, or plan and prepare so when the tide turns you'll be ready to forge ahead. Sorting out joint finances will be one priority or tackling other confidential tangles. You may complain too much responsibility is being landed on your shoulders but you will surprise yourself at how well you cope and be pleased as you build up your security. By midmonth you will see your way ahead clearly and can push ahead with schemes which have been delayed recently. Your birthday Sun from the 21st will be a revelation as the red lights turn to green and you can fire ahead on all cylinders. No one will miss your presence when you sweep into rooms. You may not always be realistic but your enthusiasm will be catching.
and Next Month's Horoscope for July
Your birthday Sun for three weeks will keep your spirits high as you plot and plan good resolutions for the year ahead. Your energy and self-confidence will soar though you'll still have to contend with a close partner who will be digging in their heels. You'll have a clear idea of what will suit you and they will want to head in the opposite direction so there will be moments of deadlock when neither of you will budge. Try to agree to differ or give yourself permission to go your separate ways temporarily. Not that you'll be inclined to let go since your possessive streak will be to the fore. You won't be as sociable until after mid month but in the final days you'll make up for lost time. Indulging yourself on extravagances and presents will put a happy smile on your face though saving a little might be an idea as well for security.
Year Ahead 2022
2022 will put you in the mood for travel as you step across the New Year. At the very least, if you're stuck in one place you'll want to broaden your horizons in other ways, taking up new hobbies and interests and aiming to inject adventure into your life. Your enthusiasm will soar and you'll be chatting animatedly to anyone who will listen.rnSorting out longer term plans will be a prompt from the April Taurus Eclipse since you can't drift along hoping for the best and playing away the day. Getting a definite strategy pulled together will take time but will be well worth it.rnJupiter moving across your midheaven from May onwards until December will bring success and recognition your way along with appreciation from workmates and those out in the community. Anything you tackle should bring results better and faster than you expect, so you'll be swinging along in good style.rnFinancial responsibilities may weigh heavily through the year but there'll be no escaping the chore of resolving problems and reaching for fairer agreements over money. You will feel thrown back on your own resources, emotionally as well as financially, since those close may not be in a position to be as generous or supportive as in the past. The benefit is you will emerge more resilient because of your experiences and having to cope.rnFuture plans will chop and change along with the company you keep. Friends will be there one day, not the next and back again later. You may get uptight about their unpredictability but they will be lively and stimulating when they are around.rnYou'll be pacing yourself from August onwards for a few months since certain projects will be on a go-slow and you'll need to pull strings behind the scenes rather than dashing ahead at full speed. But before the New Year you'll be back on a high and attracting compliments and attention.