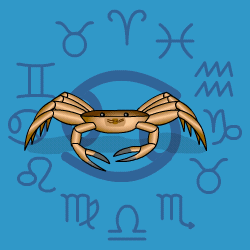 Cancer
June 22 - July 23
---
Today's Horoscope for Friday November 22nd
You'll be taking steps to find a better atmosphere at work because you need to feel valued. Do not over push yourself, or become tense, but continue to improve your efficiency and not waste energy.rnSince you need to be on top form physically, you will be taking a greater interest in what you eat. If you are feeling under par, then adjust your physical lifestyle to suit your stamina. And try not to over load yourself unnecessarily with too many commitments.
The Weekly Outlook from 18th November
You'll be burning the candle at both ends in a busy, hard-working and hard-playing few weeks ahead. You'll throw yourself with enthusiasm into enjoying yourself, getting your own way and grabbing the spotlight when you can. Just watch that you do not take too many risks if you are sporty since Mars can be a rather headstrong energy. But there will also be moments when you have to knuckle down dutifully. But for that you need to be fitter, so you will be reviewing your lifestyle, seeing whether you could improve your diet, take up more exercise or get more rest.
Your Monthly Horoscope for November
A busy social life will keep you on your toes and you'll not miss an opportunity to shine in the spotlight and entertain an audience. But the mood at home will be sticky for three weeks, with some arguments and general grumbles around. You won't be happy about one of your pet projects going slow, but taking your irritation home with you won't help. Be patient, unpick mistakes and wait till the tide turns. Your closest partner won't always be flexible so you may come to a stalemate early on. Don't push differences on and on since it'll leave a sour taste. Agree to disagree and forget it. Just before mid month you'll pull several loose ends together and feel back in control. Then your energy and passionate enthusiasm will soar so for the final days you'll be on rip roaring good form. You won't avoid hard work but you will have enough energy to allow you to pack in enjoyment as well as duty.
and Next Month's Horoscope for December
Head down and slogging on, you'll feel as if it's all work and no play for a few weeks. But needs must that the chores get done so looking after health and fitness will be crucial. Energy going out needs to be replenished by rest, good food and exercise. Relationship tensions will gradually ease through the month with easy-going Jupiter moving into your opposite sign of Capricorn from the 2nd for a year ahead. There will still be wrinkles to be ironed out and dilemmas to be resolved. But there will be luck around to smooth round a few rough edges. Out on the social scene as well you'll be popular for your knack of putting others at their ease. A new opportunity mid month will pout the sparkle back in your eye whether it is romantic or on the work front. Then after the 22nd you'll be less drained by overwork and able to wind down with more support around. The Capricorn Solar Eclipse will prompt you to rethink your attitudes to one close partnership. Being less self-sufficient and more flexible will help.
Year Ahead 2019
This is a key year for you with Eclipses in Cancer and your opposites sign of Capricorn. You\'ll sense you\'re at a crossroads and need to make major decisions about your path ahead and about close relationships. Partnerships may be strained as the year opens but the loyal bonds will remain steadfast. Only the shaky, flaky ones will go to the wall. What is vital is that you aim to be more adaptable and co-operative in the first half of the year, giving the needs of those close as much attention as you do your own. Health and work look well-starred with Jupiter in Sagittarius till December. You\'ll recover from minor ailments faster than usual and apart from weight gain you\'ll be on top form. More enthusiasm and support in your career will make for fun times with the promise of better pay and conditions. New friends will zip in and out of your life like fireflies - exciting when they\'re there but fairly erratic. They\'ll give you the courage to try out new and exciting ventures. What\'s for sure is that your plans for the future will be changing radically. By mid year you\'ll know certain resolutions which have been bubbling cannot be pushed aside any longer. A more independent phase for a few months will see you making your own choices, which may not always meet with agreement or approval. But you\'ll know that any commitments must be made by you and you alone. A more amiable mood in love and relationships will gradually set in from December onwards pointing to a more co-operative and sociable 2020.