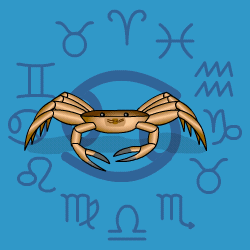 Cancer
June 22 - July 23
---
Today's Horoscope for Tuesday October 04th
You may come across more sharply than you intend if you speak before you think. But when you have time to consider you will be tolerant and flexible in your views. What may be getting you on edge is a sense that changes are ongoing in your closest relationship. You're being prompted to examine below the surface to find the ones which are resilient and lasting. Where the bonds are shaky you'll be seeing where you could improve the agreements between you. Fighting for control and not compromising won't work.
The Weekly Outlook from 03rd October
Racing around faster you will be chatting brightly about a million different things. You won't let your feelings get in the way of your thinking since you'll want to be clear. But it does sometimes mean you sound cool or too detached. After midweek keep an open mind and don't become so tunnel-visioned that you can't see anything beyond what your own opinion. If you step back and listen with tolerance to alternative views you'll reach better decisions. Lighten up and laugh more.
Your Monthly Horoscope for October
Never happier than when you are at home surrounded by family and close friends you'll be beaming from ear to ear with a domestic few weeks. You will be able to put down roots, have a chance to get perspective on recent events, throw yourself into heart-to-heart with with loved ones and generally amble along at a slower pace. Redecoration will be on your mind as you consider ways to make your intimate surroundings more colourful, elegant and stylish. Not all of your ideas will be realistic so try not to get carried away by dreams of glamour and you will have to be cautious with money. You will feel responsible when it comes to building up your security and ensuring those close are well provided for. Even if there is a difference of opinion with a partner towards the 18th you'll know that nothing will spoil your enjoyment as you head into a fun-loving few weeks from the 23rd. The Solar Eclipse on the 25th will focus your energy on wakening up your love life and your social schedule in the months ahead. If you reckon you are not getting enough attention and affection then you need to give more. What goes around comes around.
and Next Month's Horoscope for November
A sociable, romantic and fun-loving Sun, Venus and Mercury in your chart area of entertainment, laughter and children will find you playing spontaneously and kicking up your heels. This is your time to sparkle and not feel weighed down by duty and responsibility. If you have felt you were not getting enough affection and attention, you need to give more. Hand out the hugs and compliments and you will be rewarded with a great response. OK you won't avoid a few sticky moments over a financial matter or another confidential dilemma but patience and persistence will find an answer. Friends will spring surprises on you and open your eyes to new vistas ahead. Don't scared to alter your hopes and ambitions since you're in a fast-moving phase where nothing much is staying the same for long. Gradually after the middle of the month you'll start to wind down the festivities and head back to getting organised and being of service when asked.
Year Ahead 2022
2022 will put you in the mood for travel as you step across the New Year. At the very least, if you're stuck in one place you'll want to broaden your horizons in other ways, taking up new hobbies and interests and aiming to inject adventure into your life. Your enthusiasm will soar and you'll be chatting animatedly to anyone who will listen.rnSorting out longer term plans will be a prompt from the April Taurus Eclipse since you can't drift along hoping for the best and playing away the day. Getting a definite strategy pulled together will take time but will be well worth it.rnJupiter moving across your midheaven from May onwards until December will bring success and recognition your way along with appreciation from workmates and those out in the community. Anything you tackle should bring results better and faster than you expect, so you'll be swinging along in good style.rnFinancial responsibilities may weigh heavily through the year but there'll be no escaping the chore of resolving problems and reaching for fairer agreements over money. You will feel thrown back on your own resources, emotionally as well as financially, since those close may not be in a position to be as generous or supportive as in the past. The benefit is you will emerge more resilient because of your experiences and having to cope.rnFuture plans will chop and change along with the company you keep. Friends will be there one day, not the next and back again later. You may get uptight about their unpredictability but they will be lively and stimulating when they are around.rnYou'll be pacing yourself from August onwards for a few months since certain projects will be on a go-slow and you'll need to pull strings behind the scenes rather than dashing ahead at full speed. But before the New Year you'll be back on a high and attracting compliments and attention.