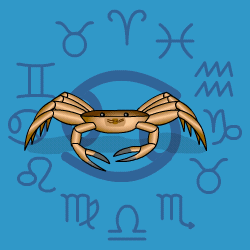 Cancer
June 22 - July 23
---
Today's Horoscope for Wednesday October 20th
The Full Moon today falls across your mid heaven, which means you will have to find a better balance between your head and your heart. Success will not be fulfilling unless you have a settled emotional base. But equally you cannot find all your satisfaction in your intimate environment. You know the best way to get more attention is to be helpful to those around. Give them what they need and they'll appreciate you. But you also need to time to find yourself. Divide yourself between quiet moments with your feet up and busy patches.
The Weekly Outlook from 18th October
You will be in an excitable and hopeful mood with good news coming in on the financial front. You'll reckon your luck has turned and that anything you touch from now on will turn out well. There are favourable winds blowing behind you but you'll need to slow down. Prepare, plan, understate what you think you can achieve and you will fare better. If you aim too high then you could find nothing works as well as you expect. Later in the week be cautious since you could attract yourself to the wrong kind of people, forceful or unreliable.
Your Monthly Horoscope for October
Home will be where your heart is and where you are directing all of your energy and attention for three weeks. Although you're an ambitious and creative sign, your first love is family, roots and your domestic setup. Taking time out of a busy schedule will be no hardship. Having heart-to-heart chats with loved ones will iron out a few wrinkles from the recent past and you'll also be planning a clear out and reorganisation. Certain family members may not take kindly to being swept into tidier order with the furniture but you won't care. Good news on the financial from midmonth will provide surplus for a plan you have in mind. Though partners will be digging in their heels about this or other matters for a few days thereafter so you'll need to tread warily. Into the final days you'll be kicking up your heels and out on the party scene.
and Next Month's Horoscope for November
The month will not be without its complications but your passionate enthusiasm and dynamic energy will find you sailing through in good spirits. Flirting, having fun, playing games and getting your own way will be your favourite occupations. This may not always go down well with those close who won't appreciate being bossed around, though you'll probably not notice their reactions. Just have a care that you don't go over the score with a cash matter since you may have to tighten your belt towards the 10th; and over confidence could trip you up if you don't take care. Your future plans will chop and change with a pro-active Uranus in Taurus so staying flexible will help. Friends may be erratic and not always there when you expect, so try to take them as they come. Into the final week, you'll continue to be vibrant and boisterous but will need to fit in time for work and chores as well.
Year Ahead 2021
Into 2021 with high hopes and some fair winds behind you, there will be new opportunities financial and emotional hinting at better times coming. But you'll still need to cope with contradictory events, some bringing success and others landing you with responsibilities and problems to solve. The Eclipses point to a hard-working first half year with a need to boost your stamina however you can to be able to cope. And a quieter second half when you'll be given a chance to recharge your batteries and let others do the running around. With expansive Jupiter and restrictive Saturn both moving through Aquarius which is your chart area of confidential financial and emotional concerns, you will find that money news will be good and not so great at different times. More may come in with less effort than you might have expected. But you will also be thrown back on your own resources, not in a position to rely on anyone else's generosity and having to put your mind to reorganising your long-term security. Perseverance will pay off and it need not be a disaster as long as you don't take risks or expect miracles. Needless to say, your plans will chop and change since the world at large will be going through continuing unpredictability and a few jangled upheavals. Your emotions will follow a similarly up and down journey with greater intimacy coming in one relationship as Jupiter dissolves the barriers you have erected in the past to keep intimacy at bay. But you may also sense of coolness and separation in another. Try not to be resentful if you're landed with heavier responsibilities by a loved one since you may feel you're doing double-duty at points. You'll get your rewards in time. The ten weeks after the middle of May will find you with your head above the clouds, basking in the sunshine, with the opportunity to travel or broaden your horizons in other ways and pursue enthusiastic schemes. And once you've ambled through the final months of the year, you'll be on top form and raring to go just before next New Year.