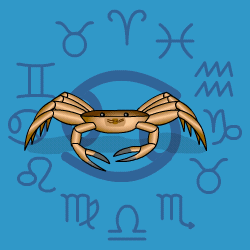 Cancer
June 22 - July 23
---
Today's Horoscope for Thursday January 27th
If you can remain open to different viewpoints, you'll have a naturally easy way with people. You'll boost their morale and sweep them up in your enthusiasm. It all depends on your softening your approach and being tolerant. Then you will get away with almost everything. Even if you are shockingly frank your charming manner will win you allies and compliments. Let yourself communicate as widely as possible but realize that you are not at your most realistic. Try to think before you speak.
The Weekly Outlook from 24th January
What to keep in mind with Mars now in your opposite sign for several weeks ahead is that cooperation will pay dividends. Partners may be heated and you'll be inclined to bicker back but it'll waste good energy. Throw your support behind their plans and pull together. That way you will avoid making yourself feel badly done by. You'll stand up for yourself and take control. After midweek if everyone can be straightforward and not allow self-righteousness to creep in you'll have a chance of making progress.
Your Monthly Horoscope for January
Togetherness and cooperation will be the key to your fulfilment and progress through the month. Luckily one partner will be affectionate and your charming responses will keep you popular not just at home but socially as well. Hard work will be unavoidable so you'll need to stay fit especially if you are burning the candle at both ends. Not being too perfectionist and insisting only you can do tasks well will also help. There's no sense in over burdening yourself. Behind the scenes in private you'll be holding intense discussions over financial or emotional matters, trying to reach better agreements. It may be a bore but whatever work you can do in advance will help since the Sun moving into Aquarius from the 20th will throw up a few crucial questions. Those close may not always agree with your approach so you'll need to negotiate a compromise there. Into the final days, you'll be talking fast, pushing for closure on various matters. Stay persevering.
and Next Month's Horoscope for February
You'll be keen to forge ahead with partners willing you on but certain confidential dilemmas will hold you up. Whether it is a financial or an emotional impasse or difference of opinion you will have to find a way through which will take persistence and flexibility. You won't get it all your own way and at times may feel those close or the ones you share responsibility with are being less than generous and supportive. So you will be thrown back on your own resources. The upside of your challenges is that you will be growing in inner strength and resourcefulness with having to cope. Even if you run into setbacks in the first week, be persistent and you'll win through eventually. A close partner will veer between being forceful and downright stubborn so chivvy them into good humour when you can. Good news will come in from a distance away or about a future plan to keep your morale high and into the final days you'll have a chance to aim higher and spread your wings.
Year Ahead 2022
2022 will put you in the mood for travel as you step across the New Year. At the very least, if you're stuck in one place you'll want to broaden your horizons in other ways, taking up new hobbies and interests and aiming to inject adventure into your life. Your enthusiasm will soar and you'll be chatting animatedly to anyone who will listen.rnSorting out longer term plans will be a prompt from the April Taurus Eclipse since you can't drift along hoping for the best and playing away the day. Getting a definite strategy pulled together will take time but will be well worth it.rnJupiter moving across your midheaven from May onwards until December will bring success and recognition your way along with appreciation from workmates and those out in the community. Anything you tackle should bring results better and faster than you expect, so you'll be swinging along in good style.rnFinancial responsibilities may weigh heavily through the year but there'll be no escaping the chore of resolving problems and reaching for fairer agreements over money. You will feel thrown back on your own resources, emotionally as well as financially, since those close may not be in a position to be as generous or supportive as in the past. The benefit is you will emerge more resilient because of your experiences and having to cope.rnFuture plans will chop and change along with the company you keep. Friends will be there one day, not the next and back again later. You may get uptight about their unpredictability but they will be lively and stimulating when they are around.rnYou'll be pacing yourself from August onwards for a few months since certain projects will be on a go-slow and you'll need to pull strings behind the scenes rather than dashing ahead at full speed. But before the New Year you'll be back on a high and attracting compliments and attention.