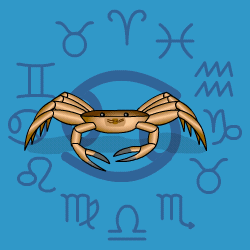 Cancer
June 22 - July 23
---
Today's Horoscope for Wednesday November 30th
Don't run yourself or your talents down but be fair minded about your own achievements and those of others. Remember that you've got a sense of humour as well as a sense of what's wrong with life. If you want to break through a communication barrier it will require you get companions to listen respectfully to what you have to say. You need to prepare the ground in advance by softening them up. But for all that you know you need to take care that you do not carry too many responsibilities for them.
The Weekly Outlook from 28th November
In a doggedly determined mood, you know you have the stamina to forge ahead but watch that you're not straining yourself too much or forcing yourself to do what you don't want to do. Too much will-power can make you can push past your limits. Then you'll toss all thoughts of duty to one side and after midweek won't want to be stuck with slow-moving tasks. Push aside the notion of starting a long-term project at least for this week and aim for fun, adventure and excitement.
Your Monthly Horoscope for November
A sociable, romantic and fun-loving Sun, Venus and Mercury in your chart area of entertainment, laughter and children will find you playing spontaneously and kicking up your heels. This is your time to sparkle and not feel weighed down by duty and responsibility. If you have felt you were not getting enough affection and attention, you need to give more. Hand out the hugs and compliments and you will be rewarded with a great response. OK you won't avoid a few sticky moments over a financial matter or another confidential dilemma but patience and persistence will find an answer. Friends will spring surprises on you and open your eyes to new vistas ahead. Don't scared to alter your hopes and ambitions since you're in a fast-moving phase where nothing much is staying the same for long. Gradually after the middle of the month you'll start to wind down the festivities and head back to getting organised and being of service when asked.
and Next Month's Horoscope for December
Sorting out practicalities and knuckling down to chores won't sound like fun but it will clear essentials out of the way to allow for fun later. Boosting your stamina and paying attention to your fitness plans and diet will be important since you can't put energy out without topping it back up. There will still be a few frustrations and situations where circumstances won't allow you to be as pro-active as you would wish. But needs must you accept what you can't change for the time being and pull strings behind the scenes. Co-opting the help of others to fill in for you will also be good since more hands make light work. Close partners will be on hand with helpful hints and be pleased to hear what you have to say. Their love and affection will do your morale the world of good after the 10th and you'll be in demand socially as well. The best news of the month is lucky, successful Jupiter moving across your midheaven from the 20th for several months bringing praise, recognition and opportunities galore. A loved one will be solidly behind your plans and with you every step of the way.
Year Ahead 2022
2022 will put you in the mood for travel as you step across the New Year. At the very least, if you're stuck in one place you'll want to broaden your horizons in other ways, taking up new hobbies and interests and aiming to inject adventure into your life. Your enthusiasm will soar and you'll be chatting animatedly to anyone who will listen.rnSorting out longer term plans will be a prompt from the April Taurus Eclipse since you can't drift along hoping for the best and playing away the day. Getting a definite strategy pulled together will take time but will be well worth it.rnJupiter moving across your midheaven from May onwards until December will bring success and recognition your way along with appreciation from workmates and those out in the community. Anything you tackle should bring results better and faster than you expect, so you'll be swinging along in good style.rnFinancial responsibilities may weigh heavily through the year but there'll be no escaping the chore of resolving problems and reaching for fairer agreements over money. You will feel thrown back on your own resources, emotionally as well as financially, since those close may not be in a position to be as generous or supportive as in the past. The benefit is you will emerge more resilient because of your experiences and having to cope.rnFuture plans will chop and change along with the company you keep. Friends will be there one day, not the next and back again later. You may get uptight about their unpredictability but they will be lively and stimulating when they are around.rnYou'll be pacing yourself from August onwards for a few months since certain projects will be on a go-slow and you'll need to pull strings behind the scenes rather than dashing ahead at full speed. But before the New Year you'll be back on a high and attracting compliments and attention.