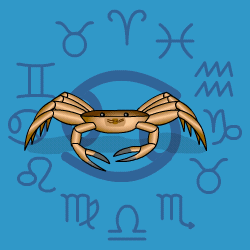 Cancer
June 22 - July 23
---
Today's Horoscope for Wednesday December 02nd
You need to be loved, cuddled and cosseted so look for reassuring companions who will give you support and be an anchor for you. Try to avoid overeating, because you will pamper yourself and avoid overreacting to certain situations You will also be seeking out new friends since the old ones will seem dull. Do not expect total reliability from new acquaintances however. They will walk their own path and will be challenging your sense of insecurity as well as offering excitement.
The Weekly Outlook from 30th November
You'll want to retreat into a protected space and shut out the world. But since this is the Full Moon this week you will be pulled between conflicting wants and oughts. Your sense of duty says work and service to others comes first. But you also have your own needs to consider. Keeping yourself healthy is always discussed as if it only applied to your body. You know you have to get yourself into good shape physically, but it is also important to look after yourself mentally. Think about what calms you down and schedule that activity into the diary.
Your Monthly Horoscope for December
Venus in seductive Scorpio will fire your enthusiasm for flirting, having fun and party-going until the middle of the month. But the Sagittarius Sun will nail your feet to the floor with chores piling up so you'll need to balance play with work and ensure you have the stamina to burn the candle at both ends. Staying fit will be crucial which means exercising when you can and eating food which will boost your energy. You may get into a middle at one point since you won't concentrate but as a rule you'll be perfectionist and overloading yourself unnecessarily. Try to ease up without getting careless. Loved ones will appreciate e helping hand after the 15th and you may feel thrown back on your own resources, having to do double duty at times financially and emotionally. You will receive a few lucky breaks but will also have to cope with a sense that the universe is being less generous to you than you'd like. One close relationship will be going through a sticky patch until after the 23rd. Try to ease up and not be overly controlling.
and Next Month's Horoscope for January
Co-operation will be crucial with the Capricorn Sun in place until the 19th. It won't always be easy since partners may want to have the last word on certain plans and you won't give way lightly or indeed at all. Even though there will be ups and downs and sudden changes on the financial front, you'll need to hold steady to those who have stood by you in the past and can be trusted to offer sensible advice. Luckily energetic friends and team mates will be willing you on and insisting you don't look backwards over your shoulder and get stuck in the past. You know moving ahead you'll need to save some of your good fortune for a rainy day and not take for granted the generosity of others or the universe. Being thrown back on your own resources at times will teach you resilience so you'll cope better in future. Being determined and patient will bring better results than dashing into situations and hoping for a good result.
Year Ahead 2020
2020 will bring challenges and a reappraisal on the relationship front. No one can be an island unto themselves so compromises are always an essential part of any partnership. With the heavy duty Saturn Pluto conjunction together in your opposite sign of Capricorn there may be some criticism hanging around or times of separation when work and practical responsibilities get in the way of warmth. The strong bonds in your life will stay loyal and steadfast. Only the shaky ones will give you pause for thought. You will see clearly which connections have potential for development in future and which can be quietly dropped with no fuss. Those you treasure will be there with you every step of the way, sharing more activities and dreams for the future.rnFriends will be erratic, one moment there and next moment off somewhere else so you'll find them never dull but unpredictable. Your future plans will chop and change as you decide on one set of goals only to shift over to what seem more exciting aims. Try not to give yourself problems by being too fickle.rnLooking after health and fitness will be a theme flagged up by the eclipses all year so you'll need to stay on top of your regimes both in terms of diet and exercise. Being pro-active and taking the initiative will forestall any problems.rnYour finances will also need care between March and July since there'll be less generosity coming your way from the universe. You'll be thrown back on your own resources and will become more resilient as a result. Though money may be tighter than usual which will force you to reorganise your budget more sensibly.rnAn extra-hard-working and ambitious six months from July onwards will find you putting down your foot, sweeping obstacles to one side and going straight ahead. You'll lay down the law and expect others to dance to your tune.