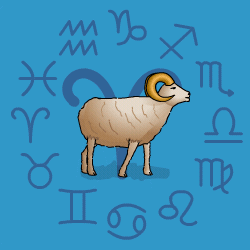 Aries
March 21 - April 20
---
Today's Horoscope for Sunday February 05th
You will be passionately enthusiastic about almost anything which interests you, whether it has romantic overtones or not. Your pet projects will get a push and friendships will be amiable. If you have creative talents this is your chance to get them out on display. Let your imagination have free rein. Although you know you should be sorting out long term plans, you'll much prefer to play away the day. Balancing the needs of the future with your instant desire for fun is the message of today's Full Moon.
The Weekly Outlook from 30th January
You'll be vigorous, full of bounce, vim and strong opinions with Mars your ruler highlighted early in the week. The important thing is to get the right balance. Be assertive. You've got confidence in what you're doing and what you believe in but don't push it so far that you end up in disagreements. Your attention will turn to money after a few days since there may be a sudden surprise which could present just the opportunity you have been waiting on.
Your Monthly Horoscope for February
Still pushed and pulled between what is familiar from the past and what is beckoning from the future, you'll be hopping from one foot to the other. A financial surprise may not be too your liking initially early on but could jolt you into long-delayed decisions that will get you moving. Your helter skelter schedule could be a distraction since your attention will get scattered so prioritising will be crucial.rnWhat will help is a less active social life for a few weeks so you will have chances to wind down and relax, pampering yourself in quiet moments. Loved ones will appreciate a sympathetic ear when you are around.rnSaturn will continue to prompt you to make sensible game plans for the longer term, along with the wise advice from older friends. They can sometimes sound negative but they will be worth listening to.rnLuckily your general self-confidence and enthusiasm will stay high to bounce you along in good spirits. In the final days you'll reckon you are due a break and will step back to let others do the running around and take the heavy lifting for a few weeks.
and Next Month's Horoscope for March
Going slow is not your style but early March is never a high-vitality time for you with pressure to step back and let others do the running around while you recharge your batteries and plan ahead. That won't stop you turning on the charm and stepping out onto the social scene whenever the opportunity presents itself. You'll be smoothing down tensions and acting as a peace maker when differences arise. But keeping your own counsel and saying less rather than more will pay dividends until the 19th. Your energy may sag or a confused situation get in your way mid month but thereafter you'll start to rev your engine and forge ahead. Indulging yourself with a few treats will keep you smiling but you'll need to be on your toes for major changes up and coming. Both Pluto and Mars change sign in the final days so you'll be laying down a new blueprint for the future which initially will include a reorganisation at home.
Year Ahead 2023
Bouncing into 2023 in high spirits with lucky Jupiter in your own sign willing you on with confidence, enthusiasm and new opportunities, you won't be holding back. In a go-to mood you'll know this is your year for making significant decisions about changing key areas of your life. The Eclipses will challenge you to take a different approach to your life's ambitions as well as your close relationships. It won't be a time for impulsive decisions so considering all your options carefully before coming to a sensible judgement will be wise. For many years you have been searching for a stronger sense of meaning and purpose in what you do and this is the point where you revise your outlook and plans for what comes next. Gradually you'll mix with influential people or be keen to involve yourself with likeminded friends to make a difference. Your finances will improve noticeably from May onwards with more flowing in and probably out again as your spending increases. If you can save a little of your good fortune for a rainy day ahead it'll give you security. Tackling practical tasks won't be easy with Saturn moving through Pisces the sign before yours. But needs must that loose ends from the past are tied up and you bring to completion what has been started in past years. Once you tie a ribbon on unfinished business you'll be free to move on.