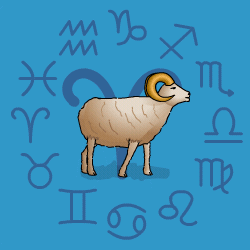 Aries
March 21 - April 20
---
Today's Horoscope for Monday January 17th
The Full Moon falling at the lowest point of your chart is not gloomy, but it is a hint that you need to draw back from too much work to consider your feelings more. You cannot allow your head to over-rule everything and forget your heart. Slow down and enjoy being instead of constant doing. Even your own company will not be a hardship for a short time. Your busy schedule will not allow you to play truant for long, but you must take a break along the way otherwise you will get over stretched.
The Weekly Outlook from 17th January
Family members and loved ones may have been complaining that they never see you. This is when you need to take the hint and find time for your nearest and dearest. You have ambitions to fulfil and work or community commitments but you also need to lead a balanced life, where there is play and relaxation as well as work. What will help is the Sun moving into Aquarius, your chart area of friends after midweek for the coming month so you won't go short of lively and exuberant company.
Your Monthly Horoscope for January
A mixture of charm and subtle pressure will see you making faster progress. This is when you take the lead, make decisions and expect others to follow along behind, so there's no sense in holding back or being modest. Be bold and indicate what you want and think best. Your adventurous spirit will keep you heading in the right direction and even if your opinions are a touch too forceful at times you'll still remain popular. Friends will be a great support and keen to hear your inventive ideas and laugh at your mischievous jokes. There will be a difference towards midmonth when a close mate decides to put an obstacle in your way or your plans don't meet with approval. Don't be too confrontational. Approach the matter with tact and you may find a compromise. Into the final days you'll be looking ahead and sorting out your longer term strategy with the help of team mates and working just as hard.
and Next Month's Horoscope for February
Moving ahead, you'll be revising your plans for the rest of the year, keen to make changes even if it takes an effort and not allowing anything to slow your progress. Being part of a team or group effort with friends means you'll make faster progress. OK there will be delays and setbacks and a few downbeat pieces of advice early on, but you're unlikely to let critical comments damp your enthusiasm. You'll be firing on all cylinders all month, working hard, taking the lead, issuing orders and expecting others to follow behind. Those close may complain you're being bossy but you have no intention of allowing anyone to be half asleep around you.rnTry to remember that one of the lessons of Jupiter in the sign before yours is to learn to relax contentedly in your own company. You need to schedule down time as a regular though brief occurrence, allowing you a chance to reflect and put the past into perspective.rnBut with four planets at your midheaven you won't be idle for long. You'll be exerting your persuasive charms when being forceful doesn't work.rnInto the final days you'll pull back and begin to wind down for a few weeks to recharge your batteries and prepare for your new birthday year ahead as the Sun moves into Aries later next month.
Year Ahead 2022
A slow start to 2022 need not be a bind since you'll relish the chance to enjoy quiet time, reflecting on recent events and coming to terms with yourself. You be learning to like yourself better and relax in your own company for the first few months. Then you'll bounce out revitalised and raring to go from May onwards, with luck on your side and the prospect of better times ahead.rnWhat will need your attention are your finances since the eclipses through the year highlight a need to take the initiative and not to amble along as before, hoping your guardian angel will keep you bountifully afloat. Getting a grip, take the right steps and making it happen will bring results.rnYou are nearly at the end of a longish phase of several years questioning where you are heading career-wise and in your life. By this stage you should have found a few answers that will bring you more of a sense of meaning, purpose and even vocation in the time ahead. A change in your plans may not come until the year after this but you will be reflecting on all the alternatives open to you.rnThroughout the year you'll be working hard to keep contact with friends and to ensure that team activities run smoothly. It may not be as easy as before but perseverance will pay off.rnJupiter moving through your own sign May to October and again from mid December into 2023 will zip up your confidence, enthusiasm and energy and with Mars, your ruler, in your chart area of high-speed movement and sharp talking from late August for nearly seven months you certainly won't be bored. A jam-packed everyday schedule will keep you on your toes. You won't suffer mistakes, delays or fools gladly so may ruffle a few feathers but that won't stop you speaking your mind and pressing ahead with vigour.