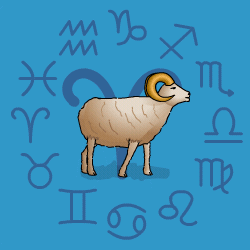 Aries
March 21 - April 20
---
Today's Horoscope for Tuesday November 28th
Constantly on the move, chattering as you go, you will be skimming the surface and cutting a few corners. The Gemini Moon is fickle, restless and emotional, so you may be talking to others in a way that they don't understand. You don't pause to come to any conclusions or be reflective. The words will all flow out like a flood. Whereas if you could stand back and think through the message you are trying to get across it will help and draw the right people round to your side.
The Weekly Outlook from 27th November
The Full Moon rolling along through your chart area of everyday communications may get you bogged down in trivia and coming across as muddled or even biased. If you can stand back to see the full picture without losing sight of the details, then you will reach better judgements and make more sense. Keeping your head in the clouds may be more exciting than putting your feet on the ground. But you cannot fly along endlessly. You will need to get a grip of your organisation and after that you can pursue your grand and glorious visions.
Your Monthly Horoscope for November
Slow and determined is not your normal approach but will have to do with both the Sun and Mars passing through Scorpio, which is the deepest most confidential area of your chart. You will be wrestling with negotiations to find better agreements with those close over emotional or financial matters and in general aiming to transform one area of your life. But that won't happen in the twinkling of an eye or with the wave of a magic wand. It will require perseverance as well as flexibility since you won't get it all your own way. Harbouring grudges is also not your way but you may experience the odd vengeful twinge if anyone lets you down or tries to short change you. Not all will be brooding and secretive since Venus moves into your opposite sign from the 8th for affection, popularity and social fun. Close relationships will glide along smoothly and friends will be warm-hearted and complimentary. There will be battles to be won and a few surprise turns of events to handle but sensible Saturn will be on hand late month to ensure you keep your feet on the ground and cope.
and Next Month's Horoscope for December
Always in an upbeat mood as the year end draws closer, you'll have grand plans and adventurous schemes in mind. Not all of them will be practical but your enthusiasm will carry you along and positive thinking will deliver some lucky results. Messages may be coming in from a distance away or abroad to keep you dreaming of far away places. Emotionally you will be secretive, determined, maybe passionate, even jealous at times but no one except those closest would guess as you put on a seductively charming smile. News about money should be good which will send you racing off to indulge yourself. The right people will be keen to hear what you have to say at work and elsewhere since you seem to have all the relevant information at your fingertips. Give yourself a break towards the 17th when your energy may sag. A few days later you'll be in fast-forward gear, working hard, taking the lead and demanding attention. The 27th will find you celebrating a triumph though you will find one dream may take a little longer.
Year Ahead 2023
Bouncing into 2023 in high spirits with lucky Jupiter in your own sign willing you on with confidence, enthusiasm and new opportunities, you won't be holding back. In a go-to mood you'll know this is your year for making significant decisions about changing key areas of your life. The Eclipses will challenge you to take a different approach to your life's ambitions as well as your close relationships. It won't be a time for impulsive decisions so considering all your options carefully before coming to a sensible judgement will be wise. For many years you have been searching for a stronger sense of meaning and purpose in what you do and this is the point where you revise your outlook and plans for what comes next. Gradually you'll mix with influential people or be keen to involve yourself with likeminded friends to make a difference. Your finances will improve noticeably from May onwards with more flowing in and probably out again as your spending increases. If you can save a little of your good fortune for a rainy day ahead it'll give you security. Tackling practical tasks won't be easy with Saturn moving through Pisces the sign before yours. But needs must that loose ends from the past are tied up and you bring to completion what has been started in past years. Once you tie a ribbon on unfinished business you'll be free to move on.