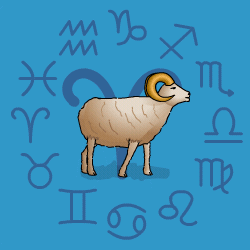 Aries
March 21 - April 20
---
Today's Horoscope for Monday March 08th
You will be happiest in the quiet backwaters in the days ahead and even your own company will not be a hardship for short periods. You will be sympathetic with Venus in the sign before yours, but need to protect yourself from becoming overloaded by others' problems. Just watch you are not being too sentimental and impressionable. You will be inclined to retreat into your inner dream world, at the slightest setback or hint of indifference or rejection, which may be unintended.
The Weekly Outlook from 08th March
There may be confusion or uncertainty hanging in the atmosphere with nothing as clear and straightforward as it should be. You will be aware of other's needs, but don't let sentimentality pull you into being overly generous. Nothing will be gained by racing around at high speed when your energy and motivation are low. There will be benefit to clearing quality space for yourself. Ponder, prepare, plan and understand. Companions may be demanding help, but you need to put down limits as well.
Your Monthly Horoscope for March
Waiting and hoping was never your strong point, so you'll be champing at the bit raring to be off. But needs must for three weeks that you content yourself with resting, relaxing, recharging your batteries, pulling strings behind the scenes and taking a back seat. It won't be easy since your everyday schedule will be filling up fast with demands on your time and attention. So it'll be one step forwards, one step backwards as you juggle with trying to do more and less at the same time. Enthusiastic friends will be on hand with morale-boosting support. And once through a swampy, low-energy dip on the 11th, you'll be getting a grip and see a way of getting back into the driving seat. You'll be more than relieved after the 20th when the red lights turn to green and you'll forge ahead. Not only will your energy and confidence soar, you'll be aware of new admirers around. Charm will get you the results you are looking for with a romantic partner, so don't hold back.
and Next Month's Horoscope for April
In a lively, dynamic, pro-active few weeks, you won't slow down for anyone or put up with delays. Plans for the coming months will be put into action with your customary decisiveness and speed. You'll sweep obstacles to one side not always patiently and be expressing your opinions bluntly. Your straightforward approach will cut through confusion so no one will be in doubt as to your meaning or intentions. Luckily you'll also have the knack of turning on the charm when needed so you'll mainly smooth down most problems you stir up. You will take time out to spruce up your wardrobe and appearance to good effect attracting compliments and invitations. After midmonth spending on irresistible treats will be all too easy since you'll adore the better things of life and reckon you deserve being pampered. Enthusiastic friends and team mates will rally round to keep your morale high and help you settle on your next moves. Though you will have to take care since their advice will veer towards the over optimistic. Money will be your main focus in the final days, which will involve shoring up your security and spending at the same time.
Year Ahead 2021
Living in the present won't suit you remotely with a head full of adventurous schemes and a driving determination to raise your sights high and broaden your horizons. You may not be able to travel instantly in 2021 but there will be other ways to fill your life with excitement and fun escapades. Friends, new and old, will be a major part of your entourage as you bounce ideas around and listen to feedback. You won't be letting the grass grow under your feet as you lay out your grand strategy for what comes next. Admittedly you'll need to keep a watchful eye on your personal finances since your circumstances will change constantly and rapidly. Budgeting with the unexpected in mind means saving when there is surplus to tide you through lean patches and not jumping to hasty decisions or purchases. January will be fraught in this respect, so tread softly and cautiously. You'll redouble your efforts to make more money or protect your security but will also be inclined to over spend. You'll give yourself a break for two months after the middle of May, to ponder, reflect and wait till inspiration strikes. The more you can content yourself with your own company the happier you'll be. Though there may also be a secret adviser who'll set your thinking along new lines. At work certain of the old issues of feeling pushed around or being over controlled will still be there but you'll manage to find a way of sidestepping troublemakers and control freaks since you've been round this circuit several times before. In a quiet way you'll exert more influence than you imagine. From midyear, an extra busy everyday schedule will require you to manage your time well, communicate clearly and get better organised. Your romantic and social life will revive with a surge of high energy and boisterous spirits through July and after. Though you'll need to entertain and party with an eye on the budget since the cash flow ups and downs will run throughout the year.