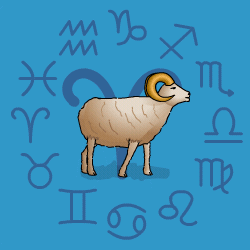 Aries
March 21 - April 20
---
Your Birthday Horoscope
IF ITS YOUR BIRTHDAY TODAY your year ahead will be hard-working, responsible, a time to stick to the straight and narrow if you want to gain the respect of those whose judgement you trust. You will have enthusiastic grand plans and but adventurous schemes will need to wait. Your personal finances will be unpredictable which just means that you'll need to save when there's surplus to cope with emergencies. By the year end your perseverance will pay off with success coming.
Today's Horoscope for Monday March 25th
You will be bouncing around with more enthusiasm and than usual. Having been held back recently by delays you'll now be forging ahead. This is a predictive kind of Moon for you today. If you can look into the future and see where life is taking you, then you can put your energy out more constructively. You want to see things in a much broader kind of way, to take the bird's eye view rather than being sunk in trivia.
The Weekly Outlook from 25th March
You may sometimes feel lonely and unloved at the moment. But time spent on your own need not necessarily be lonely, since you will have a chance to connect to your creative talents. If you like absolutely stable relationships and are rather possessive, Uranus will unsettle you this week since it never likes anything too trapped. So you may be feeling edgy. Aim to take a small risk. If you let the fresh air into your relationship you'll feel revived.
Your Monthly Horoscope for March
You'll be revved up when it comes to getting your finances knocked into better shape. No one is going to pull the wool over your eyes or short change you. Though you'll sense that changes are coming so you'll need to adapt to whatever circumstances show up and try to budget sensibly, saving when you can to tide you over unexpected expenses. But you'll also need to find time to wind down and drift and daydream for three weeks. You'll appreciate a chance to recharge your batteries and take stock of recent events, as well as doing a little planning for what lies ahead. Mid month your mood will flit from optimistic to pessimistic. Truthfully there will be good news and not so great, but nothing to extremes. Just don't let your enthusiasm run away with you and over commit yourself. In the final ten days your birthday Sun will give you renewed vitality and a morale boost. You'll step out boldly and will meet with favourable responses, Your everyday schedule will speed up from the last day onwards.
and Next Month's Horoscope for April
Your birthday Sun normally makes you bounce with enthusiasm but this year you'll be weighed down by heavy responsibilities and too much work. So you'll need to pace yourself and balance out duty with personal space for pleasure. Mistakes may surface which need to be faced, a solution found and then fixed before you'll be able to speed ahead. Being confrontational with someone who's trying to pull your strings won't work. Be ingenious and duck out. Good news towards mid month will boost your morale and open your eyes to new possibilities. It may mean broadening your horizons and aiming higher but it will work out well if you persevere. In the final ten days you'll be charming the birds off the trees, flirting like mad and looking great. Spending money will prove all too tempting on treats and extravagances. But you know your finances are unpredictable at the moment so saving when you can will be sensible.
Year Ahead 2019
You'll be pushing extra hard as the New Year opens, determined to make your mark and to get your talents recognised. There'll be obstacles to overcome, requiring self-discipline and perseverance. Letting self-doubt slow you down won't be helpful and luckily Jupiter in Sagittarius will keep your enthusiasm from flagging. And what will give your efforts an additional nudge is your feeling that it's now or never for success. That isn't true but the motivation will help you to make progress in sticky times. The early Lunar Eclipse will also nudge you to remember that fun and friends are important as well as achieving your goals. Your fiery go-ahead, act-first and think-second approach won't always be ideal so you'll need to pace yourself and take your responsibilities seriously. That way you'll gain the respect of those whose judgement you trust. Your financial situation will be changing with some ups and downs but that's not necessarily a disaster, since there'll be luck as well as extra outgoings at times. You just need to budget well and save when there's surplus. From mid year you'll slow down and put home and family matters up as your priority. Changes will be on your mind both literally in terms of reorganisation and also as you contemplate what emotional adjustments are needed for peace, harmony and satisfaction ahead. Speak frankly and tactfully and listen carefully and you'll reach agreements which are fair to all. Distractions at work and from your community activities will get in the way so listening to your heart, not your head will be important. August will be a social feast with fun, romance and enjoyment on offer as loved ones rally round to shower you with attention. Close relationships will hit a strained phase in October and November which can be overcome if you bite your tongue and say less. A confident, lucky and successful few months kicks off in December to allow you to sweep away any lurking concerns.