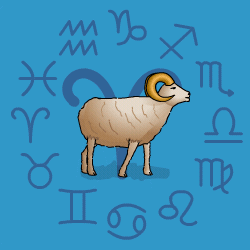 Aries
March 21 - April 20
---
Today's Horoscope for Friday January 18th
If you are imaginative or artistic, you should get one or two things done today. Sometimes creative influences make you just daydream and nothing much happens. But Mars is around pushing you into be more energetic. So you can turn one fantasy into reality. Just realise it may involve getting rid of things that are no longer any use to you, whether attitudes of mind or old methods. Though you could also be pointing out to others where they are going wrong.
The Weekly Outlook from 14th January
You will be outgoing, wanting to be centre of attention. You need a chance to glitter a little and get away from dreary chores. Watch that you don't get too headstrong and too impulsive. You need to take responsibility for the long-term consequences of what you decide to do. You may dash into something and then in four days' time wish you hadn't. Don't stick yourself into one place if it feels insufferable, but don't go too wildly over the top.
Your Monthly Horoscope for January
A super-energetic start to the year with Mars moving into your own sign on the 1st will run into too much hard work and some obstacles. Needs must that you shoulder your responsibilities and put in the effort. The Solar Eclipse at your midheaven is hinting that you need to try harder to make your mark and get your talents out on display. You may face some opposition either from boss figures at work or those who object to you taking control. See where you can use your persuasive powers to have influence rather than forcing your way ahead. You'll have big plans and high enthusiasm but not all your schemes will be workable so pitch your expectations down slightly and you won't be disappointed. Luckily Venus in fiery Sagittarius from the 7th will brighten your social life, bringing fun company and adventurous outings. A surprise turn of events around the 19th will test your patience, but a change of plan will be needed so go with the flow. Another Eclipse, a Lunar Full Moon on the 21st will find you pulled between friends on the one hand and loved ones on the other, as you also contend with a sticky problem. Be calm and it'll pass by quickly. By the 25th you'll be bouncing with exuberance and high confidence.
and Next Month's Horoscope for February
You'll be firing on all cylinders, revved up and raring to go. You won't always be tactful, especially when anyone tries to crowd you or expects you to toe their line. And there will be one or two challenges early on which will be better handled if you wind down and don't be too confrontational. Luckily friends will be around to distract and amuse you. They'll keep you pointing in the right direction as you set your goals and plans for the year ahead. Your social life will sparkle with invites to special occasions where you can put on a quite a show.rnYour enthusiasm may carry you on into some schemes which later prove unrealistic but you'll enjoy the excitement of thinking big and following your vision. Towards mid month and beyond you'll be discreet in what you say, keeping your ear close to the ground and relying on your own counsel for decisions. Try to keep a lid on your irritation around the 13th since you may over react and leap before you think. Then you'll get into gear to improve your personal finances, not taking no for an answer from anyone. In the final ten days you'll wind down and step back from a rushed schedule. Letting others take the strain while you ponder, plan and reflect will be your priority.
Year Ahead 2019
You'll be pushing extra hard as the New Year opens, determined to make your mark and to get your talents recognised. There'll be obstacles to overcome, requiring self-discipline and perseverance. Letting self-doubt slow you down won't be helpful and luckily Jupiter in Sagittarius will keep your enthusiasm from flagging. And what will give your efforts an additional nudge is your feeling that it's now or never for success. That isn't true but the motivation will help you to make progress in sticky times. The early Lunar Eclipse will also nudge you to remember that fun and friends are important as well as achieving your goals. Your fiery go-ahead, act-first and think-second approach won't always be ideal so you'll need to pace yourself and take your responsibilities seriously. That way you'll gain the respect of those whose judgement you trust. Your financial situation will be changing with some ups and downs but that's not necessarily a disaster, since there'll be luck as well as extra outgoings at times. You just need to budget well and save when there's surplus. From mid year you'll slow down and put home and family matters up as your priority. Changes will be on your mind both literally in terms of reorganisation and also as you contemplate what emotional adjustments are needed for peace, harmony and satisfaction ahead. Speak frankly and tactfully and listen carefully and you'll reach agreements which are fair to all. Distractions at work and from your community activities will get in the way so listening to your heart, not your head will be important. August will be a social feast with fun, romance and enjoyment on offer as loved ones rally round to shower you with attention. Close relationships will hit a strained phase in October and November which can be overcome if you bite your tongue and say less. A confident, lucky and successful few months kicks off in December to allow you to sweep away any lurking concerns.