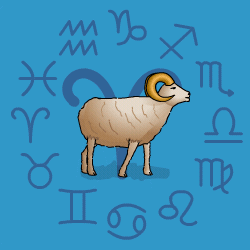 Aries
March 21 - April 20
---
Today's Horoscope for Monday May 23rd
You may seem preoccupied with money matters in coming days, but all to a good end. This is the time to be singing for your supper, discussing solutions to past problems and the more you talk the better the result. Today in particular you'll be confident, optimistic and bouncy with Jupiter around. You'll be keen to develop your potential in one area of your life, which may be financial but you'll also be working on your self-esteem with the help of an adviser.
The Weekly Outlook from 23rd May
Because you'll be putting out good vibes, you will get good results. What goes around, comes around and it isn't always the difficulties. It'll be a great time to be with friends, chatting over future plans and reflecting on how you're fulfilling your goals and ambitions. If you can muster up will power and avoid being careless then you'll see progress. From midweek dynamic Mars in your own sign will see you put your foot on the accelerator. Any obstacles that appear will be swept aside. Your blunt approach is what is needed to achieve your aims.
Your Monthly Horoscope for May
This will be a month of significant breakthroughs much to your delight. From early on you'll be sociable outgoing and finding that charm works wonders in persuading those close to shift in your direction. You'll be looking great and attracting admiring glances. Getting a grip of your personal finances will be a priority for three weeks and there will be hitches, glitches and setbacks to overcome before you nail down your situation and protect your security. You'll be pulling string behind the scenes and soft pedalling but not for much longer. Jupiter moving into your own sign from the 10th for months ahead begins a new lucky cycle of growth and expansion, boosting your morale and attracting opportunities and resources your way. Even better Mars moving into Aries from the 24th ends several weeks of feeling held back with circumstances not allowing you to be pro-active. Now you will forge ahead with all speed filled with high enthusiasm.
and Next Month's Horoscope for June
A chirpy, chatty restless Gemini Sun until the 21st will keep you on your toes and rarely bored. You'll be multi-tasking and juggling various chores with great dexterity. But it will be more breadth than depth since you won't stay in the one place for long and your attention span will be short. Indulging yourself on treats and extravagances will be a pleasant diversion and you'll demand tangible gestures of affection from loved ones in cuddles and presents. You'll continue pushing yourself to sort out longer term plans with friends giving you helpful nudges. You now the future won't take care of itself so you need strategy and sensible goals. By midmonth you'll be in a better position to know what is feasible and what is pie-in-the-sky. Into the final ten days you'll step back, slow down and put your feet up regularly at home. You'll delight in having a chance to focus on the family and heart-to-heart chats will put your mind at rest.
Year Ahead 2022
A slow start to 2022 need not be a bind since you'll relish the chance to enjoy quiet time, reflecting on recent events and coming to terms with yourself. You be learning to like yourself better and relax in your own company for the first few months. Then you'll bounce out revitalised and raring to go from May onwards, with luck on your side and the prospect of better times ahead.rnWhat will need your attention are your finances since the eclipses through the year highlight a need to take the initiative and not to amble along as before, hoping your guardian angel will keep you bountifully afloat. Getting a grip, take the right steps and making it happen will bring results.rnYou are nearly at the end of a longish phase of several years questioning where you are heading career-wise and in your life. By this stage you should have found a few answers that will bring you more of a sense of meaning, purpose and even vocation in the time ahead. A change in your plans may not come until the year after this but you will be reflecting on all the alternatives open to you.rnThroughout the year you'll be working hard to keep contact with friends and to ensure that team activities run smoothly. It may not be as easy as before but perseverance will pay off.rnJupiter moving through your own sign May to October and again from mid December into 2023 will zip up your confidence, enthusiasm and energy and with Mars, your ruler, in your chart area of high-speed movement and sharp talking from late August for nearly seven months you certainly won't be bored. A jam-packed everyday schedule will keep you on your toes. You won't suffer mistakes, delays or fools gladly so may ruffle a few feathers but that won't stop you speaking your mind and pressing ahead with vigour.