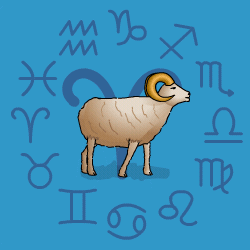 Aries
March 21 - April 20
---
Today's Horoscope for Wednesday December 02nd
If you can retreat off to find peace and quiet, you'll find that inspiration hits you. And you'll see how you landed in an emotional muddle by acting without thinking things through clearly enough. With more understanding you'll be able to prevent yourself ending up in the same predicament in future. You know that you need to find new priorities for the future. This is a time where the old ones have been swept away and your priority is to find interests and activities which have personal meaning for you.
The Weekly Outlook from 30th November
In order to make an important decision, you'll have to arrive at the correct standpoint yourself. This may mean delaying until you have pondered on various different possibilities. If you try to be all things to all people it will not work. Along the way you may get you bogged down in trivia and come across sounding overly emotional or biased. If you can stand further back to see the full picture without losing sight of the details, then you will reach better judgements.
Your Monthly Horoscope for December
In an unusually buoyant mood at the end of an exceptionally tricky year, you'll be keeping your optimism high and sorting out plans for better to come. The Sun and Mercury in fiery, adventurous and always hopeful Sagittarius until the 20th will fill your head full of visions and dreams. You won't always be practical but you will be boosting the morale of those close and motivating like mad. Certain feelings you'll keep to yourself until the middle of the month, since your intensity will worry you a touch. But you'll lighten up thereafter with a fun social crowd to keep you smiling. The major astro-news is that Jupiter and Saturn will both change sign into friendly, forward looking Aquarius on the 19th and 21st, which heralds a lighter, more communicative and idealistic phase for the year ahead. You won't be quite out of the woods yet with Mars in your own sign until early January still entangled with Pluto which may cause a few setbacks or delays in the final days. But you'll still be go-ahead, taking the lead and insisting that loved ones follow your path.
and Next Month's Horoscope for January
You'll be taking the lead, expecting others to follow your wishes and generally be in a go-ahead and get-it-together mood. At times your determination may tip over into bossiness so try to soft pedal when you can. Luckily you'll gradually adopt a more team-spirited approach and be chatting over plans for the longer-term. You know this is no time to rest on your laurels or sticking to outworn ambitions. Friends will rally round to pitch in with advice and support. You won't always agree but if you keep an open mind you'll get helpful feedback. Money will be a priority after the 6th and you'll find good luck runs side by side with setbacks and irritations on the cash front. Try not to make hasty decisions but pursue a steady and cautious approach which may go against the grain of your adventurous nature but will be more sensible.
Year Ahead 2020
2020 starts the way it intends to continue with challenging questions about how much work and responsibility you want to shoulder. Saturn will bring rewards for past efforts but can also drag mistakes into the open. Pluto close by will bring tensions, a desire to succeed but also resistance from certain people who want the upper hand. Then just as you feel stuck along comes Jupiter to sprinkle a little stardust and luck around career matters. So it'll be a whirlygig of good, not so great and indifferent. March, June and November will be highs of success and rising confidence.rnTeam relationships will require more effort to keep them running smoothly between March and July, and the same goes for certain friendships which will feel separated.rnYou'll need to keep your eye firmly on your personal finances since there will be unpredictable comings and goings with surprise expenses and equally unexpected bonuses coming through. You'll need to continue budgeting for an erratic flow of income.rnAt times you'll want to disappear off into daydream-land and drift along, leaving the hustle and hassle to others but you won't manage it for long.rnThe eclipse cycles will move on to gradually shift your focus away from home and family matters towards ways of finding more adventure and reaching out for more mind-stretching your horizons. You'll be juggling various schemes, planning to travel further afield or take up new hobbies.rnWhere your year really revs up is in the second half from late June till the New Year with Mars in your own sign. You won't take no for an answer, will sweep obstacles to one side not always tactfully and stamp your foot to get your own way no matter how many arguments it causes. Just watch you aren't accident-prone or inclined to shoot yourself in the foot at times since you will hash and crash ahead which won't always make for smooth progress.rnBy the year end your optimism will be high and you'll be looking forward to a lighter, brighter few months ahead.