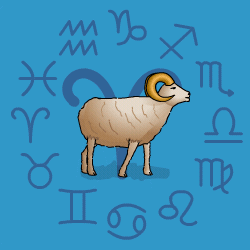 Aries
March 21 - April 20
---
Today's Horoscope for Sunday January 19th
You need to let go whatever is not needed for the days ahead. It's OK to be sentimental but don't hang on too tightly, or dig your heels in too much. You will need to stand firm until you find the answers you are looking for but then let go, roll with the flow. Though tensions may be in the air as certain people try to call the shots or push you into doing what does not suit you. You may not have much say at the moment as you might like. Just remember that you do have a choice about the attitude you take.
The Weekly Outlook from 13th January
There'll be an intense mood at work and out in the world and you won't be happy with taking superficial explanations for anything. Although you may feel stuck this is part of a clearing out process, when you need to get rid of inessentials from your life. But it won't happen quickly since Saturn always drags anchor. You'll be weighed down by feeling that your life is all duty and responsibility. However, if you can just make up your mind to that for a couple of days, then you get through a good many chores and will achieve a good deal.
Your Monthly Horoscope for January
You won't be short of strong opinions which you'll voice at the drop of a hat. You'll be keen to promote your pet causes and also to lift your life out of a rut and find more space for adventure. But work and chores will tie you down fairly rigorously through mid month with the heavy-duty Saturn Pluto in place at your midheaven. All you can do is be dutiful, self-disciplined and push indulgences to one side for a few days. The Lunar Eclipse in Cancer will distract you with the comforts at home. And although you need to find a better balance between your head and your heart in the months ahead this won't be the month to make it happen. You won't be as sociable or romantic as usual so pamper yourself in the quiet moments. Gradually you'll get your head up and start looking in a forward direction. Good friends will be around to ensure your morale is high and keep your mood optimistic so you won't lack company.
and Next Month's Horoscope for February
A friendly, forward-looking few weeks will keep you on your toes, racing round different groups of friends and sorting out longer term plans. You'll be thinking big and aiming high though won't always be realistic so listening to advice will help from more practical mates. But for all that your enthusiasm will be an inspiration and carry you further and faster than being cautious. Your social and romantic life has been in a lull but after the 7th you'll bounce back out onto the party scene, looking great and attracting compliments. After midmonth you'll be into top gear, working hard, expecting everyone around to toe your line. Try not to come across as too bossy since it won't produce results. Into the final days you'll see changes in your financial situation which will be positive if you don't do anything too hasty. Your efforts will be paying dividends but you'll also want a chance to wind down and sit on the side-lines once in a while.
Year Ahead 2020
2020 starts the way it intends to continue with challenging questions about how much work and responsibility you want to shoulder. Saturn will bring rewards for past efforts but can also drag mistakes into the open. Pluto close by will bring tensions, a desire to succeed but also resistance from certain people who want the upper hand. Then just as you feel stuck along comes Jupiter to sprinkle a little stardust and luck around career matters. So it'll be a whirlygig of good, not so great and indifferent. March, June and November will be highs of success and rising confidence.rnTeam relationships will require more effort to keep them running smoothly between March and July, and the same goes for certain friendships which will feel separated.rnYou'll need to keep your eye firmly on your personal finances since there will be unpredictable comings and goings with surprise expenses and equally unexpected bonuses coming through. You'll need to continue budgeting for an erratic flow of income.rnAt times you'll want to disappear off into daydream-land and drift along, leaving the hustle and hassle to others but you won't manage it for long.rnThe eclipse cycles will move on to gradually shift your focus away from home and family matters towards ways of finding more adventure and reaching out for more mind-stretching your horizons. You'll be juggling various schemes, planning to travel further afield or take up new hobbies.rnWhere your year really revs up is in the second half from late June till the New Year with Mars in your own sign. You won't take no for an answer, will sweep obstacles to one side not always tactfully and stamp your foot to get your own way no matter how many arguments it causes. Just watch you aren't accident-prone or inclined to shoot yourself in the foot at times since you will hash and crash ahead which won't always make for smooth progress.rnBy the year end your optimism will be high and you'll be looking forward to a lighter, brighter few months ahead.