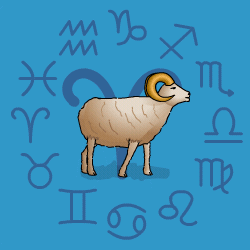 Aries
March 21 - April 20
---
Today's Horoscope for Thursday July 18th
It is important not to turn yourself into a doormat, no matter how compassionate you feel. Sometimes you have to put down limits. You could start off with all the best intentions and end up resentful because you feel used. You will want to withdraw into your own inner world. There you are asking yourself about the meaning and purpose of your life. The real answers may lie away from the physical world and in reaching instead for more spiritual beliefs.
The Weekly Outlook from 15th July
Don't lose your sense of humour. Sometimes a joke can break tension or lift everyone's spirits when they have become obsessed about situations to which there is no obvious answer. If everyone stands firm, it'll end up in an unwinnable battle where nobody gives way. You may have been keeping out of sight at home recently but you'll want more attention at work or in your community activities. Give your ambitions a nudge.
Your Monthly Horoscope for July
A swoosh of high energy and passionate enthusiasm will tempt you to be out on the razzle dazzle constantly enjoying yourself, playing games and kicking up your heels. You'll certainly have the motivation and the opportunity though you know you really need to slow down at points to focus more on home and family matters. This is your chance to get perspective on recent events so racing around will be a distraction. Try not to boss loved ones around since they won't appreciate it. You will have a few dilemmas at work or in your community activities to resolve towards mid month so you'll need to use all your ingenuity to find the right answers. Money will be up and down as unexpected expenses throw the budget off track but over reacting and jumping to decisions won't help. Take your time over major decisions and commitments whether financial or emotional. There'll be even more social fun in the final days and even a hint of romance.
and Next Month's Horoscope for August
Playful, entertaining, joyful and confident, you'll be on great form as a Leo new Moon opens the month in your chart area of romance and fun. Clearly work and duty won't be high on your priority list. You will sparkle in the spotlight of attention from loved ones, children and social mates and feel free to express your wishes, knowing they're likely to be fulfilled. Expansive and fortunate Jupiter will boost your morale further towards the 7th. There'll be little to dent your sense of humour or shake your affectionate mood. And your mischievous way with words will keep those close in high spirits as well. But life can't be all roses and singing and after the 18th hard work is inevitable. You'll be knuckling down to cope with an increasing pile of chores and will need to organise a sensible routine. Keeping your stamina high will also be crucial. Perseverance will bring results where cash is concerned as long as you curb your more impulsive tendencies.
Year Ahead 2019
You'll be pushing extra hard as the New Year opens, determined to make your mark and to get your talents recognised. There'll be obstacles to overcome, requiring self-discipline and perseverance. Letting self-doubt slow you down won't be helpful and luckily Jupiter in Sagittarius will keep your enthusiasm from flagging. And what will give your efforts an additional nudge is your feeling that it's now or never for success. That isn't true but the motivation will help you to make progress in sticky times. The early Lunar Eclipse will also nudge you to remember that fun and friends are important as well as achieving your goals. Your fiery go-ahead, act-first and think-second approach won't always be ideal so you'll need to pace yourself and take your responsibilities seriously. That way you'll gain the respect of those whose judgement you trust. Your financial situation will be changing with some ups and downs but that's not necessarily a disaster, since there'll be luck as well as extra outgoings at times. You just need to budget well and save when there's surplus. From mid year you'll slow down and put home and family matters up as your priority. Changes will be on your mind both literally in terms of reorganisation and also as you contemplate what emotional adjustments are needed for peace, harmony and satisfaction ahead. Speak frankly and tactfully and listen carefully and you'll reach agreements which are fair to all. Distractions at work and from your community activities will get in the way so listening to your heart, not your head will be important. August will be a social feast with fun, romance and enjoyment on offer as loved ones rally round to shower you with attention. Close relationships will hit a strained phase in October and November which can be overcome if you bite your tongue and say less. A confident, lucky and successful few months kicks off in December to allow you to sweep away any lurking concerns.