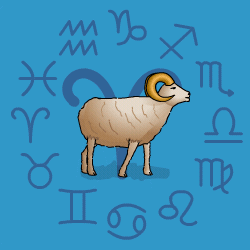 Aries
March 21 - April 20
---
Today's Horoscope for Wednesday June 03rd
Flattery will get you almost anywhere and it certainly beats hard work. The right people will be impressed by your charm and dynamic approach and will be genuinely happy to hear what you have to say. No one is going to be down in the dumps by the time you have finished. Your enthusiasm and morale-boosting approach will be infectious. Although at times you'll feel held back by circumstances beyond your control, you'll recognise that soft-pedalling will get you to where you want to be faster than by being forceful.
The Weekly Outlook from 01st June
This is not the phase of your life to stick yourself into tedious routines or get bogged down in following orders and instructions. But watch all the same that you don't get crossed lines and mixed messages along the way. There could be communication or even travel muddles if you do not keep your eye on the ball in the months ahead. In your home and romantic life, all you want is to make that special someone happy. Lively and encouraging you'll be able to boost their morale.
Your Monthly Horoscope for June
Chattering your way through a busy three weeks you'll charm everyone you meet with sweet words and attract thoughtful gestures in return. There may be little of depth or substance that comes out of your efforts but you won't be bored. Try to manage your time well and get a list of priorities otherwise you'll end up running in circles and not finishing any tasks properly. With Mars, your ruler, tucked out of sight until the 28th, certain projects will be on a go-slow so there's no sense in pushing before the time is right. Content yourself by unpicking mistakes, planning, preparing and building up your energy. After the middle of the month you'll feel the effects of the Solar Eclipse in Cancer on the 21st which hints that focussing on home and family matters in coming months will be wise. You'll want to be close to loved ones for a while, even though in the final days you'll be firing on all cylinders and not taking no for an answer.
and Next Month's Horoscope for July
Usually a restless sign bubbling over with initiative, you'll be unusually quiet, wanting time at home with loved ones or at the very least to stick close to familiar surroundings. Indulging yourself and even better being indulged will make you feel warm and wonderful. Though there may be a faint hint from the Lunar Eclipse in Capricorn that in the time ahead you can't ignore work and outer ambitions altogether in coming months. Finding the right balance will be crucial. A new idea about money should start to work early on if you grasp an opportunity on offer. Through mid-month you'll be bouncing with confidence and tending to push just a mite too hard. Try to ease back and give loved ones a chance to contribute their thoughts. A socially vibrant phase starts from the 22nd when you won't be short of invitations or admirers for weeks ahead.
Year Ahead 2020
2020 starts the way it intends to continue with challenging questions about how much work and responsibility you want to shoulder. Saturn will bring rewards for past efforts but can also drag mistakes into the open. Pluto close by will bring tensions, a desire to succeed but also resistance from certain people who want the upper hand. Then just as you feel stuck along comes Jupiter to sprinkle a little stardust and luck around career matters. So it'll be a whirlygig of good, not so great and indifferent. March, June and November will be highs of success and rising confidence.rnTeam relationships will require more effort to keep them running smoothly between March and July, and the same goes for certain friendships which will feel separated.rnYou'll need to keep your eye firmly on your personal finances since there will be unpredictable comings and goings with surprise expenses and equally unexpected bonuses coming through. You'll need to continue budgeting for an erratic flow of income.rnAt times you'll want to disappear off into daydream-land and drift along, leaving the hustle and hassle to others but you won't manage it for long.rnThe eclipse cycles will move on to gradually shift your focus away from home and family matters towards ways of finding more adventure and reaching out for more mind-stretching your horizons. You'll be juggling various schemes, planning to travel further afield or take up new hobbies.rnWhere your year really revs up is in the second half from late June till the New Year with Mars in your own sign. You won't take no for an answer, will sweep obstacles to one side not always tactfully and stamp your foot to get your own way no matter how many arguments it causes. Just watch you aren't accident-prone or inclined to shoot yourself in the foot at times since you will hash and crash ahead which won't always make for smooth progress.rnBy the year end your optimism will be high and you'll be looking forward to a lighter, brighter few months ahead.