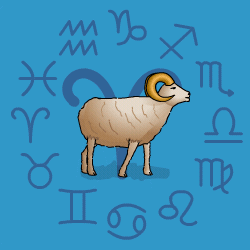 Aries
March 21 - April 20
---
Today's Horoscope for Thursday May 23rd
You will be putting your energy into doing things in a new and different way, and also making sure that other people are being well looked after. Maybe you feel you have to achieve to be loved, so you will be more compelled than usual to succeed. But don't muddle up your emotional worth with outer success. You are having to rethink all your attitudes towards your ambitions. Maybe what you thought you wanted isn't what you really want at the moment.
The Weekly Outlook from 20th May
Restless and versatile, you seem to know a little about a good many subjects at the moment. Maybe you are scattering your attention in too many directions at once, across too wide a field.rnYou need to do things that are going to give you the sense that you're using your energy positively. Allow yourself to explore and be experimental. You want to find the answers to things so you're looking for inspiration. Ideas will come very quickly so write them down.
Your Monthly Horoscope for May
Having recently bounced with vigour into your new birthday year, you'll now be considering how to put your good resolutions into practice. Which means planning, organising and tossing aside those schemes which aren't going to be workable. Money will be on your mind, partly because you'll be tempted to spend to pamper yourself. And that means getting the budget in order or improving your cash flow. Persistence will pay off and you'll combine common sense with ingenuity to get your situation stabilised with enough surplus for indulgences. Luckily your busy schedule won't give you much time for going too wild. As you race along, you'll speak your mind directly, get impatient with delays and mistakes, and at one point go well over the score promising what you will never be able to deliver. But no one will mind since you'll put yourself across with charm. After midmonth the mood at home may get heated as you race into action to reorganise which may not always go down too well. Your spending will shoot up and you will be scrambling to keep up with the pace of events.
and Next Month's Horoscope for June
Skipping cheerfully along a busy and varied schedule, you won't have a chance to get bored. Chattering nineteen to the dozen you'll need to find focus and streamline your organisation otherwise you'll end up running round in circles. Finding time for heart to heart chats with loved ones at home won't be easy but will pay off and leave you feeling more settled. Charming gestures and kind compliments from everyday mates at work and elsewhere will keep you smiling. However for a week around the middle of the month and just after you'll need to grit your teeth and not over react to provocation or irritating setbacks. Take a deep breath and count to 25 even if you feel someone is acting unfairly. In the final week you'll wind down and put your feet up more regularly at home in comfort.
Year Ahead 2019
You'll be pushing extra hard as the New Year opens, determined to make your mark and to get your talents recognised. There'll be obstacles to overcome, requiring self-discipline and perseverance. Letting self-doubt slow you down won't be helpful and luckily Jupiter in Sagittarius will keep your enthusiasm from flagging. And what will give your efforts an additional nudge is your feeling that it's now or never for success. That isn't true but the motivation will help you to make progress in sticky times. The early Lunar Eclipse will also nudge you to remember that fun and friends are important as well as achieving your goals. Your fiery go-ahead, act-first and think-second approach won't always be ideal so you'll need to pace yourself and take your responsibilities seriously. That way you'll gain the respect of those whose judgement you trust. Your financial situation will be changing with some ups and downs but that's not necessarily a disaster, since there'll be luck as well as extra outgoings at times. You just need to budget well and save when there's surplus. From mid year you'll slow down and put home and family matters up as your priority. Changes will be on your mind both literally in terms of reorganisation and also as you contemplate what emotional adjustments are needed for peace, harmony and satisfaction ahead. Speak frankly and tactfully and listen carefully and you'll reach agreements which are fair to all. Distractions at work and from your community activities will get in the way so listening to your heart, not your head will be important. August will be a social feast with fun, romance and enjoyment on offer as loved ones rally round to shower you with attention. Close relationships will hit a strained phase in October and November which can be overcome if you bite your tongue and say less. A confident, lucky and successful few months kicks off in December to allow you to sweep away any lurking concerns.