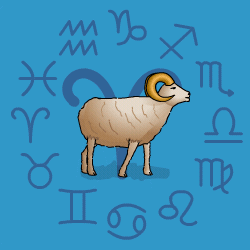 Aries
March 21 - April 20
---
Today's Horoscope for Friday September 25th
You'll be reliable and conscientious though a touch over serious about your responsibilities. Don't take everything as a matter for principle. Life is never that simple. Sometimes you have to bend a little and be pragmatic. At times you will be putting a high value on social respectability and be obsessive about sticking to the letter of the agreements. Try to judge individual situations or people on their merits. Lighten up, brighten up and keep your sense of humour handy.
The Weekly Outlook from 21st September
Another half in life will be vital to your well-being and fulfilment in coming weeks with the Sun now in your opposite sign of Libra. Co-operation will be top of your priority list since you know you feel slightly more vulnerable and insecure than usual. Luckily your diplomatic skills and way of putting others in the spotlight of your attention will keep you popular and much appreciated. You'll have a wonderful way of entertaining others and keeping them amused.
Your Monthly Horoscope for September
Settling into a steadier work routine may not sound your cup of tea but you'll be pleasantly surprised at the advantages of. Praise will come your way and your achievements will mount up. Out in the community you'll be looked up to and respected. Your priority needs to be keeping yourself on top form since you'll need to boost your stamina to crack on through the pile of chores under your nose. Your enthusiasm and dynamic energy will move you ahead at speed but you'll not always be good at remembering to look after your physical needs and respect your limits. There will be times when a little drifting and daydreaming may be in order so that you can bounce back revitalised after a break. Warm-hearted social mates will be there every step of the way boosting your morale and in turn you'll keep them entertained. Getting a grip not only of your career but also your direction in life will bring a reassuring comfort. Into the final days you'll be less drained by duty with more support from one close partner. In demand socially, you'll have a chance to aim for enjoyment.
and Next Month's Horoscope for October
A boisterous, roller-caster, challenging month comes courtesy of the Saturn, Pluto, Jupiter conjunction bouncing off the Sun and Mars. So it'll be high-energy, argumentative, go-getting and impulsive. Really deep down you could do with walking hand-in-hand with a close partner and finding support but you'll be anchored down by duty and responsibilities with certain people determined to call the shots. You will want to speak your mind but discretion might be wiser since confrontations won't work. You will bounce from over-confident to aggravated fairly rapidly and fairly often. So you'll need to zen out and find ways of re-centring yourself. Luckily both Mercury and Venus in under=stated, helpful Virgo will help to keep your feet on the ground at least some of the time. In the final days the tumultuous influences will wind down and you'll retreat into a private corner to work out your plans.
Year Ahead 2020
2020 starts the way it intends to continue with challenging questions about how much work and responsibility you want to shoulder. Saturn will bring rewards for past efforts but can also drag mistakes into the open. Pluto close by will bring tensions, a desire to succeed but also resistance from certain people who want the upper hand. Then just as you feel stuck along comes Jupiter to sprinkle a little stardust and luck around career matters. So it'll be a whirlygig of good, not so great and indifferent. March, June and November will be highs of success and rising confidence.rnTeam relationships will require more effort to keep them running smoothly between March and July, and the same goes for certain friendships which will feel separated.rnYou'll need to keep your eye firmly on your personal finances since there will be unpredictable comings and goings with surprise expenses and equally unexpected bonuses coming through. You'll need to continue budgeting for an erratic flow of income.rnAt times you'll want to disappear off into daydream-land and drift along, leaving the hustle and hassle to others but you won't manage it for long.rnThe eclipse cycles will move on to gradually shift your focus away from home and family matters towards ways of finding more adventure and reaching out for more mind-stretching your horizons. You'll be juggling various schemes, planning to travel further afield or take up new hobbies.rnWhere your year really revs up is in the second half from late June till the New Year with Mars in your own sign. You won't take no for an answer, will sweep obstacles to one side not always tactfully and stamp your foot to get your own way no matter how many arguments it causes. Just watch you aren't accident-prone or inclined to shoot yourself in the foot at times since you will hash and crash ahead which won't always make for smooth progress.rnBy the year end your optimism will be high and you'll be looking forward to a lighter, brighter few months ahead.