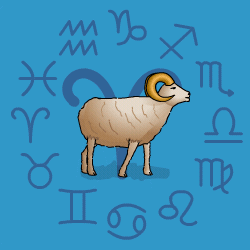 Aries
March 21 - April 20
---
Today's Horoscope for Saturday December 04th
Perhaps you are thinking of reaching out for the holiday brochures or even of taking up a new hobby or interest. Ponder no longer. There are favourable winds behind you urging you on to broaden your horizons in whichever way you choose. You'll also be taking the chance in coming days to review your beliefs or your philosophy of living. Your outlook does not remain the same from childhood to old age. You constantly discard what no longer fits and alter your approach depending on changing circumstances.
The Weekly Outlook from 29th November
Who cares if your ideas are wild, wayout or overly grandiose? There are times when you have to let your imagination soar and think big. You'll back away from the trivia of daily living and take the bird's eye view of your life. Getting far enough away to see everything in perspective will be helpful. You will make better decisions and be less obsessed by what isn't important. Whatever is not feasible will become obvious in a few weeks and you can quietly drop it.
Your Monthly Horoscope for December
In an adventurous mood with a head filled with enthusiastic plans and big ideas, you won't be keen to be slowed down by practical advice or having to be sensible. Hot air will blow you along at speed. There may be a few anchors dragging until mid month with Mars still in the sign before yours, but you won't let distractions or delays dent your good humour and optimism. Just try to tidy up lose ends of financial wrangles and other confidential agreements, which you can do if you stay determined. Then you'll be revitalised with renewed courage, eager to spread your ideas far and wide. You'll be aiming high and insisting that others follow along behind. You'll be in demand for your views at work and out in the community and into the final ten days you'll be putting your pet schemes into practice. Working hard and being decisive you'll leave nothing to chance. Just before New Year you'll be happy to take a day or two out to savour a few quiet moments.
and Next Month's Horoscope for January
A mixture of charm and subtle pressure will see you making faster progress. This is when you take the lead, make decisions and expect others to follow along behind, so there's no sense in holding back or being modest. Be bold and indicate what you want and think best. Your adventurous spirit will keep you heading in the right direction and even if your opinions are a touch too forceful at times you'll still remain popular. Friends will be a great support and keen to hear your inventive ideas and laugh at your mischievous jokes. There will be a difference towards midmonth when a close mate decides to put an obstacle in your way or your plans don't meet with approval. Don't be too confrontational. Approach the matter with tact and you may find a compromise. Into the final days you'll be looking ahead and sorting out your longer term strategy with the help of team mates and working just as hard.
Year Ahead 2021
Living in the present won't suit you remotely with a head full of adventurous schemes and a driving determination to raise your sights high and broaden your horizons. You may not be able to travel instantly in 2021 but there will be other ways to fill your life with excitement and fun escapades. Friends, new and old, will be a major part of your entourage as you bounce ideas around and listen to feedback. You won't be letting the grass grow under your feet as you lay out your grand strategy for what comes next. Admittedly you'll need to keep a watchful eye on your personal finances since your circumstances will change constantly and rapidly. Budgeting with the unexpected in mind means saving when there is surplus to tide you through lean patches and not jumping to hasty decisions or purchases. January will be fraught in this respect, so tread softly and cautiously. You'll redouble your efforts to make more money or protect your security but will also be inclined to over spend. You'll give yourself a break for two months after the middle of May, to ponder, reflect and wait till inspiration strikes. The more you can content yourself with your own company the happier you'll be. Though there may also be a secret adviser who'll set your thinking along new lines. At work certain of the old issues of feeling pushed around or being over controlled will still be there but you'll manage to find a way of sidestepping troublemakers and control freaks since you've been round this circuit several times before. In a quiet way you'll exert more influence than you imagine. From midyear, an extra busy everyday schedule will require you to manage your time well, communicate clearly and get better organised. Your romantic and social life will revive with a surge of high energy and boisterous spirits through July and after. Though you'll need to entertain and party with an eye on the budget since the cash flow ups and downs will run throughout the year.