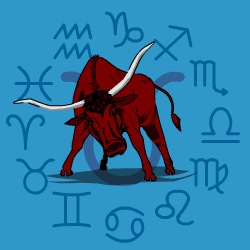 Taurus
April 21 - May 20
---
Today's Horoscope for Thursday May 28th
You won't let your feelings get in the way of your thinking in the days ahead since you want to be clear. But it does sometimes mean you sound cool or too detached. You'll be sharp in your comments if you speak before you think. But you can also be tolerant and flexible in your views, when you have time to consider. You will make it your business to know everything about everybody since you want to have all the necessary facts at your disposal before you open up on key discussions.
The Weekly Outlook from 25th May
Try not to rock the boat too much or burn your bridges behind you. Uranus will tempt you to think you need more excitement no matter what disruptions it causes. Then in a few days' time when you've turned life upside down, you'll wish you could get back to normality again. After midweek with Mercury moving into your chart area of ideas and communications your mind will be razor sharp, witty and fast moving. You will be digging out information, using your mind for research.
Your Monthly Horoscope for May
Chatty, restless, independent-minded and on good form, you'll be bouncing exuberantly with your birthday Sun in place for three weeks. With an added extra lift from fortunate Jupiter and persuasive Pluto to let you know that you're moving in the right direction with luck on your side. You'll be expressing yourself with vigour but softening the sharper edges of your opinions with enthusiasm. Energetic friends will be around after the middle of the month to ensure you're not sitting idle or looking backwards over your shoulder. They'll be persuading you to look ahead and plan a sensible strategy for what comes next. In the final days your mind will turn to your finances since you always like to feel secure but you'll also want to spend to pamper yourself.
and Next Month's Horoscope for June
An earthy, Fixed sign, you like to know that your material security is well protected so you'll be spending time sorting out your finances and dreaming up ways to make improvements ahead. Which doesn't mean you won't be spending happily as well. Your indulgent streak will be showing so you'll be tempted by treats, luxuries and presents for yourself. Friends will be firing on all cylinders and prompting you to keep your eye ahead, not looking backwards over your shoulder. Not all of your plans will be workable so be prepared to face mistaken hopes and abandon what proves not to be realistic in present circumstances. What will be crucial towards the 21st and on for several months thereafter is to manage your time sensibly, streamline your efficiency and take extra care in communicating what you want to say clearly and simply. There'll be good news from a distance away at the end of the month but also a hint to tread water with certain ideas until the time is right.
Year Ahead 2020
2020 will be your year to revise your outlook, opinions and philosophy of living. Challenges to your mindset may be unsettling initially but if you can keep an open mind and listen to feedback then you'll gradually come to understand which attitudes have passed their sell-by date and need to go. Enlightenment won't come quickly or easily but you'll be given a helping hand along the way and gradually you'll find your old enthusiasm revives as you raise your sights higher.rnYou know this phase of your life marks out a distinct change from what has gone before with Uranus moving through your own sign for another few years. Not normally a rebellious sign or one who is happy with fast-moving change you'll surprise yourself by rocking the boat from time to time and insisting on going your own way no matter the reaction.rnNot that you'll turn into a carefree hippie since hard work and heavier responsibilities will come courtesy of Saturn at your midheaven for a few months from March onwards. There may be setbacks or small mountains to climb in April so you'll grit your teeth on and push harder. From midyear you'll revise your tactics and step back, allowing others to take the driving wheel, while you give subtle hints from the passenger seat.rnHave a care all year when travelling since there will be delays and disruptions throughout which won't make for fast progress. Always keep a plan B up your sleeve for emergencies.rnSpending money on treats and indulgences will be a welcome distraction in the months after April, since you'll be comforted by a few luxuries. But the swing of the eclipses towards your financial houses does indicate that taking the initiative to improve your situation and security will be helpful. Ambling along hoping for the best won't work. Being pro-active and determined to put long overdue changes in place will make all the difference.