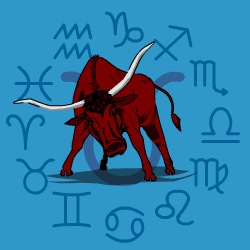 Taurus
April 21 - May 20
---
Today's Horoscope for Tuesday November 28th
You will be sweet natured and charming as long as everything goes your way otherwise your stubborn side may show through. Do not dig your heels in too hard especially over a money matter which is preoccupying you. It's well worth your while pushing yourself into sorting out your budget. Once you have that organised, you will know exactly where you stand. Not only will you feel better, you'll be able to spend with a clear conscience. Then you will relax and be generous spirited.
The Weekly Outlook from 27th November
You know you won't be happy or secure, until your get your finances in ship shape order. Yet you also are aware that close partners have a different agenda. You are having to push extra hard behind the scenes to get them to shift ground. You know you cannot have it all your own way, nor can you make entirely independent decisions but you will need to feel that you have an area marked off which is yours. Make your first priority protecting your own position. Then you can fit in with co-operative schemes.
Your Monthly Horoscope for November
Ensuring that close partners are on your wavelength will be vital even in those moments where you insist on the freedom to suit yourself. You will veer from cuddling up close, feeling reassured, to stamping your feet and insisting you won't compromise. Try not to rock the boat and burn your bridges behind you when you're in a rebellious mood since you will want to backtrack later. If you offer to lend loved ones a hand from time to time you will be rewarded with cooperation and kind responses. You may be over eating after the 8th since you'll be tempted by rich and sweet food. If you can resist temptation and stay calm then by the 10th you will have overcome most hurdles and be forging determinedly ahead. In the final days there may be a few delays to a future plan and extra responsibility landed on you by a friend. Biting your tongue and saying less will help you glide through with least hassle.
and Next Month's Horoscope for December
Never a sign who likes to be rushed, you will be content to move at a stately pace for three weeks, sorting out a few behind-the-scenes tangles, financial and emotional. Good luck will be on your side and your positive, confident approach should bear dividends though you won't get it all your own way but will need to be flexible and compromise to reach agreements. Luckily the love and affection of one close partner will be there for you throughout and you'll be much in demand socially. Your knack of making everyone you meet feel special guarantees you'll be popular. You will have moments of indecision and confusion about what comes next but this is hardly a new phenomenon. When in doubt, put off making any firm commitments. Your horizons will open up in the final few days with a chance to travel or find stimulating activities and companions.
Year Ahead 2023
A slow start to 2023 does not mean being discouraged. You'll relish the moments you can curl up in comfort and in your own company and relax. Taking time out to reflect and get perspective on recent events will settle your mind. Along the way your self-esteem will rise along with a growth in insight and awareness. You've faced challenging decisions over the past year so need a chance to let yourself settle into a new phase. Within a few weeks older friends will be around with helpful and realistic advice. You may initially hear some of their comments as criticism but they'll be worth listening to and more often right than wrong. They'll prompt you to keep formulating a longer term strategy for your life and not just take it day by day. Flexibility and change are not your strong points since you prefer sticking to the same path but really you will find more satisfaction if you make an effort to find a different direction that allows you to be independent and original. Negotiating with close partners to reach agreements giving both of you more elbow room will help since you won't appreciate being tied down or made to compromise as you have done before. By May you'll be ready to forge ahead with fair winds blowing behind you and fate will open new doors and show a new vista ahead. As you step forward boldly you'll meet a positive response since those around will be happy to put a high value on your presence. Resources will be drawn to you.