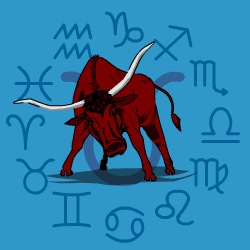 Taurus
April 21 - May 20
---
Today's Horoscope for Sunday March 07th
Your boredom threshold will be low, so you need to involve yourself with new projects and trail-blazing ideas. Try not to fly off the handle with impatience. Maintaining stability may not be your strength at the moment, but there could be a merit in saying less and observing more. Companions may have different ideas, but that does not mean they are necessarily wrong. You could all be right in your own ways. Make the effort to find exciting activities to keep you entertained.
The Weekly Outlook from 01st March
There may be a new friendship zipping into your life, but have a care since it could be of the switch on, switch off variety - great fun while it lasts, but here today gone tomorrow. Nothing will stay the same for long. After midweek you'll turn your attention to boosting your money situation. You'll be competitive when it comes to earning more over coming weeks. You need the long-term security which savings bring and also the status that comes with more spending power.
Your Monthly Horoscope for March
Your focus will be on friends and future plans. The trusted mates around will be giving you helpful advice and feedback on your plans. They may not always be realistic and could prove elusive when you try to pin them down, but they'll mean well and have your best interests at heart. You'll be tying up loose ends since you know you'll need to wind down later in the month and several situations need to be brought to closure. Not looking backwards over your shoulder and regretting will help. You may not be clear what the future will bring but moving ahead decisively will be important. Praise and a small success at work and in your community activities will make you glow. But mid month you'll know your words have carried weight in the right places and your persuasive powers have hit the mark. Putting vim and vigour into your personal finances will bring results as well and you're unlikely to let up, even as you hit a small setback around the 22nd. Into the final days, you'll step onto the sidelines and let others take the strain while you take time to mull over what you intend to tackle after your birthday.
and Next Month's Horoscope for April
Taking it gently will be your motto for three weeks with the Sun in the sign before yours. You'll know you need to operate from the sidelines, letting others take the lead, while you pull strings, mull over the past year and prepare for what lies ahead. Along the way you'll recharge your batteries and bounce out revitalised later. You'll be keeping your own counsel and be less sociable than usual but all of this is only temporary. You'll have a chance to get a few financial schemes into gear. Being a Fixed Earth sign, having security and material possessions is important for your fulfilment. If you can curb your tendency to over-indulge then you'll find you build up your situation to a helpful degree. Your hard-work from the past will bring rewards with a success towards midmonth and praise coming your way to keep you glowing with pride. It'll give you the incentive to get another project under way. Thereafter you'll be chatting animatedly and charming everyone around. Your birthday Sun from the 19th will be the icing on the cake, reviving your exuberance and high spirits. Nothing will hold you back.
Year Ahead 2021
Hard work will be inevitable as heavier responsibilities will be landed on you throughout 2021 but you will be rewarded with praise and a boost to your reputation. As long as you stick to the straight and narrow and are conscientious you won't go far wrong. Whatever you attempt should work out better and more easily than you expect. However you will have moments when you want to kick up your heels and please yourself, no matter the consequences. But rocking the boat too much with partners or at work may not bring the results you want. It will, in general, be a roller-coaster year, with sudden changes and some tensions. Which is where your steady unflappable temperament will come in handy. You will be an invaluable help to those around since you'll stay calm and continue to plough the same furrow no matter what sudden changes there are. But even you know that where relationships and money are concerned you will need to share, care, relate and co-operate in a different way. Letting go the habits of a lifetime won't be easy but you will benefit greatly and find greater fulfilment and security if you can manage it. January and February will be problematic months with upheavals and disruptions. You will be powering ahead, not always patient with delays but it won't be easy to stick to a straight course. Your optimism will soar after May for a few months and friends will rally round with enthusiastic support. Your social circle will widen so you won't be short of invitations or good company. At times you'll lack motivation or commitment when it comes to sorting out longer term plans. You'll drift, dither and put off making firm decisions. For the sake of your financial security you'll need to push yourself especially from June onwards. Towards the New Year you'll have reached a significant crossroads in your life and be making up your mind which path to choose ahead. It needs to be your choice and will only be reached after a good deal of reflection.