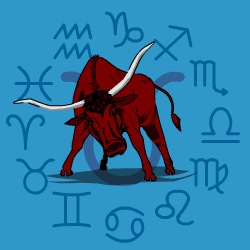 Taurus
April 21 - May 20
---
Today's Horoscope for Wednesday November 30th
You may be looking too much for what's wrong around you, rather than seeing the benefits. It won't be easy to open up to others, even those close, because you fear they may not be supportive, but try all the same. Don't get too critical, even if you are landed with too many chores. This can be a time of recognition for you so plough on. You will be expecting everyone to be as well organised and responsible as you are. But they may just be in a different time of their life, and ambling along at a slower pace.
The Weekly Outlook from 28th November
If things are not going as well as you'd planned for a day or so remember that patience will help. Don't duck and dive to avoid any problems but work quietly and persistently at trying to remove or overcome them. Once you have pushed through the difficulties, you'll kick up your heels and relax. You'll be upfront about saying what you fancy and won't hold back. Even if you are not immersed in love and romance, you'll still be throwing with enthusiasm into your activities.
Your Monthly Horoscope for November
Togetherness and cooperation will be your motto but it won't always be easy to accomplish. The affectionate support of one close partner won't be in doubt and you'll be in demand socially. The channels of communication will also be open so you will be able to share your feelings and thoughts openly with loved ones. But there will be moments when duty and too much work get in the way of camaraderie and other times when your own restless and rebellious spirit sends you off in your own direction. Keeping a watchful eye on your finances and cash-generating schemes will be wise. From the middle of the month you'll be into a secretive, determined phase when you'll be negotiating with those close to reach better agreements. Enthusiastic and supportive friends will keep your optimism high and good news will come in on the 21st signalling that a future plan has been given the go ahead. Thereafter you'll knuckle down determinedly to push through differences and find the answer to dilemmas.
and Next Month's Horoscope for December
Slow, determined and secretive, you'll be pushing ahead with a steely look in your eye. You'll know you can't get it all your own way over confidential agreements, whether about financial, emotional or other matters, but will have to compromise. Finding a fair deal will take time, patience and flexibility, so don't expect overnight results. You won't always find it easy to moderate your demands but if you can be persuasive rather than forceful it will help. As the month wears on you'll find restrictions and tensions lift bit by bit and you'll distract yourself mixing with the fun crowd on social occasions and promoting your pet causes with enthusiasm. Jupiter moving into the sign before your in the final days will bring a relaxed mood where you'll be content at times to enjoy your own company. Though that won't stop you aiming for adventure, travel and thrills when the chance presents itself.
Year Ahead 2022
2022 will start on a note of high optimism with good friends all around and an encouraging set of plans and goals to work towards. You'll appreciate variety and choice in your social circle and be pleased to have a wide range of trusted mates who can be relied on to give you good advice. OK at times they may be a touch overly hopeful but they won't be discouraging.rnThis will be a year at the crossroads for you with the Eclipses falling in Taurus and Scorpio. You'll be making crucial decisions about which path to follow in coming years. After your birthday for a few months you'll walk and more independent path as you sort out your decisions. Later in the year you'll include close partners in on your thinking.rnYour rebellious streak will be in evidence since you will want to stand out from the crowd but you won't be able to duck hard work, duty or responsibility. So you'll dance backwards and forwards between phase when you stick to the straight and narrow and others when you kick over the traces to suit yourself.rnThere will be a sense of an old cycle ending this year and the new one won't get underway until 2023, so you'll be tying up loose ends, plotting, planning and preparing for what comes next.rnThe second half of the year may be more inward looking and you will appreciate having a chance to wind down and enjoy your own company. There will still be dilemmas, financial and emotional, to resolve which will require perseverance and compromise. Being firm and flexible will be the way to get a result eventually which will bring you peace of mind and security.