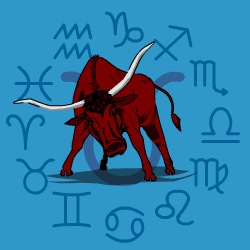 Taurus
April 21 - May 20
---
Today's Horoscope for Wednesday October 20th
There are times when you are happy to give to others but there are also times when you feel deprived because no one is reciprocating. Give yourself a few treats to boost your spirits and it will all work much better. Keeping yourself healthy is always discussed as if it only applied to your body. You know you have to get yourself into good shape physically, but it'll be important to look after yourself psychologically. Think about what calms you down, and schedule that activity into the diary.
The Weekly Outlook from 18th October
It could be a good time to start new projects, as long as you take practical advice and move at a steady pace not a flat gallop. If you get speedy, you could bite off more than you can chew and commit yourself to tasks that are beyond you. Towards the weekend a push and pull situation will turn up. Either you're being too controlling and not paying enough attention to a close companion's sensitivities or they are doing the same to you. Try to side step struggles for the upper hand which can only end badly.
Your Monthly Horoscope for October
Being of service to others and putting yourself out to help will be your way for a few weeks. It may seem like all work and no play so you'll need to boost your stamina however you can to ensure you stay on top form. You'll be fussing over details and tending to assume you're the only one who can do tasks the right way. Ease up and be less picky otherwise you'll over burden yourself with too many commitments and no one will offer to share your chores. Your emotional reactions will be intense but you're unlikely to give much away since you'll be playing your cards close to your chest. Try not to turn small setbacks into major melodramas. Tone down your responses and look to a triumph on the 15th to make you more outgoing. You'll revel in praise and recognition and one success will lead to another. Pluto may be causing havoc for a few days after midmonth either with travel delays or differences of opinion that won't easily resolve. Togetherness in the final days will be your priority so you'll let bygones be bygones.
and Next Month's Horoscope for November
Determination may not win you the argument with a partner who will be as keen as you on getting their own way. Close relationships will be heated at times and although you know you'll move faster and farther if you co-operate it won't be easy to find middle ground at times. You will be selling yourself with vigour and rebellious at points especially when surprises take you unawares. Try not to rock the boat too hard even if you run into delays or aggravations. Your strength is in your ability to stand steady and not be swayed by circumstances. If you can talk out differences then you'll make better progress. Your social life will be brighter which will be a welcome distraction as you mix with a fun crowd and explore new venues and activities. Praise and appreciation from the right people will also keep your optimism high. Into the final week you'll be more reserved, sorting out confidential agreements out of sight.
Year Ahead 2021
Hard work will be inevitable as heavier responsibilities will be landed on you throughout 2021 but you will be rewarded with praise and a boost to your reputation. As long as you stick to the straight and narrow and are conscientious you won't go far wrong. Whatever you attempt should work out better and more easily than you expect. However you will have moments when you want to kick up your heels and please yourself, no matter the consequences. But rocking the boat too much with partners or at work may not bring the results you want. It will, in general, be a roller-coaster year, with sudden changes and some tensions. Which is where your steady unflappable temperament will come in handy. You will be an invaluable help to those around since you'll stay calm and continue to plough the same furrow no matter what sudden changes there are. But even you know that where relationships and money are concerned you will need to share, care, relate and co-operate in a different way. Letting go the habits of a lifetime won't be easy but you will benefit greatly and find greater fulfilment and security if you can manage it. January and February will be problematic months with upheavals and disruptions. You will be powering ahead, not always patient with delays but it won't be easy to stick to a straight course. Your optimism will soar after May for a few months and friends will rally round with enthusiastic support. Your social circle will widen so you won't be short of invitations or good company. At times you'll lack motivation or commitment when it comes to sorting out longer term plans. You'll drift, dither and put off making firm decisions. For the sake of your financial security you'll need to push yourself especially from June onwards. Towards the New Year you'll have reached a significant crossroads in your life and be making up your mind which path to choose ahead. It needs to be your choice and will only be reached after a good deal of reflection.