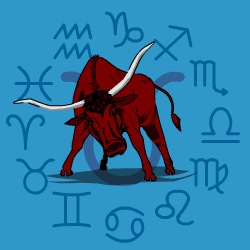 Taurus
April 21 - May 20
---
Your Birthday Horoscope
IF ITS YOUR BIRTHDAY TODAY your year ahead will be hard-working, responsible and successful as long as you stick to the straight and narrow. Praise and respect will come your way for your sensible preparations. At times you may feel inclined to toss it all in the air and be rebellious, so give yourself leeway to be a maverick when the mood hits you. You are changing significantly from the person you used to be and need to honour that. You'll be indecisive about future plans so don't force the issue but let yourself drift.
Today's Horoscope for Wednesday April 21st
Make a firm resolution not to trail on with what is not working well. Cut your losses and concentrate on your successes. You have to get down to the bottom line, get a grip and start building. When you get a moment in peace and quiet, you can think about personal matters which have been tucked into the background. Be honest about your need to belong and put down roots. Then see where you can make home and your intimate surroundings a cocoon of comfort, with your favourite mates around.
The Weekly Outlook from 19th April
Bouncing around with more enthusiasm and gusto than usual with your birthday Sun now in place for weeks ahead, you'll be keen to make your presence felt. Having been held back recently by setbacks, delays or low energy and less motivation you will now be forging ahead. And after midweek you will head straight for heated debates with the glint of battle in your eye. You will not suffer fools gladly and at times you may be reckless as you travel around.
Your Monthly Horoscope for April
Taking it gently will be your motto for three weeks with the Sun in the sign before yours. You'll know you need to operate from the sidelines, letting others take the lead, while you pull strings, mull over the past year and prepare for what lies ahead. Along the way you'll recharge your batteries and bounce out revitalised later. You'll be keeping your own counsel and be less sociable than usual but all of this is only temporary. You'll have a chance to get a few financial schemes into gear. Being a Fixed Earth sign, having security and material possessions is important for your fulfilment. If you can curb your tendency to over-indulge then you'll find you build up your situation to a helpful degree. Your hard-work from the past will bring rewards with a success towards midmonth and praise coming your way to keep you glowing with pride. It'll give you the incentive to get another project under way. Thereafter you'll be chatting animatedly and charming everyone around. Your birthday Sun from the 19th will be the icing on the cake, reviving your exuberance and high spirits. Nothing will hold you back.
and Next Month's Horoscope for May
Now that you're well established on your new track for the year ahead, you'll be full of beans and bounce and keen to get cracking. Your everyday schedule will be extra-busy, varied and rarely boring. Even if you do get impatient with delays, you'll try to keep it to yourself. But the right people won't be in any doubt as to your feelings. Always a sign that appreciates financial security, you'll be talking over cash matters, keen to get the details straight and will then set off to spend since irresistible treats will catch your eye. Jupiter moving into Pisces for a few weeks from the 13th will send your optimism soaring as you look ahead. A wide circle of friends, new and old, will rally round to offer a helping hand, entertaining company and advice. Some information coming your way may err on the side of being too positive so double check for yourself. After midmonth you'll have a sense that recent problems are behind you and you'll be doubly determined to make the most of what comes next.
Year Ahead 2021
Hard work will be inevitable as heavier responsibilities will be landed on you throughout 2021 but you will be rewarded with praise and a boost to your reputation. As long as you stick to the straight and narrow and are conscientious you won't go far wrong. Whatever you attempt should work out better and more easily than you expect. However you will have moments when you want to kick up your heels and please yourself, no matter the consequences. But rocking the boat too much with partners or at work may not bring the results you want. It will, in general, be a roller-coaster year, with sudden changes and some tensions. Which is where your steady unflappable temperament will come in handy. You will be an invaluable help to those around since you'll stay calm and continue to plough the same furrow no matter what sudden changes there are. But even you know that where relationships and money are concerned you will need to share, care, relate and co-operate in a different way. Letting go the habits of a lifetime won't be easy but you will benefit greatly and find greater fulfilment and security if you can manage it. January and February will be problematic months with upheavals and disruptions. You will be powering ahead, not always patient with delays but it won't be easy to stick to a straight course. Your optimism will soar after May for a few months and friends will rally round with enthusiastic support. Your social circle will widen so you won't be short of invitations or good company. At times you'll lack motivation or commitment when it comes to sorting out longer term plans. You'll drift, dither and put off making firm decisions. For the sake of your financial security you'll need to push yourself especially from June onwards. Towards the New Year you'll have reached a significant crossroads in your life and be making up your mind which path to choose ahead. It needs to be your choice and will only be reached after a good deal of reflection.