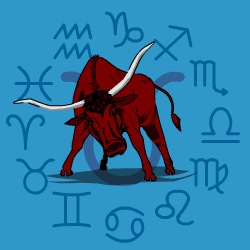 Taurus
April 21 - May 20
---
Today's Horoscope for Monday May 23rd
There will be the odd half hour when you really can relax with no one nagging at you to be dutiful. Though you may be over-optimistic about one situation, assuming that everything is going to run smoothly without any effort. Being unrealistic and sailing into action thinking you can't lose won't be a good idea. If you keep your feet on the ground then there will be fair winds blowing behind you. It'll be a question of finding the right balance between confidence and common sense.
The Weekly Outlook from 23rd May
You will rub shoulders with the right people and even ones who normally switch you off. In tune with yourself and realising you have real value will help tensions or anxieties to diminish. You'll feel able to ask for what you want and push yourself forward more confidently. Though from midweek with Mars moving into the sign before yours for a while you'll have to accept that you will achieve little by bring pro-active. Indeed the harder you push the less you may succeed so it might be as well to develop patience.
Your Monthly Horoscope for May
Your birthday Sun for three weeks will buck up your spirits as you set foot on a new personal year. But there will be hard work and a few surprises to cope with along the way until after mid month. Luckily you tend to be a steady-as-you-go personality so are unlikely to rock the boat too hard even when taken aback by events which blow up suddenly. Treading softly will help and giving yourself quiet space to reflect will become a priority after the 10th. Inspiration will hit you when you give yourself a chance to wind down. Friends won't always act as you expect and you could be disappointed. But for all that you'll sense you're back in the driving seat by the 19th and able to exert influence in the right place. Sorting out your finances will be to the fore in the final days and you'll need to be subtle as well as strategic for best results. Charm will get you everywhere after the 28th.
and Next Month's Horoscope for June
Getting your finances knocked into shape will be one priority. You're a sign that thrives on material security and knowing you have all you need to hand both for long-term peace of mind as well as short term indulgences. You may chop and change your plans and your approach but being vague or over-hopeful won't work. You need to put in the hard work, read the small print, insist on others playing fair and being meticulous about sticking to the straight and narrow. Your charm will smooth over any tensions or differences though you'll still insist on going your own way at times. A friend may be a slight disappointment midmonth but there's no sense in getting distracted. It not be their fault. After the 21st you'll be speeding along into a jam-packed and fun schedule. There'll be money to spare for treats and presents so you'll pamper yourself shamelessly.
Year Ahead 2022
2022 will start on a note of high optimism with good friends all around and an encouraging set of plans and goals to work towards. You'll appreciate variety and choice in your social circle and be pleased to have a wide range of trusted mates who can be relied on to give you good advice. OK at times they may be a touch overly hopeful but they won't be discouraging.rnThis will be a year at the crossroads for you with the Eclipses falling in Taurus and Scorpio. You'll be making crucial decisions about which path to follow in coming years. After your birthday for a few months you'll walk and more independent path as you sort out your decisions. Later in the year you'll include close partners in on your thinking.rnYour rebellious streak will be in evidence since you will want to stand out from the crowd but you won't be able to duck hard work, duty or responsibility. So you'll dance backwards and forwards between phase when you stick to the straight and narrow and others when you kick over the traces to suit yourself.rnThere will be a sense of an old cycle ending this year and the new one won't get underway until 2023, so you'll be tying up loose ends, plotting, planning and preparing for what comes next.rnThe second half of the year may be more inward looking and you will appreciate having a chance to wind down and enjoy your own company. There will still be dilemmas, financial and emotional, to resolve which will require perseverance and compromise. Being firm and flexible will be the way to get a result eventually which will bring you peace of mind and security.