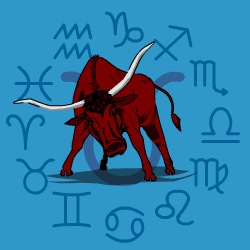 Taurus
April 21 - May 20
---
Today's Horoscope for Sunday May 28th
In team relationships and friendships you don't always trust everyone to pull together. This will tend to make you seem stiff, always insisting on rules and regulations, rather than letting everyone pitch in as they probably will in their own way at their own pace. Relationships in general may be tense since there will be criticism hanging in the air. But if you do get pushed into a self-disciplined gear, you will be grateful at the end of the day because you'll accomplish substantial progress.
The Weekly Outlook from 22nd May
With certain of your pet projects on a go slow you may be tramping around at home impatiently. Try not to take your ill humour out on the family or loved ones. They won't be to blame for delays and setbacks. Be patient, soak up your energy constructively by reorganising and this glitch will pass. If you can keep yourself under control, put down a few limits, you will ultimately be pleased with the end results of your activities. But it won't be wise to get ahead of yourself. Timing matters.
Your Monthly Horoscope for May
This could be your month if you don't let a surge of enthusiasm send you off into wild adventures. Your birthday Sun for three weeks will bounce up your confidence and exuberance and you'll sense that others are appreciative when you come round. Making good resolutions for the year ahead will involve taking on board your changing ambitions at work or in terms of where you want your life to be going. Nothing immediate has to happen since this is a long, slow process but you need to keep thinking and pushing yourself to form a strategy and a game plan. Thoughtful gestures from everyday mates at work and in the neighbourhood will boost your morale and you'll be sweet talking to them in return. From the 16th lucky Jupiter moving into your own sign for a year ahead will start a new fortunate cycle in your life with resources being drawn to you and improved relationships in general. There may be a few tensions or heated moments in the family to iron out. Least said soonest mended. In the final days a mistake will prompt you to get a firm grip on your finances.
and Next Month's Horoscope for June
An indulgent and security-conscious Earth sign, you always need to feel pampered and protected by people and possessions. The Sun in the sign after yours for three weeks will focus your mind on your personal finances to give you a stronger urge than usual to get your money box built up with enough surplus for treats as well as giving you a cushion for the future. Venus, your ruler, moving into your chart area of home and family will bring a mood of harmony and ease to relationships with loved ones. You'll also be turning your mind to spruce up the decoration to make your intimate surroundings elegant and stylish.rnPluto reversing into Capricorn for a few months from the 11th will find you pondering on your opinions and outlook on life. You will tend to get stubborn in discussions unwilling to listen to feedback or alternative viewpoints. But you would gain a good deal if you did.rnA busy final ten days will find you running to catch up in a jam-packed everyday schedule with short distance trips, letters and phone calls galore. You may cut corners and miss out on details or get scattered but you won't be bored. Older friends will be around handing out advice which won't always be upbeat or what you want to hear but they will be right on the whole.
Year Ahead 2023
A slow start to 2023 does not mean being discouraged. You'll relish the moments you can curl up in comfort and in your own company and relax. Taking time out to reflect and get perspective on recent events will settle your mind. Along the way your self-esteem will rise along with a growth in insight and awareness. You've faced challenging decisions over the past year so need a chance to let yourself settle into a new phase. Within a few weeks older friends will be around with helpful and realistic advice. You may initially hear some of their comments as criticism but they'll be worth listening to and more often right than wrong. They'll prompt you to keep formulating a longer term strategy for your life and not just take it day by day. Flexibility and change are not your strong points since you prefer sticking to the same path but really you will find more satisfaction if you make an effort to find a different direction that allows you to be independent and original. Negotiating with close partners to reach agreements giving both of you more elbow room will help since you won't appreciate being tied down or made to compromise as you have done before. By May you'll be ready to forge ahead with fair winds blowing behind you and fate will open new doors and show a new vista ahead. As you step forward boldly you'll meet a positive response since those around will be happy to put a high value on your presence. Resources will be drawn to you.