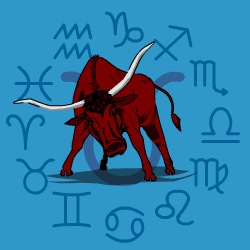 Taurus
April 21 - May 20
---
Today's Horoscope for Saturday December 04th
Your feelings will be intense which will tell you what you need to know about one close partnership. If you can lay your cards on the table in private, firmly but tactfully, then you are likely to get better understandings in future. New joint ventures, financial and otherwise, may begin which won't seem spectacular but they will pay off in future if you give them a firm push. You'll have to be sure of your ground, before you move. But if all the details are tied down, then you will see results soon.
The Weekly Outlook from 29th November
The New Moon in the deepest part of your chart could pass by. But if you can give yourself space to ponder you may be able to answer questions which have been bothering you recently. Nothing superficial will really help. You'll have no intention of letting others see if you are upset and will pride yourself on remaining dignified. It might be an idea to open up discreetly to a trustworthy mate. Only by understanding what brought you to this point can you hope to change it in future.
Your Monthly Horoscope for December
In an intense, secretive mood you won't be sharing your deeper feelings with any but your closest mates. It may seem slow going, like wading through thick mud at times trying to reach better agreements over money or other confidential matters. You won't get it all your own way but will need to shift over to find a middle ground with those you have differences with. That won't always be easy but it will be the way forward. Luckily you're a determined sign and pragmatic so you'll see the benefit of leaving everyone happier and feeling fairly treated. Your social life will continue to be lively and fun with enthusiastic friends and varied activities. From mid month you'll be planning to travel or broaden your horizons in other ways. Not all of the background dilemmas will disappear so you'll need to stay persistent into the New Year for a few weeks. But your optimism will soar the day before the New Year as you look ahead to rosy glows on the horizon.
and Next Month's Horoscope for January
Anchors will continue to drag for three weeks on certain projects. So you'll have to content yourself with treading water, pulling strings behind the scenes and refining your plans so when you get the green light you'll be all systems go. It won't stop you aiming higher and spreading your wings, broadening your horizons in other ways in the meantime. You certainly won't hold back when it comes to communicating your upbeat opinions and will be trying to convert everyone in sight round to your viewpoint. Socially you'll be in the mood for light hearted fun and variety, not being stuck with the same old same old. One friendship may be confused before mid month since you won't find it easy to pin down what is causing an odd mood. You'll need to be determined about overcoming resistance and after the 18th should be clear to speed along. Late month surprises could open up new opportunities.
Year Ahead 2021
Hard work will be inevitable as heavier responsibilities will be landed on you throughout 2021 but you will be rewarded with praise and a boost to your reputation. As long as you stick to the straight and narrow and are conscientious you won't go far wrong. Whatever you attempt should work out better and more easily than you expect. However you will have moments when you want to kick up your heels and please yourself, no matter the consequences. But rocking the boat too much with partners or at work may not bring the results you want. It will, in general, be a roller-coaster year, with sudden changes and some tensions. Which is where your steady unflappable temperament will come in handy. You will be an invaluable help to those around since you'll stay calm and continue to plough the same furrow no matter what sudden changes there are. But even you know that where relationships and money are concerned you will need to share, care, relate and co-operate in a different way. Letting go the habits of a lifetime won't be easy but you will benefit greatly and find greater fulfilment and security if you can manage it. January and February will be problematic months with upheavals and disruptions. You will be powering ahead, not always patient with delays but it won't be easy to stick to a straight course. Your optimism will soar after May for a few months and friends will rally round with enthusiastic support. Your social circle will widen so you won't be short of invitations or good company. At times you'll lack motivation or commitment when it comes to sorting out longer term plans. You'll drift, dither and put off making firm decisions. For the sake of your financial security you'll need to push yourself especially from June onwards. Towards the New Year you'll have reached a significant crossroads in your life and be making up your mind which path to choose ahead. It needs to be your choice and will only be reached after a good deal of reflection.