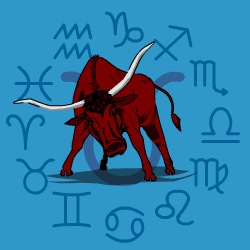 Taurus
April 21 - May 20
---
Today's Horoscope for Saturday August 20th
With Mars now moving through the sign after yours for several months ahead, you'll be focused on your finances and going in opposite directions. Making and spending money will be your priorities. Try not to be too impulsive about taking on new commitments to impress others. Channel your competitive instincts into earning more and reorganising what you already have with an eye to your long term security. Then you will have peace of mind as well as the status that comes with having surplus to spare.
The Weekly Outlook from 15th August
If you stand your ground firmly and keep arguing to the bitter end over a confidential financial or emotional matter, then you will find you won't win. Everyone will end up with a sour taste. Obviously you need to protect your interests but doing it in a subtle way while remaining firm will work best. After midweek you'll shift your focus away from serious concerns to more glittery, sparkly, sociable fun activities. You may not have an deep and meaningful experiences but who cares? You'll enjoy.
Your Monthly Horoscope for August
Home will be where your attention is focused and you'll yearn for a peaceful three weeks to relax and have time to reflect over recent events as well as have heart-to-heart chats with loved ones. But however much you try to be tactful and keep conversations light-hearted, you're likely to be in a mischievous not to say disruptive mood. Mars in your own sign gives you dynamic drive and with firecracker Uranus added into the mix you'll sizzle with surplus energy and impatience. You won't sit still for long but remember circumstances may not allow you to be as free as you might wish. Be realistic and realise your words will carry weight in the right places if you work out a sensible strategy for getting your message across. Into the final ten days you'll be less hyper and more focused on getting your finances knocked into shape as well as being determined to enjoy the fun social few weeks ahead.
and Next Month's Horoscope for September
With a twinkle in your eye and a lilt in your step you'll be into a fun sociable few weeks with loved ones rallying round to make you feel appreciated. Pushing aside thoughts of duty or practical chores, you'll head for entertainment and enjoyment. Though if you have creative talents you may also consider getting to grips with any arty projects. You'll be pleased to step away from old expectations and suit yourself. If certain old friends see you as a maverick you won't care. In spare moment you'll turn your attention to your finances since you'll be keen to build up more surplus to allow for treats and indulgences. After midmonth one difference of opinion should be laid to rest as your persuasive powers do the trick. The final week will be back to hard work but you'll be keen to get a grip of essentials and won't mind.
Year Ahead 2022
2022 will start on a note of high optimism with good friends all around and an encouraging set of plans and goals to work towards. You'll appreciate variety and choice in your social circle and be pleased to have a wide range of trusted mates who can be relied on to give you good advice. OK at times they may be a touch overly hopeful but they won't be discouraging.rnThis will be a year at the crossroads for you with the Eclipses falling in Taurus and Scorpio. You'll be making crucial decisions about which path to follow in coming years. After your birthday for a few months you'll walk and more independent path as you sort out your decisions. Later in the year you'll include close partners in on your thinking.rnYour rebellious streak will be in evidence since you will want to stand out from the crowd but you won't be able to duck hard work, duty or responsibility. So you'll dance backwards and forwards between phase when you stick to the straight and narrow and others when you kick over the traces to suit yourself.rnThere will be a sense of an old cycle ending this year and the new one won't get underway until 2023, so you'll be tying up loose ends, plotting, planning and preparing for what comes next.rnThe second half of the year may be more inward looking and you will appreciate having a chance to wind down and enjoy your own company. There will still be dilemmas, financial and emotional, to resolve which will require perseverance and compromise. Being firm and flexible will be the way to get a result eventually which will bring you peace of mind and security.