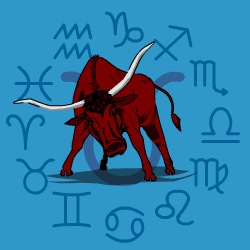 Taurus
April 21 - May 20
---
Today's Horoscope for Wednesday July 15th
Try to wind down rather than get too uptight for a few days. It may take an effort, but staying cheerful in spite of the circumstances around you may just be the easiest way to sail through in good form. Be calm and serene and smile gently if close companions get sulky or too tricky. It won't always be easy since you will run into intense encounters or differences of opinion. They will challenge your beliefs but that is no bad thing as long as you are willing to abandon views which have outlived their usefulness.
The Weekly Outlook from 13th July
You'll aim to be around friends and part of a larger group. Your sociable, outgoing approach means you'll be readily accepted as one of the gang. Why fly solo when there is so much support on offer around you. Though you'll also need to take time out from chatting to tackle one sticky situation with thoroughness which may involve holding an uncomfortable tricky discussion. Try to avoid being obsessive. If you focus so narrowly that you can't quite see other viewpoints you won't get far.
Your Monthly Horoscope for July
Racing around at speed, chatting constantly, you'll be multi-tasking like mad and need to manage your time well otherwise you won't pack everything in. Getting organised will help and writing out to-do lists since you want to be able to tick tasks off as you go. Part of you will yearn for far away beaches and foreign places but you will need to focus on what's under your feet. An inspired hunch on the 1st will lead to a useful meeting if you follow through. There won't be anything holding you back towards mid-month when it comes to expressing your vigorous opinions. Try to keep and open mind and listen to feedback. Into the final days you'll slow down to spend more time at home with loved ones. Emotional security will be far and away more important than anything the outside world has to offer.
and Next Month's Horoscope for August
There won't be much tempting you to race around or be overly pro-active. Tucked away quietly and comfortably at home or in familiar surroundings with the companions who make you feel relaxed, you won't stray far. There may be a surprise event early on but you'll refuse to let it distract you since you've no intention of allowing anyone to interfere with your plans. Which isn't to say that restrictions won't be in place with Mars tucked away in the sign before yours. But you'll be more than happy to accept that patience rather than instant advance is the order of the month. If you can tone down your opinions towards mid-month you won't end up with a stalemate argument. Sidestepping a confrontation will be wise. A lively social life will be on off after the 23rd with chances to kick up your heels and have fun. One plan will hit snags towards the 24 but getting irritable won't help. Keep smiling and it will pass.
Year Ahead 2020
2020 will be your year to revise your outlook, opinions and philosophy of living. Challenges to your mindset may be unsettling initially but if you can keep an open mind and listen to feedback then you'll gradually come to understand which attitudes have passed their sell-by date and need to go. Enlightenment won't come quickly or easily but you'll be given a helping hand along the way and gradually you'll find your old enthusiasm revives as you raise your sights higher.rnYou know this phase of your life marks out a distinct change from what has gone before with Uranus moving through your own sign for another few years. Not normally a rebellious sign or one who is happy with fast-moving change you'll surprise yourself by rocking the boat from time to time and insisting on going your own way no matter the reaction.rnNot that you'll turn into a carefree hippie since hard work and heavier responsibilities will come courtesy of Saturn at your midheaven for a few months from March onwards. There may be setbacks or small mountains to climb in April so you'll grit your teeth on and push harder. From midyear you'll revise your tactics and step back, allowing others to take the driving wheel, while you give subtle hints from the passenger seat.rnHave a care all year when travelling since there will be delays and disruptions throughout which won't make for fast progress. Always keep a plan B up your sleeve for emergencies.rnSpending money on treats and indulgences will be a welcome distraction in the months after April, since you'll be comforted by a few luxuries. But the swing of the eclipses towards your financial houses does indicate that taking the initiative to improve your situation and security will be helpful. Ambling along hoping for the best won't work. Being pro-active and determined to put long overdue changes in place will make all the difference.