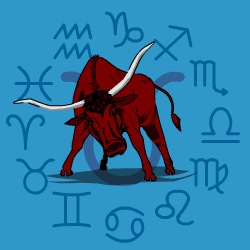 Taurus
April 21 - May 20
---
Today's Horoscope for Sunday February 05th
If anyone close is being fierce and fiery, you will be the soul of tact and diplomacy, soothing, smoothing and softening them down. Don't respond to sharp words as a challenge and feel you have to give as good as you get. The Full Moon falling at the lowest point of your chart is not gloomy, but it is a hint that you need to draw back from too much work and ambition to consider your feelings more. You cannot allow your head to over-rule everything and forget your heart. Slow down and enjoy being instead of constant doing.
The Weekly Outlook from 30th January
If you are normally reluctant to make your views known and your presence felt, the Sun across from Mars will shake you up and make you talk in a livelier way. It will give you a boldness to be able to do what has not seemed possible before. But try not to go from reverse to fast forward in one giant leap and end up sounding sharp or confrontational. Not everyone will be keen to hear the blunt truth as you see it. What's important to you may be less so to others so be cool if others differ.
Your Monthly Horoscope for February
You will make your mark and very much on your own terms as you take the lead and insist others follow behind. You won't appreciate being cramped or crowded and could come across as rebellious but you are long past the stage of caring what anyone else says or thinks. Hard work will be unavoidable but since it will bring you the attention and respect you crave you won't mind.rnTaking time out for private reflection will out your mind at rest about recent events and allow you to feel comfortable about your responses. Your self-esteem will grow stronger in coming months.rnWarm-hearted and affectionate friends will be around to make you feel wanted when you are in the mood for company. Your knack of putting everyone at ease in group activities means you won't go short of invitations.rnYou'll be keeping your eye on your finances since you know another few weeks of dedicated effort will make all the difference.rnThe final few days will be filled with friends with ample opportunity to toss ideas around about the future.
and Next Month's Horoscope for March
Renowned for your steady approach to life which appreciates an unvarying regime and does not demand too much flexibility, you may not regard a month where three planets move into a new sign with enthusiasm. But not all change is bad. You will be serious about setting yourself long term goals and over coming months will mingle with older friends, asking for advice. Team relationships will take effort to keep them on track. Pluto moving into Aquarius will shift your priorities at work and prompt you to ask yourself probing questions about your direction in life. Nothing instant will happen but you may find yourself taking a different approach to those close so there may be a tug of war about who is right and who holds the power to make decisions. From mid month you'll be making the effort to spruce up your appearance and will attract admiring glances and compliments. Your everyday schedule will speed up in the final days but you'll need to pace yourself since your pet projects will be on a go-slow for a few weeks ahead.
Year Ahead 2023
A slow start to 2023 does not mean being discouraged. You'll relish the moments you can curl up in comfort and in your own company and relax. Taking time out to reflect and get perspective on recent events will settle your mind. Along the way your self-esteem will rise along with a growth in insight and awareness. You've faced challenging decisions over the past year so need a chance to let yourself settle into a new phase. Within a few weeks older friends will be around with helpful and realistic advice. You may initially hear some of their comments as criticism but they'll be worth listening to and more often right than wrong. They'll prompt you to keep formulating a longer term strategy for your life and not just take it day by day. Flexibility and change are not your strong points since you prefer sticking to the same path but really you will find more satisfaction if you make an effort to find a different direction that allows you to be independent and original. Negotiating with close partners to reach agreements giving both of you more elbow room will help since you won't appreciate being tied down or made to compromise as you have done before. By May you'll be ready to forge ahead with fair winds blowing behind you and fate will open new doors and show a new vista ahead. As you step forward boldly you'll meet a positive response since those around will be happy to put a high value on your presence. Resources will be drawn to you.