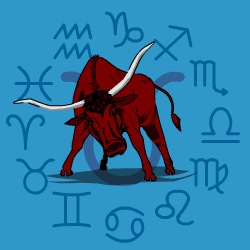 Taurus
April 21 - May 20
---
Today's Horoscope for Saturday February 29th
Out in the swing of things you'll feel popular in team relationships at work or in your leisure activities. What you're aiming for is excitement, speed, thrills and fun and you may make provocative comments that startle other people, just to amuse yourself. Your concentration will be wandering at times and you will be getting bored having to listen to feedback. An odd mix of highly tolerant and very obstinate, you'll be slow to make up your mind but once you reach a decision you will not budge.
The Weekly Outlook from 24th February
All those new plans you have been mulling and muddling over in recent days can now be given a sensible push. You want to sort out your game plan for the next 12 months. But don't stop at thinking. Make a few decisions and put them into action. In your love life there'll be an almost magical power drawing you closer to the right person. You'll make the effort to turn on your charm at super speed and really want to make deep connections that will last over time.
Your Monthly Horoscope for February
There'll be no sense in hiding away in a corner and being a shrinking violet. Take your courage in both hands and be bold. Your place will be in the lead and insisting others follow along behind. Your talents will be recognised and attract praise and your winning personality will carry the day. OK so you'll be working extra hard and there may be less time for partying and having fun, but the end result in solid achievements will be worth the effort. If no one else is treating you then give yourself some quiet pampering in private. What you do for loved ones now will be rewarded next month so don't hold back. A sticky six weeks comes to a close midmonth when Mars moves on a sign to pull you away from intense discussions on confidential matters, emotional and financial. Then you will be bouncing with enthusiasm, intending to find adventure and enjoyment and will be spreading your vigorous opinions in all directions. After the 19th you'll be happy to hand over the reins to others and go back to being one of the gang with friends and team mates.
and Next Month's Horoscope for March
There'll be no shortage of support around you from friends and team mates but you'll still be unsure about where you're going. Future plans will be wreathed in fog or confused, so you'll need to wait till the dust clear and you are sure what you want your commitments to be. Not all the advice or information coming your way will be realistic though it'll probably be well-intentioned. Do your own double checking. Your charms and spruced-up appearance will be attracting compliments and admiring glances so with Venus, your ruler, in your own sign all month from the 5th you'll be on good social form. Your confidence in spreading the word of your pet projects will bring in results and you'll be dreaming up even grander visions of what's possible. Just try to keep your feet on the ground since hard work beckons in the final week. You'll need to stick to the straight and narrow, be conscientious and persevering. Only then will you gain the respect of those whose judgement you trust.
Year Ahead 2020
2020 will be your year to revise your outlook, opinions and philosophy of living. Challenges to your mindset may be unsettling initially but if you can keep an open mind and listen to feedback then you'll gradually come to understand which attitudes have passed their sell-by date and need to go. Enlightenment won't come quickly or easily but you'll be given a helping hand along the way and gradually you'll find your old enthusiasm revives as you raise your sights higher.rnYou know this phase of your life marks out a distinct change from what has gone before with Uranus moving through your own sign for another few years. Not normally a rebellious sign or one who is happy with fast-moving change you'll surprise yourself by rocking the boat from time to time and insisting on going your own way no matter the reaction.rnNot that you'll turn into a carefree hippie since hard work and heavier responsibilities will come courtesy of Saturn at your midheaven for a few months from March onwards. There may be setbacks or small mountains to climb in April so you'll grit your teeth on and push harder. From midyear you'll revise your tactics and step back, allowing others to take the driving wheel, while you give subtle hints from the passenger seat.rnHave a care all year when travelling since there will be delays and disruptions throughout which won't make for fast progress. Always keep a plan B up your sleeve for emergencies.rnSpending money on treats and indulgences will be a welcome distraction in the months after April, since you'll be comforted by a few luxuries. But the swing of the eclipses towards your financial houses does indicate that taking the initiative to improve your situation and security will be helpful. Ambling along hoping for the best won't work. Being pro-active and determined to put long overdue changes in place will make all the difference.