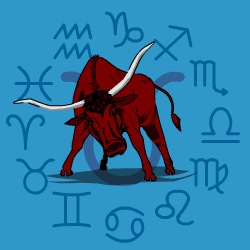 Taurus
April 21 - May 20
---
Today's Horoscope for Saturday January 23rd
In a mood of high enthusiasm, with optimism spilling out, you'll reckon that anything you touch will turn out well. Luck should be on your side, but you do need to slow down. Prepare, plan, understate what you think you can achieve and you will fare better. If you aim too high then nothing will work as you expect. Later there needs to be a way of giving to others that allows you to be at peace with yourself. You will have to be sensitive to other people's needs without running yourself ragged.
The Weekly Outlook from 18th January
You'll aim to find a sense of sparkle and excitement that has been missing recently. For once you'll be embracing the notion of change which you normally shy away from since you like sameness. But there will now be a chance to let go of what has been holding you back. A small triumph will bring praise your way, perhaps even money or a generous present. The next few weeks will see you in a more prominent position and gaining success. No one will be able to push you aside and claim credit for your achievements.
Your Monthly Horoscope for January
In a communicative and indeed opinionated mood you'll be promoting your pet causes and spreading the word in all directions. Having been held back for several months by Mars being stuck in the sign before yours, there will be a sense of release as it moves into your Taurus on the 6th which will free up forward movement. You'll speed ahead, pushing obstacles and slow coaches to one side, not always tactfully. But it'll be a relief not to be stuck in a corner any longer. You'll be working hard and sticking to the straight and narrow, insisting that everyone around is as well-organized as you. Progress will be erratic and unpredictable so you'll need to be patient as well as persevering. Praise and a few triumphs will keep you smiling and act as a balance to challenges and surprising turns of events which throw your plans off track. Towards the month's end you'll be doubly keen to turn your enthusiastic ideas into realities.
and Next Month's Horoscope for February
You'll be summoning up all your famed steadiness and common sense for a hard-working and unpredictable month. Others will look to you as a dependable and practical hand on the tiller. This is your peak in the year where work, community activities and taking the lead at home are concerned. You'll be putting out the effort but will be rewarded with praise and respect, as long as you don't veer off course. Uranus in your own sign will give you defiant and rebellious moments when you want to kick over the traces but being too outrageous won't wash. Luckily your social stats will rise so you'll have a chance to sparkle in the spotlight and charm all the right people. You'll have a few triumphant moments to warm your heart and they'll compensate for the times when you have to act as mediator when tensions rise and tempers flare. After the 18th you'll be surrounded by friends, get more team support and be battling on in good spirits.
Year Ahead 2021
Hard work will be inevitable as heavier responsibilities will be landed on you throughout 2021 but you will be rewarded with praise and a boost to your reputation. As long as you stick to the straight and narrow and are conscientious you won't go far wrong. Whatever you attempt should work out better and more easily than you expect. However you will have moments when you want to kick up your heels and please yourself, no matter the consequences. But rocking the boat too much with partners or at work may not bring the results you want. It will, in general, be a roller-coaster year, with sudden changes and some tensions. Which is where your steady unflappable temperament will come in handy. You will be an invaluable help to those around since you'll stay calm and continue to plough the same furrow no matter what sudden changes there are. But even you know that where relationships and money are concerned you will need to share, care, relate and co-operate in a different way. Letting go the habits of a lifetime won't be easy but you will benefit greatly and find greater fulfilment and security if you can manage it. January and February will be problematic months with upheavals and disruptions. You will be powering ahead, not always patient with delays but it won't be easy to stick to a straight course. Your optimism will soar after May for a few months and friends will rally round with enthusiastic support. Your social circle will widen so you won't be short of invitations or good company. At times you'll lack motivation or commitment when it comes to sorting out longer term plans. You'll drift, dither and put off making firm decisions. For the sake of your financial security you'll need to push yourself especially from June onwards. Towards the New Year you'll have reached a significant crossroads in your life and be making up your mind which path to choose ahead. It needs to be your choice and will only be reached after a good deal of reflection.