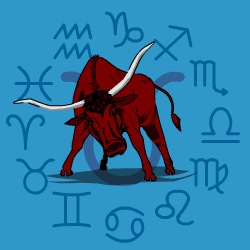 Taurus
April 21 - May 20
---
Today's Horoscope for Saturday October 31st
You want more support than you are getting from a close partner and the freedom to please yourself. It may be unreasonable but that's the way you feel. Maybe it would be best to back off just briefly until you have a clearer idea of what you can sensibly expect. Whatever happens it'll be important to let the restless spirit within you come out. Don't feel obliged to sit yourself in a corner or be stuck with anyone else's agenda. Stand up for what you want as an individual. Popularity is not everything.
The Weekly Outlook from 26th October
In coming weeks you'll be helpful to loved ones but also analytical about your feelings, standing back to dissect them, rather than plunging into emotional situations around you. If you can let go, you would find deeper connections and more fulfilling relationships. Surprising events later in the week may prompt you into a rash decision or comment. You may dash into a tinderbox situation and then wish you hadn't. You may have a strong reaction to events but don't go too over the top.
Your Monthly Horoscope for October
Hard work will be unavoidable so you'll need to turn your attention to staying fit and finding ways of boosting your stamina. You'll continue to feel boxed in as you have done for some months with Mars trapped in the sign before yours so need must that you accept what you can't change. Coming across too forcefully with your opinions won't be persuasive so if you tone down your approach and aim to sound positive then you'll far better. Loved ones will rally round to make you feel appreciated and they'll bring out your mischievous streak. Your mood will flip from high to grumpy but after an enthusiastic surge around the 19th you'll be less stressed late in the month with more support on offer.
and Next Month's Horoscope for November
You'll need the stalwart support of a close partner to keep you glowing with satisfaction. The first three weeks will be togetherness-time and co-operation will be the name of the game. You may not always appreciate the compromises which are necessary to keep relationships running smoothly but you'll see the benefit of being flexible now. Where work or practical matters are concerned you'll be nit-picking over details and insisting that there are no loose ends lying around. Good news coming in from a distance away will do your morale the world of good towards the middle of the month. Filled with renewed zest you'll be spreading your enthusiastic opinions in all directions. Having been self-sacrificing and helpful towards loved ones for three weeks, you'll get your rewards after the 21st with love and affection being showered on you. You'll be socially in demand though will need to clear space to sort out a few confidential tangles.
Year Ahead 2020
2020 will be your year to revise your outlook, opinions and philosophy of living. Challenges to your mindset may be unsettling initially but if you can keep an open mind and listen to feedback then you'll gradually come to understand which attitudes have passed their sell-by date and need to go. Enlightenment won't come quickly or easily but you'll be given a helping hand along the way and gradually you'll find your old enthusiasm revives as you raise your sights higher.rnYou know this phase of your life marks out a distinct change from what has gone before with Uranus moving through your own sign for another few years. Not normally a rebellious sign or one who is happy with fast-moving change you'll surprise yourself by rocking the boat from time to time and insisting on going your own way no matter the reaction.rnNot that you'll turn into a carefree hippie since hard work and heavier responsibilities will come courtesy of Saturn at your midheaven for a few months from March onwards. There may be setbacks or small mountains to climb in April so you'll grit your teeth on and push harder. From midyear you'll revise your tactics and step back, allowing others to take the driving wheel, while you give subtle hints from the passenger seat.rnHave a care all year when travelling since there will be delays and disruptions throughout which won't make for fast progress. Always keep a plan B up your sleeve for emergencies.rnSpending money on treats and indulgences will be a welcome distraction in the months after April, since you'll be comforted by a few luxuries. But the swing of the eclipses towards your financial houses does indicate that taking the initiative to improve your situation and security will be helpful. Ambling along hoping for the best won't work. Being pro-active and determined to put long overdue changes in place will make all the difference.