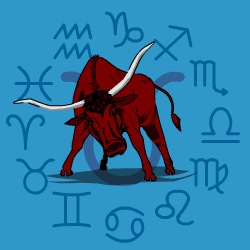 Taurus
April 21 - May 20
---
Today's Horoscope for Saturday September 18th
It'll be important that others appreciate and admire what you're doing. Success should come your way more easily than usual in coming months so you might as well make hay while the sun shines. Praise will have you beaming with pleasure and a certain amount of relief. And you know you have to keep up the effort to find new ways to attract the right kind of attention. Being centre of group activities and making things work for others will be one way. Being sympathetic will help but don't be too soft because it won't help.
The Weekly Outlook from 13th September
You will understand what a friend needs but try not to get drawn into solving all their problems, because you could end up turned into a doormat. As the week wears on you'll see the virtue of putting down limits and not allowing yourself to be used or pushed around. You can have influence but on your terms. Be tactful and firm. Maybe you won't change everything you would like, but you'll make more of an impression than you imagine by the way you rise to the problem.
Your Monthly Horoscope for September
Fun, entertainment, enjoyment and games will be your main priorities as you sail ahead with exuberance, high energy and passionate enthusiasm. You will want your own way and may get bossy with loved ones but that apart you'll be on vibrant form. Just try not to come on too strong. Gentle persuasion will work faster than throwing your weight around. Over eating could be a minor risk early on but once Venus moves into your opposite sign after the 10th you'll be so boosted by the affection and compliments coming your way you won't think about food. Gradually you'll ease back on the party spirit and make room for responsibilities and duties. Work will loom large after the middle of the month so staying fit will be important. Putting yourself out to ensure others are getting the support they need won't feel like a burden.
and Next Month's Horoscope for October
Being of service to others and putting yourself out to help will be your way for a few weeks. It may seem like all work and no play so you'll need to boost your stamina however you can to ensure you stay on top form. You'll be fussing over details and tending to assume you're the only one who can do tasks the right way. Ease up and be less picky otherwise you'll over burden yourself with too many commitments and no one will offer to share your chores. Your emotional reactions will be intense but you're unlikely to give much away since you'll be playing your cards close to your chest. Try not to turn small setbacks into major melodramas. Tone down your responses and look to a triumph on the 15th to make you more outgoing. You'll revel in praise and recognition and one success will lead to another. Pluto may be causing havoc for a few days after midmonth either with travel delays or differences of opinion that won't easily resolve. Togetherness in the final days will be your priority so you'll let bygones be bygones.
Year Ahead 2021
Hard work will be inevitable as heavier responsibilities will be landed on you throughout 2021 but you will be rewarded with praise and a boost to your reputation. As long as you stick to the straight and narrow and are conscientious you won't go far wrong. Whatever you attempt should work out better and more easily than you expect. However you will have moments when you want to kick up your heels and please yourself, no matter the consequences. But rocking the boat too much with partners or at work may not bring the results you want. It will, in general, be a roller-coaster year, with sudden changes and some tensions. Which is where your steady unflappable temperament will come in handy. You will be an invaluable help to those around since you'll stay calm and continue to plough the same furrow no matter what sudden changes there are. But even you know that where relationships and money are concerned you will need to share, care, relate and co-operate in a different way. Letting go the habits of a lifetime won't be easy but you will benefit greatly and find greater fulfilment and security if you can manage it. January and February will be problematic months with upheavals and disruptions. You will be powering ahead, not always patient with delays but it won't be easy to stick to a straight course. Your optimism will soar after May for a few months and friends will rally round with enthusiastic support. Your social circle will widen so you won't be short of invitations or good company. At times you'll lack motivation or commitment when it comes to sorting out longer term plans. You'll drift, dither and put off making firm decisions. For the sake of your financial security you'll need to push yourself especially from June onwards. Towards the New Year you'll have reached a significant crossroads in your life and be making up your mind which path to choose ahead. It needs to be your choice and will only be reached after a good deal of reflection.