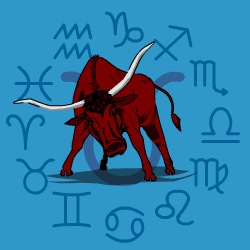 Taurus
April 21 - May 20
---
Today's Horoscope for Sunday April 05th
You will be constantly on the go, seeking more challenging companions and picking up new activities since you want to broaden your mind. Make the effort to reach out and ask for what you need. This is the time to make creative changes, to go out of your way to do what hasn't been possible before. Or perhaps what felt beyond your reach. But now you have the drive, determination and luck to forge ahead. You'll certainly be expressing your opinions with vigour and as long as you don't get too forceful or self-righteous, you'll be persuasive.
The Weekly Outlook from 30th March
Everything will seem to be getting under your skin for a few days. But you'll feel the circumstances aren't such that you can lose your temper. Better by far to be discreet, and plough on steadily, without looking to left or right. Focus on your long-term goals and then immediate problems will seem smaller. Later don't muddle love and money, assuming if you aren't getting expensive presents, you are not really valued. What you are worth is priceless, and thoughtful gestures from the heart mean more than trinkets.
Your Monthly Horoscope for April
You'll be in exactly the right place to offer motivating words of cheer and to blow the trumpet of your pet causes. You won't hold back since you'll be certain of the rightness of your opinions and beliefs. Though listening to feedback and alternative views will also be a good idea. If possible you'll be in a travelling mood, but if not you'll be broadening your horizons in whatever way you can. Spending money on treats and indulgences will be one fun distraction since you'll want beauty and elegance and that never comes cheap. You'll be ambitious and competitive, not taking no for an answer or allowing anyone to stand in your way. Just try not to be overly forceful or too uncompromising around the 7th. Otherwise you'll need to backtrack later in the month to repair the damage. Your birthday Sun from the 19th will find you in serious mood, knowing you have to keep working diligently to overcome obstacles. But wanting to kick over the traces and be rebellious as well.
and Next Month's Horoscope for May
Chatty, restless, independent-minded and on good form, you'll be bouncing exuberantly with your birthday Sun in place for three weeks. With an added extra lift from fortunate Jupiter and persuasive Pluto to let you know that you're moving in the right direction with luck on your side. You'll be expressing yourself with vigour but softening the sharper edges of your opinions with enthusiasm. Energetic friends will be around after the middle of the month to ensure you're not sitting idle or looking backwards over your shoulder. They'll be persuading you to look ahead and plan a sensible strategy for what comes next. In the final days your mind will turn to your finances since you always like to feel secure but you'll also want to spend to pamper yourself.
Year Ahead 2020
2020 will be your year to revise your outlook, opinions and philosophy of living. Challenges to your mindset may be unsettling initially but if you can keep an open mind and listen to feedback then you'll gradually come to understand which attitudes have passed their sell-by date and need to go. Enlightenment won't come quickly or easily but you'll be given a helping hand along the way and gradually you'll find your old enthusiasm revives as you raise your sights higher.rnYou know this phase of your life marks out a distinct change from what has gone before with Uranus moving through your own sign for another few years. Not normally a rebellious sign or one who is happy with fast-moving change you'll surprise yourself by rocking the boat from time to time and insisting on going your own way no matter the reaction.rnNot that you'll turn into a carefree hippie since hard work and heavier responsibilities will come courtesy of Saturn at your midheaven for a few months from March onwards. There may be setbacks or small mountains to climb in April so you'll grit your teeth on and push harder. From midyear you'll revise your tactics and step back, allowing others to take the driving wheel, while you give subtle hints from the passenger seat.rnHave a care all year when travelling since there will be delays and disruptions throughout which won't make for fast progress. Always keep a plan B up your sleeve for emergencies.rnSpending money on treats and indulgences will be a welcome distraction in the months after April, since you'll be comforted by a few luxuries. But the swing of the eclipses towards your financial houses does indicate that taking the initiative to improve your situation and security will be helpful. Ambling along hoping for the best won't work. Being pro-active and determined to put long overdue changes in place will make all the difference.