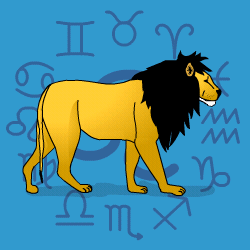 Leo
July 24 - August 23
---
Today's Horoscope for Friday November 22nd
Into a sunny, sociable and maybe even romantic few weeks, you'll be in a mood to party, play games and enjoy yourself. Thoughts of duty will be pushed firmly to one side and everything you do will have to express your personality and bring you appreciation before you'll settle to any kind of routine. Letting your inner spark shine out and expressing yourself as spontaneously as you can will be more your style. Your relationships with loved ones will be easy going.
The Weekly Outlook from 18th November
Certain pet projects won't move as quickly as you'd like in coming weeks. See the benefits of having time to revision your plans, unpick mistakes and get prepared. Then when the red lights turn to green you'll be in a better position. Try not to take your ill humour out on the family or loved ones. They are not the real cause of your problems. There will be chances to flirt, have fun and party more so you won't be wasting time. You will be dramatic, fun-loving and attention seeking.
Your Monthly Horoscope for November
A zippy everyday schedule will keep you on the run and not always patient when things or people get in your way. You will run into a few obstacles, not the least of which is that your energy isn't limitless. Try to pace yourself and don't get uptight about what you can't do anything about. Your social life will be fun with plenty of invitations and compliments coming your way. Loved ones and good friends will rally round to give you attention and keep you entertained. But really you'll be happiest snuggled up at home and in familiar surroundings giving yourself a well-earned break and the chance to get important matters into perspective. In the final days you'll be keen to reorganise your domestic setup and be sweeping the family into place along with the furniture which may not go down well. Your sunny enthusiasm will be what's needed to keep everyone co-operating.
and Next Month's Horoscope for December
Balancing a busy social and work schedule won't be easy and if you are burning the candle at both ends, which looks likely, then you'll need to boost your stamina. The Sagittarius Sun until the 22nd will be fun-loving and outgoing with a pile of invitations coming your way and plenty of chances to sparkle in the spotlight at parties. But you'll also find that demands on your sense of duty won't diminish, indeed will increase towards the month's end. What will help is Jupiter moving into Capricorn for a year ahead since it will help with any health issues and minor ailments. It can expand your appetite so you may find that more exercise is required to keep your waistline in hand. On the work front you won't find it easy to delegate and may land yourself with too many commitments as your enthusiasm runs away with you. Keep a watchful eye on joint finances in the second week since there could be muddles. In the final days, you'll play less and make yourself available to serve others' needs.
Year Ahead 2019
Duty may fight a battle with pleasure and you'll try to manage both but may end up draining your stamina. There will be chores piling up and demands on your time and energy, so you'll need to be firm about where your limits are and not over commit yourself. Any health or fitness issues which turn up need to be handled promptly for best results. Staying on top form physically will be the priority for the first half year. Luckily throughout the year Jupiter in fiery Sagittarius will keep your enthusiasm and self-confidence high, so you'll be in a mood to party as well. You'll be sweeping old self-doubts to one side, putting a higher value on yourself and finding that others do the same. So your popularity at work will increase. You'll sense that your life or your career are changing direction in ways you would not have imagined a few years back. Embrace the new and follow through on any original ideas without fussing too much about others' responses. You won't always be co-operative and will prefer to have your own niche where you can do your own thing. It'll be a time to try out new methods and techniques so don't be a stick-in-the-mud. August will be your high point and hot spot as you throw yourself wholeheartedly into enjoying yourself and making a mark. But in general the second half year will be quieter, with chances to turn inward and get the past into perspective and ponder on what is most personal to you. Throughout the year you'll have lucky breaks where you suddenly find that fortune shines on you, lowering your tension levels and making you smile. A final one turns up in December when more support at work and a health boost will put you on good for the New Year.