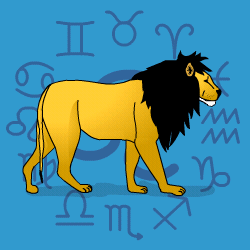 Leo
July 24 - August 23
---
Today's Horoscope for Tuesday November 28th
You will be putting on the persuasive charm in conversations, phone calls and when you write letters. Your harmonious way of expressing yourself and way with words guarantees that you will be be popular and get agreement. As you try to sort out your plans for the next month you will be dashing various friends and loved ones asking for advice and getting confused with different feedback. But at the end of it all you will be able to come to your own judgements. When the time is right you will know what your best options are.
The Weekly Outlook from 27th November
Although you want the chance to flirt, have fun and enjoy yourself, you may have a niggling thought about sorting out a few longer term schemes. If you play away the day, tomorrow may not look after itself. Find time for a strategy session where you work out your goals and aims for the future. There could be a charming message coming your way or a chance encounter that leaves you feeling blissed out. It may be a passing moment, but it will bring a connection to a better world. Remember it when you get back into the hassle and hustle.
Your Monthly Horoscope for November
Home will be where your heart is which does not necessarily mean it will be peaceful. You'll be focused on family and domestic affairs and be buzzing around busily reorganising. Your blunt approach may not always go down well with those close so soften your approach for best results. You may be frustrated because a pet project at work or in the community is on a go-slow. Be patient and in a few weeks you'll be speeding ahead. There will be sudden surprises, changes of direction and plan which will require you to be flexible and open-minded. Being a Fixed sign you don't always appreciate having to bend in the breeze but it will help. Luckily your sense of humour will be to the fore as well as your ability to turn on the charm where necessary to smooth round tensions. The final days will be mixed with a livelier social life alongside a few financial dilemmas that need to be resolved which will fall to you to find the answer.
and Next Month's Horoscope for December
In your element as the party season hots up, you'll be accepting invitations galore and sprucing up your appearance. Stepping out boldly you'll demand attention and in return will put on an entertaining performance to keep loved ones and friends amused. There will also be a chance to relax and snuggle up at home. In quiet moments you will look around and be planning how to change the atmosphere and d'cor, adding tasteful and colourful touches to improve the festive spirit. Your morale will stay high as small triumphs continue to roll your way all month, with praise and recognition making you glow. After the middle of the month be on the lookout for financial muddles or mistakes as unreliable information could be a distraction. In your closest relationships as well you will be inclined to believe what you want to believe rather than look at the reality of one situation. Be patient and forgiving but be clear as well. In the final days you'll be working hard, being of service and ensuring you keep your energy topped up.
Year Ahead 2023
A slow, thoughtful start to 2023 will find you tossing around ambitious and adventurous plans but knowing the time is not right to put them into action. Getting into peak fitness will be one priority as a preparation which means not pushing too hard physically but going steadily. Relations may have been cool with one close partner recently so you may find yourself having to negotiate to reach better understandings and agreements. The tendency on both sides may be to hang on too much for control or refuse to be flexible, neither of which will help. Transforming the way you share, care and relate will take time and effort so you'll need to persevere in altering your approach. Energetic friends will give you a helping hand initially as you sort out future plans. Getting to grips with your finances will also be important which means not relying on others to prop you up or present you with solutions. You may feel thrown back on your own resources but the end result is you will emerge resilient and better experienced at coping. Into a successful few months from May onwards you'll glow with delight at the compliments and praise coming your way as several projects turn out to be triumphs. You might as well make the most of this lucky phase and get new projects kick- started as well. There will be sudden changes of direction since nothing will be straightforward or evenly paced with Uranus at your Midheaven but if you're wise you'll relish the excitement and challenge and grasp new opportunities when they turn up.