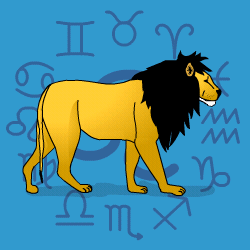 Leo
July 24 - August 23
---
Today's Horoscope for Friday September 25th
You'll take pride in being never pushy but always there. But you will tend to be negative in your approach, rarely praising but always finding flaws to criticise in yourself and others. Stop nit picking and enjoy more. Pluto close to the austere Capricorn Moon has a habit of magnifying small situations and turning them into dramas. If you are too edgy, uptight or secretive or make loved ones feel shut out they will not respond well. See where you can dial your inner Sun up several notches.
The Weekly Outlook from 21st September
Into a speedy and varied few weeks ahead your curiosity will be sending you in search of intriguing new ideas, constantly asking questions. Whether you are speaking or writing, you will find the words flow easily. There may be more encounters now with everyday companions, since you will want to be constantly on the move round familiar faces. A hyper-active Mercury will shake you up and make you talk in a livelier way. You'll find the courage to tackle projects or discussions you've been avoiding.
Your Monthly Horoscope for September
With romantic, flirtatious, charming Venus moving into your own sign for a few weeks, you'll be looking great and lapping up compliments. But behind your radiant smiles you'll be busily occupied sorting out financial and other practical matters. You'll sense that favourable winds are blowing behind you so this is a great time to boost your security and sort out the organisational side of your life. That will include fitness and health since how you look after your body will dictate how much energy you will have to devote to your priorities. The triple conjunct on Pluto, Saturn and Jupiter in Capricorn will give you a nudge in the right direction. Admittedly you may have to persevere and not allow setbacks to dampen your spirits. But where there's a will there's a way and you'll be pleased at how well you're doing by the 22nd. In the final week you'll be skipping through a light-hearted and varied everyday schedule.
and Next Month's Horoscope for October
A power-packed schedule will keep you flying along with people to visit, conversations to be had and constant activity to keep boredom well away. You'll need to manage your time well, write out to-do lists and stay organised otherwise you'll end up running in circles or not getting all tasks finished. It'll be crucial not to over commit yourself since your energy won't be limitless. And you'll need a chance to recharge your batteries along the way. Not that it will be easy to restrain your high spirits and enthusiasm which will keep you aiming for the stars. You'll be expressing your opinions with vigour which may not always go down well. If you try for a softer approach you'll be more persuasive. Expanding your mind may have to do as a substitute for travel which would really be your first choice. But you can adventure from your armchair if you put your mind to it. In the final week you'll slow down and put your feet up more often at home and in familiar surroundings.
Year Ahead 2020
2020 may not be your favourite year as a fiery, inspirational, sailing-along-the-top-of-the-cloud-tops kind of personality. The heavyweight Saturn Pluto conjunction in sombre Capricorn will weigh you down at times with too much work, duty or demands on your energy. Staying fit and healthy will be crucial if your stamina is being tested and not pushing past your limits will be important. Learning to listen to your body and respect its needs may come hard since you're not naturally attuned to the earthly realm. But you won't get away with over stretching yourself. What will help is Jupiter following behind which is expansive, supportive, good for confidence and curing minor ailments.rnYour career path and general life's direction will follow the same roller coaster trajectory as last year. One moment you'll be up and the next moment you'll find everything slows down. Just as you lay solid plans you'll find events overtake you and they have to be revised in a hurry. So you'll need to always have Plans B, C and D up your sleeve for emergencies. You won't feel like co-operating or toeing anyone else's line so organise a corner where you can be in charge and please yourself.rnJoint finances will be under confused stars so don't trust all the information or advice coming your way.rnClose relationships will move into a cooler few months from March which won't be a problem where the bond is secure. But there may be more negativity or criticism hanging around and you'll tend to see the flaws in partner's behaviour rather than appreciate their plus points. Try not to go to extremes in your reactions.rnAfter mid year you'll be aiming high, keen to inject more adventure into your routines, with travel if possible. Though it'll be a bumpy ride out in the universe so staying close to home and finding a new hobby might be wiser.rnTowards next New Year your social life will be revitalised and you'll be less weighed down by practical concerns.