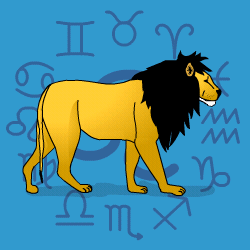 Leo
July 24 - August 23
---
Today's Horoscope for Sunday March 07th
You may worry too much about detail, but it does mean you'll do everything well first time. If you are giving out energy then it's obviously an idea to give your stamina a boost. You know there are changes in the offing, which could bring new opportunities to move in a new direction. But you'll be on tenterhooks until you see how everything shakes down. Grasp the chances which come your way but don't be reckless. Combine the best of the old with the best of the new and you won't go far wrong.
The Weekly Outlook from 01st March
You'll won't be settling happily into ruts and routines either at work or with loved ones. Boredom will be banished and you'll aim for the fun crowd. If a new friend does come into your life, you'll have to be on your toes because they'll be different from the kind of people you normally mix with. Mates who have been around for a while will find you a curious mix of tolerance and obstinacy in the week ahead, but your enthusiasm will be catching, so they should rally round.
Your Monthly Horoscope for March
Your eye will be firmly pinned ahead on the horizon while your feet will feel stuck in the past or at least in old obligations and dilemmas which won't be quickly resolved. If you can muster up the motivation, your best bet is to push ahead slowly, double-checking all the information and advice that comes your way, especially where finances are concerned. Those close may not mean to mislead but they could be unrealistic or misinformed themselves. You'll be emotionally intense but not always able to trust your feelings since you'll have a head full of fantasies. Luckily energetic friends will keep you on the right track and will throw their support behind your plans. Gradually after mid month you'll see progress and suddenly after the 20th you'll fly high with restrictions disappearing and open skies ahead. Socially you'll be mixing with a fun crowd in the final days and aiming for adventure as well as romance.
and Next Month's Horoscope for April
Being a Fire sign you respond well when others of your ilk are around so an Aries Sun, Mercury and Venus in place will keep you bouncing with enthusiasm and inspirational ideas. You won't be thinking small or keeping your opinions to yourself, but will be aiming high, hoping for adventure and positive challenges. You'd prefer to be travelling further afield but if you are stuck you'll be exploring new hobbies and finding other ways of broadening your horizons. Not in an overly practical mood you may not always think through the consequences of your schemes. But you'll enjoy following your dream for a while. Energetic friends will throw their support behind you so you will be in good company. Have a care over one cash matter towards the 9th and try not to over stretch your energy by taking on too many commitments. Happily one close relationship will be blossoming with more shared activities and plans being agreed. In the final ten days you'll be working hard, taking the lead and attracting more attention. But not all projects will run smoothly so be patient.
Year Ahead 2021
Your social and romantic life and close relationships will be moving through a blow-hot, blow-cool year in 2021 with nothing standing still for long, though it won't be as leaden and discouraging as last year. Certain relationships will blossom as you share new activities and hopes for the future together. Though there will be points where you will be looking with a critical eye at partners and pointing out their flaws, which needless to say won't go down well.If you can value loyalty above passion and recognise that trust and dependability are vital then you'll weather the chilly patches and emerge stronger as a couple. The Eclipses will prompt you to put effort and energy into your leisure activities for a few months. Putting yourself in the centre of attention and ensuring everyone else whether loved ones or friends is being given affectionate support will send your popularity soaring. After the middle of the year, you'll want to mix and match and be free to flirt and have fun with a wide circle of acquaintances and best buddies. You will have to contend with sudden changes of direction at work or in your life since there won't be anything too settled about the world at large. Tensions may surface as you fight a battle with yourself as to whether to stick to the tried and trusted or to venture into the unknown and tread an unfamiliar path. Your tendency will be to stick with what you know but taking the odd risk will help. After the middle of May for several weeks your luck with money will bring larger sums your way with less effort and that happy state of affairs will return before the New Year, so you'll be feeling more secure. Though Neptune will continue to hang around as it has done in recent years adding a layer of confusion to joint finances. You'll need to continue to be alert for unreliable advice coming your way from close partners and others.