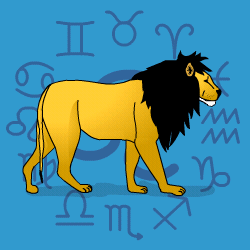 Leo
July 24 - August 23
---
Today's Horoscope for Friday January 18th
This is a day when you will feel genuinely friendly and outgoing. Old relationships wake up a little bit and new relationships will develop faster at the moment. You certainly want to be out enjoying yourself, and have no intention of getting stuck in a corner by being landed with chores and boring routines. You need to be stimulated, fascinated and intrigued. If you find that conversations are getting too heavy, then just step back and try to be more detached.
The Weekly Outlook from 14th January
Just watch a little bit with your love life. You may go sailing into flirtations then later wonder whether it was such a hot idea after all. Something begins to move out of your life now which you may have been hanging on to just for security but basically wasn't as useful for you as you imagined. Or maybe you are taking a good hard look at your lifestyle and thinking, "I don't think I actually want to live that way anymore".
Your Monthly Horoscope for January
Hard work won't be in short supply so looking after stamina and fitness is a priority. You'll be spouting your opinions in all directions, your head filled with adventurous plans and pet causes you want to promote. But you'll need to pace yourself since chores will pile up and you'll know by this time that you can't push yourself physically too far. Learning where your physical limits are and when to say no is one of this month's hints. The other piece of advice is to avoid confrontations at work and elsewhere. You'll only end up locked in unwinnable arguments. So take the long route round and use some subtle ingenuity in getting your own way. It won't be a singing and dancing month but romantic Venus will bring a ray of sunshine from the 7th in Sagittarius. There will be fun social occasions and party invites to bounce you into good humour. The Lunar Eclipse on the 21st will pose a dilemma about a close relationship. Nothing can be decided in a hurry so weigh your options and see whether you couldn't change your approach. You'll be in a lively mood thereafter with more energy.
and Next Month's Horoscope for February
In a togetherness three weeks, you'll appreciate the help and companionship of close partners and be happy to co-operate in joint activities. Your social charms will be on show with new soaring self-confidence attracting a positive response out on the party scene. Now that you've decided to ignore any lingering doubts, you'll be bolder about demanding admiration and respect.rnNot over-pushing yourself by taking on too many commitments will be important early on. You'll have inspired ideas and ambitious schemes in mind but racing on too fast will only trip you up. You'll be spreading your forceful opinions around and not everyone will agree. Remember that gentle persuasion will work best. If you're travelling have a care around the 13th since there could be a few surprises.rnAfter mid month you'll roar into action, laying down the law and expecting everyone to dance to your tune. No one will be allowed to dawdle along when you appear. Though if you come across as bossy it may not go down well, so sweep everyone up in your enthusiasm and you'll make faster progress.rnIn the final days you'll be preoccupied sorting out confidential matters, financial and emotional. Take your time and see where you can agree to meet in the middle. Trying to get everything your own way won't work.
Year Ahead 2019
Duty may fight a battle with pleasure and you'll try to manage both but may end up draining your stamina. There will be chores piling up and demands on your time and energy, so you'll need to be firm about where your limits are and not over commit yourself. Any health or fitness issues which turn up need to be handled promptly for best results. Staying on top form physically will be the priority for the first half year. Luckily throughout the year Jupiter in fiery Sagittarius will keep your enthusiasm and self-confidence high, so you'll be in a mood to party as well. You'll be sweeping old self-doubts to one side, putting a higher value on yourself and finding that others do the same. So your popularity at work will increase. You'll sense that your life or your career are changing direction in ways you would not have imagined a few years back. Embrace the new and follow through on any original ideas without fussing too much about others' responses. You won't always be co-operative and will prefer to have your own niche where you can do your own thing. It'll be a time to try out new methods and techniques so don't be a stick-in-the-mud. August will be your high point and hot spot as you throw yourself wholeheartedly into enjoying yourself and making a mark. But in general the second half year will be quieter, with chances to turn inward and get the past into perspective and ponder on what is most personal to you. Throughout the year you'll have lucky breaks where you suddenly find that fortune shines on you, lowering your tension levels and making you smile. A final one turns up in December when more support at work and a health boost will put you on good for the New Year.