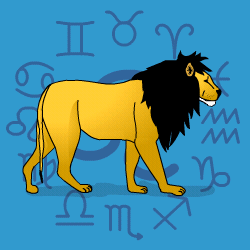 Leo
July 24 - August 23
---
Today's Horoscope for Saturday January 23rd
Zippy Mars at odds with upbeat Jupiter is a potent combination. Neither is a long-distance runner. They will not improve your spirits for projects that go on and on and on. Try not to launch with wild abandon into schemes which you may run out of energy or interest for before they can be completed. Find time for the finer things of life. Listen to music when you can, or look at art, aim for activities that are going to wind you down. You'll conserve energy for another day when you'll be more realistic.
The Weekly Outlook from 18th January
Confident and optimistic, you'll create your own good fortune so can expect sudden opportunities to come your way, which will allow you to go in a direction you hadn't thought possible. Then the Sun moving into your opposite sign for four weeks will make you sensitive to the needs of others so you will be able to help. At work you'll much prefer to work in a one-to-one partnership than on your own or with a team.rnJust remember to stand firm for your own rights.
Your Monthly Horoscope for January
You'll be tossed and torn between a desire to lean on partners and others for support and knowing that you need to be the giver not the taker for the first three weeks. Not over stretching your stamina by taking on too many commitments will help or being overly perfectionist towards mid month. If you insist on all tasks being done your way, you'll end up on your own having to cope with more than you bargained for. Your close relationships will be going through a contradictory and changeable phase. Loved ones will veer from high optimism to the opposite, be happy to agree on occasion and then fall into being critical. Don't let negativity creep in since it won't help. You'll be bossy at points, laying down the law and rebellious at others. Try not to jump to conclusions even when provoked by sudden surprises. There will be silver linings in situations which blow up and initially seem unwelcome. Into the final week you'll still be on your toes but good news will put a smile on your face.
and Next Month's Horoscope for February
In a curiously contradictory mood, you'll be insisting that everyone around toes your line as you power ahead, issuing orders in all directions. But you'll also want a hand to hold and a shoulder to lean on so keeping partners on side will be important. You will blow hot and cold in your closest relationships, feeling hopeful as you see a fulfilling future together. Then you'll get critical and nit-pick over flaws and mistakes which naturally won't go down well. Try to value loyalty and be grateful for the support on offer in a changeable few weeks, when there will be tensions erupting. Staying calm and keeping your focus steady will help. Though you'll know you have to grasp new opportunities which come your way and adapt to whatever new circumstances crop up. Into the final days you'll be private and determined as you become preoccupied with confidential matters, financial and other. Romance may blossom in secret corners and you could be in line for a generous present or small financial bonus.
Year Ahead 2021
Your social and romantic life and close relationships will be moving through a blow-hot, blow-cool year in 2021 with nothing standing still for long, though it won't be as leaden and discouraging as last year. Certain relationships will blossom as you share new activities and hopes for the future together. Though there will be points where you will be looking with a critical eye at partners and pointing out their flaws, which needless to say won't go down well.If you can value loyalty above passion and recognise that trust and dependability are vital then you'll weather the chilly patches and emerge stronger as a couple. The Eclipses will prompt you to put effort and energy into your leisure activities for a few months. Putting yourself in the centre of attention and ensuring everyone else whether loved ones or friends is being given affectionate support will send your popularity soaring. After the middle of the year, you'll want to mix and match and be free to flirt and have fun with a wide circle of acquaintances and best buddies. You will have to contend with sudden changes of direction at work or in your life since there won't be anything too settled about the world at large. Tensions may surface as you fight a battle with yourself as to whether to stick to the tried and trusted or to venture into the unknown and tread an unfamiliar path. Your tendency will be to stick with what you know but taking the odd risk will help. After the middle of May for several weeks your luck with money will bring larger sums your way with less effort and that happy state of affairs will return before the New Year, so you'll be feeling more secure. Though Neptune will continue to hang around as it has done in recent years adding a layer of confusion to joint finances. You'll need to continue to be alert for unreliable advice coming your way from close partners and others.