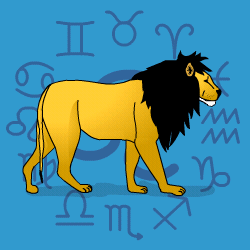 Leo
July 24 - August 23
---
Today's Horoscope for Saturday February 29th
You'll be digging deeper for more fundamental answers for yourself which means at times you will express yourself too forcibly. You'll be feeling strongly about certain situations, and will not easily change your mind. Luckily your intuition is working better than usual, so you will be able to ferret out vital and secret information. But you have no intention of letting your own cats out of the bag. Just stay persevering but be prepared to listen to feedback as well.
The Weekly Outlook from 24th February
Your feelings will be more intense which tells you what you need to know about one intimate partnership. If you can lay your cards on the table in private, firmly but tactfully, then you are likely to get better understandings in future. But feelings may be running high. That has its upside since there'll be more passion around. But sometimes relations can get gritty and you'll struggle to break free. Don't over react to the odd stress and strain. Just rise graciously above it all.
Your Monthly Horoscope for February
Togetherness will be the key to your fulfilment and happiness for a few weeks. If you give a little to close partners then you'll get a lot in return. But being less self-sufficient and more flexible and putting yourself in your other half's shoes to see life from their viewpoint will help. Finding the right work and health balance continues to be vital since you know you have to respect your limits and can't keep pushing yourself. Up to mid month you'll sail along on a sea of enthusiasm and high-octane fuel. But thereafter you'll need to pay more attention to staying on top form by eating sensibly and relaxing when you can in the midst of a busy schedule. Your social life will move into a lighter-hearted phase after the 7th with new activities, new venues and a fun crowd to keep you on your toes. There'll be plenty of positive surprises in the final days but you'll need to stay alert to make best use of the new opportunities up and coming. Slowing down to consider your options will bring you better decisions.
and Next Month's Horoscope for March
You'll be putting your best foot forward socially and charming all the right people. Your sparkling performance won't go unnoticed which will help to boost your prospects ahead. But remember to take time out to stay close to what you feel inside. Outer appearances aren't everything. One problem is that you won't be clear about what you really want or who to trust. There will be unreliable or unrealistic information and advice coming your way especially where cash is concerned. You'll need to tread softly, keep double checking for yourself and stay persistent. There'll be good news coming on the work or health front though not over committing yourself and draining your energy will help. A fiery Aries Sun in the final days will pull you away from an intense phase and you'll be flying high. One close relationship may be cooler but loyalty will stand the test of time.
Year Ahead 2020
2020 may not be your favourite year as a fiery, inspirational, sailing-along-the-top-of-the-cloud-tops kind of personality. The heavyweight Saturn Pluto conjunction in sombre Capricorn will weigh you down at times with too much work, duty or demands on your energy. Staying fit and healthy will be crucial if your stamina is being tested and not pushing past your limits will be important. Learning to listen to your body and respect its needs may come hard since you're not naturally attuned to the earthly realm. But you won't get away with over stretching yourself. What will help is Jupiter following behind which is expansive, supportive, good for confidence and curing minor ailments.rnYour career path and general life's direction will follow the same roller coaster trajectory as last year. One moment you'll be up and the next moment you'll find everything slows down. Just as you lay solid plans you'll find events overtake you and they have to be revised in a hurry. So you'll need to always have Plans B, C and D up your sleeve for emergencies. You won't feel like co-operating or toeing anyone else's line so organise a corner where you can be in charge and please yourself.rnJoint finances will be under confused stars so don't trust all the information or advice coming your way.rnClose relationships will move into a cooler few months from March which won't be a problem where the bond is secure. But there may be more negativity or criticism hanging around and you'll tend to see the flaws in partner's behaviour rather than appreciate their plus points. Try not to go to extremes in your reactions.rnAfter mid year you'll be aiming high, keen to inject more adventure into your routines, with travel if possible. Though it'll be a bumpy ride out in the universe so staying close to home and finding a new hobby might be wiser.rnTowards next New Year your social life will be revitalised and you'll be less weighed down by practical concerns.