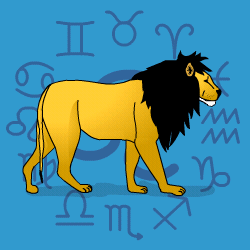 Leo
July 24 - August 23
---
Today's Horoscope for Sunday May 28th
You won't always find it easy to get close in intimate situations since you will be holding part of yourself back and could be mistrustful. You will be wary of changing, yet clearly you need to try. The old saying about not mending what isn't broken has another side. When something needs fixed, there is no time like the present. Dithering around, putting it off or looking the other way hoping that someone else will do, is not going to work. Get cracking and you will glow with satisfaction at the result.
The Weekly Outlook from 22nd May
Fiery, pro-active Mars zipping into your own sign until mid July will give you a boost of courage, confidence and energy. Though close relationships may suffer since you won't be overly sensitive and at times your recklessness could lead you into trouble. Remember the old saying about fools rushing in where angels fear to tread. As long as you keep your feet on the ground, your eye on detail and don't led an adrenaline rush send you off to do anything too wild, you'll be fine.
Your Monthly Horoscope for May
Always a sign who delights in being in the spotlight of attention and having an admiring audience, you'll be revelling in a prominent position. You may have to work extra hard but you will attract recognition, praise and appreciation and be offered the chance to take the lead if you so choose. Your social life may sag slightly for a few weeks but you will enjoy the few quiet moments. There will be a surprise or a change of circumstances around the 9th but if you embrace what happens as an opportunity and not a setback then you will make a breakthrough. After mid month your star will rise higher and faster with successful, lucky Jupiter crossing your midheaven for a year ahead. Everything you tackle will work out better and faster than you expect. The only thing which could trip you up is over confidence or feeling you can't lose. Into the final days close partners will be revved up and raring to go. They will be argumentative so you'd be as well to cooperate with their plans since together you will make fast progress. Keeping an eye on finances will be sensible towards the 28. Paying attention to details will pay off.
and Next Month's Horoscope for June
Forward looking and surrounded by friends, you'll be firing on all cylinders, making plans into the future and keen to get feedback and advice. You'll pull your weight in team and group activities, knowing if everyone is on the same page you'll get to where you want to be faster. Your sense of mischief will be to the fore so everyone will be entertained as well as informed. Luckily you'll have enough charm to pull off a few stunts and still stay popular. You'll be sprucing up your appearance and look great, attracting compliments and admiring glances.rnPluto reversing back into Capricorn on the 11th for a few months will nudge you into picking up with any fitness regimes which have fallen by the wayside. Staying on top form means taking active steps to look after your health and adjusting your lifestyle to give you more energy.rnMars in your own sign all month will give you dynamic vitality but you may not slow down often enough to recharge your batteries. Be prepared to wind down in the final ten days to put your feet up and reflect over recent events. There'll be nothing to be gained by going helter skelter when the circumstances suggest that patience will get you to where you want to be if you are sensible.
Year Ahead 2023
A slow, thoughtful start to 2023 will find you tossing around ambitious and adventurous plans but knowing the time is not right to put them into action. Getting into peak fitness will be one priority as a preparation which means not pushing too hard physically but going steadily. Relations may have been cool with one close partner recently so you may find yourself having to negotiate to reach better understandings and agreements. The tendency on both sides may be to hang on too much for control or refuse to be flexible, neither of which will help. Transforming the way you share, care and relate will take time and effort so you'll need to persevere in altering your approach. Energetic friends will give you a helping hand initially as you sort out future plans. Getting to grips with your finances will also be important which means not relying on others to prop you up or present you with solutions. You may feel thrown back on your own resources but the end result is you will emerge resilient and better experienced at coping. Into a successful few months from May onwards you'll glow with delight at the compliments and praise coming your way as several projects turn out to be triumphs. You might as well make the most of this lucky phase and get new projects kick- started as well. There will be sudden changes of direction since nothing will be straightforward or evenly paced with Uranus at your Midheaven but if you're wise you'll relish the excitement and challenge and grasp new opportunities when they turn up.