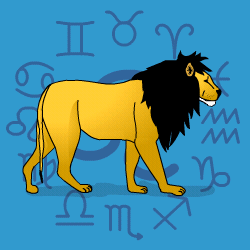 Leo
July 24 - August 23
---
Today's Horoscope for Tuesday October 04th
In a common sense mood, you'll be showing flair and determination. You may be slow to make up your mind about a cash matter but you will be unshakeable when your final decision is made. You will be keen to improve one practical situation so that it runs more smoothly in the days ahead. But your ideas may not meet with everyone else's approval or agreement so you will find tensions rising in certain relationships. You'll be accused of being uncooperative but will stick to your point of view.
The Weekly Outlook from 03rd October
Your concentration will be good once you settle down to tasks and you'll be stubborn, digging your heels in hard over one situation that is close to your heart. Where cash is concerned you'll want to get better informed and then you can keep everyone else up to scratch as well. Try not to come across as self-righteous or get too wound up. If others feel you're pushing too hard and manipulating them round to your viewpoint they won't be happy. Aim for a lighter approach.
Your Monthly Horoscope for October
Thoughtful gestures from everyday mates in the neighbourhood and at work will keep you smiling and returning the compliments. You'll be speeding along, multi-tasking like mad, constantly on the go, chatting animatedly. If you cut a few corners and skim the surface, it'll be understandable ad no one will object. But try to ensure you are not draining your stamina by taking on too many commitments. Advice coming your way around the 12th may not be reliable or realistic so tread carefully and make sure you double check for yourself. Energetic friends will be willing you on, at times coming on too strong and not giving you a chance to think through your plans as thoroughly as you'd like. A close partner will be rock solid in their support and their words of wisdom will keep you on the right track. In the final week, settling down at home to relax and get perspective on recent events will be crucial. Having time for heart-to-heart chats with loved ones in the family will be reassuring. Whatever domestic changes you have had in mind need to be discussed and then actioned.
and Next Month's Horoscope for November
Snuggling down at home with loved ones and getting rooted will be your priority so draw back from too much rushing around at work or out in the community. This is your chance to step back and get perspective on recent events. The Solar Eclipse will also be nudging you to put in place whatever changes at home you feel will bring you more satisfaction and comfort in the time ahead. This may involve a reorganisation or a sit down with those close to work out better agreements which take account of new circumstances. One partner may not be completely on your wavelength but don't take their criticism to heart. Listen carefully. They may be more realistic and have sense on their side. You won't always be cooperative with Uranus at your midheaven and will be prone to impulse decisions especially when events blow you in a direction you had not expected. Your social diary will start filling up after the middle of the month with chances to flirt, have fun and let your hair down as the final month draws closer.
Year Ahead 2022
2022 will be a year when rebalancing your life will be crucial. You need to find a way of giving enough time to personal interests and your emotional life as well as pushing ahead with ambitions in the outside world. Your heart should take precedence up to May and later in the year and across the middle months you'll make your mark and attract recognition for your talents and achievements.rnWhat's better you'll also be on the receiving end of generosity either in cash or in kind. Money should come your way more easily for a few months and again over the New Year, bringing you peace of mind. There will also be beneficial changes allowing you to move ahead and away from the past with less regret than you might have expected. You'll still have to keep a weather eye out for unreliable advice or untrustworthy people but on the while you'll be more secure.rnClose partners will be critical at times and you may feel separated at points. But good relationships will strengthen. Staying on your toes to be ready for sudden surprises and changing circumstances will be wise, since nothing will be too settled for a while. After August energetic friends will rally round with robust advice and support for a few months. You won't have to go it alone.