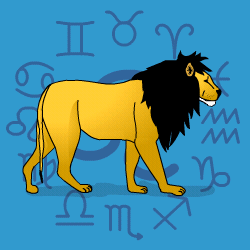 Leo
July 24 - August 23
---
Today's Horoscope for Monday May 23rd
The influential people will be impressed with your wit, wisdom, flow of ideas and articulate way of expressing yourself. You'll be in the right place at the right time so keep talking. This could be your fortunate day in however small a way. Don't expect 10 million off the lottery but you can look for a lucky break or a light at the end of one tunnel. There will be a lilt in your step and a twinkle in your eye as you begin to sense your life moving in a positive direction.
The Weekly Outlook from 23rd May
In a charming, indulgent and optimistic mood you'll be sailing along, seeing rosy glows on the horizon. Try not to be a Pollyanna and assume that everything will work wonderfully well by luck, without you putting any energy or effort in. Once you grasp that you may not have all the right answers, you can set about planning effectively. From midweek for a few weeks Mars in Aries will make you strong in your opinions. Luckily your straightforward approach should catch general enthusiasm.
Your Monthly Horoscope for May
This is your moment to take the lead and make your mark. It'll mean hard work but you can get everyone close on their toes and following along behind you. There's no sense in hiding in a corner. Demand recognition for your talents and achievements and push your ambitious plans ahead. Your enthusiastic persuasions will work and suddenly you'll find a path opening up in front of you. A new phase has come where you can pursue more adventurous plans, think big and broaden the scope of your activities. One close partner may drag their feet at points but you won't let anything dent your confidence or good humour. Have a care with a financial matter at midmonth and just after since there may be a confusion or unreliable advice coming your way. Into the final days you'll be surrounded by good mates and sorting out your plans. The restrictions financial and otherwise which have slowed you down in recent weeks will suddenly lift and you'll be filled with a surge of relief.
and Next Month's Horoscope for June
A friendly, forward looking phase will find you in a mood to mix n' match not being stuck for good company and finding the fun crowd always welcoming. Support and advice will come your way as you sort out your plans and resolutions for the next year. One close partner may be cool rather than passionately supportive but they will always be there when it matters. Their loyalty won't be in doubt. Your social status will be high as you're invited out to the best places and you'll be keen to keep up appearances and charm the right people. Try to stay close to what you feel inside as well as polishing up what's on the outside. Midmonth you'll be kept on the straight and narrow by those who who will take a down-to-earth view of one situation. Your inclination will be to keep your head in the clouds but it won't be wise financially. Taking it easy after the 21st will be tempting and sensible since you need a chance to stand on the sidelines and let others do the running around.
Year Ahead 2022
2022 will be a year when rebalancing your life will be crucial. You need to find a way of giving enough time to personal interests and your emotional life as well as pushing ahead with ambitions in the outside world. Your heart should take precedence up to May and later in the year and across the middle months you'll make your mark and attract recognition for your talents and achievements.rnWhat's better you'll also be on the receiving end of generosity either in cash or in kind. Money should come your way more easily for a few months and again over the New Year, bringing you peace of mind. There will also be beneficial changes allowing you to move ahead and away from the past with less regret than you might have expected. You'll still have to keep a weather eye out for unreliable advice or untrustworthy people but on the while you'll be more secure.rnClose partners will be critical at times and you may feel separated at points. But good relationships will strengthen. Staying on your toes to be ready for sudden surprises and changing circumstances will be wise, since nothing will be too settled for a while. After August energetic friends will rally round with robust advice and support for a few months. You won't have to go it alone.