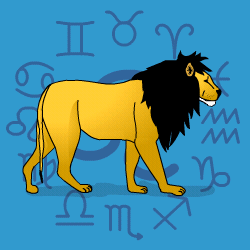 Leo
July 24 - August 23
---
Today's Horoscope for Wednesday December 02nd
Learning to put down limits and not soak in other people's worries is vital to your well-being. If you can hide yourself away from the hustle and bustle of everyday life and commitments you'll recover your inner peace. What will help is that close companions will be preoccupied about their own interests. Since they're tied up in what they're doing, it will give you a chance to disappear into your own space to think plans through since your life is changing at a rapid rate.
The Weekly Outlook from 30th November
Although you really want the chance to flirt, have fun and enjoy yourself, you may have a concern about sorting out a few longer-term schemes. If you play away the day, tomorrow may not look after itself. Fitting in with the crowd can have its compensations since you have many more people around to flit amongst. But then you lose the rewards of intimacy and being the sole focus of someone special's attention. What you really want is both the freedom of a network of friends, and the adoration of close partners. It may test your ingenuity but it is possible.
Your Monthly Horoscope for December
No one and nothing will damp your high spirits or determination to throw yourself wholeheartedly into enjoying yourself. Whether out on the party trail or surrounded by loved ones at home, you can guarantee an appreciative audience and plenty of compliments. Nothing pleases you more than sparkling in the spotlight and you won't pass up any opportunity to step out boldly. You'll also relish relaxing moments at home with your feet up, cuddling up close. And you'll take the chance to mull over house decoration improvements since you'll want an elegant environment into which you can invite family and friends over the festive period. Have a care towards the 9th since you may be misled over one financial matter or ignore crucial details. Double checking everything for yourself will help to avoid muddles. A planetary gear shift from the 17th onwards will take a degree of strain off you physically and at work. You'll be approaching your closest relationships with an eye to forging better agreements. There will be tension towards the 23rd but nothing you haven't experienced before and overcome.
and Next Month's Horoscope for January
You'll be tossed and torn between a desire to lean on partners and others for support and knowing that you need to be the giver not the taker for the first three weeks. Not over stretching your stamina by taking on too many commitments will help or being overly perfectionist towards mid month. If you insist on all tasks being done your way, you'll end up on your own having to cope with more than you bargained for. Your close relationships will be going through a contradictory and changeable phase. Loved ones will veer from high optimism to the opposite, be happy to agree on occasion and then fall into being critical. Don't let negativity creep in since it won't help. You'll be bossy at points, laying down the law and rebellious at others. Try not to jump to conclusions even when provoked by sudden surprises. There will be silver linings in situations which blow up and initially seem unwelcome. Into the final week you'll still be on your toes but good news will put a smile on your face.
Year Ahead 2020
2020 may not be your favourite year as a fiery, inspirational, sailing-along-the-top-of-the-cloud-tops kind of personality. The heavyweight Saturn Pluto conjunction in sombre Capricorn will weigh you down at times with too much work, duty or demands on your energy. Staying fit and healthy will be crucial if your stamina is being tested and not pushing past your limits will be important. Learning to listen to your body and respect its needs may come hard since you're not naturally attuned to the earthly realm. But you won't get away with over stretching yourself. What will help is Jupiter following behind which is expansive, supportive, good for confidence and curing minor ailments.rnYour career path and general life's direction will follow the same roller coaster trajectory as last year. One moment you'll be up and the next moment you'll find everything slows down. Just as you lay solid plans you'll find events overtake you and they have to be revised in a hurry. So you'll need to always have Plans B, C and D up your sleeve for emergencies. You won't feel like co-operating or toeing anyone else's line so organise a corner where you can be in charge and please yourself.rnJoint finances will be under confused stars so don't trust all the information or advice coming your way.rnClose relationships will move into a cooler few months from March which won't be a problem where the bond is secure. But there may be more negativity or criticism hanging around and you'll tend to see the flaws in partner's behaviour rather than appreciate their plus points. Try not to go to extremes in your reactions.rnAfter mid year you'll be aiming high, keen to inject more adventure into your routines, with travel if possible. Though it'll be a bumpy ride out in the universe so staying close to home and finding a new hobby might be wiser.rnTowards next New Year your social life will be revitalised and you'll be less weighed down by practical concerns.