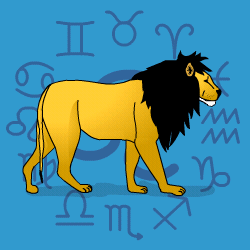 Leo
July 24 - August 23
---
Today's Horoscope for Saturday December 04th
This is your day to allow a new facet of your personality shine out without apology or self-consciousness. Most of us hide away parts of ourselves we think other might not like or approve. Throw away your inhibitions and express who you are and what you feel. The right people will respond positively. If you have been stuck out of sight and feeling ignored, you'll have a chance to get your glad rags on and kick up your heels. Even if you have been socialising, you'll want to know how to keep that rolling for months to come.
The Weekly Outlook from 29th November
You'll be approaching essential tasks in a positive but sensible way, not throwing money around and being conscious of where your limitations are. Once you get down to the bottom line and you accept the way life is, then you can begin to work with it and make it happen for yourself. Not that you will be serious all week. Out on the social scene and with oved ones you will want compliments and appreciative attention. Boisterous and exuberant you'll make sure you get centre spotlight.
Your Monthly Horoscope for December
There may be rumblings of discontent at home or you'll be frustrated because one pet projects has been stuck. But nothing will stop you setting out on the party trail and kicking up your heels. The enthusiastic and friendly Sagittarius Sun will find you deluged with invitations, surrounded by admirers and intent on enjoyment and entertainment. A close partner won't always be practical or realistic but they'll prompt you into an adventure or two. A financial muddle around the 12th will be resolved if you double check all the details and read the fine print. Relying on questionable advice could cost, so it's worth relying on your own common sense. From the 13th your physical energy and passions will soar and you'll shrug off whatever domestic differences having been weighing on you. Close partners may not always be on your wavelength and you will have to put duty first some of the time in the final few days. But you'll sail into the New Year knowing that luck is on your side.
and Next Month's Horoscope for January
Being practical does not come naturally to you so January tends to be a minor slog with the Sun moving through earthy Capricorn for three weeks. Keeping your head down and cracking on through the chores will be essential. As will looking after fitness and stamina. Learning to be aware of what your body needs in terms of rest, relaxation and the right food will put you on the right track. Loved ones and those around may be demanding so ensuring their needs are looked after will be important. Being of service will bring you satisfaction but don't overdo it. You may compensate by over eating on treats to make yourself feel nurtured. Luckily you'll be able to explain to partners how you are feeling and they will be keen to hear your solutions to any problems. You'll also be welcome out at parties. Midmonth will be pressured, so go steadily, not impulsively. You'll be less drained after the 20th with more support on offer though your healthy-living regime will need to continue.
Year Ahead 2021
Your social and romantic life and close relationships will be moving through a blow-hot, blow-cool year in 2021 with nothing standing still for long, though it won't be as leaden and discouraging as last year. Certain relationships will blossom as you share new activities and hopes for the future together. Though there will be points where you will be looking with a critical eye at partners and pointing out their flaws, which needless to say won't go down well.If you can value loyalty above passion and recognise that trust and dependability are vital then you'll weather the chilly patches and emerge stronger as a couple. The Eclipses will prompt you to put effort and energy into your leisure activities for a few months. Putting yourself in the centre of attention and ensuring everyone else whether loved ones or friends is being given affectionate support will send your popularity soaring. After the middle of the year, you'll want to mix and match and be free to flirt and have fun with a wide circle of acquaintances and best buddies. You will have to contend with sudden changes of direction at work or in your life since there won't be anything too settled about the world at large. Tensions may surface as you fight a battle with yourself as to whether to stick to the tried and trusted or to venture into the unknown and tread an unfamiliar path. Your tendency will be to stick with what you know but taking the odd risk will help. After the middle of May for several weeks your luck with money will bring larger sums your way with less effort and that happy state of affairs will return before the New Year, so you'll be feeling more secure. Though Neptune will continue to hang around as it has done in recent years adding a layer of confusion to joint finances. You'll need to continue to be alert for unreliable advice coming your way from close partners and others.