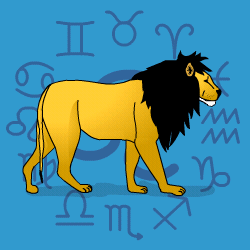 Leo
July 24 - August 23
---
Today's Horoscope for Sunday February 05th
Someone may be a little forceful or edgy and it could be you. Head for a comforting shoulder if you feel out of sorts. Leaping up and down will only make matters worse. Take a deep breath and think beautiful thoughts as you count up to 100. In a close partnership, you want more support than you are getting as well as the freedom to please yourself. It may be unreasonable but that's the way you feel. Maybe it would be best to back off until you have a clearer idea of what you can sensibly expect.
The Weekly Outlook from 30th January
Now that you've found courage and confidence you'll be determined to speak your mind and say what you've been keeping to yourself recently. If you can find loved ones and friends around who are happy to be in competition with you without it spilling over into resentment, then you will enjoy lively conversations. But you won't be prepared to compromise or cooperate and will walk your own independent path. Try not to go to extremes or rock the boat too much since you will want support as well as sparring partners.
Your Monthly Horoscope for February
Keen on togetherness you'll also be intent on walking your own path, so close partners may not always understand your conflicting signals. Cooperation won't be easy for a few days initially but you will benefit from the support, advice and affection of a loved one so it will be wise not to come across as too rebellious. A sudden change of plan or new opportunity in the first week will have you on tenterhooks but don't hesitate too long since this won't be the time to stick your feet in the mud and refuse to budge.rnYou'll be fired with enthusiasm which will keep you moving at speed. Not all of your ideas will be practical but this is your chance to let your visions flourish. You'll have a chance in later months to sort out what needs to be abandoned as unworkable.rnIn quiet moments you'll harbour intense feelings which you won't be keen to share. Try to remember that you will almost certainly magnify your likes and dislikes. If you can find a trusted mate to be open with and share your emotional dilemmas it will help. Your private musings will continue into the final days.
and Next Month's Horoscope for March
In an unusually secretive mood, you'll be tackling confidential dilemmas, financial and emotional, trying to reach better agreements with those close. You won't get it all your own way but will need to compromise to reach a deal which is fair to all concerned. You may feel thrown back on your own resources and complain that the universe is not being as generous to you as you might wish. But you will grow in resilience and resourcefulness as you cope in a new way. Your social life will be light-hearted and fun to boost your spirits and you'll be invited out on special occasions after mid month, looking great and putting on a sparkling performance. In the final days a significant shift will occur in your relationship to close partners, at home and at work. You'll notice a growing intensity in your interaction, at times a tendency to over control or try to pull the strings. If you loosen up you'll be more persuasive.
Year Ahead 2023
A slow, thoughtful start to 2023 will find you tossing around ambitious and adventurous plans but knowing the time is not right to put them into action. Getting into peak fitness will be one priority as a preparation which means not pushing too hard physically but going steadily. Relations may have been cool with one close partner recently so you may find yourself having to negotiate to reach better understandings and agreements. The tendency on both sides may be to hang on too much for control or refuse to be flexible, neither of which will help. Transforming the way you share, care and relate will take time and effort so you'll need to persevere in altering your approach. Energetic friends will give you a helping hand initially as you sort out future plans. Getting to grips with your finances will also be important which means not relying on others to prop you up or present you with solutions. You may feel thrown back on your own resources but the end result is you will emerge resilient and better experienced at coping. Into a successful few months from May onwards you'll glow with delight at the compliments and praise coming your way as several projects turn out to be triumphs. You might as well make the most of this lucky phase and get new projects kick- started as well. There will be sudden changes of direction since nothing will be straightforward or evenly paced with Uranus at your Midheaven but if you're wise you'll relish the excitement and challenge and grasp new opportunities when they turn up.