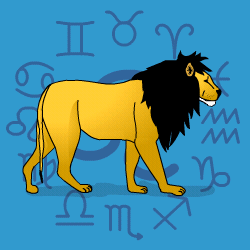 Leo
July 24 - August 23
---
Your Birthday Horoscope
IF ITS YOUR BIRTHDAY TODAY your year ahead will be betwixt and between as you're pulled between your heart and your head. You'll dither in indecision about how to tackle a difference in a close relationship. Jumping to conclusions won't help. Take your time to consider all options. Partners may be critical but they will also be loyal when it matters. Your enthusiasm and go-ahead approach will make for fast progress. You may not always be tactful but you will see achievements by the time you are finished.
Today's Horoscope for Friday August 12th
If close partners are not on your wavelength, don't stomp off in the huff. Maybe you need to cajole them into fitting in more cooperatively with what you have in mind. Maybe you will have to give in the first instance to get in response, but it will be worth it. Though it is still true that the time to take stock of one close relationship has come. Not everything can stay the same for ever. Every so often you need to revise your understandings and agreements to keep pace with the changing circumstances of your life.
The Weekly Outlook from 08th August
Freedom will be important so you'll be rattling the bars of your cage. Recently you may have stuck yourself in a rut or others have tied you down. You may not be tactful as you decide to go your own way. You'll be infected by the mood of high excitement around so if anyone gets in your way or tries to crowd you, there may be an eruption. Cool it if you can and be honest with yourself about your contradictory needs. You want support and independence at the same time. Be understanding of partner's needs as well.
Your Monthly Horoscope for August
Your birthday Sun for three weeks will bounce up your morale and you won't hold back when it comes to grabbing attention and entertaining everyone in sight. But you will have to stay calmer than will come naturally as sudden changes of direction and odd reactions on the part of those close at work and elsewhere catch you unawares. Mars and Uranus at your mid heaven will make you decisive, hard-driving, not always cooperative and outspoken. One relationship will go through a sticky two weeks with more criticism around. Too much duty will interfere with indulgence which won't help your mood either. Luckily your ability to sprinkle stardust and charming words around will smooth out a few wrinkles after the 11th and while there will be some cool moments, on the whole you'll sail through unscathed. Into the final days you'll be looking firmly ahead, sorting out plans and getting to grips with your finances.
and Next Month's Horoscope for September
Pleasure, indulgence and spending money will be a priority but you know you'll also need to turn your attention to storing up surplus cash if you want treats. What goes out needs to be replenished though it will be difficult to avoid temptations and pampering yourself. Energetic friends will be around ensuring you keep your eye focused ahead and will keep prompting you to sort out long term plans. A busy everyday schedule will keep you on your toes talking constantly with an inspired idea around the 11th sending you off in a new direction. Keep an eye out for financial muddles mid month since not all the information or advice coming your way will be reliable. Into the final days you'll be juggling several tasks at once and skimming the surface. Helpful everyday mates will be on hand with enthusiastic support.
Year Ahead 2022
2022 will be a year when rebalancing your life will be crucial. You need to find a way of giving enough time to personal interests and your emotional life as well as pushing ahead with ambitions in the outside world. Your heart should take precedence up to May and later in the year and across the middle months you'll make your mark and attract recognition for your talents and achievements.rnWhat's better you'll also be on the receiving end of generosity either in cash or in kind. Money should come your way more easily for a few months and again over the New Year, bringing you peace of mind. There will also be beneficial changes allowing you to move ahead and away from the past with less regret than you might have expected. You'll still have to keep a weather eye out for unreliable advice or untrustworthy people but on the while you'll be more secure.rnClose partners will be critical at times and you may feel separated at points. But good relationships will strengthen. Staying on your toes to be ready for sudden surprises and changing circumstances will be wise, since nothing will be too settled for a while. After August energetic friends will rally round with robust advice and support for a few months. You won't have to go it alone.