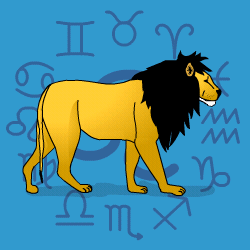 Leo
July 24 - August 23
---
Today's Horoscope for Monday January 17th
With the Full Moon today in the sign before yours you will be pulled between I want and I ought. Your sense of duty says work and service to others comes first. But you also have your own needs to consider. There are times when you are happy to give to others but there are also times when you feel deprived because no one is reciprocating. Feeling resentful means companions won't appreciate your gestures since they seem forced. Give yourself a treat to boost your spirits and it will all work much better.
The Weekly Outlook from 17th January
Keeping yourself healthy is always discussed as if it only applied to your physical fitness. You know you have to get yourself into good shape now but it is also important to look after yourself emotionally and psychologically. Think about what calms you down and make sure you schedule that activity into your diary ahead. From Thursday with the Sun in your chart area which rules one-to-one partnerships, you will want to share and care more in the weeks ahead. Togetherness will be the key to your happiness.
Your Monthly Horoscope for January
Being practical does not come naturally to you so January tends to be a minor slog with the Sun moving through earthy Capricorn for three weeks. Keeping your head down and cracking on through the chores will be essential. As will looking after fitness and stamina. Learning to be aware of what your body needs in terms of rest, relaxation and the right food will put you on the right track. Loved ones and those around may be demanding so ensuring their needs are looked after will be important. Being of service will bring you satisfaction but don't overdo it. You may compensate by over eating on treats to make yourself feel nurtured. Luckily you'll be able to explain to partners how you are feeling and they will be keen to hear your solutions to any problems. You'll also be welcome out at parties. Midmonth will be pressured, so go steadily, not impulsively. You'll be less drained after the 20th with more support on offer though your healthy-living regime will need to continue.
and Next Month's Horoscope for February
Close partners may not always be passionate or wildly enthusiastic but their loyalty won't be in doubt and despite a few critical comments they will be there when you need a helping hand. Saturn is around stress-testing your closest bonds and only ones which were shaky to start with will become more so. You will have a good deal of work on your plate and will want to be of service and that will require co-operation since two or more hands will make a lighter burden. It won't always be easy to share tasks since you'll assume your way is better. But getting overly perfectionist will be draining so ease back and be tolerant of those with a different approach. From mid month you'll find the channels of communication are running freely and those close will be keen to hear your ideas since you'll have a way of spotting the right answers to untangle muddles. Deep down you'll sense you are into easier and luckier times, with the universe offering you money and positive changes. The final ten days may be secretive but they'll also be heart-warming.
Year Ahead 2022
2022 will be a year when rebalancing your life will be crucial. You need to find a way of giving enough time to personal interests and your emotional life as well as pushing ahead with ambitions in the outside world. Your heart should take precedence up to May and later in the year and across the middle months you'll make your mark and attract recognition for your talents and achievements.rnWhat's better you'll also be on the receiving end of generosity either in cash or in kind. Money should come your way more easily for a few months and again over the New Year, bringing you peace of mind. There will also be beneficial changes allowing you to move ahead and away from the past with less regret than you might have expected. You'll still have to keep a weather eye out for unreliable advice or untrustworthy people but on the while you'll be more secure.rnClose partners will be critical at times and you may feel separated at points. But good relationships will strengthen. Staying on your toes to be ready for sudden surprises and changing circumstances will be wise, since nothing will be too settled for a while. After August energetic friends will rally round with robust advice and support for a few months. You won't have to go it alone.