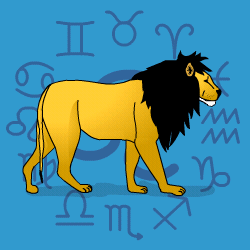 Leo
July 24 - August 23
---
Today's Horoscope for Monday March 25th
You will want more stimulating company, more travel if you can manage it,or some other way of broadening your horizons. And you will be much more emotional in the way you connect to people. Really reaching out and expecting friendship in return. Just don't get too wrapped up in your own feelings and forget to ask what others are wanting. You will want to put on a show and appear important. At home you will want to be in charge.
The Weekly Outlook from 25th March
Jealousy could be a problem since you want absolute commitment. Be aware of your needs but don't over react. You may be magnifying a tiny matter out of all proportion. Then with Uranus around after midweek you'll want to kick over the traces. But what you want when your adrenaline is rushing is different to what you're willing to put up with over the long term. So go off and have a fling but don't expect life to continue at this pitch.
Your Monthly Horoscope for March
The affectionate support of one close partner will keep you smiling as will your popularity out on the social scene. You'll make everyone you meet feel special so the invitations will pour in. But it won't be all picnics and roses since you have responsibilities you must honour and ambitions to pursue. They will take sweat and determination and you won't put up with no for an answer if you meet road blocks or obstacles. Everyone will be expected to jump to attention when you come round. Remember if you sweep others up in your enthusiasm you'll make progress faster with less hassle than coming across as too forceful. In between times you'll have confidential matters to sort out, whether financial tangles or emotional dilemmas. You will dither around towards the 7th, in two minds about what the best approach is and wondering whether you can muster up the will power to push through decisions. Slowly but surely you'll find your way forwards and reach fairer agreements with those close. In the final days you'll fly higher and feel less restricted.
and Next Month's Horoscope for April
A fiery Aries Sun until the 21st will fill you with enthusiasm and confidence so you'll be setting your sights higher and yearning for more adventure. But you'll need to watch you don't over stretch yourself since your energy won't be limitless and you will have obligations you can't sidestep until mid month. So pace yourself and dream, but be realistic about what's possible. You'll be emotionally secretive, playing your cards close to your chest and at times exaggerating what you feel about someone close, both for and against. Try to step back and realise you won't always be so intense. Luckily your social diary will be packed with fun outings and loved ones rallying around with affectionate support. Into the final days you'll be working hard, walking your own path and not putting up with any interference.
Year Ahead 2019
Duty may fight a battle with pleasure and you'll try to manage both but may end up draining your stamina. There will be chores piling up and demands on your time and energy, so you'll need to be firm about where your limits are and not over commit yourself. Any health or fitness issues which turn up need to be handled promptly for best results. Staying on top form physically will be the priority for the first half year. Luckily throughout the year Jupiter in fiery Sagittarius will keep your enthusiasm and self-confidence high, so you'll be in a mood to party as well. You'll be sweeping old self-doubts to one side, putting a higher value on yourself and finding that others do the same. So your popularity at work will increase. You'll sense that your life or your career are changing direction in ways you would not have imagined a few years back. Embrace the new and follow through on any original ideas without fussing too much about others' responses. You won't always be co-operative and will prefer to have your own niche where you can do your own thing. It'll be a time to try out new methods and techniques so don't be a stick-in-the-mud. August will be your high point and hot spot as you throw yourself wholeheartedly into enjoying yourself and making a mark. But in general the second half year will be quieter, with chances to turn inward and get the past into perspective and ponder on what is most personal to you. Throughout the year you'll have lucky breaks where you suddenly find that fortune shines on you, lowering your tension levels and making you smile. A final one turns up in December when more support at work and a health boost will put you on good for the New Year.