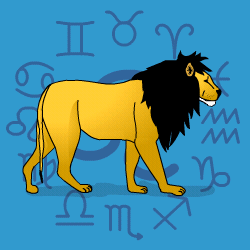 Leo
July 24 - August 23
---
Today's Horoscope for Wednesday November 30th
Trivial amusements may not be uppermost on your mind which is as well since they won't work well. If you try to be overly cheerful, you'll end up feeling thwarted. Whereas if you aim to be serious, you'll make modest progress. What you have to watch is a tendency to be reserved or critical in certain situations which can have a dampening effect on passion and tenderness. You will have to be realistic where relationship are concerned which may bring a sense of coolness for a while.
The Weekly Outlook from 28th November
Everything may seem to be getting under your skin. But you feel the circumstances aren't such that you can lose your temper, which least would get your irritation out into the open. Resign yourself to being discreet and plough on steadily, without looking to left or right. Focus on your long term goals and immediate problems will seem smaller. After midweek you'll distract yourself with fun. Why hang back when there's so much to play for? The moment is right and you'll seize it.
Your Monthly Horoscope for November
Snuggling down at home with loved ones and getting rooted will be your priority so draw back from too much rushing around at work or out in the community. This is your chance to step back and get perspective on recent events. The Solar Eclipse will also be nudging you to put in place whatever changes at home you feel will bring you more satisfaction and comfort in the time ahead. This may involve a reorganisation or a sit down with those close to work out better agreements which take account of new circumstances. One partner may not be completely on your wavelength but don't take their criticism to heart. Listen carefully. They may be more realistic and have sense on their side. You won't always be cooperative with Uranus at your midheaven and will be prone to impulse decisions especially when events blow you in a direction you had not expected. Your social diary will start filling up after the middle of the month with chances to flirt, have fun and let your hair down as the final month draws closer.
and Next Month's Horoscope for December
The year end is when parties, fun and entertainment are always uppermost on your mind. You'll romp through three weeks of the fiery, adventurous, outgoing Sagittarius Sun with invitations pouring in and opportunities to flirt, let your hair down and enjoy being centre of attention. This is your time to sparkle so there's no sense in wasting any opportunity. Friends will be assertive, at times a touch too pushy, but they'll ensure you are not idling away the days but keeping an eye on the future as well. Plans will be pored over, adjusted and then actioned. Gradually as first Mercury, then Venus and finally the Sun head into earthy Capricorn, hard work and practical concerns will be the order of the day. You'll want to see a tangible outcome from your efforts and discussions. Lending a helping hand to loved ones will pay off and your rewards will come if not instantly then within a few weeks. Don't feel deprived and head for the cookie jar to compensate. Staying fit and streamlined will be key as the month wears on and your horizons open up in front of you.
Year Ahead 2022
2022 will be a year when rebalancing your life will be crucial. You need to find a way of giving enough time to personal interests and your emotional life as well as pushing ahead with ambitions in the outside world. Your heart should take precedence up to May and later in the year and across the middle months you'll make your mark and attract recognition for your talents and achievements.rnWhat's better you'll also be on the receiving end of generosity either in cash or in kind. Money should come your way more easily for a few months and again over the New Year, bringing you peace of mind. There will also be beneficial changes allowing you to move ahead and away from the past with less regret than you might have expected. You'll still have to keep a weather eye out for unreliable advice or untrustworthy people but on the while you'll be more secure.rnClose partners will be critical at times and you may feel separated at points. But good relationships will strengthen. Staying on your toes to be ready for sudden surprises and changing circumstances will be wise, since nothing will be too settled for a while. After August energetic friends will rally round with robust advice and support for a few months. You won't have to go it alone.