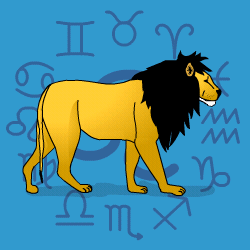 Leo
July 24 - August 23
---
Today's Horoscope for Saturday September 18th
Close partners will be in good humour and happy to fit in. You'll be attracting support which will keep you enthusiastic and optimistic. Aim for togetherness, for keeping things harmonious and give in for the sake of peace and you'll find by the end of the day that you're glad you did. Ignore any niggling worries you have about close partners, since it may all be in your imagination. Togetherness will bring you inner contentment even if there is a layer of insecurity underneath.
The Weekly Outlook from 13th September
Your intentions will be good but you may be getting muddled since you haven't worked out what you need to do to get a result. You make a half-hearted attempt, push a little, then nothing works, so you give up. Strategy is what is needed and motivation. Later in discussions you may be right, but being right does not mean you win. If you land yourself in a push pull tug of war then nothing helpful will come out of the end of it. That would be a real waste of time and energy.
Your Monthly Horoscope for September
A sign reputed for flamboyant tastes and a yearning for an expensive lifestyle you always need cash on hand for indulgences and keeping up appearances. Your main focus will be improving your finances with an eye to the future, to build up security and also allow a little extra pocket money for treats along the way. You'll need to be careful since not all the information or advice coming your way will be reliable. Double check for yourself. Neptune can be misleading and cast smokescreens around so tread carefully. The mood at home in the family will be happier after the 10th with opportunities for heart-to-heart chats with loved ones and space to mull over your redecoration plans. Not that you will have much spare time after the 15th since your everyday schedule will speed up. You'll be running to keep up, not always patient but will be getting essentials cleared out of the way. Being too abrupt in your approach may ruffle feathers but you won't care since you intend to make waves and fast progress.
and Next Month's Horoscope for October
A chatty, lively and varied everyday schedule will keep you on your toes and rarely bored with fun encounters, short distance trips and plenty of communications with friends near and far. You'll need to manage your time well, streamline your efficiency and write out to-do lists constantly otherwise you'll end up running in circles and not completing anything you start. You will get impatient at times with delays and other people's mistakes but getting too forceful won't make you popular. On the whole you'll pull back from causing too many waves mainly due to a supportive partner who'll smooth out a few wrinkles for you. Your sunny, exuberant charm will work wonders out on the social scene after the 7th as you put on an entertaining performance. There may be a few humps and bumps just after midmonth as you gear up to get a new pet project underway. Persistence, patience and optimism will see you through. Then you'll relax at home for a few days.
Year Ahead 2021
Your social and romantic life and close relationships will be moving through a blow-hot, blow-cool year in 2021 with nothing standing still for long, though it won't be as leaden and discouraging as last year. Certain relationships will blossom as you share new activities and hopes for the future together. Though there will be points where you will be looking with a critical eye at partners and pointing out their flaws, which needless to say won't go down well.If you can value loyalty above passion and recognise that trust and dependability are vital then you'll weather the chilly patches and emerge stronger as a couple. The Eclipses will prompt you to put effort and energy into your leisure activities for a few months. Putting yourself in the centre of attention and ensuring everyone else whether loved ones or friends is being given affectionate support will send your popularity soaring. After the middle of the year, you'll want to mix and match and be free to flirt and have fun with a wide circle of acquaintances and best buddies. You will have to contend with sudden changes of direction at work or in your life since there won't be anything too settled about the world at large. Tensions may surface as you fight a battle with yourself as to whether to stick to the tried and trusted or to venture into the unknown and tread an unfamiliar path. Your tendency will be to stick with what you know but taking the odd risk will help. After the middle of May for several weeks your luck with money will bring larger sums your way with less effort and that happy state of affairs will return before the New Year, so you'll be feeling more secure. Though Neptune will continue to hang around as it has done in recent years adding a layer of confusion to joint finances. You'll need to continue to be alert for unreliable advice coming your way from close partners and others.