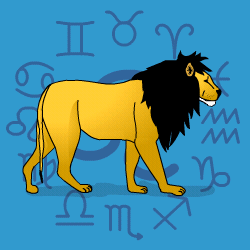 Leo
July 24 - August 23
---
Today's Horoscope for Wednesday May 12th
You'll be moving fast and at slight risk of tripping over your feet and getting impatient if equipment doesn't function as it should. Try not to run yourself or your talents down but be fair minded both about your own achievements and those of other people. Remember that you've got a sense of humour as well as a sense of what's wrong with life. If you can get companions to listen respectfully to what you have to say you'll make faster progress. Prepare the ground in advance by softening them up.
The Weekly Outlook from 10th May
You will find the confidence to say what you think. This may bring grievances out into the open but that way you can clear them out of the way. Just try not to be too forceful. Major life changes will be easier now with Jupiter into the deepest area of your chart for a few weeks ahead. Not only will you understand yourself better but a new depth of feeling will enter your life bringing with it a capacity for sharing, caring and co-operating more warmly.
Your Monthly Horoscope for May
Never a one to hide your light under a bush at the best of times, you'll stride out confidently to indicate that you're in charge or at least in a position to be a role model for others. Effort will be needed but will be well repaid with the attention and praise you receive. One partner may be a touch defensive initially but they'll fall in line. You'll be chatting over plans with friends and team mates and increasingly find that your knack of putting others at ease will boost your popularity and make you welcome wherever you go. The good news of the month will be Jupiter moving into Pisces midmonth to stay for a few weeks and returning at the New Year which will bring money in with less effort and also allow you to transition through emotional changes easily. There will be a few restrictions until the middle of June but nothing insurmountable. You'll just require patience and to be persistent. The final days will be friendly and forward-looking so you'll be making progress.
and Next Month's Horoscope for June
In a friend-filled, forward-looking time, you'll be keen to sort out plans for the next year and will be asking for feedback and advice. Though oddly you won't be as sociable or romantic as usual and will be giving more to loved ones than you're getting back, so look after yourself well in the quiet moments. It's only a temporary phase so not a problem. Pushing against restraints and restrictions up to the 5th will be a waste of energy. Accept what you can't change and leave well alone. Dynamic Mars moving into your own sign after the 11th will zip up your courage, enthusiasm and motivation so you'll forge ahead, sweeping obstacles to one side. Have a care with a cash matter around the 13th since information coming your way may be unreliable. Into the final days you won't know whether to keep your foot on the accelerator or to ease back. The answer is you need to do both. Find time for rest and relaxation and understand certain projects can't be actioned yet and keep pushing where you can make a difference.
Year Ahead 2021
Your social and romantic life and close relationships will be moving through a blow-hot, blow-cool year in 2021 with nothing standing still for long, though it won't be as leaden and discouraging as last year. Certain relationships will blossom as you share new activities and hopes for the future together. Though there will be points where you will be looking with a critical eye at partners and pointing out their flaws, which needless to say won't go down well.If you can value loyalty above passion and recognise that trust and dependability are vital then you'll weather the chilly patches and emerge stronger as a couple. The Eclipses will prompt you to put effort and energy into your leisure activities for a few months. Putting yourself in the centre of attention and ensuring everyone else whether loved ones or friends is being given affectionate support will send your popularity soaring. After the middle of the year, you'll want to mix and match and be free to flirt and have fun with a wide circle of acquaintances and best buddies. You will have to contend with sudden changes of direction at work or in your life since there won't be anything too settled about the world at large. Tensions may surface as you fight a battle with yourself as to whether to stick to the tried and trusted or to venture into the unknown and tread an unfamiliar path. Your tendency will be to stick with what you know but taking the odd risk will help. After the middle of May for several weeks your luck with money will bring larger sums your way with less effort and that happy state of affairs will return before the New Year, so you'll be feeling more secure. Though Neptune will continue to hang around as it has done in recent years adding a layer of confusion to joint finances. You'll need to continue to be alert for unreliable advice coming your way from close partners and others.