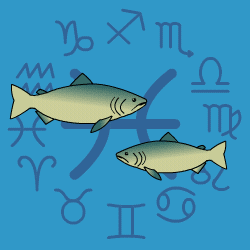 Pisces
February 20 - March 20
---
Today's Horoscope for Saturday December 04th
The New Moon at your mid heaven comes round only once a year, so it'll be sensible to sow the seeds of new ideas. They may not seem grand and glorious yet but will bear fruit in future if you start off on the right foot with real commitment. You'll want to give your reputation a boost and get the recognition which your talents deserve. So you'll need to give new projects a determined push to ensure that you are building for the future. Get your head and your heart together and make it happen.
The Weekly Outlook from 29th November
You're not going to slither round the edges of difficulties or give up and expect someone else to do all the hard chores. You'll be pleased to be able to do it all yourself and know if you stay with your feet on the floor you should have fewer problems. Maybe you could do with more time at home with loved ones, but you know you cannot take your eye off the ball at work or in your community activities. If you are feeling pulled in two directions, you need to revise your plans and ambitions.
Your Monthly Horoscope for December
You'll have a firm hand on the tiller and be intent on moving ahead with all speed. In a hard-working and ambitious mood, you won't take no for an answer and will expect those close to follow along behind. This is your time to shine and let your talents be seen. Don't by shy. Step forward boldly and demand recognition for your achievements. Warm-hearted friends will be around to keep you company after hours so you won't be short of a captive audience for your robust opinions and future schemes for lifting your life out of a rut. You'll sag for a brief moment around the 12th but within a day will be redoubling your efforts to get everyone dancing to your tune as you zip ahead for the final two weeks. Just before New Year lucky, expansive Jupiter moves back into your sign for a few months bringing better relationships and more resources your way as well as renewed confidence.
and Next Month's Horoscope for January
In a friendly, forward looking few weeks you won't be short of good company or advice. Your wider circle of acquaintances will be on hand to give you feedback for your future plans which will open your eyes to new opportunities. Your ability to put everyone at ease will make you welcome in team and group activities so your popularity won't be in doubt. Certain thoughts you'll be keep to yourself until late month since you know you need to get everything straight in your head before opening up. But at the same time you'll be a good listener for those in need. Mars at your midheaven till the final days will fire up your ambitions and keep you working hard. Loved ones may complain you are being bossy but you'll want to take the lead and persuade everyone around to move at your pace. One friendship will move through a challenging few days around mid month. A softly softly approach will work best. Then after the 20th you'll slow down, take a back seat and be happy to drift along.
Year Ahead 2021
2021 will be a year where you'll be determined to prove yourself. Taking courage in both hands you'll get your talents and achievements out on display and demand recognition. Hard work won't be in short supply for a few months but you will be rewarded with praise and respect as long as you stick to the straight and narrow and are conscientious. Not everything will run to plan with an over-packed everyday schedule, differences of opinion and some delays knocking your best laid plans off track. Not flaring up and flying off the handle will cause less trouble, so gritting your teeth and saying less will be the way to go.Overall it will be a year when the world at large is going through some disruptions, economic and other, so you will need to clear space for yourself to wind down and recentre. You all too readily soak in the atmosphere and overload yourself with problems that are not yours. Finding a sanctuary where you can be at peace will help. Gradually you'll find contentment in your own company and sense growing self-esteem. In the quiet moments you'll also mull over what needs pruned out of your life that will not fit in with future circumstances. These won't be speedy decisions and there will be no pressure to make firm decisions for a while. But getting your ducks in a row before the time comes for decisive action will be an idea. Your confidence will rise sharply as lucky Jupiter moves into your own sign for ten weeks after the middle of May, bringing enthusiasm, optimism and good fortune. Even better it returns before the new year to stay for several months in 2022.In the latter months of the year your focus will switch from career or community ambitions to home and family matters. You'll be keen to put down roots and find emotional security. Sitting down with loved ones to work out what adjustments need to be made will be a priority.