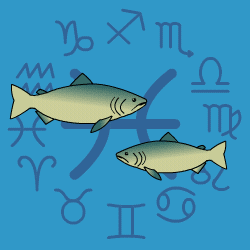 Pisces
February 20 - March 20
---
Today's Horoscope for Wednesday October 28th
With change in the air maybe you do need to sit down and talk through money and emotional matters with close partners. This is no time to be at cross-purposes or undercutting each other. Everyone has to be clear what the agreements are and stick to them. Although you will be more secretive than usual and not finding it easy to open up about what is really important for you. Even those closest to you will be forced to second guess what is on your mind and they won't always get it right.
The Weekly Outlook from 26th October
Your romantic life won't be light hearted in the weeks ahead. With Venus moving through the emotionally intense and private area of your chart you'll want more drama - a grand passion. Or in contrary fashion you could shut off your emotional needs altogether, wary if you open up to what you really want it might bring uncomfortable feelings to the surface. Your everyday schedule could be changeable and unpredictable. Sudden events which spring up will clear away limitations and pull you away from stuck situations.
Your Monthly Horoscope for October
Although your priority will be to push ahead with new long-term plans, you'll be aware the certain old obligations and agreements have to be fulfilled. So you'll be dancing backwards and forwards, feeling at times as if anchors were dragging. Normally you dislike being confrontational and having to stand still. But these are unusual times so keeping your focus steady and not allowing others to tug at your heart strings and cajole you into fitting in with their wishes will be important. Your mood will veer from positive to gloomy and back again. Try to ignore the doom-sayers since they'll almost certainly be wrong. Financial tangles will be slow to unpick but with a well-thought out strategy and some foot-stamping you should make headway. Try to resist the temptation to spend impulsively or rush into cash decisions before you've thought through the consequences. After the 20th there will be fewer irritations and you'll be aiming to broaden your horizons and find more adventure.
and Next Month's Horoscope for November
You'll keep your own counsel about deeply personal and emotional matters for a few days since you'll want a chance to reach your own decisions before speaking out. You will have to be adaptable with close partners over money, since neither of you can have it entirely your own way. Finding a middle road will be crucial. Your priority will be to inject your adventure into your life and find ways of broadening your horizons. Even if you can't travel further afield as you'd like you can always expand your mind, take up new hobbies and watch films about exotic places. A friend will bring you great news towards the middle of the month. It may be about a pet project for the future or a team venture, but one way or the other you'll be patting yourself on the back and feeling pleased. Into the final days you'll be working hard, attracting recognition and praise and taking the lead. This will be your time to shine so don't hide away.
Year Ahead 2020
Your focus for 2020 will be almost exclusively on friends and future plans with such a build-up of planetary energy in Capricorn. You won't always be clear where you are heading or the company you want to travel beside since you'll be critical one moment and enthusiastically supportive the next. In a year of ups and downs and some dramas you'll need to watch not to be too accommodating of other people's wishes or indeed to be swept around by the prevailing wind. If you stick to your vision and keep your goals clearly in mind you'll avoid most of the pitfalls. A new friend will boost your morale and provide just the encouragement and motivation you need to keep you on track.rnHome will be happier with family tensions easing noticeably so you'll have a chance to relax and be indulged especially for a few months after April. During that phase you'll take the chance to mull over your options and decide what needs cleared out of your life. It may be old attitudes of mind that no longer fit with your present situation, old ambitions that no longer hold your interests or even certain friendships that have passed their sell-by date. You won't be making sudden decisions but will gradually see what you need to hang onto for the time ahead.rnTaking the initiative where your personal finances are concerned is the second half year's task. Getting a grip and then staying persistent will pay dividends though there will be a few distractions along the way. But you know you need to get more surplus accumulated if you're to feel secure and have extra for spending.rnBy the year end you'll be aiming high, knowing the only way to succeed will be to draw attention to yourself and your achievements. You'll take courage in both hands and demand recognition.