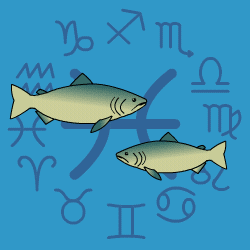 Pisces
February 20 - March 20
---
Your Birthday Horoscope
IF ITS YOUR BIRTHDAY TODAY your year ahead will be lively, fast-moving and outspoken. You won't put up with delays or mistakes calmly but try not to ruffle too many feathers. You'll be surrounded by friends and team mates in what will be a busy year so you'll need co-operation and advice. Stay persevering even when the going gets tough. Fun new friends will boost your morale though they may at times be overly confident or inclined to disappear when difficulties crop up. Hang onto old tried and trusted mates.
Today's Horoscope for Saturday February 29th
Chattering constantly you'll have a bright, curious turn of mind as well as an active tongue. What you say may not be too subtle. But your plus side is you have no devious streak, and can be relied on for straight answers to direct questions. Your concentration will wander since you'll get bored having to listen to feedback and may say things that startle companions, just to amuse yourself. You will not want to be around anyone who is slow-witted. They'll make you impatient and you're likely to get over-forceful and over-honest.
The Weekly Outlook from 24th February
Maybe you will feel more self-sufficient but if you can't do that when the New Moon is in your sign, when can you? You will want to do anything which makes you feel centre of attention, even your own. Though later in the week you'll be obsessed about your love life. You'll want a more passion, or something rather unusual. Anything that gets you away from run of the mill experiences. You'll want more depth in the relationships you've got or you'll be looking for other connections in which you can consume yourself.
Your Monthly Horoscope for February
You'll be talking animatedly and finding receptive listeners but you won't always feel you are making the progress that you want with certain pet projects. You won't hold back from issuing orders or putting your foot down but there will be restrictions around, not the least of which may be energy slumps at times. Take a hint and when you can't win or you don't feel you can dredge up the motivation to keep pushing, then retreat into a quiet corner and put your feet up. There'll be surplus money for treats so you'll be spending liberally and enjoying everyone moment of it. From mid month dynamic friends will step in to lend a helping hand so you won't feel it is all down to you. Your birthday Sun from the 19th will turn red lights to green and you'll be off at speed. Circumstances will open up and you'll be both positive and determined so rewards will come thick and fast.
and Next Month's Horoscope for March
In brighter spirits than almost any other sign you'll be romping along, confident that your new birthday year stretching ahead will offer considerable potential. Your optimism will be high and you've attracted a solid support system of team mates and friends to give you a helping hand and practical advice. Your tactful way with words will win you most discussions along the way of your everyday schedules at work and in the neighbourhood. Thoughtful gestures will come your way in return. You will have odd moments when you feel inclined to slump with Neptune around, so give yourself permission to drift along when the mood takes you. A resounding success around the 20th will feel like luck but in fact you'll create your own good fortune with positive determination. Sorting out your personal finances will be on task for the final week. And also you'll start to mull over what you want to clear out of your life that isn't essential for the future.
Year Ahead 2020
Your focus for 2020 will be almost exclusively on friends and future plans with such a build-up of planetary energy in Capricorn. You won't always be clear where you are heading or the company you want to travel beside since you'll be critical one moment and enthusiastically supportive the next. In a year of ups and downs and some dramas you'll need to watch not to be too accommodating of other people's wishes or indeed to be swept around by the prevailing wind. If you stick to your vision and keep your goals clearly in mind you'll avoid most of the pitfalls. A new friend will boost your morale and provide just the encouragement and motivation you need to keep you on track.rnHome will be happier with family tensions easing noticeably so you'll have a chance to relax and be indulged especially for a few months after April. During that phase you'll take the chance to mull over your options and decide what needs cleared out of your life. It may be old attitudes of mind that no longer fit with your present situation, old ambitions that no longer hold your interests or even certain friendships that have passed their sell-by date. You won't be making sudden decisions but will gradually see what you need to hang onto for the time ahead.rnTaking the initiative where your personal finances are concerned is the second half year's task. Getting a grip and then staying persistent will pay dividends though there will be a few distractions along the way. But you know you need to get more surplus accumulated if you're to feel secure and have extra for spending.rnBy the year end you'll be aiming high, knowing the only way to succeed will be to draw attention to yourself and your achievements. You'll take courage in both hands and demand recognition.