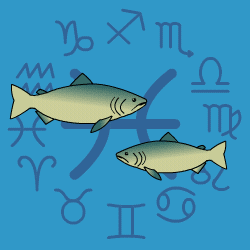 Pisces
February 20 - March 20
---
Today's Horoscope for Monday May 23rd
You may be accused of being superficial because you won't be sticking to any one interest for long in the days ahead. But your curiosity is sending you off in all directions at once asking questions endlessly. Today you'll be open-hearted and feeling generous and you want to be around companions who are as upbeat as yourself. You will be morale-boosting, encouraging and motivating like mad, and doing what you can to make sure everyone's confidence is being lifted.
The Weekly Outlook from 23rd May
Jupiter will help you look for the silver linings which will be around since you're in a fortunate phase. When results come easily you may put it down to luck, but it is more to do with your intuition working well. You'll end up in the right place at the right moment, saying the right thing. From midweek your long-term security will be to the forefront of your mind so you will be pushing hard to acquire more money and possessions. You will fight to defend rights and ensure that you get your due rewards.
Your Monthly Horoscope for May
Upbeat, lucky Jupiter and zippy Mars both in your own sign for the first few days will make for a high-octane and enthusiastic start to a busy month. You'll be racing around, talking constantly, motivating and morale-boosting like mad. Spending money will also prove all too tempting as your eye catches irresistible treats and indulgences. You'll demand tangible proof of loved ones' affection either in more hugs or presents. If you can manage your time well and streamline your efficiency then you'll multi-task with the best of them and cope well. Good news on the money front will come after the 10th and your good fortune will hold over coming months. You may not end up with much surplus since it will come in one hand and out the other but it will be enjoyable. You may have an energy and motivation slump around midmonth so scale back your commitments for a few days and coast along. Home will be where your heart is in the final ten days and you'll be content to slow down and be your feet up. Though your agile mind will get to work dreaming up ways to improve your finances as the month closes.
and Next Month's Horoscope for June
Spending more time at home and sinking into an armchair frequently will be tempting as you want an opportunity to mull over recent events and have a chance for heart-to-heart chats with loved ones. With Saturn lurking out of sight in the sign before yours there will be pressure to continue clearing out of your life whatever is no longer necessary for the future. Whether it is attitudes of mind or outworn clutter or even friendships which have lost their spark, you will be doing a full review of what is essential for the future and what is not. Thoughtful gestures from everyday mates will let you know how appreciated you are and with the morale-boost that comes along with compliments you'll be equally encouraging in return. A vague few days midmonth will drift by without a problem if you avoid committing yourself to strenuous activities. Into the final days you'll be back out on the social scene, kicking up your heels and having fun.
Year Ahead 2022
Jupiter in your own sign will start 2022 in good form since it brings with it a new cycle of growth, expansion, rising confidence and good luck. You'll be stepping out boldly and be meeting with good responses since your positive approach will go down well. Within a few months more money will roll through to give you surplus for treats and indulgences. Saving some of your good fortune will be wise but the temptation to spend may override caution.rnIn between times you'll be grappling, along with everyone else, with an unsettled stop-start mood. Your everyday schedule will be speedy and you're likely to be over honest at times. But you'll also have inward-looking phases where you mull over what needs to be abandoned from your life as no longer necessary. As a Water sign you hate letting go, but to keep life refreshed you need to go through changes once in a while.rnDon't be discouraged if old ambitions which once held your attention now seem stale. You're heading for a new cycle where you'll be enthused by new projects and activities. As you gradual adjust your outlook ahead to include new possibilities you will be encouraged and motivated to try what seems unfamiliar.rnInto the final few months you'll be zipping around at home, keen to get more organisation and order into your domestic setup. The family may not always be in agreement but if you persuade rather than force them into line they will lend a helping hand.