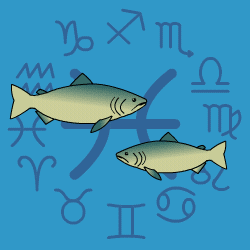 Pisces
February 20 - March 20
---
Today's Horoscope for Saturday January 23rd
You'll be riding into top gear flying the banner of your pet causes. But watch that you do charge ahead too fast. If you are playing games have a care that you are not taking risks. Not that you will be accident-prone, you may just think you are capable of more than you are. On the romantic front with affectionate Venus in aspect to dreamy Neptune, you'll be ambling along with dreams in your head. You'll want a relationship so wonderful, blissful and beautiful, it's like something out of the movies.
The Weekly Outlook from 18th January
Your judgement may not be sound as you'll err on the over hopeful side. You may feel inclined to take risks, relying on your guardian angel to be on hand if it goes wrong. Whatever happens you'll be taking an independent point of view and could be inspired, gaining new insights but you will have to stay practical. After midweek you won't be at your most outgoing and sociable. You will be happiest in the quiet backwaters and even your own company will not be a hardship for short.
Your Monthly Horoscope for January
You won't be looking backwards over your shoulder at the old year or waste time regretting what you haven't achieved. You'll be all-systems-go in forward gear, sweeping obstacles to one side and not taking no for an answer. With the help of energetic and supportive friends and team mates, you'll make light work of whatever projects are on hand. You won't always be subtle or patient in expressing your opinions especially when obstacles get in your way. But your direct approach may be just what is needed if you don't go too far. You will be scattered and at times jump to conclusions which may not be the right ones. If you can take time out to reflect and ponder you'll come to better decisions. You will be slowly clearing the decks of what is no longer of use for the future and will find that certain old ambitions no longer hold your attention. Inspiration will come when you least expect so give yourself space to wind down.
and Next Month's Horoscope for February
Never one for confronting difficulties head on, you much prefer to slide round obstacles or drift in the hope that obstacles will sort themselves out. Doing less may well be sensible for three weeks since no amount of pushing will bring results. Standing on the lines letting others take the strain will be wise. You will pull strings effectively from behind the scenes and will relish the chance to recharge your batteries and have time for reflection. Getting the last year into perspective and learning the lessons it brought, will mean you flourish in the months ahead, once you bounce back out into circulation. You won't always be even tempered or patient and there will be a few tricky situations which you'll need to cope with as best you can. Into the final days your morale will get a boost, the rattled mood will wind down and you'll be confident and enthusiastic. Your social life will also waken up to bring fun invites and compliments.
Year Ahead 2021
2021 will be a year where you'll be determined to prove yourself. Taking courage in both hands you'll get your talents and achievements out on display and demand recognition. Hard work won't be in short supply for a few months but you will be rewarded with praise and respect as long as you stick to the straight and narrow and are conscientious. Not everything will run to plan with an over-packed everyday schedule, differences of opinion and some delays knocking your best laid plans off track. Not flaring up and flying off the handle will cause less trouble, so gritting your teeth and saying less will be the way to go.Overall it will be a year when the world at large is going through some disruptions, economic and other, so you will need to clear space for yourself to wind down and recentre. You all too readily soak in the atmosphere and overload yourself with problems that are not yours. Finding a sanctuary where you can be at peace will help. Gradually you'll find contentment in your own company and sense growing self-esteem. In the quiet moments you'll also mull over what needs pruned out of your life that will not fit in with future circumstances. These won't be speedy decisions and there will be no pressure to make firm decisions for a while. But getting your ducks in a row before the time comes for decisive action will be an idea. Your confidence will rise sharply as lucky Jupiter moves into your own sign for ten weeks after the middle of May, bringing enthusiasm, optimism and good fortune. Even better it returns before the new year to stay for several months in 2022.In the latter months of the year your focus will switch from career or community ambitions to home and family matters. You'll be keen to put down roots and find emotional security. Sitting down with loved ones to work out what adjustments need to be made will be a priority.