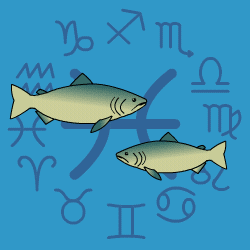 Pisces
February 20 - March 20
---
Today's Horoscope for Saturday September 18th
As you are coming to terms with your own hidden needs, you are reaching a better understanding of those around who are struggling. If you listen to your instincts since you will find out all you need to know. This includes learning to put down limits and not soak in everyone else's worries. Since there is a secretive Moon in place you'll be happy to hide away from hustle and bustle to recover your inner peace. Luckily close companions will be tied up in their own interests and unconcerned if you go absent.
The Weekly Outlook from 13th September
You will float along passively rather than zipping into activity, being dreamy but not always good at turning your visions into reality. You won't dredge up the energy to tackle major projects but watch you don't end up slumped and under confident. After midweek you'll click into a better gear and won't be taking superficial explanations for anything or skimming the surface. You'll want to get right down to the roots which is part of a clearing out process, when you get rid of inessentials from your life.
Your Monthly Horoscope for September
You may be vague and indecisive at times but close partners will be go-ahead and dynamic. If you can hitch yourself to their wagon you'll zip along together in good style. But you will need to fit in and cooperate otherwise you'll end up arguing which will be a waste of energy. Spending on treats and indulgences will put a twinkle in your eye early on but luckily for your savings won't go on all month. After the 10th you'll be flattered and delighted by thoughtful gestures of appreciation from certain everyday mates whom you normally rush past without noticing. You'll slow down to return their compliments. After mid month you'll be into an intense, secretive, slightly restrictive few weeks, tackling confidential matters, financial and emotional. First Mars and then the Sun moving into your chart area of transformation hints you need to dig deeper for answers and let go what is no longer needed for the future.
and Next Month's Horoscope for October
October is always a slow month for you with confidential dilemmas to tackle, financial and emotional. You can blame this on the Libra Sun joined this year by Mars. This will mean going down into the depths to find new answers, letting go elements of the past and moving into a new phase ahead. Transformation is never easy but it happens every year and leaves you free to open up new possibilities ahead. You will have to compromise to reach agreements with those close or those you share responsibility with. You will have quiet moments of satisfaction and contentment as you realise you are coping better than you expected. If a friend acts in a way that is unhelpful after midmonth then back off until they find their balance again. You may feel blocked for a few days but after the 23rd you'll find restrictions lift and you'll be able to fly higher.
Year Ahead 2021
2021 will be a year where you'll be determined to prove yourself. Taking courage in both hands you'll get your talents and achievements out on display and demand recognition. Hard work won't be in short supply for a few months but you will be rewarded with praise and respect as long as you stick to the straight and narrow and are conscientious. Not everything will run to plan with an over-packed everyday schedule, differences of opinion and some delays knocking your best laid plans off track. Not flaring up and flying off the handle will cause less trouble, so gritting your teeth and saying less will be the way to go.Overall it will be a year when the world at large is going through some disruptions, economic and other, so you will need to clear space for yourself to wind down and recentre. You all too readily soak in the atmosphere and overload yourself with problems that are not yours. Finding a sanctuary where you can be at peace will help. Gradually you'll find contentment in your own company and sense growing self-esteem. In the quiet moments you'll also mull over what needs pruned out of your life that will not fit in with future circumstances. These won't be speedy decisions and there will be no pressure to make firm decisions for a while. But getting your ducks in a row before the time comes for decisive action will be an idea. Your confidence will rise sharply as lucky Jupiter moves into your own sign for ten weeks after the middle of May, bringing enthusiasm, optimism and good fortune. Even better it returns before the new year to stay for several months in 2022.In the latter months of the year your focus will switch from career or community ambitions to home and family matters. You'll be keen to put down roots and find emotional security. Sitting down with loved ones to work out what adjustments need to be made will be a priority.