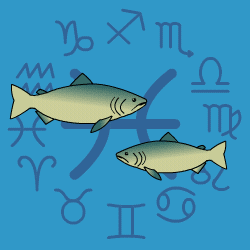 Pisces
February 20 - March 20
---
Today's Horoscope for Tuesday November 28th
Venus, planet of love and indulgence, is moving through your chart area of confidential emotional matters for another few days so you will be continue to be secretive. Only those close will guess what is on your mind as you dig deeper for better long term answers. This is a good day to be self-protective and retreat into a quiet corner, preferably at home. So much the better, if you can manage to take the day off and put your feet up. But even if you're at work, you need a niche where you are able to push away awkward people, hassles and hustle.
The Weekly Outlook from 27th November
The Full Moon falling at the lowest point of your chart is not gloomy, but is a warning that you need to draw back from work and ambition to consider your feelings. You cannot allow your head to over-rule everything and forget your heart. Slow down and enjoy being instead of constant doing. What this demands is to push heavier demands off your plate. Make sure you are not being your own taskmaster. You have been so caught up recently in projects that you have not been giving yourself a chance to recharge your emotional batteries.
Your Monthly Horoscope for November
Thinking big, aiming high and speaking boldly, you'll be keen to make the most of your escape from a few restrictive weeks recently. With adventurous plans in mind you'll be dreaming of travel or some other way of broadening your horizons. You'll also be promoting your pet causes with a good deal of enthusiasm, at times coming across as opinionated, but your intentions will be good so no one will mind. Emotionally you'll be plotting and planning how to get your own way and only those close will guess what is on your mind. An extra busy schedule will require that you take care around the 11th since you could trip yourself up or over react to uncomfortable comments and cause more trouble than it is worth. Take a deep breath and move ahead. You will be in demand for your views at work and in the community after the 10th and the right people will be impressed. In the final days you will be taking the lead and making an impression where it counts but it will take persistence and hard work.
and Next Month's Horoscope for December
In good form and keen to put your more ambitious and adventurous plans into gear, you will be bouncing with enthusiasm and optimism. You won't always be practical or realistic but your sense of vision will carry you along. You'll be taking the lead and expecting others to follow behind. This is your peak for the year when recognition is likely for your past efforts and achievements. Praise and appreciation will make you glow even if you are having to continue to work for results. Your social life will be fun with a lively crowd of friends to mix with and new activities and venues to explore. Your positive approach and easy way with words will smooth down any rough edges. After the middle of the month your energy may sag at odd moments so give yourself a break. Into the final week you'll rarely be short of good company and never bored as you look optimistically ahead into the new year.
Year Ahead 2023
Looking ahead into 2023, you'll have definite plans in mind but may have to overcome a few hurdles before you get them pushed into action. Friends will help as long as you approach them persuasively and try not to come across as self-righteous. Slowly but surely you'll be making headway though from April onwards you will take time out to reflect on highly personal matters and to put recent events into perspective. What to keep in mind is when you cannot fly ahead with all speed take the chance to go inwards. Your finances will be healthier than for a while though your spending is likely to shoot up so you may not end up with much surplus. Saving some of your good fortune will give you security and peace of mind ahead. Luckily you will be in a common-sense and practical mood from March onwards, aware that you need to get organised and put indulgences onto the back burner for a while. You will start clearing the decks of whatever you no longer need for the future, whether old attitudes of mind that no longer work in your present circumstances or ambitions that have lost their fire. From June onwards your everyday comings and goings at work or in the neighbourhood will be upbeat and enthusiastic. As you adopt a tolerant approach and listen to feedback your relationships will improve and you'll be delighted at how well you are expressing yourself. Into the final months you'll be aware of pressure to alter the way you share, care, relate and cooperate over money and your emotional life. If you can make an effort to be less single-minded it will pay dividends.