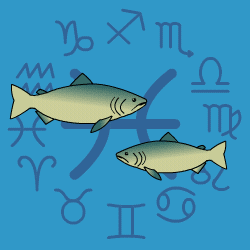 Pisces
February 20 - March 20
---
Today's Horoscope for Tuesday October 04th
Your party chit-chat will snap, crackle and pop with a sparkle so you will be a favourite not just with close partners but out amongst your wider circle of social mates as well. Though you will find that certain friendships or team relationships will be edgy and tense. At times Pluto gives rise to power struggles or jealousy but it has an upside as well as a downside. The true bonds in your life will become stronger, and you find in coming months that you are moving amongst more influential people.
The Weekly Outlook from 03rd October
You will go out of your way to avoid anyone who gets on your nerves. You want interesting conversations with people who are on your wavelength. Mercury, the chatty planet, in your opposite sign will also open up channels of communication with close partners at home and at work. You will want to get certain things straight as simply and quickly as possible. Try not to be too pushy or forceful about trying to bring them round to your viewpoint. Cool it and you'll be persuasive.
Your Monthly Horoscope for October
October is never your fast-forward month with a hidden Sun prompting you to sort out confidential financial and emotional tangles. Reaching agreements with those close or those you share joint responsibilities with won't be a speedy matter and you'll need to be flexible as well as firm. Negotiating skilfully and being persuasive will move you towards better understandings and leave you more secure. Delays in certain projects will make you impatient so you need to channel your surplus energy into reorganising at home. Trying to avoid getting uptight with loved ones will help keep the domestic atmosphere harmonious. After midmonth for a few day you'll be edgy over a friend's problems. Then the clouds part and sunshine breaks through. You'll be moving away from restrictions and secrets in the final week, aiming high and finding stimulation and adventure.
and Next Month's Horoscope for November
Set free from recent restraints and restrictions, you'll be aiming high and thinking big. Broadening your horizons anyway you can will be your priority. Travel would be top of your wish list but if that is not possible you can always take up a new interest, mix with adventurous friends or even expand your mind with books and videos. What is for sure is you won't want to be bothered by trivia or practical details. What to keep in mind is that the grand plans you have in mid will need to be actioned after mid month so they will need to be rooted in reality and able to be turned into solid results. Your social life will be lively as you mix with the fun crowd and explore new venues and leisure activities. A stroke of luck will turn an opportunity into a triumph after midmonth and you'll be on your way into a higher profile few weeks. Hard work will be unavoidable but praise and appreciation will come your way.
Year Ahead 2022
Jupiter in your own sign will start 2022 in good form since it brings with it a new cycle of growth, expansion, rising confidence and good luck. You'll be stepping out boldly and be meeting with good responses since your positive approach will go down well. Within a few months more money will roll through to give you surplus for treats and indulgences. Saving some of your good fortune will be wise but the temptation to spend may override caution.rnIn between times you'll be grappling, along with everyone else, with an unsettled stop-start mood. Your everyday schedule will be speedy and you're likely to be over honest at times. But you'll also have inward-looking phases where you mull over what needs to be abandoned from your life as no longer necessary. As a Water sign you hate letting go, but to keep life refreshed you need to go through changes once in a while.rnDon't be discouraged if old ambitions which once held your attention now seem stale. You're heading for a new cycle where you'll be enthused by new projects and activities. As you gradual adjust your outlook ahead to include new possibilities you will be encouraged and motivated to try what seems unfamiliar.rnInto the final few months you'll be zipping around at home, keen to get more organisation and order into your domestic setup. The family may not always be in agreement but if you persuade rather than force them into line they will lend a helping hand.