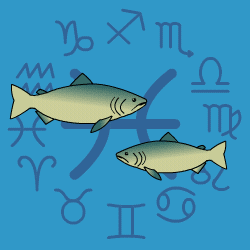 Pisces
February 20 - March 20
---
Today's Horoscope for Sunday February 05th
You'll have got a twinkle in your eye and a lilt in your step as you push ahead with your favourite projects and sweep others up in your enthusiasm. Although at times you would like to disappear into a quiet space to put your feet up, your conscience will be prodding you into being helpful. Make sure you are looking after your health and energy in the days ahead, since you need to boost your stamina if you are pushing against the grain. Take a few shortcuts as well. The faster you can relax again the better.
The Weekly Outlook from 30th January
You'll be busy with your mind on red alert. Buzzing around at top speed, your tongue will also be moving rather quickly. You won't take kindly to anyone telling you what to do, giving you orders or even disagreeing with you. Your week will be lively, exciting and possibly unsettled. But you'll be clearing away limitations and pulling away from whatever is no longer of use to you. Where you've become stale or stuck, you'll give yourself a shake up and get moving again.
Your Monthly Horoscope for February
However much your urge is to rush around at home reorganising or to jam-pack your everyday schedule to stave off boredom, really the motto of the first three weeks is take it easy. Step back and let others take the strain. You need a chance to recharge your batteries and to reflect on recent events and get them into perspective.rnYou won't go short of good company since your sunny smiles and charming manner will attract admirers, compliments and positive responses. You may be glossing over a few worries but a fake-it till you feel-it approach will work wonders when it comes to enthusiasm. Your finances will be in better shape to keep you optimistic and though you may be spending your good fortune as fast as it comes in you won't go short.rnIf the mood with those close is heated or scratchy at times try to rope them into activities which will distract their attention and they'll quickly forget their impatience.rnAfter midmonth make another effort to let go what is no longer of use to you since you're nearly at the end of a longish spell of clearing out inessentials from your life. Your birthday Sun from the 18th will blow all cobwebs away and your confidence, energy and vitality will soar as you set foot on a new year, making good resolutions as fast as you can go.
and Next Month's Horoscope for March
Your birthday Sun will buck up your morale and energy though Saturn moving into your own sign as well from the 7th to stay for two years will bring a more serious mood. You'll need to be practical ahead, clearing out what you no longer need for the future, pruning your life of excess baggage and being sensible. At home you'll be rattling around reorganising and at times coping with loved ones in an edgy mood. If you can sweep them up in your enthusiasm it'll help and by the month's end the atmosphere will lighten. Your dreamy approach around the 15th may not bring any tangible results but you'll enjoy floating along. In the final days you will be aware of background changes as Pluto moves into the sign before yours. You'll need to dig deep for answers, perhaps into the past, to find solutions to present dilemmas. You may feel stuck at points but when you can't move forwards, see the benefit in taking time out for reflection.
Year Ahead 2023
Looking ahead into 2023, you'll have definite plans in mind but may have to overcome a few hurdles before you get them pushed into action. Friends will help as long as you approach them persuasively and try not to come across as self-righteous. Slowly but surely you'll be making headway though from April onwards you will take time out to reflect on highly personal matters and to put recent events into perspective. What to keep in mind is when you cannot fly ahead with all speed take the chance to go inwards. Your finances will be healthier than for a while though your spending is likely to shoot up so you may not end up with much surplus. Saving some of your good fortune will give you security and peace of mind ahead. Luckily you will be in a common-sense and practical mood from March onwards, aware that you need to get organised and put indulgences onto the back burner for a while. You will start clearing the decks of whatever you no longer need for the future, whether old attitudes of mind that no longer work in your present circumstances or ambitions that have lost their fire. From June onwards your everyday comings and goings at work or in the neighbourhood will be upbeat and enthusiastic. As you adopt a tolerant approach and listen to feedback your relationships will improve and you'll be delighted at how well you are expressing yourself. Into the final months you'll be aware of pressure to alter the way you share, care, relate and cooperate over money and your emotional life. If you can make an effort to be less single-minded it will pay dividends.