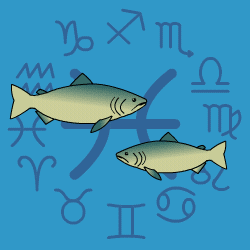 Pisces
February 20 - March 20
---
Today's Horoscope for Friday August 12th
You may not be in a pro-active mood and won't be inclined to confront tricky situations or people. You will be going out of your way to soothe and smooth over problems but don't go overboard keeping the peace. Keeping yourself healthy is always discussed as if it only applied to your body. You know you have to get yourself into good shape physically, but it'll be important to look after yourself emotionally and psychologically. Make sure you schedule that activity into the diary.
The Weekly Outlook from 08th August
Watch you're not overly impatient and inclined to trip over your feet. If you let your surplus energy out into the open in a positive and controlled way you'll do best. Don't rock the boat or leap into action impulsively. Look ahead in a sensible way and start to plan ways of clearing out of your life what you no longer need that belongs to the past. The Full Moon in the sign before yours will pull you in two directions. Your sense of duty says service to others comes first. But you also have your own needs to consider.
Your Monthly Horoscope for August
Never your favourite month of the year, you will settle down to being helpful and getting yourself into ship shape condition on the fitness front. But a surprising turn of events will conspire to throw distractions and diversions in your path. Your everyday schedule will be over-full with a few heated discussions and tricky encounters along the way. Not getting riled up will help. Being an oceanic sign you know how to drift with the currents and flow with the tide and letting the unsettled mood wash over you will be the best way to float through with less hassle. You're aware that you need to be clearing out what is inessential from your life, so if aspects of the past disappear of their own accord don't fuss. Let them go and be assured that as you clear the decks you will be preparing for positive changes to come. Close partners will be on hand with support and advice in the final days as you set to reorganizing at home.
and Next Month's Horoscope for September
Togetherness will be the key to happiness with both the Sun and warm-hearted Venus in your opposite sign. You'll be in a mood to cooperate and compromise. Out on the social scene your ability to make everyone you meet feel special will do wonders for your popularity and keep the invitations and compliments rolling in. At times you may feel a touch more vulnerable or dependent than usual but that will make it easier to adapt to fit in. You'll continue racing around at home getting organised since a restless Mars won't let you sit still for long. Spending too liberally may be a temptation but you will need to take partners into consideration and ask their advice before making key decisions. A friendship which has been under strain recently should be into a better phase after the 19th and you'll see your way ahead clearly. Push on after the 23rd and resolve not to duck and dive or take the long route round. Certain situations require a straightforward approach, firm and tactful.
Year Ahead 2022
Jupiter in your own sign will start 2022 in good form since it brings with it a new cycle of growth, expansion, rising confidence and good luck. You'll be stepping out boldly and be meeting with good responses since your positive approach will go down well. Within a few months more money will roll through to give you surplus for treats and indulgences. Saving some of your good fortune will be wise but the temptation to spend may override caution.rnIn between times you'll be grappling, along with everyone else, with an unsettled stop-start mood. Your everyday schedule will be speedy and you're likely to be over honest at times. But you'll also have inward-looking phases where you mull over what needs to be abandoned from your life as no longer necessary. As a Water sign you hate letting go, but to keep life refreshed you need to go through changes once in a while.rnDon't be discouraged if old ambitions which once held your attention now seem stale. You're heading for a new cycle where you'll be enthused by new projects and activities. As you gradual adjust your outlook ahead to include new possibilities you will be encouraged and motivated to try what seems unfamiliar.rnInto the final few months you'll be zipping around at home, keen to get more organisation and order into your domestic setup. The family may not always be in agreement but if you persuade rather than force them into line they will lend a helping hand.