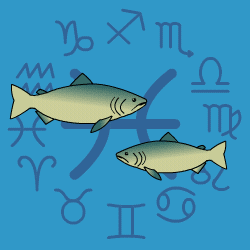 Pisces
February 20 - March 20
---
Today's Horoscope for Sunday May 28th
You will have be disciplined about cracking on through the chores. You have learned recently to be more self-sufficient. But don't let that cut you off from companions especially those who are struggling. Today won't be a time to be flinging yourself unreservedly into parties and or passionate clinches. Which does not mean you have to get weighed-down and gloomy. Be resourceful, get a grip, tackle whatever muddles or projects you have been pushing onto the back burner.
The Weekly Outlook from 22nd May
Into a hard-working phase for a few weeks ahead you could be impatient and too perfectionist for team relationships to be smooth. Go your own independent way and take satisfaction in a job being well done. Luckily you will start with a surge of enthusiasm, feeling boisterous and exuberant. On top of that you will have a sense of idealism, wanting to put your energy into your visions, your dreams and your hopes to make them work better for yourself. So you will move nearer to accomplishing certain of your goals.
Your Monthly Horoscope for May
Racing around at speed, scattering your energy in all directions, you'll rarely be bored but may be in danger of running round in circles. The key is to start with a plan and a to-do list and tick completed tasks off as you go, otherwise nothing will ever get finished. Everyday mates at work and in the neighbourhood will rally round to keep you company. Loved ones will also be on hand to cheer you on and be happy for you to hog the limelight. Flirting and having fun will be fitted into your busy schedule and luckily you'll have the energy to burn the candle at both ends. Jupiter moving into Taurus from the middle of the month for a year ahead will usher in a new tolerant phase where you'll communicate confidently and open your mind to alternative viewpoints. A hard working few weeks starts after mid month which will throw a few challenges your way initially. Not over stretching your energy will be vital by taking on too many commitments or indeed sinking your teeth into no-win arguments. If you can sidestep overloaded situations until the final week, it will help. Then you can sink into a few weeks of quiet time at home.
and Next Month's Horoscope for June
Concentrating your attention on home and family matters for three weeks you'll be happy not to venture further afield. Putting down roots, snuggling up close and giving yourself a chance for reflection to get recent events into perspective will be your priorities. Lending a helping hand to loved ones now will bring rewards later on so don't begrudge pushing your own needs to one side to ensure they are looked after. In compensation you may be tempted to over-eat on rich and sweet food.rnPluto reversing into Capricorn for a few months from the 11th will bring a few friendship issues back to the forefront which you had thought were settled. There is no harm in going over old ground and ironing out any remaining wrinkles. Focusing on plans for the future will also ensure that you get preparations made.rnA fun-loving, enjoyable and entertaining few weeks from the 21st will keep you laughing and dancing. Surrounded by loved ones and supportive buddies you will delight in the attention and appreciation coming your way. A surprise turn of events toward the month's end will require careful thought not a knee jerk response. Try not to be jolted into quick decisions.
Year Ahead 2023
Looking ahead into 2023, you'll have definite plans in mind but may have to overcome a few hurdles before you get them pushed into action. Friends will help as long as you approach them persuasively and try not to come across as self-righteous. Slowly but surely you'll be making headway though from April onwards you will take time out to reflect on highly personal matters and to put recent events into perspective. What to keep in mind is when you cannot fly ahead with all speed take the chance to go inwards. Your finances will be healthier than for a while though your spending is likely to shoot up so you may not end up with much surplus. Saving some of your good fortune will give you security and peace of mind ahead. Luckily you will be in a common-sense and practical mood from March onwards, aware that you need to get organised and put indulgences onto the back burner for a while. You will start clearing the decks of whatever you no longer need for the future, whether old attitudes of mind that no longer work in your present circumstances or ambitions that have lost their fire. From June onwards your everyday comings and goings at work or in the neighbourhood will be upbeat and enthusiastic. As you adopt a tolerant approach and listen to feedback your relationships will improve and you'll be delighted at how well you are expressing yourself. Into the final months you'll be aware of pressure to alter the way you share, care, relate and cooperate over money and your emotional life. If you can make an effort to be less single-minded it will pay dividends.