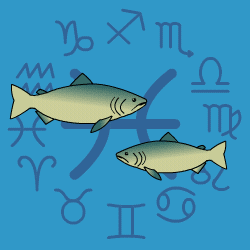 Pisces
February 20 - March 20
---
Today's Horoscope for Friday October 18th
Your tolerant, easy going approach will help support your ambitions which should be flowing upwards for the rest of this year. Good at inspiring enthusiasm, you will be a great motivator, though not always realistic. You do sometimes think you can perform miracles because your plans are not always grounded in practical common sense. Your enthusiasm runs away with you.rnThough today you will need some kind of protective niche where you can avoid hassles.
The Weekly Outlook from 14th October
If you are feeling more intense than usual, try to stay with it. Most of the time the pressure of life pushes you into taking avoiding action. Too tricky? Shrug. And off you go. You'll realise that getting cash arrangements and agreements sorted out is vital, especially if you are feeling short changed or not valued properly. But if you demand total control, it may not get you the results you want. Being right does not necessarily mean you win. If you end up in a push pull situation, you will get stuck. That would be a real waste of energy. Be strategic.
Your Monthly Horoscope for October
Renowned for your dreamy nature, you much prefer to drift along, rather than being too decisive or pro-active. However needs must with the Sun and Mars in your hidden house of transformation. Progress over financial and emotional matters will only come through confronting the issues, reaching a negotiated compromise settlement and then moving on. But that will require that you straighten your spine and push to protect your own interests. You won't get it all your own way but neither can anyone else. Luckily your social life will be lighter-hearted and more adventurous with a fun crowd to mix with and more exciting activities to enjoy. A triumph or small success to boost your self-esteem towards mid-month will be just what you need. From the 23rd certain restrictions will lift so you won't feel as held back by highly personal or confidential matters. There'll be too much going on in your everyday schedule and a friend won't be on your wavelength but you'll speed along nonetheless.
and Next Month's Horoscope for November
You'll be keen to broaden your horizons, raise your sights higher and inject more adventure into your life. But there will be some anchors dragging as you push hard behind the scenes to resolve complex confidential dilemmas, either financial or emotional. There will be no fast resolution so you'll need to stay persistent and see where you can compromise or meet halfway with those close to reach agreements which are fair to all. Don't lose heart along the way. You're not a sign who appreciates having to getting down into the nitty gritty and grapple with negotiations but you'll be pleased ultimately with the results of your efforts. Your social life will be notable since you'll be invited out to special occasions and be putting on quite a performance. Looking good you'll be charming all the influential people around. In the final week you'll rise to the challenge and be pleased and the attention coming your way. You'll have to work hard but being praised and appreciated will make it all worthwhile.
Year Ahead 2019
You much prefer to swim with the currents and drift with the currents, but needs must that you focus firmly early in the year on sorting out practical plans ahead. Certain friendships will be either less amiable than they once were or separated. So you'll treasure the mates around who are loyal and steadfast. They'll offer you advice which won't always be as upbeat as you'd like but they won't be wrong. Team relationships at work will require effort to get them running smoothly. If you are unsettled about a cool atmosphere, then try to break the ice and find a better way of ensuring co-operation. Your everyday schedule will be busy to the point of frantic at times so you won't be bored, but will need to be better organised. Your tendency of leaping out to speak the truth as you see it may not always go down well. Try to tone down honesty and add a little tact. Luckily your efforts should result in several successes or triumphs along the way so you'll be on the receiving end of recognition, praise and admiration from those whose judgement you trust. Neptune, your ruler, will still be in your own sign, making for some confusion or just a foggy state of mind at times. You won't always muster up the courage to be as pro-active as you'd like. In those times it'll be best to go with the flow and see where it takes you. What will waken you up after mid year is the desire to have a more exciting social life. You may be noticing a lack of attention or affection. The answer is to start handing out what you want for yourself. Shower compliments, hugs and kisses around and you'll be revitalised by the response. In December you'll begin to see how future plans can be made to work, with the enthusiastic support of new and upbeat friends.