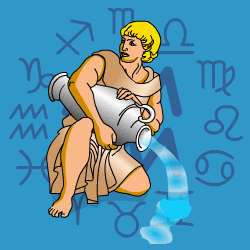 Aquarius
January 21 - February 19
---
Today's Horoscope for Thursday May 28th
You'll have an appetite for detail and oodles of common sense in the days although although mates may find you a stickler for everything being just so. You will spot differences and distinctions, which others regard as trivial but it does mean you will spot what they overlook, and that can be useful. Your helpful suggestions will go down well except when you tramp on other people's corns as you point out their flaws. Try a little charm, and a few compliments before you wade in to criticise.
The Weekly Outlook from 25th May
Whatever else your home life is at the moment it's certainly not boring. But it could be a touch highly strung so watch how you go. Circumstances will crop up which will rattle the bars of your cage and make you question where you've been fitting in too much. The trick is to make changes without causing major disruption. After midweek Mercury will move you're your chart area of work, so you may nit-pick too much, insist on perfection or become bogged down in trivia.
Your Monthly Horoscope for May
You won't want to travel far from home or familiar surroundings with the Taurus Sun in place at the base of your chart until the 20th. Putting emotional matters before career ambitions will bring you fulfilment. Loved ones and family members will rally round to make you feel loved and wanted. Having heart-to-heart chats will smooth out any underlying tensions and allow you to draw closer. You'll also push ahead with any reorganisation and changes you had in mind. In private you'll notice you feel more confident and better able to cope as you rely on your own judgement. Getting your finances knocked into better shape will move up as a priority in the second half of the month. You'll want to spend as well, but improving your security needs to come first. More fun and entertainment will be on offer in the final days as your social diary fills up.
and Next Month's Horoscope for June
A fun-loving, flirtatious and sociable Sun Venus in your chart area of entertainment, romance and children until the 20th, will put you in better spirits than most. You won't go short of invitations, admirers or compliments and loved ones will rally round to show their affection and appreciation. Frivolity and indulgence will be the order of the day but you will have to keep a weather eye on your personal finances. You know that determined action and taking the initiative is needed to bring you the security you want for the future. But you'll be vague, even careless, at times, inclined to leave the detail to others which may not be wise. Stay grounded and sensible and do your own double checking. The Solar Eclipse on the 20th falls in your chart area of work and fitness, which hints that building up your stamina and getting more efficient will be essential over coming months. You'll have additional demands being placed on you so you'll need to be on top form.
Year Ahead 2020
Normally a chatty, outgoing sign who thrives on having a wide circle of friends and rarely sitting still, you'll find 2020 a more inward-looking and reflective year. You will be pondering on far-reaching dilemmas - where to go and what to do that will bring you more fulfilment in future. Although there will be barren patches where you can't see clearly ahead, there'll also be times of optimism and exuberance, when you'll see how to turn certain dreams into reality. Try not to hold yourself back by being too blinkered and refusing to listen to feedback. Help and advice will come from an unexpected quarter and possibly in secret, so you'll need to stay open and be prepared to compromise with your old attitudes.rnFrom March you'll feel you've passed a decisive line and be on your way into a new phase, not with spectacular results initially. This will be a slow burn start, as you sort out your priorities. Old friends may find you a touch defensive or retiring but you'll need space to absorb your new found strategy for living.rnNot that you'll be hiding away for long since Venus will nudge you back out onto the party scene between April and August. There'll be invitations galore, compliments and new admirers for those on the lookout.rnA speedy everyday schedule in the second half year will also keep boredom at bay as you surge ahead with renewed vigour. You won't always be tactful if you hit delays or other people's mistakes and will express your opinions with a degree of force. Watch that you're not accident prone since you could be hashing and crashing around in your determination to get everything done in double quick time.rnTowards the year end you'll turn your mind back to friends again, keen to catch up on old acquaintances and to widen your circle in the months thereafter. You'll be keen to find a way of being sensible as well as enthusiastic with both down-to-earth Saturn and expansive Jupiter in your own sign.