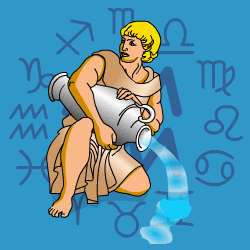 Aquarius
January 21 - February 19
---
Your Birthday Horoscope
IF ITS YOUR BIRTHDAY TODAY your year ahead will be lively, extravagant and indulgent at times though being sensible about your spending will be wise. You will be betwixt and between about how to handle one close relationship and to negotiate changes at home and in the family. Don't make instant decisions since you'll only change your mind. Aim to find a balance between your head and your heart. Follow your conscience half the time and leave space to suit yourself. Keeping an eye on money will be wise.
Today's Horoscope for Sunday February 05th
You may not be practical but you will be charming all the right people in all the right places. Flattery will get you anywhere and it certainly beats hard work. The right people will be impressed by your dynamic approach, so you should see some gratifying results. A highly significant Full Moon falls in your opposite sign, so you will be reviewing one close partnership. You do want more support, but you also want your independence. So it is a question of finding how to fulfil your needs without sounding contradictory.
The Weekly Outlook from 30th January
Watch you don't get yourself wound up. Sometimes with Mars around you get into a competitive frame of mind where it's go, go, go every moment of the day. It'll be important not to look as if you're trying to pick fights. With constant rolling changes ongoing at home and within the family you will be on edge but if you look ahead you'll begin to see a light at the end of the tunnel. Better times with happier relationships, less tension and more inner contentment are coming.
Your Monthly Horoscope for February
Friends will be a support, giving you a hand through a family upheaval. You know changes have to be made but it will still be a challenge to decide what to hang onto and what to leave behind. Luckily your energy and passionate enthusiasm will be high and you'll forge ahead keen to get the right people on your side. Your naturally upbeat approach will bring positive responses even if loved ones do complain you are being bossy at times.rnThere will be surplus money for indulgences and your eye will be tempted by beautiful or luxurious treats so you won't hold back. Though you may be overly generous to those close around mid month so take care to keep security in mind.rnAs the month wears on you'll be talking non stop being alternately serious and then mischievous. In practical moments you'll push on with plans for a general clear out since you know there are inessentials that must go if you are to clear the decks for future plans.rnOnce the Pisces Sun picks on the 18th you'll turn your focus onto your finances, knowing the more effort you put in the higher your rewards will be.
and Next Month's Horoscope for March
Keeping a watchful eye on your personal finances will be wise with Saturn moving into Pisces for two years ahead. Not because it points to problems more that it rewards thrift, prudence and practical management of money. Getting reorganised and holding back on indulgences and extravagances will pay off in peace of mind as you secure your long term prosperity. Your energy and passionate enthusiasm will keep you buoyant apart from a minor dip mid month. You'll be happier at home and cuddling up close after the 16th and taking a chance to reflect on changes you'd like to make to the decoration of your surroundings. Having colour and elegance around will lift your spirits. There's no doubt you will feel a significant shift in your life with Pluto moving into Aquarius towards the month's end. Giving yourself a chance to deepen you understanding of yourself and how you fit into your environment will be one of its gifts. Though it will be a slow process and may feel pressured and challenging as you move through a time of transformation.
Year Ahead 2023
Opening your mind to alternative views, you'll be pleasantly surprised at your new found tolerance and ability to get your views across with confidence and clarity. Your communications skills will bring you praise and will improve your everyday relationships at work and in the neighbourhood. Taking it slowly into the New Year, you'll build up a head of steam to put much needed changes in place. Gradually as you gain insight and understanding, you'll be able to handle personal dilemmas with skill and positive outcomes. Which is not to say there won't be challenges and pressures. Transformation comes along with Pluto and moving into your own sign for the first time from March, means casting off an old skin and emerging into a new phase of your life. Being sensible with money will be vital with Saturn moving into Pisces for two years which is not necessarily disastrous but does suggest that getting better organised will pay off in the long term. This may mean tightening your belt slightly and doing without a few indulgences and extravagances in order to give you peace of mind as you build up your security. The mood at home will be happier from May onwards and you'll be more content within yourself for the rest of the year, happy to relax and wind down. Family tensions should ease and you'll be planning ways of expanding your domestic environment to allow for more entertaining.