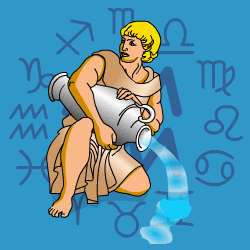 Aquarius
January 21 - February 19
---
Today's Horoscope for Friday December 03rd
If you can muster up tact and subtlety as a counter balance for force, you will be able to sweep companions up in your enthusiasm. If you want more prominence, recognition and appreciation you're going to have to alter your approach and aim to attract the attention of the right people to you. Cater for their needs not your own, be caring and kindly, and then you will get all the compliments you want. You will be able to praise yourself for your accomplishments soon.
The Weekly Outlook from 29th November
You'll take satisfaction in working down your to-do list and tick off tasks as you go. You'll be reasonable and responsible, not discouraged. You will notice mistakes and what's wrong and put it right without complaining. Then you'll gear up your will power about making a difference to the society in which you live. You'll give yourself a shake and join hands with likeminded friends. Together you will achieve more than you imagine.
Your Monthly Horoscope for December
Surrounded by a wide circle of good friends you'll be in good spirits and looking ahead optimistically. Your lively enthusiasm and open appreciation of different outlooks means you can mix n' match without feeling crowded. At the same time you'll be pushing ahead with vigour ensuring that certain personal ambitions are not forgotten. You could come across as bossy since you'll want those close to be as alert and energetic as you are. Sweeping them up in your enthusiasm will get better results than being too forceful. You won't be as sociable for a while so pampering yourself in the quiet moments will keep your morale high. After midmonth you'll fire ahead with plans for 2022, happy in the knowledge that you have support behind you. As the New Year approaches good news about money will bring security.
and Next Month's Horoscope for January
You'll be talking with vigour but not acting in any direct way for most of the month. Mercury in your own sign will make you restless, scattered and wanting to communicate with as many people as possible. But you'll know there's not much can be done to push certain projects into forward gear until your birthday Sun turns up after the 20th. Content yourself with preparing, refining your plans, unpicking mistakes and recharging your batteries. You won't be as sociable as usual but you'll still be keen to lend a helping hand and a listening ear to anyone who needs your support. Luckily energetic friends will be on hand with support and advice when you need it. Don't give into private worries around midmonth since you'll be making too much over what will pass. You can't always change circumstances but you can change your attitude. Into the final days your courage, confidence and energy will soar as your way ahead clears.
Year Ahead 2021
With the momentous Jupiter Saturn conjunction in your own sign kicking off a new year in 2021, you can guarantee there will be an opportunity to get off onto a better footing. Jupiter will bring enthusiasm, optimism and luck with improved relationships and resources being drawn your way. At the same time sober, sensible Saturn hints that getting a grip of practical problems and clearing out of your life what is no longer essential will be a priority. So you'll bounce between exuberance and caution and it may feel a stop start time. If you can aim for slow but steady progress you'll be fine. There will be upheavals at home especially early on which won't make it easy to stay calm but smoothing over differences will be wise given that the year will bring its ups and downs in the family and in your domestic environment. If you can embrace change as a challenge to test out what is less familiar and see that as positive rather than the opposite, you'll do well.The Eclipses will set up one theme for the first half year of friendships and future plans. You won't let the grass grow under your feet since you know tomorrow won't look after itself. Your social circle will widen which will give you fun company as well as good advice.More money will roll in for a few weeks after the middle of May and again near the new year into 2022, so you'll be treating yourself to the odd indulgence. Later in the year you'll be letting your hair down and kicking up your heels on the party scene. If you've been feeling short on love, affection and attention now is the time to remedy that by handing out compliments and hugs. What you give out will come back to you.