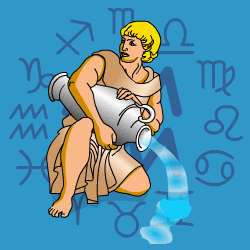 Aquarius
January 21 - February 19
---
Your Birthday Horoscope
IF ITS YOUR BIRTHDAY TODAY your year ahead will be a stop start time when you'll move between stuck patches and then ones of constant changes especially at home. You'll hold steady since you know this is when you can prepare and plan and you will charm those close into doing what circumstances prevent you from tackling. If there are upheavals within the family reassure yourself that in the long run they will offer you more freedom to suit yourself. Money will flow through more easily to keep you cheerful.
Today's Horoscope for Thursday January 27th
Your attitude to money will be easy come, easy go for a few months as you spend what comes with an eye to extravagances and indulgences. Learning to be more disciplined and saving would be an idea. Think of animals storing food up for winter. They always have an eye to the future when there may not be as much bounty around. One a delicate emotional topic you will have strong feelings which you keep firmly to yourself. But gradually you will sense that one resentment has been put to rest.
The Weekly Outlook from 24th January
In coming weeks you may not always be clear what is blocking to you and why you feel frustrated. But you need to listen to the subtle cues and pick up on the undercurrents in your surrounding atmosphere. If you can intuit what isn't being spoken it will become clearer. Today in particular be careful about you handle a tricky situation. It's important not to become obsessed by irrelevancies or blinkered, so focused in on the detail that you can't see the broad picture.
Your Monthly Horoscope for January
You'll be talking with vigour but not acting in any direct way for most of the month. Mercury in your own sign will make you restless, scattered and wanting to communicate with as many people as possible. But you'll know there's not much can be done to push certain projects into forward gear until your birthday Sun turns up after the 20th. Content yourself with preparing, refining your plans, unpicking mistakes and recharging your batteries. You won't be as sociable as usual but you'll still be keen to lend a helping hand and a listening ear to anyone who needs your support. Luckily energetic friends will be on hand with support and advice when you need it. Don't give into private worries around midmonth since you'll be making too much over what will pass. You can't always change circumstances but you can change your attitude. Into the final days your courage, confidence and energy will soar as your way ahead clears.
and Next Month's Horoscope for February
Your birthday Sun for three weeks will bounce you into better humour despite a few serious moments in the first week when a delay or setback turns up to slow progress. You know this is a time in your life for clearing the decks of whatever does not belong to the future but this is a process not a one-off event. So in slow stages you are letting go of inessentials. Behind the scenes you'll be pulling strings and ensuring that you motivate those close into lending a helping hand. Secret discussions may get intense at times but digging in your heels too hard won't help. After midmonth you'll be open about what you want and encouraging everyone else to be forthright as well. Jupiter will bring luck on the money front early and late in the month. In the final days you'll be keen to boost your finances in order to give yourself more spending power. Balancing what goes out with what comes in will be vital.
Year Ahead 2022
Despite the ups and downs, stop-start feel as 2022 gets under way, you'll at least have the satisfaction of knowing your finances are in better shape. The winds of good fortune will be blowing behind you for several months ahead and again at the year's end bringing money your way. You'll be spending liberally so may not end up with much surplus but you'll be happy to spoil yourself.rnJust have a slight care since Neptune is still hanging around in Pisces which tends to make you careless or overly generous and taken in by sad stories. So you'll need to protect yourself.rnThe year will be divided between phases where you push work and outer ambitions ahead, early and late, and the middle months where you focus on home and family matters. Putting changes in place in your domestic life and family relationships to bring you more comfort and contentment will be a priority. There will be disruptions and unsettled patches so you'll need to steer a middle course and try to keep loved ones in good humour.rnYou'll sense you are slowly coming to the end of an old cycle in your life. The new phase won't get underway just yet, but this is a phase for tying up loose ends and getting prepared. Getting a grip of certain situations which seemed out of your control will be important but you'll need to tread softly and not expect overnight results.rnFrom August onwards till the New Year you'll be on a roll with high vitality and passionate enthusiasm sending you into a pro-active, spirited few months. You won't be holding back, will want your own way and be throwing yourself into enjoying yourself in a major way.