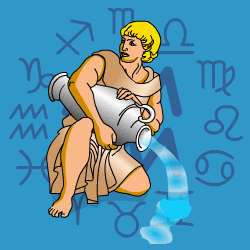 Aquarius
January 21 - February 19
---
Your Birthday Horoscope
IF ITS YOUR BIRTHDAY TODAY your year ahead will be exuberant and boisterous as well as serious and realistic. You'll flit from optimism to the opposite in the blink of an eye. So finding a way of merging grand plans with practical considerations will be crucial. Keep an eye on cash since you're likely to be careless or vague. Changes and some upheavals in your home and family life may feel unsettling but in the longer term will bring you freedom to suit yourself. Just don't rock the boat too hard.
Today's Horoscope for Saturday January 23rd
You'll be so exuberant you reckon everything you touch will work. Sometimes you can trust your instincts but you will need to take some of your wilder schemes with a pinch of salt. Check and re-check that what you are aiming for is sensible and workable. And try not to put loved ones or friends on pedestals. You could be disappointed if you expect miracles. If you can be realistic as well as forgiving then you'll find one encounter turns out to be delightful.
The Weekly Outlook from 18th January
Sudden breakthroughs or bonuses could turn up without warning and you may be offered a chance to travel at short notice. Restless and excitable you'll need more stimulation and challenge and find settling down difficult. Your approach to old dilemmas will be original, so you'll find new solutions suddenly. Where others are concerned what they get with you is what they see. You will not hide much away, indeed you will pride yourself on being upfront. Not that you'll put on a performance. It'll happen instinctively.
Your Monthly Horoscope for January
Never your most go-ahead month of the year, you'll be proceeding slowly for three weeks. Your social life will be less vibrant than usual so you'll be pampering yourself in the quiet moments and giving to loved ones knowing your rewards will come next month. Busying yourself with reorganising at home or sorting out family matters, you won't always be as patient or tactful as you might be. But getting agitated by the slow speed of progress won't help. Rally up support by being cheerful despite the restrictions and delays. After the 8th you'll be chatting animatedly and morale-boosting and motivating where it is needed. You'll also be practical and down-to-earth when the situation calls for it. Your birthday Sun after the 19th won't resolve all problems or smooth out the stop start flow of events, but you'll be feeling enthusiastic enough to cope with anything.
and Next Month's Horoscope for February
You won't know whether to turn your attention to your domestic reorganisation plans, sorting out family squabbles or playing truant to enjoy yourself. With your birthday Sun in place you'll be in an exuberant mood. Venus close by will turn your charm up full volume and expansive Jupiter will bring luck your way. But there will be a few irksome moments when you have to set your mind on serious matters and pull back from fun. There will be disruptions and upheavals at home, either emotional or practical. It won't always feel settled so you'll need to keep a steady hand on the tiller and not allow yourself to be bounced into impulse decisions or actions. Certain pet projects will be on a go slow until early next month so use the time wisely to go back to the drawing board and refine your ideas. After the 18th you won't feel as jangled and will be in a mood to indulge.
Year Ahead 2021
With the momentous Jupiter Saturn conjunction in your own sign kicking off a new year in 2021, you can guarantee there will be an opportunity to get off onto a better footing. Jupiter will bring enthusiasm, optimism and luck with improved relationships and resources being drawn your way. At the same time sober, sensible Saturn hints that getting a grip of practical problems and clearing out of your life what is no longer essential will be a priority. So you'll bounce between exuberance and caution and it may feel a stop start time. If you can aim for slow but steady progress you'll be fine. There will be upheavals at home especially early on which won't make it easy to stay calm but smoothing over differences will be wise given that the year will bring its ups and downs in the family and in your domestic environment. If you can embrace change as a challenge to test out what is less familiar and see that as positive rather than the opposite, you'll do well.The Eclipses will set up one theme for the first half year of friendships and future plans. You won't let the grass grow under your feet since you know tomorrow won't look after itself. Your social circle will widen which will give you fun company as well as good advice.More money will roll in for a few weeks after the middle of May and again near the new year into 2022, so you'll be treating yourself to the odd indulgence. Later in the year you'll be letting your hair down and kicking up your heels on the party scene. If you've been feeling short on love, affection and attention now is the time to remedy that by handing out compliments and hugs. What you give out will come back to you.