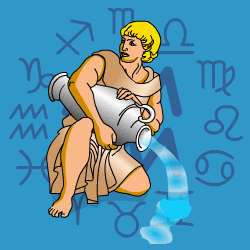 Aquarius
January 21 - February 19
---
Today's Horoscope for Tuesday March 28th
You may be right but are you being persuasive? If you can communicate your sense of vision and uplift companions then all will work well. If you come across as self-righteous they may back away. Think through not just your ideas but your approach before you launch in. You will be vague about money, maybe careless, even irresponsible. Neptune around makes you feel that being too materialistic is beneath you. But you have to keep your feet firmly on the ground if you are not to make yourself insecure.
The Weekly Outlook from 27th March
You could be edgy and a too perfectionist for team relationships at work or around the chores in coming weeks to be smooth. Go your own independent way and take pleasure in tasks being well done. The steadier you are the better. There are times when throwing caution to the winds is for the best. But this isn't one of them. Be exceptionally meticulous and attentive to detail. If anything labour every point and you will find soon that you are glad you did. Your achievements will be long lasting.
Your Monthly Horoscope for March
Keeping a watchful eye on your personal finances will be wise with Saturn moving into Pisces for two years ahead. Not because it points to problems more that it rewards thrift, prudence and practical management of money. Getting reorganised and holding back on indulgences and extravagances will pay off in peace of mind as you secure your long term prosperity. Your energy and passionate enthusiasm will keep you buoyant apart from a minor dip mid month. You'll be happier at home and cuddling up close after the 16th and taking a chance to reflect on changes you'd like to make to the decoration of your surroundings. Having colour and elegance around will lift your spirits. There's no doubt you will feel a significant shift in your life with Pluto moving into Aquarius towards the month's end. Giving yourself a chance to deepen you understanding of yourself and how you fit into your environment will be one of its gifts. Though it will be a slow process and may feel pressured and challenging as you move through a time of transformation.
and Next Month's Horoscope for April
Always a sign that appreciates good conversation and lively discussions, you'll be in your element as you zip through a busy everyday schedule with plenty of encounters and opportunities to hear new ideas. Your ability to express yourself confidently and to listen with an open mind to different viewpoints will bring positive feedback as well. There may not be much time for depth or detail as you skip along and that will suit you admirably. Though you will grab a few opportunities for heart-to-heart chats with loved ones at home and in the family as you come to terms with recent events. A fun sociable few weeks begins on the 11th with your diary filling up fast with intriguing invitations and loved ones rallying round with gestures of support. What is vital with Pluto from late last month now in Aquarius is that you give yourself space to ponder on the far-reaching changes which it will bring. Nothing instant, sudden or jolting will happen since it will be more of a slow process. You'll be re-evaluating how you fit into your environment and starting to gain insights into your own make up. Self-understanding will be key to the time ahead.
Year Ahead 2023
Opening your mind to alternative views, you'll be pleasantly surprised at your new found tolerance and ability to get your views across with confidence and clarity. Your communications skills will bring you praise and will improve your everyday relationships at work and in the neighbourhood. Taking it slowly into the New Year, you'll build up a head of steam to put much needed changes in place. Gradually as you gain insight and understanding, you'll be able to handle personal dilemmas with skill and positive outcomes. Which is not to say there won't be challenges and pressures. Transformation comes along with Pluto and moving into your own sign for the first time from March, means casting off an old skin and emerging into a new phase of your life. Being sensible with money will be vital with Saturn moving into Pisces for two years which is not necessarily disastrous but does suggest that getting better organised will pay off in the long term. This may mean tightening your belt slightly and doing without a few indulgences and extravagances in order to give you peace of mind as you build up your security. The mood at home will be happier from May onwards and you'll be more content within yourself for the rest of the year, happy to relax and wind down. Family tensions should ease and you'll be planning ways of expanding your domestic environment to allow for more entertaining.