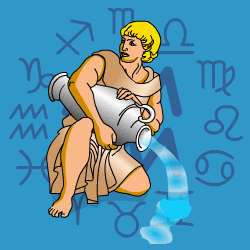 Aquarius
January 21 - February 19
---
Today's Horoscope for Saturday February 29th
Still intent on getting yourself better informed about money matters, you'll be keeping close companions up to scratch as well. Your concentration will be good once you settle down to tasks. More stubborn than usual, you are digging your heels in quite hard. And no one will shout you down since you are coming across as determined. Though on the whole you want to avoid confrontations, since you prefer a harmonious mood. Try not to go off in too many different directions at once.
The Weekly Outlook from 24th February
Cast your eye six months or even a year ahead and work out where you want to be at that point financially as well as emotionally. Once you have set your goals, you then need to work out a practical plan for fulfilling them. You can't just hope it all shakes down, give yourself a push. In the near future you'll have a yearning for intensity in your love life. This could be the trigger for a new relationship that will then last. Though it could also bring up jealousy or envy so watch your step slightly.
Your Monthly Horoscope for February
Revitalised and exuberant, you'll be champing at the bit and raring to go. Having made your good resolutions for the year ahead around your birthday you'll be keen to get cracking. There'll be little to hold you back apart from your own private concerns. Give yourself a shake. Energetic and supportive friends are around for the first two weeks keen to lend a helping hand with support and advice. There'll be thoughtful gestures coming from everyday mates at work and in the neighbourhood as well. It won't be grand passion but you'll feel appreciated. Playing your cards more subtly from mid month onwards will be vital with Mars disappearing into the sign before yours. You'll pull strings behind the scenes and persuade others to fill in where you can't. Not that you'll be idle since a packed schedule in the final days will find you racing around, sorting out domestic situations and being forthright.
and Next Month's Horoscope for March
You'll be juggling the need to keep an eye on your finances with a yearning to do less and put your feet up in peace and quiet. Family relations will be harmonious and you'll ponder on ways to spruce up the decoration at home to provide more elegant surroundings. The temptation will be to ignore details and take money matters on trust which won't be wise since you'll at least end up in a muddle or worse someone will pull the wool over your eyes. Try to be firmer with yourself never mind with those close. In quiet moments you'll mull over the past and gradually come to terms with old hurts and self-doubts. As a result you'll grow more contented and build up your inner confidence. There will be moments where you feel all is well with your world, followed by other moments when you need to overcome setbacks. If you take the rough with the smooth you'll sail along in good spirits. A speedy final few days will banish boredom as you cope with an interesting varied schedule. You'll also be more serious, recognising you have reached a crossroads, when you have to firmly walk ahead and not look backwards over your shoulder.
Year Ahead 2020
Normally a chatty, outgoing sign who thrives on having a wide circle of friends and rarely sitting still, you'll find 2020 a more inward-looking and reflective year. You will be pondering on far-reaching dilemmas - where to go and what to do that will bring you more fulfilment in future. Although there will be barren patches where you can't see clearly ahead, there'll also be times of optimism and exuberance, when you'll see how to turn certain dreams into reality. Try not to hold yourself back by being too blinkered and refusing to listen to feedback. Help and advice will come from an unexpected quarter and possibly in secret, so you'll need to stay open and be prepared to compromise with your old attitudes.rnFrom March you'll feel you've passed a decisive line and be on your way into a new phase, not with spectacular results initially. This will be a slow burn start, as you sort out your priorities. Old friends may find you a touch defensive or retiring but you'll need space to absorb your new found strategy for living.rnNot that you'll be hiding away for long since Venus will nudge you back out onto the party scene between April and August. There'll be invitations galore, compliments and new admirers for those on the lookout.rnA speedy everyday schedule in the second half year will also keep boredom at bay as you surge ahead with renewed vigour. You won't always be tactful if you hit delays or other people's mistakes and will express your opinions with a degree of force. Watch that you're not accident prone since you could be hashing and crashing around in your determination to get everything done in double quick time.rnTowards the year end you'll turn your mind back to friends again, keen to catch up on old acquaintances and to widen your circle in the months thereafter. You'll be keen to find a way of being sensible as well as enthusiastic with both down-to-earth Saturn and expansive Jupiter in your own sign.