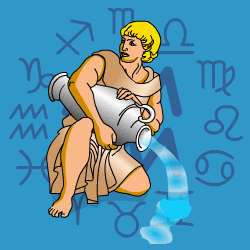 Aquarius
January 21 - February 19
---
Today's Horoscope for Sunday May 28th
Learning the lessons of generosity may come hard but will pay off. You may be slightly shorter of money than you might like but you should not withhold your feelings. If you have concerns that are bearing down on you, making you feel you're not doing as well as you want, give yourself a shake. Be sensible and admit if something isn't working. Cut your losses, concentrate on your successes, change what you can and accept what you can't change. A definite decision to face reality will boost your spirits.
The Weekly Outlook from 22nd May
In coming weeks your energy should feel less drained than it has done recently with Mars now moving on a sign. will be able to sell yourself with more vigour and waken close partners up. Have a slight care initially since you could bounce into a situation that you thought was going to work wonderfully and your expectations may fall short. That Sheer joie de vivre will carry you along, but a little self-discipline never goes amiss with Jupiter around.
Your Monthly Horoscope for May
Home will be where your focus is firmly set for three weeks. You know you have to cope with ups and downs in the family and a few disruptions but where there is a will you'll find a way. Lending a helping hand to loved ones will ensure they feel supported and you'll get your rewards in due course. Since you'll be working hard and being of service, you'll need to boost your stamina and put fitness up your priority list. Eating sensibly and exercising moderately will help. A happier, more contented mood will arrive after the middle of the month courtesy of Jupiter moving into your chart area of domestic and family matters to stay for a year. Settled within yourself, you'll be ambling along finding patience and acceptance are your watchwords. Close partners may get wound up and over-heated for a few days and you'll need to act as a calming force. Into the final days you'll be laughing and flirting although keeping a watchful eye on your finances at the same time.
and Next Month's Horoscope for June
Into a vibrant, fun-loving three weeks, you'll find loved ones rally round with gestures of appreciation and affection and party invitations pour in. You'll sparkle in the spotlight and push all thoughts of work and chores to one side for a while. One close partner will be especially affectionate with recent tensions ironed out and you'll be in demand elsewhere as well. Your knack of making everyone you meet feel special will keep your popularity soaring.rnFrom the 11th Pluto retrograding into Capricorn for a few months will bring moments of deep reflection as you reflect on loose ends remaining from old dilemmas you thought had been finally resolved. With ingenuity and effort you will finally get closure in the time ahead.rnInto the final days you'll push aside thoughts of entertainment and knuckle down to essential chores and getting to grip with a few financial matters that need sensible handling.
Year Ahead 2023
Opening your mind to alternative views, you'll be pleasantly surprised at your new found tolerance and ability to get your views across with confidence and clarity. Your communications skills will bring you praise and will improve your everyday relationships at work and in the neighbourhood. Taking it slowly into the New Year, you'll build up a head of steam to put much needed changes in place. Gradually as you gain insight and understanding, you'll be able to handle personal dilemmas with skill and positive outcomes. Which is not to say there won't be challenges and pressures. Transformation comes along with Pluto and moving into your own sign for the first time from March, means casting off an old skin and emerging into a new phase of your life. Being sensible with money will be vital with Saturn moving into Pisces for two years which is not necessarily disastrous but does suggest that getting better organised will pay off in the long term. This may mean tightening your belt slightly and doing without a few indulgences and extravagances in order to give you peace of mind as you build up your security. The mood at home will be happier from May onwards and you'll be more content within yourself for the rest of the year, happy to relax and wind down. Family tensions should ease and you'll be planning ways of expanding your domestic environment to allow for more entertaining.