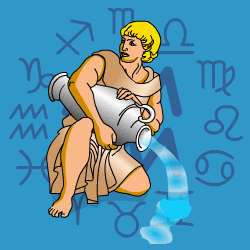 Aquarius
January 21 - February 19
---
Today's Horoscope for Wednesday July 15th
This is when you need to make room for creative change in your life. Try to let go of old patterns of behaviour that have been holding you back. Transformation is never simple, especially at an emotional level, but you will benefit from abandoning what does not with your present circumstances. You will be asking yourself probing questions and tuning into aspects which others never see. Allow yourself to plumb greater depths but realise that does not means everyone does. So be sparing in what you say.
The Weekly Outlook from 13th July
You'll be tempted to put your feet up in a corner and do less. But if you can find self-discipline to get work done then you'll find the good luck of Jupiter, lasts longer. If there are sulks or broody silences around at home or at work, not giving in to them will be the best course of action. The silent treatment is only effective if you allow it to continue. Bring grievances out into the open as firmly and tactfully as you can manage. Then the tense mood will lift.
Your Monthly Horoscope for July
You may feel weighed down by duty and responsibility so you'll need to find a way of injecting more interest and enthusiasm into your working life and chores in the months ahead. Hard work will be unavoidable with the possibility of taking on extra tasks. So you'll need to stay on top form which means revising your fitness regimes and diet to give yourself more energy and boost your stamina. Looking after yourself by taking rest and relax stops along the way will also help, since good health isn't all just physical. At times in particular towards mid month you may over-estimate what you can handle and over commit yourself. Remember it's OK to put down limits to yourself as well as to demands from others. Though you will be racing around, all revved up, so being sensible won't be easy. There'll be more support in the final days as one close partner steps in with an offer. And you'll have fun down time out on the social scene.
and Next Month's Horoscope for August
Normally an independent sign, you'll be pleased to have a helping hand and a shoulder to lean on from a close partner. The more you share, care and co-operate, the more support will come your way. Out on the social scene you'll also be spreading your charm around making everyone you meet feel special. There may be a few surprising events blow up at home or in the family early on but try not to let yourself be spurred into speedy action. You may over-estimate your ability to turn one tricky situation round. Going too far too fast will only send you off in the wrong direction and you'll have to start all over again by the middle of the month. The more you give to close partners the more they'll remember your generosity early next month when they'll be happy to shower you with affection. In the meantime you'll be pampering yourself in the odd quiet moment. Into the final week, you'll be secretive, intense and ultra-determined. Sorting out confidential, financial and emotional tangles, will keep you occupied.
Year Ahead 2020
Normally a chatty, outgoing sign who thrives on having a wide circle of friends and rarely sitting still, you'll find 2020 a more inward-looking and reflective year. You will be pondering on far-reaching dilemmas - where to go and what to do that will bring you more fulfilment in future. Although there will be barren patches where you can't see clearly ahead, there'll also be times of optimism and exuberance, when you'll see how to turn certain dreams into reality. Try not to hold yourself back by being too blinkered and refusing to listen to feedback. Help and advice will come from an unexpected quarter and possibly in secret, so you'll need to stay open and be prepared to compromise with your old attitudes.rnFrom March you'll feel you've passed a decisive line and be on your way into a new phase, not with spectacular results initially. This will be a slow burn start, as you sort out your priorities. Old friends may find you a touch defensive or retiring but you'll need space to absorb your new found strategy for living.rnNot that you'll be hiding away for long since Venus will nudge you back out onto the party scene between April and August. There'll be invitations galore, compliments and new admirers for those on the lookout.rnA speedy everyday schedule in the second half year will also keep boredom at bay as you surge ahead with renewed vigour. You won't always be tactful if you hit delays or other people's mistakes and will express your opinions with a degree of force. Watch that you're not accident prone since you could be hashing and crashing around in your determination to get everything done in double quick time.rnTowards the year end you'll turn your mind back to friends again, keen to catch up on old acquaintances and to widen your circle in the months thereafter. You'll be keen to find a way of being sensible as well as enthusiastic with both down-to-earth Saturn and expansive Jupiter in your own sign.