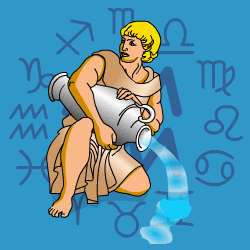 Aquarius
January 21 - February 19
---
Today's Horoscope for Tuesday November 28th
If you are thinking of throwing a party or even inviting friends round for supper you will want it to be colourful, even grand, or with an exotic theme. Think where you would most like to be on holiday and bring that into your home. Aim to be flamboyant and exuberant and you'll end up in the spotlight, basking in the limelight. It won't be a day to keep your feelings to yourself. Go flirt, have fun, play games with loved ones. Forget routine chores and duck out if you feel an order coming your way.
The Weekly Outlook from 27th November
Although you know you should be sorting out long term plans, what you would prefer is to play away the day and enjoy yourself. Balancing the needs of the future with your instant desire for fun is part of the message of this week's Full Moon, which will have an effect for a few weeks. Find a way that allows you to to do both. If you keep putting yourself across to loved ones in a way that makes them understand where you're coming from, you'll draw closer.
Your Monthly Horoscope for November
This is your peak for the year so you will be in a prominent position at work or in your community activities, taking the lead and demanding recognition. There is no sense in being a shrinking violet and hiding in a corner. Be bold and display your talents and achievements. The right people will be impressed by your courage and ambition. Loved ones may complain that you are being bossy but your direct approach will cut through confusion and sort out muddles. There will be a few upheavals at home or in the family between the 11th and 13th, which will be best negotiated by staying calm and not over reacting. Look for the silver linings in situations which initially seem unfortunate since you'll be offered a chance to change in a positive direction. Friends will be around in increasing numbers offering feedback and entertainment. Into the final week you'll be looking ahead keen to get cracking with future plans. Though financial practicalities may distract you temporarily.
and Next Month's Horoscope for December
Friends will rally round to keep you company and give you reassuring support and advice. Always at your best when you are surrounded by close mates and your favourite buddies, you'll adore the choice and variety on offer and will not be standing still for long. Your social status will soar with invitations coming in to special occasions. You will spruce you your appearance and put on a sparkling performance. Remember to stay in touch with your feelings inside as well as putting on a good show for others. Loved ones at home will be good humoured and enthusiastic, keen to rally round when required and join you in indulgent moments. Keep a watchful eye on money matters after the middle of the month since carelessness could cost. Into the final week you'll step back, wind down and be happy to let others do the running around and take the strain. You'll relish the chance to recharge and recentre.
Year Ahead 2023
Opening your mind to alternative views, you'll be pleasantly surprised at your new found tolerance and ability to get your views across with confidence and clarity. Your communications skills will bring you praise and will improve your everyday relationships at work and in the neighbourhood. Taking it slowly into the New Year, you'll build up a head of steam to put much needed changes in place. Gradually as you gain insight and understanding, you'll be able to handle personal dilemmas with skill and positive outcomes. Which is not to say there won't be challenges and pressures. Transformation comes along with Pluto and moving into your own sign for the first time from March, means casting off an old skin and emerging into a new phase of your life. Being sensible with money will be vital with Saturn moving into Pisces for two years which is not necessarily disastrous but does suggest that getting better organised will pay off in the long term. This may mean tightening your belt slightly and doing without a few indulgences and extravagances in order to give you peace of mind as you build up your security. The mood at home will be happier from May onwards and you'll be more content within yourself for the rest of the year, happy to relax and wind down. Family tensions should ease and you'll be planning ways of expanding your domestic environment to allow for more entertaining.