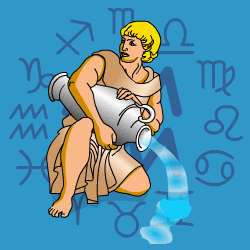 Aquarius
January 21 - February 19
---
Today's Horoscope for Monday October 26th
You'll take time and trouble to speak in as precise and effective a way as possible. Your ambitions will be helped by your communication skills, though you may at times come across as not emotional enough. You will adore the better things of life and your desire for extravagances will send you off over-spending. But you'll have an equally strong desire for security and the need to be solidly protected. So you'll need to find a way of balancing both.
The Weekly Outlook from 26th October
Socially charming, you'll want to mix with a variety of people and to explore new leisure activities. Getting out of your normal rut to find enjoyment with companions who will stretch your mind, will keep you entertained. If there are repercussions at home or other circumstances blow up causing a minor domestic upheaval, just accept that the winds of change are moving you in a new direction. One that will allow you to be more yourself in the time ahead.
Your Monthly Horoscope for October
Your mind will be in over-drive with thoughts flying around as you think big and aim higher. You'll be racing along at speed so not inclined to pay attention to detail or boring practicalities. Just don't get ahead of yourself or start arguments when companions get in your way. Just remember that not everyone is on your wave length or revved up to the degree you will be. Confidential matters will hold your attention since you know there's a fair amount of behind-the-scenes sorting-out to do before you'll be free to suit yourself. Relish the odd moment you can find for quality time for yourself when you can relax in your own company and not be bothered by interruptions. You'll be sifting and sorting through future plans since you know you'll have to decide what to bring with you from the past and what needs to be abandoned as no longer fitting with your present circumstances. Secret presents and gestures of generosity will leave you gratified. Into the final ten days you'll be pushing certain key ambitions ahead and being decisive.
and Next Month's Horoscope for November
Sailing along on a sea of enthusiasm, you'll have grand plans but will need to slow down once in a while to check which are realistic. Nothing will stop you promoting your pet causes with gusto to anyone who'll listen. Your social life will be adventurous with a fun crowd and intriguing new activities to keep you on your toes. This is your high-profile phase of the year so you'll be working hard, taking the lead and finding others follow in your wake. At times you may be a touch forceful in the way you express yourself since you won't be suffering fools or slow coaches gladly. But a little tact will smooth your progress. A secret matter of great importance to you will turn out better than you could have dreamt towards mid-month which will give you a glow of private satisfaction. Into the final days you'll be surrounded by friends, sorting out future plans and accepting invitations to fun parties.
Year Ahead 2020
Normally a chatty, outgoing sign who thrives on having a wide circle of friends and rarely sitting still, you'll find 2020 a more inward-looking and reflective year. You will be pondering on far-reaching dilemmas - where to go and what to do that will bring you more fulfilment in future. Although there will be barren patches where you can't see clearly ahead, there'll also be times of optimism and exuberance, when you'll see how to turn certain dreams into reality. Try not to hold yourself back by being too blinkered and refusing to listen to feedback. Help and advice will come from an unexpected quarter and possibly in secret, so you'll need to stay open and be prepared to compromise with your old attitudes.rnFrom March you'll feel you've passed a decisive line and be on your way into a new phase, not with spectacular results initially. This will be a slow burn start, as you sort out your priorities. Old friends may find you a touch defensive or retiring but you'll need space to absorb your new found strategy for living.rnNot that you'll be hiding away for long since Venus will nudge you back out onto the party scene between April and August. There'll be invitations galore, compliments and new admirers for those on the lookout.rnA speedy everyday schedule in the second half year will also keep boredom at bay as you surge ahead with renewed vigour. You won't always be tactful if you hit delays or other people's mistakes and will express your opinions with a degree of force. Watch that you're not accident prone since you could be hashing and crashing around in your determination to get everything done in double quick time.rnTowards the year end you'll turn your mind back to friends again, keen to catch up on old acquaintances and to widen your circle in the months thereafter. You'll be keen to find a way of being sensible as well as enthusiastic with both down-to-earth Saturn and expansive Jupiter in your own sign.