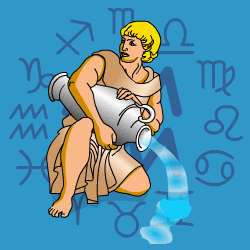 Aquarius
January 21 - February 19
---
Today's Horoscope for Thursday May 23rd
This is your chance to withdraw and just keep yourself to yourself. You don't want to be too open at the moment since everyone around seems preoccupied. You may feel they are ignoring you, but don't take it so personally. In the quiet times, you are finding, through unexpected encounters or situations, that you are more resourceful than you had imagined. You are growing enormously in self-awareness and understanding so try not to get edgy about sometimes being on your own.
The Weekly Outlook from 20th May
In some ways you feel like a child at heart - spontaneous and unselfconscious when it comes to enjoying yourself. You will wear your heart on your sleeve and be very upfront about what or whom you fancy. All those areas of your life that have become stale, a little dull, suddenly become unsupportable. Uranus prompts you to see there is a different kind of life out there if you are willing to take the odd risk and face up to the unknown.
Your Monthly Horoscope for May
Tucking yourself away happily at home with the family for a few weeks will be tempting. Taking time out for heart to heart chats will resolve any recent tensions and bring you closer where it matters. You'll also have a chance to discuss how to reorganise your home life to suit you better. You won't want to be tied down to your intimate surroundings exclusively since your physical energy will be soaring and a busy social life beckons. You'll be out and about kicking up your heels and enjoying yourself. Just try not to be too bossy where loved ones are concerned since they won't appreciate it. From mid month you'll turn your mind to redecorating at home, even if it takes extra effort. And will be happy to put your own needs to one side to ensure those close get what they want. Your popularity at parties won't wane. Indeed you're likely to be out and about more constantly in the final days.
and Next Month's Horoscope for June
Fun-loving, flirtatious and playful, you fully intend to enjoy yourself for three weeks and why not? This is your time to let your hair down, express yourself freely and sparkle in the spotlight. Loved ones should rally round with votes of appreciation and you'll be in demand on the party circuit for your entertaining abilities. Which isn't to say you won't get diverted from time to time by chores and duty. You won't always feel you are getting the rewards you deserve for your efforts so you'll have to make do with patting yourself on the back. Try not to be a perfectionist since you'll only over burden yourself with needless hassle. And if you get too picky with those around they'll back off and not be there to share your burden. Staying on top form health and fitness-wise is vital since you'll be burning the candle at both ends.rnAfter the 21st you won't be socialising as much and into a steadier few weeks.
Year Ahead 2019
Looking ahead you'll see rosy glows on the far horizon with great possibilities in the future. A wide circle of enthusiastic friends will be boosting your self-esteem and handing out helpful advice, which may veer to the over-confident at times, so be sure to double check. But for all that you'll be more inward looking, asking yourself in the quiet moment probing questions about what you really want to be doing with your life. Certain old ambitions have lost their fire and you know you need to let them go and find better for the future. You'll also be clearing out old baggage, whether emotional or old attitudes of mind that have passed their sell-by date. The Solar Eclipses early and late will prompt you to dig deeper for answers. House moves are a possibility or renovations and changes in your domestic setup, as you're drawn to a more modern feel for your intimate surroundings. You'll be restless as well emotionally with changes ongoing within the family. At times you may feel insecure as old certainties seem to disappear. But in future you will reconnect where it really matters in a different way. Your finances will be rebalancing from early on as you decide that sharing and caring and co-operating is more sensible than going it alone. Revising your fitness and health routines and regimes will be on your mind from July onwards for several months. Not over-committing yourself and draining your energy unnecessarily will be one tip. Remembering to stay positive another, since your state of mind will affect your body. If you feel discouraged then your physical fitness will sag. As you near the year's end you'll find that you become more contented in your own protective niche and with yourself. Your hunches will prove spot on about how you can give yourself a more fulfilling time ahead.