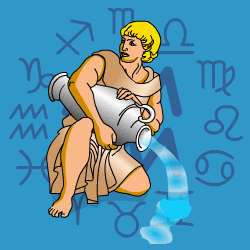 Aquarius
January 21 - February 19
---
Today's Horoscope for Wednesday October 20th
There could be travel muddles, mainly because you are not concentrating on where you are going and when. You will constantly change your mind about your plans. Sit down at the start of the day and write out a list of destinations and times, and you might even arrive at some of them. When it comes to one crucial decision, you'll have to be clear about your standpoint. Delay until you have pondered on various possibilities. If you try to be all things to all people it will not work.
The Weekly Outlook from 18th October
In a get-up-and-go mood, you'll not be pessimistic or cautious. An upbeat approach will ensure you can accomplish more than usual. With determination and good planning, you will find that luck is behind you. But a little care will be needed. Later you may feel edge, as if your pet project is dragging anchor. In reality, you may have achieved a substantial amount, moving one situation over even a fraction. Nothing happens at high speed with Mars and Pluto around.
Your Monthly Horoscope for October
Wreathed in smiles, buoyed up by exciting plans, you won't be sitting still or keeping quiet. Your enthusiastic opinions which you'll spread far and wide could motivate and encourage others or irritate them if you come across as too dogmatic. Lighten up and you'll be persuasive. Travel will be on your mind and even if it isn't possible, you'll be broadening your horizons in other ways, taking up new interests or finding more adventurous mates. You'll raise your sights higher since you'll know this is your planning and preparation phase before putting your brighter schemes into action within weeks. There will be a few setbacks or delays in the week after the middle of the month which will need to be resolved. Then you'll be on your way upwards and onwards.
and Next Month's Horoscope for November
You'll have a steely glint in your eye and nothing will be allowed to get in your way. You have goals to reach, ambitions to achieve and you'll definitely be keen on taking the lead at home and at work. No one will be half-asleep when you come round since you'll be issuing instructions and expecting everyone to dance to your tune and move at your speed. Your direct and decisive approach will bring results even if you do ruffle a few feathers. You won't be as sociable as usual so will be pampering yourself in the few quiet moments you can grab for yourself. The atmosphere at home will be unsettled with a few surprises erupting and you won't be in a mood to co-operate. Try not to rock the boat. You'll start to wind down your dynamic schedule in the final week and take more note of friends and team mates. They'll rally round with support so you won't have to carry so much weight yourself.
Year Ahead 2021
With the momentous Jupiter Saturn conjunction in your own sign kicking off a new year in 2021, you can guarantee there will be an opportunity to get off onto a better footing. Jupiter will bring enthusiasm, optimism and luck with improved relationships and resources being drawn your way. At the same time sober, sensible Saturn hints that getting a grip of practical problems and clearing out of your life what is no longer essential will be a priority. So you'll bounce between exuberance and caution and it may feel a stop start time. If you can aim for slow but steady progress you'll be fine. There will be upheavals at home especially early on which won't make it easy to stay calm but smoothing over differences will be wise given that the year will bring its ups and downs in the family and in your domestic environment. If you can embrace change as a challenge to test out what is less familiar and see that as positive rather than the opposite, you'll do well.The Eclipses will set up one theme for the first half year of friendships and future plans. You won't let the grass grow under your feet since you know tomorrow won't look after itself. Your social circle will widen which will give you fun company as well as good advice.More money will roll in for a few weeks after the middle of May and again near the new year into 2022, so you'll be treating yourself to the odd indulgence. Later in the year you'll be letting your hair down and kicking up your heels on the party scene. If you've been feeling short on love, affection and attention now is the time to remedy that by handing out compliments and hugs. What you give out will come back to you.