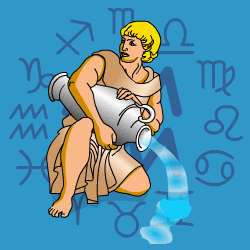 Aquarius
January 21 - February 19
---
Today's Horoscope for Sunday October 02nd
You will insist on getting to the bottom of certain financial matters and will keep digging in your heels until certain people come clean. It is a time for negotiating, looking for compromises and fairer deals all round. It'll be important to sit down to talk through money matters with close partners. Everyone has to be clear what the agreements are. You will be handling discreet information well now, attracting secrets from others without even asking.
The Weekly Outlook from 26th September
Being around friends and involved in group activities will keep you smiling for a few days. In a sociable and outgoing mood you'll be delighted to be one of the gang and any team relationships will run smoothly. Why fly solo when there is so much support on offer around you. But as the week wears on you'll wind down and focus on modest goals, working steadily and cautiously. You know if you aim too high, get overly enthusiastic or too exuberant you could come unstuck. It's all a question of attitude and approach.
Your Monthly Horoscope for October
A bright, curious, chatty sign, you'll be in overdrive this month, keen to push your pet causes and spread your lively opinions in all directions. Broadening your horizons will be your priority whether in terms of knowledge and creative discussions or in travelling further afield. You won't be practical or keen on tedious chores that require attention to detail. Your passionate enthusiasm and high energy will keep you sailing along in good spirits. There will be a few confidential maters, financial or emotional, requiring your attention in the first ten days. If you compromise and aim for a fair agreement you'll fare better than expecting everything to go exactly as you want. Despite a muddle or two around the 12th you'll find a way through to easier times. Not allowing private worries to slow you down will be important. The final week will see you on an upswing, attracting attention and praise and being in a position to cause a few waves.
and Next Month's Horoscope for November
Never was there a better time to flaunt your talents and demand recognition. With the vibrant Sun, chatty Mercury and charming Venus at your midheaven as well as a challenging Eclipse, this is no time to be hiding in a corner or being a shrinking violet. You will be working hard, taking the lead and expecting others to follow along behind. Be bold, keep talking and handing out the compliments and you'll get a positive response from the right people. There will be moments when you want to pull up the drawbridge and have some peace to sort out personal tangles and life at home won't always be plain sailing. So you'll be distracted at times with disruptions or sudden changes in your relationship with loved ones or family member. If you can take it in your stride and not react too impulsively it'll all calm down. Friends will rally round in increasing numbers from the middle of the month onwards so you won't be doing all the heavy lifting yourself. Your enthusiasm and ability to keep the peace will do wonders for your popularity in group activities. In the final week you'll shoot ahead with longer term plans and be keen to achieve your goals.
Year Ahead 2022
Despite the ups and downs, stop-start feel as 2022 gets under way, you'll at least have the satisfaction of knowing your finances are in better shape. The winds of good fortune will be blowing behind you for several months ahead and again at the year's end bringing money your way. You'll be spending liberally so may not end up with much surplus but you'll be happy to spoil yourself.rnJust have a slight care since Neptune is still hanging around in Pisces which tends to make you careless or overly generous and taken in by sad stories. So you'll need to protect yourself.rnThe year will be divided between phases where you push work and outer ambitions ahead, early and late, and the middle months where you focus on home and family matters. Putting changes in place in your domestic life and family relationships to bring you more comfort and contentment will be a priority. There will be disruptions and unsettled patches so you'll need to steer a middle course and try to keep loved ones in good humour.rnYou'll sense you are slowly coming to the end of an old cycle in your life. The new phase won't get underway just yet, but this is a phase for tying up loose ends and getting prepared. Getting a grip of certain situations which seemed out of your control will be important but you'll need to tread softly and not expect overnight results.rnFrom August onwards till the New Year you'll be on a roll with high vitality and passionate enthusiasm sending you into a pro-active, spirited few months. You won't be holding back, will want your own way and be throwing yourself into enjoying yourself in a major way.