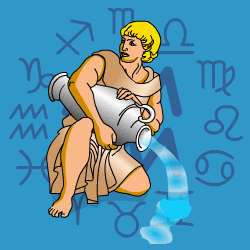 Aquarius
January 21 - February 19
---
Today's Horoscope for Wednesday April 21st
You won't be keen to live on other people's terms or fit into their agenda. You'll keep clearing out of your life whatever is inessential or out of date. You can sense that you are now beginning a new cycle in your life. Try not to go leaping into a situation too emotionally. You'll find you don't want to see it through to the end. With the Moon across the zodiac from your sign you could lose courage or motivation. You'll be better to aim towards happy, reassuring mates.
The Weekly Outlook from 19th April
Over coming weeks domestic and family security will be important. You'll want to step back from your recent busy schedule to take stock and to put your feet up more regularly. Finding time for heart-to-heart chats with loved ones will smooth over any differences. Though after midweek at work you could be too perfectionist for team relationships to be smooth. Go your own independent way and take satisfaction in a job being well done. But don't overload yourself with too many commitments.
Your Monthly Horoscope for April
A busy, varied schedule will keep you on your toes and boredom won't get a look in. There'll be short distance trips, letters, phone calls and other messages to flood you with information and keep you connected. Your charming way with words will bring thoughtful gestures of appreciation from everyday mates and you'll find you don't have to move far from your daily routines to find affection. It may not be grand passion but it'll be pleasant and affirming. You will need to manage your time well and stay organised. Luckily your energy and enthusiasm will stay high so you'll crack on with essentials and still have surplus stamina for enjoying yourself. You may be at risk of bossing loved ones around since you'll want everyone to be as dynamic and active as you, which may not go down well. After mid month you'll turn your attention to home and family matters and slow down your pressured schedule to allow for more relaxation.
and Next Month's Horoscope for May
Putting down roots and giving yourself a much-needed sense of belonging will require you to slow your normally hectic schedule. With more time to put your feet up at home, have heart-to-heart chats with loved ones and reflect over recent events to get them into perspective, you will have a springboard for a busier phase later in the month. The family will appreciate your attention and in the first few days you'll be sprucing up the decoration and entertaining. You'll also find your social life revs up with more invitations coming in and compliments from those close to keep you cheerful. There'll be chores and duties that need to be attended to so it won't all be a picnic. Staying fit and boosting your stamina will be essential. More money rolling in from midmonth will lift your spirits and provide surplus for spending. Into the final week you'll be kicking up your heels and off to enjoy yourself.
Year Ahead 2021
With the momentous Jupiter Saturn conjunction in your own sign kicking off a new year in 2021, you can guarantee there will be an opportunity to get off onto a better footing. Jupiter will bring enthusiasm, optimism and luck with improved relationships and resources being drawn your way. At the same time sober, sensible Saturn hints that getting a grip of practical problems and clearing out of your life what is no longer essential will be a priority. So you'll bounce between exuberance and caution and it may feel a stop start time. If you can aim for slow but steady progress you'll be fine. There will be upheavals at home especially early on which won't make it easy to stay calm but smoothing over differences will be wise given that the year will bring its ups and downs in the family and in your domestic environment. If you can embrace change as a challenge to test out what is less familiar and see that as positive rather than the opposite, you'll do well.The Eclipses will set up one theme for the first half year of friendships and future plans. You won't let the grass grow under your feet since you know tomorrow won't look after itself. Your social circle will widen which will give you fun company as well as good advice.More money will roll in for a few weeks after the middle of May and again near the new year into 2022, so you'll be treating yourself to the odd indulgence. Later in the year you'll be letting your hair down and kicking up your heels on the party scene. If you've been feeling short on love, affection and attention now is the time to remedy that by handing out compliments and hugs. What you give out will come back to you.