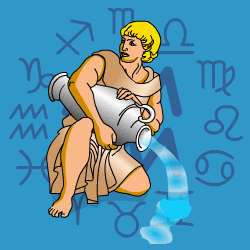 Aquarius
January 21 - February 19
---
Today's Horoscope for Wednesday May 12th
Impulsive and changeable, you won't always be regarded as reliable but your reckoning is that you need to take a few risks and shake life up. You'll aim for broader horizons and more challenges ahead. Then you'll get down to brass tacks and be sharp about detail and the practicalities of putting your game plan into gear. You won't necessarily find it easy to communicate your enthusiasm to those close. Perhaps you're just putting yourself across too cautiously.
The Weekly Outlook from 10th May
Your boredom threshold will be low and your concentration only holding over short bursts. You'll be inventive, inspired and outspoken, but not disciplined or tactful. Try to find an outlet for your high spirits and need for constant stimulation. With Jupiter in Pisces until late July your attitude to money will be easy come, easy go. You'll spend as extravagantly as you acquire it. Learning to be more disciplined and saving for a rainy day ahead would be a great idea.
Your Monthly Horoscope for May
Putting down roots and giving yourself a much-needed sense of belonging will require you to slow your normally hectic schedule. With more time to put your feet up at home, have heart-to-heart chats with loved ones and reflect over recent events to get them into perspective, you will have a springboard for a busier phase later in the month. The family will appreciate your attention and in the first few days you'll be sprucing up the decoration and entertaining. You'll also find your social life revs up with more invitations coming in and compliments from those close to keep you cheerful. There'll be chores and duties that need to be attended to so it won't all be a picnic. Staying fit and boosting your stamina will be essential. More money rolling in from midmonth will lift your spirits and provide surplus for spending. Into the final week you'll be kicking up your heels and off to enjoy yourself.
and Next Month's Horoscope for June
Sociable, fun-loving and happy to be in the spotlight of loved ones' affections and attention, you'll skip your way through three weeks in good humour. It won't all be a picnic or a bed of roses since you'll feel hemmed in for a few days initially. Not pushing against insurmountable obstacles will be sensible. Just hang on in there and all will be well. You'll be inclined to overeat on rich or sweet food to pamper yourself and not always want to exercise it off. But you'll enjoy your treats. From the 11th your energy will be less drained and close partners will be in a pro-active mood. If you throw yourself behind their plans then together you'll fly ahead. They won't always be calm and tactful so you may have to keep the peace. Into the final days you'll be back to the grindstone with chores piling up. Paying attention to fitness and energy will be crucial since you need to be on top form.
Year Ahead 2021
With the momentous Jupiter Saturn conjunction in your own sign kicking off a new year in 2021, you can guarantee there will be an opportunity to get off onto a better footing. Jupiter will bring enthusiasm, optimism and luck with improved relationships and resources being drawn your way. At the same time sober, sensible Saturn hints that getting a grip of practical problems and clearing out of your life what is no longer essential will be a priority. So you'll bounce between exuberance and caution and it may feel a stop start time. If you can aim for slow but steady progress you'll be fine. There will be upheavals at home especially early on which won't make it easy to stay calm but smoothing over differences will be wise given that the year will bring its ups and downs in the family and in your domestic environment. If you can embrace change as a challenge to test out what is less familiar and see that as positive rather than the opposite, you'll do well.The Eclipses will set up one theme for the first half year of friendships and future plans. You won't let the grass grow under your feet since you know tomorrow won't look after itself. Your social circle will widen which will give you fun company as well as good advice.More money will roll in for a few weeks after the middle of May and again near the new year into 2022, so you'll be treating yourself to the odd indulgence. Later in the year you'll be letting your hair down and kicking up your heels on the party scene. If you've been feeling short on love, affection and attention now is the time to remedy that by handing out compliments and hugs. What you give out will come back to you.