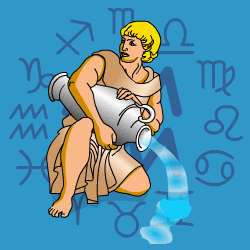 Aquarius
January 21 - February 19
---
Today's Horoscope for Sunday March 07th
If you're unsettled at the prospect of losing aspects of an old emotional way of life, think positively. What will replace it could be sparkling, stimulating and much more alive. Give yourself a chance to mull over the pros and cons. You will want to be helpful to loved ones but will be picking up their unspoken needs. Watch that you're not pulled into carrying their problems. Protect yourself from getting dragged into activities that basically don't interest you.
The Weekly Outlook from 01st March
This could be a delightful day with a sparkling, stimulating, champagne-cork-popping mood around. But it'll only work well if you break away from the routines of your emotional life and head for more thrills and excitement. There's no sense in turning everything upside down but allowing a blast of fresh air to blow through will help. After midweek your boisterousness will bounce you back into life in a major way. But around children or those under your care you could be bossy so be careful to stay tactful.
Your Monthly Horoscope for March
Money and what it can buy will be to the forefront of your mind with the Sun and indulgent Venus both in your chart area of finances. You'll be tempted by extravagances and treats but also concerned that you need to keep your long term security in mind. So pleasure will fight a battle with common sense. What will be vital is to keep an eye on detail since dreamy, smokescreening Neptune is around on the 11th which could distract and mislead, not the least because someone spins a sob story that tugs at your heart. Mainly though you'll be determined to enjoy yourself, play games, grab the spotlight and get your own way. Your physical energy and passionate enthusiasm will be high and no one will damp your self-esteem or good humour. Though try not to order loved ones around since they may not appreciate it. Slowly but surely you'll be finding a solution to highly personal and confidential dilemmas. Your discreet persistence will win the day. After the 20th you'll be speeding ahead, chatting animatedly and charming all the right people.
and Next Month's Horoscope for April
A busy, varied schedule will keep you on your toes and boredom won't get a look in. There'll be short distance trips, letters, phone calls and other messages to flood you with information and keep you connected. Your charming way with words will bring thoughtful gestures of appreciation from everyday mates and you'll find you don't have to move far from your daily routines to find affection. It may not be grand passion but it'll be pleasant and affirming. You will need to manage your time well and stay organised. Luckily your energy and enthusiasm will stay high so you'll crack on with essentials and still have surplus stamina for enjoying yourself. You may be at risk of bossing loved ones around since you'll want everyone to be as dynamic and active as you, which may not go down well. After mid month you'll turn your attention to home and family matters and slow down your pressured schedule to allow for more relaxation.
Year Ahead 2021
With the momentous Jupiter Saturn conjunction in your own sign kicking off a new year in 2021, you can guarantee there will be an opportunity to get off onto a better footing. Jupiter will bring enthusiasm, optimism and luck with improved relationships and resources being drawn your way. At the same time sober, sensible Saturn hints that getting a grip of practical problems and clearing out of your life what is no longer essential will be a priority. So you'll bounce between exuberance and caution and it may feel a stop start time. If you can aim for slow but steady progress you'll be fine. There will be upheavals at home especially early on which won't make it easy to stay calm but smoothing over differences will be wise given that the year will bring its ups and downs in the family and in your domestic environment. If you can embrace change as a challenge to test out what is less familiar and see that as positive rather than the opposite, you'll do well.The Eclipses will set up one theme for the first half year of friendships and future plans. You won't let the grass grow under your feet since you know tomorrow won't look after itself. Your social circle will widen which will give you fun company as well as good advice.More money will roll in for a few weeks after the middle of May and again near the new year into 2022, so you'll be treating yourself to the odd indulgence. Later in the year you'll be letting your hair down and kicking up your heels on the party scene. If you've been feeling short on love, affection and attention now is the time to remedy that by handing out compliments and hugs. What you give out will come back to you.