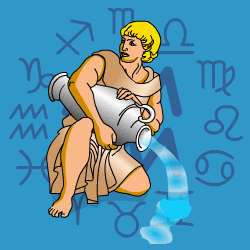 Aquarius
January 21 - February 19
---
Today's Horoscope for Tuesday December 01st
Your concentration will wander and you'll get bored having to listen to feedback. You may say things that startle other people, just to amuse yourself. Bright friends with whom you can have stimulating discussions are a must. You have a wonderfully inventive ideas that get right to the truth of the matter, and you want to be able to share your thoughts. Although on one key topic you may be slow to make up your mind and will come across as an odd mix of tolerant and obstinate.
The Weekly Outlook from 30th November
Although you know you really should be sorting out long term plans, what you really want is to play away the day and enjoy yourself. Balancing the needs of the future with your instant desire for fun is part of the message of the Gemini Full Moon, so you will need to find a way that allows you to have your cake and eat it at the same time. In the rush of coping with everyday matters you may have lost track of what's important. Allowing your inner spark to shine out beats fitting in with everyone else's expectations.
Your Monthly Horoscope for December
Surrounded by good friends which always puts you in good humour, you'll be plotting your way ahead for the New Year. You know you need a strategy and a good game plan to ensure the coming months are better organised than before. Advice and feedback will give you a range of options and alternatives to pick and choose from and instant decisions won't be needed. So you'll be mulling over possibilities for a few weeks. Have a care with cash since you could take your eye off the ball and get careless. Or you'll find your revved-up everyday schedule makes it tricky to stay on top of details. You will get impatient with delays and mistakes but you'll need to stay calm. Mars has been ruffling your feathers for a few months now with too much going on and it has only another few weeks to run. After the middle of the month you'll sense a new phase beginning with both serious Saturn and lucky, confident Jupiter moving into your own sign to stay there through next year. You'll be leaving behind what no longer fits your present circumstances and finding that better relationships and resources will be drawn to you. Ignore one difference of opinion towards the 23rd since confrontations won't work. Thereafter you'll be lighter, brighter and suiting yourself.
and Next Month's Horoscope for January
Never your most go-ahead month of the year, you'll be proceeding slowly for three weeks. Your social life will be less vibrant than usual so you'll be pampering yourself in the quiet moments and giving to loved ones knowing your rewards will come next month. Busying yourself with reorganising at home or sorting out family matters, you won't always be as patient or tactful as you might be. But getting agitated by the slow speed of progress won't help. Rally up support by being cheerful despite the restrictions and delays. After the 8th you'll be chatting animatedly and morale-boosting and motivating where it is needed. You'll also be practical and down-to-earth when the situation calls for it. Your birthday Sun after the 19th won't resolve all problems or smooth out the stop start flow of events, but you'll be feeling enthusiastic enough to cope with anything.
Year Ahead 2020
Normally a chatty, outgoing sign who thrives on having a wide circle of friends and rarely sitting still, you'll find 2020 a more inward-looking and reflective year. You will be pondering on far-reaching dilemmas - where to go and what to do that will bring you more fulfilment in future. Although there will be barren patches where you can't see clearly ahead, there'll also be times of optimism and exuberance, when you'll see how to turn certain dreams into reality. Try not to hold yourself back by being too blinkered and refusing to listen to feedback. Help and advice will come from an unexpected quarter and possibly in secret, so you'll need to stay open and be prepared to compromise with your old attitudes.rnFrom March you'll feel you've passed a decisive line and be on your way into a new phase, not with spectacular results initially. This will be a slow burn start, as you sort out your priorities. Old friends may find you a touch defensive or retiring but you'll need space to absorb your new found strategy for living.rnNot that you'll be hiding away for long since Venus will nudge you back out onto the party scene between April and August. There'll be invitations galore, compliments and new admirers for those on the lookout.rnA speedy everyday schedule in the second half year will also keep boredom at bay as you surge ahead with renewed vigour. You won't always be tactful if you hit delays or other people's mistakes and will express your opinions with a degree of force. Watch that you're not accident prone since you could be hashing and crashing around in your determination to get everything done in double quick time.rnTowards the year end you'll turn your mind back to friends again, keen to catch up on old acquaintances and to widen your circle in the months thereafter. You'll be keen to find a way of being sensible as well as enthusiastic with both down-to-earth Saturn and expansive Jupiter in your own sign.