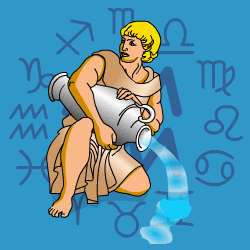 Aquarius
January 21 - February 19
---
Today's Horoscope for Friday August 12th
Try to be as straightforward as possible and don't take the long way round. Maybe you have been deceiving yourself or letting others pull the wool over your eyes. Often it's easier not to say when you discover you have been let down. But don't tell little white lies just to keep the peace. It always comes out into the open in the wrong way. You know you are unwilling to make certain compromises that are being demanded by someone close, but you are equally not sure whether you wish to cast yourself adrift yet.
The Weekly Outlook from 08th August
Where you've been compromising too much or imposing restrictions on yourself will now prove to be unsustainable. You may need courage but you'll be glad once the dust settles that you finally found the impetus to go with the flow and test out a new approach. Where a close relationship is concerned you want more support than you are getting as well as the freedom to please yourself. It may be unreasonable but that's the way you feel. Give yourself breathing space until you have a clearer idea of what you can sensibly expect.
Your Monthly Horoscope for August
The support of a close partner will be essential as you negotiate your way through a bumpy two weeks with sudden dilemmas blowing up at home or in the family. You'll be thrown back on your own common sense and resources as you decide how best to tackle upheavals and uncooperative behaviour. While you're aware that changes have to be made moving ahead on the domestic and emotional front you would prefer if they happened in a steady way rather than in lurches and leaps. But you won't always have as much choice as you'd like. Luckily you are good at detaching yourself from heated situations and won't react as emotionally as some. And with Venus in your opposite sign of Leo from the 11th you'll be pouring oil on troubled waters for the rest of the month. Into the final days you'll find your energy and passionate enthusiasm soars and you'll throw yourself into enjoyable pursuits and be playing games with loved ones. There will be financial matters to sort out in quiet moments as well.
and Next Month's Horoscope for September
Your high vitality and passionate enthusiasm will keep you afloat as you push on to resolve confidential financial and emotional dilemmas. You know you need better agreements and that will require a compromise on both sides. Progress may be slow so persistence will be needed but as you face up to difficulties and negotiate solutions you will grow in resilience and be pleased at how much more secure you feel before the month's end. It doesn't mean you can't take time out to enjoy yourself and be entertained by loved ones who rally round to follow your lead. A positive shift at home around the 11th will open up an opportunity to pursue new interests ahead. Keep an eye on a cash matter midmonth since carelessness could cost. Into the final few days you'll sigh with relief as restrictions ease and you'll look back and be pleased at how far you've come. You'll be broadening your horizons and inviting more adventure into your schedule.
Year Ahead 2022
Despite the ups and downs, stop-start feel as 2022 gets under way, you'll at least have the satisfaction of knowing your finances are in better shape. The winds of good fortune will be blowing behind you for several months ahead and again at the year's end bringing money your way. You'll be spending liberally so may not end up with much surplus but you'll be happy to spoil yourself.rnJust have a slight care since Neptune is still hanging around in Pisces which tends to make you careless or overly generous and taken in by sad stories. So you'll need to protect yourself.rnThe year will be divided between phases where you push work and outer ambitions ahead, early and late, and the middle months where you focus on home and family matters. Putting changes in place in your domestic life and family relationships to bring you more comfort and contentment will be a priority. There will be disruptions and unsettled patches so you'll need to steer a middle course and try to keep loved ones in good humour.rnYou'll sense you are slowly coming to the end of an old cycle in your life. The new phase won't get underway just yet, but this is a phase for tying up loose ends and getting prepared. Getting a grip of certain situations which seemed out of your control will be important but you'll need to tread softly and not expect overnight results.rnFrom August onwards till the New Year you'll be on a roll with high vitality and passionate enthusiasm sending you into a pro-active, spirited few months. You won't be holding back, will want your own way and be throwing yourself into enjoying yourself in a major way.