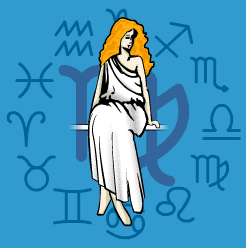 Virgo
August 24 - September 23
---
Today's Horoscope for Monday March 25th
In an intense and secretive time you will be concentrating on confidential matters, both financial and emotional. You certainly won't want outside distractions today. Even if you're on your own for a short while, it won't bother you because it gives you a chance to mull things over from the recent past, to get your head together about one or two things and see what you need to do for yourself. Then you can get back to pushing for better agreements.
The Weekly Outlook from 25th March
You are determined to keep relationships around you smooth and harmonious. But turning somersaults just to keep the peace or avoid confrontations may not always be wise. Be firm but tactful if the need arises. In the mood to flirt after midweek, you're going to be showing a new side of your personality. You'll be very winning and attractive. Loved ones may not be enchanted however. So remember not to burn your bridges behind you. You may want to backtrack later.
Your Monthly Horoscope for March
The more you give the more you'll get in a togetherness three weeks. Being a self-sufficient sign you won't always find it easy to ask for what you need and there will be times when certain close partners appear evasive or less supportive than you'd like. So you'll need to forgive and move on, knowing that co-operation, however imperfect, is better than flying solo. You will take comfort from ensuring that loved ones are looked after and you'll even crack on with the chores in good heart. Over eating could be a minor risk as you'll be tempted by richer and sweeter food. Despite everything you'll be spreading your vociferous opinions in all directions and be fine tuning preparations for your next pet projects for action late in the month. From mid month you'll have a determined set in your jaw and no one will distract you. After the 20th, you'll be playing your cards close to your chest and keeping your own counsel. Only those close will be let in on your innermost thoughts and feelings.
and Next Month's Horoscope for April
Although you'll be happy at home and contented within yourself, you'll feel at times you're pushing boulders uphill elsewhere in your life in the first three weeks. Confidential matters, both financial and emotional, will need attention and fixes found where there have been differences. At times it'll seem all work and no play since loved ones will be demanding and you won't find it easy to let your hair down and enjoy yourself spontaneously. Do what your conscience tells you is enough and then put down a few limits. With Venus in your opposite sign the affectionate support of one close partner won't be in doubt and you'll be in social demand so there will be some high points as well. From the 21st you'll be aiming higher, thinking bigger and talking more confidently, spreading your opinions around widely. Your feelings will be running hot and strong at the same time.
Year Ahead 2019
The good news is you'll feel happier at home, more content within yourself and be contemplating how best to improve your domestic set up. Relationships within the wider family will be easier as well with a generally hopeful mood about sharing ideals and hopes for the future. Which isn't to say you won't feel weighed down at times by the responsibilities that loved ones are landing on you. There'll be less time and energy for kicking up your heels socially. But that doesn't mean you shouldn't try to inject more adventure into your leisure activities and demand more attention for yourself. Your heart will yearn for more exciting trips and travel so make the effort to move out of your comfort zone once in a while. You'll be exploring new ideas and belief systems and opening your mind to a new view of the world. If those close scoff at your unconventional interests you won't care. April to June will find you battling ambitiously ahead, determined to make your mark and gain recognition for your talents. Though it'll be all too tempting to withdraw into your intimate surroundings and stay in your comfortable shell. After mid-year, you'll gear yourself up to sort out a long-term plans that gives you sensible goals to aim for and a practical strategy for making it work. A wider circle of friends will be around to keep you company and offer advice. In general you'll need to manage your finances with an eye to prevailing circumstances which won't be favourable for anyone. Tightening your belt and cutting out extravagances will boost your security and give you peace of mind. From December you'll move into a more buoyant, enthusiastic, sociable and confident phase which augurs well for 2020.