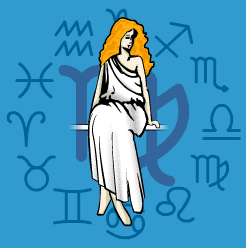 Virgo
August 24 - September 23
---
Today's Horoscope for Tuesday March 28th
In an expansive mood you may be tempted to think you can't be wrong or there's nothing you can't do. If you manage not to go over the score, then you will be able to push your fears to one side and say what you have been hiding away. Neptune will bring spiritual connections or links with creative and sympathetic companions. When the moment is there you'll feel revitalised. But these types of friends can at times be inaccessible, disappearing into their own inner world.
The Weekly Outlook from 27th March
You like to think of yourself as a good team player but at the moment you find your patience is tested in group activities. Co-operation may not be your strong point and in a tight corner you will prefer to be the one making the decisions. But leaping into telling others what you think of them in a direct way, while tempting, could backfire. It's just not very easy for a few days to moderate what you're trying to say. You will tend to either under-do it or overdo it.
Your Monthly Horoscope for March
A month of ups and downs will keep you on your toes with secret presents and good news early on and hints that your energy won't be so drained by demands at work. You'll be looking on one close relationship with a cool, critical eye in the time ahead with Saturn moving into your opposite sign for two years. Try to remember there is positive as well as negative, pluses as well as minuses and no relationship is perfect. The better bonds in your life will strengthen through being tested. You'll be pushing your pet projects and ambitions ahead with vigour for another few weeks but remember you will need to take time out to recharge your batteries mid month. Your social life will lighten and brighten thereafter though you'll also be moving into a secretive few weeks from the 19th, keen to resolve differences on confidential matters. Try not to take too much out of yourself by tackling everything at once. Pluto changing sign on the 23rd hints that staying fit will require a new approach.
and Next Month's Horoscope for April
Although your attention will be firmly focused on secret or confidential matters, financial and emotional, you won't be finding the going too challenging. Luck will be on your side bringing money and generous support your way with less effort than you might have expected. Even better you'll see that beneficial changes are moving you closer to a future of your dreams. Leaving the past behind won't prove a strain or leave regret. Your enthusiasm and optimism will soar as you find a receptive audience for your ideas and opinions. Your social status will soar with invitations to special occasions when you'll be put on quite a performance. Sprucing up your appearance and looking good, you'll be attracting compliments. One close relationship will be moving through a cool phase when there may be criticism around. But you'll value over passion in the months ahead and put great store by loyalty. Not pushing your stamina too hard with over work and heavy commitments will be important in the final days. Staying fit means knowing when to say No.
Year Ahead 2023
Unusually sociable and outgoing as 2023 begins you'll be turning on the charm and enjoying fun company. But your ambitions won't let you idle or play for long. This will be a hard-working phase when you need to stay fit to crack on through the schedule which will stretch out ahead of you throughout the year. Whatever you tackle you'll be keen to upgrade or improve the situation. Your ideas and approach may not meet with general agreement so you'll do best to follow your own path. Hidden support, financial and emotional, for a few months to make you feel secure. As generosity comes your way in various forms you'll slowly let down your guard and draw closer to the right people. Money should come in with less effort than you might expect which will also help. Close relationships will continue to move through muddled times and you could find loved ones preoccupied or evasive and uncertain. Learning to offer sympathy even when there is less support coming back than you would like will pay dividends for the future. You will get your rewards in time. Broadening horizons from May onwards could offer a chance to travel further afield or to bring a sense of adventure into your life in other ways. You'll be open to new ideas and different outlooks, keen to explore in your mind as well as with your feet. Your enthusiasm will soar and you'll be spreading your opinions around a wider circle of friends to great effect.