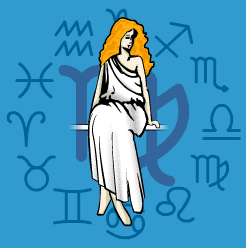 Virgo
August 24 - September 23
---
Today's Horoscope for Friday December 03rd
Use this high-speed time to waken your ideas up but remember the old saying about more haste, less speed. If you hash and crash around you'll run the risk of tripping over your feet. And you'll be inclined to talk too fast with your words spilling out all over the place. Those close may get flooded and miss out on the sense. They will respect your sincerity, since they know your heart is in the right place. Once in a while you'll have to pause to come to a few conclusions before you leap back out again.
The Weekly Outlook from 29th November
Always focused on work, you'll be planning and organising well, in a sensible, self-disciplined way with an eye for detail. For that reason you won't have to backtrack and redo tasks. But once essentials are done and dusted you need to wind down and turn your attention to home and family matters. Putting down roots and finding a sense of belonging is important with the Sagittarius New Moon in place. You want to be surrounded by everything that feels comforting and reassuring.
Your Monthly Horoscope for December
Never a sign to sit quietly twiddling your thumbs you'll be rushing around a busy everyday schedule, getting impatient with delays and other people's mistakes. You'll crack on through chores and down your to-do list at record speed for the first two weeks, but really in your heart of hearts you know that putting your feet up at home is what you need. Focussing on domestic and family matters will bring you peace of mind and security. Even if one partner is evasive or preoccupied, you can still have heart-to-heart chats where it matters. This is your chance to get perspective on the past year and plan ahead so don't be too anxious to rush back into action. If there are differences with those close try to either air grievances and sort them, or even better find activities which catch general enthusiasm and get everyone pulling together. Reorganising will put you in better humour. From the 21st you'll be out and about socialising and having fun with the promise of improved close relationships from New Year onwards.
and Next Month's Horoscope for January
Outgoing, sociable and full of bounce, you won't be hiding yourself away and holding back. You'll sparkle in the spotlight of loved ones' attention and be a hit on the social scene. This is your chance not only to play rather than work, but also to demand attention and allow your individual sparkle to be on display. There will be still be matters to reorganise at home and a few differences of opinion over that but nothing you won't resolve. In odd moments you'll turn your attention to work and practical matters since you always like to keep your eye on essentials. Try not to come across as critical if you spot mistakes. Point them out with a smile. Towards midmonth there could be a hint of jealousy or tension with a loved one since you'll be possessive and want the last word. Try to look more laid back than you'll feel and the moment will pass. Into the final days you'll be back working hard but luckily your energy and enthusiasm will soar so you'll have surplus stamina to allow you to have fun as well.
Year Ahead 2021
As an earth sign, you're usually on top of practical details, tuned into your body and well organised about fitness and dietary matters. But you're also highly strung and can be jittery when there's too much confusion around. You'll need to be rigorous about scheduling quiet time for yourself throughout 2021 to recentre and wind down. The world at large will be following a winding path with hitches, glitches and economic woes, which will impact on you, less in financial terms than in concerns for others. Your opinions may not always meet with agreement but you won't care since you'll insist on speaking your mind and following your own path. Your focus in the early months will be on family and domestic matters since you'll want to put changes in place that will bring you more security and stability ahead. Which won't mean you'll be able to avoid hard work since Saturn in Aquarius will make duty and service to others inevitable. Not over-committing yourself and pushing past your physical limits will be crucial. You'll need to take whatever steps are necessary to boost your stamina and force yourself to delegate. It won't be difficult to find enthusiastic support from those around so you should be OK. One close relationship will flourish for a few weeks after the middle of May and again from late December through next year. You'll begin to see clearly which connections in your life have potential for development and which you will be happy to let drop with a minimum of regret. After the middle of the year you'll switch your attention to work and your community activities. You'll have a niggling feeling that it is now or never for success. That isn't necessarily true but the motivation won't do you any harm. You'll take your courage in both hands, push self-doubts to one side and insist that your talents and achievements are recognised.