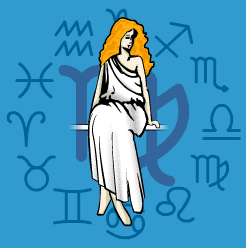 Virgo
August 24 - September 23
---
Today's Horoscope for Monday January 17th
Although you really want the chance to flirt, have fun and enjoy yourself, you may have a thought about sorting out a few longer-term schemes for the rest of the year. If you play away the day, tomorrow may not look after itself. Loved ones have been getting more of your attention and affection recently but you also want to be around friends and acquaintances. You may find yourself spread thin in coming weeks but at least it won't be boring. You need variety not forced to choose.
The Weekly Outlook from 17th January
Fitting in with a fun social crowd can have its compensations since you have many more people to flit amongst. But then you lose the rewards of intimacy and being the sole focus of someone special's attention. What you really want is both the freedom of a network of friends and the adoration of close partners. It may test your ingenuity but it is possible. Though you'll need to clear space after midweek since hard work will be back on the agenda which means getting yourself on top fitness form as well.
Your Monthly Horoscope for January
Outgoing, sociable and full of bounce, you won't be hiding yourself away and holding back. You'll sparkle in the spotlight of loved ones' attention and be a hit on the social scene. This is your chance not only to play rather than work, but also to demand attention and allow your individual sparkle to be on display. There will be still be matters to reorganise at home and a few differences of opinion over that but nothing you won't resolve. In odd moments you'll turn your attention to work and practical matters since you always like to keep your eye on essentials. Try not to come across as critical if you spot mistakes. Point them out with a smile. Towards midmonth there could be a hint of jealousy or tension with a loved one since you'll be possessive and want the last word. Try to look more laid back than you'll feel and the moment will pass. Into the final days you'll be back working hard but luckily your energy and enthusiasm will soar so you'll have surplus stamina to allow you to have fun as well.
and Next Month's Horoscope for February
Hard work never bothers you as a practical sign who likes to be of service so you'll be settling down to a sensible routine, cracking on through the chores for three weeks. It may not be glamorous and you will have to put as much attention on staying fit and boosting your stamina as you do on cracking down your to-do list. But you'll be quietly pleased at yourself by the end of it. Just remember that you do have limits which you need to respect and not over push yourself with too many commitments. Luckily your vitality and passionate enthusiasm will stay high and there'll be plenty of morale boosts from compliments and the appreciation of loved ones to allow you to sail along in good spirits. All month you'll be aware of an improvement in your closest relationships and social contacts with less tensions than before and optimism about what comes next. After the 18th you'll be keen on togetherness and happy to wind down from too much duty and effort.
Year Ahead 2022
2022 will be your year of blossoming close relationships with Jupiter casting an expansive glow over your one-to-one bonds as well as your social interactions. After a few months this planet of good fortune will also attract money your way in windfalls, bonuses or acts of generosity. There will also be a definite shift from May onwards with positive changes ushering you away from the past into a new phase.rnYou'll still be sorting out everyday details and having to stay on top of practical chores early and late in the year. Your imagination will soar across the middle months as you aim higher and will be keen to broaden your horizons and find adventure and challenge. Throughout you need to keep an eye on fitness and health since you will be continuing to learn lessons about where your limits are. Over pushing yourself with work will run you out of energy, so pacing yourself and being sensible will be wise.rnOne close partner may be elusive, evasive or just vague and inclined to lean rather than offer solid support. Being caring and sympathetic will be the best way to cope. You won't be sure how much commitment and togetherness you want anyway, so standing back once in a while will make you feel better.rnFrom August onwards with Mars at your midheaven you'll be firing on all cylinders, pushing ambitious projects ahead and insisting that everyone close wakens up and toes your line. You may be accused of being bossy, but you know that a general wake-up call is needed if you're to make progress.