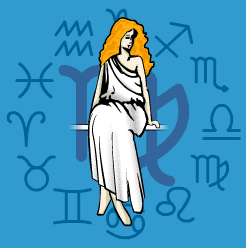 Virgo
August 24 - September 23
---
Today's Horoscope for Monday May 23rd
In a tolerant, expansive and enthusiastic mood you'll be expressing yourself confidently. Mates will be finding you inspiring though at times you may be promising more than you can deliver.rnThere are uplifting influences today but there is a danger of you becoming so filled with your own ideas and confidence that you get self-righteous. If you think you're absolutely right about everything then you are almost certainly wrong. Be open-minded and listen to alternative views.
The Weekly Outlook from 23rd May
You may be sailing along on a wing and a prayer assuming results will come with no effort. There are fortunate influences around but if you push to get into a hard working mood, a little effort will turn your luck into a solid result. After midweek with Mars moving into Aries it could feel like a struggle and you may be frustrated at points because of slow progress and other people's obstinacy. You will have to reach compromise agreements which are fair to all concerned.
Your Monthly Horoscope for May
Together with supportive loved ones and friends, you'll be sailing along in great style. Cooperation will be the way to go and will bring better and faster results. You will be keeping some of your feelings to yourself. Only sharing with a trusted few what is on your mind but you'll be delighted at the generosity coming your way, financially and otherwise. If you keep your sights raised and don't allow yourself to get bogged down in distractions or trivia then you'll overcome any problems. Though Mercury, your ruler, going retrograde after the 11th for three weeks will produce a few minor communication glitches. Luckily at the same time Jupiter moves into Aries to stay for many months ahead which is your chart area of beneficial changes and money. You will find you can move away from the past more easily than you expected and welcome in a new cycle ahead. There should be good news on the cash front during this time with more coming through as well as generous presents. Into the final days you'll be on a high, attracting attention and making a few waves. The right people will be impressed by your abilities.
and Next Month's Horoscope for June
This is your peak month of the year for career and community activities so you might as well muster up the courage to push yourself forward. Get your talents out on display and insist on recognition for your achievements. There's no advantage to being a shrinking violet. Be bold and make waves. It'll take hard work and you'll need to be realistic but that is never a problem for you. What you will have to keep up are your keep fit regimes since you'll need energy with a packed schedule and more responsibilities. Your social life will be adventurous and at times informative since you'll demand more than idle entertainment. From midmonth you'll be in demand for your views and will be the one who has the relevant information on anything and everything. Just don't drown your audience in too many facts and figures. Be concise and you'll be more persuasive. One close partner may be elusive but you won't let that distract you. Friends will be around in the final day and you won't have to work quite so hard. Charm will get you just as far just as fast.
Year Ahead 2022
2022 will be your year of blossoming close relationships with Jupiter casting an expansive glow over your one-to-one bonds as well as your social interactions. After a few months this planet of good fortune will also attract money your way in windfalls, bonuses or acts of generosity. There will also be a definite shift from May onwards with positive changes ushering you away from the past into a new phase.rnYou'll still be sorting out everyday details and having to stay on top of practical chores early and late in the year. Your imagination will soar across the middle months as you aim higher and will be keen to broaden your horizons and find adventure and challenge. Throughout you need to keep an eye on fitness and health since you will be continuing to learn lessons about where your limits are. Over pushing yourself with work will run you out of energy, so pacing yourself and being sensible will be wise.rnOne close partner may be elusive, evasive or just vague and inclined to lean rather than offer solid support. Being caring and sympathetic will be the best way to cope. You won't be sure how much commitment and togetherness you want anyway, so standing back once in a while will make you feel better.rnFrom August onwards with Mars at your midheaven you'll be firing on all cylinders, pushing ambitious projects ahead and insisting that everyone close wakens up and toes your line. You may be accused of being bossy, but you know that a general wake-up call is needed if you're to make progress.