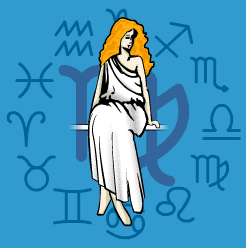 Virgo
August 24 - September 23
---
Today's Horoscope for Saturday January 23rd
You'll be prepared to tackle even large projects. Try to keep in mind that thinking you can't be wrong about anything won't be the best approach. You could go a step too far and get under the skin of those close. Try not to get diverted from your real priorities, either because of a search for thrills or because you'll get spaced out. Later you'll believe the best of a loved one or friend which may not be entirely wise. Cech it out. Be sensible as well as hopeful.
The Weekly Outlook from 18th January
The week will start on a high note with new insights and the urge to be inventive and go your own road. You won't like being tied down and will sense that luck is on your side as you make a bid for freedom. Sudden breakthroughs will pop up without warning. After a few days you'll settle into a working rhythm, being practical, keen to get details in the right place. In the weeks ahead you'll be less worried about getting praise, than in being helpful and being of service.
Your Monthly Horoscope for January
Find the right balance between duty and fun will be important since you'll have chances to sparkle in the spotlight at parties or at least in the centre of loved ones' attention. But work and chores won't be in short supply. You'll feel less trapped since in the closing months of last year and will have adventurous plans forming in your mind. Promoting your pet causes with gusto, you'll be spreading your enthusiastic opinions in all directions. Try not to over commit yourself since you'll need to look after yourself physically and not drain your stamina. Delegate where you can. You'll need to stay fluid and flexible since circumstances will change rapidly. Try not to be too extreme in your approach since you're likely to unsettle more conventional friends who won't be in agreement with your way out and alternative views. But you won't compromise on what you believe no matter the reaction. Less enjoyment and more chores will be the order of the final week as you knuckle down to show what you can achieve.
and Next Month's Horoscope for February
Never one to shy away from hard work, you'll be knuckling down to a fast-moving, variable and busy few weeks. You'll need to watch not to push yourself beyond your limits physically by taking on too many commitments. Delegating may not be easy but you will need to try. You'll be on top of detail, sorting out practical projects and generally making yourself useful. Looking after stamina and fitness will be a priority and that includes giving yourself quiet time to recentre and find inner peace as well as eating and exercising sensibly. In general these are high-tension times and as a sign although your pride yourself on your coping mechanisms, you can also be quite highly-strung s need to find ways of winding down regularly and protecting yourself from the anxiety out in the world. Being of service to loved ones will be fulfilling and you'll need that your rewards will come later in the month when Venus moves into your opposite sign. The Pisces Sun after the 18th will bring more support so you'll be less drained and have a chance to socialise and reconnect with loved ones.
Year Ahead 2021
As an earth sign, you're usually on top of practical details, tuned into your body and well organised about fitness and dietary matters. But you're also highly strung and can be jittery when there's too much confusion around. You'll need to be rigorous about scheduling quiet time for yourself throughout 2021 to recentre and wind down. The world at large will be following a winding path with hitches, glitches and economic woes, which will impact on you, less in financial terms than in concerns for others. Your opinions may not always meet with agreement but you won't care since you'll insist on speaking your mind and following your own path. Your focus in the early months will be on family and domestic matters since you'll want to put changes in place that will bring you more security and stability ahead. Which won't mean you'll be able to avoid hard work since Saturn in Aquarius will make duty and service to others inevitable. Not over-committing yourself and pushing past your physical limits will be crucial. You'll need to take whatever steps are necessary to boost your stamina and force yourself to delegate. It won't be difficult to find enthusiastic support from those around so you should be OK. One close relationship will flourish for a few weeks after the middle of May and again from late December through next year. You'll begin to see clearly which connections in your life have potential for development and which you will be happy to let drop with a minimum of regret. After the middle of the year you'll switch your attention to work and your community activities. You'll have a niggling feeling that it is now or never for success. That isn't necessarily true but the motivation won't do you any harm. You'll take your courage in both hands, push self-doubts to one side and insist that your talents and achievements are recognised.