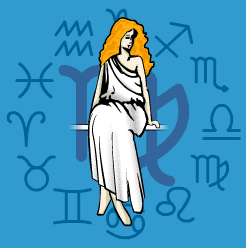 Virgo
August 24 - September 23
---
Today's Horoscope for Wednesday December 02nd
If you're feeling gloomy, know it is unlikely to be important and will pass by so quickly that it's not worth getting fussed about. Aim to be surrounded by friends, team mates, colleagues, companions, the more the merrier since you'll get support and helpful hints. You may be taken aback by certain events which blow up suddenly but you are a sign that is open minded. If you allow your outlook to change you'll find all manner of new doors open for you. Be bold and welcome in the new.
The Weekly Outlook from 30th November
Maybe you have been keeping out of sight at home or with loved ones in recent days but what you really want now is recognition at work or in your community activities. See where you can give your ambitions a nudge and remember that the best way to get more attention is to be of service to the right people. But you also need to find time for yourself. Divide yourself between quiet moments with your feet up and busy patches where you rush around being helpful.
Your Monthly Horoscope for December
Tucking yourself out of sight at home or in a protected corner, you'll want to hunker down and let the world roll by without your assistance for three weeks. Taking a chance to get perspective on recent events and recharge your batteries by relaxing in a favourite armchair will do you good. It'll also be a time when having heart-to-heart chats with loved ones will iron out a few wrinkles and put old resentments to rest. You will find exactly the right words and your soft approach which will be persuasive, though close partners may be elusive if not downright evasive at one point. Thoughtful gestures will come your way from everyday mates at work and in the neighbourhood who will go out of their way to show their appreciation. You'll still be pushing determinedly ahead to resolve confidential tangles, financial and emotional which have been dragging on for months. But the start of January will see an end to them. With Jupiter and Saturn moving into Aquarius after the 17th you'll be focussing on what you can do to be of service to others and how you can boost your stamina.
and Next Month's Horoscope for January
Find the right balance between duty and fun will be important since you'll have chances to sparkle in the spotlight at parties or at least in the centre of loved ones' attention. But work and chores won't be in short supply. You'll feel less trapped since in the closing months of last year and will have adventurous plans forming in your mind. Promoting your pet causes with gusto, you'll be spreading your enthusiastic opinions in all directions. Try not to over commit yourself since you'll need to look after yourself physically and not drain your stamina. Delegate where you can. You'll need to stay fluid and flexible since circumstances will change rapidly. Try not to be too extreme in your approach since you're likely to unsettle more conventional friends who won't be in agreement with your way out and alternative views. But you won't compromise on what you believe no matter the reaction. Less enjoyment and more chores will be the order of the final week as you knuckle down to show what you can achieve.
Year Ahead 2020
2020 will find you struggling to decide what you want to do about your lacklustre social and romantic connections. Circumstances appear to be conspiring against you wakening up your emotional life, at least early on. But don't be disheartened. There's nothing that determination and perseverance can't fix. OK loved ones will be landing heavier responsibilities on you so it will feel like all give and not much get. But gradually you'll see a light at the end of the tunnel. As you learn the lessons of true love in putting others needs before your own you'll find the rewards start to trickle through. Invitations and compliments will come your way and gradually you'll find your efforts to put others first have not been in vain. It'll still be a bumpy ride since it's that kind of year, with nothing staying settled for long. But there'll be social highs in March, June and November. And that will be all the more noticeable across the middle months of the year with Venus at your midheaven giving you the chance to sparkle in the right company.rnFrom March to July you will be landed with more work than usual so need to look after fitness and stamina. If you're putting energy out then you'll need to refill your reservoir. Pushing past your limits won't be a good idea.rnSorting out your finances and other confidential matters will be a preoccupation from July onwards till the New Year. There won't be quick n' easy answers so be prepared for a long haul with compromises needed along the way. There'll be endless distractions and some dramas along the way but you'll keep your head down and be rewarded by more security at the end of it.rnIn the final month you'll pull back to focus on home and family matters, aware that making long overdue changes is crucial. Ask for what you need from loved ones and don't be put off by their conflicting wishes. Put yourself first.