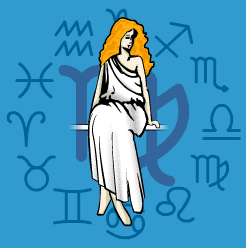 Virgo
August 24 - September 23
---
Today's Horoscope for Wednesday October 20th
You may be inclined to think you have to alter the way you share and co-operate, but it won't be good to decide anything on the spur of the moment. Getting your own security pulled together is something only you can do and that needs to come first. If you decide to have a clear out, try not to throw away too much. Giving in to the urge to get rid of outworn clutter may make you too impulsive. In a few days you may want to backtrack. Moderation in all things is always a good motto.
The Weekly Outlook from 18th October
Mars is dynamic and energetic while Jupiter is lucky and confident. Together they have super-charged enthusiasm but not much common sense so you may charge into action impulsively. Later you'll be picking up loose ends and having to sort out the consequences of not thinking in advance. It'll be a good idea to be organised and have alternatives up your sleeve if one plan gets stuck. If you avoid letting others get the upper hand, then the outcome will be to your benefit. But you're going to have to be strategic.
Your Monthly Horoscope for October
Money will be on your mind with a concentration of Libra energy around, motivating and encouraging you to get everything knocked into shape and improved. You'll want surplus to spend as well as security for the future and Jupiter will help to sprinkle luck over your plans so by mid month at least one bright idea should be taking root. You won't take kindly to anyone pulling the wool over your eyes or trying to short change you. Luckily there'll be relaxing and indulgent moments at home to wind you down with love and affection coming from family members. Redecoration schemes will be on your mind as well as entertaining on your own territory for a while which will be more appealing than being out and about socially. Having more support with the chores and feeling vitality plus you'll whizz through essentials. There may be a few tensions and challenges in the third week with too much Pluto around. You'll do best to wind down, step back and let it all wash over you. In the final days you'll be into a busy varied schedule which is the way you like it.
and Next Month's Horoscope for November
Nothing will slow you down, distract you or indeed keep you quiet. You'll be flying along at speed, expressing yourself forcefully and not putting up with nonsense. Try to be more cautious than will come naturally since you could end up tripping over your feet and being slightly accident prone; or getting into heated discussions. There won't be any time for boredom but you may be cutting corners and not double checking in your normally meticulous way. Take time out to have fun. There will be invitations to social events with admiration and compliments coming your way. Remember also your tendency to take on board too many commitments. Looking after health and fitness means sticking to a balanced schedule even if it will be more pressured than usual. News from abroad or a distance away will give you pause for thought and you'll alter your outlook because of what you hear. Into the final week you'll gradually start to slow down and give yourself a chance to relax more often at home with loved ones.
Year Ahead 2021
As an earth sign, you're usually on top of practical details, tuned into your body and well organised about fitness and dietary matters. But you're also highly strung and can be jittery when there's too much confusion around. You'll need to be rigorous about scheduling quiet time for yourself throughout 2021 to recentre and wind down. The world at large will be following a winding path with hitches, glitches and economic woes, which will impact on you, less in financial terms than in concerns for others. Your opinions may not always meet with agreement but you won't care since you'll insist on speaking your mind and following your own path. Your focus in the early months will be on family and domestic matters since you'll want to put changes in place that will bring you more security and stability ahead. Which won't mean you'll be able to avoid hard work since Saturn in Aquarius will make duty and service to others inevitable. Not over-committing yourself and pushing past your physical limits will be crucial. You'll need to take whatever steps are necessary to boost your stamina and force yourself to delegate. It won't be difficult to find enthusiastic support from those around so you should be OK. One close relationship will flourish for a few weeks after the middle of May and again from late December through next year. You'll begin to see clearly which connections in your life have potential for development and which you will be happy to let drop with a minimum of regret. After the middle of the year you'll switch your attention to work and your community activities. You'll have a niggling feeling that it is now or never for success. That isn't necessarily true but the motivation won't do you any harm. You'll take your courage in both hands, push self-doubts to one side and insist that your talents and achievements are recognised.