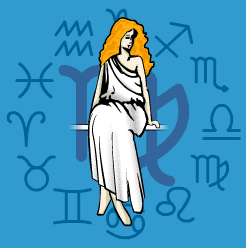 Virgo
August 24 - September 23
---
Today's Horoscope for Monday December 16th
Zipping along a busy everyday schedule you won't be holding back with your opinions or criticism if you hit delays or mistakes. If your views are not heard, you will speak more loudly and persistently. But the truth is for a day or so, if you're around others too much, you'll end up being distracted or pulled into activities that don't interest you. You'll be surprised in the quiet moments how inspiration hits you about things that seemed to have no answer.
The Weekly Outlook from 16th December
An unexpected piece of good fortune will come your way and lift your spirits, putting you into a brighter frame of mind. All you have to watch out for is not to go over the top since it won't last for long. Later you'll need to get real about one awkward situation to do with domestic finances. Once you accept the bottom line, then everything becomes much easier to handle. Be solid, down-to-earth, be dutiful and you might even come out of the end of it with your halo polished.
Your Monthly Horoscope for December
Much as you would love to tuck yourself away at home and snuggle down into a quiet corner, you'll be continually pulled out onto the party scene. So you'll need to divide your time and attention between domestic matters and allowing yourself the chance to shine. Putting down roots and finding time for heart to heart chats with the family will be your priority as well as taking a deep breath and finding time to reflect. Getting a perspective on recent events will help settle your mind. But for all that your self-confidence will soar so you won't be hiding away and will be demanding more attention in an amiable way which will have friends and social mates rallying round. Jupiter will stay in Capricorn for a year ahead and gradually you'll discover as you put a higher value on yourself, so does everyone else. That will help not just in your leisure hours but also at work. One close partner will have a moment's uncertainty around the 8th so may not be available for support. But there'll be new friends and more fun mid month, and more in the final days. The Solar Eclipse is a hint that you need to keep up your more outgoing mood for a few months ahead. Be bold and push yourself forward.
and Next Month's Horoscope for January
Buzzing around at home reorganising and sweeping the family and furniture into place you won't be sitting idle for long. Though you may not be popular with those close if you get too forceful. You may be frustrated since certain pet projects are on a go-slow, but if you have patience you'll find everything moves more quickly in a few weeks' time. Responsibilities for loved ones will weigh heavily on you with the slightly bleak and tough-minded Saturn Pluto in place. You may feel deprived of fun and enjoyment but duty will come first no matter how much you have to grit your teeth and persevere. Luckily one partner will be super-affectionate and shower you with compliments and cuddles. You may not be socialising madly but you will recognise your popularity when you do. Friends will pull you one way and intimate partners the other, so you'll need to find a way of spreading your attention in several directions. Gradually you'll settle into a working routine after mid month, being keen to get details in the right place and be of service.
Year Ahead 2019
The good news is you'll feel happier at home, more content within yourself and be contemplating how best to improve your domestic set up. Relationships within the wider family will be easier as well with a generally hopeful mood about sharing ideals and hopes for the future. Which isn't to say you won't feel weighed down at times by the responsibilities that loved ones are landing on you. There'll be less time and energy for kicking up your heels socially. But that doesn't mean you shouldn't try to inject more adventure into your leisure activities and demand more attention for yourself. Your heart will yearn for more exciting trips and travel so make the effort to move out of your comfort zone once in a while. You'll be exploring new ideas and belief systems and opening your mind to a new view of the world. If those close scoff at your unconventional interests you won't care. April to June will find you battling ambitiously ahead, determined to make your mark and gain recognition for your talents. Though it'll be all too tempting to withdraw into your intimate surroundings and stay in your comfortable shell. After mid-year, you'll gear yourself up to sort out a long-term plans that gives you sensible goals to aim for and a practical strategy for making it work. A wider circle of friends will be around to keep you company and offer advice. In general you'll need to manage your finances with an eye to prevailing circumstances which won't be favourable for anyone. Tightening your belt and cutting out extravagances will boost your security and give you peace of mind. From December you'll move into a more buoyant, enthusiastic, sociable and confident phase which augurs well for 2020.