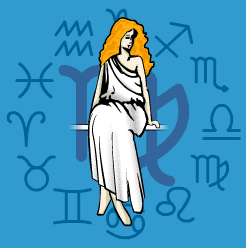 Virgo
August 24 - September 23
---
Today's Horoscope for Wednesday April 21st
If you overstretch yourself by taking on too many commitments, you will find your body complains. If your energy sags or you feel under par you must ask yourself where you have not been paying proper attention to your physical needs and knowing where your limits are. You may not feel like socialising but there are other activities which will attract. Anything mystical or spiritual will hold your attention since you'll be tuned into deep levels of awareness. Don't feel lonely. Enjoy your own company.
The Weekly Outlook from 19th April
Into a buoyant, enthusiastic phase of a few weeks ahead you'll aim for livelier company, more travel if you can manage or other ways of broadening your horizons. You'll sets you sights higher and follow your visions. In friendships and team relationships you like to think of yourself as co-operative but after midweek you will find your patience is tested. In a tight corner you will prefer to be the one making the group decisions and taking the lead.
Your Monthly Horoscope for April
In an unusually secretive and determined mood, you won't give up until you resolve agreements over money or your emotional life in a way that is fair to all. You'll know that a firm and flexible approach is what is needed although at times you may come across in too intense and stubborn a way. Your ambitions will be heightened by Mars at your midheaven, so you'll be redoubling your efforts to reach your goals and will be taking the lead, at times sounding a touch bossy. One close partner may be elusive or evasive so you'll be as well to rely on your own resources. Your energy levels will stay high and there will be enthusiastic support around the chores when you need it. By midmonth you'll be keen to get started with a pet project. Into the final days you'll be freed of restrictions and spreading your wings into an adventurous few weeks. You won't care what anyone else says or thinks, you'll walk your own road and speak your mind.
and Next Month's Horoscope for May
An enthusiastic and adventurous earthy Taurus Sun will keep you flying high and looking for excitement and challenges. You won't be in a mood to let practical details damp your vision of what you want. Nor will you allow anyone to stop your promoting your pet causes and spreading your opinions around. Your straightforward approach should meet with positive responses as long as you tone down certain comments. You'll be in demand for your views and the information you possess so you won't be ignored. Turning on the charm will go a long way to persuade the right people of what you're putting across. Invitations to special occasions will turn up after the 9th so you'll get a chance to wear your best outfits and put on a sparkling performance. Close relationships will flourish with Jupiter moving into your opposite sign for a few weeks from the middle of the month. Your self-confidence will soar and you'll share more activities and interests with your significant other. In the final days you'll be working hard but getting more attention as you take the lead and insist others follow behind.
Year Ahead 2021
As an earth sign, you're usually on top of practical details, tuned into your body and well organised about fitness and dietary matters. But you're also highly strung and can be jittery when there's too much confusion around. You'll need to be rigorous about scheduling quiet time for yourself throughout 2021 to recentre and wind down. The world at large will be following a winding path with hitches, glitches and economic woes, which will impact on you, less in financial terms than in concerns for others. Your opinions may not always meet with agreement but you won't care since you'll insist on speaking your mind and following your own path. Your focus in the early months will be on family and domestic matters since you'll want to put changes in place that will bring you more security and stability ahead. Which won't mean you'll be able to avoid hard work since Saturn in Aquarius will make duty and service to others inevitable. Not over-committing yourself and pushing past your physical limits will be crucial. You'll need to take whatever steps are necessary to boost your stamina and force yourself to delegate. It won't be difficult to find enthusiastic support from those around so you should be OK. One close relationship will flourish for a few weeks after the middle of May and again from late December through next year. You'll begin to see clearly which connections in your life have potential for development and which you will be happy to let drop with a minimum of regret. After the middle of the year you'll switch your attention to work and your community activities. You'll have a niggling feeling that it is now or never for success. That isn't necessarily true but the motivation won't do you any harm. You'll take your courage in both hands, push self-doubts to one side and insist that your talents and achievements are recognised.