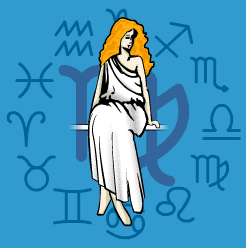 Virgo
August 24 - September 23
---
Today's Horoscope for Monday March 08th
At work you'll much prefer to work in a one-to-one partnership than on your own or with a team. Out on the social scene you won't be short of admirers, social invitations or compliments until the 21st with Venus in your opposite sign. Make the most of the good times and have fun. It will boost your morale, your self-esteem, your status and your popularity. In quiet moments you'll be sensitive to the needs of others and able to help. Just remember to stand firm for your rights.
The Weekly Outlook from 08th March
Focus on activities or companions who will make you feel good in a quiet way. You won't want anything boisterous or strenuous. Pamper and protect yourself. Treat yourself like a china doll, that needs careful handling. Take a wide berth round anyone who looks like causing aggravation. Maybe you will feel more dependent than usual, but that is not necessarily a problem. You just have to make sure that close partners understand it is each for each. It cannot all be one way so get better understandings in place.
Your Monthly Horoscope for March
Into an ambitious, competitive and go-ahead few weeks, you won't leave any stones unturned as you head towards your goals. Anyone who gets in your way will be firmly swept to one side, not always tactfully. Your direct approach may ruffle a few feathers but it will be what is needed to get certain projects into gear. One close partner whom you'll rely on will turn out to be elusive if not downright evasive towards the 11th. Try not to be discouraged or disappointed. Perhaps you saw what you wanted to see and they never promised to be rock solid in their support. Forgive, forget and move on and within a few days you'll be back on an even keel and ploughing ahead in good spirits. Your influence and seductively persuasive powers will ensure that you get the right people on your side. After the 20th you'll pull up the drawbridge for a secretive, confidential few weeks, sorting out joint finances and other highly personal dilemmas. Persistence will pay off as long as you keep an eye on practicalities.
and Next Month's Horoscope for April
In an unusually secretive and determined mood, you won't give up until you resolve agreements over money or your emotional life in a way that is fair to all. You'll know that a firm and flexible approach is what is needed although at times you may come across in too intense and stubborn a way. Your ambitions will be heightened by Mars at your midheaven, so you'll be redoubling your efforts to reach your goals and will be taking the lead, at times sounding a touch bossy. One close partner may be elusive or evasive so you'll be as well to rely on your own resources. Your energy levels will stay high and there will be enthusiastic support around the chores when you need it. By midmonth you'll be keen to get started with a pet project. Into the final days you'll be freed of restrictions and spreading your wings into an adventurous few weeks. You won't care what anyone else says or thinks, you'll walk your own road and speak your mind.
Year Ahead 2021
As an earth sign, you're usually on top of practical details, tuned into your body and well organised about fitness and dietary matters. But you're also highly strung and can be jittery when there's too much confusion around. You'll need to be rigorous about scheduling quiet time for yourself throughout 2021 to recentre and wind down. The world at large will be following a winding path with hitches, glitches and economic woes, which will impact on you, less in financial terms than in concerns for others. Your opinions may not always meet with agreement but you won't care since you'll insist on speaking your mind and following your own path. Your focus in the early months will be on family and domestic matters since you'll want to put changes in place that will bring you more security and stability ahead. Which won't mean you'll be able to avoid hard work since Saturn in Aquarius will make duty and service to others inevitable. Not over-committing yourself and pushing past your physical limits will be crucial. You'll need to take whatever steps are necessary to boost your stamina and force yourself to delegate. It won't be difficult to find enthusiastic support from those around so you should be OK. One close relationship will flourish for a few weeks after the middle of May and again from late December through next year. You'll begin to see clearly which connections in your life have potential for development and which you will be happy to let drop with a minimum of regret. After the middle of the year you'll switch your attention to work and your community activities. You'll have a niggling feeling that it is now or never for success. That isn't necessarily true but the motivation won't do you any harm. You'll take your courage in both hands, push self-doubts to one side and insist that your talents and achievements are recognised.