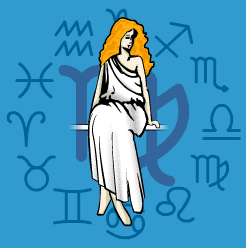 Virgo
August 24 - September 23
---
Today's Horoscope for Saturday August 20th
In an ambitious, competitive and hard-working few months you won't hold back when it comes to getting your own way. Loved ones may find you intimidating as you obviously intend to take over the decision making role. Be aware that charging ahead in a headstrong way could run you into problems. Instead of force, try to find tact as a counter balance and sweep companions up in your enthusiasm. You should be able to praise yourself for your achievements at the end of this time.
The Weekly Outlook from 15th August
If you can muster up will power and stamina, you will achieve a good deal. But it will require that you put your shoulder to the wheel and keep pushing until you see progress. What you end up achieving will be solid and long lasting. Then you'll deserve a break and after midweek you be attractingrnlight hearted friends and loved ones and be heading off to enjoy life. You'll adore being pampered, eating rich and sweet food so diets may slide, and you won't be saving money.
Your Monthly Horoscope for August
The weeks before your birthday Sun slots into place should be a time to wind down and recharge your batteries, giving yourself a chance to reflect over recent events and sort out plans ahead. But you may not get as much rest and relaxation as you would wish with too much going on with a hyper-active Mars and Uranus in Taurus and clashes with a demanding Saturn as well. It'll be stop start, too much and then too little in quick succession. You are a coper by temperament but also highly-strung, so the more you can calm your nervous tension and take it all as it comes the better. Just keep telling yourself that this too will pass. Which it will. Mercury in your own sign will keep you chatting happily and warm hearted friends will be on hand for the first ten days. Not draining your energy or over stretching yourself will be important. Into the final ten days, you'll sigh with relief as your birthday Sun boosts your morale and your energy. Differences of opinion should wind down and you'll be working hard, taking the lead and making fast progress.
and Next Month's Horoscope for September
Revitalised and buoyant, you'll be on good form as you whizz into the start of a new birthday year with dynamic Mars at your midheaven ramping up your ambitions. You won't allow anything or anyone to get in your way as you head straight for what you want. Hard-work never bothers you especially if it brings results and you will cover over your impatience with sunny smiles and a good deal of charm. Looking good, you'll be sprucing up your appearance, putting your best foot forward out on the social scene and be attracting compliments and invitations. Mercury, your ruler, going retrograde on the 10th for three weeks will throw up a few irritating delays, and communication hitches and glitches but nothing disastrous. By the 19th you'll reckon you have loved ones and and at least one enterprising projects under control and heading in a direction of your choosing. Money will roll in after the 23rd though probably out again as your spending soars. Your confidence and enthusiasm will keep you smiling.
Year Ahead 2022
2022 will be your year of blossoming close relationships with Jupiter casting an expansive glow over your one-to-one bonds as well as your social interactions. After a few months this planet of good fortune will also attract money your way in windfalls, bonuses or acts of generosity. There will also be a definite shift from May onwards with positive changes ushering you away from the past into a new phase.rnYou'll still be sorting out everyday details and having to stay on top of practical chores early and late in the year. Your imagination will soar across the middle months as you aim higher and will be keen to broaden your horizons and find adventure and challenge. Throughout you need to keep an eye on fitness and health since you will be continuing to learn lessons about where your limits are. Over pushing yourself with work will run you out of energy, so pacing yourself and being sensible will be wise.rnOne close partner may be elusive, evasive or just vague and inclined to lean rather than offer solid support. Being caring and sympathetic will be the best way to cope. You won't be sure how much commitment and togetherness you want anyway, so standing back once in a while will make you feel better.rnFrom August onwards with Mars at your midheaven you'll be firing on all cylinders, pushing ambitious projects ahead and insisting that everyone close wakens up and toes your line. You may be accused of being bossy, but you know that a general wake-up call is needed if you're to make progress.