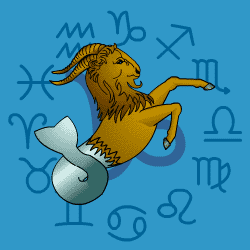 Capricorn
December 23 - January 20
---
Today's Horoscope for Friday August 12th
You won't want to leap into activity at top speed so use the time wisely for a little TLC and you will bounce back revitalised. Try to be firm but flexible if you are trying to reach better understandings with close partners over confidential matters, financial or emotional. Most of the time the pressure of life pushes you into taking avoiding action. Too tricky? Shrug. And off you go. But you do realise that getting new agreements sorted out is vital, especially if you are feeling short changed
The Weekly Outlook from 08th August
There could be intriguing experiences emerging suddenly that give you new insights into how you could liven up your social life and relationships with loved ones. This time is all about getting rid of the old and bringing in the new. Though there may be challenges involved so watch that you're not stressed and strained. Where money is concerned you know you won't be secure until you get everything in ship shape order. Your priority is to protect your own back as much as possible.
Your Monthly Horoscope for August
Slow but sure needs to be your motto as you push on determinedly, sorting out better agreements on confidential matters, financial and emotional. You won't get it all your own way so will have to negotiate to reach a fair deal with those you share joint responsibility with. Remember when it feels like a slog that you will emerge more secure and clearer about your path ahead once you have settled the key issues. You will be inclined to get uptight and even erupt emotionally at certain points since you will be feeling strongly. But saying or doing too much in the heat of the moment will only land you in hot water. If you can take the long view, you will realise that this too will pass and by mid-month you'll start to wind down and wish you hadn't been so hasty. Into the final days you'll be working hard in a steady way and setting yourself higher goals, looking to broaden your horizons ahead.
and Next Month's Horoscope for September
Knuckling down to get essential chores done and dusted won't be a glamourous occupation but you will get a reassuring sense of satisfaction from doing what needs to be done. Looking after energy and fitness will be as important as tackling work if you're to keep your stamina high. With the Sun moving through your chart area of adventurous ideas, big plans and travel, you'll be restless keen to expand your horizons. But not all of your schemes will be realistic so be prepared to jettison those that prove to be pie in the sky. Keep double checking messages to ensure you have clearly understood what was being said since confusion is likely because of crossed lines. Into the final week you'll be flying high and getting your talents out on display. This won't be a time to hide your achievements out of sight. Be bold and claim your place in the spotlight even if it involves hard work.
Year Ahead 2022
Your newly found positive attitude will make all the difference in 2022 as you recognise that in the past being blinkered has caused you to misjudge your capacity for making friends. Your increased tolerance means you'll listen with interest to a wide range of opinions and be happy to agree to differ when necessary.rnThrough the middle of the year you'll relax contentedly at home with family tensions easing. Planning how to expand your domestic setup to give yourself more elbow room and also to allow for more in-house entertaining will keep you happily occupied.rnNot that you'll be throwing money around since you know you have to save, cut out indulgences and put long term security before short term frivolities. Your finances will be unsettled and you'll constantly change your mind about what you want. Loved ones will be equally erratic and unpredictable so you'll need to give each other space.rnAs you move into the final months of the year you'll get your head down and be working hard, since there will be demands on your time and energy. Getting fitter and boosting your stamina will be vital.