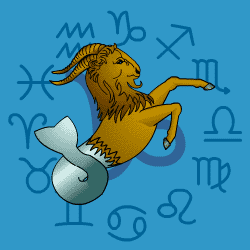 Capricorn
December 23 - January 20
---
Today's Horoscope for Friday November 22nd
Into a quieter few weeks ahead you'll want time to wind down. But you may also find yourself caring for others. Sensitive to atmosphere, you'll grasp what is not being said. Though you will tend to soak in the emotional undercurrents around you. So you may end up carrying too much of other people's pain and suffering. For this reason you need to protect yourself from anyone who is jangled, or gloomy, so you might end up the same way.
The Weekly Outlook from 18th November
You like to think of yourself as a good team player but in the time ahead you find your patience is tested. Co-operation may not be your strongest point and in a tight corner you will prefer to be the one making the group decisions. And some of the time you will be feeling retiring, not at all pushy. This is your time in the year to step back, take stock, recharge your batteries and let others do the running around. Just give yourself space to suit yourself and i8nsist on moving at your own pace.
Your Monthly Horoscope for November
You'll be laying down the law, taking the lead and expecting others to follow along behind. Mainly they'll be impressed by your hard-working approach so will be happy to pitch in but only if you don't get too controlling. Lighten up and recognise that not everyone has your motivation. If you sweep them up in your enthusiasm you'll get on faster. A concentration of energy in Scorpio this month hints that team efforts will be the way to go where everyone pulls together. You'll be keen to sort out your game plan for the next year or two so you will set time aside to get your thinking cap on. Friends will be of help since they'll be encouraging you and giving you the confidence to head for what seems most important. Socially and romantically you'll be lying low and having a quieter time until the 26th. Then you'll bounce out revitalised onto the party circuit.
and Next Month's Horoscope for December
A mixter maxter few weeks ahead is on the menu with a hidden Sun bidding you stand on the side-lines and let others do the running around. You need a chance to reflect over the past year and do planning and preparation for the year to come. But Mars in Scorpio will surround you with dynamic friends and team mates all keen that you shouldn't stand idle and waste time. They'll push you energetically into forward gear and not allow you to linger. And last but not least expansive Jupiter moves into your sign on the 2nd to stay for a year ahead. This will boost your confidence, attract good luck and give you an enthusiastic drive to start new projects and get cracking. You'll keep your own counsel after the 9th until you sort out what your real priorities are. A charming smile will slide you through any tough spots and a stroke of good fortune on the 15th will allow you to wind down. Then from the 22nd your birthday Sun will bounce you into a lively few weeks and rarely have you felt so positive about what is coming next.
Year Ahead 2019
You're at a crossroads and the eclipses early and late are urging you to decide which path to follow ahead in the years ahead. Standing still and clinging onto the past won't work. Luckily you've got ambition and initiative so will work out a practical plan for what you want to happen. Admittedly within the restrictions of prevailing circumstances which will need to be accepted and worked round. A time for serious thought and then determined action. You'll be more independent-minded for the first few months since you know your choices have to suit you rather than anyone else. Careful consideration will be required since whatever decisions you make will not be easily reversed. In quiet moments you'll notice a growing sense of inner confidence and self-worth, with flashes of inspiration or intuition to guide you. A secret adviser may also appear to help you clarify your thoughts. Loved ones, children especially, may be rebellious, so you'll have your hands full trying to work out how best to cope and give them the freedom they want. Truthfully you'll also want to kick up your heels and have more elbow room socially and romantically. Though your social life will be erratic, switch-on switch-off, exciting one moment and rather sparse the next. There may be muddles and miscommunications in your everyday schedule so you'll need to be precise and double check that what you say is understood correctly and the same for what you hear. By mid year you'll be in a better position to know how to improve your closest relationships. Being less self-sufficient and more adaptable will bring you closer. Though you may also have one partnership under review, as you weigh up the pluses and minuses. Try not to dwell too much on the negative. Loyalty will be more important than passion. Your confidence will soar in the final month with luck coming your way as you recognise you've turned a corner into better times.