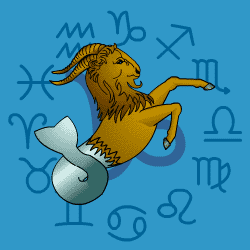 Capricorn
December 23 - January 20
---
Today's Horoscope for Tuesday November 28th
You will be using your charms to impress the right people at work or out in the community. Flattery will get you most places so keep handing out the compliments. They may not always be sincere but they will work. A loved one or friend may be demanding too much so watch you don't end up resentful. Having to fit in all the time with other's plans, whims and suggestions can be a bore. Do what makes you feel virtuous, but don't let anyone push you around.
The Weekly Outlook from 27th November
Although you would like to disappear into a quiet space to put your feet up, your conscience will prod you into being helpful. Make sure you are looking after your energy, since you need to boost your stamina if you are pushing against the grain. Take a few shortcuts as well, since the faster you can relax again the better. Though truthfully you won't excel at tasks requiring concentration. When you can catch a break let yourself dream, listen to music or be imaginative. If someone tries to pull the wool over your eyes, you will look the other way.
Your Monthly Horoscope for November
Surrounded by friends and looking ahead with optimism, you will rarely go short of good company or enthusiastic plans. You may start the month overly hopeful about one possibility and sudden events will knock that sideways but if one skittle falls another will stand up, so you won't miss a beat. Your social status will rise with invitations to special occasions where you will put on a sparkling performance. Sprucing up your appearance, you'll attract compliments and impress the right people. A loved one may stage a minor rebellion around the 11th and just after, which you'll be wise to handle tactfully and without rising to the challenge. Least said, soonest mended. By the 20th you'll reckon you have a firm grip on what matters and be happy to step back for the final week and relax. Don't be discouraged if you feel shut out of certain discussions or activities. Be quietly persistent about finding out why.
and Next Month's Horoscope for December
Chatty, restless and keen to keep up social contacts and friendships, you won't be standing still for long. Your knack of putting others at ease will make you popular in group and leisure activities. But the Sun in the sign before yours for three weeks also hints that giving yourself quality time to wind down and recharge your batteries will be sensible. Certain projects won't be moving as quickly as you would like so patience will be required. Treat it as a blessing in disguise to give yourself a chance to reflect on recent events and get the past year in perspective. After midmonth there may be communication muddles and misunderstood message so be sure to double check. Once your birthday Sun starts its four week trek through Capricorn after the 22nd your energy and morale will soar. Luck will be on your side and good news will put a twinkle in your eye around the 27th.
Year Ahead 2023
2023 will be a year for sorting out your plans, deciding what comes next and how much time to allocate to friends as opposed to loved ones. Finding a balance between your head and your heart will also be a priority which means that outer ambitions cannot take up all of your energy. You need to devote time and attention to home and family matters as well. You'll start in good spirits and be spending happily since you'll reckon you deserve treats. But you will need to tread cautiously. Certain financial restrictions will lift but you will be under pressure to alter the way you handle your finances. Getting control of details and strategies will be down to you and although bring too rigid won't be a good idea, you can't afford to look the other way and leave it to those close to make the key decisions. Relaxing at home for a few months will build up your stamina for a sociable middle and end of the year. Taking quiet time early on will make you content within yourself and also give you a chance to decide how best to expand your immediate environment to allow for more entertaining. Your everyday schedule at work and out in the neighbourhood will demand effort and concentration from April onwards especially when it comes to getting your views heard. When you feel that you are not being given a respectful hearing, you'll need to change your approach and be persistent. June onwards will find your self confidence soar and you won't be short of party invitations or praise at work. Your upbeat approach will prove a winner with positive responses boosting your morale. In the last few months pushing hard to get your talents out on display and your achievements recognised will keep you busy and bring rewards.