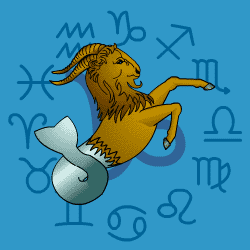 Capricorn
December 23 - January 20
---
Today's Horoscope for Monday May 23rd
In a dramatic, even flamboyant mood you'll be making an effort to ensure you have an appreciative audience for your witty flow of jokes and theatrical personal comments. Jupiter emphasized now can bring money, praise and success. But it can also pass by without you noticing more than a warm glow of contentment. If you can push one pet project further, make the effort, then whatever you touch will work out more easily than you expected with better results.
The Weekly Outlook from 23rd May
You'll be lazy and down so you'll have to push yourself hard to get into a hard working mood to clear essential chores out of the way. Remember more effort and sweat will turn your luck into a long lasting and tangible achievement. At home from midweek you may find that feelings of irritation start to well up. But look to the positive benefits of allowing these emotions to surface so that you can better understand them and let them clear out of your system once and for all.
Your Monthly Horoscope for May
Sociable, outgoing and glowing with the attention and compliments coming your way, you will be stepping out boldly, holding your head high and putting on a sparkling performance. Loved ones will rally round showering with attention and appreciation. You'll be zipping along a busy schedule with enthusiasm, speaking constantly and not allowing distractions to pull you off course. There will be odd surprises along the way which will require tolerance and flexibility when those close don't take kindly to your demands for independence. But you'll cope if you stay calm and tactful. The mood at home will be happier, with the tensions of past months disappearing. What's better is that this state of affairs will run on for many months ahead. You'll be able to relax and even get a chance to expand your domestic environment to allow for more entertaining. Keeping an eye on cash midmonth will be wise since there may be an unexpected expense midmonth or problem which needs fixing. Into the final days you'll be working hard, reorganising at home and zipping around to ensure you are building solid foundations for yourself for the future.
and Next Month's Horoscope for June
A hard-working, self-sacrificing three weeks may not sound like a laugh a minute but being conscientious now will lay the groundwork for more entertaining times in future. You will still grab a few hours off for flirting and having fun, but your priority will be to clear essential tasks out of the way and be of service to others. This will require pushing aside personal whims most of the time and putting effort into improving your financial security. Luckily your sense of humour will stay intact and you'll be entertaining those close with jokes and quips as you go about your daily chores. A communication muddle midmonth will cause minor inconvenience so is worth watching for but will soon be forgotten. After the 21st there'll be more support from close partners so you won't be as weighed down by chores. You may be over eating to pamper yourself since treats will prove irresistible.
Year Ahead 2022
Your newly found positive attitude will make all the difference in 2022 as you recognise that in the past being blinkered has caused you to misjudge your capacity for making friends. Your increased tolerance means you'll listen with interest to a wide range of opinions and be happy to agree to differ when necessary.rnThrough the middle of the year you'll relax contentedly at home with family tensions easing. Planning how to expand your domestic setup to give yourself more elbow room and also to allow for more in-house entertaining will keep you happily occupied.rnNot that you'll be throwing money around since you know you have to save, cut out indulgences and put long term security before short term frivolities. Your finances will be unsettled and you'll constantly change your mind about what you want. Loved ones will be equally erratic and unpredictable so you'll need to give each other space.rnAs you move into the final months of the year you'll get your head down and be working hard, since there will be demands on your time and energy. Getting fitter and boosting your stamina will be vital.