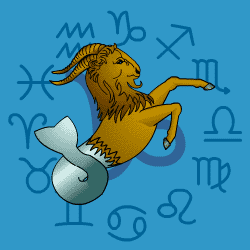 Capricorn
December 23 - January 20
---
Today's Horoscope for Wednesday December 07th
Keeping your stamina high will be crucial since you are being landed with a pile of chores. You need to watch your diet, not in the sense of eating less but more sensibly and eat food that will be of positive benefit rather than pull your energy further down. Those close may be demanding so you may end up feeling resentful and martyred. Having to fit in all the time with other people's wishes can be a bore. Do what makes you feel virtuous, but don't let anyone push you around.
The Weekly Outlook from 05th December
Finding the balance between duty and pleasure, service that you owe to others and service you owe yourself, will be what is on your mind. You know you cannot be an island unto yourself and but equally you do not want pushed and pulled by too many demands from elsewhere. Whatever you decide you will have to exercise restraint, otherwise you'll find yourself dashing into arguments and stirring up hornets' nests. Be robust, be direct but try not to be too provocative.
Your Monthly Horoscope for December
Nothing will be gained by trying to push back the tide so you might as well wind down, give yourself a chance to recharge you batteries and recentre for three weeks. Use the time wisely to plan and prepare. Then you will bounce out revitalised, with all your ducks in a row ready to forge ahead. Sitting still won't come easily with Mars in Gemini, your chart area of hard work, since you'll constantly be needling yourself to do more. Finding a balance between essential chores and rest and relaxation time will be crucial. Gradually through the month you'll emerge from your cocoon to express your views and to socialise. You'll spruce up your appearance and attract compliments and admirers. After mid month you'll move into a contented phase at home and within yourself which will last for several months ahead. And your birthday sun will give you a morale boost as well.
and Next Month's Horoscope for January
Your birthday Sun will bounce you along with plenty of treats and presents to keep you smiling. This is your time to make good resolutions for the year ahead, having reflected on the year that has been and putting the past into perspective. Clearing the decks for a new start will take an effort and not all of your ideas will meet with general agreement. If you tread lightly, be tactful and stick firmly to what your instincts are telling you there's not much that will go wrong.rnHappily the relaxing mood at home will help you be content within yourself and pleased to be around those you trust. Working out ways to expand your domestic surroundings to allow for more entertaining in the time ahead will be a pleasant preoccupation. Spending money will come all too easily but as you indulge yourself and surround yourself with eye-catching treats your morale will rise.rnHard work will be unavoidable with Mars still in Gemini but as long as you stay fit and don't over commit yourself with too many projects you won't have a problem. Try not to hash and crash around. Moving steadily ahead will pay dividends.
Year Ahead 2022
Your newly found positive attitude will make all the difference in 2022 as you recognise that in the past being blinkered has caused you to misjudge your capacity for making friends. Your increased tolerance means you'll listen with interest to a wide range of opinions and be happy to agree to differ when necessary.rnThrough the middle of the year you'll relax contentedly at home with family tensions easing. Planning how to expand your domestic setup to give yourself more elbow room and also to allow for more in-house entertaining will keep you happily occupied.rnNot that you'll be throwing money around since you know you have to save, cut out indulgences and put long term security before short term frivolities. Your finances will be unsettled and you'll constantly change your mind about what you want. Loved ones will be equally erratic and unpredictable so you'll need to give each other space.rnAs you move into the final months of the year you'll get your head down and be working hard, since there will be demands on your time and energy. Getting fitter and boosting your stamina will be vital.