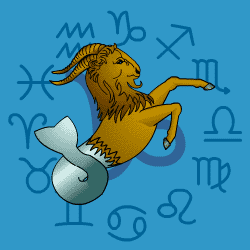 Capricorn
December 23 - January 20
---
Today's Horoscope for Sunday February 05th
If you are attracted to someone, you'll be telling them how you feel and your overtures should be met with a positive response. You'll be pushing yourself forward but it'll be important to get the balance of the energy right. There is a slight risk of going either too slow or too fast. Timing is everything. Later your mood will be intense so it's important not to over react to what may be a passing cloud. Find a trusted mate to lean on for support and advice.
The Weekly Outlook from 30th January
You will delight in facing up to a challenge or stoking up a controversy, but it is important not to push your luck too far. You will have the confidence to get things done if you don't run into resistance by sounding bossy. You will push ahead quickly but you could be critical, seeing mistakes clearly and pointing out other people's flaws, which they may not take kindly. If you soften your approach and resolve to agree to differ and live and let live you'll get on better.
Your Monthly Horoscope for February
Money will be on your mind with the Aquarius Sun in place for three weeks so taking the initiative and being resourceful will be advisable. Putting the brakes on spending won't be easy but you know that in the longer term security is important, more so than instant gratification. Loved ones will be on a different wavelength so let them go their own way and you'll have a chance to suit yourself. Everyday companions at work and in the neighbourhood will be thoughtful, keen to let you know how much they appreciate you. You'll respond in kind with compliments. At home you'll be able to relax and wind down from time to time, snuggling up close to those you trust. Into the final days your schedule will speed up so you'll be on the run, talking constantly and rarely bored.
and Next Month's Horoscope for March
Racing around at speed, talking constantly, you may not get much done in depth but you'll certainly cover a good deal of territory. If you can slow down once in a while and collect your scattered wits you'll get on better. There will be relaxing moments at home and social fun as the month wears on. Your self confidence will soar so you'll step out boldly at parties and make your presence felt. Hard work will be inevitable so you'll need to boost your stamina if you burn the candle at both ends. Give yourself permission to slump mid month. You'll need in the time ahead to put effort into communicating clearly in your everyday life and when not heard be persistent or find a new approach. In the final days you'll be happy to slow down but need to find time to tackle your personal finances to ensure you are adapting to changing circumstances.
Year Ahead 2023
2023 will be a year for sorting out your plans, deciding what comes next and how much time to allocate to friends as opposed to loved ones. Finding a balance between your head and your heart will also be a priority which means that outer ambitions cannot take up all of your energy. You need to devote time and attention to home and family matters as well. You'll start in good spirits and be spending happily since you'll reckon you deserve treats. But you will need to tread cautiously. Certain financial restrictions will lift but you will be under pressure to alter the way you handle your finances. Getting control of details and strategies will be down to you and although bring too rigid won't be a good idea, you can't afford to look the other way and leave it to those close to make the key decisions. Relaxing at home for a few months will build up your stamina for a sociable middle and end of the year. Taking quiet time early on will make you content within yourself and also give you a chance to decide how best to expand your immediate environment to allow for more entertaining. Your everyday schedule at work and out in the neighbourhood will demand effort and concentration from April onwards especially when it comes to getting your views heard. When you feel that you are not being given a respectful hearing, you'll need to change your approach and be persistent. June onwards will find your self confidence soar and you won't be short of party invitations or praise at work. Your upbeat approach will prove a winner with positive responses boosting your morale. In the last few months pushing hard to get your talents out on display and your achievements recognised will keep you busy and bring rewards.