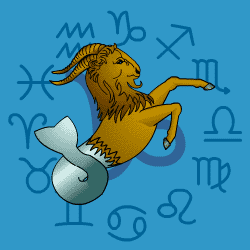 Capricorn
December 23 - January 20
---
Today's Horoscope for Saturday February 29th
Racing around quickly, you will be chatting brightly about a million different things. Your curiosity will be stirred, so you are off finding about things that interest you with great enthusiasm. You may not pause for long in any one place but will constantly be on the go searching and seeking. You are not about to let your feelings get in the way of your thinking since you want to be clear. But it does sometimes mean you sound cool or too detached. The only thing to watch is not to leap to conclusions.
The Weekly Outlook from 24th February
Everyone around knows your heart is in the right place but they may not be entirely clear about what you are driving at, so try to collect your thoughts before you dash into discussions. You know you need to get more method and discipline into your everyday schedules, and this could be the day to start. Though there'll be no switches on and switches off in your feelings. You could become possessive if you're in a long-running relationship and tempted to manipulate since you'll want your own way.
Your Monthly Horoscope for February
Always a security-conscious sign you always like your finances in order before you feel settled. You also like a good lifestyle and enough surplus to impress the right people, so you'll be turning your attention to sorting out your budget to ensure you keep everything in order for the year ahead. You will be frustrated at times because of slow progress on various fronts. Be patient and keep pulling strings behind the scenes. Nudge those close into doing what circumstances are preventing you from actioning. Luckily there'll be a happier, easier mood at home after the 7th with fewer tensions amongst the wider family so you'll be able to relax, indulge and entertain. You'll also be turning your mind to sprucing up the decoration since you'll want more colour and elegance around you. From mid month you'll roar into higher gear and be sweeping obstacles and slowcoaches to one side not always tactfully. A blunt approach will be what's needed so don't hold back. A lively and entertaining final few days will find you kicking up your heels and throwing caution to the winds.
and Next Month's Horoscope for March
Racing around at speed multi-tasking like mad, you certainly won't be bored. But unless you write out to-do lists and stay on top of details, you'll end up running in circles and not completing anything properly. Try to prioritise and be clear in what you say to avoid muddles. Loved ones will be in a fun-loving mood and will distract you with enjoyable invitations so you'll have an affectionate and appreciative audience and won't doubt your popularity. There will be challenges around and you know this is a time of considerable change for you. But your confidence won't dip and there will be a few triumphs and morale-boosting moments to keep you bouncing. Just have a care towards the 23rd that you don't flare up and fly off the handle at a problem since confrontations won't work. Thereafter you'll ponder on your finances and work out how to save ahead rather than overspend. You'll also slow down to spend more time at home with loved ones.
Year Ahead 2020
2020 for you will start the way it intends to go on, with challenges to your resourcefulness and determination as you stand at a crossroads in your life. You know that leaving the past behind, clearing the decks of what is no longer essential for the future is crucial now. So you'll set to with a will and ensure that you are not letting sentiment stand in the way of common sense. At times you'll be a touch discouraged about the consequences of the decisions you've made but that won't last long. You know like a gardener pruning bushes, you will be stimulating new growth ahead. The difficulties will come first and the rewards will follow not far behind with March, June and November seeing you on a successful and confident track.rnYou will have to take care financially for a few months after March and again in December which needn't mean disaster, just that circumstances will prompt you to save rather than spend and put long term security above short term indulgences.rnYou'll be more independent for the first few months but from May onwards lending a helping hand to loved ones will come easily and they'll be appreciative of your efforts.rnAn action-packed second half year at home will find you racing around, not always patiently, getting everything knocked into shape. You will be frustrated since certain projects are on a go-slow so you need to keep pushing or backtrack to unpick mistakes before forging ahead. It'll be a stop-start year, with fast progress at times and then obstacles will start to pile up. Luckily you're a sign overflowing with initiative and good at thinking your way round dilemmas and finding inventive solutions.rnThe eclipse cycles gradually move away from your own sign so by the year end you'll be less stressed and into a more reflective phase. Money will roll in faster through December though your savings campaign needs to continue at the same time.