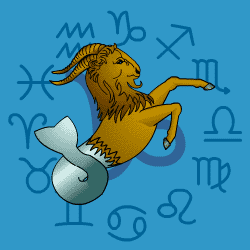 Capricorn
December 23 - January 20
---
Today's Horoscope for Tuesday January 26th
You won't care about anyone else's reaction and whether they are shocked or startled. You fully intend that your social and love life will be thrilling. New romantic affairs will be switch-on, switch-off though very exciting. Nothing is too secure, but it certainly won't be boring. It's important to let the restless spirit within you come out. Don't feel obliged to sit yourself in a corner or be stuck with an agenda which doesn't suit. Stand up for what you want as an individual. Popularity is not everything.
The Weekly Outlook from 25th January
Where you've been compromising too much, Uranus will throw down a thunderbolt to break you away from these restricting circumstances. You may need courage but ultimately you'll be glad you found the chutzpah to go with the flow and put a foot into the unknown. Regard new as positive and alive. If you can push your pet project further by making an effort, then you will find whatever you touch works out more easily than you expected. It'll be a week to remember.
Your Monthly Horoscope for January
Setting foot on a new year with gusto and determination as well as high energy and passionate enthusiasm, you won't slow down for anyone. Insisting on getting your own way you may come across as bossy so do your best to sweep loved ones up in your enthusiasm since it will save arguments. At times you may exert too much control or be overly stubborn but you won't want to waste any time. Getting to grips with a constantly changing financial situation will be a distraction. There'll be goo0d news and more coming in at points which will send you off on a spending spree. But you'll know this is no time to be too extravagant. Reorganising what you possess will give you security and peace of mind. Those close may be taken aback by your mischievous and rebellious approach as you kick up your heels and refuse to care about anyone else's reaction.
and Next Month's Horoscope for February
Money will be on your mind with such a concentration of planets in Aquarius, which is your chart area of personal finance. You'll be up, down and all over the place as good news sits side-by-side with problems. You'll be in a mood to treat yourself with indulgences and in no mood to listen to advice from loved ones about curbing spending. Yet circumstances are such that you'll need to be sensible for a while ahead. Keeping your eye on your long-term security will be crucial in the months ahead and also being aware that your situation will chop and change (along with everyone else's). There won't be anything too settled on the cash front so saving when there is surplus to tide you over the lean patches will be wise. Into the final days you'll racing into a busy, varied schedule with little time for boredom.
Year Ahead 2021
A resourceful, ambitious sign, overflowing with initiative, you won't find it easy to sit on the sidelines and wait in 2021. But the Eclipses overseeing the first few months hint that doing less, pulling strings behind the scenes and giving yourself a chance to put recent events into perspective, is the way to go. You will benefit from having deeper insights into your past or yourself to explain how you've ended up with certain dilemmas. Only by getting down to the roots will you be able to untangle muddles and find solutions for the future. Practical matters such as money will still have to be handled sensibly but they are never a problem for you. There will be patches where more flows through allowing you to indulge. But overall the prevailing mood will be one of caution and putting long term security up as a priority over instant extravagance. Emotionally you'll be moving through unpredictable times when your mood will be on a roller-coaster ride. Early in the year you'll insist on others toeing your line and be impatient when not everything runs to plan. Later you won't care what loved ones do or say, you'll suit yourself. Just try not to put certain securities at risk by being too defiant or rebellious.From middle of May for a few weeks, you'll be communicating confidently, finding your new found tolerance makes for easier relationships at work and with everyday neighbours and friends. That happy state of affairs will return late in the year. In the later months you'll be working exceptionally hard and needing to boost your stamina and fitness to cope with the pile of chores, perhaps extra jobs being landed on you. It'll only last a few months and you'll be pleased at how much you achieve, but will be equally as content to wind down as the New Year approaches.