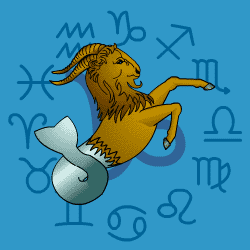 Capricorn
December 23 - January 20
---
Today's Horoscope for Sunday October 02nd
Now that Mercury in Virgo has freed itself from restriction you will be getting swept up in your enthusiasm to the point where you lose touch with what is possible. You will be coming across as fair-minded, tolerant and enthusiastic, so you should be able to find lively companions from different backgrounds with an upbeat approach to share your views. But you won't be too practical in your outlook so need to make an effort to keep your feet on the ground and be realistic.
The Weekly Outlook from 26th September
Don't expect thousands off the lottery but look for a good break or a light at the end of one tunnel. This will be your lucky few days in however small a way. There will be a lilt in your step and a twinkle in your eye. But after midweek it'll be important to keep yourself in hand. Be cool, calm, sensible and you'll end up with tasks neatly and tidily done. All you have to do is stick to the straight and narrow and ignore distractions and irritations.
Your Monthly Horoscope for October
Nothing will be too much trouble as you set to with determination to make your mark, take the lead and be the one who decides what comes next. This is your peak of the year so there's no sense in hiding in a corner. Get your talents out on display and demand attention and appreciation. It'll take hard work and you won't get much time off for a while but the end result will be worth it. You'll be looking good, keeping up appearances and charming all the right people so will be invited out to special occasions. You'll make an effort not to overspend even to impress since you know that your long term security is all important. You will need to work out a strategy to overcome one obstacle after mid month but thereafter friends and team mates will rally round to speed you on your way. The Scorpio Solar Eclipse will prompt you to widen your circle of acquaintances in coming months and sort out a long term plan for your future.
and Next Month's Horoscope for November
Friends and future plans will be the two things uppermost in your mind with the Sun, Mercury, Venus and an Eclipse in Scorpio. Widening your social circle will be key to your fulfilment in coming months which means putting feelers out to make new connections. Trusted buddies who are tried and tested will also be around to offer support and helpful advice so you won't be left to your own devices. An even higher priority will be to make sensible plans for your path ahead. Luckily you are a sensible Earth sign so good at practicalities and usually have an eye for goal-setting and laying out a map for achieving your aims. There will be hitches and glitches since nothing will go exactly as you expect. Sorting out a few financial setbacks will be important and coping with sudden changes of circumstance which blow up will require adaptability. You'll gradually slow the pace down to have more time to reflect after midmonth. Standing on the sidelines and letting others take the strain will be wise.
Year Ahead 2022
Your newly found positive attitude will make all the difference in 2022 as you recognise that in the past being blinkered has caused you to misjudge your capacity for making friends. Your increased tolerance means you'll listen with interest to a wide range of opinions and be happy to agree to differ when necessary.rnThrough the middle of the year you'll relax contentedly at home with family tensions easing. Planning how to expand your domestic setup to give yourself more elbow room and also to allow for more in-house entertaining will keep you happily occupied.rnNot that you'll be throwing money around since you know you have to save, cut out indulgences and put long term security before short term frivolities. Your finances will be unsettled and you'll constantly change your mind about what you want. Loved ones will be equally erratic and unpredictable so you'll need to give each other space.rnAs you move into the final months of the year you'll get your head down and be working hard, since there will be demands on your time and energy. Getting fitter and boosting your stamina will be vital.