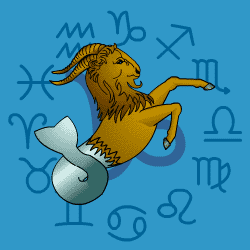 Capricorn
December 23 - January 20
---
Today's Horoscope for Saturday September 18th
Luck should be on your side where money is concerned which doesn't mean you should stop being careful. Your prospects will be bright for a while ahead but try to hang onto any surplus. Cash could be sliding through your fingers at an alarming rate if you do not take care. Little whims will send you off in directions that won't always be wise to make hasty buys. It'll be important to be clear about what you're doing.rnYou'll be attached to the good things of life and could be possessive.
The Weekly Outlook from 13th September
For a day or so you may not be worried about your own needs or ambitions. You'll be sympathetic, spiritual and creative though you may find it difficult to push yourself into doing anything practical. After midweek if there are tensions in relationships, you will need to find a way out of differences without making your actions obvious. There's always a trick in finding a middle way. Not being too submissive and letting others push you around or being too forceful yourself.
Your Monthly Horoscope for September
In an adventurous mood, aiming higher, keen to broaden your horizons and find challenges to liven up your life, you won't be keen to stick to a humdrum rut. You'll be spreading your enthusiastic opinions in all directions though at times coming on too strong. If you can tone down your approach you'll be more persuasive. There will be muddles and miscommunications along the way so try to pay attention to details, travel arrangements and messages. Socially in demand you'll put on a sparkling performance at special occasions and after the 11th will be a hit with friends. Your knack of putting everyone at ease will make you welcome whenever you feel inclined to move around. From mid month you'll move into top gear, pushing aside obstacles and issuing orders left right and centre. Your competitive approach may ruffle a few feathers but you'll waken everyone up and make fast progress. Being sensible about a money matter in the final days will pay dividends.
and Next Month's Horoscope for October
Powering ahead with courage and determination, you'll be keen to make waves and ensure everyone around is sitting up. You'll work hard and expect others to do the same so you may come across as bossy at times but your vitality will inspire most. Obstacles and difficulties will be swept aside and overcome as you move forward with a glint of battle in your eye. There will be good luck on the money front to allow for a few treats as well as giving you peace of mind as you put aside surplus for security. You won't be as sociable as usual so will be pampering yourself in the few quiet moment you have. After the middle of the month you'll tend to be too stubborn or try to control a situation that is irritating you. But coming on too strong could make matters worse. Lighten up and stand back. Leaving well alone may be the best solution. Friends will rally round in the final week to give you support and advice.
Year Ahead 2021
A resourceful, ambitious sign, overflowing with initiative, you won't find it easy to sit on the sidelines and wait in 2021. But the Eclipses overseeing the first few months hint that doing less, pulling strings behind the scenes and giving yourself a chance to put recent events into perspective, is the way to go. You will benefit from having deeper insights into your past or yourself to explain how you've ended up with certain dilemmas. Only by getting down to the roots will you be able to untangle muddles and find solutions for the future. Practical matters such as money will still have to be handled sensibly but they are never a problem for you. There will be patches where more flows through allowing you to indulge. But overall the prevailing mood will be one of caution and putting long term security up as a priority over instant extravagance. Emotionally you'll be moving through unpredictable times when your mood will be on a roller-coaster ride. Early in the year you'll insist on others toeing your line and be impatient when not everything runs to plan. Later you won't care what loved ones do or say, you'll suit yourself. Just try not to put certain securities at risk by being too defiant or rebellious.From middle of May for a few weeks, you'll be communicating confidently, finding your new found tolerance makes for easier relationships at work and with everyday neighbours and friends. That happy state of affairs will return late in the year. In the later months you'll be working exceptionally hard and needing to boost your stamina and fitness to cope with the pile of chores, perhaps extra jobs being landed on you. It'll only last a few months and you'll be pleased at how much you achieve, but will be equally as content to wind down as the New Year approaches.