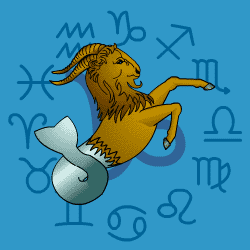 Capricorn
December 23 - January 20
---
Today's Horoscope for Friday January 24th
You will be amazingly charming as long as everything goes your way, otherwise your stubborn side may show through. Do not dig your heels in too hard. But sometimes you have to take a stand, even with yourself. Mull everything over carefully, and once you have reached a considered decision, you can take steps to resolve whatever is bothering you. Just don't expect instant results.rnPush into sorting out your budget. Not only will you feel better, you'll spend with a clear conscience.
The Weekly Outlook from 20th January
In the weeks ahead you will be putting extra effort into getting your budget into ship shape order. You will be determined to earn more or manage what you already have more sensibly. Though your spending is also likely to shoot up. In relationships with loved ones where you've been compromising too much, you will feel a strong urge to break you away from these limitations. Ultimately you'll be glad that you found the courage to put a foot into the unknown.
Your Monthly Horoscope for January
This will be a crucial turning point month for you with a Lunar Eclipse in your opposite sign and a gathering of planets in Capricorn. In a serious mood you won't be as sociable or fun-loving as before, because you know that certain matters need a firm hand, realistic decisions and persistence. You may complain about tough conditions but you will have the grit and persistence to see dilemmas through to a solution. Just don't get overly negative or shut yourself away. Sometimes you look too much on the downside and forget to keep your sense of humour handy. You'll be juggling your own needs and concerns with those of a close partner and won't always feel you have the balance right. That will be an ongoing theme for the next few months so you'll need to keep it in mind. Everyday mates at work and in the neighbourhood will shower you with votes of appreciation and make you feel popular. Into the final ten days your mood will lighten and you'll set off to spend happily.
and Next Month's Horoscope for February
Always a security-conscious sign you always like your finances in order before you feel settled. You also like a good lifestyle and enough surplus to impress the right people, so you'll be turning your attention to sorting out your budget to ensure you keep everything in order for the year ahead. You will be frustrated at times because of slow progress on various fronts. Be patient and keep pulling strings behind the scenes. Nudge those close into doing what circumstances are preventing you from actioning. Luckily there'll be a happier, easier mood at home after the 7th with fewer tensions amongst the wider family so you'll be able to relax, indulge and entertain. You'll also be turning your mind to sprucing up the decoration since you'll want more colour and elegance around you. From mid month you'll roar into higher gear and be sweeping obstacles and slowcoaches to one side not always tactfully. A blunt approach will be what's needed so don't hold back. A lively and entertaining final few days will find you kicking up your heels and throwing caution to the winds.
Year Ahead 2020
2020 for you will start the way it intends to go on, with challenges to your resourcefulness and determination as you stand at a crossroads in your life. You know that leaving the past behind, clearing the decks of what is no longer essential for the future is crucial now. So you'll set to with a will and ensure that you are not letting sentiment stand in the way of common sense. At times you'll be a touch discouraged about the consequences of the decisions you've made but that won't last long. You know like a gardener pruning bushes, you will be stimulating new growth ahead. The difficulties will come first and the rewards will follow not far behind with March, June and November seeing you on a successful and confident track.rnYou will have to take care financially for a few months after March and again in December which needn't mean disaster, just that circumstances will prompt you to save rather than spend and put long term security above short term indulgences.rnYou'll be more independent for the first few months but from May onwards lending a helping hand to loved ones will come easily and they'll be appreciative of your efforts.rnAn action-packed second half year at home will find you racing around, not always patiently, getting everything knocked into shape. You will be frustrated since certain projects are on a go-slow so you need to keep pushing or backtrack to unpick mistakes before forging ahead. It'll be a stop-start year, with fast progress at times and then obstacles will start to pile up. Luckily you're a sign overflowing with initiative and good at thinking your way round dilemmas and finding inventive solutions.rnThe eclipse cycles gradually move away from your own sign so by the year end you'll be less stressed and into a more reflective phase. Money will roll in faster through December though your savings campaign needs to continue at the same time.