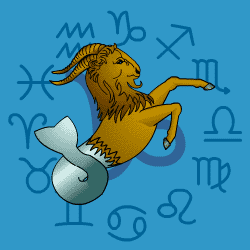 Capricorn
December 23 - January 20
---
Today's Horoscope for Sunday May 28th
Determined and deliberate when it comes to understanding serious subjects which were once a mystery, you will focus on getting better informed. You will be double checking and are likely to be more accurate than chatterboxes. Try not to get too resentful if a loved one is holding you back. You often achieve more if you go slower. Out of what may initially seem to be setbacks can come useful outcomes. Flying ahead at top speed and cutting corners on the other hand can end you up going round in circles.
The Weekly Outlook from 22nd May
In coming weeks in private you will be intensely involved in your intimate relationships, trying to sort out emotional and financial agreements. Anyone who tries to double-cross or let you down will not be forgiven in a hurry. Out on the social scene you'll put on a lighter-hearted face and your way of picking others up in your enthusiasm will produce results. In high spirits, you'll be full of vitality, vim, vigour and bounce. Loved ones and friends will be more than happy to move your way.
Your Monthly Horoscope for May
In a social and outgoing mood, you'll be dancing along in good form, happy to be in the spotlight of loved ones' attention with invitations and compliments winging your way. You'll push your workaholic tendencies to one side, let your hair down and not care what anyone else says or thinks. The affection of one close partner will be on offer and you'll be in demand out on the party scene with a knack of making everyone you encounter feel special. In quiet moments you'll be pondering on your changing financial circumstances and what that means in practice for how you handle your budget. With ingenuity and persistence you can make it work well for yourself. But you will have to take partner's views into account. This will mean a degree of flexibility since you won't get it all your own way especially later in the month. Bite your tongue, pin on an amiable smile and be strategic. If you push too hard and too fast it could backfire. Into the final days hard work will be the order of the day.
and Next Month's Horoscope for June
Success is 90% perspiration which means that dedication to essential tasks will show results if you get your head down and keep ploughing ahead. It may not feel glamorous but you are an earth sign and ambitious and know the top of the mountain is only reached by putting one foot in front of the other. Staying fit goes hand in hand with working hard so you'll be reviewing your lifestyle to see what adjustments you can make to boost your energy.rnOn the emotional front you'll be playing your cards close to your chart and keeping your stronger feelings to yourself. Have a care since you'll tend to exaggerate your responses and be either singing people's praises or condemning them. Liking them or the opposite. Try to be moderate rather than extreme. Though Pluto reversing into your own sign for a few months from the 11th won't make it easy to lighten up. You'll want to be in control not just of your own life but also your environment. Becoming more self-aware will allow you to understand how to cope better with the challenges of your everyday life.rnInto the final ten days a close partner will be on hand with support and feedback. There may be a financial hiccup or two which will require you to take a step back. Rushing to hasty decisions won't be wise.
Year Ahead 2023
2023 will be a year for sorting out your plans, deciding what comes next and how much time to allocate to friends as opposed to loved ones. Finding a balance between your head and your heart will also be a priority which means that outer ambitions cannot take up all of your energy. You need to devote time and attention to home and family matters as well. You'll start in good spirits and be spending happily since you'll reckon you deserve treats. But you will need to tread cautiously. Certain financial restrictions will lift but you will be under pressure to alter the way you handle your finances. Getting control of details and strategies will be down to you and although bring too rigid won't be a good idea, you can't afford to look the other way and leave it to those close to make the key decisions. Relaxing at home for a few months will build up your stamina for a sociable middle and end of the year. Taking quiet time early on will make you content within yourself and also give you a chance to decide how best to expand your immediate environment to allow for more entertaining. Your everyday schedule at work and out in the neighbourhood will demand effort and concentration from April onwards especially when it comes to getting your views heard. When you feel that you are not being given a respectful hearing, you'll need to change your approach and be persistent. June onwards will find your self confidence soar and you won't be short of party invitations or praise at work. Your upbeat approach will prove a winner with positive responses boosting your morale. In the last few months pushing hard to get your talents out on display and your achievements recognised will keep you busy and bring rewards.