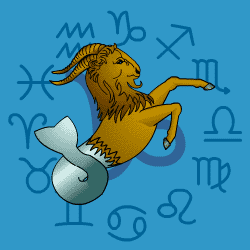 Capricorn
December 23 - January 20
---
Your Birthday Horoscope
IF ITS YOUR BIRTHDAY TODAY your year ahead will be betwixt and between with your feelings pulling you in opposite directions. Don't make hasty decisions until you are clear. You will be curbing extravagances since you know that making yourself secure is more important than instant pleasures. Loved ones will be unpredictable, sometimes there and sometimes not. But if you enjoy the social highlights and occupy yourself with your own interests when there is space you'll do find.
Today's Horoscope for Monday January 17th
The Full Moon today falls in your opposite sign, so you will be reviewing one close partnership. You do want more support, but you also want your independence. It'll be a question of finding how to fulfil your needs without sounding too contradictory or indeed making partners feel their needs are not being met. Maybe you need to cajole them into fitting in with what you have in mind. If you give in the first instance to get in response, but it will be worth it.
The Weekly Outlook from 17th January
The time to take stock of one close relationship has come. Not everything can stay the same for ever. Every so often you need to revise your understandings to keep pace with the changing circumstances of your life. Try work out what is important to you in the longer term, not just your whims of the moment. And from Thursday with the Sun in Aquarius for four weeks you'll be putting effort into getting your finances into ship shape order. You will be determined to manage what you have sensibly.
Your Monthly Horoscope for January
Your birthday Sun along with affectionate and sociable Venus will keep you in bright spirits. You'll spruce up your appearance and be attracting compliments and invitations from all quarters, if not new admirers. Charm will win you most arguments so you'll be generally putting on a sweet smile and persuading rather than forcing others round to what you want. You know you will have to soft pedal on certain projects and demands for another few weeks so you'll take the roundabout route and asking for help when you can't be as pro-active as you'd like. Your finances will require detailed attention in your spare moments so cast an eye over the paperwork and make sure you are well-informed. This is no time to be careless or be relying on a wing and a prayer to bring results. You'll redouble your determination around midmonth you you hit a road block in one plan. Perseverance will pay off. Into the final days you'll make more headway with money and be raring to go when certain restrictions lift.
and Next Month's Horoscope for February
Enthusiastic, determined and confident you'll be flying ahead and setting new plans into a higher gear. Your positive approach will inspire those close and you'll make fast progress as you cut a few corners and take a risk or two that pay off. Where you'll have to be sensible and cautious is over money since there may be unexpected expenses or a sticky situation which indicates that saving not spending will be sensible. After the first week, you'll settle down to getting a grip of your finances. Perseverance will pay off though you may have a few intense discussions along the way before you get the agreements you want. Luckily your persuasive charms should work wonders after mid month. Into the final days you'll be skipping along at speed, chatting animatedly and find enough variety and choice of company to keep boredom at bay.
Year Ahead 2022
Your newly found positive attitude will make all the difference in 2022 as you recognise that in the past being blinkered has caused you to misjudge your capacity for making friends. Your increased tolerance means you'll listen with interest to a wide range of opinions and be happy to agree to differ when necessary.rnThrough the middle of the year you'll relax contentedly at home with family tensions easing. Planning how to expand your domestic setup to give yourself more elbow room and also to allow for more in-house entertaining will keep you happily occupied.rnNot that you'll be throwing money around since you know you have to save, cut out indulgences and put long term security before short term frivolities. Your finances will be unsettled and you'll constantly change your mind about what you want. Loved ones will be equally erratic and unpredictable so you'll need to give each other space.rnAs you move into the final months of the year you'll get your head down and be working hard, since there will be demands on your time and energy. Getting fitter and boosting your stamina will be vital.