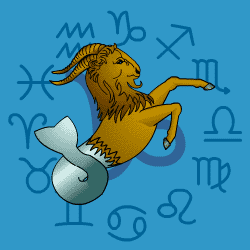 Capricorn
December 23 - January 20
---
Today's Horoscope for Saturday December 04th
The New Moon in the sign before yours is hidden away so you will have to clear quiet space for yourself to be aware of what is beginning. Maybe it will just be an insight into the past or yourself, which gives you the key to how to change the future. New Moons always start as a faint crescent of light, which grows bigger as the time goes on. So don't expect anything major instantly. Be clear that you need to put your wholehearted attention behind the scenes into whatever you want to get in place ahead.
The Weekly Outlook from 29th November
The right people will respect the way you're handling yourself. You'll have good judgment and won't be leaping wildly ahead without considering all your options. Deep down you'll be aware this is not the time to be pro-active. Nothing will be gained by racing around at high speed when your energy and motivation are low. There will be more benefits in finding quality time for yourself. Prepare, plan and understand. Companions may be needing help, but you need to put down limits.
Your Monthly Horoscope for December
Friends will be prompting you to take direct and speedy action over certain plans. But really you want a chance to step back and take a breather. You know it's important to get perspective on recent events and find time for planning and preparation before leaping ahead. This is your time to recharge your batteries and take a back seat. Let others do the running around and take the strain. You'll still have chances to shine out on the social scene and charm the right people. After mid month you'll be talking more but still staying in the background, knowing that circumstances won't allow you to be as pro-active as usual. Patience will help as will your birthday Sun moving into place from the 21st for four weeks. Your confidence and morale will get a boost even if there are a few disruptions to cope with.
and Next Month's Horoscope for January
Your birthday Sun along with affectionate and sociable Venus will keep you in bright spirits. You'll spruce up your appearance and be attracting compliments and invitations from all quarters, if not new admirers. Charm will win you most arguments so you'll be generally putting on a sweet smile and persuading rather than forcing others round to what you want. You know you will have to soft pedal on certain projects and demands for another few weeks so you'll take the roundabout route and asking for help when you can't be as pro-active as you'd like. Your finances will require detailed attention in your spare moments so cast an eye over the paperwork and make sure you are well-informed. This is no time to be careless or be relying on a wing and a prayer to bring results. You'll redouble your determination around midmonth you you hit a road block in one plan. Perseverance will pay off. Into the final days you'll make more headway with money and be raring to go when certain restrictions lift.
Year Ahead 2021
A resourceful, ambitious sign, overflowing with initiative, you won't find it easy to sit on the sidelines and wait in 2021. But the Eclipses overseeing the first few months hint that doing less, pulling strings behind the scenes and giving yourself a chance to put recent events into perspective, is the way to go. You will benefit from having deeper insights into your past or yourself to explain how you've ended up with certain dilemmas. Only by getting down to the roots will you be able to untangle muddles and find solutions for the future. Practical matters such as money will still have to be handled sensibly but they are never a problem for you. There will be patches where more flows through allowing you to indulge. But overall the prevailing mood will be one of caution and putting long term security up as a priority over instant extravagance. Emotionally you'll be moving through unpredictable times when your mood will be on a roller-coaster ride. Early in the year you'll insist on others toeing your line and be impatient when not everything runs to plan. Later you won't care what loved ones do or say, you'll suit yourself. Just try not to put certain securities at risk by being too defiant or rebellious.From middle of May for a few weeks, you'll be communicating confidently, finding your new found tolerance makes for easier relationships at work and with everyday neighbours and friends. That happy state of affairs will return late in the year. In the later months you'll be working exceptionally hard and needing to boost your stamina and fitness to cope with the pile of chores, perhaps extra jobs being landed on you. It'll only last a few months and you'll be pleased at how much you achieve, but will be equally as content to wind down as the New Year approaches.