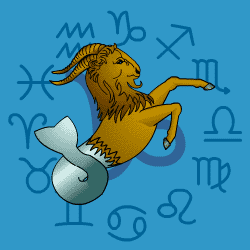 Capricorn
December 23 - January 20
---
Today's Horoscope for Wednesday April 21st
Although you may have to tighten your belt with cash being in shorter supply than usual, it isn't all bad. Ultimately you will be in a more secure position and will be grateful for the lessons you have been forced to learn. In passing you may be possessive about material objects or things from the past. Be sentimental but don't hang on too tightly, or dig your heels in too much. You will need to persist until you find the answers you are looking for but then let go, roll with the flow.
The Weekly Outlook from 19th April
Into a sociable, fun-loving and entertaining few weeks ahead you will be more dramatic and attention seeking than usual. Casting aside inhibitions and self-consciousness, you'll step out boldly to be yourself and find you meet positive responses. After mid week your energy should feel less drained than it has done recently with Mars now moving on a sign. You will be able to sell yourself with more vigour and close partners will be raring to go.
Your Monthly Horoscope for April
Putting home and family first for two weeks will sort out a good many tangles as well as giving you a chance to rest, relax, get perspective on recent events and recharge your batteries. You'll be chatting over matters of the heart with loved ones as well as discussing ways of sprucing up the decoration. You'll want beauty, colour and elegance around. None of this will come without effort so you will have to motivate yourself to getting your domestic projects organised. Try not to assume you're the only one who can do tasks well since you'll end up landed with them all. Delegate when you can. Gradually from mid month you'll move into a sociable and outgoing few weeks when you'll be attracting compliments, admiring glances and invitations galore. Loved ones will shower you with affection and attention and laugh at your jokes. Your mischievous sense of humour will keep everyone entertained if you don't overdo the provocation and go a step too far.
and Next Month's Horoscope for May
Sociable, outgoing, full of beans and boisterous exuberance, you'll head off down the entertainment, enjoyment path and find plenty of opportunities to sparkle in the spotlight. Loved ones and friends will rally round with affectionate responses, compliments and attention so your self-esteem will soar. There'll be one minor cash hurdle to overcome early on but thereafter you'll have fair winds blowing behind you as you get to grips with various situations, emotional and other, and feel you have the reins of control back in your hands. Where co-operative ventures or activities with a partner are concerned, you'll be firing on all cylinders, pulling together and making fast progress. From midmonth your everyday schedule will lighten and brighten as you begin to accentuate the positive and be open-minded about other opinions. Hard work will return in the final days but by then you'll be revitalised and raring to go.
Year Ahead 2021
A resourceful, ambitious sign, overflowing with initiative, you won't find it easy to sit on the sidelines and wait in 2021. But the Eclipses overseeing the first few months hint that doing less, pulling strings behind the scenes and giving yourself a chance to put recent events into perspective, is the way to go. You will benefit from having deeper insights into your past or yourself to explain how you've ended up with certain dilemmas. Only by getting down to the roots will you be able to untangle muddles and find solutions for the future. Practical matters such as money will still have to be handled sensibly but they are never a problem for you. There will be patches where more flows through allowing you to indulge. But overall the prevailing mood will be one of caution and putting long term security up as a priority over instant extravagance. Emotionally you'll be moving through unpredictable times when your mood will be on a roller-coaster ride. Early in the year you'll insist on others toeing your line and be impatient when not everything runs to plan. Later you won't care what loved ones do or say, you'll suit yourself. Just try not to put certain securities at risk by being too defiant or rebellious.From middle of May for a few weeks, you'll be communicating confidently, finding your new found tolerance makes for easier relationships at work and with everyday neighbours and friends. That happy state of affairs will return late in the year. In the later months you'll be working exceptionally hard and needing to boost your stamina and fitness to cope with the pile of chores, perhaps extra jobs being landed on you. It'll only last a few months and you'll be pleased at how much you achieve, but will be equally as content to wind down as the New Year approaches.