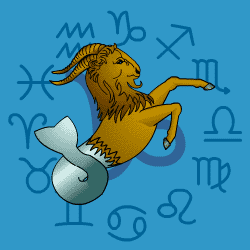 Capricorn
December 23 - January 20
---
Today's Horoscope for Sunday April 05th
Tensions in relationships in general will be easing. The only problem could be that you get ahead of yourself. Jupiter in your own sign can boost your sense of your own self-importance. Some is good, too much could mean you get uppity or possibly careless. But for all that you can expect success now which will come because you'll be adding determination to positive thinking and making it happen. You may well overspend since you'll have an easy-come-easy-go attitude.
The Weekly Outlook from 30th March
If you can be patient and knuckle down to sort out tedious chores, you will fare better. The trouble will be that you'll act erratically. You get dutiful for a while, then resentful and fly off the handle. Later in the week being helpful will be easier than indulging or playing, so you may feel out of place on social occasions unless you have a job to do. But the mood around your daily routines will be happier than it has been for a while. So it's swings and roundabouts.
Your Monthly Horoscope for April
Although you'll be firing on all cylinders and raring to go, your attention will need to be focussed on home and family matters. You may be at risk of allowing your enthusiasm to spill over or to be a touch too pushily confident, so tread more cautiously than you'll feel. Loved ones will appreciate your attention even if you are racing around at speed and trying to micro-manage like mad. Everyone will be overly emotional around the 7th because of a financial matter that blows up suddenly. Staying calm and making sensible decisions rather than leaping impulsively into action without considering the consequences will be advisable. Sitting down for heart-to-heart chats will be easier after mid-month and will clear up any lingering tensions. You'll be more sociable and fun-loving in the final days but keeping a firm grip on the purse strings will be necessary.
and Next Month's Horoscope for May
A fun-loving, sociable and flirtatious Taurus Sun for three weeks will put you in the mood for entertainment and enjoyment. Loved ones will rally round with gestures of affection and appreciation and your popularity out on the party scene won't be in doubt. If you look around you'll notice you're in better spirits than some, since luck appears to be favouring you. Try to put more effort in and your good fortune will turn into long-lasting results. A speeded-up schedule from mid month will keep you running, speaking decisively and at times getting impatient with delays and mistakes. Though your mischievous and jokey approach will smooth round most problems. Into the final days you'll be putting indulgences to one side to crack on with chores. Looking after stamina and energy will be important.
Year Ahead 2020
2020 for you will start the way it intends to go on, with challenges to your resourcefulness and determination as you stand at a crossroads in your life. You know that leaving the past behind, clearing the decks of what is no longer essential for the future is crucial now. So you'll set to with a will and ensure that you are not letting sentiment stand in the way of common sense. At times you'll be a touch discouraged about the consequences of the decisions you've made but that won't last long. You know like a gardener pruning bushes, you will be stimulating new growth ahead. The difficulties will come first and the rewards will follow not far behind with March, June and November seeing you on a successful and confident track.rnYou will have to take care financially for a few months after March and again in December which needn't mean disaster, just that circumstances will prompt you to save rather than spend and put long term security above short term indulgences.rnYou'll be more independent for the first few months but from May onwards lending a helping hand to loved ones will come easily and they'll be appreciative of your efforts.rnAn action-packed second half year at home will find you racing around, not always patiently, getting everything knocked into shape. You will be frustrated since certain projects are on a go-slow so you need to keep pushing or backtrack to unpick mistakes before forging ahead. It'll be a stop-start year, with fast progress at times and then obstacles will start to pile up. Luckily you're a sign overflowing with initiative and good at thinking your way round dilemmas and finding inventive solutions.rnThe eclipse cycles gradually move away from your own sign so by the year end you'll be less stressed and into a more reflective phase. Money will roll in faster through December though your savings campaign needs to continue at the same time.