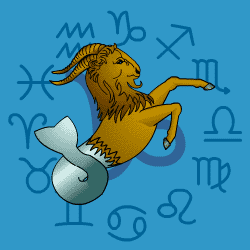 Capricorn
December 23 - January 20
---
Today's Horoscope for Tuesday December 01st
Kindness will come more easily to you than anger, so you will duck out of confrontations wherever possible. In a sentimental and sympathetic mood, you will be a good shoulder to cry on for friends in need though you may be too impressionable. At times you will hesitate to voice your opinion because you fear you will not be heard. Listen rather than talk, absorb and keep your own counsel. Trust your hunches which will more often than not turn out to be accurate.
The Weekly Outlook from 30th November
Although you really would like to disappear into a quiet space to put your feet up, your conscience will prod you into being helpful. Make sure you are looking after your health and energy, since you need to boost your stamina if you are pushing against the grain. Take a few shortcuts as well, since the faster you can relax again the better. You may be seduced by the thought that doing less would make you feel better. But you know if you exert yourself you will feel more virtuous and it will probably bring you more energy.
Your Monthly Horoscope for December
Lying low is always the advice to you as this month opens. The Sun in the sign before yours until the 21st is a hint to step back, let others do the running around while you have a chance to get perspective on the past year and recharge your batteries. You'll then step out revitalised in the final days. Warm-hearted friends will make you feel popular and welcome whenever you want to be out and about in their company. There will continue to be a heated, sometimes argumentative mood at home or within the family for another few weeks. Keep pushing on with reorganising and clearing out clutter since that way you'll use your energy constructively and not be constantly irritated with loved ones. A sea-change after mid-month as several planets shift sign will find you less sociable but keen to get your finances knocked into shape. Over the coming year you'll have luck and dilemmas in equal measure. So when there is surplus if you save as much as possible, you'll gain peace of mind. There will be a stuck emotional or family situation towards the 23rd. But after that has been negotiated you'll spready your wings and fly free to suit yourself.
and Next Month's Horoscope for January
Setting foot on a new year with gusto and determination as well as high energy and passionate enthusiasm, you won't slow down for anyone. Insisting on getting your own way you may come across as bossy so do your best to sweep loved ones up in your enthusiasm since it will save arguments. At times you may exert too much control or be overly stubborn but you won't want to waste any time. Getting to grips with a constantly changing financial situation will be a distraction. There'll be goo0d news and more coming in at points which will send you off on a spending spree. But you'll know this is no time to be too extravagant. Reorganising what you possess will give you security and peace of mind. Those close may be taken aback by your mischievous and rebellious approach as you kick up your heels and refuse to care about anyone else's reaction.
Year Ahead 2020
2020 for you will start the way it intends to go on, with challenges to your resourcefulness and determination as you stand at a crossroads in your life. You know that leaving the past behind, clearing the decks of what is no longer essential for the future is crucial now. So you'll set to with a will and ensure that you are not letting sentiment stand in the way of common sense. At times you'll be a touch discouraged about the consequences of the decisions you've made but that won't last long. You know like a gardener pruning bushes, you will be stimulating new growth ahead. The difficulties will come first and the rewards will follow not far behind with March, June and November seeing you on a successful and confident track.rnYou will have to take care financially for a few months after March and again in December which needn't mean disaster, just that circumstances will prompt you to save rather than spend and put long term security above short term indulgences.rnYou'll be more independent for the first few months but from May onwards lending a helping hand to loved ones will come easily and they'll be appreciative of your efforts.rnAn action-packed second half year at home will find you racing around, not always patiently, getting everything knocked into shape. You will be frustrated since certain projects are on a go-slow so you need to keep pushing or backtrack to unpick mistakes before forging ahead. It'll be a stop-start year, with fast progress at times and then obstacles will start to pile up. Luckily you're a sign overflowing with initiative and good at thinking your way round dilemmas and finding inventive solutions.rnThe eclipse cycles gradually move away from your own sign so by the year end you'll be less stressed and into a more reflective phase. Money will roll in faster through December though your savings campaign needs to continue at the same time.