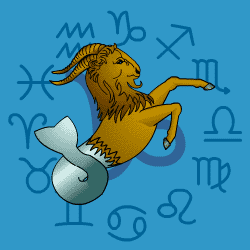 Capricorn
December 23 - January 20
---
Today's Horoscope for Tuesday March 28th
You may go over the top, see things bigger than they actually are. Your confidence will be high but it could tip you over the edge into being unrealistic. Run with your enthusiasm by all means but have a care that you are not expecting miracles. This may be a difficult time to keep secrets since they seem to slide out into the open at the wrong moment. Nor is it the right time to be blunt or confrontational. Try to lay your cards on the table firmly but tactfully.
The Weekly Outlook from 27th March
You will be sell yourself with vigour in coming weeks and put your points across in discussions in a direct and clear manner. Your stamina should feel less strained than it has done recently with Mars now moving on a sign. If you can make your goals modest then you'll achieve what you set out to do and be praised by the right people. But if you aim too high, become overly enthusiastic you could come unstuck. It's all a question of attitude and approach.
Your Monthly Horoscope for March
Racing around at speed, talking constantly, you may not get much done in depth but you'll certainly cover a good deal of territory. If you can slow down once in a while and collect your scattered wits you'll get on better. There will be relaxing moments at home and social fun as the month wears on. Your self confidence will soar so you'll step out boldly at parties and make your presence felt. Hard work will be inevitable so you'll need to boost your stamina if you burn the candle at both ends. Give yourself permission to slump mid month. You'll need in the time ahead to put effort into communicating clearly in your everyday life and when not heard be persistent or find a new approach. In the final days you'll be happy to slow down but need to find time to tackle your personal finances to ensure you are adapting to changing circumstances.
and Next Month's Horoscope for April
Contented within yourself and happy at home, you'll be ambling along at a slower pace, keen to shut out aggravations and too many demands from elsewhere. You'll ponder over ideas for expanding your domestic environment to allow for more entertaining and to give yourself comfort and elbow room. Family relations will be easier so planning get-togethers will e fun. Your mischievous line in jokes and comments will keep everyone you meet entertained all month. One close partner will be firing on all cylinders and inclined to argue so you'll need to act as peacemaker to restore harmony and iron out differences. Lending them a helping hand after the 11th will also help to keep them in good humour. What will require time to consider is your changing circumstances where on financial matter is concerned. Quick fixes and taking shortcuts won't work. You'll be sorting out a longer term strategy to steadily and patiently building up your security. The final few days will be sociable and enjoyable.
Year Ahead 2023
2023 will be a year for sorting out your plans, deciding what comes next and how much time to allocate to friends as opposed to loved ones. Finding a balance between your head and your heart will also be a priority which means that outer ambitions cannot take up all of your energy. You need to devote time and attention to home and family matters as well. You'll start in good spirits and be spending happily since you'll reckon you deserve treats. But you will need to tread cautiously. Certain financial restrictions will lift but you will be under pressure to alter the way you handle your finances. Getting control of details and strategies will be down to you and although bring too rigid won't be a good idea, you can't afford to look the other way and leave it to those close to make the key decisions. Relaxing at home for a few months will build up your stamina for a sociable middle and end of the year. Taking quiet time early on will make you content within yourself and also give you a chance to decide how best to expand your immediate environment to allow for more entertaining. Your everyday schedule at work and out in the neighbourhood will demand effort and concentration from April onwards especially when it comes to getting your views heard. When you feel that you are not being given a respectful hearing, you'll need to change your approach and be persistent. June onwards will find your self confidence soar and you won't be short of party invitations or praise at work. Your upbeat approach will prove a winner with positive responses boosting your morale. In the last few months pushing hard to get your talents out on display and your achievements recognised will keep you busy and bring rewards.