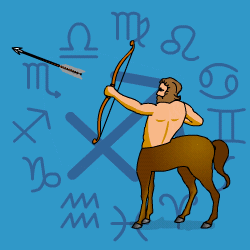 Sagittarius
November 23 - December 22
---
Today's Horoscope for Sunday April 05th
You should be having luck especially where money is concerned. Though you may become too materialistic thinking that cash and possessions are all that matters. Find time to consider what other values there are in your life. As long as you don't go too over the score and think that this stroke of good fortune will last forever you should do well. You'll be keen to hang onto what you have and indeed stay in control ahead. Try not to become too obsessive. Or feel you can be the only one making the decisions.
The Weekly Outlook from 30th March
There is an old saying that anything which shoots up fast like plants growing in a swamp, withers as quickly. Diamonds on the other hand which are produced slowly under great pressure last for ever. Applied to life it means that persistent effort over time produces long lasting results. Don't dash into one situation expecting overnight miracles. Be persistent and try to keep a grip of your tendency to speak too sharply. Later loved ones will shower you with affection to put you into better humour.
Your Monthly Horoscope for April
In a sparkling and flirtatious mood you'll charm the birds off the trees and not be holding back when it comes to pursuing pleasure, fun and whatever you fancy. Socially on top form you'll be deluged with invitations and compliments with loved ones rallying round to shower you with attention as well. There should be good news on the money front though you're also liable to go wild with spending so may not end up with much surplus. You'll be taken aback by a surprising turn of events around the 7th so try not to over-react or leap into action. You could be marginally accident prone, so take care. The combination of lucky Jupiter, your ruler and powerful Pluto will bring significant rewards but they could also prompt you to think that rules don't apply to you which can backfire. In the final days you'll be back working hard, sorting out neglected chores and have to repeat yourself several times to make companions understand what you're trying to get across.
and Next Month's Horoscope for May
You'll be happy to settle into practical routines, cracking on through chores, knowing your rewards will come in cash terms after the middle of the month. Staying fit and healthy will be vital if you're to cope with a heavy workload, so exercising and eating sensibly will help. You'll be having down-to-earth discussions with those close and not letting them away with pie-in-the-sky pipe-dreams which have no substance. A heated mood in your everyday comings and goings will recede after the 13th though you may become frustrated with slow progress on certain pet projects. Try not to take your worries home with you. Instead throw your energy into a spot of domestic reorganisation and persuade loved ones to join in. Money should roll in more plentifully from after mid month to lift your spirits. In the final days there'll be more support from close partners so you'll feel less drained.
Year Ahead 2020
2020 needs to be your feet-on-the-ground year which isn't where you are happiest being a fiery, chatty sign. But needs must the practicalities, especially financial, are your priority. There's a real mixter maxter of influences around suggests setbacks, some austerity and some greatest successes. So there'll be great, not so good and indifferent patches. Being sensible and reorganising your long term security needs to be your first aim. Nothing will be achieved overnight so you'll need to be patient and persevere. Oddly enough not being overly controlling will also help the flow. If you hang on too tightly then everything will jam up. And last but not least you will have luck coming your way bringing larger lumps sums than expected your way, notably in March, June and November.rnUranus will be bringing sudden changes at work so you'll need to stay flexible and be ready to grasp new opportunities when they present themselves. Try not to get too uptight with fast-changing situations. Normally you enjoy adventure and the thrills of a varied schedule but you may find yourself wishing for a more peaceful existence.rnThe love and affection of a close partner will boost your morale from April onwards for a few months though there may be a few disappointments at home as loved ones in the family don't behave as you expect. From July your passionate enthusiasm and physical energy will soar and you'll be firing on all cylinders, keen to enjoy yourself and get your own way You won't always be tactful and those close may object to being bossed around but you won't care. You'll expect everyone to be as lively as you. Just don't be too headstrong or rash when playing games ands racing around since you could be slightly accident prone. You may also be overly impulsive on the cash front, wanting to spend to impress.rnLate year you'll focus on partner's needs, aware that you need to be less self-sufficient and more adaptable in the months thereafter.