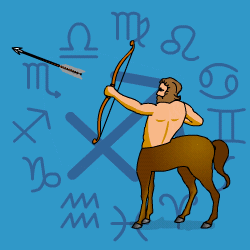 Sagittarius
November 23 - December 22
---
Your Birthday Horoscope
IF ITS YOUR BIRTHDAY TODAY your year ahead will be lucky and enthusiastic although you will need to put your thinking cap on to find solutions to both financial and emotional dilemmas. Your long-term security will be a priority so saving not spending will be wise. Loved ones may not always be on your wavelength when it comes to domestic reorganisation plans, but you'll know you are right and push ahead nonetheless. Your social life will be erratic but great fun at times.
Today's Horoscope for Tuesday December 18th
Independence and excitement are your watchwords. Compromise is not what you have in mind. Inhibitions and advice may be tossed aside as you decide to rave it up socially and romantically. But you are not the only one in a mood to be challenging, so give everyone around as much leeway as you want for yourself. There's a spontaneous, exuberant mood in the air as far as you are concerned. So let it all hang out and step happily into the spotlight.
The Weekly Outlook from 17th December
It's important not to go it alone even if you are finding relationships tricky. Don't pick friends you know test your patience. If you can co-operate you will achieve a great deal. You will fight to defend your rights and get your due, but don't be too possessive. Flow with the bounty of the universe and it will flow back in your direction. Trying to be in control all the time can sometimes backfire, so you lose what you might have gained.
Your Monthly Horoscope for December
Life at home may be all over the place but your spirits will be high with your birthday Sun in place. You'll be upfront, exuberant and keen to get cracking with new resolutions. Last month's confidence dip will be gone so you'll forge ahead. Loved ones in the family will not be in agreement with all of your plans or your desire to reorganise your living space. If you sweep them up in your enthusiasm you'll do better than getting into endless arguments. You will in the first week be disappointed in their attitude, but you know that turning dreams into reality takes time and effort so you'll keep persevering. Pampering yourself in the peaceful moments in the absence of anyone else doing it will help. An expected social high spot on the 20th will find you in a mischievous mood keen to push restrictions to one side. The final days will be indulgent and expensive and you'll have fun.
and Next Month's Horoscope for January
Your energy and passionate enthusiasm will soar as you set out to make your mark and get your own way. Loved ones may find themselves having to dance to your tune when you're around which may not always go down so well. If you can sweep them up in your exuberance you'll do better. However the real priority for you this month is getting your personal finances knocked into order. Which will mean cutting back on extravagances and also oddly enough loosening your grip slightly. If you try to over control where money is concerned it may backfire or you'll stop the flow. Charm and flattery will get you almost anywhere after the 7th with Venus in your own sign, so start handing out the compliments. Loved ones may spring a few surprises towards the 20, but in the final days you'll be into a speedy, lighter, brighter few weeks.
Year Ahead 2019
With lucky, expansive Jupiter, your ruler, in your own sign for eleven months, you'll have moments of soaring confidence. Better relationships in general and resources coming your way are the gift of Jupiter, and also the message that what you give out comes back to you ten-fold. For all that you'll be preoccupied with tedious matters like money. Tightening your belt and cutting out indulgences will need to be the order of your budget as you instil more order into your finances with an eye to your longer-term security. It'll take perseverance and grit to move ahead with your plans but where there's a will there's a way. At work you'll notice a new spirit of defiance as you opt for a niche where you can follow through on your own ideas and not always be feeling others' instructions. You'll want to spread your wings and be free to suit yourself which may cause a few waves, but you won't care. Where health is concerned, you may be a touch nervy or highly strung so finding ways of winding down and re-centring will help your physical stamina. At home there may be a few muddles or disappointments since not everything will be coming up to expectation. Try to accept that perfection isn't possible and reality takes a bite out of every dream. Be happy with what you have and be forgiving if loved ones are sometimes preoccupied or evasive. Finding a new way of sharing, caring, relating and co-operating will be key to the second half year with the Cancer Solar Eclipse shining a light on all joint ventures, financial and emotional. Old habits die hard so it won't all be easy but if you can make a super-human effort to change then you'd find more fulfilment and satisfaction as the months go on. Money will finally start to come in faster towards the year end, setting you up for a more prosperous 2020.