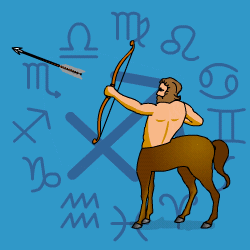 Sagittarius
November 23 - December 22
---
Today's Horoscope for Wednesday October 20th
Friends may be pulling you one way and loved ones another. So you will need to decide how to divide yourself between your wider circle of acquaintances and more intimate companions. And in the middle of the rush and scramble of going in all directions you may lose track of what you want and need for yourself. Allowing your vital inner spark to shine out is more important than fitting in with everyone else's expectations. Refuelling your own spirit needs to come first.
The Weekly Outlook from 18th October
You'll be riding into top gear flying the banner of your pet causes. But watch that you do not race ahead too fast or are taking unnecessary risks. Not that you will be accident-prone, but you could think you are capable of more than you are. Towards the weekend you may feel controlled by a close companion who will be determined to have the last word. It'll be awkward to know how to handle them for the best. The more you push back, the worse they can get and you end up in a no-win battle. Be secure within yourself and rise above it all.
Your Monthly Horoscope for October
Friends and future plans will be your main preoccupation with the Sun and Mars in Libra, so you'll be pondering on your options. Discussing possibilities with trusted mates will give you useful feedback and be helpful in coming to the right decision when the time is ripe to get start. There may be heated discussions and differences along the way but out of constructive discussions will come a few inspirations. You'll also revel in group activities in your leisure hours, happy to be one of the crowd and not stuck in a corner in a possessive relationship. Your open-minded tolerance will win you supporters and you'll realise in the past you've been holding yourself back by looking at certain situations in the wrong way. There will be on sticky patch with a few financial tangles to resolve after midmonth. Staying calm but being firm if anyone else tries to pull a fast one will be your best approach. A quieter final few days will give you a chance to catch your breath and plan ahead, leaving others to do the rushing around.
and Next Month's Horoscope for November
Not ever your favourite month, this November may be going slower even than usual. Not only is the Sun in the sign before yours till the 22nd, Mars is there all month. Circumstances won't allow you to be as pro-active as you would like so you'll need to content yourself with pulling strings behind the scenes. You can also use the time wisely in getting recent events into perspective and planning and preparing for what is coming as your birthday approaches. Spending money on treats will be a fun diversion and you'll adore being pampered. If you can turn your charm towards financial discussions then you'll end up with a cheering result. Staying on top form fitness-wise means finding new approaches to diet, exercise and lifestyle and not allowing yourself to get wound up by surprising turns of events. Stay cool and calm. Into the final week your energy will surge and your way ahead will clear.
Year Ahead 2021
You'll be standing at a crossroads in your life in 2021 poised to make significant decisions about your path ahead. Being an adventurous and restless sign, you always relish the prospect of change and embracing the new. So you won't shy away from mulling over different alternatives and planning with enthusiasm. You'll be more independent-minded for a few months since you know you have to make your own choices. Your everyday schedule will be jam-packed and unpredictable with chance encounters, fun conversations and the odd sticky moment where you feel cold-shouldered and have to find a new approach if you want to get your views across. Managing your time well will be vital if you're not to end up running round in circles. Money won't be quite the pressing concern it was last year though you'll still be pushing mightily hard to ensure you stay in control of your finances and in a position to upgrade your long-term security. And since the world at large will be going through an erratic economic phase you'll need to take care. Jupiter, your ruler, moving into Pisces, your chart area ruling home and family matters, from May for ten weeks and again over the New Year into 2022 will make you more contented at home, with improving contacts with family. You'll plan how to expand your intimate surroundings to allow for more entertaining and give yourself space.From the middle of the year onwards you'll be less self-sufficient and turning your attention to your close relationships. Being more adaptable and sitting down with partners to work out what adjustments are needed to give both of you more fulfilment will help, if you can manage it. By the year end you'll be on track for new beginnings.