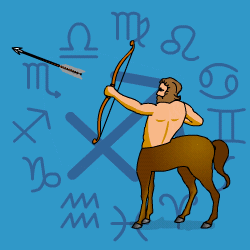 Sagittarius
November 23 - December 22
---
Your Birthday Horoscope
IF ITS YOUR BIRTHDAY TODAY your year ahead will be focussed on finances and family. Getting your longer term security pulled together will be a priority and perseverance will pay off as long as you avoid repeating mistakes of the past. The mood at home will be happier for a while but you'll need to put in effort and find practical solutions to fix practical domestic problems and to iron out wrinkles in the family. Taking time out to reflet on recent events and put the past into perspective will be vital for peace of mind.
Today's Horoscope for Wednesday November 30th
If you can push frivolities to one side to get on with practical tasks, you'll get a good deal of stuff cleared out of the way once and for all. You will concentrate on essentials and have no intention of wasting words. What you say will be to the point. But those close may complain you are coming across as negative or overly serious. Try to rethink your approach and your attitude and you'll be more persuasive. Once you've tidied up loose ends you will deserve a break and can disappear off to play truant.
The Weekly Outlook from 28th November
You won't be able to assert yourself with circumstances stacked against you which means you can't make much of an impression. Issuing ultimatums will not make any difference, so hold yourself back until the tide turns in your favour. There's no reason to get gloomy since this only a temporary blip. After midweek you'll be on better form. You may not be practical but you will be have everything you need in the way of treats, presents and indulgences.
Your Monthly Horoscope for November
Always a pro-active and adventurous sign, you may be champing at the bit and feeling restricted with so much planetary activity in the sig before yours for three weeks. What is clear is you need to take time out for quiet reflection about what comes next. Retracing your steps mentally and reviewing recent events will allow you to start planning ahead but this is only the preparation phase. You can't leap into action yet, so let others do the running around and take the strain. Apart from anything else you need a chance to recharge your batteries since you can't keep up constant running around. Don't regard it as wasted time. You'll emerge revitalised. Progress may feel stop start for a while, a sudden move forwards and then a step backwards. Getting your views across to those close will take persistence. If you are not heard, repeat yourself and rethink your approach. From midmonth the clouds will clear in gradual stages and you'll be attracting compliments as ell as a respectful audience for your views. After the 22nd you'll be firing ahead on all cylinders.
and Next Month's Horoscope for December
Your birthday Sun will give you a bounce for three weeks as you set foot on your personal year ahead, making good resolutions, setting goals and forging ahead with enthusiasm. Sprucing up your appearance and attracting compliments you'll be making a stir. One close partner will be in a forceful mood so it won't always be easy to keep the peace. Arguments will flare but if you can cooperate then you'll make faster progress together rather than being stuck in endless differences. Your key focus will increasingly be to ensure your finances are in order as the month wears on. You'll insist on nailing down the details, reading the fine print and arguing to toss so that you are being fairly dealt with. After the 10th you'll allow yourself the odd treat and indulgence which may get out of hand in the final days. Try to aim for moderation. Your confidence will soar after the 10th for several months which will have a positive effect on your social life and also at work as others put a high value on your presence and personality.
Year Ahead 2022
The good news for 2022 is a happier more relaxed mood at home and within the family so you'll be able to snuggle down, feeling relaxed and contented. You'll even be considering ways of expanding your domestic setup to give you more space and to allow for more entertaining of friends and relatives.rnThen as the year proceeds you'll bounce out exuberantly into a sociable few months with party invitations flooding in and votes of appreciation from loved ones and others. Your self-confidence will soar and as you put a higher value on yourself so will those around at work as well as elsewhere.rnThough there will still be periods when you keep yourself to yourself and mull over the past, coming to terms with what has been. Across the middle months you'll be keen to get fitter and will be reviewing your lifestyle choices to see whether a change of diet or exercise regime would help to boost your stamina.rnGetting your message across in your everyday routines will require persistence and a change of approach. Don't be put off if close companions don't listen, be bold and keep repeating yourself. From August onwards you'll be keen to pull together on cooperative projects. Partners may be heated at times but if you throw yourself wholeheartedly behind their schemes all will go well.