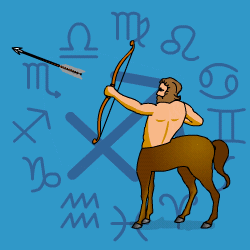 Sagittarius
November 23 - December 22
---
Your Birthday Horoscope
IF ITS YOUR BIRTHDAY TODAY your year ahead will be pro-active, go-ahead and assertive as you throw yourself into sorting out practical problems and organisation at home and tackle tensions within the family. Once you have all that done and dusted you will be speeding ahead, feeling more secure. Your energy will stay high and close partnerships will offer more support an shared interests into next year. Sorting out long term goals and plans will be a priority with plenty of friends to offer help.
Today's Horoscope for Tuesday November 28th
For the next few days you will be at your best in large groups with friends and in team relationships at work looking optimistically ahead. Your social circle will be welcoming and you will have no shortage of invitations when you feel inclined to be out and about. Try not to get uptight if not everything is going to plan. You will tend to over-react, hearing slights where none exist. Balance is what you are aiming for, though you may swing to extremes in the effort to find it.
The Weekly Outlook from 27th November
This week starts on a significant Full Moon which falls in your opposite sign. You will be reviewing one close partnership, wanting support but also insisting on your independence. It will be a question of finding how to fulfil your needs without sounding too contradictory or making partners feel their needs are not being met. Avoid being directly confrontational or leaping in with provocative comments. You'll end up losing words and not knowing how to finish what you started. Listen carefully to feedback since you may respond sharply to comments you did not understand.
Your Monthly Horoscope for November
Progress may slow for three weeks as the Sun lingers in the sign before yours. If you treat it is a blessing in disguise you'll be pleased to step back and let others do the running around while you recharge your batteries and give yourself a chance to plan. Which is not to say you will idle along since there will be a few unexpected events to keep you on your toes. Warm-hearted, affectionate friends will be around to offer entertainment and support and you'll be happy to have an audience for your non-stop chat. You may get frustrated with Mars dragging anchor until the 24th but gradually you'll find restrictions lift and your birthday Sun from the 22nd will be a step forward. Getting to grips with practical matters at home in the final week will require calmly handling any family tensions which arise.
and Next Month's Horoscope for December
Your birthday Sun is always a morale-booster as you make good resolutions about what comes next. You will feel your confidence soar as you step out boldly and find you meet a positive response. You may not be as romantic or sociable but that won't bother you since you'll pamper yourself in the odd quiet moment. And you won't go short of company or compliments. Since your self-esteem will be rising your vitality and energy will as well. Whatever steps you have taken recently to improve your general levels of health and fitness will be paying off. After mid month a confused situation at home may arise because of the evasiveness of a loved one or family member. Try to second guess what is going on since asking questions is unlikely to bring answers. In the final week you'll be in a mood to indulge yourself and to sort out your finances since you will be keen to get the budget in ship shape order by the New Year.
Year Ahead 2023
Your sunny self-confidence will stand you in good stead socially as well as at work. As you put a higher value on yourself with your self-esteem soaring, others will respond well and your popularity will rise. Loved ones will rally round with support and generosity. One close partner will be revved up until March but you'll know how to sidestep differences and keep the peace. Getting your finances knocked into shape will be a continuing project since you need to be in control and on top of details in order to feel secure. Just try not to micromanage everything since it could backfire if those close feel you are taking decisions away from them. Co-operate where possible and compromise if necessary so that you can share responsibility. At home you'll be tackling practical tasks from April onwards as you decide to reorganise or even move. There could be tensions surfacing with family members since they won't always appreciate the upheaval or transition. Regard airing differences as helpful since you can clear them out of the way once and for all. You'll approach chores with enthusiasm from May onwards and since you'll be feeling fitter and raring to go, will crack on through a pile of essentials. Over eating may be a minor hazard but not a major problem. There will be additional pressure on your everyday schedule as commitments pile up which may make you overly intense or dogmatic in your conversations. If you can lighten up and be tolerant, you'll cause yourself less aggravation. Late in the year your thoughts will turn towards widening your circle of friends. Your optimism will soar as you look ahead.