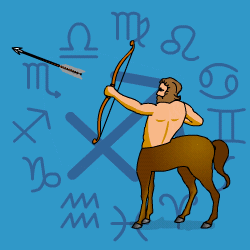 Sagittarius
November 23 - December 22
---
Today's Horoscope for Monday May 23rd
In coming days you'll be informing yourself about fitness, diet and exercise matters and will be sharing what you learn with loved ones. If you have any questions and want to put your mind at rest you'll go ask a trusted adviser. TodayrnJupiter your ruler will ensure you are feeling good physically, emotionally with your self-esteem soaring. There'll be optimism in the air and your positive outlook will bring not only approval from everyone you meet but luck as well.
The Weekly Outlook from 23rd May
Initially you'll amble along feeling good about yourself and your world. Your sunny outgoing approach will iron out difficulties and lead to easier relationships. Though Jupiter may prompt you into spending too much money or thinking you're right about absolutely everything. Try to keep a grip and your feet on the floor since your physical passions will soar as you demand the right to be yourself. No one is going to be pushing you into a corner and demanding that you do your duty.
Your Monthly Horoscope for May
The mood at home with the family will be buoyant as you zip around reorganising, determined to put improvements in place. Your social life will buck up with invitations floating in and chances to sparkle out at parties. Loved ones will rally round to shower you with compliments. You will be putting energy out so will need to boost your stamina however you can and get into peak fitness to cope with an extra-busy schedule. What will help is Jupiter giving your confidence and self-esteem a turbo-charged lift from the 11th as it moves into Aries, staying there for many months ahead. You'll be putting a higher value on yourself and in return others will do both close at hand and at work. Take it easy around mid month since there will be personal dilemmas to sort out and a muddle at home. Into the final days the support of a close partner will make for faster progress. Your passionate enthusiasm and energy will soar.
and Next Month's Horoscope for June
Togetherness will be your path to contentment for a few weeks and cooperation will make for faster progress. That will require compromise and being less independent-minded than usual. Lending a helping hand to loved ones will bring rewards towards the month's end so don't feel deprived. You'll be in demand socially for your knack of making everyone you meet feel special so good company won't be in short supply. Gradually you will be breaking through barriers in your everyday schedule which in the past have prevented you getting your views cross clearly. If you feel let down by a family member or a domestic muddle midmonth try to rise above complaints and let it go since it'll soon be forgotten. In the final days there'll be a noticeable shift in mood with your emotions intensely involved in a secret plan. You'll be keen to persuade those close round to your viewpoint but you'll need to tread softly and be strategic since not everything will be possible instantly. Luckily the love and affection of one partner will keep your morale high.
Year Ahead 2022
The good news for 2022 is a happier more relaxed mood at home and within the family so you'll be able to snuggle down, feeling relaxed and contented. You'll even be considering ways of expanding your domestic setup to give you more space and to allow for more entertaining of friends and relatives.rnThen as the year proceeds you'll bounce out exuberantly into a sociable few months with party invitations flooding in and votes of appreciation from loved ones and others. Your self-confidence will soar and as you put a higher value on yourself so will those around at work as well as elsewhere.rnThough there will still be periods when you keep yourself to yourself and mull over the past, coming to terms with what has been. Across the middle months you'll be keen to get fitter and will be reviewing your lifestyle choices to see whether a change of diet or exercise regime would help to boost your stamina.rnGetting your message across in your everyday routines will require persistence and a change of approach. Don't be put off if close companions don't listen, be bold and keep repeating yourself. From August onwards you'll be keen to pull together on cooperative projects. Partners may be heated at times but if you throw yourself wholeheartedly behind their schemes all will go well.