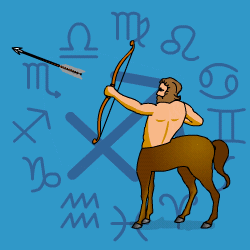 Sagittarius
November 23 - December 22
---
Your Birthday Horoscope
IF ITS YOUR BIRTHDAY TODAY your year ahead will be chatty, restless and scattered but you may feel you're running round in circles since certain pet projects will be on a go-slow and circumstances won't allow you to be as pro-active as you'd like. Luckily everyday companions will go out of their way to offer enthusiastic support and you'll begin to see you'd been taking too blinkered a view of certain situations so new opportunities will be on offer. But there will be communication barriers to break down as well.
Today's Horoscope for Friday December 03rd
You've been feeling frustrated because you can't act directly in an up-front manner. Your forward gear and your anger will feel trapped but this will only last for another few days. You may feel discouraged or low in self-esteem, but there's really no need for it. Don't assume that being left to your own devices is a sign that you are unlovable. Treat it as a blessing in disguise, to give yourself space. Close companions will be on a different agenda so leave them to follow their own pursuits.
The Weekly Outlook from 29th November
You'll be working conscientiously and gaining the approval of those close by not cutting corners or taking risks. You know this isn't the week to be boisterous. Where future plans are concerned getting your head and your heart together will be important. What you want to do and ought to do have to be the same thing. In that way you can put your enthusiasm behind your actions which will work better as a result. Make sure you have supportive companions who are willing to follow your lead.
Your Monthly Horoscope for December
Not everything in your garden will be smelling of roses for the first two weeks but life is definitely improving fast. If you give your exuberant spirit free rein you'll find you meet positive responses wherever you go. You'll spruce up your appearance and attract compliments as well. Mars tucked out of sight is the one to blame for certain projects dragging anchor but it will disappear along with delays from the 13th when you'll shoot ahead with all speed. There may be a muddle or two at home and in the family which will be best handled with gentle forgiveness since you won't get straight answers out of a forceful approach. Getting your finances together will be a priority after mid month when you'll reckon that being resourceful is the way to find the surplus to allow for more treats. There will be odd tensions or differences of opinion about how to handle a tricky situation in the final week. But what will be heart-warming is a sense that the mood at home and within the family is improving rapidly into the New Year.
and Next Month's Horoscope for January
A restless fire sign, you generally assume your luck will hold and don't always pay enough attention to practical detail. But this month you'll be casting an eagle eye over all the fine print in cash matters and leaving nothing to chance. You will want to spend on treats and indulgences but even more so you'll want to build up your security for the future. A busy everyday schedule will keep you running, chatting and cutting corners when you can to pack in all your commitments. Luckily Mars in your own sign until late month will zip up your energy so you'll be on good form. There will be a muddle around the 11th at home or a loved one will prove elusive when you try to pin them down. If you let it drift the air will clear and you'll understand what has been going on. Be firm towards midmonth if anyone tries to pull a fast one or push you in a direction you don't want to go. Into the final days you'll be skipping along at speed, talking non-stop but not taking your eye off the ball in the financial sphere.
Year Ahead 2021
You'll be standing at a crossroads in your life in 2021 poised to make significant decisions about your path ahead. Being an adventurous and restless sign, you always relish the prospect of change and embracing the new. So you won't shy away from mulling over different alternatives and planning with enthusiasm. You'll be more independent-minded for a few months since you know you have to make your own choices. Your everyday schedule will be jam-packed and unpredictable with chance encounters, fun conversations and the odd sticky moment where you feel cold-shouldered and have to find a new approach if you want to get your views across. Managing your time well will be vital if you're not to end up running round in circles. Money won't be quite the pressing concern it was last year though you'll still be pushing mightily hard to ensure you stay in control of your finances and in a position to upgrade your long-term security. And since the world at large will be going through an erratic economic phase you'll need to take care. Jupiter, your ruler, moving into Pisces, your chart area ruling home and family matters, from May for ten weeks and again over the New Year into 2022 will make you more contented at home, with improving contacts with family. You'll plan how to expand your intimate surroundings to allow for more entertaining and give yourself space.From the middle of the year onwards you'll be less self-sufficient and turning your attention to your close relationships. Being more adaptable and sitting down with partners to work out what adjustments are needed to give both of you more fulfilment will help, if you can manage it. By the year end you'll be on track for new beginnings.