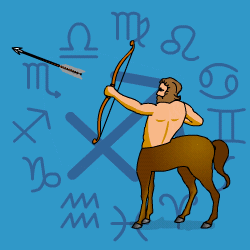 Sagittarius
November 23 - December 22
---
Today's Horoscope for Wednesday May 31st
Insecurity could be a problem since it will make you demand absolute commitment from a loved one. Any hint of you not being in control of the situation will make you feel edgy. Be aware of your needs but do not over react. You may be magnifying a tiny matter out of all proportion. If you are keen to forge ahead with a future scheme it won't be a good idea to commit until you've had a chance to discuss it thoroughly with trusted mates. Listen carefully and when the time is right you will know what is going to be workable.
The Weekly Outlook from 29th May
Being spontaneous and fun loving can feel irresponsible with Saturn moving across the base of your chart. You sense you will not be accepted unless you achieve so you will be throwing your energy into doing rather than being. The upside is you do pile up results, the downside is you get gloomy. Try for a better balance. The Full Moon this coming weekend falls in your opposite sign, so you will be reviewing one close partnership. You do want support as well as independence.
Your Monthly Horoscope for May
All work and no play will dent even your good humour but worry not, this is only a passing phase. If you do have to cope with more chores than usual then you need to boost your stamina. Being an adventurous fire sign you are not always attuned to your physical needs but at the moment you need to be aware of what will put you on top form fitness-wise. Get cracking with a change of diet or exercise regime. Your emotional responses will be stronger and more secretive. They may leak out sideways if you get irritated but on the whole you'll be playing your cards close to your chest. Not even those close will be aware of what you are feeling or planning. After the middle of the month you'll rev up and get cracking as certain restrictions lift and you'll be aiming high and thinking big. Try not to shift from reverse to fast forward too quickly otherwise you'll run into resistance. In the final week close partners will be on hand with support and advice.
and Next Month's Horoscope for June
Togetherness will be what you prize more than anything since you will be feeling in need of support and a helping hand from a close partner. Cooperation will bring you closer especially when you can pull side by side in joint ventures. You'll be in demand socially as well for your knack of making everyone you meet feel special. Mixing with the fun crowd at parties and looking to be entertained and informed at the same time.rnGetting to grips with a few financial tangles you thought had been put to bed will be the result of Pluto reversing into Capricorn on the 11th for a while. Don't complain, just use strategy and ingenuity and you'll win through.rnInto the final days you'll be unusually secretive, playing your cards close to your chest and not letting on what you are planning. You will have to tackle either financial or emotional dilemmas and push hard to get better agreements for the future. Patience and perseverance will get you to where you want to be.
Year Ahead 2023
Your sunny self-confidence will stand you in good stead socially as well as at work. As you put a higher value on yourself with your self-esteem soaring, others will respond well and your popularity will rise. Loved ones will rally round with support and generosity. One close partner will be revved up until March but you'll know how to sidestep differences and keep the peace. Getting your finances knocked into shape will be a continuing project since you need to be in control and on top of details in order to feel secure. Just try not to micromanage everything since it could backfire if those close feel you are taking decisions away from them. Co-operate where possible and compromise if necessary so that you can share responsibility. At home you'll be tackling practical tasks from April onwards as you decide to reorganise or even move. There could be tensions surfacing with family members since they won't always appreciate the upheaval or transition. Regard airing differences as helpful since you can clear them out of the way once and for all. You'll approach chores with enthusiasm from May onwards and since you'll be feeling fitter and raring to go, will crack on through a pile of essentials. Over eating may be a minor hazard but not a major problem. There will be additional pressure on your everyday schedule as commitments pile up which may make you overly intense or dogmatic in your conversations. If you can lighten up and be tolerant, you'll cause yourself less aggravation. Late in the year your thoughts will turn towards widening your circle of friends. Your optimism will soar as you look ahead.