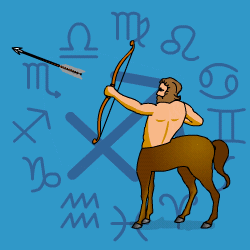 Sagittarius
November 23 - December 22
---
Your Birthday Horoscope
IF ITS YOUR BIRTHDAY TODAY your year ahead will be chatty, restless, outspoken at times and go-ahead as you intend that loved ones in particular will follow your lead. Your first priority will be to improve your finances and your long-term security which will take perseverance, patience and a sensible strategy. Luck will help you along but you can't give up caution just yet. Muddles at home will be tricky to pin down with loved ones being elusive or preoccupied. Be gentle and forgiving but put down limits.
Today's Horoscope for Tuesday December 01st
Chattering more than usual you'll have a bright, curious turn of mind as well as an active tongue. You would rather speak than listen and what you say may not be too subtle. But your plus side is you have no devious streak, and can be relied on for straight answers to direct questions. Spouting off opinions in all directions, you will be jumping ahead before companions have a chance to absorb what you're trying to get across. You could also be trying to have the last word, which may not go down well.
The Weekly Outlook from 30th November
You'll be reviewing one close partnership. You do want more support, but you also want your independence. It'll be a puzzle how to fulfil your needs without sounding too contradictory or making partners feel their needs are not being met. Remind yourself that not everything can stay static for ever. Every so often you need to revise your agreements to keep pace with the changing circumstances of your life. Work out what is important in the longer term, not just your whims of the moment.
Your Monthly Horoscope for December
Your birthday Sun will buoy you up and give you a clear view of your year to come. Laying down plans and making good resolutions, you'll be at your positive-thinking best. Sprucing up your appearance will be a good way to put a stamp on your new beginnings. There may be a muddle or two at home with a loved one being elusive or evasive but you won't allow anything to dent your good humour. Mars has another five weeks in feisty Aries so you'll be keen to enjoy yourself, get your own way and will find your passions and energy remain high. Money has been a running preoccupation for some time and there will be one more hurdle to overcome before this month finishes, but you'll gradually notice that pressures are easing as you consider the longer term. What will be crucial is to reorganise your everyday routines either at work or in the neighbourhood. Your ability to communicate with confidence will delight you but there will be certain situations where you need to push harder to get your message across. Use your ingenuity and stay persistent.
and Next Month's Horoscope for January
Nose to the grindstone you'll be tackling financial, work-related, practical and fitness matters so won't be your usual flyaway, adventurous self for a few weeks. But needs must that essentials are done and dusted. Try not to be perfectionist about certain tasks assuming you're the only one capable of doing them well since you'll end up over burdened. Push yourself to delegate and share the load. Pluto will be prodding you to get a grip of one cash matter though oddly enough not being too heavy-handed and controlling will bring best results. You can improve your security but will need to work out a strategy in advance and take your time. Distractions from a busy and varied everyday schedule will keep you on your toes. You'll veer from optimism to extreme caution which will confuse close mates who won't be sure what line to take with you. Into the final days you'll be flying along and not putting up with any disagreement.
Year Ahead 2020
2020 needs to be your feet-on-the-ground year which isn't where you are happiest being a fiery, chatty sign. But needs must the practicalities, especially financial, are your priority. There's a real mixter maxter of influences around suggests setbacks, some austerity and some greatest successes. So there'll be great, not so good and indifferent patches. Being sensible and reorganising your long term security needs to be your first aim. Nothing will be achieved overnight so you'll need to be patient and persevere. Oddly enough not being overly controlling will also help the flow. If you hang on too tightly then everything will jam up. And last but not least you will have luck coming your way bringing larger lumps sums than expected your way, notably in March, June and November.rnUranus will be bringing sudden changes at work so you'll need to stay flexible and be ready to grasp new opportunities when they present themselves. Try not to get too uptight with fast-changing situations. Normally you enjoy adventure and the thrills of a varied schedule but you may find yourself wishing for a more peaceful existence.rnThe love and affection of a close partner will boost your morale from April onwards for a few months though there may be a few disappointments at home as loved ones in the family don't behave as you expect. From July your passionate enthusiasm and physical energy will soar and you'll be firing on all cylinders, keen to enjoy yourself and get your own way You won't always be tactful and those close may object to being bossed around but you won't care. You'll expect everyone to be as lively as you. Just don't be too headstrong or rash when playing games ands racing around since you could be slightly accident prone. You may also be overly impulsive on the cash front, wanting to spend to impress.rnLate year you'll focus on partner's needs, aware that you need to be less self-sufficient and more adaptable in the months thereafter.