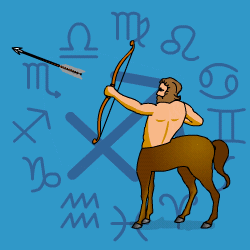 Sagittarius
November 23 - December 22
---
Today's Horoscope for Saturday January 23rd
You could be at risk of biting off more than you can chew, committing yourself to tasks that are beyond you, or promising more than you can deliver. However it could still be a good time to start new projects, as long as you take practical advice and move at a steady pace not a flat gallop. Your imagination will be productive so you can turn a dream into reality. Although later putting your feet up and daydreaming will provide a tempting alternative.
The Weekly Outlook from 18th January
There'll be sudden breakthroughs or bolts from the blue which allow you to see new vistas ahead. Opportunities to travel may turn up unexpectedly or small bonuses or a fortunate turn of events will allow you to see your path ahead is not as restricted as you had imagined. You will gain new insights and more inventive. In the weeks ahead you'll be restless and versatile, knowing a little about a good many subjects. Try not to scatter your attention in too many directions at once.
Your Monthly Horoscope for January
Nose to the grindstone you'll be tackling financial, work-related, practical and fitness matters so won't be your usual flyaway, adventurous self for a few weeks. But needs must that essentials are done and dusted. Try not to be perfectionist about certain tasks assuming you're the only one capable of doing them well since you'll end up over burdened. Push yourself to delegate and share the load. Pluto will be prodding you to get a grip of one cash matter though oddly enough not being too heavy-handed and controlling will bring best results. You can improve your security but will need to work out a strategy in advance and take your time. Distractions from a busy and varied everyday schedule will keep you on your toes. You'll veer from optimism to extreme caution which will confuse close mates who won't be sure what line to take with you. Into the final days you'll be flying along and not putting up with any disagreement.
and Next Month's Horoscope for February
An adventurous, communicative and lively sign even you may get breathless with a jam-packed everyday schedule and constantly changing plans. You'll need to manage your time well, streamline your efficiency and communicate clearly if you're going to stay on top of events and not get in a muddle. At times you'll marvel at your ability to get your message across confidently and persuasively. At others you may run into a few resistances and feel cold-shouldered. If a mate refuses to hear what you have to say maybe you'll need to rethink your approach. Don't get discouraged and retreat. Be persistent and they will listen. Keeping a watchful eye on fitness will be important and that includes winding down to be at peace once in a while. A healthy mind in a healthy body is not a bad motto. After the 18th your way ahead will not be so bumpy with more opportunity to relax at home with your feet up, snuggling up close to loved ones.
Year Ahead 2021
You'll be standing at a crossroads in your life in 2021 poised to make significant decisions about your path ahead. Being an adventurous and restless sign, you always relish the prospect of change and embracing the new. So you won't shy away from mulling over different alternatives and planning with enthusiasm. You'll be more independent-minded for a few months since you know you have to make your own choices. Your everyday schedule will be jam-packed and unpredictable with chance encounters, fun conversations and the odd sticky moment where you feel cold-shouldered and have to find a new approach if you want to get your views across. Managing your time well will be vital if you're not to end up running round in circles. Money won't be quite the pressing concern it was last year though you'll still be pushing mightily hard to ensure you stay in control of your finances and in a position to upgrade your long-term security. And since the world at large will be going through an erratic economic phase you'll need to take care. Jupiter, your ruler, moving into Pisces, your chart area ruling home and family matters, from May for ten weeks and again over the New Year into 2022 will make you more contented at home, with improving contacts with family. You'll plan how to expand your intimate surroundings to allow for more entertaining and give yourself space.From the middle of the year onwards you'll be less self-sufficient and turning your attention to your close relationships. Being more adaptable and sitting down with partners to work out what adjustments are needed to give both of you more fulfilment will help, if you can manage it. By the year end you'll be on track for new beginnings.