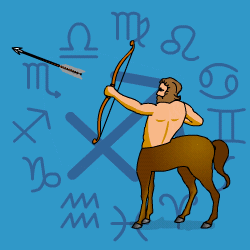 Sagittarius
November 23 - December 22
---
Today's Horoscope for Monday January 17th
Your mood will be intense so it'll be important not to over react to what may just be a passing cloud. You know you are having to be more self-sufficient but try not to get too distracted. Today's Full Moon is focussed on financial and emotional matters. You may be inclined to think you have to alter the way you share and co-operate, but it might not be such a good idea to decide anything hastily. Getting your own security pulled together is something only you can do and that needs to come first.
The Weekly Outlook from 17th January
If you're tempted to have a grand clear out, try not to throw away too much. Not just literally, but emotionally, you'll sense an urge to get rid of old baggage. Remember if you are too impulsive, you may want to backtrack in a few days. Moderation in all things is always a good motto. You'll be pleasantly distracted after midweek with a speedy schedule and will be chatting nineteen to the dozen. There may be less time for depth or detail than you might since you will be pulled in different directions.
Your Monthly Horoscope for January
A restless fire sign, you generally assume your luck will hold and don't always pay enough attention to practical detail. But this month you'll be casting an eagle eye over all the fine print in cash matters and leaving nothing to chance. You will want to spend on treats and indulgences but even more so you'll want to build up your security for the future. A busy everyday schedule will keep you running, chatting and cutting corners when you can to pack in all your commitments. Luckily Mars in your own sign until late month will zip up your energy so you'll be on good form. There will be a muddle around the 11th at home or a loved one will prove elusive when you try to pin them down. If you let it drift the air will clear and you'll understand what has been going on. Be firm towards midmonth if anyone tries to pull a fast one or push you in a direction you don't want to go. Into the final days you'll be skipping along at speed, talking non-stop but not taking your eye off the ball in the financial sphere.
and Next Month's Horoscope for February
In a speedy everyday schedule you'll need to write out to-do lists otherwise you won't get through all essential tasks. You'll rarely be bored, with places and people to visit and fun encounters. There may be a cool confrontation in the first week since you'll feel cold-shouldered or reckon your views are not being given respect. But on the whole you'll be chatty to a good response. Making and spending money will be foreground activities with Venus and Mars still in Capricorn till early March. Your indulgent streak will send you off to pamper yourself but luckily your security-conscious side won't let you go overboard. All month you'll be pleased by a happier mood at home and within the family so in the final ten days when you get a chance to slow down and relax in your intimate surroundings you'll grab it.
Year Ahead 2022
The good news for 2022 is a happier more relaxed mood at home and within the family so you'll be able to snuggle down, feeling relaxed and contented. You'll even be considering ways of expanding your domestic setup to give you more space and to allow for more entertaining of friends and relatives.rnThen as the year proceeds you'll bounce out exuberantly into a sociable few months with party invitations flooding in and votes of appreciation from loved ones and others. Your self-confidence will soar and as you put a higher value on yourself so will those around at work as well as elsewhere.rnThough there will still be periods when you keep yourself to yourself and mull over the past, coming to terms with what has been. Across the middle months you'll be keen to get fitter and will be reviewing your lifestyle choices to see whether a change of diet or exercise regime would help to boost your stamina.rnGetting your message across in your everyday routines will require persistence and a change of approach. Don't be put off if close companions don't listen, be bold and keep repeating yourself. From August onwards you'll be keen to pull together on cooperative projects. Partners may be heated at times but if you throw yourself wholeheartedly behind their schemes all will go well.