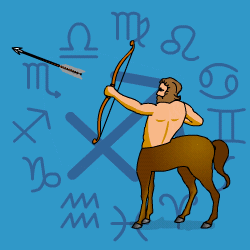 Sagittarius
November 23 - December 22
---
Today's Horoscope for Sunday June 20th
Elbow room will be is as important in your domestic life as tolerance since you want everyone to be at ease. What you'll aim for is having an open house policy for the wider family and friends to come visiting. Try to look on the bright side of things. Pluto can make you see the difficulties rather than boosting your optimism. You will cope well with situations which are out of the ordinary but you may make normal situations more difficult than they need to be.
The Weekly Outlook from 14th June
Don't feel obliged to sit in a corner or be stuck with anyone else's agenda. You won't be in a mood for it. Stand up for what you want as an individual. Popularity is not everything. Admittedly there is a wet blanket mood around so you won't be flinging yourself unreservedly into enjoyment and or passionate clinches. On the other hand there is no sense in getting weighed-down. Be resourceful, get a grip, tackle whatever muddles or projects you have been pushing onto the back burner and you'll be pleased at the result.
Your Monthly Horoscope for June
Close partners will be marching to the same drumbeat so you will feel supported and happy to co-operate. You'll be keeping a few deeper feelings to yourself but you'll be happy to extend a helping hand when asked. Out on the social scene you'll make everyone you meet feel special. But you will at times magnify your responses to irritations and blow trivia into major problems. A financial matter will give you a few anxious moments in the first week but there may not be an instant answer so accepting what you can't change will be the best way to cope. Pressures will ease after the 11th and you'll be able to voice your frustrations about other people's behaviour more openly. But you'll need to be persistent when it comes to building up your security since in the final ten days you'll be back mulling over new plans and a different approach. Luck will be on your side so you'll do better than you expect.
and Next Month's Horoscope for July
An intense, secretive and very determined three weeks will find you pushing ahead slowly in an attempt to resolve financial and emotional tangles. Answers won't come instantly so you'll need to be firm as well as flexible, compromising where you can in order to get agreements. Although most of the time you'll keep your deeper feelings to yourself, you won't hold back when it comes to spreading your opinions far and wide. In your dreams and fantasies you'll be aiming high and thinking big, keen to get hold of your old adventuring spirit. Try not to ruffle feathers by being too forceful or expecting others to immediately agree with your views. Out of the social scene you'll be mixing with a fun crowd and exploring new activities. There'll be one stumbling block where a money matter is concerned just after midmonth. But thereafter you'll be free and clear of practical concerns for a while.
Year Ahead 2021
You'll be standing at a crossroads in your life in 2021 poised to make significant decisions about your path ahead. Being an adventurous and restless sign, you always relish the prospect of change and embracing the new. So you won't shy away from mulling over different alternatives and planning with enthusiasm. You'll be more independent-minded for a few months since you know you have to make your own choices. Your everyday schedule will be jam-packed and unpredictable with chance encounters, fun conversations and the odd sticky moment where you feel cold-shouldered and have to find a new approach if you want to get your views across. Managing your time well will be vital if you're not to end up running round in circles. Money won't be quite the pressing concern it was last year though you'll still be pushing mightily hard to ensure you stay in control of your finances and in a position to upgrade your long-term security. And since the world at large will be going through an erratic economic phase you'll need to take care. Jupiter, your ruler, moving into Pisces, your chart area ruling home and family matters, from May for ten weeks and again over the New Year into 2022 will make you more contented at home, with improving contacts with family. You'll plan how to expand your intimate surroundings to allow for more entertaining and give yourself space.From the middle of the year onwards you'll be less self-sufficient and turning your attention to your close relationships. Being more adaptable and sitting down with partners to work out what adjustments are needed to give both of you more fulfilment will help, if you can manage it. By the year end you'll be on track for new beginnings.