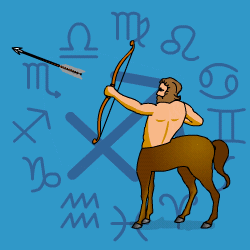 Sagittarius
November 23 - December 22
---
Today's Horoscope for Saturday August 20th
Mars, the planet of dynamic action is moving through your chart area of close relationships for several months ahead. You will be attracting yourself to energetic and competitive companions and those close will be fired up as well. You will achieve a good deal in joint efforts if you can avoid arguing between yourselves. You'll get a positive physical boost with less drain on your stamina than recently so you'll be able to sell yourself with more vigour.
The Weekly Outlook from 15th August
If you have influence over other people, you'll need to act in a reasonable manner. Though it's may be tricky to keep your cool with Mars and Pluto around. Everyone will tend to get uptight or impatient. Try to avoid tramping on anyone else's corns because it could backfire. Luckily the tensions won't last long and by midweek you'll be glowing with warm feelings, at peace with the world and wanting to share your happiness with everyone you meet.
Your Monthly Horoscope for August
You'll be in demand for your views through an unsettled two weeks with surprising events catching everyone unawares. You'll smooth out a few wrinkles and put everyone's mind to rest though you will be coping with as many hitches and glitches as anyone else. They key thing is not to over commit yourself and assume you are the only one able to do tasks well. That way you'll over stretch your stamina. Don't feel you have to prove yourself by redoubling your efforts. Be secure in what you have accomplished so far and if companions don't get the message then keep repeating yourself. Your social life luckily will be in an adventurous phase from the 11th and after midmonth the roller coaster mood will calm down. Into a hard-working final few days you'll be taking the lead and expecting others to follow behind. Close partners will be fired up and raring to go and if you can get their cooperation you'll make fast progress together.
and Next Month's Horoscope for September
Sailing high, looking good and in a position to call the shots, you may have to work hard, but the results will be worth it. This is your peak for the year where career or community activities are concerned so you'll be taking the lead, attracting praise and recognition and making waves. Your social status will rise with invites to the best place so you'll be sprucing up your appearance and putting your best foot forward. Charm will get you everywhere and you'll be impressing all the right people. There may be a muddle or disappointment at home midmonth or within the family but it won't slow you down. If close partners are revved up and inclined to argue, you'll find a way of harnessing their energy to help progress cooperative ventures. Together you will make a difference. A financial tangle will be sorted by the 19th and thereafter fun friends will be on hand to entertain you and offer advice. Your eye will be firmly pinned in a forward direction.
Year Ahead 2022
The good news for 2022 is a happier more relaxed mood at home and within the family so you'll be able to snuggle down, feeling relaxed and contented. You'll even be considering ways of expanding your domestic setup to give you more space and to allow for more entertaining of friends and relatives.rnThen as the year proceeds you'll bounce out exuberantly into a sociable few months with party invitations flooding in and votes of appreciation from loved ones and others. Your self-confidence will soar and as you put a higher value on yourself so will those around at work as well as elsewhere.rnThough there will still be periods when you keep yourself to yourself and mull over the past, coming to terms with what has been. Across the middle months you'll be keen to get fitter and will be reviewing your lifestyle choices to see whether a change of diet or exercise regime would help to boost your stamina.rnGetting your message across in your everyday routines will require persistence and a change of approach. Don't be put off if close companions don't listen, be bold and keep repeating yourself. From August onwards you'll be keen to pull together on cooperative projects. Partners may be heated at times but if you throw yourself wholeheartedly behind their schemes all will go well.