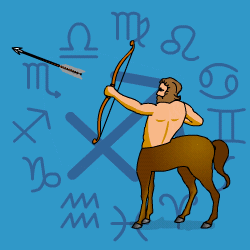 Sagittarius
November 23 - December 22
---
Today's Horoscope for Wednesday April 21st
Do not become discouraged if you feel others are disagreeing with you or excluding you from conversations. Push yourself to find the courage to ask what has gone wrong and to try to put it right. Though you'll be more likely to get distracted by a restless mood which will make it tricky to settle down to anything requiring effort. You won't want to be stuck in a corner sorting out communication muddles. Your intuition will be working well, so you can look ahead and know a little of what is coming ahead.
The Weekly Outlook from 19th April
You will be knuckling down dutifully to do as much as possible for a few weeks ahead. But for that you need to be fitter, so you will be reviewing your lifestyle, to see whether you could improve your diet, take up more exercise or get more rest. In private after midweek you will be intensely involved in your intimate relationships and pushing hard to reach fairer agreements. Anyone who tries to double-cross or let you down will not be forgiven in a hurry.
Your Monthly Horoscope for April
Sociable, fun-loving and in the mood for entertainment, you won't hold back when it comes to demanding your own way. Luckily loved ones will rally round with votes of appreciation and affection so you won't be short of good company. Allowing your inner spark to shine out will be more important than knuckling down to chores. Close partners will be revved up and raring to go. As long as you can avoid getting dragged into arguments which will be easier if you throw your energy behind their plans, then all will go well. A family member may be elusive or evasive which could leave you feeling let down. Forgive, forget and move on. You'll have encouraging encounters in your everyday routines to let you know that the right people are open to hearing your opinions and rate you highly. Although there may be a financial dilemma mid month which it will take effort to clear, you won't let that stop you getting a new scheme under way. A mix of positive thinking and determination will be all that is needed to create luck. Hard work will restrict your enjoyment a touch in the final days as duty calls. Getting your fitness regimes running will help to boost your stamina.
and Next Month's Horoscope for May
Knuckling down to hard work and responsibility for three weeks may sound a bore but you'll clear a good many chores off the slate and end up feeling satisfied with what you've achieved. There may be less support around than you might wish but you can always take pride in what you do for its own sake. Staying fit will also be on your to-do list since you need to boost your stamina to crack on through the chores in front of you. Luckily the warm-hearted support of a close partner will lift your morale and keep you smiling. In return you'll be offering advice and point to ways of disentangling a recent dilemma. In the background you'll continue to push to get agreement over financial plans which won't happen overnight so you'll need to be persistent. The mood at home will be happier from the 13th onwards until July, with chances to entertain the wider family and settle down for heart-to-heart chats. Togetherness will be the key to your contentment in the final week.
Year Ahead 2021
You'll be standing at a crossroads in your life in 2021 poised to make significant decisions about your path ahead. Being an adventurous and restless sign, you always relish the prospect of change and embracing the new. So you won't shy away from mulling over different alternatives and planning with enthusiasm. You'll be more independent-minded for a few months since you know you have to make your own choices. Your everyday schedule will be jam-packed and unpredictable with chance encounters, fun conversations and the odd sticky moment where you feel cold-shouldered and have to find a new approach if you want to get your views across. Managing your time well will be vital if you're not to end up running round in circles. Money won't be quite the pressing concern it was last year though you'll still be pushing mightily hard to ensure you stay in control of your finances and in a position to upgrade your long-term security. And since the world at large will be going through an erratic economic phase you'll need to take care. Jupiter, your ruler, moving into Pisces, your chart area ruling home and family matters, from May for ten weeks and again over the New Year into 2022 will make you more contented at home, with improving contacts with family. You'll plan how to expand your intimate surroundings to allow for more entertaining and give yourself space.From the middle of the year onwards you'll be less self-sufficient and turning your attention to your close relationships. Being more adaptable and sitting down with partners to work out what adjustments are needed to give both of you more fulfilment will help, if you can manage it. By the year end you'll be on track for new beginnings.