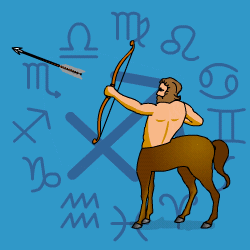 Sagittarius
November 23 - December 22
---
Today's Horoscope for Monday October 26th
You won't take anything at face value so when you get the chance to have a private moment in peace and quiet, you'll be mulling over personal matters of great significance for you. If you let things surface in your mind you can really sort them out. Though at times you'll be sentimental about the past, remembering the good not the gritty times. Your priority will be to put down roots. Try to see where you can make home and your intimate surroundings a cocoon of comfort, with your favourite mates around.
The Weekly Outlook from 26th October
Into a friendly, forward looking few weeks on the social scene, you will want to have a gang of your best buddies around. You will be spreading your favours in all directions, not tying yourself down. Safety in numbers will be your motto. Towards the weekend you'll be wound up and inclined to act without thinking. Try to let your energy out in a controlled way. Don't rock the boat too much or be hasty or impulsive. There's no need to throw the baby out with the bathwater.
Your Monthly Horoscope for October
Surrounded by friends and looking ahead with optimism, you won't leave any stones unturned when it comes to sorting out future plans. You certainly won't be stuck in the past, looking backwards over your shoulder. Progress won't all be smooth and straightforward. You will have moments of elation and others where you have to grit your teeth over delays and setbacks. Getting a grip of your personal finances will continue to be a priority for another two months so you'll need to stay persevering and saving where you can. Luckily your physical energy should stay high and you won't be short of determination when it comes to getting your own way. Loved ones won't always see eye to eye with your plans but you won't budge over key matters even if you have to dig your heels in hard. Though in general you'll use charm to keep the important people sweet. You'll be invited out to special social occasions and be on sparkling form which will bring compliments and even more invitations your way. After the 22nd you'll take a breather and give yourself a chance to recharge your batteries and rethink certain strategies.
and Next Month's Horoscope for November
Warm-hearted friends will be on hand for fun moments and to share ideas for the future as you plot and plan your course ahead. Your knack of making all group activities go with a swing will keep you popular even if you do come out with a few outrageously provocative comments as you amuse yourself and test reactions. You may go too far at times and have to backtrack and calm the atmosphere. Good news on the cash front will cheer you up enormously towards the middle of the month, giving you an excuse to indulge yourself. If you can keep in mind that your long-term security will depend on your being thrifty as well and put some surplus aside it'll be wise. Common sense will return a few days after your triumph so you won't go overboard. Your birthday Sun from the 21st will bounce up your energy and your spirits as you set foot on a new personal year ahead, making good resolutions and feeling revitalised. You may be less sociable and romantic at the same time but you won't be short of good company or confidence.
Year Ahead 2020
2020 needs to be your feet-on-the-ground year which isn't where you are happiest being a fiery, chatty sign. But needs must the practicalities, especially financial, are your priority. There's a real mixter maxter of influences around suggests setbacks, some austerity and some greatest successes. So there'll be great, not so good and indifferent patches. Being sensible and reorganising your long term security needs to be your first aim. Nothing will be achieved overnight so you'll need to be patient and persevere. Oddly enough not being overly controlling will also help the flow. If you hang on too tightly then everything will jam up. And last but not least you will have luck coming your way bringing larger lumps sums than expected your way, notably in March, June and November.rnUranus will be bringing sudden changes at work so you'll need to stay flexible and be ready to grasp new opportunities when they present themselves. Try not to get too uptight with fast-changing situations. Normally you enjoy adventure and the thrills of a varied schedule but you may find yourself wishing for a more peaceful existence.rnThe love and affection of a close partner will boost your morale from April onwards for a few months though there may be a few disappointments at home as loved ones in the family don't behave as you expect. From July your passionate enthusiasm and physical energy will soar and you'll be firing on all cylinders, keen to enjoy yourself and get your own way You won't always be tactful and those close may object to being bossed around but you won't care. You'll expect everyone to be as lively as you. Just don't be too headstrong or rash when playing games ands racing around since you could be slightly accident prone. You may also be overly impulsive on the cash front, wanting to spend to impress.rnLate year you'll focus on partner's needs, aware that you need to be less self-sufficient and more adaptable in the months thereafter.