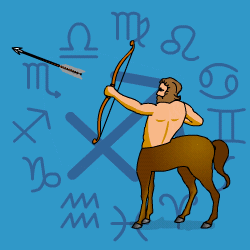 Sagittarius
November 23 - December 22
---
Today's Horoscope for Sunday October 02nd
Serious and methodical, your thinking will be running along practical lines and you'll want to see a tangible result from your discussions and efforts. Your disciplined approach and a vision of what is possible will make projects at work run smoothly. Taking the time and trouble to speak in as precise and effective a way as possible, you'll help your ambitions along with your communication skills. You will have no time for vague discussions which don't go anywhere and at times come across as too cool, not emotional enough.
The Weekly Outlook from 26th September
You may not be too realistic so watch you don't sail ahead thinking you can't lose. If you manage to keep your feet on the ground then there will be fair winds blowing you along. But you'll need to find the right balance between confidence and common sense. After midweek the slower you go the better. There are times when throwing caution to the winds is for the best. But this isn't one of them. Be meticulous and attentive to detail. If anything labour the point and the end result will be long lasting.
Your Monthly Horoscope for October
Although known as an adventurous and physically active sign, you are also a thinker, a reader and a gatherer of information. Swapping ideas with friends will be what keeps you alert and involved for three weeks. Not only will you be setting your plans for the next year and getting feedback you'll also be stirring up lively discussions to keep your mind active. At times your mischievous comments may not always go down well but younger and more open-minded mates will be delighted to have a sparring partner. Close partners will be pushing ahead with vigour but won't always be tactful or patient so you'll need to act as peacemaker at times and not get too rattled. If you can cooperate then together you'll make fast progress tough it won't always be easy. Getting a grip of a financial matter will give you pause for thought just after mid month. After which you'll reckon you deserve a break and will step back to wind down and recharge your batteries for a few weeks.
and Next Month's Horoscope for November
Always a pro-active and adventurous sign, you may be champing at the bit and feeling restricted with so much planetary activity in the sig before yours for three weeks. What is clear is you need to take time out for quiet reflection about what comes next. Retracing your steps mentally and reviewing recent events will allow you to start planning ahead but this is only the preparation phase. You can't leap into action yet, so let others do the running around and take the strain. Apart from anything else you need a chance to recharge your batteries since you can't keep up constant running around. Don't regard it as wasted time. You'll emerge revitalised. Progress may feel stop start for a while, a sudden move forwards and then a step backwards. Getting your views across to those close will take persistence. If you are not heard, repeat yourself and rethink your approach. From midmonth the clouds will clear in gradual stages and you'll be attracting compliments as ell as a respectful audience for your views. After the 22nd you'll be firing ahead on all cylinders.
Year Ahead 2022
The good news for 2022 is a happier more relaxed mood at home and within the family so you'll be able to snuggle down, feeling relaxed and contented. You'll even be considering ways of expanding your domestic setup to give you more space and to allow for more entertaining of friends and relatives.rnThen as the year proceeds you'll bounce out exuberantly into a sociable few months with party invitations flooding in and votes of appreciation from loved ones and others. Your self-confidence will soar and as you put a higher value on yourself so will those around at work as well as elsewhere.rnThough there will still be periods when you keep yourself to yourself and mull over the past, coming to terms with what has been. Across the middle months you'll be keen to get fitter and will be reviewing your lifestyle choices to see whether a change of diet or exercise regime would help to boost your stamina.rnGetting your message across in your everyday routines will require persistence and a change of approach. Don't be put off if close companions don't listen, be bold and keep repeating yourself. From August onwards you'll be keen to pull together on cooperative projects. Partners may be heated at times but if you throw yourself wholeheartedly behind their schemes all will go well.