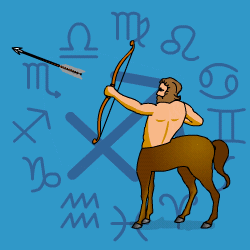 Sagittarius
November 23 - December 22
---
Today's Horoscope for Saturday September 26th
You won't care what anyone else thinks or says. You'll speak in your own individualistic way. Head for younger mates since they will be forward looking, not stuck in a rut. You may be slow to make up your mind on one key subject but once there you will not budge. Loved ones will find an odd mix of tolerant and obstinate. Later you'll pamper yourself with the better things of life - good food, drink, pleasant surroundings and sensuous clothes.
The Weekly Outlook from 21st September
You'll prefer to be involved with friends and detached relationships in coming weeks, where everyone is allowed to go their own independent way, yet still cooperate. You will be keen to see what you can do in however small a way to throw your energy into helpful causes. The important thing is to get the right balance. Be assertive. You've got confidence in what you're doing and what you believe in. Just don't push it too far and end up in disagreements. A contradictory mix, you'll be stubborn and tolerant at the same time.
Your Monthly Horoscope for September
You'll have no intention of hiding away your talents or skulking in a corner. This is your time to shine, demand more appreciation and recognition and take the lead. If you play your cards right you'll persuade others to follow along behind and be the one who makes a difference. Not only will you find praise comes your way, you may also get rewards in an improved financial position. Cash may slide through your fingers quickly at times but you'll also redouble your efforts to make more and organise what you have more sensibly. Your social life will undergo a revival so your mood will lighten after the 6th with fun company and new leisure activities to explore. There may be a moment's disappointment at home as a family member does not act as you expect. But it'll pass so you'll do best to forgive and forget. After the middle of the month you'll sense that a more stable situation is emerging, mainly due to your stalwart efforts. After the 22nd you'll be surrounded by friends and looking ahead with optimism.
and Next Month's Horoscope for October
Surrounded by friends and looking ahead with optimism, you won't leave any stones unturned when it comes to sorting out future plans. You certainly won't be stuck in the past, looking backwards over your shoulder. Progress won't all be smooth and straightforward. You will have moments of elation and others where you have to grit your teeth over delays and setbacks. Getting a grip of your personal finances will continue to be a priority for another two months so you'll need to stay persevering and saving where you can. Luckily your physical energy should stay high and you won't be short of determination when it comes to getting your own way. Loved ones won't always see eye to eye with your plans but you won't budge over key matters even if you have to dig your heels in hard. Though in general you'll use charm to keep the important people sweet. You'll be invited out to special social occasions and be on sparkling form which will bring compliments and even more invitations your way. After the 22nd you'll take a breather and give yourself a chance to recharge your batteries and rethink certain strategies.
Year Ahead 2020
2020 needs to be your feet-on-the-ground year which isn't where you are happiest being a fiery, chatty sign. But needs must the practicalities, especially financial, are your priority. There's a real mixter maxter of influences around suggests setbacks, some austerity and some greatest successes. So there'll be great, not so good and indifferent patches. Being sensible and reorganising your long term security needs to be your first aim. Nothing will be achieved overnight so you'll need to be patient and persevere. Oddly enough not being overly controlling will also help the flow. If you hang on too tightly then everything will jam up. And last but not least you will have luck coming your way bringing larger lumps sums than expected your way, notably in March, June and November.rnUranus will be bringing sudden changes at work so you'll need to stay flexible and be ready to grasp new opportunities when they present themselves. Try not to get too uptight with fast-changing situations. Normally you enjoy adventure and the thrills of a varied schedule but you may find yourself wishing for a more peaceful existence.rnThe love and affection of a close partner will boost your morale from April onwards for a few months though there may be a few disappointments at home as loved ones in the family don't behave as you expect. From July your passionate enthusiasm and physical energy will soar and you'll be firing on all cylinders, keen to enjoy yourself and get your own way You won't always be tactful and those close may object to being bossed around but you won't care. You'll expect everyone to be as lively as you. Just don't be too headstrong or rash when playing games ands racing around since you could be slightly accident prone. You may also be overly impulsive on the cash front, wanting to spend to impress.rnLate year you'll focus on partner's needs, aware that you need to be less self-sufficient and more adaptable in the months thereafter.