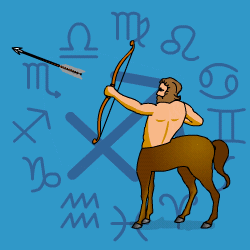 Sagittarius
November 23 - December 22
---
Today's Horoscope for Tuesday August 20th
You want to be flamboyant and bask in the limelight. Clearly not a day to be keeping your feelings to yourself. So go flirt, have fun, play games with loved ones. Forget routine chores and duck out if you feel an order coming your way. You are keen to prove just how resourceful you can be in earning more and in negotiating skilfully. But you do have to watch a tendency to become too controlling around money or spending compulsively.
The Weekly Outlook from 19th August
Those close will be respecting your courage though sometimes they could be irritated or intimidated by your competitive approach. You want to be in the leadership role, and can be bossy in approach. Certainly you will be using your charms to impress all the influential people around at work or out in the community. Flattery will get you most places, so keep handing out the compliments. They may not always be sincere but they will work.
Your Monthly Horoscope for August
A super-exuberant Leo Sun will hit your sweet spot bringing a promise of adventure, travel, broadening horizons. Socially as well you won't be sticking to the same old same old but will be exploring new activities and venues and mixing with a fun crowd. Even if you're stuck in one place your mind will be buzzing with expansive and enthusiastic plans and you'll be spreading your opinions to anyone who'll listen. You may not be practical or good at sticking to routine chores, but you'll be great at morale-boosting and keeping everyone around on a positive track. After mid month you'll have to start putting your grand plans into action so will need to be more grounded. You'll be into a hard-working, fast-moving few weeks when you'll be higher profile and getting more attention. New opportunities will pop up so you'll need to stay on your toes.
and Next Month's Horoscope for September
Aiming high, issuing orders and working exceptionally hard, you intend to make your mark and have no one around you slacking. This is your peak for the year where your career or community activities are concerned so you won't be idling or hiding away at home. For the first two weeks you'll charm as well as stamp your foot to get attention. Though your enthusiasm will also prove infectious and might be a faster way to get co-operation than coming on too strong. There may be some muddles at home or a family member won't be as straightforward as you'd like. Be clear that there are limits to your tolerance but where possible forgive and forget any temporary hitches. From mid month friends will be an affectionate support and later will be offering sensible advice as you plan your next few months.
Year Ahead 2019
With lucky, expansive Jupiter, your ruler, in your own sign for eleven months, you'll have moments of soaring confidence. Better relationships in general and resources coming your way are the gift of Jupiter, and also the message that what you give out comes back to you ten-fold. For all that you'll be preoccupied with tedious matters like money. Tightening your belt and cutting out indulgences will need to be the order of your budget as you instil more order into your finances with an eye to your longer-term security. It'll take perseverance and grit to move ahead with your plans but where there's a will there's a way. At work you'll notice a new spirit of defiance as you opt for a niche where you can follow through on your own ideas and not always be feeling others' instructions. You'll want to spread your wings and be free to suit yourself which may cause a few waves, but you won't care. Where health is concerned, you may be a touch nervy or highly strung so finding ways of winding down and re-centring will help your physical stamina. At home there may be a few muddles or disappointments since not everything will be coming up to expectation. Try to accept that perfection isn't possible and reality takes a bite out of every dream. Be happy with what you have and be forgiving if loved ones are sometimes preoccupied or evasive. Finding a new way of sharing, caring, relating and co-operating will be key to the second half year with the Cancer Solar Eclipse shining a light on all joint ventures, financial and emotional. Old habits die hard so it won't all be easy but if you can make a super-human effort to change then you'd find more fulfilment and satisfaction as the months go on. Money will finally start to come in faster towards the year end, setting you up for a more prosperous 2020.