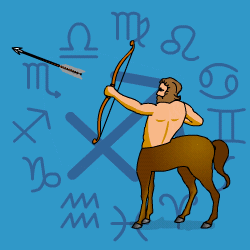 Sagittarius
November 23 - December 22
---
Today's Horoscope for Saturday June 15th
In a restless mood, you'll be unduly sensitive to the undercurrents in the emotional atmosphere. This does make you more sympathetic but it can also make you jangled at times. Try to put yourself into other people's shoes when you can. That way you know what you want and what they want as well. There could be a point where you get yourself all stewed up about something that basically isn't quite as important as you're making it out to be.
The Weekly Outlook from 10th June
This week you will be feeling generous and want to be around people who are feeling every bit as good as yourself. You will be morale-boosting like mad. After midweek it will be important to channel your energy into rather narrow tasks. There's a rather restrictive set of influences around, so if you can focus your concentration in a very self-disciplined way you will sort out detailed tasks. But be careful as you go since you can end being slightly accident-prone.
Your Monthly Horoscope for June
Normally a free spirit at heart, you'll be more inclined to stick close to partners now, wanting togetherness for support and sharing. You'll be in demand socially since you'll make others feel special and compliments will make your head spin. All of which sounds lyrical and lovely. The But is to do with Mars tucked away in the most confidential area of your chart which behind the scenes is causing grumbles of discontentment either over money or your love life. You'll need to keep your famed honesty in check since being outspoken won't help you make progress with finding solutions. You'll veer from being overly optimistic in week two to the opposite in week three. Try to find a balance and be realistic. You'll steady down in the final days, keeping your own counsel and playing a long game.
and Next Month's Horoscope for July
Your adventurous spirit will be leading you upwards and onwards with a million enthusiastic plans bubbling inside your head. Not all of them will be workable but this is the exciting phase of letting your visions take flight. You'll be promoting your pet causes with gusto, spreading your opinions around as many people as will listen. Just remember that gentle persuasion works faster than being overly forceful. In quiet moments you'll be pondering on highly private and personal matters, either cash or love or both. The Cancer Solar Eclipse is a hint that you'll need in coming months to alter the way you share, care, relate and co-operate over both. Changing the habits of a lifetime is no easy thing but you will gain more fulfilment and security if you can try. Your feelings will run hot and strong so you're likely to adore some people and really dislike others. Do recognise that you won't always feel this way. Finding a balance between independence and interdependence is the message of the Lunar Eclipse mid month. You can't be an island unto yourself but you can't give in all the time to the needs of others either.
Year Ahead 2019
With lucky, expansive Jupiter, your ruler, in your own sign for eleven months, you'll have moments of soaring confidence. Better relationships in general and resources coming your way are the gift of Jupiter, and also the message that what you give out comes back to you ten-fold. For all that you'll be preoccupied with tedious matters like money. Tightening your belt and cutting out indulgences will need to be the order of your budget as you instil more order into your finances with an eye to your longer-term security. It'll take perseverance and grit to move ahead with your plans but where there's a will there's a way. At work you'll notice a new spirit of defiance as you opt for a niche where you can follow through on your own ideas and not always be feeling others' instructions. You'll want to spread your wings and be free to suit yourself which may cause a few waves, but you won't care. Where health is concerned, you may be a touch nervy or highly strung so finding ways of winding down and re-centring will help your physical stamina. At home there may be a few muddles or disappointments since not everything will be coming up to expectation. Try to accept that perfection isn't possible and reality takes a bite out of every dream. Be happy with what you have and be forgiving if loved ones are sometimes preoccupied or evasive. Finding a new way of sharing, caring, relating and co-operating will be key to the second half year with the Cancer Solar Eclipse shining a light on all joint ventures, financial and emotional. Old habits die hard so it won't all be easy but if you can make a super-human effort to change then you'd find more fulfilment and satisfaction as the months go on. Money will finally start to come in faster towards the year end, setting you up for a more prosperous 2020.