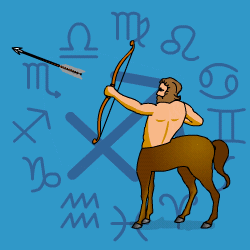 Sagittarius
November 23 - December 22
---
Today's Horoscope for Tuesday March 28th
There are days when you can spot every detail but you lose the broader view. Then there are days when you can see the whole picture, but miss the minutiae. This is grand planning day not one for counting beans or checking computer codes. You will not find it easy to bring emotional differences into the open with a loved one but it is important that you try. Be as honest as you can. Do not tell little white lies even for the sake of keeping the peace or being nice. Try to make loved ones be straightforward as well.
The Weekly Outlook from 27th March
You will be intensely involved in your intimate relationships in the time ahead. Anyone who lets you down will not be forgiven in a hurry. Petty irritations will be getting under your skin around midweek. But you feel the circumstances aren't such that you can lose your temper, which would at least get your grievances out into the open. Better by far to be discreet and plough on steadily, without looking to left or right. Focus on your long term goals and then immediate problems will seem smaller.
Your Monthly Horoscope for March
Home will be where your attention is focused since you know you need to get better organised at a practical level. You'll also be addressing any issues with family members where there may be differences of opinion. If you stay calm and tackle discussions in a dispassionate way you'll reach agreement faster. One close partner will be wound up and raring to go as they have been for several months. Throwing your energy and cooperation behind their plans will reduce strain and make joint projects move ahead faster. Affectionate friends and team mates will rally round after mid month as you head into a sociable, fun-loving final few days. You'll sparkle in the spotlight of attention at parties and be putting on quite a performance. Encounters in your everyday relationships at work and in the neighbourhood will bring profound insights in the final days. You'll be persuasive and get your views across if you stay light-hearted. Getting too intense or forceful won't work.
and Next Month's Horoscope for April
A high-vitality and sociable Aries Sun with confident Jupiter alongside will guarantee enjoyment, entertainment and fun company for three weeks. Loved ones will rally round with votes of appreciation to boost your morale. As your self-assurance soars you'll step out boldly and find you meet equally positive responses at work and in your community activities. Which is not to say you won't be concentrating on practical tasks and offering loved ones a helping hand in between times. There will be a few confidential financial dilemmas requiring patience and resourcefulness before you reach a satisfactory conclusion. After the 11th the affectionate support of a loved one will keep you smiling and you'll be even more in demand out on the party scene as well. Into the final days your everyday schedule will be challenging with intense encounters and discussions. You'll be digging in your heels and refusing to budge over a difference of opinion but being strategic will work better than being too confrontational.
Year Ahead 2023
Your sunny self-confidence will stand you in good stead socially as well as at work. As you put a higher value on yourself with your self-esteem soaring, others will respond well and your popularity will rise. Loved ones will rally round with support and generosity. One close partner will be revved up until March but you'll know how to sidestep differences and keep the peace. Getting your finances knocked into shape will be a continuing project since you need to be in control and on top of details in order to feel secure. Just try not to micromanage everything since it could backfire if those close feel you are taking decisions away from them. Co-operate where possible and compromise if necessary so that you can share responsibility. At home you'll be tackling practical tasks from April onwards as you decide to reorganise or even move. There could be tensions surfacing with family members since they won't always appreciate the upheaval or transition. Regard airing differences as helpful since you can clear them out of the way once and for all. You'll approach chores with enthusiasm from May onwards and since you'll be feeling fitter and raring to go, will crack on through a pile of essentials. Over eating may be a minor hazard but not a major problem. There will be additional pressure on your everyday schedule as commitments pile up which may make you overly intense or dogmatic in your conversations. If you can lighten up and be tolerant, you'll cause yourself less aggravation. Late in the year your thoughts will turn towards widening your circle of friends. Your optimism will soar as you look ahead.