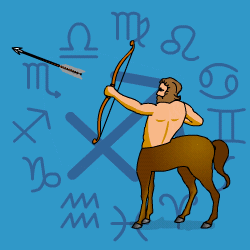 Sagittarius
November 23 - December 22
---
Today's Horoscope for Sunday July 12th
You'll be digging deeper for long-term answers for yourself so it's lucky that your intuition is working well. You'll be able to ferret out secret information that is essential to your plans. But you have no intention of letting your own cats out of the bag. Have a care since with Neptune around you may find it tricky to keep anything hidden. You'll find yourself letting down your defences and moving closer to certain people. Then it'll all tumble out into the open.
The Weekly Outlook from 06th July
You know you won't be happy or emotionally secure, until your finances are in ship shape order. Yet you also are aware that close partners have a different agenda. Your priority is to protect your own back as much as possible. Then you can fit in with whatever joint or co-operative schemes are important. But you'll be restless and not want to step aside for others. You will go straight down the middle of road. If you're driving or walking, you could be slightly reckless so take care.
Your Monthly Horoscope for July
You'll be pondering deeply on highly personal and confidential dilemmas and not coming up with any immediate answers. Not only is the Cancer Sun around for three weeks the present eclipses will keep the pressing issues to the foreground for several months to come. You'll be balancing your own needs to protect your security and the wish to co-operate in joint schemes or with partners. So you'll be weighing in the balance how to manage a degree of independence along with interdependence. Your high energy and passionate determination will keep you pushing on and you will be inclined to boss loved ones around. Try to keep your impulsive streak under control mid-month since over-confidence could push you into decisions too hastily. Assuming your guardian angel will always be there to provide a safety net won't be the most sensible way to proceed. Certain restrictions and pressures will ease in the final days and you'll be keen to broaden your horizons and travel further afield if you can in search of adventure.
and Next Month's Horoscope for August
With the Sun in Fire Sign Leo and Mars in fiery Aries, you'll be raring to go and have no intention of letting anything or anyone stand in your way. Broadening your horizons, raising your sights higher and thinking big will be your mottos. Your schemes may not all be realistic or practical and some may have to be abandoned down the road as unworkable but you will have fun following your vision. Your dynamic energy will be spilling over so you'll sweep loved ones up in your enthusiasm and at times come across as a touch bossy, but if you play your cards right they rally round and fit in. Take the first week cautiously since you'll be inclined to over react to a surprise turn of events and then decide to throw advice to one side and spend liberally. A few days later you may regret you were so bold and will want to backtrack or circumstances will prompt you to pull in your horns. Keep in mind that your peak few weeks of the year at work and in your community activities starts on the 23rd so you'll need all your ducks in a row before then as you move into actioning your plans. One cash problem will prove irritating but there's no sense in flaring up. Persevere and you'll win through.
Year Ahead 2020
2020 needs to be your feet-on-the-ground year which isn't where you are happiest being a fiery, chatty sign. But needs must the practicalities, especially financial, are your priority. There's a real mixter maxter of influences around suggests setbacks, some austerity and some greatest successes. So there'll be great, not so good and indifferent patches. Being sensible and reorganising your long term security needs to be your first aim. Nothing will be achieved overnight so you'll need to be patient and persevere. Oddly enough not being overly controlling will also help the flow. If you hang on too tightly then everything will jam up. And last but not least you will have luck coming your way bringing larger lumps sums than expected your way, notably in March, June and November.rnUranus will be bringing sudden changes at work so you'll need to stay flexible and be ready to grasp new opportunities when they present themselves. Try not to get too uptight with fast-changing situations. Normally you enjoy adventure and the thrills of a varied schedule but you may find yourself wishing for a more peaceful existence.rnThe love and affection of a close partner will boost your morale from April onwards for a few months though there may be a few disappointments at home as loved ones in the family don't behave as you expect. From July your passionate enthusiasm and physical energy will soar and you'll be firing on all cylinders, keen to enjoy yourself and get your own way You won't always be tactful and those close may object to being bossed around but you won't care. You'll expect everyone to be as lively as you. Just don't be too headstrong or rash when playing games ands racing around since you could be slightly accident prone. You may also be overly impulsive on the cash front, wanting to spend to impress.rnLate year you'll focus on partner's needs, aware that you need to be less self-sufficient and more adaptable in the months thereafter.