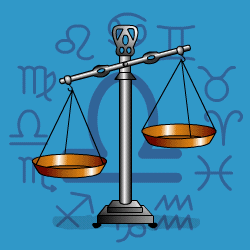 Libra
September 24 - October 22
---
Today's Horoscope for Saturday February 29th
You are determined to get a more orderly atmosphere to work in, and are fed up with incompetence, chaos, and too pressured a schedule. Take time out of a busy schedule just to wind down. Your helpful suggestions will go down well now except when you tramp on other people's corns by pointing out their flaws. Try a little charm, and a few compliments before you wade in to criticise. Later the tension will wind down as new possibilities turn up out of the blue that will allow you to do what you haven't been able to do before.
The Weekly Outlook from 24th February
You know this isn't the most glamorous time of the year at work for you, but it could just be the right circumstances for you to re-organise some of your methods. If you can find the discipline then you will find you clear up a good many tangles before they happen. You may feel separated from loved ones, because you'll tend to magnify faults. You'll get melodramatic about small things when really you'll need to wind yourself back down. Keep your sense of humour handy.
Your Monthly Horoscope for February
In a lively, sociable and fun-loving mood you won't be hiding yourself away for a moment. At the best of times you're a diplomatic sign and a people-person. Even more so this month when your diary will be filling up with invitations and loved ones will be rallying round with votes of appreciation. Zipping around a busy everyday schedule for the first two weeks you'll rarely be bored though you may get scattered. Venus, your ruler, moving into your opposite sign of Aries for a few weeks from the 7th will double up your charm and bring more affection and compliments your way. A sea change mid month will turn your focus on home and family matters and resolving any grumbling resentments or practical problems. If you can soft pedal and stay tactful rather than being confrontational you'll make more headway. Sorting out your finances will keep you occupied later on. Persistence and effort will pay off so don't give up.
and Next Month's Horoscope for March
You won't be giving much away not even to those close in an emotionally secretive few weeks. Try to find one person you can really trust to confide in since keeping everything to yourself may make you exaggerate certain situations and get over heated. Knuckling down to hard work will be unavoidable so you'll need to boost your stamina by being sensible about your fitness regimes and try to streamline your efficiency. Your energy will sag towards the 8th so be kind to yourself. Not being too perfectionist will also help. There will be heart-warming and contented moments at home so you will be able to relax. Good news about a domestic matter or a family member will brighten your spirits though there will be one stumbling block at home before the end of the month, which you'll need to handle with kid gloves. There will be more support on offer after the 20th though certain loved ones may also land heavier responsibilities on you. Try not to be discouraged if there's less time for fun.
Year Ahead 2020
2020 will be your year for reorganising your home and domestic life and finding that major changes in relationships within the family have to be negotiated. It'll feel like an uphill struggle at times but you need to be persistent, put in the leg work and stand firm about what you need for yourself for the future. Because of the contradictory nature of the influences around, you'll find it's one foot forward and one foot backwards. There will be moments of contentment and moments of drama, some tensions spilling into the open and old resentments getting finally cleared out of the way.rnYou'll be on an emotional roller-coaster in odd patches as sudden events crop up unexpectedly which throw your plans off track. But you'll keep your eye firmly on your goals and won't lose your equilibrium for long.rnJoint finances will need care since more money will come and go that usual which means you have to budget for an uneven flow of income. It needn't necessarily be disastrous, just fast-changing and unpredictable.rnYour energy won't be limitless so don't over push yourself when you feel like slumping. You will want to be helpful but over stretching yourself to ensure that others are being looked after won't be sensible.rnLuckily your social life will be lively and adventurous across the middle months of the year. And close partners will be firing on all cylinders from July onwards which could lead to arguments but not if you co-operate with their plans. That way you'll make progress faster.rnThe eclipse cycle will focus you on home matters for the first half year and ambitions in the second half. Then as you head for the New Year into 2021 you'll be racing around a busier schedule, be into a sociable phase and finding your self-confidence is soaring.