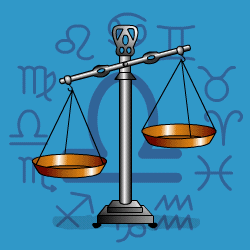 Libra
September 24 - October 22
---
Today's Horoscope for Saturday December 04th
Everyone around knows your heart is in the right place but they may not be entirely clear about what you are driving at, so try to collect your thoughts before you dash into discussions. You know you need to get more method and discipline into your everyday schedules, and this could be the day to start. Trying to manage your time better, streamline your efficiency and clear up communication muddles will be a high priority ahead. If you take steps early on you can prevent complications arising in future.
The Weekly Outlook from 29th November
Getting your feet on the ground, and paying attention to small details, may not sound like a laugh a minute. But if you ignore what is under your nose, you will not be able to tackle the more expansive, fun projects in future. Regard this week as a useful preliminary. What will help is Saturn in aspect to the Sun, making it easier to push indulgences to one side and be methodical. You'll be down-to-earth and hard-working, and keen to push on until you achieve your goals.
Your Monthly Horoscope for December
Being able to communicate your thoughts is always of prime importance to you as an Air sign. So a chatty, fast-moving and knowledgeable Sagittarius Sun until the 21st will suit you admirably. A jam-packed everyday schedule will leave no chance of getting bored or being stuck with long-running chores. You'll be in a grasshopper mood and need to stay organised with to-do lists otherwise you'll end up running in circles. Cutting a few corners and skimming the surface, you may overlook a few details and over stretch your energy, so slow down once in a while to double check and recharge your batteries. Though truthfully your pressured schedule will if anything speed up after the 13th. You'll get impatient with delays and mistakes and be expressing your opinions forcefully. The Capricorn Sun in the final ten days will be a relief since it will turn your attention to home and family matters and be a chance to wind down at least part of the time.
and Next Month's Horoscope for January
Your everyday schedule will be busy, varied and speedy, but that won't stop your focus being primarily on home and family matters. Putting down roots, snuggling up close to those who make you feel warm and wonderful will be the way to go. You'll also be mulling over ways to improve the decoration in your intimate surroundings to give you a sense of good taste, elegance and calm. Then you'll be happy to entertain friends and loved ones and not feel the urge to socialise outside. Try not to pack in too many commitments since around the 11th you'll need a rest and relax break to recharge your batteries. A tricky domestic challenge around midmonth will require strategy and determination to overcome. If any of those close disagree with your plans try to persuade them round to your viewpoint without coming across as forceful. Fun and entertainment beckon after the 20th with your social diary filling up fast and plenty of chances to sparkle in the spotlight of loved ones' attention.
Year Ahead 2021
Scattering off in all directions at once as you move into 2021, you'll have an exceptionally busy schedule for several months ahead and need to manage your time well, streamline your efficiency and speak clearly. Staying on top of details may not be your strength so you'll need to force yourself to be practical and observant. Luckily your talents as a communicator will come in handy since you'll get your message across loud and clear, as long as you keep your focus steady. But it won't be easy since nothing will stay the same for long, financially or emotionally. You'll be tempted to act hastily and then wish you had held back. You'll need to budget with the unexpected in mind, saving when you can and not over committing yourself. Offering a helping hand to loved ones may cut into your enjoyment time but you'll be learning lessons about the responsibilities of relationships. You will have a chance from time to time to kick up your heels and enjoy yourself without self-consciousness with your self-doubts receding. But there will be other phases when you need to make a determined effort to revitalise your social life.From May onwards for a few weeks and again late year you'll move into an enthusiastic phase at work or with chores and be feeling fitter and more energetic. Mid year onwards you'll set your sights higher, be looking further afield and be keen to broaden your horizons and inject more adventure into your life. You'll have grand plans and high enthusiasm as well as a vision of what you want ahead. Not all of your pet schemes will be workable but you'll be buoyed up by your passion for change and rising confidence.Your attitude needs to be one of resilience in the knowledge that overcoming difficulties and coping with tensions will lead to growing strength.