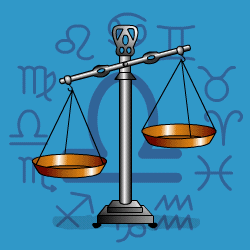 Libra
September 24 - October 22
---
Your Birthday Horoscope
IF ITS YOUR BIRTHDAY TODAY your year ahead will be a real mix of socially confident and outgoing, overly intense and rather weighed down by responsibilities. So you'll need to pace yourself to fit in all your obligations and juggle your contradictory moods. One close partner will be elusive or preoccupied so give them the benefit of the doubt and leave them to their own devices. You will be putting in determined effort behind the scenes to improve your financial situation. Perseverance will pay off.
Today's Horoscope for Friday September 25th
You may be overly perfectionist or uptight with yourself and with loved ones who share your home. Loosen up and don't be so rigid about everything. Life needs a little relaxation and even sloppiness to make it feel comfortable. Jupiter will help you indulge and tempt you into a lazier mood. In peaceful moments you'll have a chance to mull over old memories. You'll be more settled once you have thought things through carefully and decide to let go of what is no longer essential.
The Weekly Outlook from 21st September
With your birthday Sun now in place for several weeks ahead you'll have a surge of energy. Suddenly you feel you have the force of personality to carry others along in your wake. Your personal appearance will be important and any extra thought and effort that goes into your wardrobe and hairdo will be well received. Talking and moving around quickly you'll have added vitality and enthusiasm. Don't get cross if someone disagrees with you. Be creative about the differences.
Your Monthly Horoscope for September
September is always your month, at least the first three weeks, of stepping back, winding down and letting others take the strain. You'll want a chance to sit on the side-lines and reflect over the past year, as well as preparing and planning for the year to come as the Sun starts your birthday cycle from the 22nd onwards. It won't be wasted time and you'll bounce out revitalised since you need a breather. You'll also be concentrating on home, family and domestic matters and getting your head straight about what needs to change. Pushing ahead with reorganisation plans will take persistence and flexibility since certain loved ones may have different ideas and you'll have to bring them round. You'll be chatting away constantly and should be persuasive. Your popularity amongst friends and in group activities won't be in doubt and you'll appreciate the warmth of feelings you encounter as you move around. In the final week you'll put your foot down and forge ahead with confidence and renewed zest.
and Next Month's Horoscope for October
With surging energy and confidence you'll be keen to step out boldly and be a force to be reckoned with. Your birthday Sun is the start of a new year for you so a time to make good resolutions, plan ahead and then start moving in the right direction. There will be distractions and dilemmas at home and within the family which will be irksome at times and heart-warming at others. So your mood will flip from sunny optimism to more sombre reflection frequently. Just keep trucking. Close partners may be argumentative but they will, if handled sensibly, be willing to throw their energy behind your plans. Co-operation won't be easy or straightforward but you'll achieve more together than apart. You won't be as sociable as usual so pamper yourself in the quiet moments and keep your own counsel. In the final days you won't be as emotionally strained and will turn your attention to boosting your finances.
Year Ahead 2020
2020 will be your year for reorganising your home and domestic life and finding that major changes in relationships within the family have to be negotiated. It'll feel like an uphill struggle at times but you need to be persistent, put in the leg work and stand firm about what you need for yourself for the future. Because of the contradictory nature of the influences around, you'll find it's one foot forward and one foot backwards. There will be moments of contentment and moments of drama, some tensions spilling into the open and old resentments getting finally cleared out of the way.rnYou'll be on an emotional roller-coaster in odd patches as sudden events crop up unexpectedly which throw your plans off track. But you'll keep your eye firmly on your goals and won't lose your equilibrium for long.rnJoint finances will need care since more money will come and go that usual which means you have to budget for an uneven flow of income. It needn't necessarily be disastrous, just fast-changing and unpredictable.rnYour energy won't be limitless so don't over push yourself when you feel like slumping. You will want to be helpful but over stretching yourself to ensure that others are being looked after won't be sensible.rnLuckily your social life will be lively and adventurous across the middle months of the year. And close partners will be firing on all cylinders from July onwards which could lead to arguments but not if you co-operate with their plans. That way you'll make progress faster.rnThe eclipse cycle will focus you on home matters for the first half year and ambitions in the second half. Then as you head for the New Year into 2021 you'll be racing around a busier schedule, be into a sociable phase and finding your self-confidence is soaring.