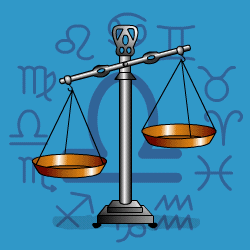 Libra
September 24 - October 22
---
Today's Horoscope for Monday March 08th
Practical and keen to get details in the right place, you'll be less worried about getting praise, than in being helpful and being of service. But you'll be reserved emotionally and shy when it comes to expressing your romantic needs. You'll need to make more effort to break the ice and show your inner warmth. So drop your stand offish manner and be outgoing. If you make loved ones feel excluded or demand too much from them you run the risk of dampening what could be fun times.
The Weekly Outlook from 08th March
Don't get panicky because everything is not going to plan. Your self-confidence may sag but not for long. Regard setbacks as helpful since they will slow you down which won't be bad. If you feel slumped or lacklustre, go with the flow. The New Moon in your chart area of health and work comes round once a year to nudge you into getting sensible about your body and your daily schedule. Find ways of boosting your stamina in the months ahead and try not to waste energy going the long way round chores.
Your Monthly Horoscope for March
Raising your sights higher and aiming to attract more adventure and positive challenges into your life will be one priority. You'll be spreading your ideas and your robust opinions in all directions. If you can tone down your tendency to push too hard you'll be more persuasive. But you also won't escape chores which are under your nose nor a few energy slumps. All of which hints that pacing yourself and stepping back from time to time will be wise. Rome wasn't built in a day and your pet schemes won't disappear if you push back your deadlines. Neptune is around towards midmonth cautioning you that you need to look after yourself on the fitness front which means not over-committing yourself with chores and projects. One family and domestic problem will be resolved by the 16th so you'll feel more secure. More support will come in the final days so you won't be so drained. Your social life will waken up with invitations and compliments coming your way.
and Next Month's Horoscope for April
Known as the relationship sign of the zodiac, you aren't always touchy feely but you do like another half in life whatever you're doing at home or at work. The Sun, Mercury and Venus in your opposite sign of Aries will suit you admirably ushering in two to three weeks of togetherness and co-operation. Your charming way of making everyone you meet feel special will do your social popularity the world of good and you'll soothe down problems with a gentle word. You'll be keen to push your pet schemes further down the road but you're still at planning and discussing stage. Getting the right feedback will be important since you won't always be right and alternative viewpoints will help. Try not to over commit yourself since your energy won't be limitless. What will be in your favour is your sunny and positive approach which will draw in everyone else's interest. Your self-confidence will be catching. Into the final days you'll be taking the lead, expecting others to dance to your tune and pushing hard behind the scenes to resolve confidential dilemmas.
Year Ahead 2021
Scattering off in all directions at once as you move into 2021, you'll have an exceptionally busy schedule for several months ahead and need to manage your time well, streamline your efficiency and speak clearly. Staying on top of details may not be your strength so you'll need to force yourself to be practical and observant. Luckily your talents as a communicator will come in handy since you'll get your message across loud and clear, as long as you keep your focus steady. But it won't be easy since nothing will stay the same for long, financially or emotionally. You'll be tempted to act hastily and then wish you had held back. You'll need to budget with the unexpected in mind, saving when you can and not over committing yourself. Offering a helping hand to loved ones may cut into your enjoyment time but you'll be learning lessons about the responsibilities of relationships. You will have a chance from time to time to kick up your heels and enjoy yourself without self-consciousness with your self-doubts receding. But there will be other phases when you need to make a determined effort to revitalise your social life.From May onwards for a few weeks and again late year you'll move into an enthusiastic phase at work or with chores and be feeling fitter and more energetic. Mid year onwards you'll set your sights higher, be looking further afield and be keen to broaden your horizons and inject more adventure into your life. You'll have grand plans and high enthusiasm as well as a vision of what you want ahead. Not all of your pet schemes will be workable but you'll be buoyed up by your passion for change and rising confidence.Your attitude needs to be one of resilience in the knowledge that overcoming difficulties and coping with tensions will lead to growing strength.