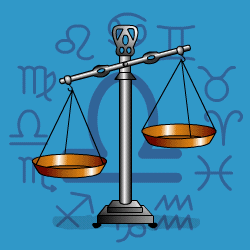 Libra
September 24 - October 22
---
Today's Horoscope for Wednesday May 31st
If you are on the lookout for a flirtation, you could find it by the water cooler at work or with someone slightly older. It could be innocent fun but could also lead to an invitation out to a special occasion. In a heated discussion try to put yourself into the other person's shoes. That way you know where they are coming from and it could help you avoid getting stewed up about what isn't important. Otherwise you may over-react and hear what was not intended.
The Weekly Outlook from 29th May
You will be pushing hard to become more efficient and better organised. There sometimes feels as if there is no let up from toil but you must also understand when to say no. Along with work you need to boost your stamina and learn how to best to look after your body. You cannot afford to over push it as you once did, but must treat yourself sensibly, knowing where your limits are. This week you may get bogged down in trivia and get in a muddle when trying to put your views across. If you can stand further back you will reach better judgements.
Your Monthly Horoscope for May
You may complain that progress is slow and your way ahead littered with obstacles. There is no doubt you will have to tackle a few confidential tangles in private, both financial and emotional. Reassure yourself that perseverance will pay off. Before the end of the month you will have negotiated better agreements and be in a secure position. But you will have to compromise so digging your heels in too hard and demanding your own way won't work. Turning on the charm will be easy as Venus, your ruler, moves across your midheaven. You'll be invited out to special occasions and put on a sparkling performance. What is clear is that your ambitions are moving you in a new direction. You want to be seen as a person of weight and substance so will be dreaming up strategies to attract attention and create the effect you want. Energetic friends will throw their energy behind your plans after the middle of the month. But try not to be dragged helter skelter by them or a loved one into wild schemes before you have had a chance to think through the consequences. Steady but sure will win the day as the month draws to a close.
and Next Month's Horoscope for June
An enthusiastic, chatty and adventurous Gemini Sun for three weeks will put you in the mood for thrills, fun and lively conversations. You'll be keen to broaden your horizons and get away from ruts and routines. You won't be good with details or practical chores but you'll be motivating and encouraging and spreading your vibrant ideas in all directions. Warm-hearted friends will be around to make you feel appreciated and your knack of putting everyone you meet at ease will make you a hit in any team or group activities.rnPluto reversing back into Capricorn on the 11th for several months will nudge you into tying up any loose ends where domestic reorganization plans are concerned or even in smoothing out family tensions. You had assumed much of this was done and dusted but you will have to revisit a few old issues for a final time.rnIn the final ten days you'll be into a prominent position, working hard and taking the lead. This is your time to get your talents out on display and demand recognition for your achievements. There is no sense in being a shrinking violet. Be bold and flaunt your abilities.
Year Ahead 2023
Libra is renowned for taking time to reach decisions, not because you lack commitment but you always like to check out every option before reaching a definite judgement. 2023 will be a year to test your resolve about making a definite plan for the future and sticking to it. The Eclipses will challenge you not in a difficult way but by gently nudging to indicate you can't continue along the same old track if you want to feel fulfilled in future. So prodding yourself to make up your mind will be to your advantage. You'll start with new schemes to give yourself a domestic and family set up that provides a solid foundation for your life and move on from there. Hard work will be unavoidable and at points you may feel you are not getting the rewards or appreciation for your labours. Rest assured the benefits will come but not immediately. Looking after health and fitness will be a priority and that will require you face up to your limits and don't over commit yourself and over work. Being sensible and practical about your body may not come naturally since you are an Air sign that tends to live in your head but getting grounded will be vital which means paying attention to taking proper care. After the first three months you'll sense that you are making a stronger impression on those around, being a commanding presence out on the social scene and having influence over loved ones. Try not to be possessive or controlling but rely on their affection for you bringing them closer. Emotionally you will start to drop your defences and move closer to the right people. Money will roll in faster with less effort than you might expect from May onwards whether through bonuses or windfalls which will give you peace of mind and reassurance.