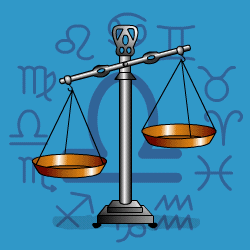 Libra
September 24 - October 22
---
Today's Horoscope for Tuesday December 18th
You will want another half in whatever you are doing,both at home and at work. So aim for togetherness, for keeping things calm and harmonious. You will find by the end of the day that you are very glad you did, because relationships will have improved quite a lot. Just ignore any niggling worries you have about close partners, since it may all be in your imagination. You will give in for the sake of peace, quiet and support.
The Weekly Outlook from 17th December
You're probably feeling a little on edge, as if life is dragging anchor. In fact you may have achieved more than you imagine, moving one situation over a bit. Nothing happens at high speed with Mars and Pluto around. If you can push heavier chores at work to one side it will help. Rather inward looking, you would like to feel more in touch with your soul. Spiritual growth will be more important to you than outer ambition or acclaim this week.
Your Monthly Horoscope for December
Always chatty and quick-witted as an Air communication sign, you'll be on top form zipping round a busy everyday schedule. There'll be short distance trips, conversations and discussions aplenty, so much variety and little time for boredom. You'll need to write out to-do lists and sort out priorities otherwise you'll go round in circles. You'll be determined that only you can do tasks properly so may overload yourself with work at a time when your energy isn't limitless. Looking after fitness and health is vital and so is when to say no to yourself as well as to demands from others. Spending money on treats will be an irresistible distraction though some caution might be wise since you won't be entirely free to suit yourself where finances are concerned. A sudden turn of events around the 20th will provide an answer to one partnership dilemma and you'll have more freedom thereafter. Settling into a quieter, home-oriented few weeks after the 21st will keep you smiling.
and Next Month's Horoscope for January
Home, family and domestic matters will be your major occupation for three weeks. You'll know that changes are long overdue and will be drawing up plans for giving yourself the long term security you need. But it won't happen overnight or without a fair amount of persistence. Practicalities will need sorted first and then you'll be working out how to tackle emotional tangles within the family. Certain of your schemes or attitudes may not meet with approval but you're determined to cut loose from old restrictions and to find a way of connecting to the people who really matter in a more mature way. Your charm will work wonders with Venus, your ruler, in your chart area of everyday conversations. Thoughtful gestures from workmates and neighbours will keep your spirits high. You won't feel so hemmed in after the 20th with more fun and enjoyment on offer.
Year Ahead 2019
Your everyday routines will be lively, enthusiastic and filled with fun encounters and new opportunities. Always a communicative sign, you\'ll excel yourself at putting your views across with a positive slant that brings favourable responses. You\'ll be more open-minded and find that by broadening your perspective luck comes your way. So you won\'t be holding yourself back. Your first priority early on will be to tackle home and family matters. It\'ll take effort and persistence but you\'ll know changes need to be made to bring you the security you want ahead. There may be tensions surfacing as old unresolved emotional issues come into the open. See the benefits of having a chance to sort them out once and for all, having given them a good airing. There may be minor tugs of war since not everyone in your close circle will have the same ideas about how to move ahead, so you\'ll have to be subtle and strategic. Being confrontational won\'t work. Finding time for friends and entertainment will also be on your agenda with the Leo Lunar Eclipse in late January pointing the way towards more sociable activities. Keeping a watchful eye on finances especially where you share joint responsibility with others - mortgages, credit cards, revenue etc - will be important with Uranus causing a few roller coaster moments. There\'ll be more comings and goings than usual which isn\'t necessarily a disaster, just that you need to save when there is surplus. From mid year you\'ll switch your attention to your career or community activities and take the initiative to ensure you are getting the recognition that your talents and achievements deserve. You will be distracted by emotional ties but try to keep your focus steady. By late in the year you\'ll be settling down in your own cosy nest and feeling contented within yourself.