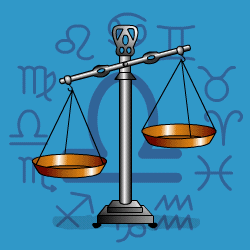 Libra
September 24 - October 22
---
Today's Horoscope for Tuesday March 28th
If you can stay flexible, tolerant and open-minded then all your relationships will go with a swing. But if you sound a touch know it all, or uppity, it won't be persuasive. Don't over blow your prospects or promise the earth. Be measured and sensible. Where your fitness and lifestyle are concerned, you will be exploring alternative remedies and approaches. If your energy is low you will be look for subtle ways of improving your stamina. Try to avoid getting caught up in any cranky ideas or cures which have not been solidly tested.
The Weekly Outlook from 27th March
Into an ambitious, hard-working and competitive few weeks you may meet some resistance. Certain people may find you intimidating as you take over the decision making role. Be aware that charging ahead in a headstrong way could run you into problems. Midweek you may feel like groaning and not everything will run smoothly. But what can you do? Get real for one thing. Once you accept the bottom line, problems become easier to handle. Be down-to-earth, be dutiful and you will sail through unscathed.
Your Monthly Horoscope for March
Although you are unfairly dubbed lazy Libra in reality you are amongst the hardest working of signs after the age of 30. You'll need all of your resilience and conscientious this month as the chores pile up and demands will be made on your time and energy. The key thing is not to push yourself past your limits. Know when enough is enough and look after your general level of fitness. Overwork is as bad as any other from of abuse and Saturn in Pisces, your chart area of work, will be around for the next two years. You will build up brownie points for the future for the effort you put in though may now always feel appreciated in the moment. Give yourself a break mid month when your stamina slumps and start asking for more support from those close. In the final days you will be heartened by the willing cooperation around and you'll fire ahead with vigour, keen on being seen as important. You'll be creative and turn at least one dream into a reality.
and Next Month's Horoscope for April
Libra is known as the relationship sign of the zodiac, not because you are overly emotional but because you appreciate a partner in whatever you do. Never is that more true than when the Sun is in your opposite sign as it is until the 20th. Jupiter in Aries as well hints you'll be lucky in your choice of companion with your enthusiastic approach attracting a positive response. Out on the social scene as well, you'll be glad handing and schmoozing to good effect. There will be confidential moments and secretive discussions ongoing alongside your exuberant interactions. Getting resolution to long running financial tangles will be important and that will require patient negotiation and compromise. A heart warming moment around the 11th will be followed by a lively social few weeks as you explore new venues and activities and mix with the fun crowd. You'll be keen to make your mark and be seen as a person of substance so you'll have to turn your imagination to good use to get results. If a loved one is acting up around the 20th, stay calm and refuse to engage.
Year Ahead 2023
Libra is renowned for taking time to reach decisions, not because you lack commitment but you always like to check out every option before reaching a definite judgement. 2023 will be a year to test your resolve about making a definite plan for the future and sticking to it. The Eclipses will challenge you not in a difficult way but by gently nudging to indicate you can't continue along the same old track if you want to feel fulfilled in future. So prodding yourself to make up your mind will be to your advantage. You'll start with new schemes to give yourself a domestic and family set up that provides a solid foundation for your life and move on from there. Hard work will be unavoidable and at points you may feel you are not getting the rewards or appreciation for your labours. Rest assured the benefits will come but not immediately. Looking after health and fitness will be a priority and that will require you face up to your limits and don't over commit yourself and over work. Being sensible and practical about your body may not come naturally since you are an Air sign that tends to live in your head but getting grounded will be vital which means paying attention to taking proper care. After the first three months you'll sense that you are making a stronger impression on those around, being a commanding presence out on the social scene and having influence over loved ones. Try not to be possessive or controlling but rely on their affection for you bringing them closer. Emotionally you will start to drop your defences and move closer to the right people. Money will roll in faster with less effort than you might expect from May onwards whether through bonuses or windfalls which will give you peace of mind and reassurance.