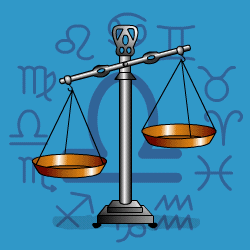 Libra
September 24 - October 22
---
Today's Horoscope for Monday January 17th
Maybe you have been keeping out of sight at home in recent days but you'll have a yearning for more attention at work or in your community activities. See where you can give your ambitions more of a nudge. Today's Full Moon falls across your mid heaven, which means will be nudged into finding a better balance between your head and your heart in coming weeks. Success will not be fulfilling unless you have a settled emotional base. But equally you cannot find all your satisfaction in your intimate environment.
The Weekly Outlook from 17th January
You know the best way to attract the right kind of attention is to be of service to companions at work or out in the community. Give them what they need and they'll appreciate you thoroughly. But you also need to give yourself more time to find yourself. So early on divide yourself between quiet moments with your feet up and busy patches where you rush around being helpful. After midweek with the Sun in your chart area of love, children, entertainment and self- expression, you will be dramatic and fun-loving for a few weeks.
Your Monthly Horoscope for January
Your everyday schedule will be busy, varied and speedy, but that won't stop your focus being primarily on home and family matters. Putting down roots, snuggling up close to those who make you feel warm and wonderful will be the way to go. You'll also be mulling over ways to improve the decoration in your intimate surroundings to give you a sense of good taste, elegance and calm. Then you'll be happy to entertain friends and loved ones and not feel the urge to socialise outside. Try not to pack in too many commitments since around the 11th you'll need a rest and relax break to recharge your batteries. A tricky domestic challenge around midmonth will require strategy and determination to overcome. If any of those close disagree with your plans try to persuade them round to your viewpoint without coming across as forceful. Fun and entertainment beckon after the 20th with your social diary filling up fast and plenty of chances to sparkle in the spotlight of loved ones' attention.
and Next Month's Horoscope for February
Not all of recent restrictions will be lifted but you will see a light at the end of one tunnel. Keen to socialise and be more visible and not be held back by confidential discussions and negotiations, you'll slowly but surely be moving ahead. There will be loose ends to tie up so you won't be entirely free to suit yourself and search for adventure but you will be able to toss ideas around and get planning. If there isn't general agreement with your pet schemes, treat challenges as helpful since you will be able to sort out what is workable and what isn't before you start. Domestic and family matters will still need attention into early next month. Reorganisation and redecoration plans need your attention and your positive, upbeat approach will produce results. There'll be more support at work and with the chores so your enthusiasm will rise along with your energy. In the final ten days you'll be cracking on with practical matters and clearing essential tasks out of the way.
Year Ahead 2022
2022 starts on a note of enthusiasm in your working life and where fitness is concerned. Your energy levels will be high and the only downside maybe an expansion in your appetite. But in general you should recover from minor ailments faster and be ambling along in good form with the support of those close to make your burden of chores lighter.rnGetting a firm grip of your finances will be a priority with the eclipses now in Taurus and Scorpio. Not overspending to impress and taking the initiative to boost your long term security will be wise. You can't afford to rely on a wing and a prayer to solve problems or keep you afloat. Definite action will produce results.rnYour social life may be in the doldrums for the second year running which will be unsettling and loved ones will be demanding. But as you shoulder responsibilities for them you will gradually understand that love is not all picnics and roses, but involves effort and self-sacrifice as well.rnYour feelings will switch unpredictably from hot to cold and you won't always or indeed ever be clear about what you want. Partners may become confused by your erratic approach so be considerate and explain what lies behind your switch-on-switch-off moods. From May onwards all your close relationships will blossom. Sharing activities and future plans will revitalise bonds which have become stale. You'll see clearly which connections in your life have potential for development ahead and build on the. Any which have passed their sell-by date will be dropped with a minimum of regret.rnInto the final months you'll be flying high, broadening your horizons, searching for adventure and spreading your robust opinions in all directions.