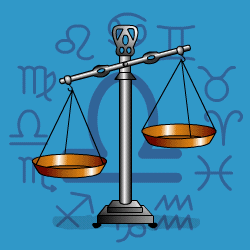 Libra
September 24 - October 22
---
Today's Horoscope for Thursday June 04th
You'll be attached to the good things of life with the Moon in Scorpio, though you'll also be possessive, so you have to look more laid back than you will feel. Happily at home you'll notice that old tensions have subsided and peace reigns, most of the time anyway. You will be planning to entertain more and be surrounded by the extended family. You have a sense that outer achievements and ambitions are less important than finding roots and security.
The Weekly Outlook from 01st June
There maybe muddles, delays or communication muddles because you are not concentrating on where you are going and when. You will constantly change your mind about your plans. Sit down and write out a list of goals and timelines and you might even fulfil some of them. With Venus and Mars around you'll be throwing yourself with gusto into all your activities, whether it's sociable, romantic or creative. Don't hold back from telling someone you fancy them.
Your Monthly Horoscope for June
You may be weighed down by chores and lack of motivation, but your mind will be drifting off on dreams of adventure and travel further afield. You may have to content yourself with watching documentaries, reading books and salivating over holiday brochures if you're stuck. But you will be keen to inject more excitement and stimulation into your everyday routines however you can. Your social life will be light hearted and you'll want loved ones to be on the same wavelength. Mars will keep your nose to the grindstone some of the time, but try not to be too perfectionist or assume you're the only on who can do tasks well. That way you'll end up getting landed with more than you bargained for. Being as helpful as you can without draining your stamina will be good towards mid month. The Cancer Solar Eclipse on the 21st at your midheaven will prod you into finding the courage to showcase your talents and achievements and demand more recognition. In the months ahead you'll need to keep up the pressure on yourself.
and Next Month's Horoscope for July
This won't be a time to hide your light under a bushel or be silent about your achievements. Be bold and get your talents out on display since the right people will respond with praise and respect. Loved ones in the family may complain they are getting less of your attention so you will need to schedule time for them, but your priority must be to push your ambitions ahead. If you take the lead others will follow along behind. And yes, there may be a few differences of opinion about your approach but you won't let that slow you down. Good news about a domestic matter towards mid-month will be heartening though you could over-react in your enthusiasm. Be cautious as well as positive. In the final ten days you'll be surrounded by fun friends and supportive team mates, keen to help you sort out your plans for the next year.
Year Ahead 2020
2020 will be your year for reorganising your home and domestic life and finding that major changes in relationships within the family have to be negotiated. It'll feel like an uphill struggle at times but you need to be persistent, put in the leg work and stand firm about what you need for yourself for the future. Because of the contradictory nature of the influences around, you'll find it's one foot forward and one foot backwards. There will be moments of contentment and moments of drama, some tensions spilling into the open and old resentments getting finally cleared out of the way.rnYou'll be on an emotional roller-coaster in odd patches as sudden events crop up unexpectedly which throw your plans off track. But you'll keep your eye firmly on your goals and won't lose your equilibrium for long.rnJoint finances will need care since more money will come and go that usual which means you have to budget for an uneven flow of income. It needn't necessarily be disastrous, just fast-changing and unpredictable.rnYour energy won't be limitless so don't over push yourself when you feel like slumping. You will want to be helpful but over stretching yourself to ensure that others are being looked after won't be sensible.rnLuckily your social life will be lively and adventurous across the middle months of the year. And close partners will be firing on all cylinders from July onwards which could lead to arguments but not if you co-operate with their plans. That way you'll make progress faster.rnThe eclipse cycle will focus you on home matters for the first half year and ambitions in the second half. Then as you head for the New Year into 2021 you'll be racing around a busier schedule, be into a sociable phase and finding your self-confidence is soaring.