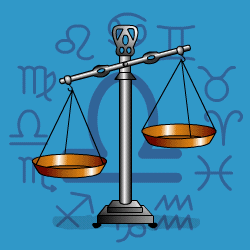 Libra
September 24 - October 22
---
Today's Horoscope for Tuesday November 29th
Be cool, be calm, be sensible. With Mars activated you could go rushing in where angels fear to tread. You're not in a mood to concentrate on practical details but your mind will be sharp and clear. Try to find some way of using your intelligence without flaring up about trivial irritations. You will be sharp in your comments if you speak before you think. But you can be tolerant and flexible in your views, when you have time to consider. Slow down and cool it.
The Weekly Outlook from 28th November
Leaping recklessly into telling others what you think of them in an abrasive way may be tempting but it could backfire. Though hard as you try it won't be easy to moderate what you're trying to say. You'll either under-do the honesty or overdo it. After midweek you'll have a mischievous look in your eye and be keen to throw yourself with wholehearted enthusiasm into fun activities. Keen to make new connections, you'll aim to be surrounded by people who'll do you good.
Your Monthly Horoscope for November
Renowned as an extravagant sign, it's always crucial you have a steady flow of income to fund indulgences and treats. The Solar Eclipse this month hints loudly that taking the initiative to improve your finances needs to be a priority for months to come and throwing cash around to impress won't be sensible. If you set your ingenuity to work and be determined there's nothing your resourcefulness can't accomplish. It may mean cutting back on expensive socialising and generous gestures for a while but it will bring you peace of mind ultimately. Loved ones may be demanding so you'll need to decide how much you are able to give in time or money and when enough is enough. Nothing will seem as settled as you might wish for a while but you'll be feeling good in yourself and will have the enthusiastic support of good buddies. After midmonth you'll be rattling round a busy everyday schedule and rarely bored.
and Next Month's Horoscope for December
A jam-packed everyday schedule will keep you on your toes, rushing from conversation to conversation, making short distance trips and having to cut corners since there won't be time to fit in everything that is essential. But whatever happens you won't be bored as you multi-task like mad. You will get impatient with delays and voice your outspoken opinions freely on occasion. Keen to not get bogged down in trivia you'll be sorting out adventurous schemes for the days ahead as well as coping with what's under your feet. Gradually you'll take time out to have heart-to-heart chats with loved ones and then to relax more frequently at home. You'll be planning ways to spruce up the decoration to bring colour and style into your domestic surroundings. Help and support will come from close partners in the final days when you slow down your busy schedule and allow yourself to the chance to relax with your feet up.
Year Ahead 2022
2022 starts on a note of enthusiasm in your working life and where fitness is concerned. Your energy levels will be high and the only downside maybe an expansion in your appetite. But in general you should recover from minor ailments faster and be ambling along in good form with the support of those close to make your burden of chores lighter.rnGetting a firm grip of your finances will be a priority with the eclipses now in Taurus and Scorpio. Not overspending to impress and taking the initiative to boost your long term security will be wise. You can't afford to rely on a wing and a prayer to solve problems or keep you afloat. Definite action will produce results.rnYour social life may be in the doldrums for the second year running which will be unsettling and loved ones will be demanding. But as you shoulder responsibilities for them you will gradually understand that love is not all picnics and roses, but involves effort and self-sacrifice as well.rnYour feelings will switch unpredictably from hot to cold and you won't always or indeed ever be clear about what you want. Partners may become confused by your erratic approach so be considerate and explain what lies behind your switch-on-switch-off moods. From May onwards all your close relationships will blossom. Sharing activities and future plans will revitalise bonds which have become stale. You'll see clearly which connections in your life have potential for development ahead and build on the. Any which have passed their sell-by date will be dropped with a minimum of regret.rnInto the final months you'll be flying high, broadening your horizons, searching for adventure and spreading your robust opinions in all directions.