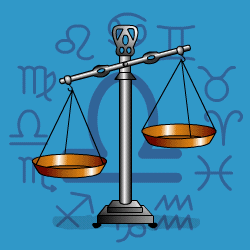 Libra
September 24 - October 22
---
Your Birthday Horoscope
IF ITS YOUR BIRTHDAY TODAY your year ahead will be charming, sociable, outgoing with your close relationships of all varieties flourishing. The odd bond in your life which has passed its sell-by date you'll leave with a minimum of regret. Enthusiastic and opinionated, you'll be aiming high, thinking big and keen to promote your pet causes to anyone who will listen. Try not to over commit yourself to projects since your energy won't be limitless. Money will come and go so saving when there is surplus will be an idea.
Today's Horoscope for Sunday October 02nd
You will be keen to delve behind the scenes or below the surface and won't take anything at face value. Your deep understanding of other people's suffering will give you added sympathy and make a supportive listener. You don't feel you have to fight to get attention for yourself. You know your turn will come. But you will need to watch since your thinking may be biased about on one situation your emotions will colouring your judgement. Try to be clear before you come to a decision.
The Weekly Outlook from 26th September
You'll be optimistic, bright, breezy and bouncy so well placed to develop your potential in some area of your life. But try to keep your energy under control. If you scatter off in all directions you will only end up hot and cross. Close partners may be over hopeful so take their advice with a pinch of salt. After midweek progress will be stop start. As soon as you try to shift into a higher gear you will meet obstacles and delays. Move slowly and stay persevering.
Your Monthly Horoscope for October
Your birthday Sun plus Venus, your ruler, both in your own sign will keep you in good spirits. Looking great and taking extra care with your appearance you'll be attracting compliments and invitations. Charming and harmonious you'll put everyone you meet at ease and go out of your way to act as a peacemaker and mediator. With a head full of adventurous schemes, you'll be thinking big and aiming high, keen to broaden your horizons in the time ahead and not be stuck in a corner. You realise that taking your responsibilities towards loved ones seriously and ensuring your social life does not get dull will have you stretched at times. But you can do it. Just remember when your energy sags, to relax and put your feet up and you'll bounce back revitalised. Into the final week with a Scorpio Solar Eclipse in place your focus will be on your personal finances. If you can curb a temptation to spend to impress and take the initiative about improving your long term situation you'll feel more secure.
and Next Month's Horoscope for November
Renowned as an extravagant sign, it's always crucial you have a steady flow of income to fund indulgences and treats. The Solar Eclipse this month hints loudly that taking the initiative to improve your finances needs to be a priority for months to come and throwing cash around to impress won't be sensible. If you set your ingenuity to work and be determined there's nothing your resourcefulness can't accomplish. It may mean cutting back on expensive socialising and generous gestures for a while but it will bring you peace of mind ultimately. Loved ones may be demanding so you'll need to decide how much you are able to give in time or money and when enough is enough. Nothing will seem as settled as you might wish for a while but you'll be feeling good in yourself and will have the enthusiastic support of good buddies. After midmonth you'll be rattling round a busy everyday schedule and rarely bored.
Year Ahead 2022
2022 starts on a note of enthusiasm in your working life and where fitness is concerned. Your energy levels will be high and the only downside maybe an expansion in your appetite. But in general you should recover from minor ailments faster and be ambling along in good form with the support of those close to make your burden of chores lighter.rnGetting a firm grip of your finances will be a priority with the eclipses now in Taurus and Scorpio. Not overspending to impress and taking the initiative to boost your long term security will be wise. You can't afford to rely on a wing and a prayer to solve problems or keep you afloat. Definite action will produce results.rnYour social life may be in the doldrums for the second year running which will be unsettling and loved ones will be demanding. But as you shoulder responsibilities for them you will gradually understand that love is not all picnics and roses, but involves effort and self-sacrifice as well.rnYour feelings will switch unpredictably from hot to cold and you won't always or indeed ever be clear about what you want. Partners may become confused by your erratic approach so be considerate and explain what lies behind your switch-on-switch-off moods. From May onwards all your close relationships will blossom. Sharing activities and future plans will revitalise bonds which have become stale. You'll see clearly which connections in your life have potential for development ahead and build on the. Any which have passed their sell-by date will be dropped with a minimum of regret.rnInto the final months you'll be flying high, broadening your horizons, searching for adventure and spreading your robust opinions in all directions.