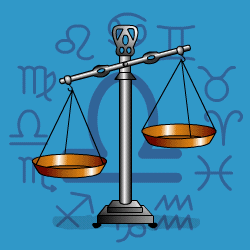 Libra
September 24 - October 22
---
Today's Horoscope for Monday May 23rd
You may appear silent in coming days with Mercury moving through the deepest, most confidential area of your chart, but your mind will be active behind your defensive exterior. Your secrecy will have a good reason and you'll want time to consider before disclosing even to loved ones what you know or feel. This could be a lazy day with a nice, warm glow to it. But if you can exert a little self-discipline and push yourself to get better organised, you'll find the good luck of Jupiter, turns into longer lasting achievements.
The Weekly Outlook from 23rd May
If you can keep one scheme within bounds, put a few limits on your your hopes then you will do well. But if you fly too high you might find you have further to fall. Avoiding foolish optimism and thinking that everything is going to be wonderful will produce better results. Keep double-checking and you'll surge ahead. From midweek you'll throw your energy into joint co-operative ventures. If you pull together you will achieve a great deal more than you would solo.
Your Monthly Horoscope for May
Reaching better agreements over cash or your emotional life will take effort and grit. You won't get it all your own way but will have to compromise so negotiations are unlikely to result in instant solutions. Steady pressure will get you to where you want to be with one or two surprise turns in the road along the way. Luckily you will be energised and meticulous about detail so won't be falling for any sob stories or unreliable advice. One close partner will be affectionate and loving and you'll be in demand socially so there will be fun distractions. Gradually through the month you'll find more support coming your way. Jupiter moving into your opposite sign on the 11th staying there for many months will do wonders for close relationships in your life which have real potential for the future. Keep an eye on money since the Lunar Eclipse around midmonth could pose a few questions. Restrictions will lift into the final days and you'll be forging ahead with joint ventures.
and Next Month's Horoscope for June
Bouncing with enthusiasm, spreading your lively opinions in all direction, you won't be standing still or going unnoticed. Your exuberant and positive approach will be infectious so you will never be short of good company. You'll be aiming high and broadening the scope of your activities with gusto. Travel will be high on your wish list but if you are stuck in one place you can always take up a new hobby. Admittedly loved ones will be demanding which may prove a distraction at times and your social life may be less than vibrant for a while. But you'll be onwards and upwards, keen to reach out and find new vistas to explore. Midmonth your energy may sag briefly so give yourself a break. Into the final days you'll need stamina to ensure you get all the attention and recognition which you reckon your achievements deserve. You'll be working hard and attracting respect.
Year Ahead 2022
2022 starts on a note of enthusiasm in your working life and where fitness is concerned. Your energy levels will be high and the only downside maybe an expansion in your appetite. But in general you should recover from minor ailments faster and be ambling along in good form with the support of those close to make your burden of chores lighter.rnGetting a firm grip of your finances will be a priority with the eclipses now in Taurus and Scorpio. Not overspending to impress and taking the initiative to boost your long term security will be wise. You can't afford to rely on a wing and a prayer to solve problems or keep you afloat. Definite action will produce results.rnYour social life may be in the doldrums for the second year running which will be unsettling and loved ones will be demanding. But as you shoulder responsibilities for them you will gradually understand that love is not all picnics and roses, but involves effort and self-sacrifice as well.rnYour feelings will switch unpredictably from hot to cold and you won't always or indeed ever be clear about what you want. Partners may become confused by your erratic approach so be considerate and explain what lies behind your switch-on-switch-off moods. From May onwards all your close relationships will blossom. Sharing activities and future plans will revitalise bonds which have become stale. You'll see clearly which connections in your life have potential for development ahead and build on the. Any which have passed their sell-by date will be dropped with a minimum of regret.rnInto the final months you'll be flying high, broadening your horizons, searching for adventure and spreading your robust opinions in all directions.