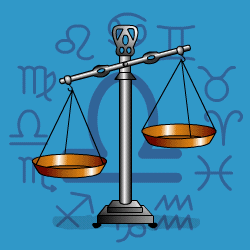 Libra
September 24 - October 22
---
Today's Horoscope for Wednesday April 21st
You may sense that your social and romantic life is under a damp cloud, with nothing being as vibrant or fun as you'd like. With Saturn around it is not a time for being spontaneous or playful since you will have heavier responsibilities where loved ones are concerned. Friends will be a great support and it won't be a good idea to make up your mind about one plan until you've had a chance to discuss it. Listen carefully and when the moment is right, you will know exactly what your best options are.
The Weekly Outlook from 19th April
This is a time of transformation for you during the year, when you push ahead slowly, casting off old baggage, and clearing the decks for brighter times ahead. You'll be focused on confidential matters, financial and emotional, for a few weeks. Possessiveness could be a problem but is just a reflection of how deeply you feel. Recognise it will lead to arguments if you try to hang on for control. You won't easily forgive and forget slights, but try not to over-react.
Your Monthly Horoscope for April
Known as the relationship sign of the zodiac, you aren't always touchy feely but you do like another half in life whatever you're doing at home or at work. The Sun, Mercury and Venus in your opposite sign of Aries will suit you admirably ushering in two to three weeks of togetherness and co-operation. Your charming way of making everyone you meet feel special will do your social popularity the world of good and you'll soothe down problems with a gentle word. You'll be keen to push your pet schemes further down the road but you're still at planning and discussing stage. Getting the right feedback will be important since you won't always be right and alternative viewpoints will help. Try not to over commit yourself since your energy won't be limitless. What will be in your favour is your sunny and positive approach which will draw in everyone else's interest. Your self-confidence will be catching. Into the final days you'll be taking the lead, expecting others to dance to your tune and pushing hard behind the scenes to resolve confidential dilemmas.
and Next Month's Horoscope for May
Slow and steady will need to be your motto for three weeks with the Sun moving through the deepest, most confidential area of your chart. You'll be tackling highly personal or financial tangles and trying to see where you can reach better agreements with partners or others you share joint responsibilities with. It will be slow going and you won't get it all your own way. Compromises will be required on both sides which will take time. But you'll be pleased with the end result of your efforts in terms of better understandings and more security. You will be pushing ambitiously ahead as well, ensuring that everyone around is alert and following your lead. You may come across as bossy but you will be making progress towards your goals. Your social life will lighten and brighten after the 9th with chances to mix with the fun crowd and explore new leisure activities or venues. Your energy levels will rise as Jupiter moves into Pisces for several weeks from midmonth shining an expansive mood over health and work. After the 20th you'll fly higher, free of restrictions and secrets and aim for adventure.
Year Ahead 2021
Scattering off in all directions at once as you move into 2021, you'll have an exceptionally busy schedule for several months ahead and need to manage your time well, streamline your efficiency and speak clearly. Staying on top of details may not be your strength so you'll need to force yourself to be practical and observant. Luckily your talents as a communicator will come in handy since you'll get your message across loud and clear, as long as you keep your focus steady. But it won't be easy since nothing will stay the same for long, financially or emotionally. You'll be tempted to act hastily and then wish you had held back. You'll need to budget with the unexpected in mind, saving when you can and not over committing yourself. Offering a helping hand to loved ones may cut into your enjoyment time but you'll be learning lessons about the responsibilities of relationships. You will have a chance from time to time to kick up your heels and enjoy yourself without self-consciousness with your self-doubts receding. But there will be other phases when you need to make a determined effort to revitalise your social life.From May onwards for a few weeks and again late year you'll move into an enthusiastic phase at work or with chores and be feeling fitter and more energetic. Mid year onwards you'll set your sights higher, be looking further afield and be keen to broaden your horizons and inject more adventure into your life. You'll have grand plans and high enthusiasm as well as a vision of what you want ahead. Not all of your pet schemes will be workable but you'll be buoyed up by your passion for change and rising confidence.Your attitude needs to be one of resilience in the knowledge that overcoming difficulties and coping with tensions will lead to growing strength.