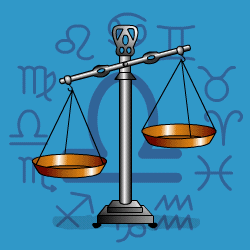 Libra
September 24 - October 22
---
Today's Horoscope for Friday August 12th
Friends may be pulling you one way and loved ones another. So you will need to decide how to divide yourself between everyone. You have been spending more time recently with your wider circle of acquaintances but maybe those close have been feeling excluded, so cuddle up when you have the chance. Sometimes in the rush and scramble of coping with everyday matters, you lose track of what you want for yourself. Allowing that vital inner spark to shine out is more important than anything else.
The Weekly Outlook from 08th August
Remember before you dash into action that you need to consider the long-term consequences of what you decide to do. You may move hastily then in a few days regret your impulsiveness. Don't stick yourself into the one place, if it feels insufferable, but don't go too wildly over the top. Balancing the needs of the future with your instant desire for fun is part of the message of the Full Moon after midweek, so you will need to find a way that allows you to have your cake and eat it at the same time.
Your Monthly Horoscope for August
Always renowned as a tactful and well-balanced personality, you'll struggle to maintain a calm smile through a unsettled first two weeks with fast-moving and changeable circumstances prompting speedy reactions. Financially and emotionally you won't be able to rely on anything staying the same. Luckily you are a resourceful sign, overflowing with initiative, so will find a way to adapt. But not leaping in to get back at situations which initially seem unfair will be vital. Be as secure in your identity as you can and proceed in a steady manner. There are deep-seated changes ongoing with Mars and Uranus in your chart area of transformation. If you can regard that as positive and a chance to shift into a better situation then you'll do well. If you can continue to charm the right people and keep up appearances your popularity will stay afloat. Loved ones may be demanding and you won't be socialising as much as usual. But you'll be pleased to step back and take a well-earned rest in the final ten days. Let others take the strain while you rest and recharge.
and Next Month's Horoscope for September
Keen to aim higher and broaden your horizons you may be forced to tread water and be patient for three weeks. This is not your time of year for fast action. Reassure yourself that sitting on the sidelines and preparing is not a waste. You need to get a sensible perspective on recent events and sort out your options for the twelve months ahead. You'll be chatting constantly though not always getting your thinking clear or understanding what's being said to you. Take it slowly and accept the advice and support of a close partner. There will be a financial shift around the 11th to open up a new opportunity and by the 19th you'll be over a hurdle and ready to rock n' roll. Having made the required changes at home you'll be free to make your own decisions and fly ahead at full speed. Your morale and energy will soar after the 23rd and there'll be precious little to hold you back.
Year Ahead 2022
2022 starts on a note of enthusiasm in your working life and where fitness is concerned. Your energy levels will be high and the only downside maybe an expansion in your appetite. But in general you should recover from minor ailments faster and be ambling along in good form with the support of those close to make your burden of chores lighter.rnGetting a firm grip of your finances will be a priority with the eclipses now in Taurus and Scorpio. Not overspending to impress and taking the initiative to boost your long term security will be wise. You can't afford to rely on a wing and a prayer to solve problems or keep you afloat. Definite action will produce results.rnYour social life may be in the doldrums for the second year running which will be unsettling and loved ones will be demanding. But as you shoulder responsibilities for them you will gradually understand that love is not all picnics and roses, but involves effort and self-sacrifice as well.rnYour feelings will switch unpredictably from hot to cold and you won't always or indeed ever be clear about what you want. Partners may become confused by your erratic approach so be considerate and explain what lies behind your switch-on-switch-off moods. From May onwards all your close relationships will blossom. Sharing activities and future plans will revitalise bonds which have become stale. You'll see clearly which connections in your life have potential for development ahead and build on the. Any which have passed their sell-by date will be dropped with a minimum of regret.rnInto the final months you'll be flying high, broadening your horizons, searching for adventure and spreading your robust opinions in all directions.