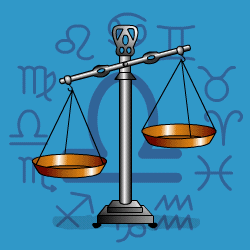 Libra
September 24 - October 22
---
Today's Horoscope for Sunday February 05th
Try to express what you feel and what you want. Being too reserved will not pay off. If you don't ask you may not get. Fortune will favour the brave. In the past you may have missed chances, emotional or at work, because you were scared of being turned down. Nothing is absolutely certain, but you do need to take a small risk to find out. Although you really want the chance to flirt, have fun and enjoy yourself, you now if you play away the day, tomorrow may not look after itself.
The Weekly Outlook from 30th January
You will be upfront and speak your mind because you know this is not the time to be hiding in a corner or sweeping your feelings out of sight. But try not to be too critical thinner skinned mates. Remember their sensitive spots before you blurt out your opinions. Remind yourself that you don't have to take your edgy mood out on others. No one is settled or secure at the moment so there will be rough edges and sharp words spoken. Focus on plotting a new direction for yourself in the time ahead.
Your Monthly Horoscope for February
Fun will be high on your agenda no matter what it costs but try to be sensible. You know you need to keep in mind not just security but a partner's wishes before you go wild. There will be ups and downs with money for some time yet so you need to budget for time of plenty and other times when it is in shorter supply.rnYour enthusiastic and upbeat approach will win you favourable responses not just from those close but from everyone you meet socially and at work. What you give out you'll get back. Be positive and optimistic and you'll be showered in compliments and thoughtful gestures.rnThose close will appreciate a helping hand and if you give gladly now you'll get your rewards late in the month. Along the way you may be tempted to over eat to make up in treats what you lack in romance but don't over doit.rnYour mischievous jokes and witty comments will bring you an attentive audience after the 11th and even when you are landed with too many responsibilities or demands from a loved one around the 16th if you keep wisecracking it won't seem such a hardship.rnHard work will go hand in hand with romantic highlights late in the month so it'll be swings and roundabouts.
and Next Month's Horoscope for March
Although you are unfairly dubbed lazy Libra in reality you are amongst the hardest working of signs after the age of 30. You'll need all of your resilience and conscientious this month as the chores pile up and demands will be made on your time and energy. The key thing is not to push yourself past your limits. Know when enough is enough and look after your general level of fitness. Overwork is as bad as any other from of abuse and Saturn in Pisces, your chart area of work, will be around for the next two years. You will build up brownie points for the future for the effort you put in though may now always feel appreciated in the moment. Give yourself a break mid month when your stamina slumps and start asking for more support from those close. In the final days you will be heartened by the willing cooperation around and you'll fire ahead with vigour, keen on being seen as important. You'll be creative and turn at least one dream into a reality.
Year Ahead 2023
Libra is renowned for taking time to reach decisions, not because you lack commitment but you always like to check out every option before reaching a definite judgement. 2023 will be a year to test your resolve about making a definite plan for the future and sticking to it. The Eclipses will challenge you not in a difficult way but by gently nudging to indicate you can't continue along the same old track if you want to feel fulfilled in future. So prodding yourself to make up your mind will be to your advantage. You'll start with new schemes to give yourself a domestic and family set up that provides a solid foundation for your life and move on from there. Hard work will be unavoidable and at points you may feel you are not getting the rewards or appreciation for your labours. Rest assured the benefits will come but not immediately. Looking after health and fitness will be a priority and that will require you face up to your limits and don't over commit yourself and over work. Being sensible and practical about your body may not come naturally since you are an Air sign that tends to live in your head but getting grounded will be vital which means paying attention to taking proper care. After the first three months you'll sense that you are making a stronger impression on those around, being a commanding presence out on the social scene and having influence over loved ones. Try not to be possessive or controlling but rely on their affection for you bringing them closer. Emotionally you will start to drop your defences and move closer to the right people. Money will roll in faster with less effort than you might expect from May onwards whether through bonuses or windfalls which will give you peace of mind and reassurance.