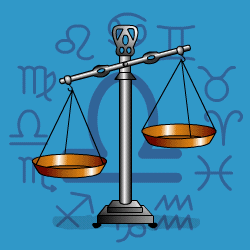 Libra
September 24 - October 22
---
Today's Horoscope for Friday July 23rd
You'll prefer to have detached, less emotional relationships, where everyone is allowed to go their own independent way, yet still cooperate. A contradictory mix you will be stubborn and tolerant at the same time. What will float your boat will be swapping your inspired ideas with like-minded friends and challenging each other to discover new truths. Together you'll want to see what you can do to improve your community and will be willing to throw your energy into helpful causes.
The Weekly Outlook from 19th July
You'll be in a position to give more in coming weeks and will be sensitive to the unspoken needs of those close. What you do have to watch is not to become emotionally overloaded, soaking in too many of their problems. At times you will be inclined to retreat into your dream world, at the slightest setback or hint of indifference or rejection, which may be unintended. Try not to be too impressionable or prickly. Head for friends who'll be a more laid-back connection.
Your Monthly Horoscope for July
At your peak for the year whether at work, in your community activities or even at home, you'll be taking the lead and expecting others to follow behind. You'll demand that your achievements and talents are recognised and generally be creating waves. This won't be the time to be a shrinking volet or hide in a corner. Energetic friends will also throw their support behind your activities though they may be a touch argumentative so it won't all be peaceful. Together you will make fast progress so you won't object to a few strong opinions being tossed around. Warm-hearted mates will make you know you are appreciated and welcome to visit whenever you feel inclined. One situation at home or with a family member after mid month will be tricky to handle. Stamping your foot won't work but you won't be happy to give way. Be subtle and strategic. You won't have to do quite so much in the final days with more help on hand.
and Next Month's Horoscope for August
Friends will be an enthusiastic support, offering you good company as well as sensible advice. So if your social life has gone flat or a loved one is playing hard to get in the first week you won't be left to your own devices. Far-reaching changes are happening financially, emotionally and in other ways through this year, all given an extra nudge by Uranus. Normally you prefer a calm, unruffled existence but even you can see there will be benefits in the new scenario which is emerging. Pampering yourself in the quiet moments will keep your spirits up and from mid month you'll be back out on the party circuit, charming everyone in sight and attracting compliments galore. You may be keeping your own counsel over important matters, listening rather than talking, but that won't stop you enjoying yourself. Taking a break in the final few days will recharge your batteries and give you a chance to get perspective in recent events.
Year Ahead 2021
Scattering off in all directions at once as you move into 2021, you'll have an exceptionally busy schedule for several months ahead and need to manage your time well, streamline your efficiency and speak clearly. Staying on top of details may not be your strength so you'll need to force yourself to be practical and observant. Luckily your talents as a communicator will come in handy since you'll get your message across loud and clear, as long as you keep your focus steady. But it won't be easy since nothing will stay the same for long, financially or emotionally. You'll be tempted to act hastily and then wish you had held back. You'll need to budget with the unexpected in mind, saving when you can and not over committing yourself. Offering a helping hand to loved ones may cut into your enjoyment time but you'll be learning lessons about the responsibilities of relationships. You will have a chance from time to time to kick up your heels and enjoy yourself without self-consciousness with your self-doubts receding. But there will be other phases when you need to make a determined effort to revitalise your social life.From May onwards for a few weeks and again late year you'll move into an enthusiastic phase at work or with chores and be feeling fitter and more energetic. Mid year onwards you'll set your sights higher, be looking further afield and be keen to broaden your horizons and inject more adventure into your life. You'll have grand plans and high enthusiasm as well as a vision of what you want ahead. Not all of your pet schemes will be workable but you'll be buoyed up by your passion for change and rising confidence.Your attitude needs to be one of resilience in the knowledge that overcoming difficulties and coping with tensions will lead to growing strength.