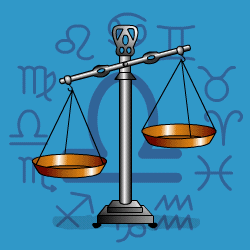 Libra
September 24 - October 22
---
Today's Horoscope for Monday December 16th
Good food, drink, beautiful clothes and house are all important to your sense of well-being. Though watch you are not being too materialistic in your approach since that could slow down your progress. With the Leo Moon in place you will be tolerant of others but you also need the freedom to do precisely what suits you. You will love startling companions, making provocative statements just to stir up the atmosphere and test their reaction.
The Weekly Outlook from 16th December
You've been tying yourself in too much recently at home and in your family life and now you'll be able to kick aside the traces. Anything that has become too static or boring, stuck in a rut, now you'll have a chance to get it shifted into a higher gear. Just keep your focus steady. If you scatter off in all directions at work you will only end up hot and bothered since after midweek there's a stop start mood around. As soon as you try to shift into a higher gear you meet an obstacle. So just move slowly and be persevering.
Your Monthly Horoscope for December
Rushing around at high speed, chatting constantly, you'll be scattered and rarely bored. But you'll need to manage your time well, streamline your efficiency and write out lists otherwise you'll end up going round in circles. Have a care also that you're not pushing yourself too much physically since your energy will slump at times. Really you'd be happiest curling up with a good book at home or snuggling down with loved ones. And slowly but surely you will find you slow down your constant go-go-go to take time out. Jupiter moving into Capricorn for a year ahead will bring more inner contentment and a reassuring sense of putting down roots. Relationships with the close and wider family will also mellow. You will continue for a few weeks to keep your eye firmly pinned on your finances since you'll know that perseverance will pay off. Luck will bring positive changes to ensure you feel more secure. Into the final days you'll start making plans for the adjustments you need to make to your home and domestic life to bring you fulfilment ahead.
and Next Month's Horoscope for January
With so much planetary activity focussed in Capricorn which for you rules your home, family and domestic life, there'll be no doubt where your attention will be focussed. Although there'll be moments of cheer and even contentment, you'll also be required to put out considerable amounts of energy into sorting out practical problems. There may be tensions surfacing so the adjustments ongoing will have an emotional impact. Try to see the benefit of having heart-to-hearts chats and airing complaints as tactfully as possible. That way you can get old resentments cleared out of the way for good. You'll be digging for deeper answers and not giving way until those close agree to give your plans a sensible hearing. After the 20th you'll be lighter, brighter and much more sociable, kicking up your heels on the party circuit and enjoying your moment in the spotlight. Just have a care with cash since joint finances will be erratic.
Year Ahead 2019
Your everyday routines will be lively, enthusiastic and filled with fun encounters and new opportunities. Always a communicative sign, you\'ll excel yourself at putting your views across with a positive slant that brings favourable responses. You\'ll be more open-minded and find that by broadening your perspective luck comes your way. So you won\'t be holding yourself back. Your first priority early on will be to tackle home and family matters. It\'ll take effort and persistence but you\'ll know changes need to be made to bring you the security you want ahead. There may be tensions surfacing as old unresolved emotional issues come into the open. See the benefits of having a chance to sort them out once and for all, having given them a good airing. There may be minor tugs of war since not everyone in your close circle will have the same ideas about how to move ahead, so you\'ll have to be subtle and strategic. Being confrontational won\'t work. Finding time for friends and entertainment will also be on your agenda with the Leo Lunar Eclipse in late January pointing the way towards more sociable activities. Keeping a watchful eye on finances especially where you share joint responsibility with others - mortgages, credit cards, revenue etc - will be important with Uranus causing a few roller coaster moments. There\'ll be more comings and goings than usual which isn\'t necessarily a disaster, just that you need to save when there is surplus. From mid year you\'ll switch your attention to your career or community activities and take the initiative to ensure you are getting the recognition that your talents and achievements deserve. You will be distracted by emotional ties but try to keep your focus steady. By late in the year you\'ll be settling down in your own cosy nest and feeling contented within yourself.