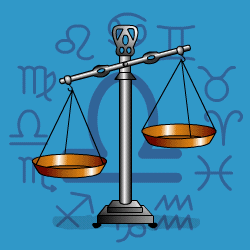 Libra
September 24 - October 22
---
Today's Horoscope for Friday January 24th
Whether you are around loved ones, children or social mates, you will want rounds of applause, compliments galore and appreciative attention. Be boisterous and exuberant and make sure you get centre spotlight. Clearly not a day to be keeping your feelings to yourself. So go flirt, have fun and play games. Forget routine chores and duck out if you feel an order coming your way. If you are planning a party it will be impressive. The simple life will not hold much interest for you.
The Weekly Outlook from 20th January
With the Aquarius Sun now in place for four weeks which rules your chart area of love, children, entertainment and self-expression, you will be more dramatic, fun-loving, attention seeking than usual. Later this week if you have been sweeping irritations under the carpet and being forced into situations that aren't your style, you'll decide to take a stand. This time is all about getting rid of the old and bringing in the new. Instead you'll look around for new experiences and new insights into the world.
Your Monthly Horoscope for January
With so much planetary activity focussed in Capricorn which for you rules your home, family and domestic life, there'll be no doubt where your attention will be focussed. Although there'll be moments of cheer and even contentment, you'll also be required to put out considerable amounts of energy into sorting out practical problems. There may be tensions surfacing so the adjustments ongoing will have an emotional impact. Try to see the benefit of having heart-to-hearts chats and airing complaints as tactfully as possible. That way you can get old resentments cleared out of the way for good. You'll be digging for deeper answers and not giving way until those close agree to give your plans a sensible hearing. After the 20th you'll be lighter, brighter and much more sociable, kicking up your heels on the party circuit and enjoying your moment in the spotlight. Just have a care with cash since joint finances will be erratic.
and Next Month's Horoscope for February
In a lively, sociable and fun-loving mood you won't be hiding yourself away for a moment. At the best of times you're a diplomatic sign and a people-person. Even more so this month when your diary will be filling up with invitations and loved ones will be rallying round with votes of appreciation. Zipping around a busy everyday schedule for the first two weeks you'll rarely be bored though you may get scattered. Venus, your ruler, moving into your opposite sign of Aries for a few weeks from the 7th will double up your charm and bring more affection and compliments your way. A sea change mid month will turn your focus on home and family matters and resolving any grumbling resentments or practical problems. If you can soft pedal and stay tactful rather than being confrontational you'll make more headway. Sorting out your finances will keep you occupied later on. Persistence and effort will pay off so don't give up.
Year Ahead 2020
2020 will be your year for reorganising your home and domestic life and finding that major changes in relationships within the family have to be negotiated. It'll feel like an uphill struggle at times but you need to be persistent, put in the leg work and stand firm about what you need for yourself for the future. Because of the contradictory nature of the influences around, you'll find it's one foot forward and one foot backwards. There will be moments of contentment and moments of drama, some tensions spilling into the open and old resentments getting finally cleared out of the way.rnYou'll be on an emotional roller-coaster in odd patches as sudden events crop up unexpectedly which throw your plans off track. But you'll keep your eye firmly on your goals and won't lose your equilibrium for long.rnJoint finances will need care since more money will come and go that usual which means you have to budget for an uneven flow of income. It needn't necessarily be disastrous, just fast-changing and unpredictable.rnYour energy won't be limitless so don't over push yourself when you feel like slumping. You will want to be helpful but over stretching yourself to ensure that others are being looked after won't be sensible.rnLuckily your social life will be lively and adventurous across the middle months of the year. And close partners will be firing on all cylinders from July onwards which could lead to arguments but not if you co-operate with their plans. That way you'll make progress faster.rnThe eclipse cycle will focus you on home matters for the first half year and ambitions in the second half. Then as you head for the New Year into 2021 you'll be racing around a busier schedule, be into a sociable phase and finding your self-confidence is soaring.