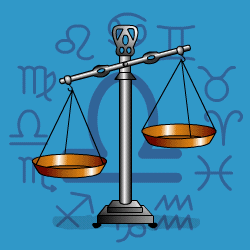 Libra
September 24 - October 22
---
Today's Horoscope for Wednesday December 02nd
You'll be centre of the group wherever you are and making things work for everyone. It's very important that others appreciate and admire what you're doing, but that means you have to go out of your way to please them. Being sensitive and sympathetic will be part of your aim, but don't be too fickle because it won't be helpful. Be sensible with cash since this isn't the time to owe money. You won't be able to pay back your obligations in a steady manner as you might wish.
The Weekly Outlook from 30th November
All you'll want is broaden your horizons and fill your life with more exciting activities and friends. You clearly need to reach out for more adventurous mates who can bring you a sense of a life with fewer restrictions. Allow your imagination to soar and see where you can aim higher. Nothing ventured, nothing gained. But don't forget that the boring nuts n' bolts of everyday life have to be attended to at the same time. Try to see the big picture without losing sight of vital details.
Your Monthly Horoscope for December
Skipping along at speed and talking constantly, you'll be in a whirl of short distance trips, face-to-face conversations and distant communications of all varieties, so you won't be bored. Though you may end up running round in circles as distractions tug you this way and that. Managing your time well and streamlining your efficiency will be vital. Write out to-do lists and tick off essentials as you go. Your energy may sag at points so don't over push yourself. Spending on treats and indulgences will keep you happy for the first two weeks. Close relationships will work well as long as you throw your energy behind co-operative schemes. Otherwise you'll end up squabbling which won't help. After the middle of the month two outer planets shift into a new sign which will bring a definite change of mood as you will be less focused on home and family matters and turning your attention to reviving your social life. There may be a few tensions and aggravations towards the 23rd but thereafter you'll aim for a relaxing few weeks.
and Next Month's Horoscope for January
Just when you should be snuggling down with your feet up at home enjoying quiet moments with loved ones and the family, you'll be wrestling with a few domestic dilemmas and tensions. On top of that there will be confidential financial tangles requiring attention. Being firm about the changes you want to put in place is vital even in the face of some disagreement. Not that there will be arguments, just subtle resistance and perhaps a few sulks. Recognise that finding answers that will bring you the security and peace of mind you need won't happen overnight. Be persistent, persevering and flexible. On the social front you'll have moments of boisterous high spirits and soaring confidence and other moments when it all feels like a slog, with heavy demands being made on you by those close. In the final days you'll make an effort to have more fun.
Year Ahead 2020
2020 will be your year for reorganising your home and domestic life and finding that major changes in relationships within the family have to be negotiated. It'll feel like an uphill struggle at times but you need to be persistent, put in the leg work and stand firm about what you need for yourself for the future. Because of the contradictory nature of the influences around, you'll find it's one foot forward and one foot backwards. There will be moments of contentment and moments of drama, some tensions spilling into the open and old resentments getting finally cleared out of the way.rnYou'll be on an emotional roller-coaster in odd patches as sudden events crop up unexpectedly which throw your plans off track. But you'll keep your eye firmly on your goals and won't lose your equilibrium for long.rnJoint finances will need care since more money will come and go that usual which means you have to budget for an uneven flow of income. It needn't necessarily be disastrous, just fast-changing and unpredictable.rnYour energy won't be limitless so don't over push yourself when you feel like slumping. You will want to be helpful but over stretching yourself to ensure that others are being looked after won't be sensible.rnLuckily your social life will be lively and adventurous across the middle months of the year. And close partners will be firing on all cylinders from July onwards which could lead to arguments but not if you co-operate with their plans. That way you'll make progress faster.rnThe eclipse cycle will focus you on home matters for the first half year and ambitions in the second half. Then as you head for the New Year into 2021 you'll be racing around a busier schedule, be into a sociable phase and finding your self-confidence is soaring.