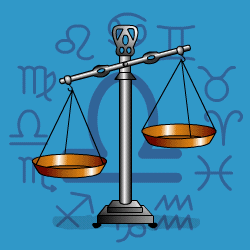 Libra
September 24 - October 22
---
Today's Horoscope for Saturday September 18th
Your popularity will soar with loved ones and social mates, so there is no sense in holding back. There's a spontaneous, exuberant, boisterous mood in the air so you'll step forward confidently. You will want to be protective but try not to mother and smother them, because they may not all take it kindly. Just keep singing, dancing and laughing and you'll reach the same result of boosting everyone's morale while staying in the spotlight yourself.
The Weekly Outlook from 13th September
You could be inspired or allow your hunches to mislead you. Staying rigorously practical and grounded will get the best out of tangled situation. Just try not to take on too many commitments. Whatever has become confused or delayed around you needs a sensible strategy to get it rolling again. You may feel puzzled initially about how to tackle it but keep persevering and the answers will come. It could even be a good time for house-cleaning, having a clear out and re-organisation.
Your Monthly Horoscope for September
You'll be offering a charming smile to everyone you meet but will be gritting your teeth since not all of your plans will be moving ahead at the speed you would like. September is never your most vibrant month and this one is no exception for the first two weeks. Pulling strings behind the scenes, getting others to dance to your tune and rethinking a few schemes will be the best you can do. Have patience and conserve your energy since you may feel like than high vitality at points. Spending on indulgences after the 10th will boost your morale and then from the middle of the month you'll be back firing on all cylinders, pushing obstacles and slow coaches to one side. Your birthday Sun after the 22nd will find you in an even more super-charged frame of mind, bouncing with enthusiasm and confidence.
and Next Month's Horoscope for October
Rarely have you felt so upbeat, go-ahead and decisive. Your birthday Sun at this time of year always keeps you buoyant but Mars is adding a surge of high-octane vitality to your life. You'll be racing ahead, chatting constantly, not always patient when you hit delays but your sunny self-confidence will bounce you over any minor hurdles. Thoughtful gestures from everyday mates at work and in the neighbourhood will keep you smiling and your charming way with words will smooth down any problems caused by your upfront approach. Gradually you're understanding that if you value yourself, then others will as well. There may be a few challenges at home or within the family after midmonth with a minor tug of war between those who want change and those who don't. You may end up as the peacemaker. After the 23rd you'll shrug off any differences and focus on getting your finances licked into shape.
Year Ahead 2021
Scattering off in all directions at once as you move into 2021, you'll have an exceptionally busy schedule for several months ahead and need to manage your time well, streamline your efficiency and speak clearly. Staying on top of details may not be your strength so you'll need to force yourself to be practical and observant. Luckily your talents as a communicator will come in handy since you'll get your message across loud and clear, as long as you keep your focus steady. But it won't be easy since nothing will stay the same for long, financially or emotionally. You'll be tempted to act hastily and then wish you had held back. You'll need to budget with the unexpected in mind, saving when you can and not over committing yourself. Offering a helping hand to loved ones may cut into your enjoyment time but you'll be learning lessons about the responsibilities of relationships. You will have a chance from time to time to kick up your heels and enjoy yourself without self-consciousness with your self-doubts receding. But there will be other phases when you need to make a determined effort to revitalise your social life.From May onwards for a few weeks and again late year you'll move into an enthusiastic phase at work or with chores and be feeling fitter and more energetic. Mid year onwards you'll set your sights higher, be looking further afield and be keen to broaden your horizons and inject more adventure into your life. You'll have grand plans and high enthusiasm as well as a vision of what you want ahead. Not all of your pet schemes will be workable but you'll be buoyed up by your passion for change and rising confidence.Your attitude needs to be one of resilience in the knowledge that overcoming difficulties and coping with tensions will lead to growing strength.