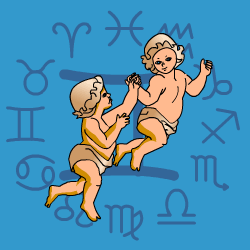 Gemini
May 21 - June 21
---
Today's Horoscope for Thursday January 27th
Not everything in your world is perfect but you will recognise you are in a luckier position than most. All that could hold you back is to expect results and progress with no effort. It won't all land in your plate. But if you find the self-discipline to work hard, get organised and be responsible then benefits will flow in. Anything you turn your hand should work well. Admiration and praise will be wonderful for your morale but don't relax too much and let carelessness creep in.
The Weekly Outlook from 24th January
If there are crisis around you will be handling them well since you'll have courage and a cool head. Where money is concerned you want to make more in partnership with others so will be trying hard to co-operate. You may be right in your views but it will still be an idea to keep an open mind on emotional as well as financial matters. Watch a tendency to be intense even slightly obsessive. If you can be tolerant of a loved one's viewpoint, open to feedback then you will make progress faster.
Your Monthly Horoscope for January
Close partners may be revved up and raring to go but you'll be hanging back for a week or so. There are confidential dilemmas, financial and emotional, requiring your attention, which won't solve themselves. You won't get it all your own way so will need to be flexible as well as determined. It always feels sticky this time of year for you so you're used to pushing steadily on, knowing your efforts will help to move you towards security and peace of mind. But it will be stop and start for a while and not sociable, since you'll be keeping yourself to yourself. Around midmonth you'll dither about a key decision and be frustrated by a situation beyond your control. Maybe you can't change the world but you can choose your attitudes. Don't be submissive but don't be too reactive either. After the 20th there'll be a release of tension and a clearer way ahead. Though you'll still need to stay persevering into next month if you want to see real results.
and Next Month's Horoscope for February
Never short of words or ideas, you'll be a fountain of inspiration with your eye pinned on the far horizons. You'll want to be anywhere but where you are and will be planning how to spread your wings and fly higher. Your enthusiasm will be catching though you will be running into one or two robust discussions which will challenge your opinions. If you treat it as fun and helpful as a way of sorting out what attitudes you need to drop, then it won't dent your optimism or slow your progress. There will be confidential, secret dilemmas still weighing heavily so you won't be on a constant go-go-go. Take time out to see where a compromise is possible with those whom you share joint responsibilities with, financial or emotional. You won't get it all your own way so being stubborn won't work. From midmonth you'll begin to see the light at the end of one tunnel, though it may be into next month before certain restrictive situations ease up. But compliments and praise will make for the odd delay. The final days will find you at a peak for the year, attracting attention at work and in the community and gaining success.
Year Ahead 2022
2022 starts with lucky, confident Jupiter at your midheaven for four months, returning over the New Year, which will boost your status, bringing you respect and appreciation at work and in your community. Almost anything you tackle should work out well, better and faster than you expect. The winds of good fortune will be blowing behind you which will expand your confidence, at times too much so. Staying marginally more humble and cautious than you'll feel might be wise. Between May and December you'll be surrounded by enthusiastic friends and finding that team activities go with a swing. Your optimism will soar as you plan for the future.rnYou'll continue refining your ideas and opinions, informing yourself about a wide range of topics and sinking your teeth into challenging discussions since you'll want to stress-test your opinions and be able to abandon those that no longer fit present circumstances. This is in preparation for a higher-profile, responsible phase starting in a year's time. But you need to be prepared before you get there.rnThe Taurus and Scorpio Eclipses this year will prompt you to get a better perspective on the past and to let go whatever is not essential in the way of attitudes. Early and late in the year you'll be getting fitter, paying attention to your diet and exercise regimes in an effort to stay grounded and in touch with your physical needs.rnYou will sense you are nearly at the end of a gruelling few years financially and emotionally. You're on the final lap so there will be a few loose ends to tie up before you move into a new phase. This is a year of clearing out and tying a ribbon on the past.rnFrom August you'll be revved up and raring to go with Mars in your own sign for seven months ahead. You will get impatient with delays and mistakes and speak your mind directly. It won't always make you popular but you will make faster progress.