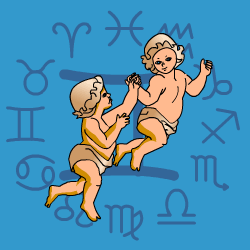 Gemini
May 21 - June 21
---
Today's Horoscope for Wednesday October 27th
Neptune has a habit of making you see what you want to see rather than what's under your nose. So when daylight dawns you discover one situation isn't what thought it would be. Be clear and be resolutely down to earth and you won't get disappointed. Muddles will happen at work or in a pet project because you are not concentrating on essentials. Maybe you've been overly trusting. But with effort you can pull it round and make a success of what could have gone badly off track.
The Weekly Outlook from 25th October
In coming weeks you will be taking steps to find a congenial atmosphere because you need to feel that what you are doing is valued. Do not over push yourself but work steadily to improve your efficiency and not waste your energy. Staying on top fitness form will obviously be important so you will take extra interest in your diet and general well-being. If you are under par look after yourself sensibly and adjust your lifestyle to suit your stamina and all will be well.
Your Monthly Horoscope for October
Your sunny smiles and boisterous approach will win you new admirers at parties and loved ones will rally round with affectionate applause as well. Leisure, pleasure, entertainment and ensuring your place in the spotlight will be your priorities. Your physical energy and passionate enthusiasm will soar so there will be no holding you back. Playing games and involving yourself in sporting activities will grab your attention more than usual. One close relationship will be warming up after the 7th with compliments making you glow. You'll know you're special and much adored. Midmonth an exciting message from abroad or a distance away will open your mind to new opportunities. Though you'll need to tread cautiously until after the 22nd since nothing will run to plan. There's no sense in getting impatient. Persevere and knuckle down to essential chores.
and Next Month's Horoscope for November
Hard work will be unavoidable. Indeed you may prefer taking on board most of the chores since you'll be on a perfectionist roll, assuming you can do everything better than others. Try not to land yourself with too many commitments. Staying fit and healthy is as important as piling up achievements and that won't happen if you push yourself too hard. You may be resentful if others do not appreciate your efforts but sometimes you need to do what you want for its own sake. You'll be playing your emotional cards to your chest and now allowing just anyone to know what you're feeling. But you may end up magnifying certain of your feelings and exaggerating likes and dislikes. Into the final week you'll find more support is forthcoming from a close partner. You'll be happy to share, care and cooperate more actively.
Year Ahead 2021
Rays of sunshine will peep through the clouds as Jupiter and Saturn move into airy Aquarius for 2021 which will suit you better than last year's leaden placings. You'll have a head full of ambitious schemes and be harbouring hopes of traveling further afield. Though it may be a stop-start year as far as progress is concerned. If you are stuck you can always expand your horizons in another way. Studying new subjects and taking up new interests will require effort and self-discipline, but will bring rewards over time.Success will come your way from May onwards for two months with a rise in your reputation and status. Anything you attempt will work out better than you hope. Though you may, at times, be unrealistic or lacking in motivation. If you can be helpful to others and not pushing your own interests then you'll find compliments flooding in.The Eclipses in Sagittarius and Gemini are hinting that you are at a staging post in your life where you need to make major decisions about your path ahead both in terms of career and also relationships. Making impulsive decisions won't be wise. You'll need to consider all your options and in your emotional life in the first six months be more adaptable and less self-sufficient. The second half year will find you in an independent-minded mood, making your own choices and refusing to be distracted.There will continue to be frustrating moments when you want to kick over the traces and rebel but the time isn't right yet. There are old obligations to be honoured and situations that won't allow for wild and wayout behaviour. Content yourself with knowing that your time will come when you can be a free spirit and not hemmed in.