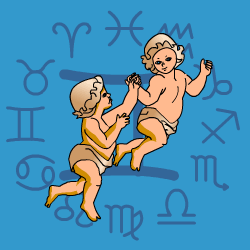 Gemini
May 21 - June 21
---
Today's Horoscope for Sunday December 15th
The far-reaching emotional and financial changes ongoing in your life will move you on significantly now to a better place. Not only do you understand yourself better because of recent experiences but you can see how to reach out to make better connections with those close. Altering the way you share, care, relate and co-operate is making it easier for you to reach for more security. Just watch a tendency to be a law unto yourself. Smile sweetly and you'll get your own way faster.
The Weekly Outlook from 09th December
To be independent or to cooperate? That seems to be your choice now and frankly you can't quite make up your mind for the best. You know you are unwilling to make certain compromises that are being demanded by someone close, but you are equally not sure whether you wish to cast yourself adrift just yet. Let the dust settle before committing yourself in any direction. You will have a definite need for something more exciting and thrilling. You do have to be cautious, because you could find close companions get resentful.
Your Monthly Horoscope for December
Close partners will be on hand with support and advice as you negotiate through a few important decisions. Togetherness will be key to your happiness and peace of mind so fitting in will obviously be to your advantage. The pressures you have been under in recent times should ease slightly with expansive, lucky Jupiter moving into Capricorn for a year from the 2nd. This should bring money or generosity your way without too much effort on your part. It'll also help you drop your emotional defences so you'll move closer to those you want to have a deeper connection with. The transition from the past to the future will be a good deal easier than you expected. Your emotional responses will be intense and at times exaggerated as you divide the people around into great and the opposite. Try to moderate your actions even if it means hiding your feelings. In the final days you'll be sorting out what to clear out of your life and what to hang onto. Altering the way you share, care and co-operate over money or your personal life won't be easy but it will help ahead.
and Next Month's Horoscope for January
Always an inventive and resourceful sign, you may be scratching your head now wondering how to extricate yourself from one predicament. You'll feel cornered or as if circumstances beyond your control are limiting your room for manoeuvre. There may be financial pressures or a lack of emotional support so it'll be up to you to stay rock solid and focussed. Get your priorities straight and be rigorously realistic. There will be luck lurking just out of sight so you will find an answer eventually. But sometimes you just have to bear through the sticky patches and wait for the clouds to clear. Close partners will be revved up and raring to go and fairly argumentative at times. You'll try to keep the peace but will end up snapping back at times. See what you can do to throw your energy behind their schemes. It won' be the easiest time to find the co-operative spirit but if you can manage to pull together on joint ventures then you'll do better and avoid needless irritations. Late in the month you'll be out of an intense few weeks, feeling lighter, brighter and more enthusiastic.
Year Ahead 2019
A slow start to the New Year will find you pondering fundamental questions about the whys, wherefores and whither of your life. Freeing yourself up from old obligations will be one priority. As a restless sign, one of the wanderers of the zodiac, you dislike being tied down. There will be no fast answers so you'll need to be persistent. At times you'll feel thrown back on your own resources with less support than usual, financially and emotionally. But through your experiences you'll grow stronger, more resilient and better able to cope ahead. Socially you'll be on good form, with your enthusiastic approach winning you compliments and admirers. One relationship will develop in ways you could not have imagined before. Other bonds in your life which have no potential for development will be quietly dropped with a minimum of regret. What will bring more fulfilment and satisfaction will be altering the way you share, care, relate and co-operate. Not a simple ask but the results will be well worth the effort. From April your engine will be revving and nothing will hold you back. OK at moments your over confidence will send you sailing into decisions that might have been the better of more thought and preparation but the momentum of your exuberance will carry you through three exciting months. From mid year you'll be focussed on sorting out your personal finances and taking the initiative to ensure you are building security for yourself ahead. You may be tempted to throw money around to impress but partners and circumstances will put the brakes on your wilder extravagances. Towards the New Year, there will be a surge of confidence as money and more support come your way, pointing to positive changes ahead.