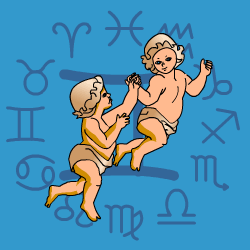 Gemini
May 21 - June 21
---
Today's Horoscope for Tuesday March 28th
Your mood will be upbeat but none too practical. Pushing yourself to think through the practical consequences of "Can I actually make this stick?" will seem like an effort. Remind yourself of the sweat involve if you commit to more than you can handle. Regard delays and setbacks as helpful. They could bring a deeper understanding of what is truly meaningful. Your old hard-driving approach to ambitions is fading and as you begin to accept that personal glory and winning is not the be all and end all you can start to relax.
The Weekly Outlook from 27th March
Mars now moving through the sign after yours for a few weeks can make you pleasure-loving and indulgent, as keen to spend money as you are to earn it. Try not to be reckless about taking on new commitments in an effort to impress. Midweek there may be delays or temporary setbacks which could end you up feeling discouraged. Blame Saturn which can be a wet blanket. When it is around you can lose your self-confidence. Shake yourself out of the glooms and stand up for yourself.
Your Monthly Horoscope for March
Warm-hearted friends will rally round to boost your morale and make you feel appreciated. But your main priority will be work since you'll know the best way to attract respect is to produce results and have long lasting achievements to show for your efforts. This will need to be your approach for some time ahead as Saturn will stay at your midheaven for two years plus. It brings rewards for past preparations but also tends to bring old mistakes to the fore to be sorted out. You may have a minor let down on a cash matter midmonth but you won't let that distract you from tidying up loose ends and getting to grips with the budget. This will be a month of fairly momentous changes and with Pluto moving into Aquarius in the final days you'll be rethinking your beliefs, opinions and philosophy of living. Discussions will be intense but keeping an open mind will help.
and Next Month's Horoscope for April
Being a sociable, restless sign who thrives on variety, choice and free movement, you'll be in your element with a friendly Sun boosted by enthusiastic Jupiter widening your circle of acquaintances. You won't go short of lively company, support or advice. Your optimism will stay high and though you may be over hopeful about certain plans, your exuberance will bring results. Which is not to say at times you won't have to draw back to be conscientious about work and chores. Saturn now at your midheaven for the next two years will insist you stick to the straight and narrow where projects are concerned. You'll gain the respect of the right people if you take your responsibilities seriously and don't try to cut corners or go for quick fixes. With Mercury, your ruler, out of sight all month and going retrograde after the 21st, you'll be wise to keep a good many of your thoughts and plans to yourself. Your social life will revive with a flourish after the 11th with invitations and compliments galore coming your way. Into the final days you'll start to slow down and let others do the running around and take the strain. This is your chance to recharge your batteries and plan for what can begin later next month.
Year Ahead 2023
Slowly but surely through 2023 you'll be pulling away from a restrictive phase in your life when you were held back by old obligations and circumstances beyond your control. Financially and emotionally it has not all been easy but now you are about to embark on a new journey where you will have more freedom to express yourself and not feel so crowded. Your optimism will be high and as you look ahead you'll see rosy glows on the far horizon. Your friendship circle will be wide with interesting and enthusiastic new companions to keep your spirits high. They may not always be realistic but they will boost your morale. You won't avoid hard work or extra responsibility and will need to stay organized to gain the respect and recognition which are your due. If mistakes become obvious then fix them and move on. This is when you reap what you've sown in the past, the good and the not so great. After a few months you'll be happy to take time out to ponder and reflect, giving yourself a chance to get in touch with your innermost feelings and wishes. As you nurture yourself, you'll find your self-confidence grows and you'll be understanding of other people's problems. First you need to listen to yourself and then you can offer a sympathetic ear and be of help. After midyear you'll be keen to waken up your social life and find time for fun. If you are lacking love and affection then you need to give more. Hand out the compliments and hugs and they will come back to you.