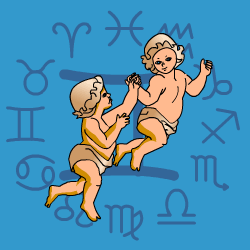 Gemini
May 21 - June 21
---
Your Birthday Horoscope
IF ITS YOUR BIRTHDAY TODAY your year ahead will be enthusiastic, optimistic and communicative and you'll be keen to spread your wings and broaden your horizons. Your finances will be up and down with more coming in and out, and still there'll be a need to save and do without a few treats. Close relationships won't be as challenging as recently though you will be thrown back on your own resources at times. Take whatever chances you get to clear space to reflect since the Eclipses hint there will be subtle messages coming your way from the universe.
Today's Horoscope for Monday June 21st
The key thing in coming weeks is to learn the lessons of handling cash successfully. Maybe you'll be tempted to flash it around too extravagantly to boost your self-esteem. You will want to impress everyone around, but save for security as well. You may find yourself idling the day away, not concentrating on what is under your nose. But you could also find a deeper connection with certain people, some bond you can't put into words but feels good. Follow your instincts since they will almost certainly be spot on.
The Weekly Outlook from 21st June
You'll be drawn to the good life in the four weeks ahead with the Sun moving through the sign after yours which rules your personal finances and pleasurable activities. Your spending will soar but you will not be happy unless you can boost your savings and security as well. If a past mistake surfaces don't get discouraged. Maybe you tripped yourself up because you thought you had the right answer. At least you now know you don't. Which is a step forward. So can you set about planning more effectively from here on.
Your Monthly Horoscope for June
Your birthday Sun and New Moon will bounce up your morale, set you on a forward trajectory and find you planning feverishly for what you hope to achieve in the coming year. With your morale soaring you'll reckon there's nothing that is not possible. But you will have to rein back in the first few days until one financial obstacle has been overcome. It may involve an old obligation or someone close being stubborn, but you'll need to tread warily and grit your teeth until you've found a solution. You'll be less hassled on the money front into the second week and beyond as you skip merrily into a fast-moving and varied schedule. You'll be speaking your mind directly, not always tactfully, but no one will be in doubt about your meaning or your wishes. Muddles and indecision just before midmonth will slow progress but not for long. From the 21st you'll be in an indulgent, pleasure-seeking mood but always aware that you don't want to upset your budget by going wild.
and Next Month's Horoscope for July
Getting your personal finances knocked into shape will be your priority for three weeks since you'll want more for treats and presents, never mind squirrelling surplus away for peace of mind. You will have inspired ideas which should be followed through and only one major hurdle to cross after mid month when an old obligation will tie you down. In parallel with practical matters, you'll be racing around on an increasingly busy everyday schedule with short distance trips galore and endless communications. You'll be in seventh heaven since you loathe boredom and being stuck, revelling in variety and constant activity. But you will need to get better organised, write out to-do lists and pace yourself otherwise you'll get in a muddle and nothing will be finished sensibly. In the final days you'll have a chance to relax at home as well as keeping yourself happily occupied connecting with friends and neighbours.
Year Ahead 2021
Rays of sunshine will peep through the clouds as Jupiter and Saturn move into airy Aquarius for 2021 which will suit you better than last year's leaden placings. You'll have a head full of ambitious schemes and be harbouring hopes of traveling further afield. Though it may be a stop-start year as far as progress is concerned. If you are stuck you can always expand your horizons in another way. Studying new subjects and taking up new interests will require effort and self-discipline, but will bring rewards over time.Success will come your way from May onwards for two months with a rise in your reputation and status. Anything you attempt will work out better than you hope. Though you may, at times, be unrealistic or lacking in motivation. If you can be helpful to others and not pushing your own interests then you'll find compliments flooding in.The Eclipses in Sagittarius and Gemini are hinting that you are at a staging post in your life where you need to make major decisions about your path ahead both in terms of career and also relationships. Making impulsive decisions won't be wise. You'll need to consider all your options and in your emotional life in the first six months be more adaptable and less self-sufficient. The second half year will find you in an independent-minded mood, making your own choices and refusing to be distracted.There will continue to be frustrating moments when you want to kick over the traces and rebel but the time isn't right yet. There are old obligations to be honoured and situations that won't allow for wild and wayout behaviour. Content yourself with knowing that your time will come when you can be a free spirit and not hemmed in.