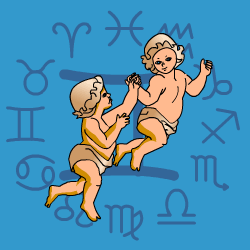 Gemini
May 21 - June 21
---
Today's Horoscope for Friday January 18th
You should able to negotiate financial matters in a highly effective way. New opportunities will appear which you have created by being direct. Though watch you are not being tempted to spend too much. Later you may get so wrapped up in one detail that you won't see the wood for the trees. What is said today by yourself or others will be important. No one will want to compromise, partly because they feel they might be humiliated if they give way.
The Weekly Outlook from 14th January
If other people are being a bit fierce and fiery, you will be the soul of tact, smoothing them down. But later in the week freedom is what's important to you so you'll decide to rattle the bars of your cage. You've maybe stuck yourself in a rut recently, or people have tied you down. There's a great deal of excitement on the go, and if people get in your way or try to corral you, you won't put up with it.
Your Monthly Horoscope for January
Mars will be urging you onwards to sort out long term plans with energetic friends giving an additional nudge. But you won't be able to move ahead until you've sorted out old obligations and unpicked a few confidential tangles, emotional and financial. It'll all be slower going than your hyper-active spirit appreciates but the new agreements you make now will stand you in good stead in the future. Keeping your head down and pushing on will be part of it. The other with a Capricorn Solar Eclipse in place is a hint that you need to alter the way you share, care, relate and cop-operate in whatever sphere of your life will help. Changing the habits of a lifetimes isn't easy but the results in the time ahead will be encouraging. Happily romantic, sociable Venus is in your opposite sign from the 7th so the affection of one special partner will be there and you'll be in demand at parties for your knack of making others feel special. Your modo will lighten and brighten from the 20th with a chance to spread your wings and be more enterprising.
and Next Month's Horoscope for February
Trying to sail ahead with an anchor dragging is becoming a familiar feeling for you. But once over an early hurdle, you will be enthusiastically exploring new ideas and working out how you can follow your dream. You'll be planning to broaden your horizons with more travel if possible and if not then you'll be picking up new hobbies and deciding how best to keep your mind stimulated. The support and enthusiasm of one close partner will keep you smiling and your positive approach will boost your social popularity as well.rnIn private your feelings will run high, with more intense emotions bubbling to the surface. Try not to magnify your likes and dislikes. You can expect to receive generous presents in secret, in cash or in kind.rnAfter the 10th you'll be in demand for your merry chat and informed ideas. The right people will be impressed so don't hold back. Though watch a tendency on the 13th to leap in with both feet and speak before you think especially to friends or team mates.rnA more strategic and understated approach will be needed from mid month with Mars disappearing out of sight into the sign before yours. See what you can do to pull strings behind the scenes and get others to dance to your tune if circumstances prevent you from being as pro-active as you'd like.rnYou'll still be able to showcase your talents in the final days and although it'll take effort you will have quite an effect on the people who matter.
Year Ahead 2019
A slow start to the New Year will find you pondering fundamental questions about the whys, wherefores and whither of your life. Freeing yourself up from old obligations will be one priority. As a restless sign, one of the wanderers of the zodiac, you dislike being tied down. There will be no fast answers so you'll need to be persistent. At times you'll feel thrown back on your own resources with less support than usual, financially and emotionally. But through your experiences you'll grow stronger, more resilient and better able to cope ahead. Socially you'll be on good form, with your enthusiastic approach winning you compliments and admirers. One relationship will develop in ways you could not have imagined before. Other bonds in your life which have no potential for development will be quietly dropped with a minimum of regret. What will bring more fulfilment and satisfaction will be altering the way you share, care, relate and co-operate. Not a simple ask but the results will be well worth the effort. From April your engine will be revving and nothing will hold you back. OK at moments your over confidence will send you sailing into decisions that might have been the better of more thought and preparation but the momentum of your exuberance will carry you through three exciting months. From mid year you'll be focussed on sorting out your personal finances and taking the initiative to ensure you are building security for yourself ahead. You may be tempted to throw money around to impress but partners and circumstances will put the brakes on your wilder extravagances. Towards the New Year, there will be a surge of confidence as money and more support come your way, pointing to positive changes ahead.