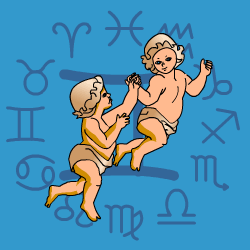 Gemini
May 21 - June 21
---
Today's Horoscope for Tuesday December 01st
You will go well out of your way to avoid bores and anyone who gets on your nerves since you'll insist on having companions who are on your wavelength. And close partners will want to hear what you have to say. You have a sensible view of your joint situation and can sort out tangles faster than most. And you will want to get certain things straight as simply and quickly as possible. But on one important matter you may be dithering, trying to see right round all the options, testing out every possible viewpoint.
The Weekly Outlook from 30th November
In close partnerships you want more support than you are getting as well as the freedom to please yourself. It may be unreasonable but that's the way you feel. Maybe it would be best to back off briefly until you have a clearer idea of what you can sensibly expect. It all comes down to the key question - to be independent or to cooperate? You know you are unwilling to make certain compromises that are being demanded by someone close, but you are equally not sure whether you wish to cast yourself adrift yet. Let the dust settle before committing yourself in any direction.
Your Monthly Horoscope for December
Togetherness and co-operation will be your watchwords as you move into three weeks where you'll be grateful for the support of a close partner. You'll be happy to do what you can to keep them happy since you'll recognise you are a touch more vulnerable than usual. Your popularity out on the social scene won't be in doubt since you'll have a knack of making everyone you meet feel special. At work you may lack decisiveness or a good sense of direction but you'll be content to allow matters to drift a while longer. From the middle of the month you'll be turning your charms up full volume and getting a positive response at home and at parties. Although not all the trials and tribulations of this year will disappear in the blink of an eye there will be a definite shift for the better after the 19th. You won't feel quite so held back and discouraged. You'll start to consider new schemes and projects which could be put into place over coming months. There will be one aggravation running into the 23rd but thereafter you'll be plotting and planning in good style.
and Next Month's Horoscope for January
The stop start progress of last year will continue albeit in different form this month. You'll have your eye on expansive and adventurous plans and be chatting animatedly. Travel will be on your mind and if not possible instantly you'll broaden your horizons in other ways. But there will be old obligations tying you down, financial and emotional, which can't be wished away. You'll need to accept what you can't change and be grateful that a portion of recent difficulties has disappeared. Pulling strings behind the scenes may work better than being too assertive for a few weeks, as you'll be constantly changing tack. Your ideas will change but so will circumstances. You're a sign that thrives on excitement and unpredictability and there will be good fortune as well as jolts and jangles this month. Into the final days you'll have worked out a strategy for handling the roller coaster nature of events.
Year Ahead 2020
2020 is your year for reviewing your priorities, financial and emotional, and making a few key decisions. You will continue to be thrown back on your own resources and finding the universe and those close less generous than before. Obviously there will be tensions and you'll have a sense of being hemmed in by circumstances beyond your control. All you can do is persevere and if you stick to a steady course you'll find that the winds of good fortune start to blow behind you. Money will come in unexpectedly to boost your morale and improve your situation. After mid year there'll be loose ends to tie up as you head for less stressful times after the New Year.rnEmotionally as well, there will be pressures and some pushing and pulling with close partners. You won't always feel supported but out of your experiences you will be developing a stronger resilience and the ability to cope better in future. Paying attention to your inner restlessness will give you pointers about where you feel restricted and have been over compromising. There'll be no instant solutions to this particular dilemma but with growing awareness you'll be able to avoid the worst pitfalls.rnAcross the middle months of the year you'll turn the charm on to great effect and find your popularity rising. Dynamic and energetic friends will be around after June till the New Year who'll be keen to ensure you will sort out long term plans and not be looking backwards over your shoulder. Though you will need to exert considerable pressure to keep up your forward trajectory in a year when circumstances out in the universe will conspiring to throw distractions and delays in your way.rnNew relationships could be on the horizon for those on the lookout as the eclipses give you a gentle nudge from July onwards. For those in long running partnerships the hint is that new agreements need to be reached with both of you shifting ground if you want more fulfilment ahead.