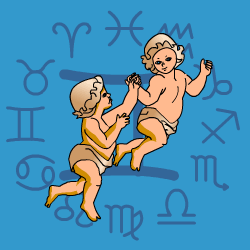 Gemini
May 21 - June 21
---
Today's Horoscope for Thursday August 05th
In a restless, impatient mood at home you'll be looking around for a project to soak up your energy. Sitting still won't be an option so you might as well turn your attention to organising a clear out or tidy up. Along the way you'll sort out your finances and find out where you stand. You'll need to be sure there's enough surplus on hand to allow for the whims that will send you off to indulge yourself. You'll be drawn to the pleasures of life which never come free.
The Weekly Outlook from 02nd August
You'll be clear about what the boundaries of your tolerance are which is why you may be distanced from certain people. It won't be long-lasting or serious. Sometimes you need to separate out a little to clear your head and tackle what's important. Use the time wisely to sort out your plans and your thinking since after midweek you'll be rocking and rolling with a fast-changing series of events. Forget co-operation. Go your own way, do your own thing, and offer the same leeway to everyone else around.
Your Monthly Horoscope for August
Racing along in style, you'll be talking constantly, multi-tasking like mad and rarely bored. A busy everyday schedule will keep you fully occupied with no shortage of good mates to keep you company. There may be the odd tension, difference of opinion or unexpected turn of events to negotiate in the first week but nothing you won't handle with confidence. Then you'll be on your way in good form, taking time out to have heart-to-heart chats with loved ones and be indulged at home. From midmonth you'll be back on the party trail and attracting compliments, with friends and those close rallying round to make you feel appreciated and admired. Into the final days you'll slow down to spend more time at home with your feet up, though you'll continue reorganising and sorting out family dilemmas. You'll put your foot down at one point and insist you get your own way.
and Next Month's Horoscope for September
There'll be little sense in grumbling with impatience if certain of your pet projects are on a go-slow. Even less will be gained by getting impatient with loved ones are you prowl around feeling held back. Use the first two weeks sensibly by reorganising at home or finding an outlet for your pent-up energy. One stuck situation will require all your ingenuity and determination to resolve the problem in the first week. But there'll be a chance of a new beginning in one family relationship so you'll make modest progress. Happy to be helpful after the 10th you'll continue to soften in your attitude to those close and then from the middle of the month you'll be off. Firing on all cylinders, your physical vitality and your passionate enthusiasm will get your life moving in a fast-forward direction. In the final days you'll be wreathed in smiles, flirting like mad and heading for enjoyment.
Year Ahead 2021
Rays of sunshine will peep through the clouds as Jupiter and Saturn move into airy Aquarius for 2021 which will suit you better than last year's leaden placings. You'll have a head full of ambitious schemes and be harbouring hopes of traveling further afield. Though it may be a stop-start year as far as progress is concerned. If you are stuck you can always expand your horizons in another way. Studying new subjects and taking up new interests will require effort and self-discipline, but will bring rewards over time.Success will come your way from May onwards for two months with a rise in your reputation and status. Anything you attempt will work out better than you hope. Though you may, at times, be unrealistic or lacking in motivation. If you can be helpful to others and not pushing your own interests then you'll find compliments flooding in.The Eclipses in Sagittarius and Gemini are hinting that you are at a staging post in your life where you need to make major decisions about your path ahead both in terms of career and also relationships. Making impulsive decisions won't be wise. You'll need to consider all your options and in your emotional life in the first six months be more adaptable and less self-sufficient. The second half year will find you in an independent-minded mood, making your own choices and refusing to be distracted.There will continue to be frustrating moments when you want to kick over the traces and rebel but the time isn't right yet. There are old obligations to be honoured and situations that won't allow for wild and wayout behaviour. Content yourself with knowing that your time will come when you can be a free spirit and not hemmed in.