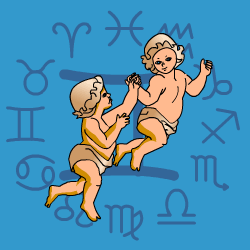 Gemini
May 21 - June 21
---
Today's Horoscope for Wednesday April 21st
Saturn is gradually prompting you to examine your beliefs and opinions and jettison those that are no longer relevant to your present circumstances. This isn't a backward move. Far from it. You're moving in a forward direction and need to be well-prepared for the time coming. If you want to put your ideas across it will help if you can speak to companions in a more reflective way. You'll be whizzing around at speed and getting ahead of them. Check out in advance whether what you're doing is necessary.
The Weekly Outlook from 19th April
You will be muted and feeling retiring, not pushy for a few weeks with the Sun moving through the sign before yours. This is your time in the year to step back, take stock, recharge your batteries and let others do the running around as you plan and prepare for what comes nearer your birthday. Which won't mean you will miss out on fun. After midweek you'll be indulgent and pleasure-seeking. Try not be too impulsive about taking on new commitments to impress.
Your Monthly Horoscope for April
You'll have your foot on the accelerator with high-octane Mars in your own sign until the 23rd. Your courage will be high and you'll be taking the initiative at getting new schemes kick-started and wakening everyone around you up. You won't always have a clear sense of direction so certain plans may fall by the wayside but you won't let that dent your self-confidence. Friends and team mates will rally round with entertainment, support and advice and you'll have a sense that finally you're making progress. Your mischievous sense of humour will keep everyone close entertained as long as you don't get too outrageous and hand out provocative comments to stir up a reaction. There'll be a welcome mat laid out for you whenever you feel inclined to be out and about. Jupiter around midmonth will bring encouraging messages from a distance away or abroad, prompting you to start thinking along new lines. You'll be inspired and excited by new possibilities. Gradually from midmonth you'll start to wind down your frantic schedule to take stock. A few weeks of calm contemplation will do you the world of you physically and will get you revved up for what comes nearer your birthday.
and Next Month's Horoscope for May
Never at your most contented in May, with the Sun out of sight in your chart, you may be champing at the bit, raring to go but knowing that it isn't yet time. There will still be loose ends to be tied up, final preparations made and a chance for personal reflection as well as giving your body a chance to refuel. You won't hold back from talking, for sure, with Mercury in your own sign all month which will make you restless, scattered and communicative. Nor will you hold back on the charm after the 9th since you'll see results from promoting a peaceful mood. But you'll still have to delay putting your foot on the accelerator until the 20th. You'll still have a chance to improve your finances and get a grip of your budget. And success will come from Jupiter moving across your midheaven after the 13th staying for several weeks. You'll glow with the respect and appreciation coming your way. Into the final days with your birthday Sun in place you'll be exuberant, outgoing and finding you can attract attention without making an effort.
Year Ahead 2021
Rays of sunshine will peep through the clouds as Jupiter and Saturn move into airy Aquarius for 2021 which will suit you better than last year's leaden placings. You'll have a head full of ambitious schemes and be harbouring hopes of traveling further afield. Though it may be a stop-start year as far as progress is concerned. If you are stuck you can always expand your horizons in another way. Studying new subjects and taking up new interests will require effort and self-discipline, but will bring rewards over time.Success will come your way from May onwards for two months with a rise in your reputation and status. Anything you attempt will work out better than you hope. Though you may, at times, be unrealistic or lacking in motivation. If you can be helpful to others and not pushing your own interests then you'll find compliments flooding in.The Eclipses in Sagittarius and Gemini are hinting that you are at a staging post in your life where you need to make major decisions about your path ahead both in terms of career and also relationships. Making impulsive decisions won't be wise. You'll need to consider all your options and in your emotional life in the first six months be more adaptable and less self-sufficient. The second half year will find you in an independent-minded mood, making your own choices and refusing to be distracted.There will continue to be frustrating moments when you want to kick over the traces and rebel but the time isn't right yet. There are old obligations to be honoured and situations that won't allow for wild and wayout behaviour. Content yourself with knowing that your time will come when you can be a free spirit and not hemmed in.