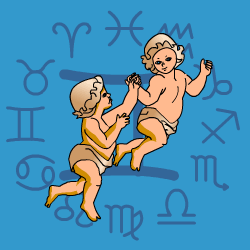 Gemini
May 21 - June 21
---
Today's Horoscope for Tuesday January 26th
You may be wound up and slightly tense as you bring to light what has been kept out of sight for a while. Be reassured that you will feel more whole by the end of this phase with more energy. You have been sweeping ambitions and resentments under the carpet for too long. Give yourself elbow room since if you are around others too much you will feel crowded. Later you'll suddenly leap to conclusions and race off to rock the boat in one way or another. You may get into trouble but you won't care.
The Weekly Outlook from 25th January
In a restless and none-too-co-operative mood, you'll be looking for thrills, excitement and anything that gets you away from routines. Go your own way and do your own thing, and offer the same long rein to everyone else around. Tolerance will pay off. Later you shouldn't expect 10 million off the lottery but you can look for a good break or a light at the end of one tunnel. There will be luck around in however small a way. There will be a lilt in your step and a twinkle in your eye.
Your Monthly Horoscope for January
The stop start progress of last year will continue albeit in different form this month. You'll have your eye on expansive and adventurous plans and be chatting animatedly. Travel will be on your mind and if not possible instantly you'll broaden your horizons in other ways. But there will be old obligations tying you down, financial and emotional, which can't be wished away. You'll need to accept what you can't change and be grateful that a portion of recent difficulties has disappeared. Pulling strings behind the scenes may work better than being too assertive for a few weeks, as you'll be constantly changing tack. Your ideas will change but so will circumstances. You're a sign that thrives on excitement and unpredictability and there will be good fortune as well as jolts and jangles this month. Into the final days you'll have worked out a strategy for handling the roller coaster nature of events.
and Next Month's Horoscope for February
Known for your agile tongue and resourceful mind, you'll be working out how to restart your more ambitious plans while circumstances are still stacked against you. Patience will be called for as well as adaptability. Certain obstacles will be around until early next month so use the time wisely to go back to the drawing board and tighten up the practical details. Then when the red lights turn to green you'll be off at speed in better order. Your eye will be firmly pinned on the far horizon with hopes of travel in the not too distant future or other ways of broadening your horizons and finding more adventure. Your social life will have a few upbeat moments as you mix with a fun crowd and loved ones open your eyes to new leisure pursuits that will be challenging as well as entertaining. In the final days you'll be aiming high, working hard and taking the lead.
Year Ahead 2021
Rays of sunshine will peep through the clouds as Jupiter and Saturn move into airy Aquarius for 2021 which will suit you better than last year's leaden placings. You'll have a head full of ambitious schemes and be harbouring hopes of traveling further afield. Though it may be a stop-start year as far as progress is concerned. If you are stuck you can always expand your horizons in another way. Studying new subjects and taking up new interests will require effort and self-discipline, but will bring rewards over time.Success will come your way from May onwards for two months with a rise in your reputation and status. Anything you attempt will work out better than you hope. Though you may, at times, be unrealistic or lacking in motivation. If you can be helpful to others and not pushing your own interests then you'll find compliments flooding in.The Eclipses in Sagittarius and Gemini are hinting that you are at a staging post in your life where you need to make major decisions about your path ahead both in terms of career and also relationships. Making impulsive decisions won't be wise. You'll need to consider all your options and in your emotional life in the first six months be more adaptable and less self-sufficient. The second half year will find you in an independent-minded mood, making your own choices and refusing to be distracted.There will continue to be frustrating moments when you want to kick over the traces and rebel but the time isn't right yet. There are old obligations to be honoured and situations that won't allow for wild and wayout behaviour. Content yourself with knowing that your time will come when you can be a free spirit and not hemmed in.