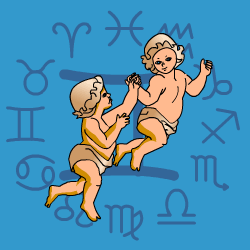 Gemini
May 21 - June 21
---
Your Birthday Horoscope
IF ITS YOUR BIRTHDAY TODAY your year ahead will be a time to stick to the straight and narrow and be conscientious. Hard work will bring results and attract the respect of those whose judgement you trust. Inspiration will strike you in quiet moment, giving the answer to unresolved problems dilemmas. As you learn to be comfortable in your own company, your self-esteem will improve. Financial restrictions should be lifting though it won't be a time for speculating or over spending. Nearer next birthday your luck will turn good.
Today's Horoscope for Sunday May 28th
Those close at home and at work may find you over rigid in your attitudes. You will be insisting on sticking to the straight and narrow but with good reason. You know good organisation, attention to detail and determination will pay off. Today there may be delays or mistakes emerging which need to be fixed. Saturn can seem unlucky, because it doesn't bring results easily. But it does have a positive benefit in that it stops you, makes you think realistically. You will be practical, more down-to-earth, really focused on the essentials.
The Weekly Outlook from 22nd May
In coming weeks you'll be amped up and heading for heated discussions with the glint of battle in your eye. You will not suffer fools gladly but try not to stir up too much trouble. Instead divert your attention to getting fitter. For once be happy to take more exercise since you'll be brimming with energy, wanting to tackle activities that stretch you physically. Opportunities will be opening up which you hadn't expected, so you need to be on top form to be able to make best use of them all.
Your Monthly Horoscope for May
Always a busy and chatty sign, you may be perplexed by feeling boxed in and unable to be as pro-active as you'd wish. The weeks before your birthday Sun picks up are always slow but you can use the time wisely to reflect on recent events and put them in perspective as well as planning ahead. Then when you have all your ducks in a row andrnthe red lights turn to green in the final ten days you will forge ahead. Recently you will have sensed that certain old restrictions were lifting so you'll be shifting your outlook for the future, knowing more things are possible. You'll be spreading your opinions in all directions and will find if you lighten your tone you'll be persuasive. More inner contentment will come with Jupiter moving into the sign before yours from the middle of the month for as year ahead. As your self-esteem rises, you'll find that companions respond well. A busy schedule from the 20th coincides with a surge of energy so you'll be speeding ahead with your foot hard down on the accelerator. Try not to go from reverse to top gear too quickly. You'll need a delay or two to keep your enthusiasm in hand.
and Next Month's Horoscope for June
Your birthday Sun will bounce you into June in high spirits, making waves when you walk into rooms and not going unnoticed. This is your time of year to make good resolutions for the next twelve months. Decide for yourself what will suit and get cracking with putting plans into action. Thoughtful gestures from everyday mates at work and in the neighbourhood will make you aware of how appreciated you are. In return you'll be charming and happy to boost morale and stay cheerful.rnPluto reversing back into Capricorn on the 11th for a few months will give you pause for thought. One or two obligations you thought had disappeared may be back on the agenda. Whether it is financial or emotional, be reassured this is just a time for tying up loose ends from the past and you will be free soon to shoot ahead unencumbered by the past.rnIn the final ten days you'll be pulled between an urge to spend liberally and indulge yourself and an equally strong sense that boosting your security will be sensible by saving not spending.
Year Ahead 2023
Slowly but surely through 2023 you'll be pulling away from a restrictive phase in your life when you were held back by old obligations and circumstances beyond your control. Financially and emotionally it has not all been easy but now you are about to embark on a new journey where you will have more freedom to express yourself and not feel so crowded. Your optimism will be high and as you look ahead you'll see rosy glows on the far horizon. Your friendship circle will be wide with interesting and enthusiastic new companions to keep your spirits high. They may not always be realistic but they will boost your morale. You won't avoid hard work or extra responsibility and will need to stay organized to gain the respect and recognition which are your due. If mistakes become obvious then fix them and move on. This is when you reap what you've sown in the past, the good and the not so great. After a few months you'll be happy to take time out to ponder and reflect, giving yourself a chance to get in touch with your innermost feelings and wishes. As you nurture yourself, you'll find your self-confidence grows and you'll be understanding of other people's problems. First you need to listen to yourself and then you can offer a sympathetic ear and be of help. After midyear you'll be keen to waken up your social life and find time for fun. If you are lacking love and affection then you need to give more. Hand out the compliments and hugs and they will come back to you.