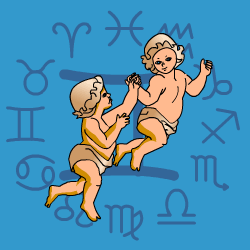 Gemini
May 21 - June 21
---
Today's Horoscope for Saturday December 04th
In close relationships this is the time to start afresh. Let bygones be bygones. There is no doubt that you need another half before you will feel secure in whatever you are doing at play or at work. Prompting yourself to be less self-sufficient and more adaptable will ensure that loved ones are on your wavelength. You may have to give before you get, but it will be worth it. There could even be new romances round the corner for the unattached and on the lookout.
The Weekly Outlook from 29th November
Maybe you will feel like leaning for support but that is not necessarily a bad thing. You just have to make sure that close partners understand it is each for each. It cannot all be one way otherwise resentment will build up. Try to get better understandings in place. This is particularly true if you have been hanging on more for protection and security than for love or mutual respect. Nothing dramatic will happen, but you will push gently to come to better agreements.
Your Monthly Horoscope for December
Normally a friendly and freedom-loving sigh, you'll be more in a mood for one-to-one support for a few weeks. Togetherness will make you feel secure and partners will be happy to lend a hand. Your social popularity will rise though you won't always be in a frivolous frame of mind. Venus in the deepest, most confidential area of your chart will make you secretive about your personal longings and magnify your reactions so you'll be on people or off them in a major way. Try not to be impulsive in your responses or you'll ruffle feathers. You won't always be clear about what your next step should be so give yourself a chance to dither or wait till daylight dawn. In the final ten days you'll be pushing hard behind the scenes to make progress and from the 29th will find that success crowns your efforts. That happy state of affairs will continue well into next year.
and Next Month's Horoscope for January
Close partners may be revved up and raring to go but you'll be hanging back for a week or so. There are confidential dilemmas, financial and emotional, requiring your attention, which won't solve themselves. You won't get it all your own way so will need to be flexible as well as determined. It always feels sticky this time of year for you so you're used to pushing steadily on, knowing your efforts will help to move you towards security and peace of mind. But it will be stop and start for a while and not sociable, since you'll be keeping yourself to yourself. Around midmonth you'll dither about a key decision and be frustrated by a situation beyond your control. Maybe you can't change the world but you can choose your attitudes. Don't be submissive but don't be too reactive either. After the 20th there'll be a release of tension and a clearer way ahead. Though you'll still need to stay persevering into next month if you want to see real results.
Year Ahead 2021
Rays of sunshine will peep through the clouds as Jupiter and Saturn move into airy Aquarius for 2021 which will suit you better than last year's leaden placings. You'll have a head full of ambitious schemes and be harbouring hopes of traveling further afield. Though it may be a stop-start year as far as progress is concerned. If you are stuck you can always expand your horizons in another way. Studying new subjects and taking up new interests will require effort and self-discipline, but will bring rewards over time.Success will come your way from May onwards for two months with a rise in your reputation and status. Anything you attempt will work out better than you hope. Though you may, at times, be unrealistic or lacking in motivation. If you can be helpful to others and not pushing your own interests then you'll find compliments flooding in.The Eclipses in Sagittarius and Gemini are hinting that you are at a staging post in your life where you need to make major decisions about your path ahead both in terms of career and also relationships. Making impulsive decisions won't be wise. You'll need to consider all your options and in your emotional life in the first six months be more adaptable and less self-sufficient. The second half year will find you in an independent-minded mood, making your own choices and refusing to be distracted.There will continue to be frustrating moments when you want to kick over the traces and rebel but the time isn't right yet. There are old obligations to be honoured and situations that won't allow for wild and wayout behaviour. Content yourself with knowing that your time will come when you can be a free spirit and not hemmed in.