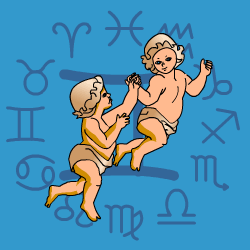 Gemini
May 21 - June 21
---
Your Birthday Horoscope
IF ITS YOUR BIRTHDAY TODAY your year ahead will be ambitious, hard-working, as you take the lead and expect others to follow behind. But being helpful and putting your own needs second will mean you make faster progress. You'll find confidential dilemmas financial and emotional continue to be challenging but there is good luck around with generosity coming your way to boost your morale. You will have a sense of a significant shift into better times ahead as the year moves on.
Today's Horoscope for Thursday May 28th
In a common sense mood in the days ahead you'll be showing practical flair and determination. Your thinking and speaking will be directed to whatever has a financial purpose, which is making you thoughtful. Others may carp about your slowness but you know it is vital to get everything right. You may be slow to make up your mind, but you will be absolutely unshakeable when your decisions are made.rnMore stubborn than usual, you are digging your heels in quite hard.
The Weekly Outlook from 25th May
Try not to go leaping into situations that you haven't thought through. You could be over-hasty and charge ahead, causing more trouble than it is worth and stirring up arguments. Just cool it slightly until midweek when a more down-to-earth mood will bring more common sense. You will be thinking along lines that are practical and conservative, which means you will come up with sound, productive ideas. In money matters you will be pernickety about details, more inclined to read the fine print.
Your Monthly Horoscope for May
The weeks before the Sun moves into your own sign are never your favourite time, since you have to tread water and sit on the side lines until the 20th. Treat it as a blessing in disguise to give you a chance to recharge your batteries and find space to mull over the past year and plan ahead. Good news will be coming about crucial financial and emotional matters to give you optimism. You'll sense that better is coming even if you're not completely free of restrictions and obligations just yet. Your ambitions will click into gear after the 13th and you'll be pushing ahead, insisting that companions dance to your tune and work as hard as you. Into the final ten days your spirits will be high as you sort out good resolutions for the year ahead and get cracking with plans.
and Next Month's Horoscope for June
Wearing your happiest smile and putting your best foot forward, you'll be making yourself popular by spreading harmony and cheer around. Having taken the trouble to spruce up your appearance you'll find compliments roll in. Which won't stop you issuing orders and expecting everyone to dance to your tune and work as hard as you. You won't leave any stones unturned in your efforts to achieve your goals and will push obstacles and slow coaches aside. If not all of your ambitions meet with success especially towards the middle of the month, then be patient. Keep persevering and you'll break through eventually. The Cancer Solar Eclipse on the 21st, a powerful New Moon, hints that taking the initiative where money is concerned will pay off in coming months. Not spending to impress will be wise. As the months closes you'll find dynamic friends are on hand to give you a nudge forwards and there should be good news on the cash front as well.
Year Ahead 2020
2020 is your year for reviewing your priorities, financial and emotional, and making a few key decisions. You will continue to be thrown back on your own resources and finding the universe and those close less generous than before. Obviously there will be tensions and you'll have a sense of being hemmed in by circumstances beyond your control. All you can do is persevere and if you stick to a steady course you'll find that the winds of good fortune start to blow behind you. Money will come in unexpectedly to boost your morale and improve your situation. After mid year there'll be loose ends to tie up as you head for less stressful times after the New Year.rnEmotionally as well, there will be pressures and some pushing and pulling with close partners. You won't always feel supported but out of your experiences you will be developing a stronger resilience and the ability to cope better in future. Paying attention to your inner restlessness will give you pointers about where you feel restricted and have been over compromising. There'll be no instant solutions to this particular dilemma but with growing awareness you'll be able to avoid the worst pitfalls.rnAcross the middle months of the year you'll turn the charm on to great effect and find your popularity rising. Dynamic and energetic friends will be around after June till the New Year who'll be keen to ensure you will sort out long term plans and not be looking backwards over your shoulder. Though you will need to exert considerable pressure to keep up your forward trajectory in a year when circumstances out in the universe will conspiring to throw distractions and delays in your way.rnNew relationships could be on the horizon for those on the lookout as the eclipses give you a gentle nudge from July onwards. For those in long running partnerships the hint is that new agreements need to be reached with both of you shifting ground if you want more fulfilment ahead.