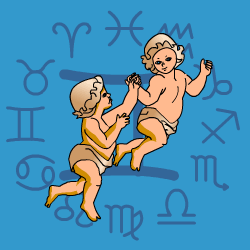 Gemini
May 21 - June 21
---
Today's Horoscope for Saturday February 29th
Much in demand for your views at home and at work, you are the one who has all relevant info down to the last detail. Just don't drown everyone in too many facts and figures. Appreciate the attention coming your way and recognise that companions really do need help and advice with a tricky dilemma that has no obvious escape route. Later you'll settle down to making a phone call that has been on your mind for a while. If you reach out to break the ice you'll be surprised by the response you get.
The Weekly Outlook from 24th February
You'll be keen to give your reputation a boost and get the recognition which your talents deserve. But you know that you cannot rest on your laurels. You need to give new projects a hefty push to make sure that you are building and building for the days ahead. Get your head and your heart together and make it happen. In private you'll also want to be close to that special someone. You'll sidle up to them and tell them how much they mean to you and meet a positive response.
Your Monthly Horoscope for February
Always a restless sign at the best of times, you'll really be yearning to spread your wings and either travel further afield or throw yourself into more adventurous pursuits. Nothing ventured nothing gained will be your motto as you reach out to see what the universe has to offer. Close partners will continue to fire on all cylinders until mid month, so at times you'll need to keep the peace as they'll be inclined to argue. If you can throw your energy behind their plans and stay in step you'll go further, faster. Your knack of putting friends at their easy will do wonders for your popularity in any group activity and you'll be welcomed with open arms. After the 16th you'll be preoccupied at times with highly personal matters, financial or emotional. You know you need to reach better agreements with those close but you won't get it all your own way. You'll need to be patient, persevere and be flexible. There won't be fast solutions so you'll need to settle in for a six week push. In the final days you'll be working hard and be into a higher profile phase where you won't go unnoticed.
and Next Month's Horoscope for March
In your peak few weeks of the year as far as work and your outside activities are concerned, you'll be taking the lead and persuading others to follow along behind. Your best approach will be to look helpful and caring, not pushing your own agenda. There should be better news on the cash front with two hopeful days on the 11th and 20th which should boost your prospects though it will be on step forwards one step backwards for a while. You won't be as sociable for a few weeks so pamper yourself in the quiet moments if no one else will. Mercury, your ruler, going direct on the 10th will clear a few irritations out of the way and allow you to be more direct in discussions. The final few days will be challenging but once you push your way through one blockage you'll notice a subtle shift with a faint glimmering of light at the end of one tunnel.
Year Ahead 2020
2020 is your year for reviewing your priorities, financial and emotional, and making a few key decisions. You will continue to be thrown back on your own resources and finding the universe and those close less generous than before. Obviously there will be tensions and you'll have a sense of being hemmed in by circumstances beyond your control. All you can do is persevere and if you stick to a steady course you'll find that the winds of good fortune start to blow behind you. Money will come in unexpectedly to boost your morale and improve your situation. After mid year there'll be loose ends to tie up as you head for less stressful times after the New Year.rnEmotionally as well, there will be pressures and some pushing and pulling with close partners. You won't always feel supported but out of your experiences you will be developing a stronger resilience and the ability to cope better in future. Paying attention to your inner restlessness will give you pointers about where you feel restricted and have been over compromising. There'll be no instant solutions to this particular dilemma but with growing awareness you'll be able to avoid the worst pitfalls.rnAcross the middle months of the year you'll turn the charm on to great effect and find your popularity rising. Dynamic and energetic friends will be around after June till the New Year who'll be keen to ensure you will sort out long term plans and not be looking backwards over your shoulder. Though you will need to exert considerable pressure to keep up your forward trajectory in a year when circumstances out in the universe will conspiring to throw distractions and delays in your way.rnNew relationships could be on the horizon for those on the lookout as the eclipses give you a gentle nudge from July onwards. For those in long running partnerships the hint is that new agreements need to be reached with both of you shifting ground if you want more fulfilment ahead.