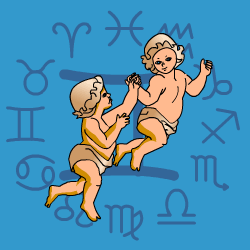 Gemini
May 21 - June 21
---
Your Birthday Horoscope
IF ITS YOUR BIRTHDAY TODAY your year ahead will be enthusiastic, friendly, forward-looking and a time to get plans pushed into gear. Any team or group activity will go with a swing and you'll rarely be short of good company. You be tying up a few loose ends from the past since you know by the year end you need to be ready to move into a new era in your life. You'll be restless and at times feeling held back but have patience since what lies ahead will be a revelation and find you in your element.
Today's Horoscope for Monday May 23rd
You'll be a sympathetic listener in the days ahead, tuned into the emotional undercurrents around. For once you won't feel the need to be talking as openly as usual. As you reflect in peace and quiet you'll look ahead and begin to see how your visions in life, your aims and goals can be lived out in the future. There's an almost predictive quality to the influences so you can trust your hunches which will more often than not turn out to be accurate and be ready to move. You will be effective in planning.
The Weekly Outlook from 23rd May
You'll want peace and harmony and won't be be bothered tackling anything requiring hard-work. You'll take time out to amble, meander and find good company since you know if try to settle to chores, your attention will soon slip. You will win the right people to your side if you sweep them up in your enthusiasm. But if you sound self-righteous, which is slight risk they will back away. Be straightforward and cheerful and you'll be adored. After midweek you will be setting your goals for the future determinedly.
Your Monthly Horoscope for May
Warm-hearted friends will be on hand with appreciation and words of praise. You'll forge ahead feeling your lucky touch is working with triumphs and small successes piling up. But you will need to give yourself a chance to step back and reflect as well. You can't be all-systems-go all the time. Luckily enthusiastic and upbeat friends and team mates will step up and keep you heading in the right direction. They may not always be realistic but they'll keep your optimism high and give you morale-boosting advice. Mercury, your ruler, goes retrograde from the 10th for three weeks so there will be a few communication muddles and breakdowns. Patience will see you through and even if not all your ambitions bear fruit instantly, you'll be travelling hopefully. Into the final days you'll be racing ahead, knowing you can sweep away restrictions and make your presence felt. You'll action future plans and be making speedy progress.
and Next Month's Horoscope for June
Your birthday Sun for three weeks will find you in buoyant mood, keen to set good resolutions for your year ahead. After a few weeks stuck in the shadows you'll be stepping out boldly and finding everyone you meet takes notice. You may not be as sociable or romantic until later in the month but you won't be short of good company and will be pampering yourself in quiet moments. One plan won't turn out as you expect midmonth so it'll be back to the drawing board but no harm will be done. Indeed you'll emerge in better shape with a better idea of what will work in future. Common sense will take over from visions and dreams. Into the final ten days your mind will turn to money, both spending and making it. You'll be keen to treat yourself and impress others, but will also be building up your security to ensure peace of mind ahead. Venus moving into your own sign from the 23rd will put you into a party mood, so you'll spruce up your appearance and be charming everyone you meet.
Year Ahead 2022
2022 starts with lucky, confident Jupiter at your midheaven for four months, returning over the New Year, which will boost your status, bringing you respect and appreciation at work and in your community. Almost anything you tackle should work out well, better and faster than you expect. The winds of good fortune will be blowing behind you which will expand your confidence, at times too much so. Staying marginally more humble and cautious than you'll feel might be wise. Between May and December you'll be surrounded by enthusiastic friends and finding that team activities go with a swing. Your optimism will soar as you plan for the future.rnYou'll continue refining your ideas and opinions, informing yourself about a wide range of topics and sinking your teeth into challenging discussions since you'll want to stress-test your opinions and be able to abandon those that no longer fit present circumstances. This is in preparation for a higher-profile, responsible phase starting in a year's time. But you need to be prepared before you get there.rnThe Taurus and Scorpio Eclipses this year will prompt you to get a better perspective on the past and to let go whatever is not essential in the way of attitudes. Early and late in the year you'll be getting fitter, paying attention to your diet and exercise regimes in an effort to stay grounded and in touch with your physical needs.rnYou will sense you are nearly at the end of a gruelling few years financially and emotionally. You're on the final lap so there will be a few loose ends to tie up before you move into a new phase. This is a year of clearing out and tying a ribbon on the past.rnFrom August you'll be revved up and raring to go with Mars in your own sign for seven months ahead. You will get impatient with delays and mistakes and speak your mind directly. It won't always make you popular but you will make faster progress.