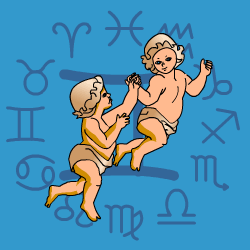 Gemini
May 21 - June 21
---
Today's Horoscope for Thursday November 30th
Surprise events will bring you valuable learning lessons. Try not to be resentful or blame anyone else for the position you find yourself in. Look for the benefits and silver linings which come with situations which can ordinarily seem unfortunate. The Cancer Moon comes round once a month to shake you into activity to sort out your finances. But you will be impulsive and may make hasty buys. Little whims send you off in directions that are not always wise. So it's important to be clear about what you're doing.
The Weekly Outlook from 27th November
On one close partnership you will want support as well as the freedom to please yourself. It may be unreasonable but that's the way you feel. It might be best to back off until you have a clearer idea of what you can sensibly expect. Although you have been flexible and supportive recently, you will sense you have done enough. Maybe you reckon time for a little pay back is due, in the nicest possible way. See where you can indulge yourself rather than constantly be the one who is shifting ground.
Your Monthly Horoscope for November
Looking on the bright side Venus moving into Libra, your chart area of love, laughter and entertainment this month will make for light-hearted, enjoyable moments. You'll sparkle in the spotlight of loved ones' attention and at parties, attracting compliments and new admirers. But truthfully your main preoccupation will be work and service to others as well as focusing on fitness since you'll need to be on top form to crack on through the chores piling up in front of you. Try not to be overly perfectionist, assuming only you can do tasks correctly since you'll get landed with doing everything yourself. Delegate where you can and cut down on the criticism. Taking time out to relax and wind down will also help. Close partners will want to hear what you have to say since you'll have a sensible take on joint problems and be able to solve them quickly. Into the final days you will be carrying heavier responsibilities at work or in your community activities, having to unpick mistakes and in general sticking to the straight and narrow. But with strategy you'll rope in the cooperation of those close which will help.
and Next Month's Horoscope for December
Close partners will be on hand with reassuring support and advice. Normally you are content to roam and mix n' match with friends but for three weeks you will be better pleased if you aim for togetherness and cooperation. Your social popularity will rise since your persuasive charms will make everyone you encounter feel special. Which does not mean you won't be happy with some quality time to yourself. Recently you have learnt to be content in your own company for short periods, taking the chance to reflect on recent events and get the past into perspective. As a result your self-esteem is rising slowly and imperceptibly, but giving you a warm glow that was not there before. After mid month you will experience the odd moment of uncertainty or muddle since you won't know what plans to put up as top priority. Let yourself drift your way to the New Year. All will be revealed in good time.
Year Ahead 2023
Slowly but surely through 2023 you'll be pulling away from a restrictive phase in your life when you were held back by old obligations and circumstances beyond your control. Financially and emotionally it has not all been easy but now you are about to embark on a new journey where you will have more freedom to express yourself and not feel so crowded. Your optimism will be high and as you look ahead you'll see rosy glows on the far horizon. Your friendship circle will be wide with interesting and enthusiastic new companions to keep your spirits high. They may not always be realistic but they will boost your morale. You won't avoid hard work or extra responsibility and will need to stay organized to gain the respect and recognition which are your due. If mistakes become obvious then fix them and move on. This is when you reap what you've sown in the past, the good and the not so great. After a few months you'll be happy to take time out to ponder and reflect, giving yourself a chance to get in touch with your innermost feelings and wishes. As you nurture yourself, you'll find your self-confidence grows and you'll be understanding of other people's problems. First you need to listen to yourself and then you can offer a sympathetic ear and be of help. After midyear you'll be keen to waken up your social life and find time for fun. If you are lacking love and affection then you need to give more. Hand out the compliments and hugs and they will come back to you.