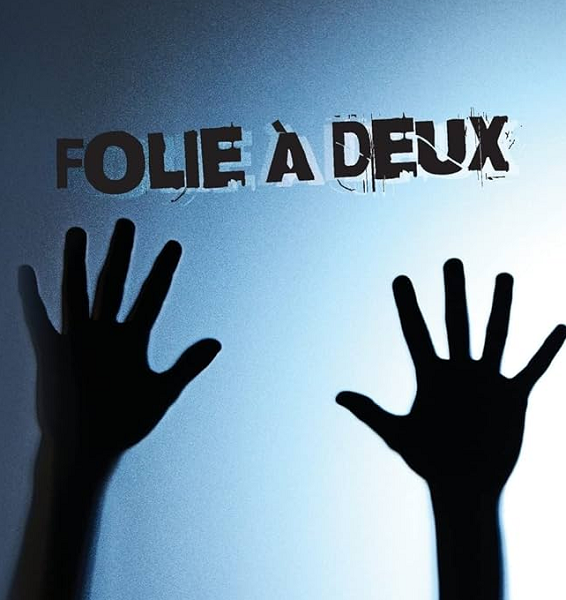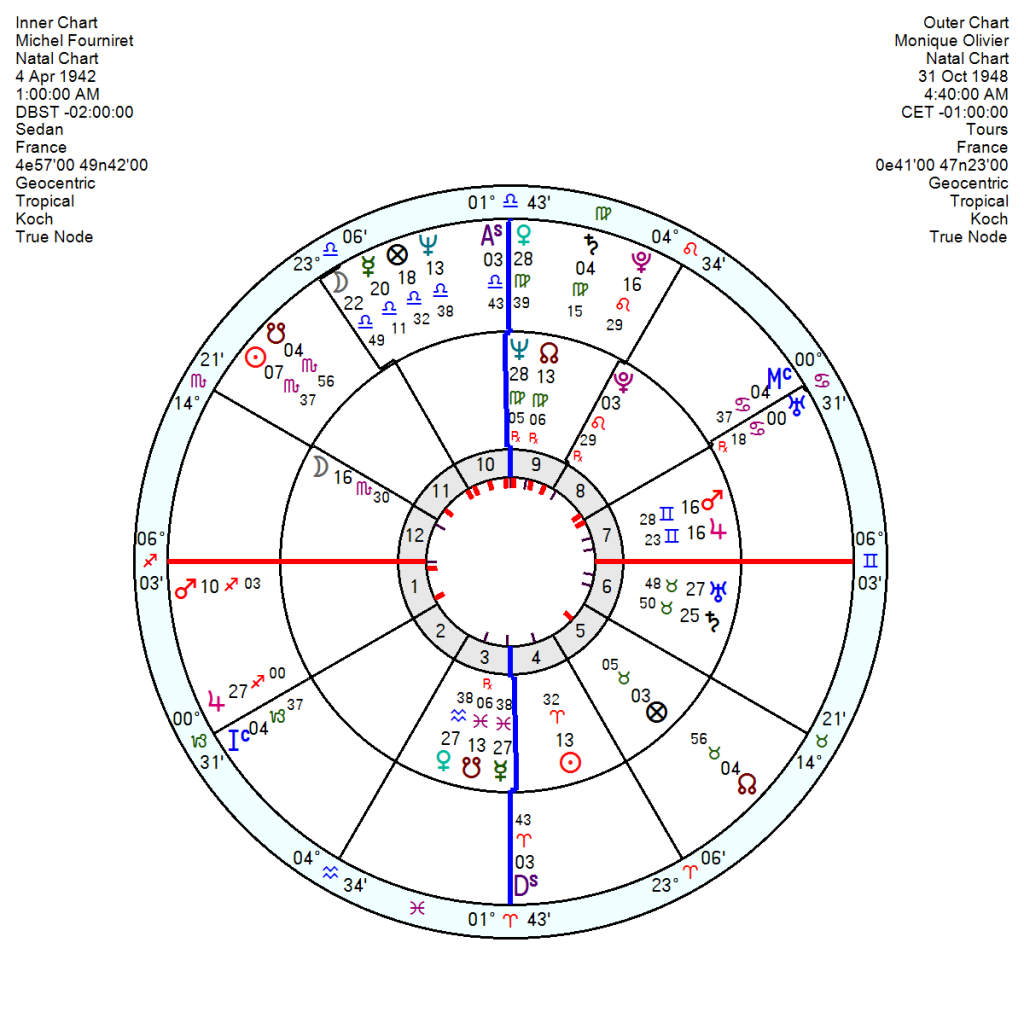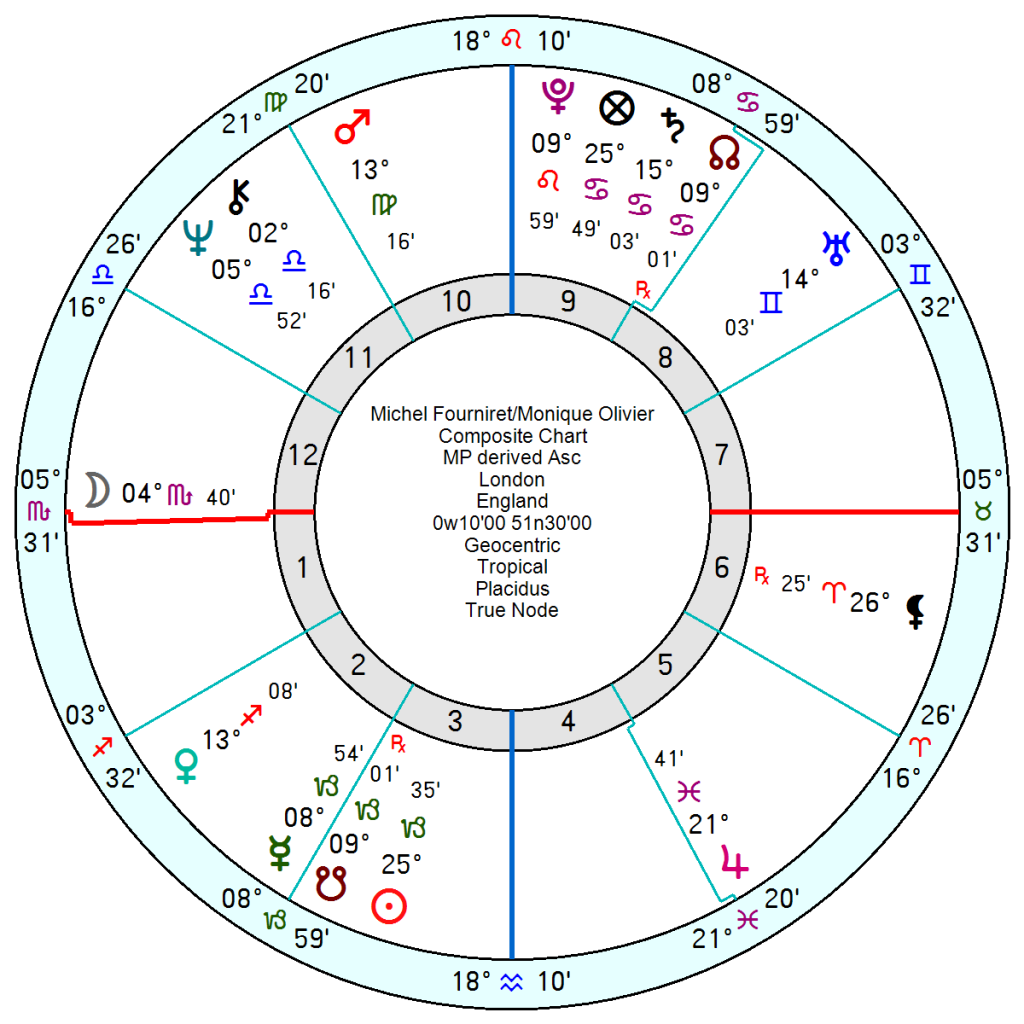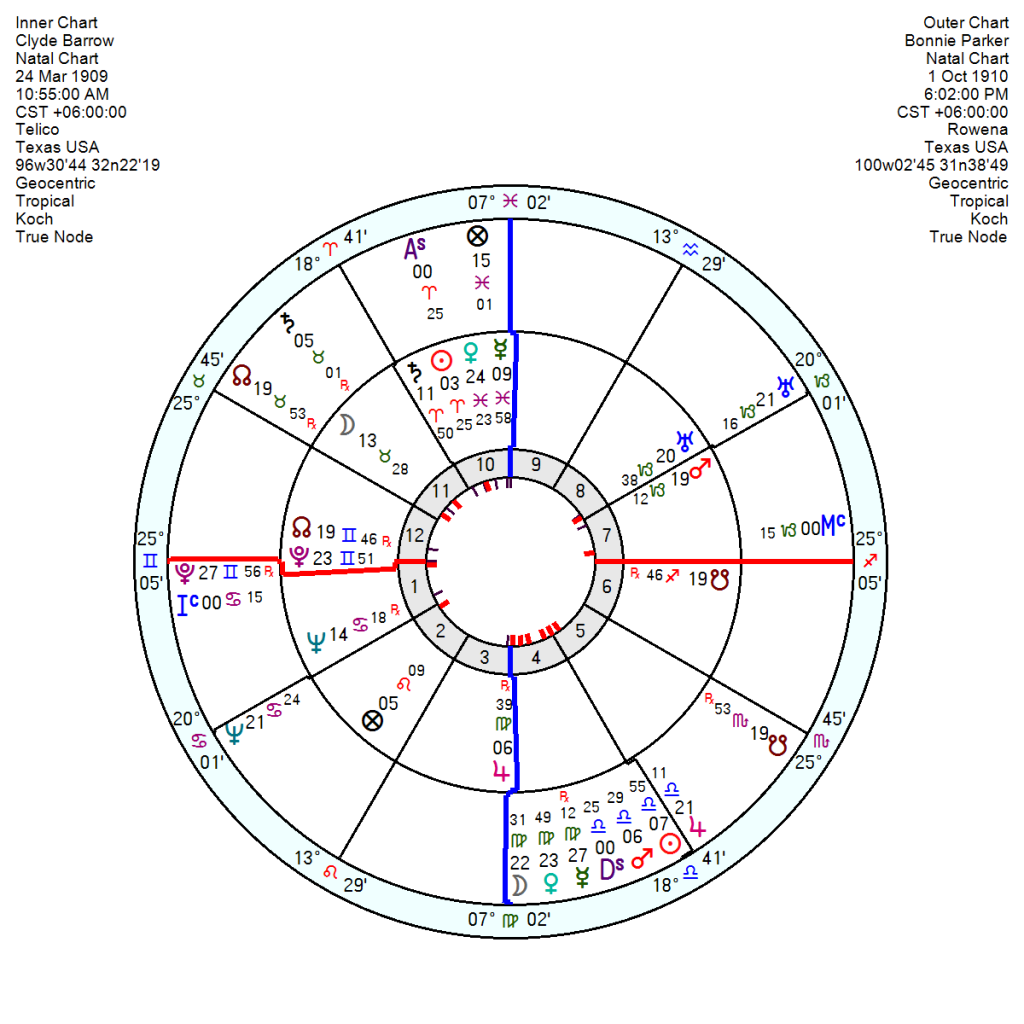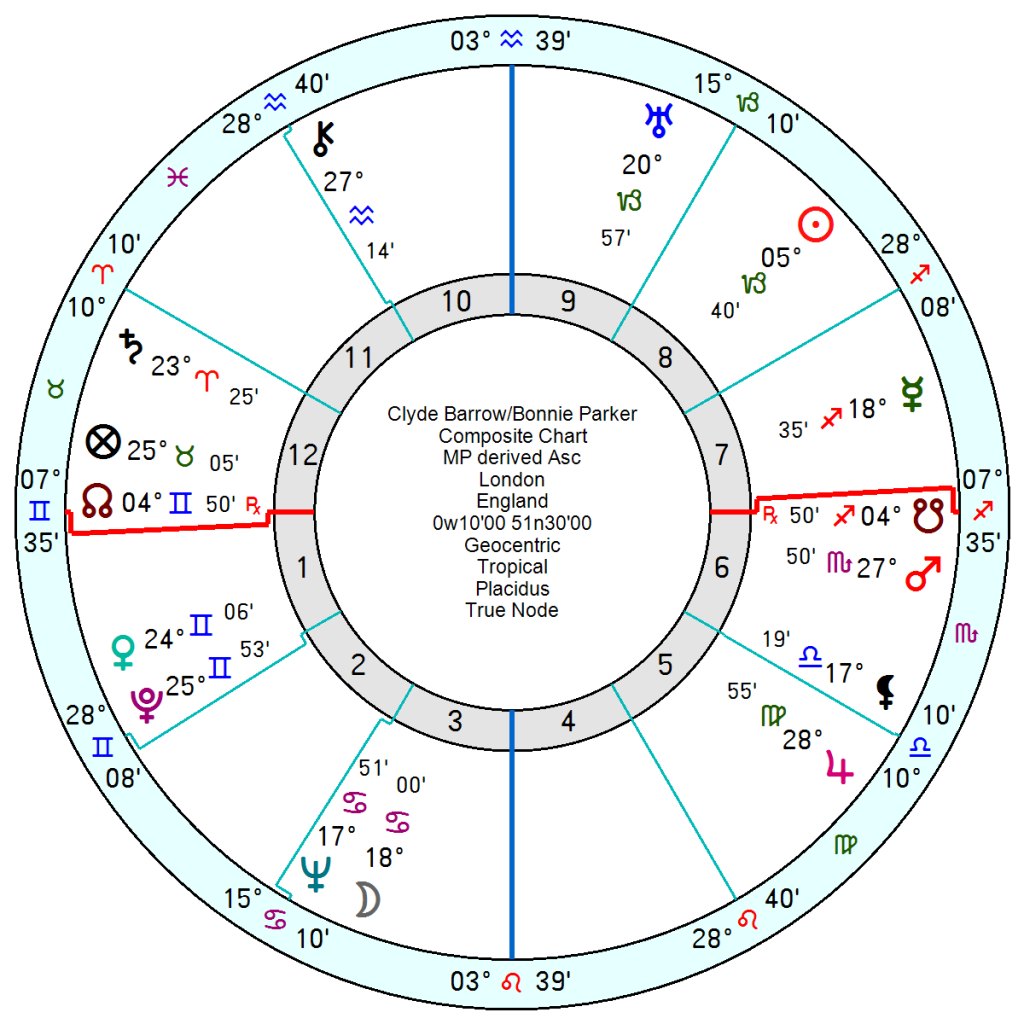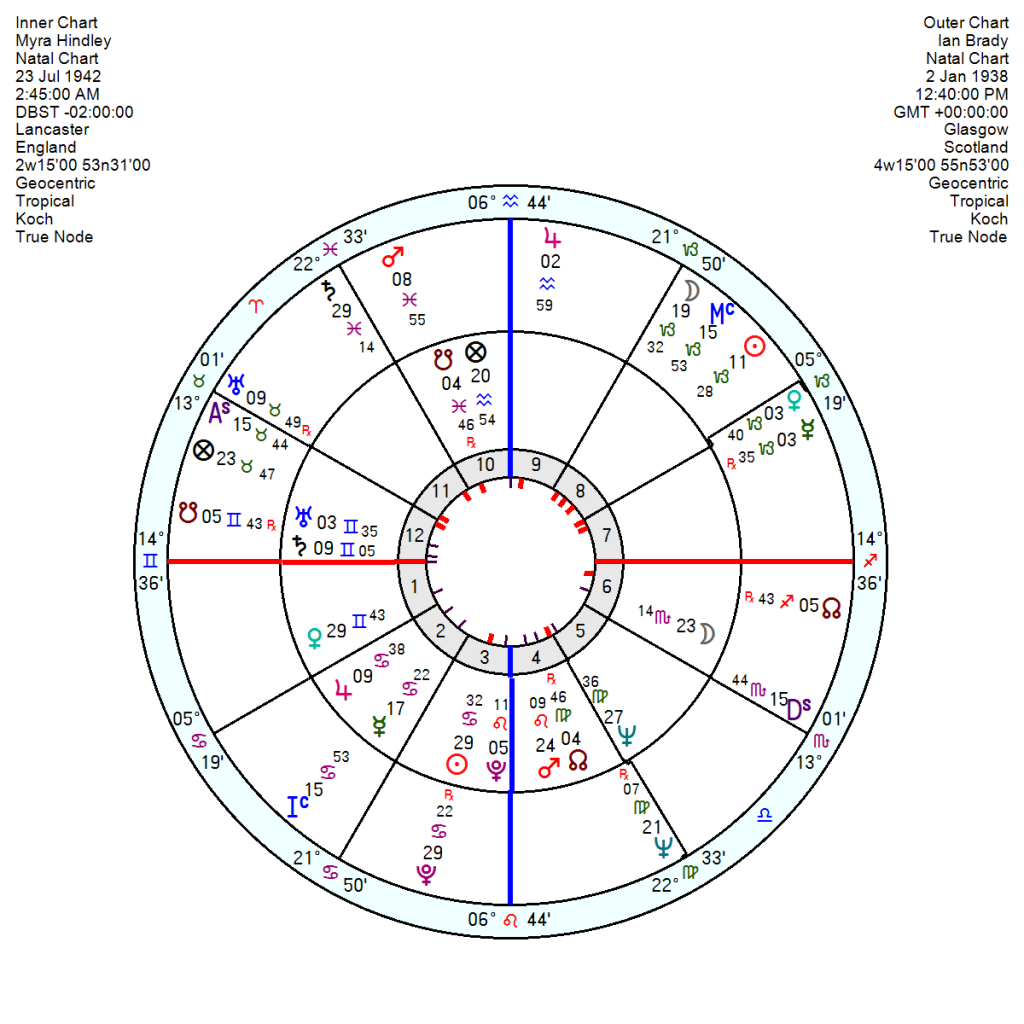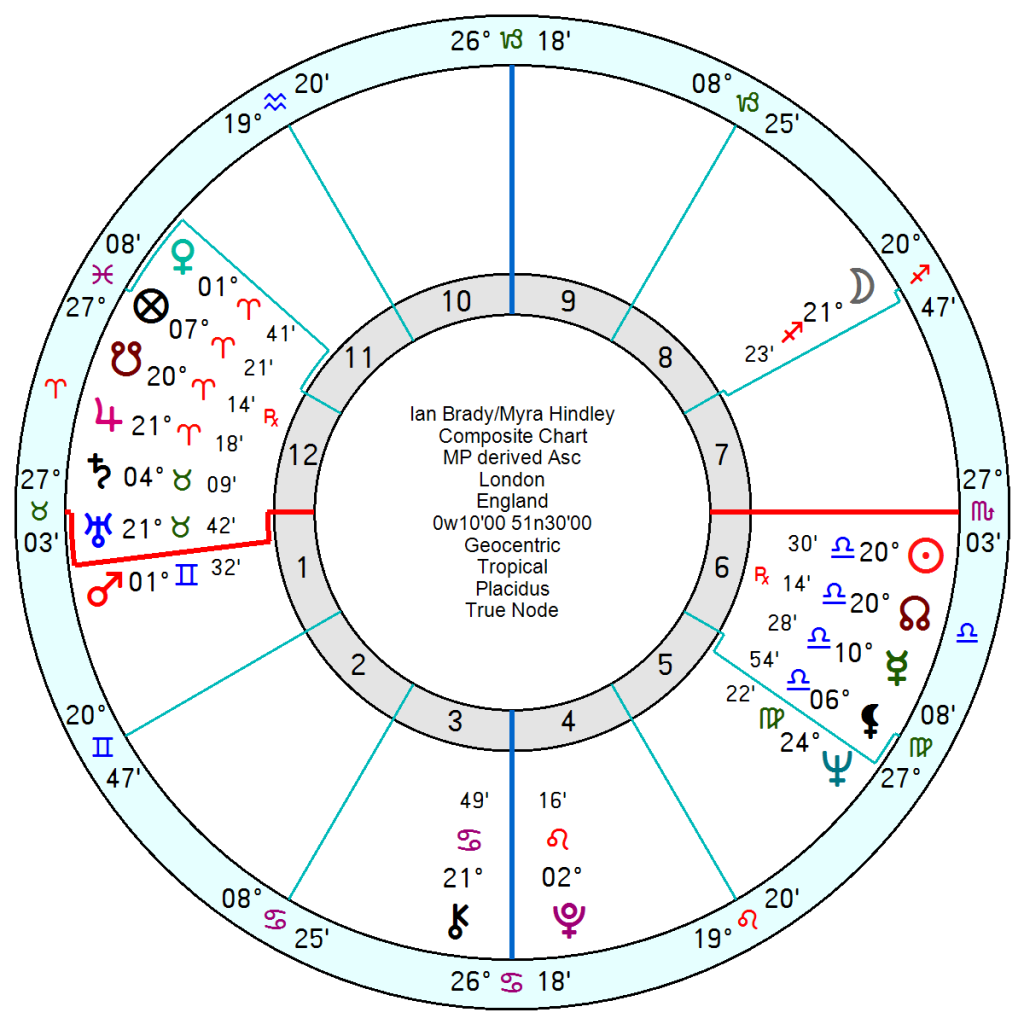 A grim trial is on in France to establish whether the widow of the late Michel Fourniret, France's most infamous murderer known as the "Ogre of the Ardennes", was a participant in his crimes or just an enabler. He was eventually caught and jailed for life in 2008 for the murder of seven girls and admitted to three more victims before he died in 2012. Monique Olivier is already serving life from her role in the 17 year campaign of kidnaps and killings since she would entice girls into their van. She met Fourniret after she had written to him in jail while he was serving a previous sentence for sexual assaults.
 She was born 31 October 1948 4.40am Tours, France and is a Sun Scorpio conjunct South Node in Scorpio trine Uranus on her Midheaven. Her Venus in Virgo and Libra Moon would not suggest criminal tendencies but her Mars in Sagittarius trine Pluto, sextile Neptune might.
Michael Fourniret, 4 April 1942 1am Sedan, France, had a yod of an Aries Sun sextile a high vitality Mars Jupiter in Gemini inconjunct a Scorpio Moon in his 12th – emotionally disorganized and psychologically maladjusted. He had a dreamy/delusional? Neptune on his Midheaven trine a stubborn Saturn Uranus in Taurus which in turn was square an Venus in Aquarius. A chaotic individual in terms of attachments with his Sun/Moon midpoint opposition Pluto attracting him to intense, power-struggling one-to-one relationships. I have seen more brutal charts but his serial-killer 18H was strong and even more so his pleasure-seeking 9H which can go badly wrong.
  Her Sun/Moon midpoint was close to her South Node and square his Pluto so her primitive tendencies would draw her into his orbit. Her Uranus Midheaven fell in his 8th so her rebellious instincts would attract her into his darkness.
Their relationship chart had a volatile composite Mars opposition Jupiter square Uranus opposition Venus so affection would be interlinked with excitement, even violence. There was also a possessive, controlling Moon square Pluto. Her 9th and 18th harmonics are also marked and if anything more aggravated than his.
The 8th house not surprisingly shows up in the other two infamous killer couples.
 Clyde Barrow, 24 March 1909 10.55am Telico, Texas, another Aries, had Mars Uranus in his 8th and his wife Bonny Parker, 1 October 1910 6.02 pm Rowena, Texas, had her Uranus falling in his 8th – again she would be drawn into his depths. Her Sun Mars in Libra opposed his Sun Saturn in Aries so not exactly a harmonious mix – but with his Sun/Moon midpoint square his Mars Uranus he would not be looking for a peace-loving goody two shoes housewife.  Her Sun/Moon midpoint was conjunct his Mars so she'd enjoy the adrenaline rush.
Their relationship chart had a difficult and perverse composite yod of Saturn sextile Venus Pluto inconjunct Mars – passion intertwined with cruelty.
Again their 9th and 18th harmonics were strong.
  Child killer Ian Brady, 2 January 1938 12.40pm Glasgow, Scotland, was a New Moon in Capricorn with a pushily confident Jupiter opposition Pluto and a neurotic Neptune opposition Saturn. His Capricorn Sun fell in his girlfriend Myra Hindley's 8th – 23 July 1942 2.45am Lancaster, England – and his 4th house controlling Pluto was conjunct her Cancer Sun conjunct Pluto. She would grew up knowing dominating men and not surprisingly fell in with another of the same ilk. Brady's Mars in Pisces was conjunct her South Node and her Uranus Saturn was conjunct his South Node   Each brought out the worst in the other. Her Midheaven was conjunct his 10th house Jupiter so she would revel in his confidence. With her Scorpio Moon in his 7th there would be a perverse partnership hewn out of it all.
  Again their relationship chart has a composite yod in this instance of Moon sextile Sun inconjunct a lawless Uranus; with a passionate and ruthless Pluto trine Venus sextile Mars. Both died in prison.
Hardly a cheering subject but folie a deux relationships more even than most attract similar to similar.