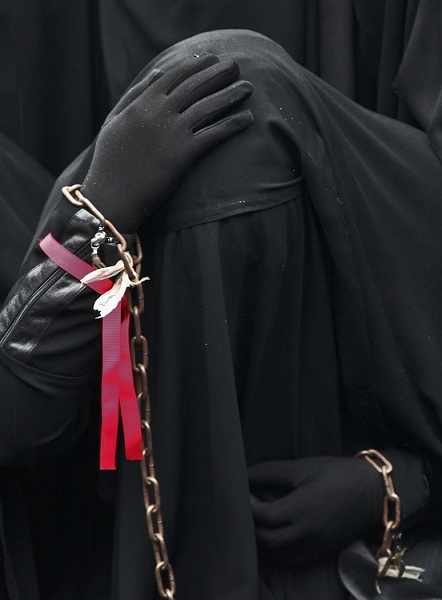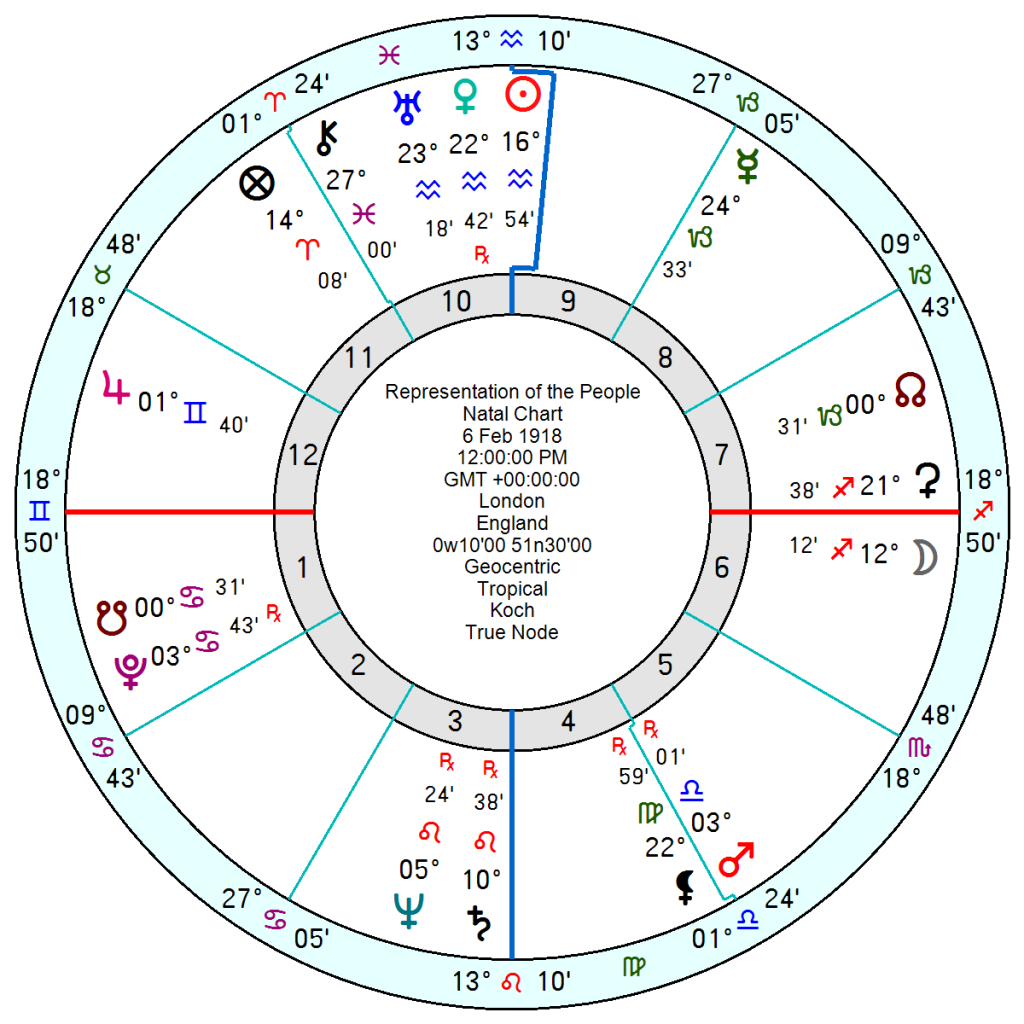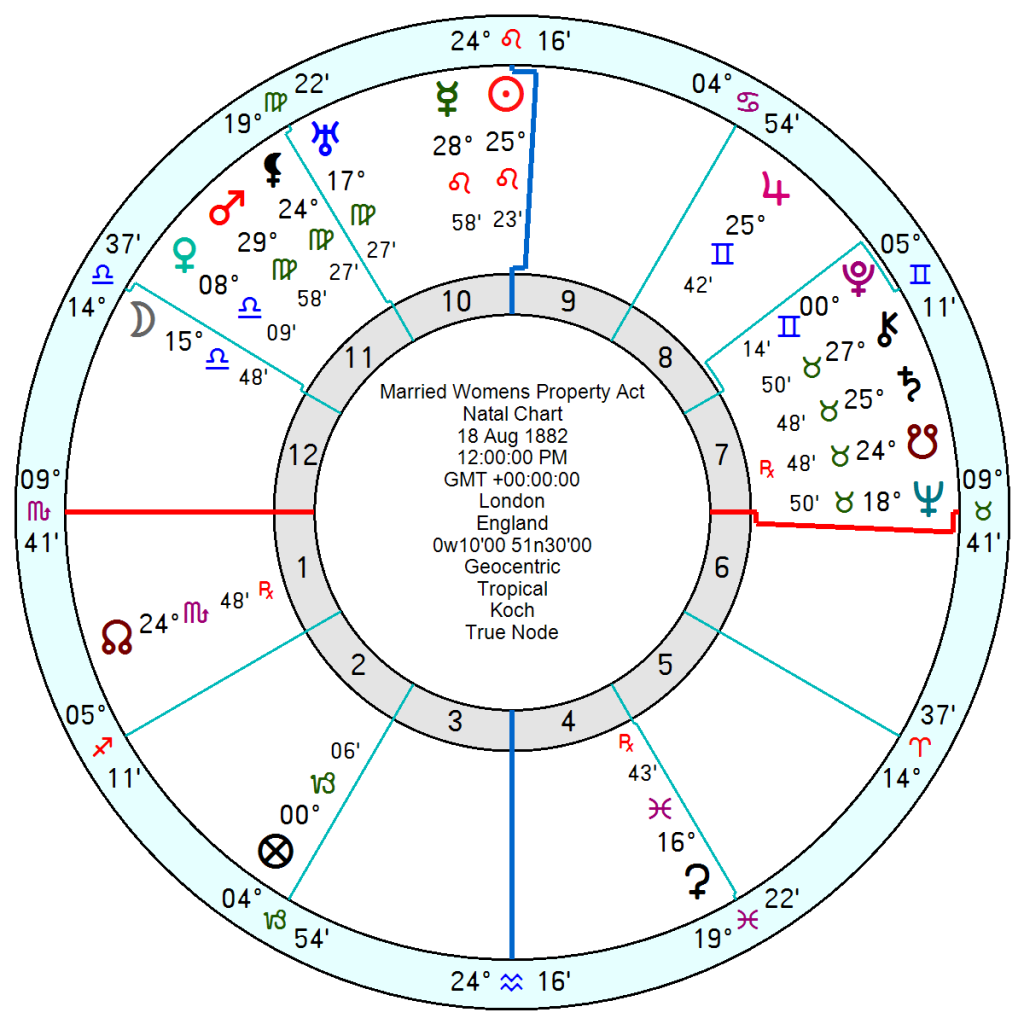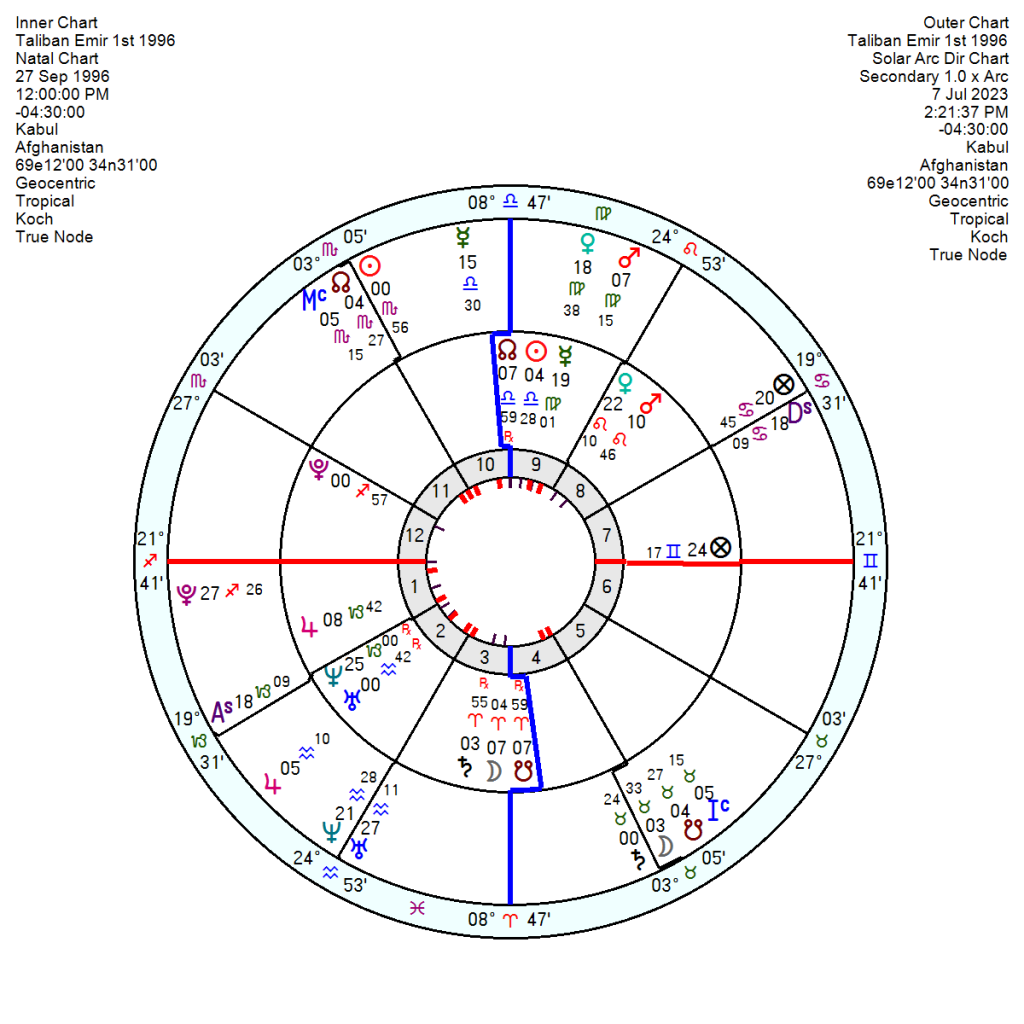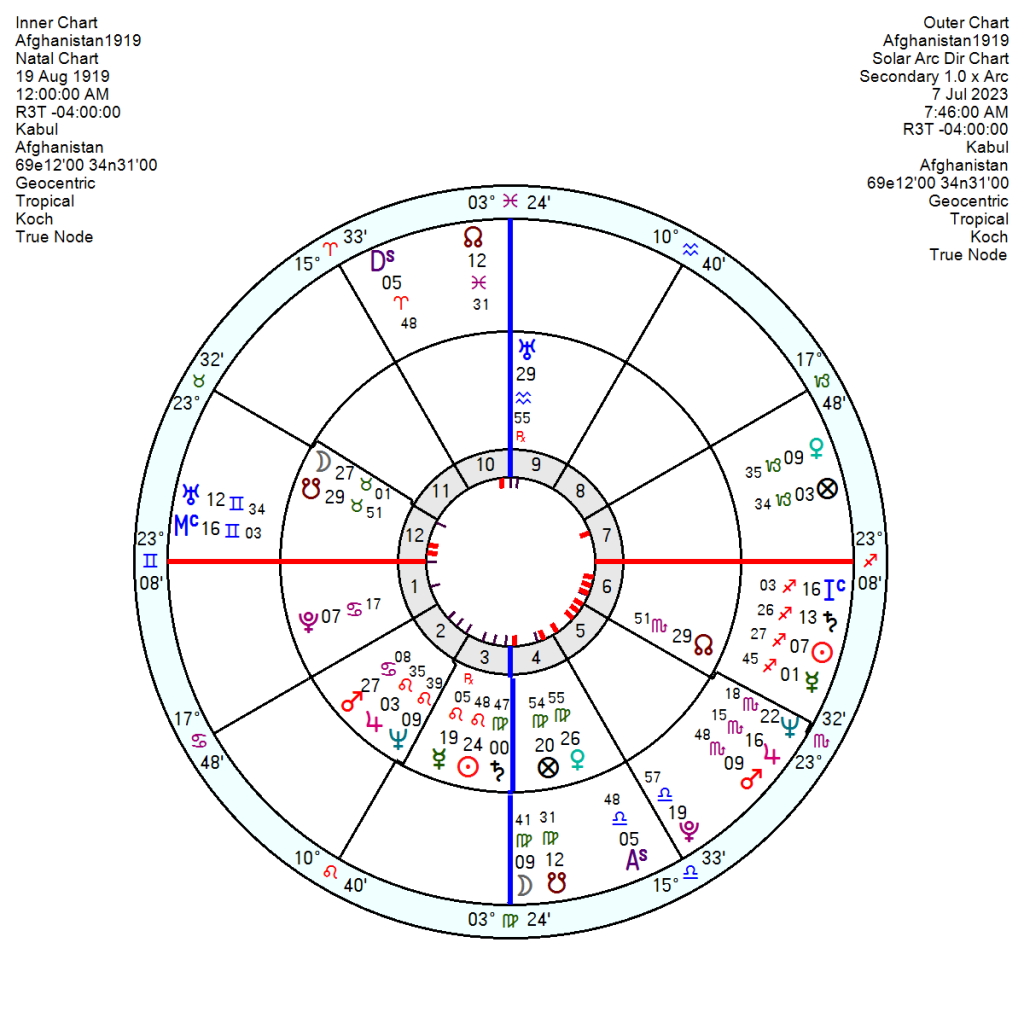 Women's rights are a relatively recent phenomenon in historical terms even in the west. Full voting rights were established in many countries only in the early 20th Century. The UK took several steps towards equality in voting starting in 1918 with a final completion in 1928. The USA adopted full suffrage for women in 1920, having seen a previous attempt in 1848 struck down by the Supreme Court.
Saturn Neptune conjunctions have been present at several of the landmark women's equality markers. The UK Married Women's Property Act of August 1882 which allowed married women to own and control property in their own right occurred with Neptune and Saturn in Taurus. The UK Representation of the People Act February 1918 on a Saturn Neptune in Leo – and this was when the push for full voting rights for women in the USA was underway.
Both Queen Elizabeth I and Queen Elizabeth II came to the throne to exert tremendous feminine influence over matters of state on Saturn–Neptune conjunctions — in 1558 in Taurus and in 1953 in Libra. Both Queen Elizabeth II and Queen Victoria, who reigned for 63 years have Saturn–Neptune squares in their birth charts. Benazir Bhutto became the first woman prime minister of Pakistan on the conjunction in Capricorn in 1988, though it proved a short-lived triumph. Around the same time, Margaret Thatcher, the first British woman prime minister, handed in her staff of power and resigned.
Afghanistan has a chequered history towards women with the then king issuing legislation in 1919 to abolish slavery, guarantee secular education, and institute equal rights for men and women. In 1929 the king was overthrown and all voting rights were removed. It wasn't until after the U.S. invasion of Afghanistan that people regained the right to vote in 2004.
The Taliban who arrived in 1996 are notorious for their misogyny and violence against women. Since their appearance on the scene, women have been forced to wear the burqa at all times in public, not allowed to work, or be educated after the age of eight. Not allowed to be treated by male doctors unless accompanied by a male chaperone, which led to illnesses remaining untreated. Under 16 years of age marriage encouraged. 80 per cent of Afghan marriages are forced.
Recent hardening of anti-women decrees, banned them from university education, gyms, public baths, public parks, and amusement parks. The education ban was condemned by Islamic scholars inside Afghanistan, and by the Muslim World League, the Organization of Islamic Cooperation, and by Muslim-majority countries including Pakistan, Saudi Arabia, Turkey, the United Arab Emirates, and Qatar. This year the Taliban began to restrict access to contraceptives. They stated that "family planning is a western agenda".
Taking the founder of Taliban, Mullah Omar's investiture as First Taliban Emir on 27 September 1996, as a putative chart for the Taliban it gives Sun Libra conjunct North Node opposition Saturn (Moon) in Aries square Jupiter – with Pluto at zero degrees Sagittarius. It is undergoing massive force changes at the moment with tr Pluto conjunct the Uranus and the Solar Arc Sun opposition Saturn squaring the Uranus. The present ruler has issued a statement recently backtracking on recent restrictions on women but whether that is to be believed and a ploy to gain international recognition or not is questionable. Perhaps Pluto having moved on two signs might indicate a shift up and coming.
The Afghanistan 19 August 1919 12 am country chart, is inherently unsettled and very fixed at the same time. There is a Leo Sun conjunct Saturn opposition Uranus square a Taurus Moon conjunct the South Node. A focal point Taurus Moon on the South Node might suggest obsessive and regressive views of mother/women. Uranus 'should' be tolerant but can in negative mode be lawless or law-unto-itself type of entity – and opposition Saturn can also be authoritarian. The Afghanistan chart is due for a fair amount of turmoil before tr Uranus exits Taurus as it will square the Sun in 2024 and conjunct the Moon and then in 2025 square the Uranus, before moving to square the Saturn – a three year patch of jolts, jangles and turbulence which may undermine the Taliban and assist the women (maybe).
  Afghanistan under the Taliban feels a touch like North Korea under Kim Jung Un – a surreal and dystopian nightmare.
To wrap up Saturn Neptune:
Saturn Neptune conjunctions were also around for key points of interest in works about or by women. Jane Austen's first novel Sense and Sensibility emerged in 1811 under the conjunction in Sagittarius. Next conjunction around, in Aquarius and Pisces in 1847, Charlotte Brontë's Jane Eyre and Emily Brontë's Wuthering Heights met with public acclaim.
In the previous century, on the conjunction in Virgo in 1773, Oliver Goldsmith's play She Stoops to Conquer and Laclos's Les Liaisons Dangereuses looked archly at women's behaviour. In 1665 under Saturn–Neptune in Aquarius, Molière produced The Misanthrope and The Dumb Lady. In similar vein during the last conjunction in 1989 in Capricorn the sculptor Anish Kapoor picked up the mood of the moment with his Mother as Void work; and Pedro Almodovar, the Spanish film-maker, produced his cult movie Women on the Edge of a Nervous Breakdown.