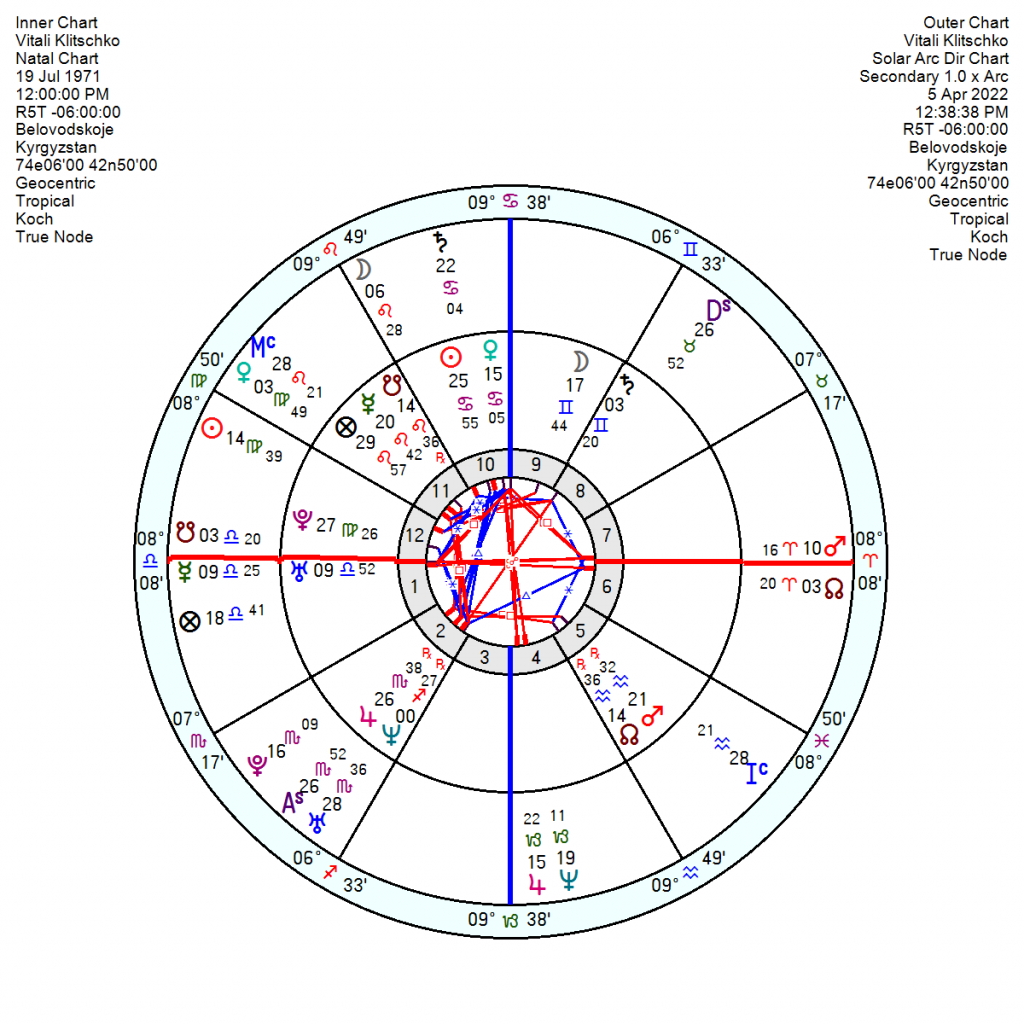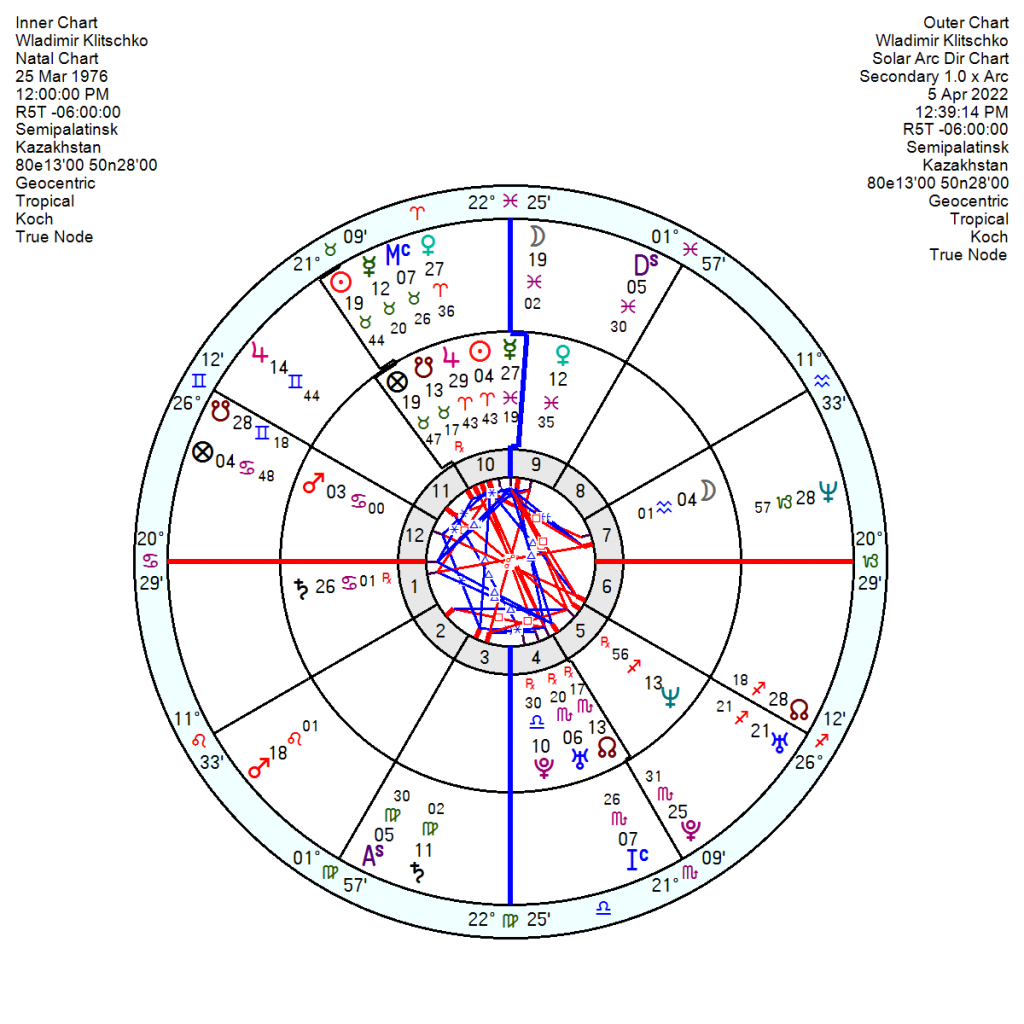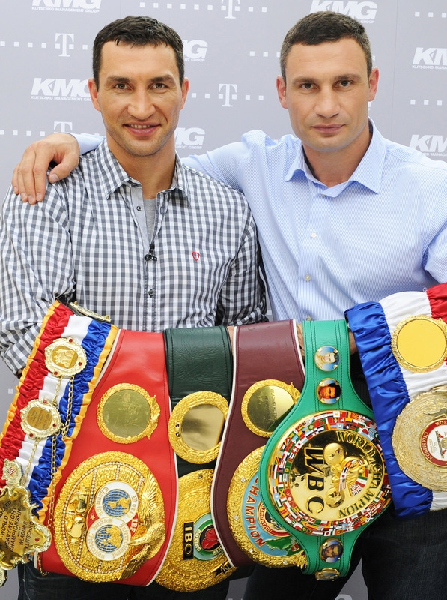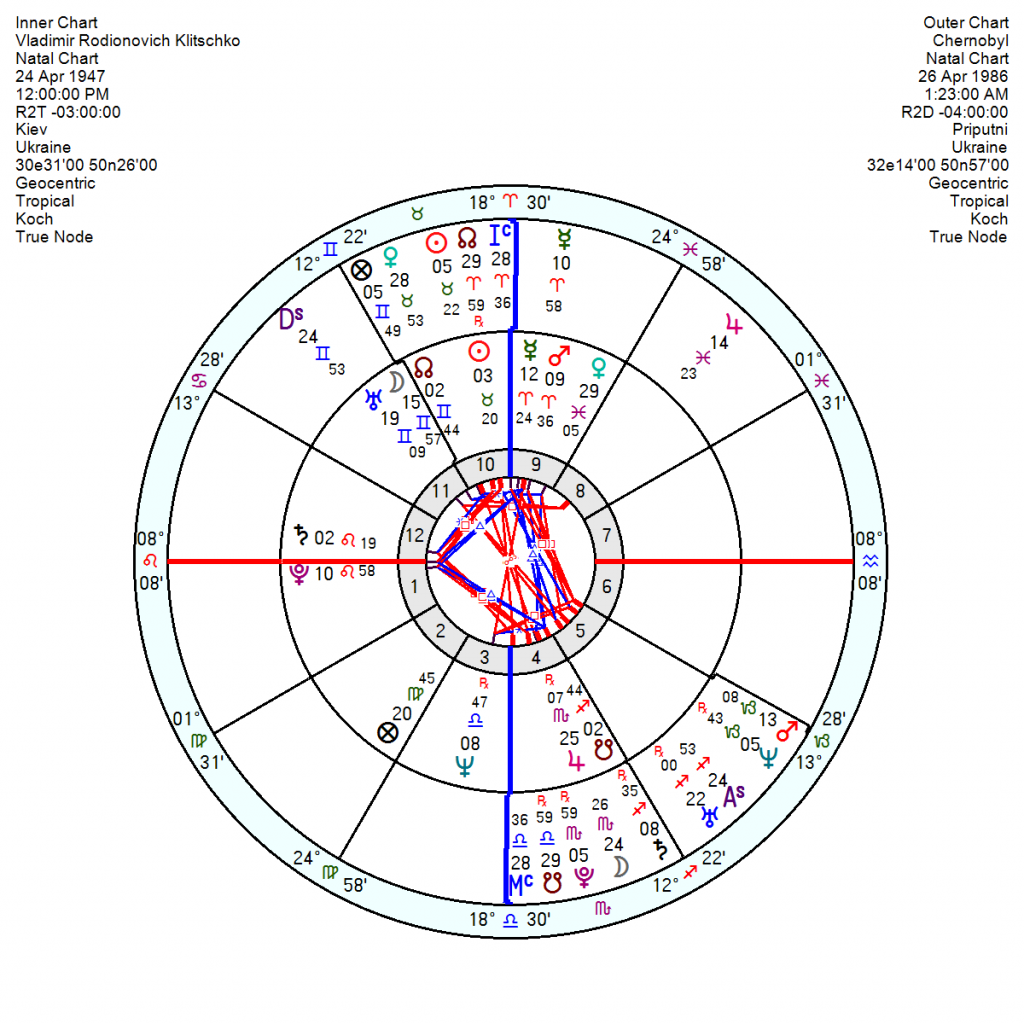 Vitali Klitschko, Mayor of Kiev, is a former professional boxer as is his brother Wladimir, both top sportsmen in their day during the "Klitschko era", now fighting for their country.
Vitali, born 19 July 1971 in Kyrgyzstan, is a charming Sun Venus in Cancer with his Sun in a powerfully confident mini-Grand Trine sextile Pluto and trine Jupiter in Scorpio and Neptune. His Jupiter is further emphasized being on the focal point of a Fixed T square of Mercury in Leo opposition Mars in Aquarius – he's lucky, argumentative, acquisitive and doesn't budge.
This year is a mix of negativity from tr Saturn in hard aspect to his Fixed T Square; plus devastating confusion from Neptune midpoints and added aggravation from a Mars midpoint from July onwards. But he's keeping buoyant all the same, pushing confidently ahead through February to mid March, late June through till after New Year. 2023/2024 look tough going, discouraging, confused and jolting with tr Uranus hitting on his Mercury and Mars but there will be some uplift in 2024 and more luck and progress from 2025 onwards, alongside setbacks and nervy challenges. Even if Putin took a brain storm and withdrew, the chaos left behind will take years if not a decade plus to put right with international help.
Wladimir Klitschko, 25 March 1976, was also a heavyweight boxer with multiple championships to his credit like his older brother. He has a creative and healing Water Grand Trine of Venus in Pisces trine Mars in Cancer trine Uranus; with his Mars on the focal point of an aggressive Cardinal T Square to a bulldozing Aries Sun opposition Pluto. He also has Jupiter in Aries square Saturn in Cancer.
He's in a tough, unrelenting year with shocks from July onwards. His 2023 is mixed with a confident tr Pluto square Jupiter running into 2024. But also like his brother a discouraging slog; and significant disruptions and risk. He'll begin to see glimmerings of luck and light from 2024 and for several years thereafter. Though he'll also have to contend with the tr Neptune Saturn in Aries wending round his powerhouse Sun, Pluto, Mars just after mid decade which will be disorientating.
It'll be a long haul.
See post February 26 2022 on Zelensky and 29 March 2022 on Ukraine.
Add ON: Their father Vladimir, a Soviet Air Force Major General who died of cancer as a result of being involved in the Chernobyl clean up, was a stalwart Sun Taurus square Saturn Pluto in Leo with his Mars in Aries trine Saturn Pluto – s a force to be reckoned with and unbudgeable.