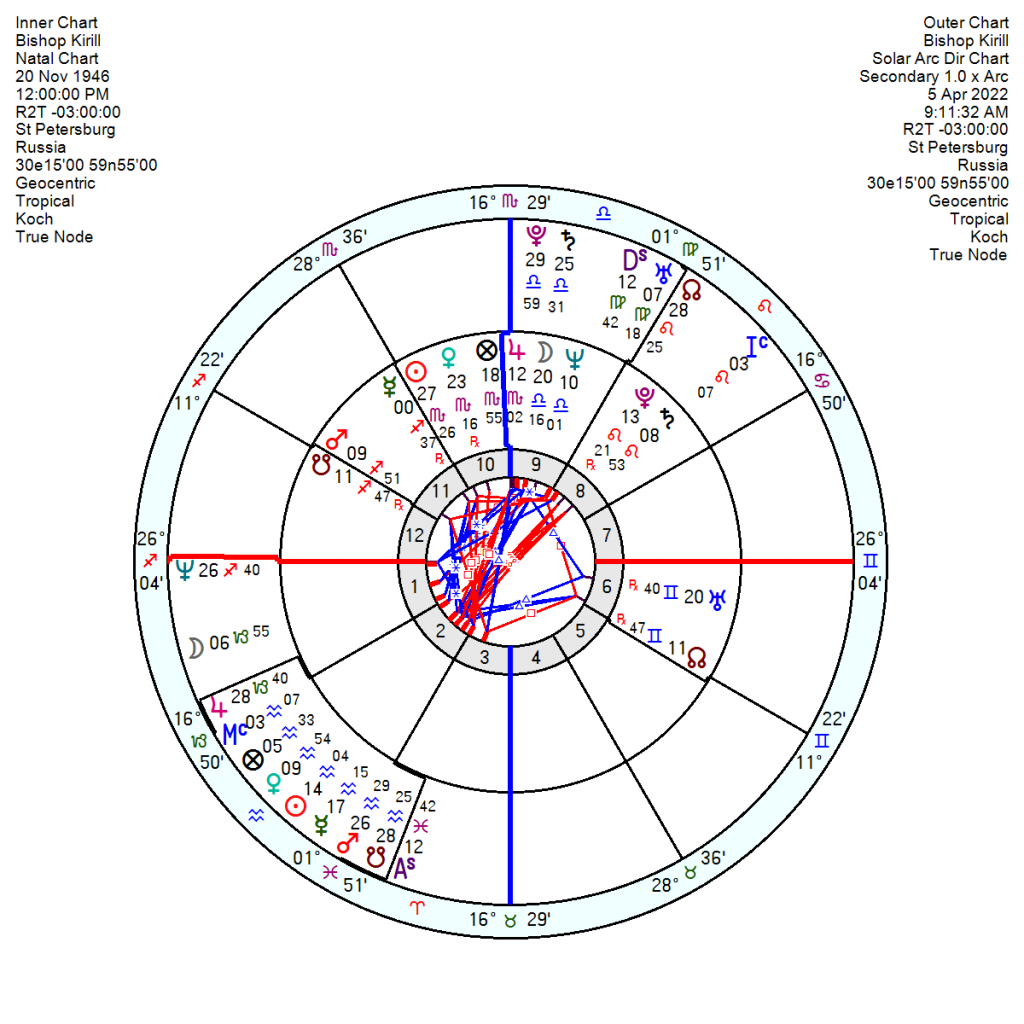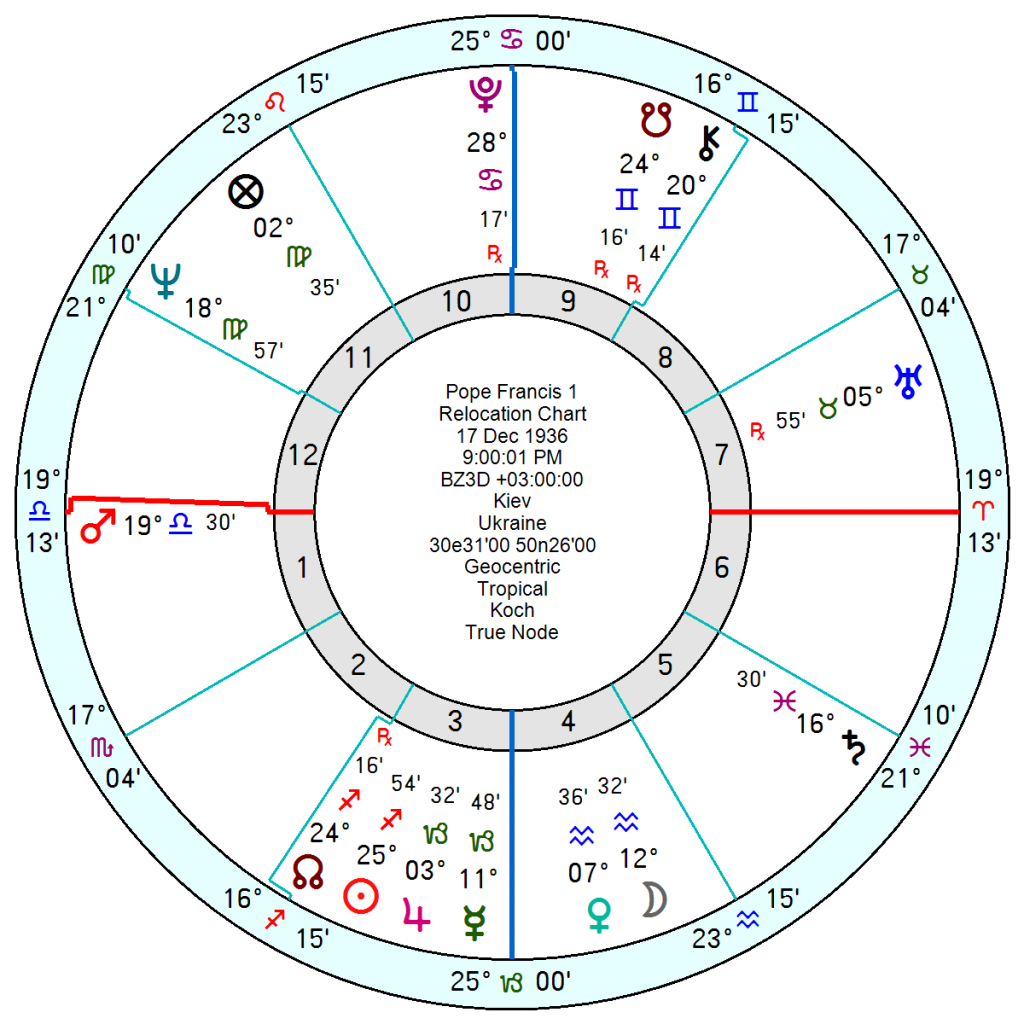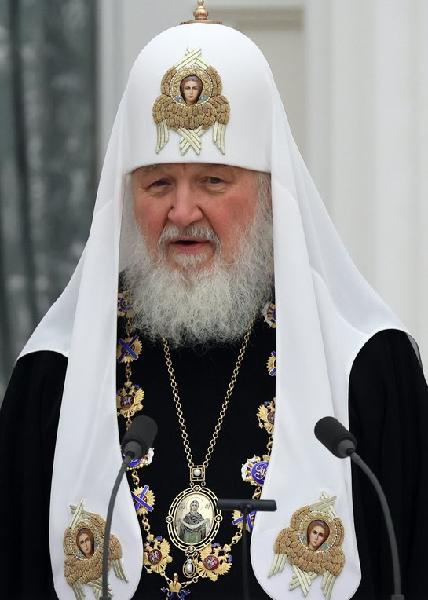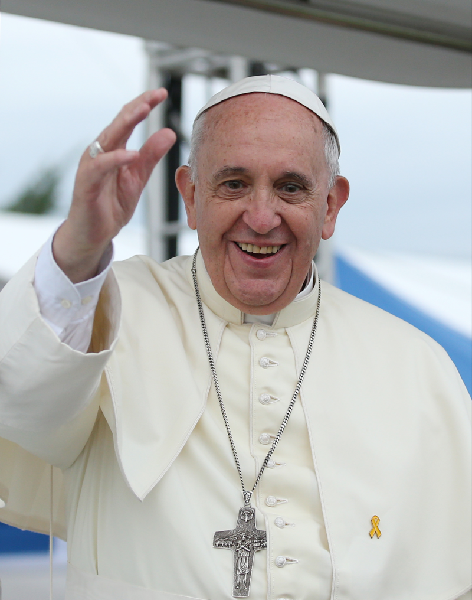 Pope Francis has indicated there is a possibility of him visiting Kiev after he was invited by President Zelensky and Mayor Klitschko. But Vatican sources say it depends to an extent on Bishop Kirill, the Orthodox Patriarch in Moscow, who has been belligerently pro-Putin, justifying the invasion on religious and moral grounds. The two spiritual leaders have been video-calling for a few weeks and there is a hint that there has been a shift in positions. Pope Francis has called the invasion infantile. "Once again, some potentate, sadly caught up in anachronistic claims of nationalist interests, is provoking and fomenting conflicts, whereas ordinary people sense the need to build a future that, will either be shared, or not be at all."
Bishop Kirill, 20 November 1946 St Petersburg, was reportedly a KGB agent in Soviet Russia and has been a prominent supporter of Putin and all his policies. His Scorpio Sun conjunct Venus is catching last November and this May's Lunar Eclipses for a crisis or two. He also has Jupiter in acquisitive Scorpio, with tales of expensive watches amongst his scandals. He also has a slippery and ruthless Mars in bellicose Sagittarius trine Saturn Pluto in Leo sextile Neptune. Not overflowing with the milk of compassion for sure.
  He has sprinklings of confidence and good news ahead alongside dashed-hopes after August for a few months and car-crash Solar Arcs in 2023/24. His Term chart is boxed in, trapped and infuriated this year and next.
  Pope Francis, 17 December 1936 9pm Buenos Aires, Argentina, has tr Neptune square his 6th house Sagittarius Sun from late this May which will sink his energy and at his age the medical advice will be against such a trip. Though it's a moot point since he might feel it doesn't matter what happens to him at this late stage. Relocating his chart to Kiev puts Pluto on the Midheaven which is generally a location that astrologers put a warning danger flag on. It also puts Mars on his Ascendant so it will certainly arouse his anger.
He and Kirill are polar opposites with Kirill's obdurate Saturn Pluto opposition the Pope's Moon Venus in Aquarius; with Kirill's Uranus opposition the Pope's Sun North Node – on different paths.
The Pope's Election chart 13 March 2013 which has two fated Yods – one onto Jupiter and the other onto Saturn – is in a year of disappointment with tr Neptune conjunct the Sun.
Kirill pic: Kremlinru