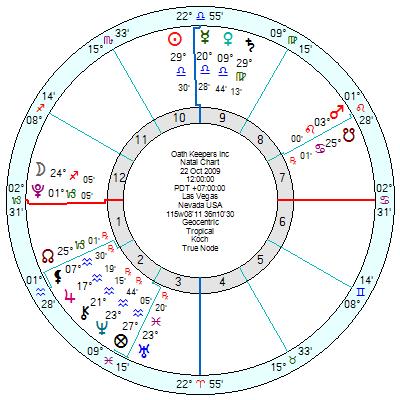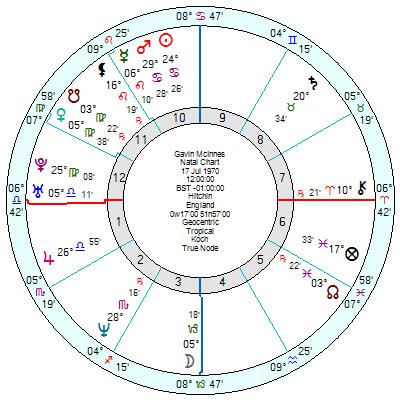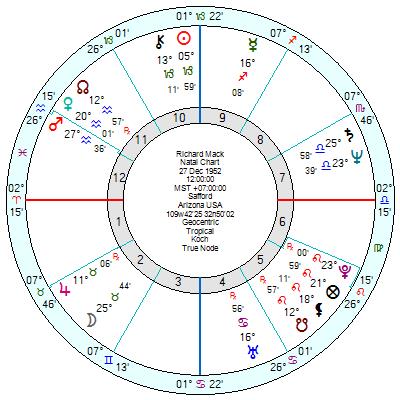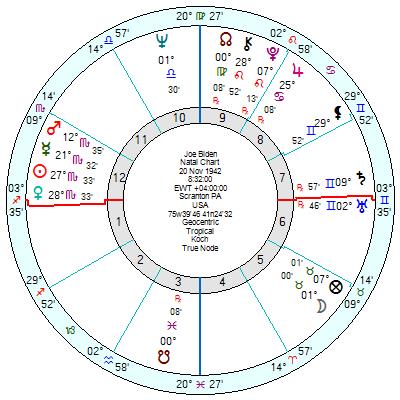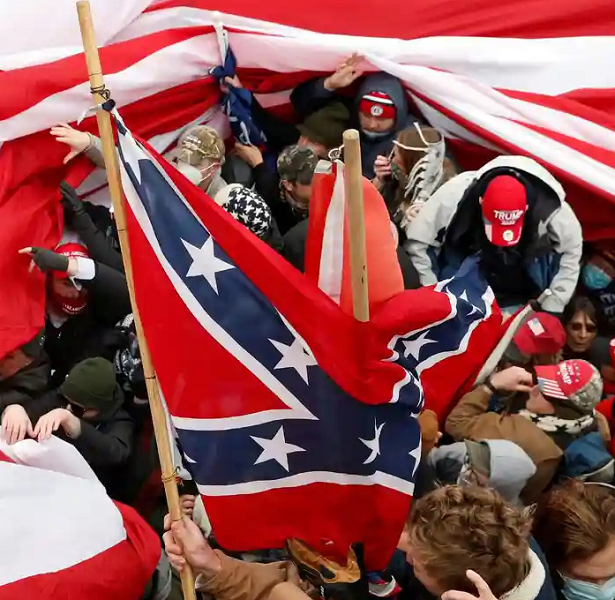 Behind the shocking scenes at Capitol Hill this week were several supremacist militia groups, all given the green light by Trump and treated with kid gloves by the security staff. The largest of them, the Oath Keepers, an armed right-wing organisation with 30,000 law enforcement officers, soldiers and military veterans as members, say they will refuse to recognise Biden as president.
There are various enraged 'patriot' flag wavers and founders of various branches, many sitting on each other's boards, but all with the same aim – creating mayhem. Dates aren't available for all but below is what I can find.
  The two key ones of the moment (though they do come and go) are the Oath Keepers, started in 2009 and incorporated on 22 October, as Pluto moved into Capricorn – it looks highly-strung in 2021 and in risk-taking and over-confident mood in 2022/23. The other is the Proud Boys, a male-only outfit, founded by Gavin McInnes which kicked off in 2016 with the paranoid Saturn square Neptune in place.
McInnes, 17 July 1970, a Neo-fascist who promotes violence against opponents, is a pumped-up Sun Mars in Cancer trine Neptune, sextile, Pluto, and square Jupiter – so a not inconsequential personality. His chart looks worked up to def con levels over the next three to four years with Solar Arc Mercury conjunct his Pluto this in 2021; and tr Pluto opposition his Sun and Mars, trine his Pluto and square his Jupiter. All of which looks volcanic.
Richard Mack, a former sheriff, another leading light on Oath Keepers, 27 December 1952, followed his father's footsteps into the FBI, and is a member of The Church of Jesus Christ of Latter-day Saints. His ideology was formed at the feet of fellow Mormon, W. Cleon Skousen, a leading light of right-wing radicalism, a theocrat who believed the decline of America began with the 14th Amendment and its guarantee of equality for the former slaves. A former police chief and FBI agent, he whipped up anti-communist fervour under the banner of the John Birch Society. He warned of global elites scheming to create a worldwide, collectivist government; demonized federal regulatory agencies and campaigned to abolish civil rights laws, labour unions, the minimum wage, the income and estate taxes, the direct election of U.S. senators, the wall between church and state.
He's a Sun Capricorn with the typical agitated-hatred for authority figures Mars opposition Pluto. He's not in good health so unlikely to be in the forefront but will no doubt be cheering from the sidelines. His chart looks aggravated in 2023/24, and assuming that isn't personal issues, there does seem to be a hint of trouble around that period.
Two others marching to the same drumbeat are rancher and anti-government activist Clive Bundy, 29 April 1946, and his son Ammon, 1 September 1975. Both have strongly aspected and aggressive Mars – Bundy Senior with a Taurus Sun in a formidable square to Mars Pluto in Leo; and Bundy Junior with a Virgo Sun square Marts and Neptune, and Mars trine Pluto. Bundy Snr is another member of the Church of Jesus Christ of Latter-Day Saints and regards his successful stand off against ineffectual law enforcement in 2014 as divine intervention.
Bundy Senior is up in arms through the next three months with tr Uranus rattling his Sun and Pluto. Bundy Junior is in full autocratic overdrive for the next three to four years with tr Pluto square his Jupiter and hitting on his Uranus and Saturn.
Most of these white supremacist groups hate women as well as non-whites, so heaven help Kamala Harris if she had to step into the breach.
   Joe Biden is a fair match for the hate-filled ones since he has Mars in Scorpio square Pluto himself, which he has obviously learned to control. Its more positive attributes include courage, tenacity and do-or-die-determination. Tr Uranus will square his Pluto for the final time next month and then make a disruptive and insecure opposition to his Mars from late May this year, on and off into early 2022. Luckily he's also got a confident and successful tr Pluto opposition his Jupiter and trine his Sun/Jupiter midpoint from later this month, on and off till late 2022, which should ease his passage into an abnormally challenging presidency – with Covid and its associated economic damage, foreign policy crises, never mind the internal powder keg of the Trump hangover, the racial and poverty divide and dysfunctional law enforcement. He looks exceptionally rattled through 2023/24 with tr Uranus opposition his Mercury, then Sun and Venus, with a hint of health concerns from his Solar Return into 2024.  
   Kamala Harris is feeling the pressure from 2022 onwards with tr Pluto square her Libra Sun and Moon; but again it will be 2023/2024 which are her testing times with Solar Arc Saturn conjunct her Moon and opposition her Sun; as well as tr Uranus square her Mars and shaking up her Fixed T Square into 2024. She does have a strong Jupiter which will bring her some luck and she may need it.
No matter what rocks up for Biden and it's likely to be a litany of troubles coming at him from all directions, he should find his Jupiter fishes him out of tight spots in the first two years. After that all bets are off.