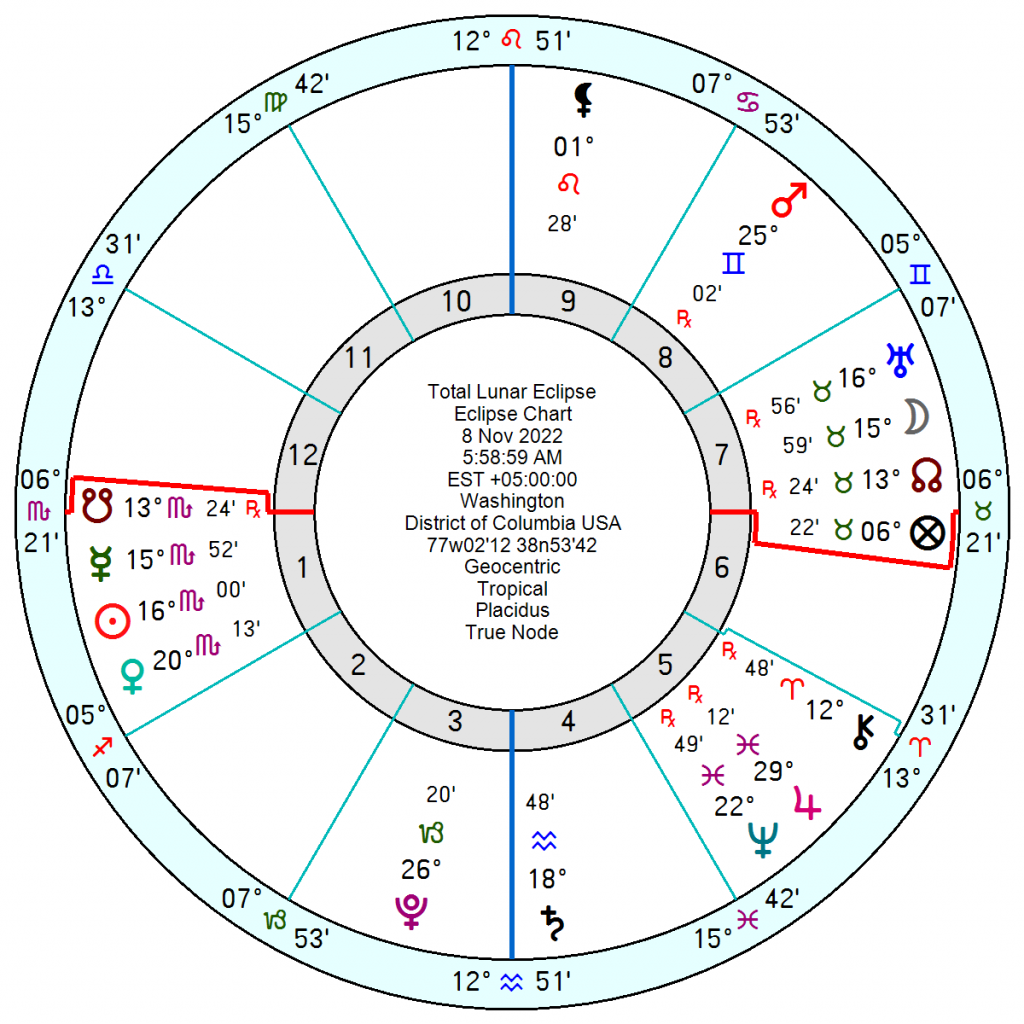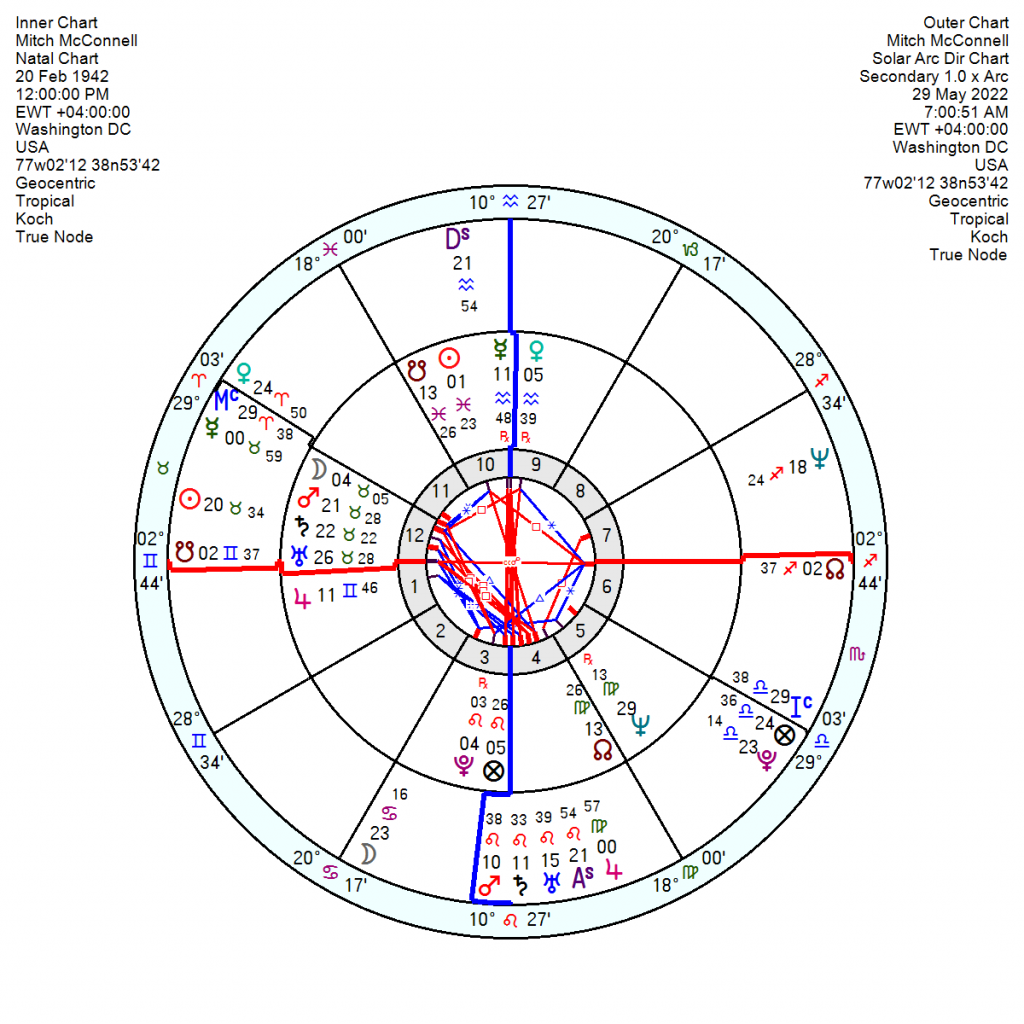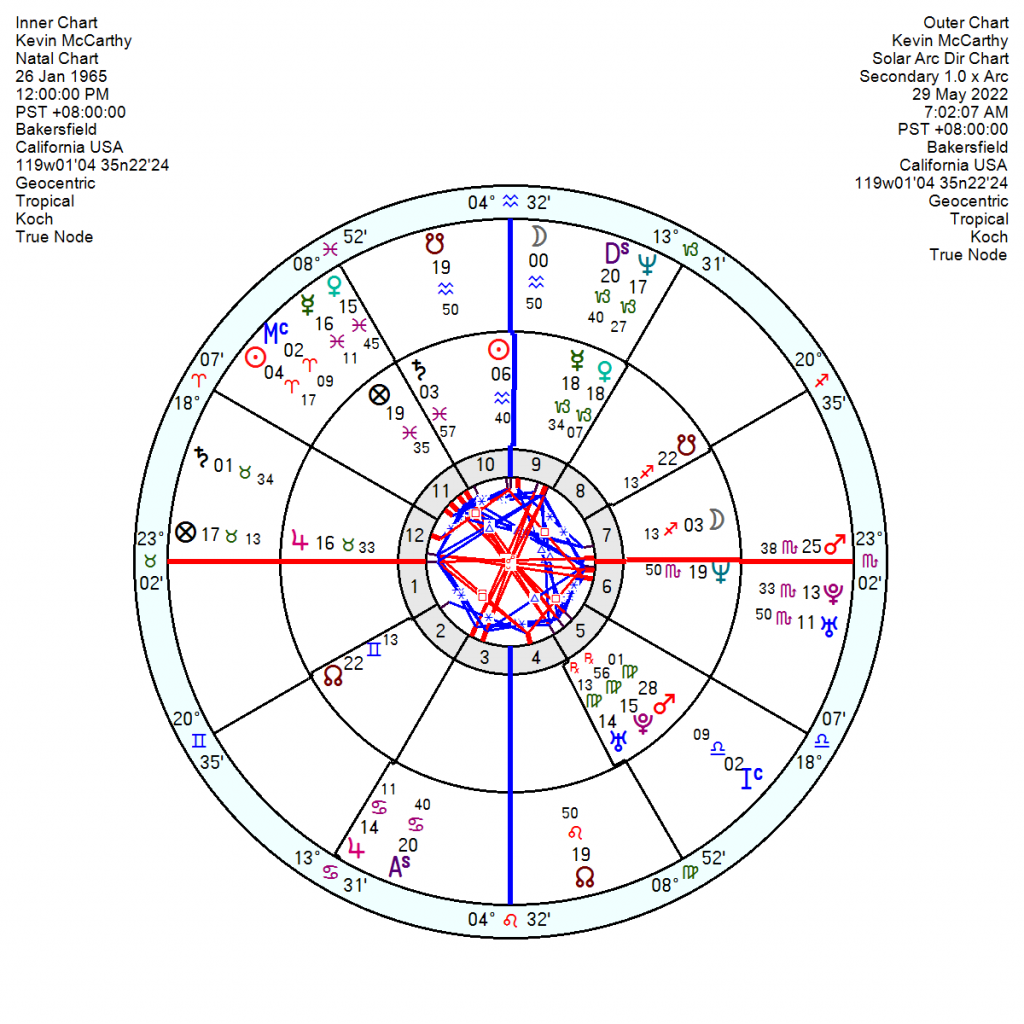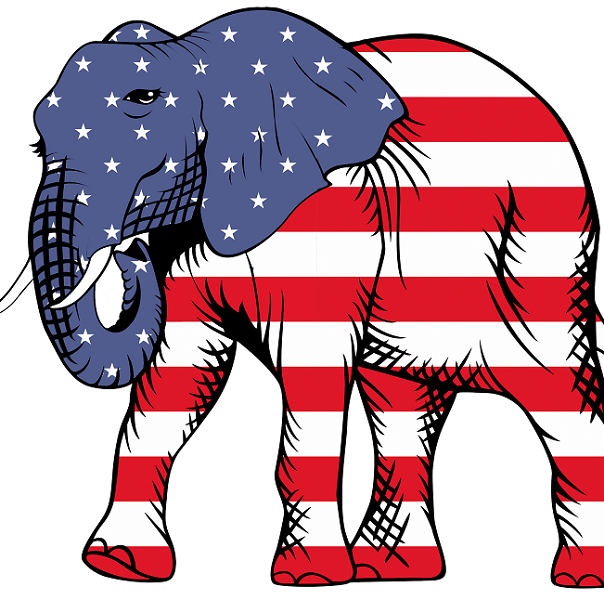 Mitch McConnell, head honcho of the Republicans in the Senate, is going through his usual tap dance over gun control which means no change. So the US is heading for the MidTerm elections in November, when all 435 House of Congress seats and 34 of the 100 Senate seats are on the ballot, with abortion and mass shootings thrust centre stage as the flashpoint issues.
The election falls on the same day as the Total Lunar Eclipse in Taurus with the Moon closely conjunct Uranus opposition Sun, Mercury, Venus in Scorpio square Saturn so tensions will be running extra high as the Uranian urge for progress and change runs into the rigid, emotionally cold Saturnine imperative to maintain the status quo. Below is a quick skip down the prominent Republicans, almost all without birth time, so only a rough guide.
McConnell, 20 February 1942, is sensing the tectonic plates shifting under his feet as tr Pluto trines his Uranus over the election and he also has an unpopular tr Saturn squelching his Sun/Venus midpoint. And that is a forerunner to a catastrophic 2023 with his beyond-obstinate Mars Saturn in Taurus catching the tr Uranus conjunction. Possibly worse or a double/triple whammy is his Solar Arc Sun (a Yod focal point) conjunct his Mars in 2023 and his Saturn in 2024 – which will accompany a life-changing series of crises. Given his age that may not all be political and could involve health or other issues also. And he's looking devastated by the 2024 elections.
Kevin McCarthy, the GOP Minority House leader, 26 January 1965, has a hint of confidence/good news running through this November but is generally in a year when he comes down to earth with a bump to face uncomfortable realities. With no birth time his Mars and Mars midpoints could be one degree or the next. If an early morning birth then his 2023 is a panicky failure which extends into 2024 and that could even cover the Presidential election.
Ron DeSantis, 14 September 1978, is blocked, powerless and furious over the Midterms with tr Pluto square his Mars and dismayed before then with a series of Neptunian swamps. He's in better shape in 2024 though facing a few disasters as well.
Ted Cruz, 22 December 1970, is all-systems-go at points this year and next with tr Pluto square his successful/confident Jupiter/Pluto midpoint but across the MidTerms he's aggravated and taking losses to heart.
Mitt Romney, 12 March 1947, in better spirits than some of his colleagues this year and next, though discouraged over the Mid Terms, seriously rattled in 2023; facing losses in 2024.
Rand Paul, 7 January 1963, is having a dispiriting 2022/23 and an uphill struggle over the MidTerms to keep his morale high; jangled and nervy in 2023; but recovering his mojo in 2024/25.
Greg Abbott, 13 November 1957, is in better shape than most over the MidTerms with Jupiterian lift from two directions; and this despite the Eclipses jangling his Mars Neptune in Scorpio as well as his Sun. His 2023 is less progressive with more sinkholes and disruptions.
Ben Carson, 18 September 1951, is in a Neptunian funk from 2022 to 2024 with some cheer this year and next but is generally in a slipping and sliding phase until 2025.
Liz Cheney, 28 July 1966, is in good spirits across the Midterms from two Jupiter boosts though with some setbacks this year along the way. Less encouraged by events of 2024 with tr Neptune conjunct her Saturn into 2025. By 2026 she's back on sparkling top form and winning or at least making significant progress.    
Donald Trump has the undermining tr Neptune square his Gemini Sun across the MidTerms and a logjammed and acutely frustrating Solar Arc Mars square Pluto so he will be exceptionally displeased with life in general.