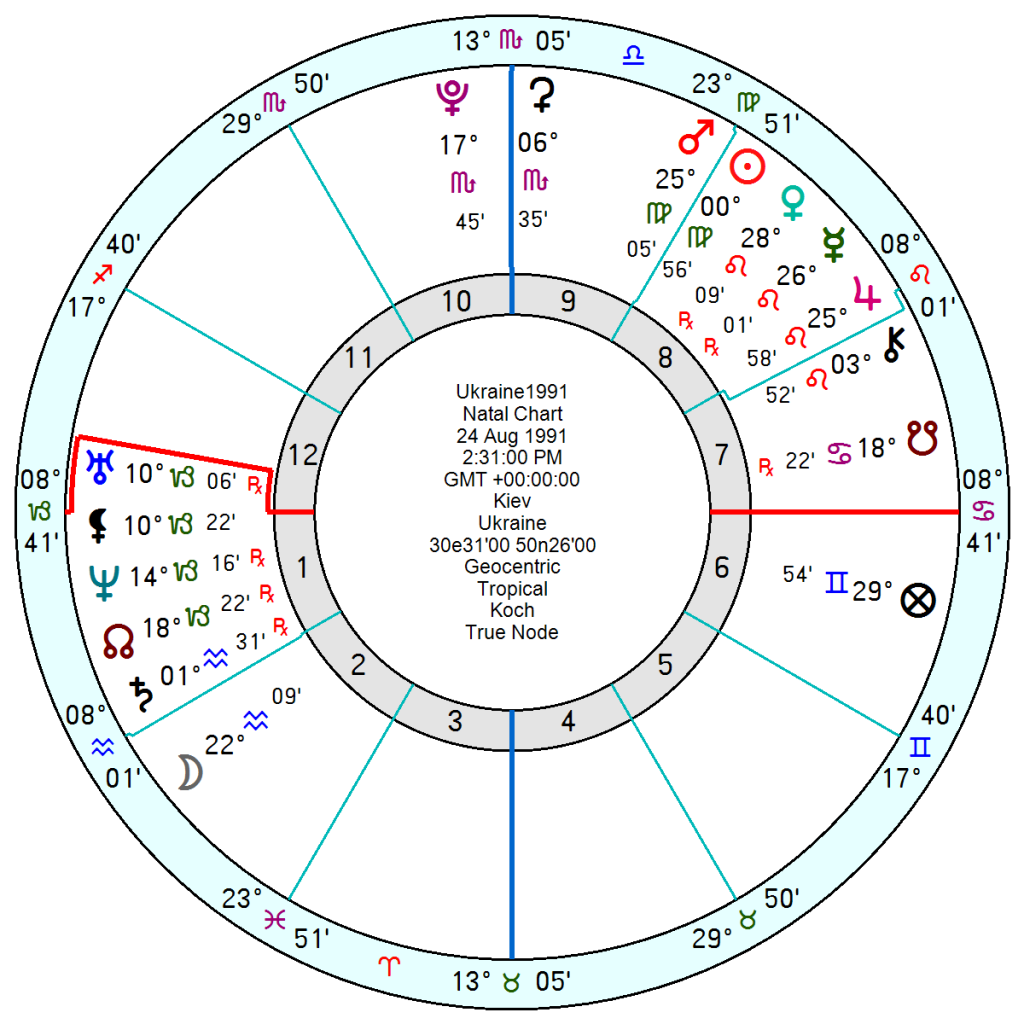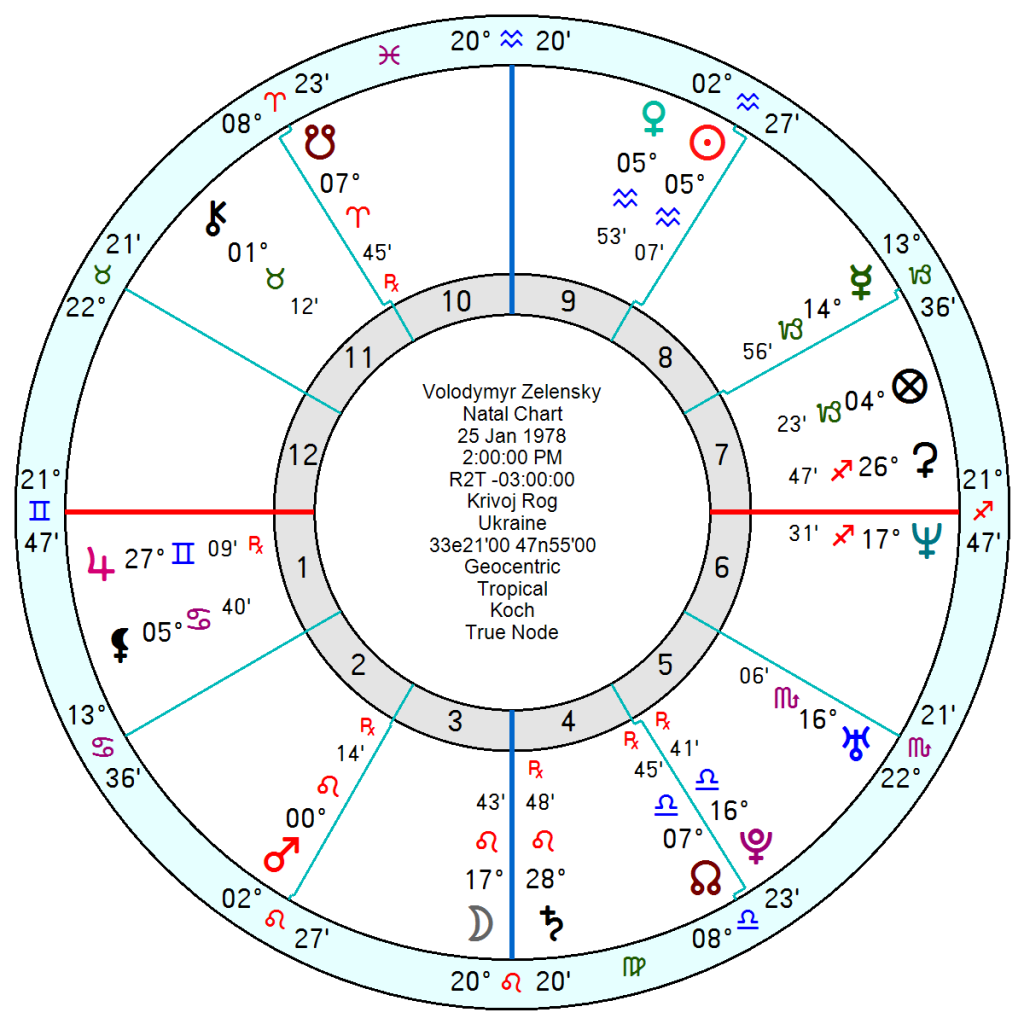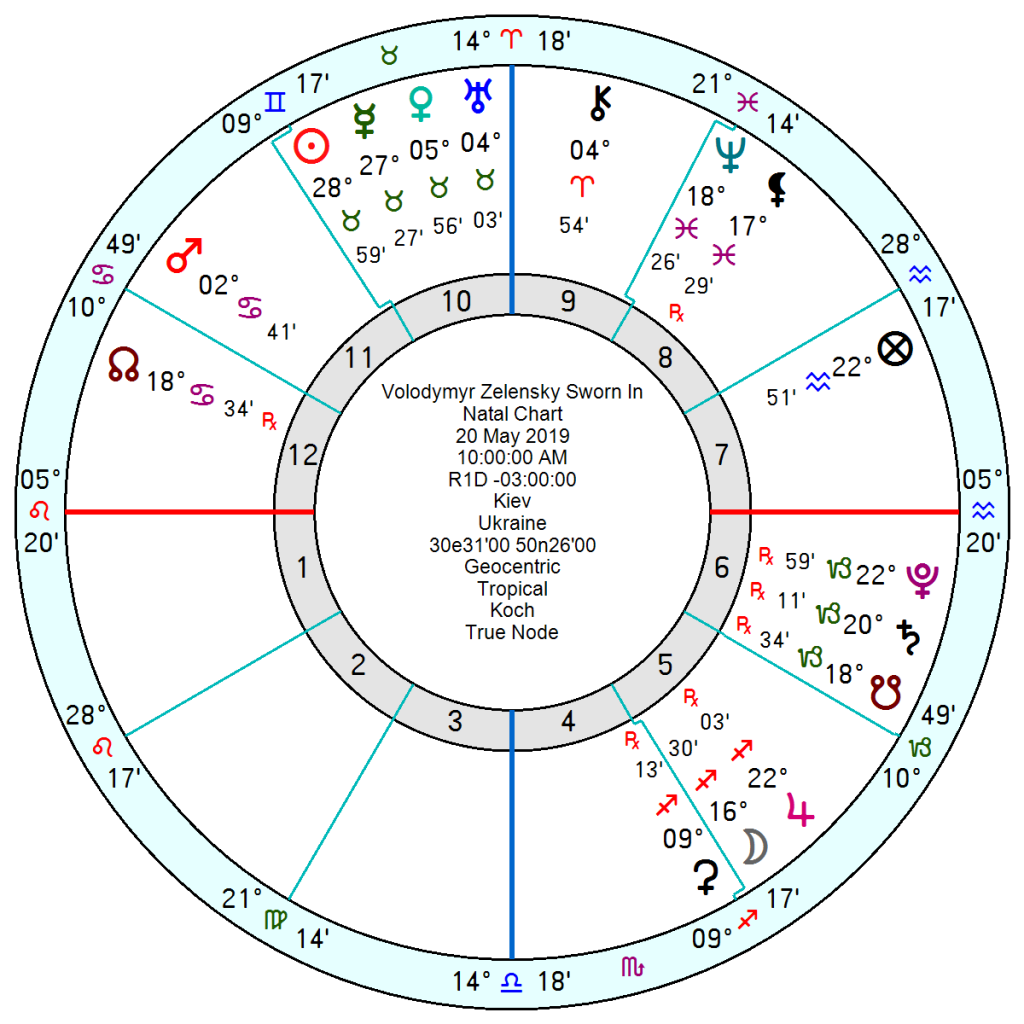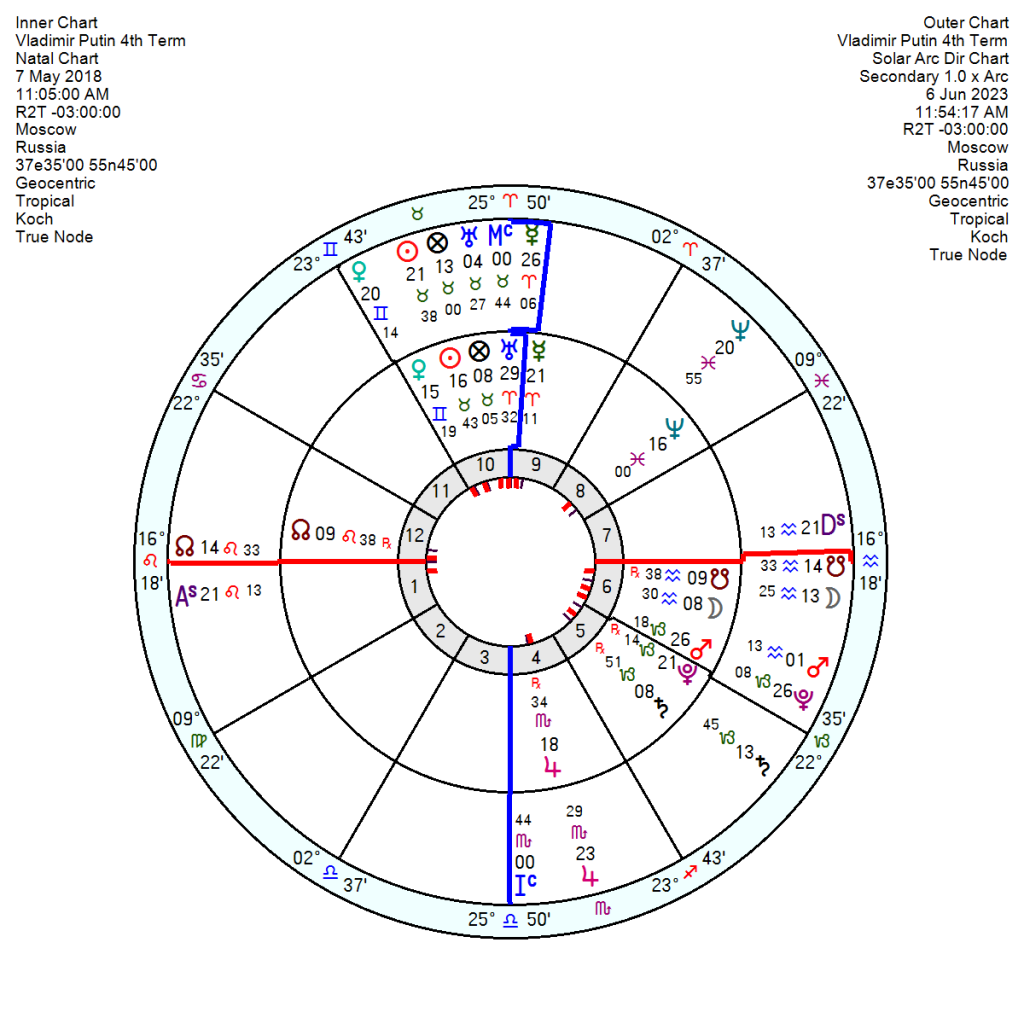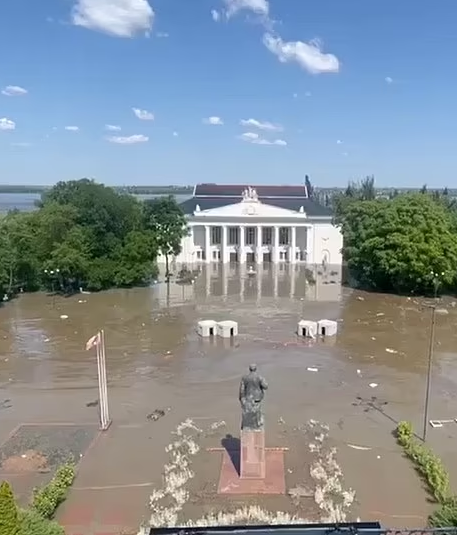 A dam in South Ukraine has been sabotaged flooding nearby towns and potentially jeopardising the Zaporizhzhia nuclear power station, which depends on cooling water to run emergency diesel generators. Ukraine's President Volodymyr Zelensky has accused Russian troops of blowing up the plant "from inside" at 02:50 local time, while Moscow claims it was a "deliberate act of sabotage" by Kyiv. The BBC said it has not been able to verify either claim.
The EU described it as a war crime and "a new sign of escalation, bringing the horrific and barbaric nature of Russian aggression against Ukraine to unprecedented levels."
  The Ukraine 1991 chart, 24 August 1991 2.31pm Kiev, has the panicky-failure tr Neptune opposition Mars running throughout this year until February 2024. And the tough-slog, discouraging tr Pluto conjunct Saturn throughout 2023/24. There is a sign of cheer from June 2024 onwards which might bring some relief. Though the hostility with Russia will run on till late 2025 – which is hardly surprising, but whether that means the battle goes on or is the aftermath is not clear.
Volodoymyr Zelensky, 25 January 1978 2pm Krivoj Rog, never looked to be contented or in a progressive phase this year or next with tr Pluto in Aquarius opposition his Mars until December 2024 – which is high-risk, trapped, frustrating. Over-hopeful plans look undermined this year with tr Neptune square his Jupiter – and in many ways 2025 looks undermined as well and blocked with immense challenges running into 2026. Which could mean a variety of outcomes – one of which is, when it all shakes down somehow, he may collapse in a heap or face a Churchill moment after WW11.
Putin is facing an even more critical point in his destiny with his 4th Term chart, 7 May 2018, now entering its most dangerous and most unstable phase as the Solar Arc Pluto closes the conjunction to the Mars to exact within weeks and in effect for several months – which could coincide with desperate, brutal retaliation; as well as tr Pluto square the Midheaven which can damage reputation and bring the house of cards tumbling down if not immediately then within the next eighteen months. Plus the topple-off-perch tr Pluto returning to square the Uranus from the middle of this month, on and off into and through 2024. Somewhere along that trajectory he will go – though there is no saying he won't be replaced by a hardliner.
Zelensky's Term chart, 20 May 2019 10am Kiev, with its Mercury Sun in Taurus conjunct Algol is facing some disappointment this year and most pressure come 2025.
The Zaporizhzhia nuclear plant, 1 April 1980, will face its greatest period of turbulence in 2024/25.
And so it goes on.