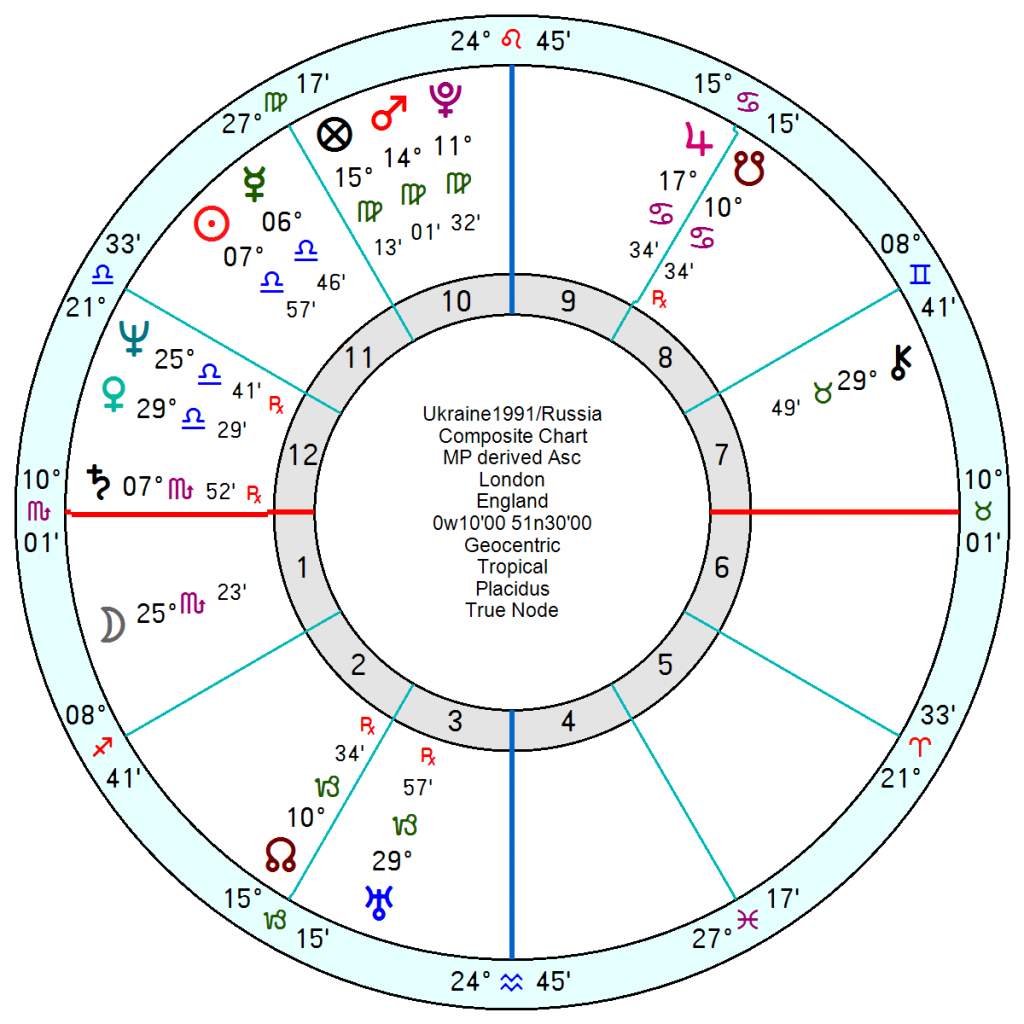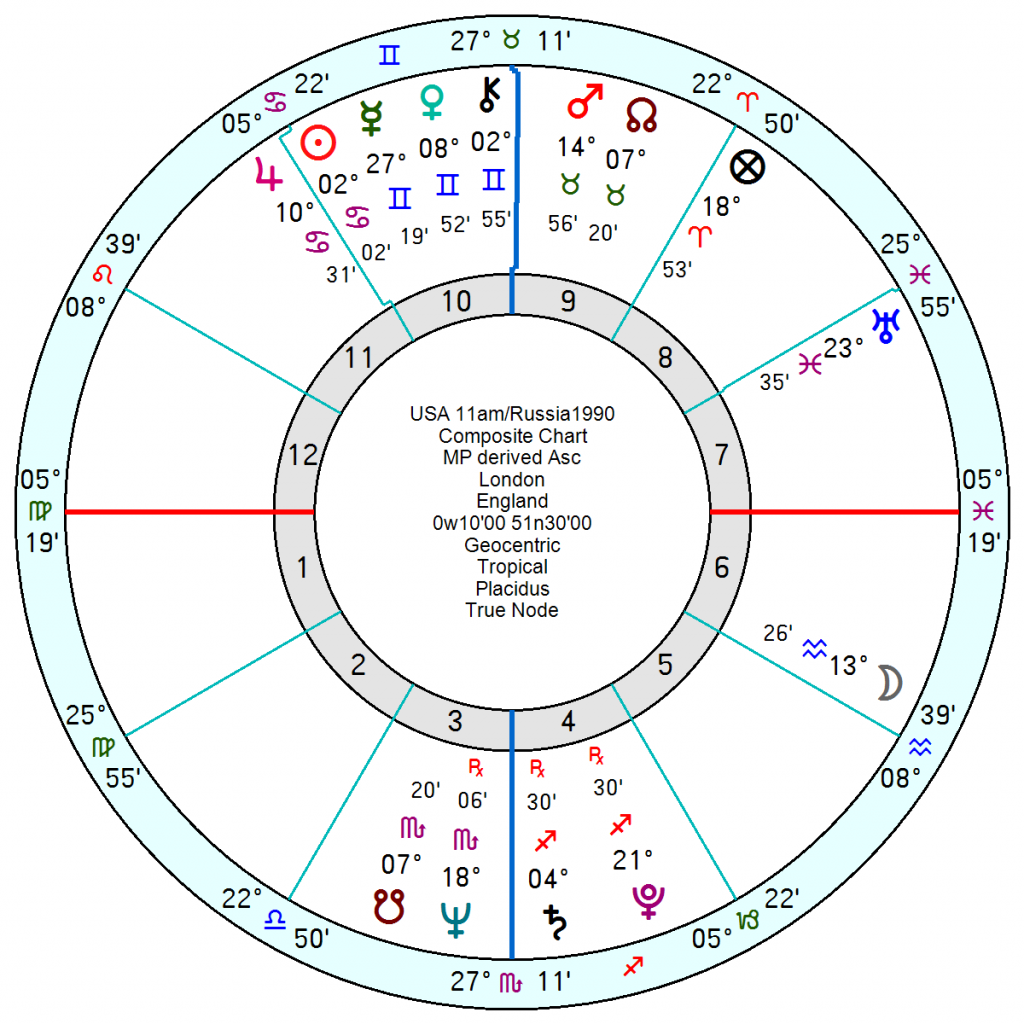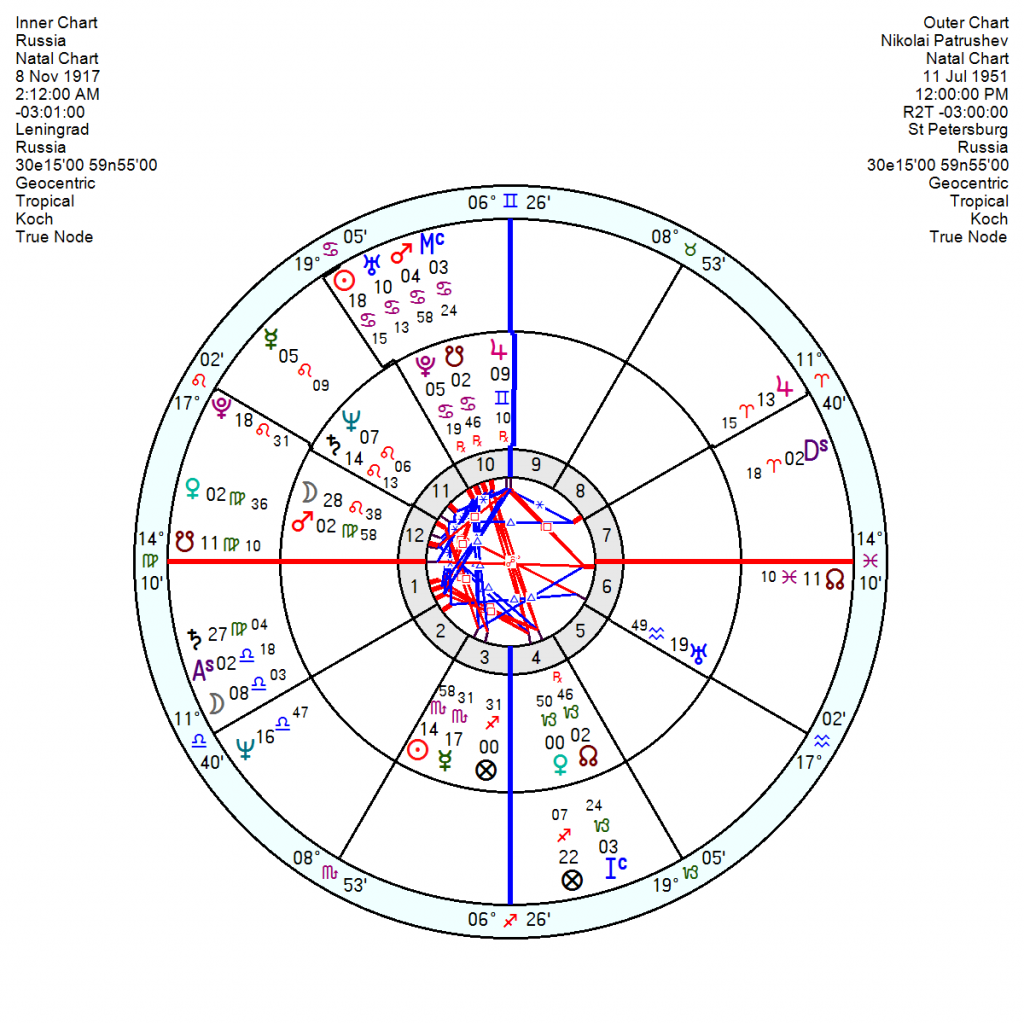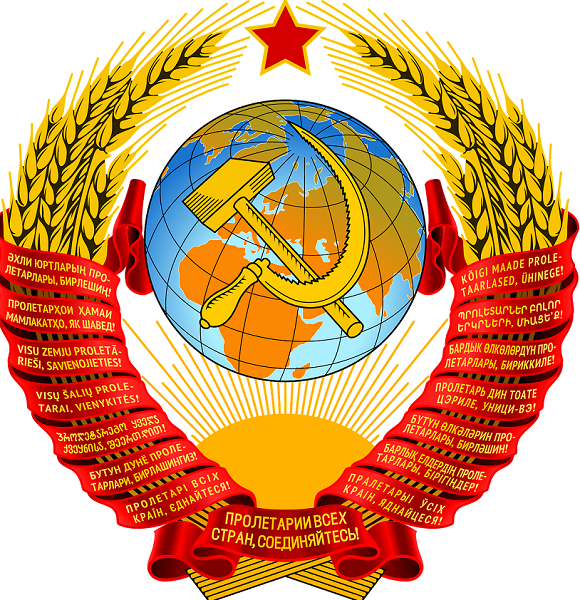 Hope springs eternal as wars break out with a general expectation that the mayhem and carnage will all blow over quickly as one side faces facts and withdraws. In reality, conflicts usually drag on into a prolonged state of "violent stalemate".
  The Ukrainians are fighting for their lives and freedom.
"The goal of western capitals – is – to ensure that armed aggression ends in failure, without precipitating a wider war." (William Hague) 
Russia is trying to restore old glories and fighting against an old Cold War enemy (the USA) whom they perceive as encroaching on their borders. Given the mindset of those close to Putin (see Patrushev below) it seems unlikely that Russia will admit defeat and meekly go home to nurse their humiliation.
  The relationship charts between Ukraine and Russia 1990 point to more obvious disturbance late this April to mid June with a long drawn out struggle till late 2023. The Ukraine/Russia 1917 chart describes jolts late April and major upheavals in relations in 2023/24.
The USA relationship charts with Russia are most fraught in the time ahead, more so than the EU or UK. The USA/Russia 1917 relationship chart is trapped, high-risk, acutely frustrated and angry through 2022/23. The USA/Russia 1990 relationship chart is nerve-stretched this year with shocks and over-reaction from late April, repeating in January 2023.
 The man closest to Putin now and over the past two decades, head of Russia's security council and the FSB,  a "hawk's hawk", Nikolai Patrushev, a career intelligence officer, has known Putin since the 1970s, when the two men worked together in the Leningrad KGB. He believes that western powers are seeking to destroy Russia and has called Ukraine a "protectorate" of the west. He has warned that Russia would hold the U.S. accountable for all its troubles. For him the main adversary of his formative career never went away.
  He sees the FSB security officers as "the new nobility" tasked with governing Russia in the spirit of self-sacrifice and for the sake of the country's greater glory. He has stressed that Russia is the main antagonist to the Western liberal world order and warned that Russia would leave nothing off the table when pushing for its geopolitical interests abroad. Analysts believe that the culmination of his decades-long agitation against the Western world is Russia's ongoing invasion of Ukraine. Recently he has ramped up his anti-American conspiracy theories to provide justification, asserting that the U.S. was conducting covert biowarfare against the citizens of the former Soviet republics. He blamed the pandemic on Western laboratories, some of which operated in Ukraine, and said their work had to be stopped no matter what the cost. He also appears to regard renewable energy policies as an attack on Russia's oil and gas.
Russia's foreign intelligence chief Naryshkin in early March just after the invasion began echoed his sentiments saying, "The West does not only want to encircle Russia with a new Iron Curtain but to destroy it completely." This has evidently become the core belief among Putin's KGB cohort in the Kremlin. They believe they are fighting for their survival. Against that level of paranoia there doesn't seem much room for negotiation and compromise.
Patrushev, 11 July 1951, St Petersburg, is a confident, ego-centric and rebellious Sun Uranus in Cancer on the point of a resourceful Jupiter in Aries opposition Neptune – super-confident, not always realistic. His Uranus is also in a volatile conjunction to Mars so he dislikes interference. His Pluto is trine Jupiter adding to his luck and self-assurance.
His Mars is conjunct the Russia 1917 10th house controlling Pluto so he will connect in a ruthless way with the ruling elite; and his Pluto squares the Russia 1917 Sun opposition Uranus conjunct Saturn, which all adds up to an urge to drive Russia's revolutionary spirit onwards with his hand on the tiller.
  His Pluto sits on the Ascendant of the Russia 1990 chart as he attempts to shape its image for the world at large with his Sun conjunct the country's Jupiter boosting morale. A dictatorial cheer leader. On both relationship charts with Russia he looks to be driving momentum forward in 2023/24, upping the emotional temperature and radically changing his role vis a vis the country's direction – though with trickster Uranus being involved there's no way of tell whether that will be elevation or ultimate calamity for him.
On his own chart there will be a significant shift from late this April for three weeks; disasters late May to mid June, repeating on and off till April 2023. Later this year August to November he has a curious mix of high-risk/aggravation mixed with good luck/relief. From early 2023 to late 2024 he also picks up more upbeat influences though also a Uranus Pluto midpoint hinting at the collapse of an old order. There's also a high degree of uncertainty in 2023/24. So not undiluted catastrophe though it'll be a rocky road.