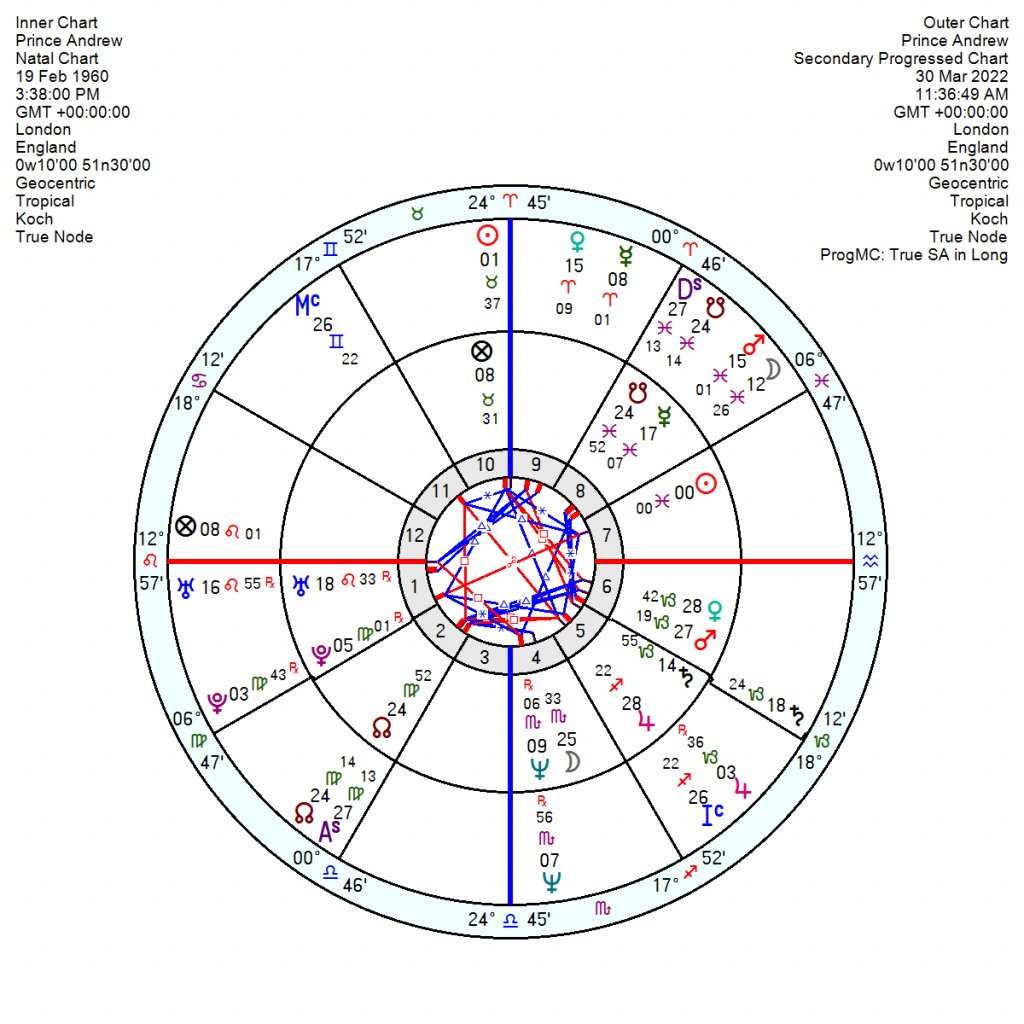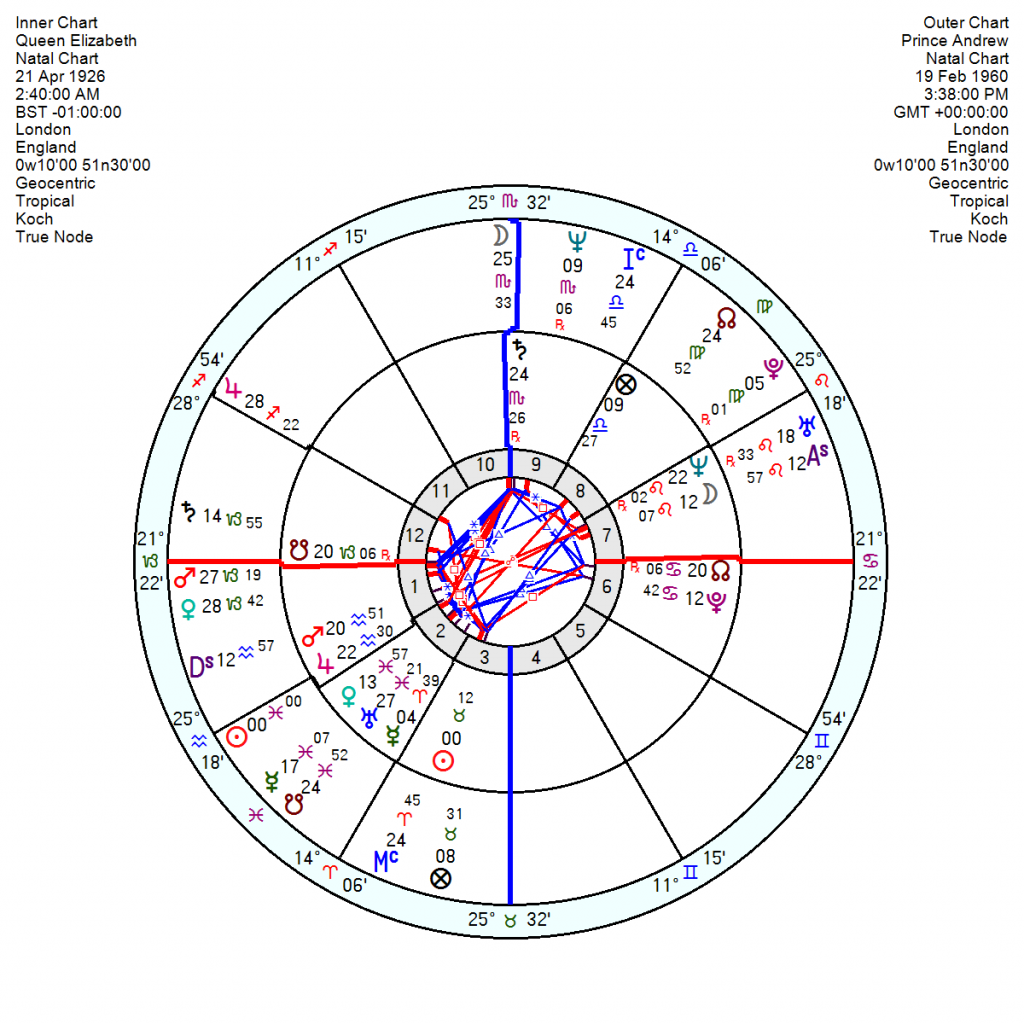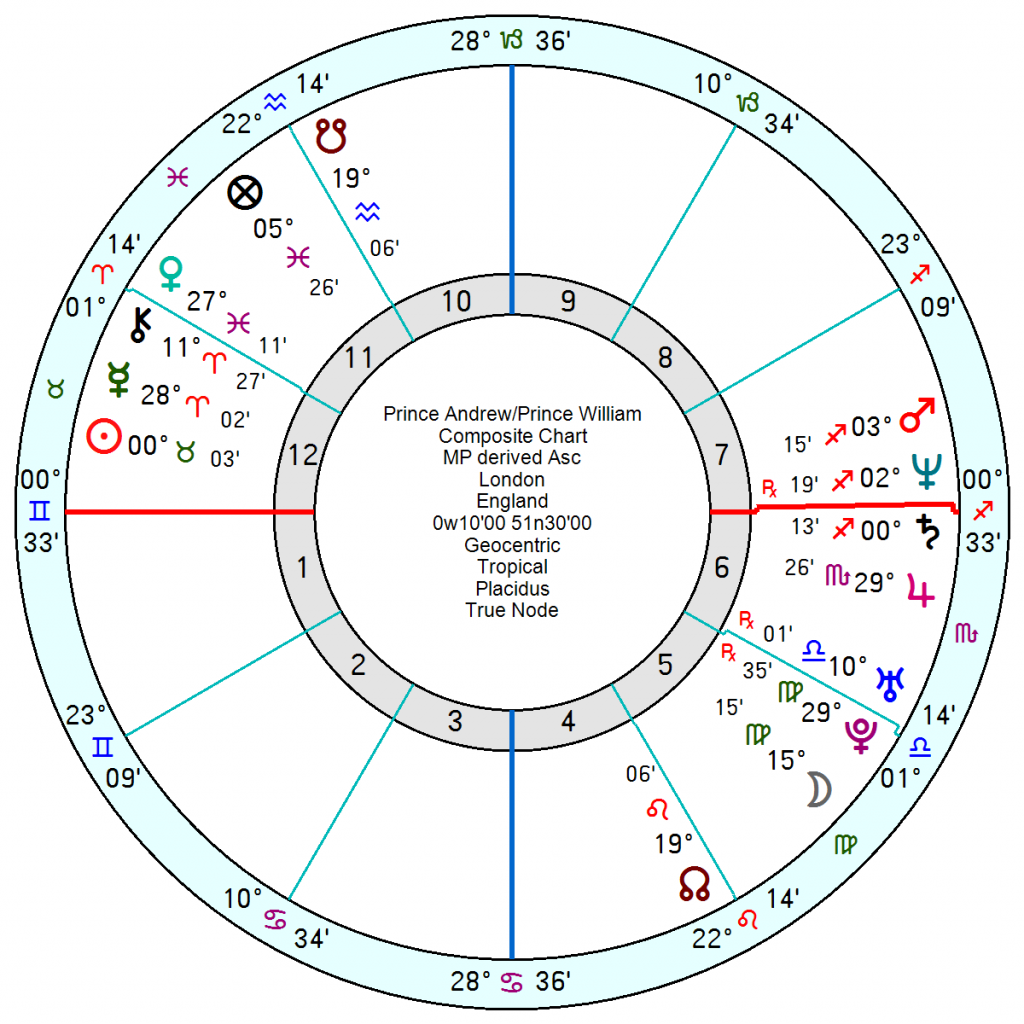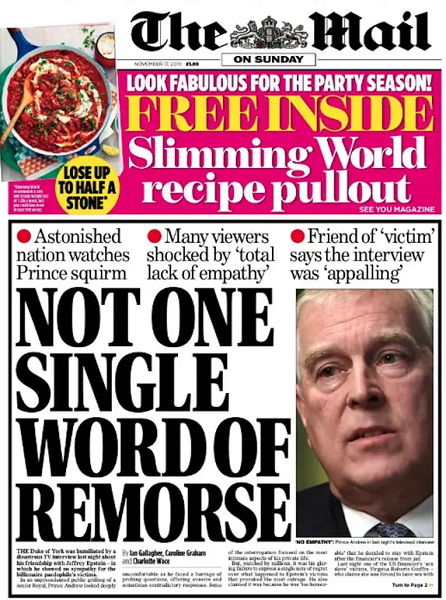 The Queen rarely makes a misjudgment when it comes to protecting the survival of the monarchy. Allowing Prince Andrew to accompany her to Prince Philip's memorial and effectively take centre stage was one. Evidently he insisted on travelling with her by car since he lives close and given she was using a side entrance to avoid a long walk that might have seemed a way of sliding him in away from the other Royals and guests. But it was assumed the dean would walk with her from the door. Brass-necked as ever, Andrew, who appears to lack shame, humility or common sense, continued by her side to the front.
Officials are now shuddering in horror at the prospect of mission creep as Andrew is clearly refusing to accept his public life is over or grasping how his presence damages the monarchy.
  What was always strange and unnerving about his chart was the strong presence of undeserved Jupiterian confidence and good luck over the next three years, admittedly alongside a good many setbacks, losses and frustration.
Exactly as of now he has his Solar Arc Jupiter conjunct his Pisces Sun; and 2023 to 2025 he has two strong Jupiter midpoints giving him a boost.
On the negative side he has tr Pluto conjunct his Mars Venus in Capricorn now, on and off till late 2023, which will be trapped, scary and infuriating. Plus a calamitous tr Uranus opposition is Mars/Pluto and two other midpoints late May to mid June, November and March 2023. By 2023 tr Saturn in Pisces will make a discouraging conjunction to his Sun and a blocked opposition to his Pluto on and off all year; with tr Saturn through his 8th early 2023 to 2025 which will throw him back on his own resources and he will feel under-supported.
His Progressed Moon is also moving through his 8th house from a few months back staying till late 2023 which is discouraging, hidden, challenging, a time often of emotional turmoil. Plus Solar Arc Saturn conjunct his 8th house Mercury in six months and Progressed Mars also conjunct his Mercury two years hence – which may bring more secrets, financial and emotional, out into the open.
  His closeness to the Queen has always been a mystery but he plays the connection for all its worth, visiting her frequently since he knows she's his lifeline.  The Queen's Taurus Sun is conjunct his Midheaven and his Moon is conjunct her MC; her Moon is conjunct his Ascendant and his Venus Mars sits just below her Ascendant – so there are strong connections. But her Saturn is conjunct his Moon and his wayward Uranus hits her stalwartly conscientious Fixed T Square hinting at problems lurking. Their relationship chart is highly Neptunian with a composite  Sun opposition Neptune Moon so riddled with illusions and delusions. Tr Uranus opposition his Scorpio Moon in 2024 may cut some of the ties that bind.
Prince Charles' relationship with him is full of sibling rivalry and competitiveness with a composite Sun Mars conjunction and a oneupmanship Jupiter Pluto. But it is Prince William who truly dislikes him and will probably call the shots moving ahead.
Their relationship chart has a hostile, suspicious, unsupportive composite Mars, Neptune, Saturn, Jupiter sextile Pluto inconjunct the composite Sun on the point of a Yod. That will catch all of the changeover outer planets in the next few years. Tr Pluto in Aquarius will square the composite Sun in 2023/24; tr Neptune will conjunct the composite Venus and opposition Pluto in 2024/25. And the tr Saturn Neptune in Aries as well as tr Uranus in Gemini will all rattle that irreconcilable Saturn, Neptune, Mars through till 2027.
Princess Anne doesn't look too enamoured of Andrew either over the next three years so she may pitch in a few pithy thoughts.
I suppose we should all be used to galloping narcissists by now who feel no shame and never admit guilt since it is a signature of the age. And I am fascinated, having caught up belatedly with his teddy bear fetish which extended well into adult life, about what that represents – apart from the obvious, of an individual of stunted emotional development who never grew up. Which would fit the sex offender profile. His Venus Mars does have a questionable side in terms of sexual behaviour and in Capricorn can be arrogant. His pleasure (and money) seeking 9th Harmonic is marked and hard-hearted; as is his troubled 18H.
  Andrew's Pluto opposition Sun plus a Scorpio Moon will make it difficult for him to let go. His overly-dependent Virgo Node in the bullish 2nd house will make him desperate and obdurate but his only road to salvation is a complete rebirth, sloughing off the old persona and making his own way without relying on the efforts of others. Which on present evidence appears more than unlikely.
What a tragedy for the Queen given how she sacrificed her life to duty but in her declining years is allowing sentiment to unpick her decades of service. He should be banished to the Castle of Mey or further north (sorry Scotland).