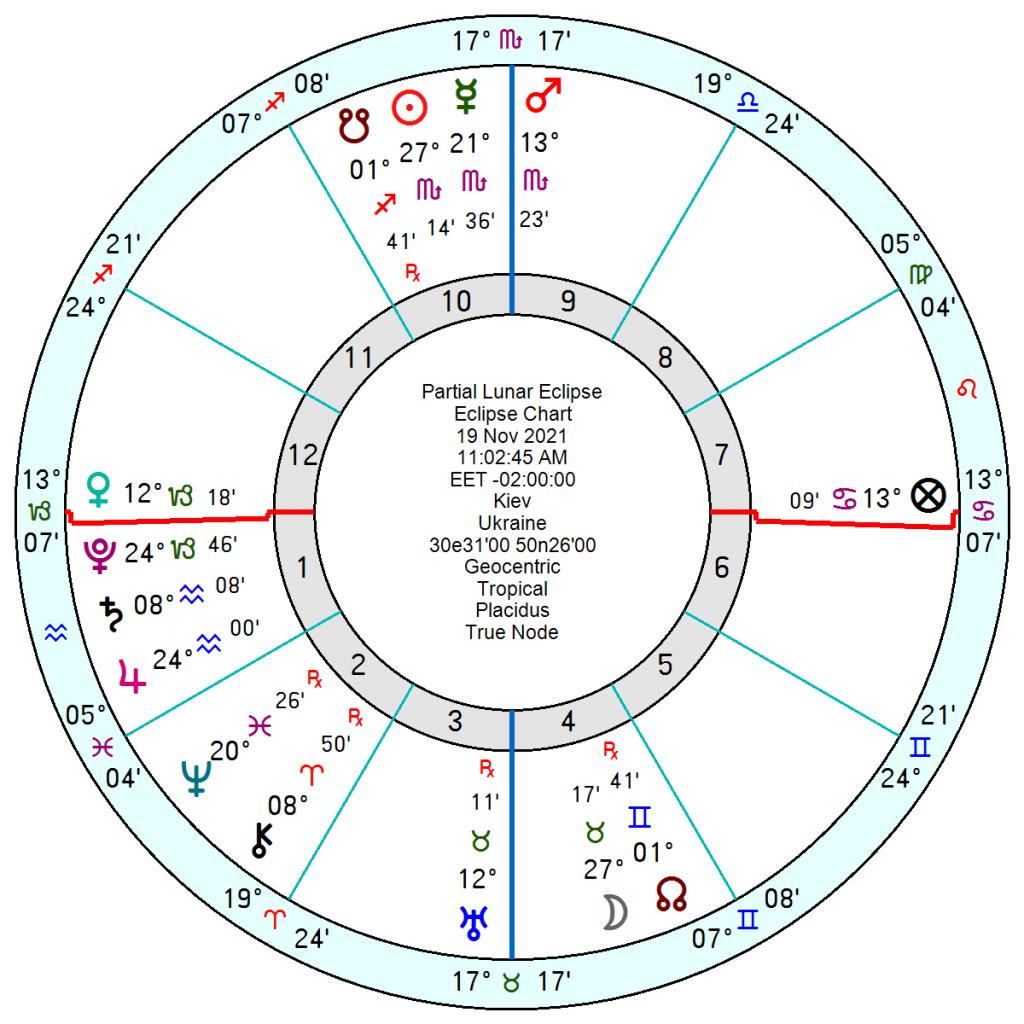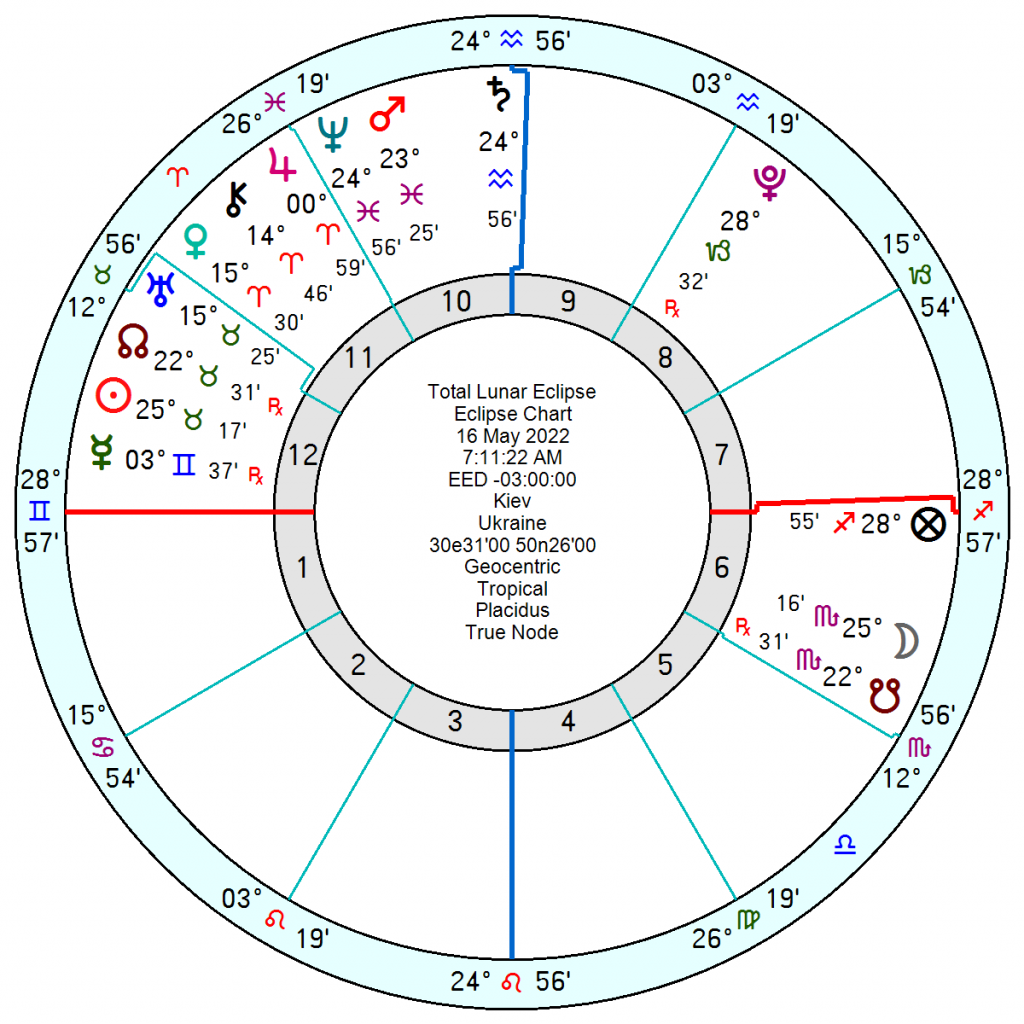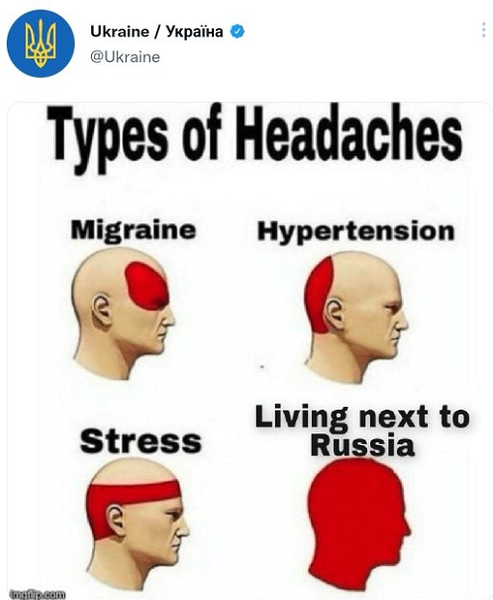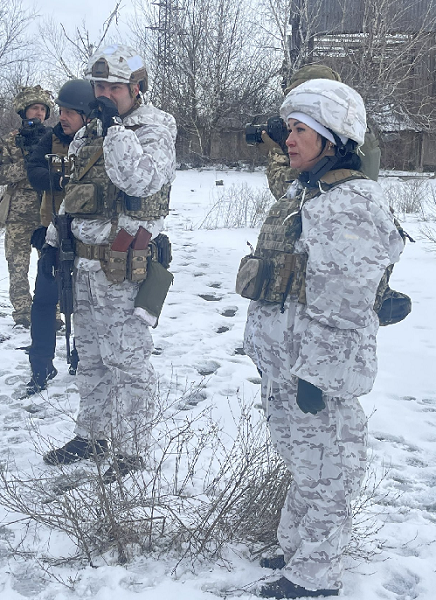 The build-up of Russian forces on the border of Ukraine continues, while the US and UK are warning civilians to leave the country and moving embassy staff. The Russians are insisting that the US is panicking about an imminent assault and that they have no intention of invading. The fog of war descends before any outbreak of hostilities.
It would have to be said that the signs are not obvious for an outright takeover and storming of the borders as there was in 2014 when Putin sliced off the Crimea. See post January 19 2022.
The best I can do having scoured various relevant charts is that Uranus at 12 degrees mid March to early April resonates across several charts as disruptive, with some keyed up now till mid March.
The most recent late November 2021 Lunar Eclipse set for Kiev had an explosive Mars in vengeful Scorpio opposition Uranus square Saturn, which would point to military situations from Mars Saturn, and violence from Uranus Mars. Located to Kiev the Mars is conjunct the Midheaven with Uranus on the IC, which would reflect the beleaguered mood inside the Ukraine at the moment. And that T Square is being triggered from mid March to late April. Transits to eclipse charts can be illuminating in the months following.
The Lunar Eclipse for May this year located to Kiev has a heavy-duty, discouraging Saturn conjunct Midheaven on the focal point of a T square to a 12th house Sun opposition Moon; with a trapped Pluto in the 8th. Whatever does or does not happen this week the tensions won't lift.
The world leaders strutting their stuff over the crisis, not all for ethically pure motives, are:
Emmanuel Macron, whose Sagittarius Sun relocated to Kiev sits on the Midheaven beside Venus Mercury as he launches a charm offensive to boost his April re-election prospects in France.
Boris Johnson located to Kiev has his Scorpio Moon exactly conjunct the Midheaven as he attempts to regain public approval and distract from myriad domestic scandals.
Joe Biden has his bulldozer Mars in Scorpio close to his Descendant located to Moscow. Give that it is in a do-or-die square to Pluto and resonates also in Ukraine, this won't be an easy situation for him to handle. Having scuttled away from Afghanistan, the last thing the USA public want is another open-ended foreign military intervention.
Putin's 4th Term chart is also ramped up by the approaching brutal/ruthless Mars Pluto conjunction in late Capricorn, exact on March 3rd. The New Moon on March 2nd has a Pisces stellium of New Moon conjunct Jupiter and Neptune which falls in the 8th house of Putin's Administration chart close to its Neptune – which might arguably suggest he's drawn by a delusion/illusion into a serious miscalulation.
See also 13th April 2021: Ukraine – pawn in a larger power game