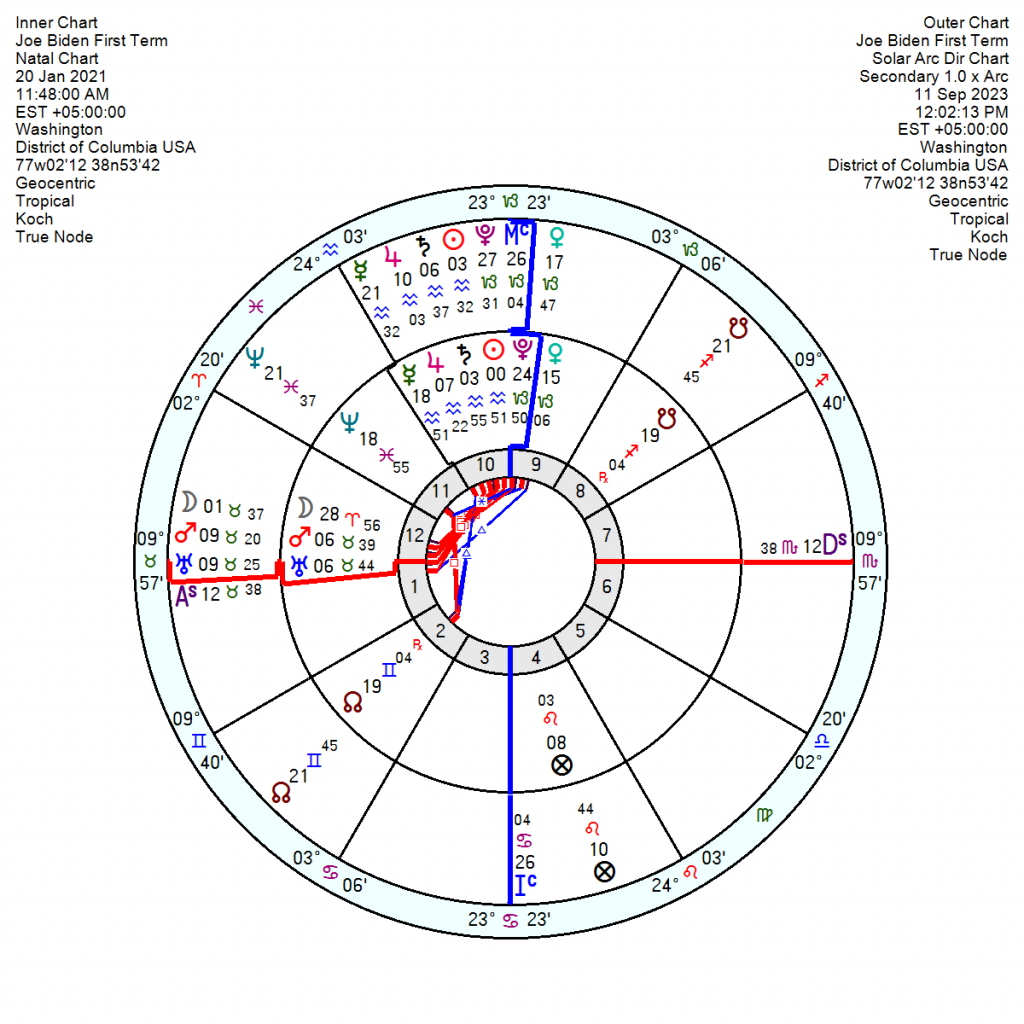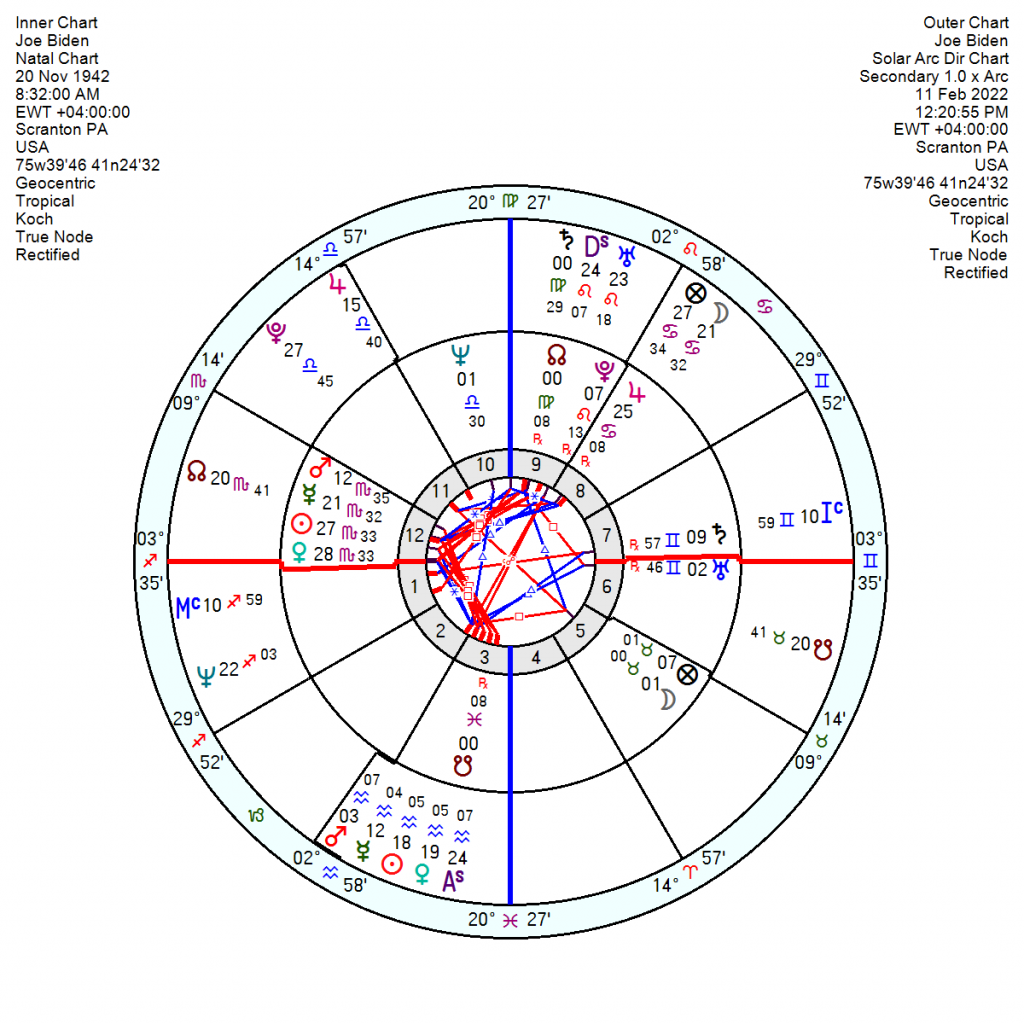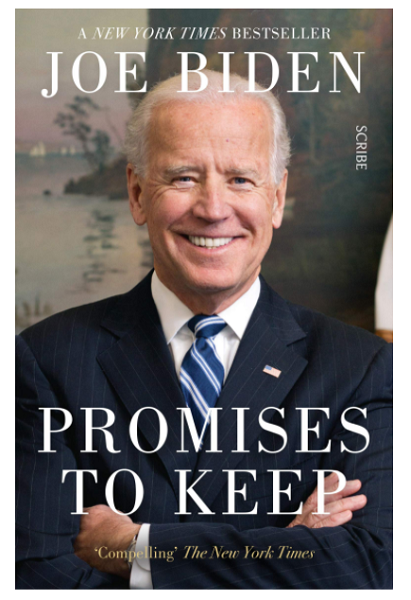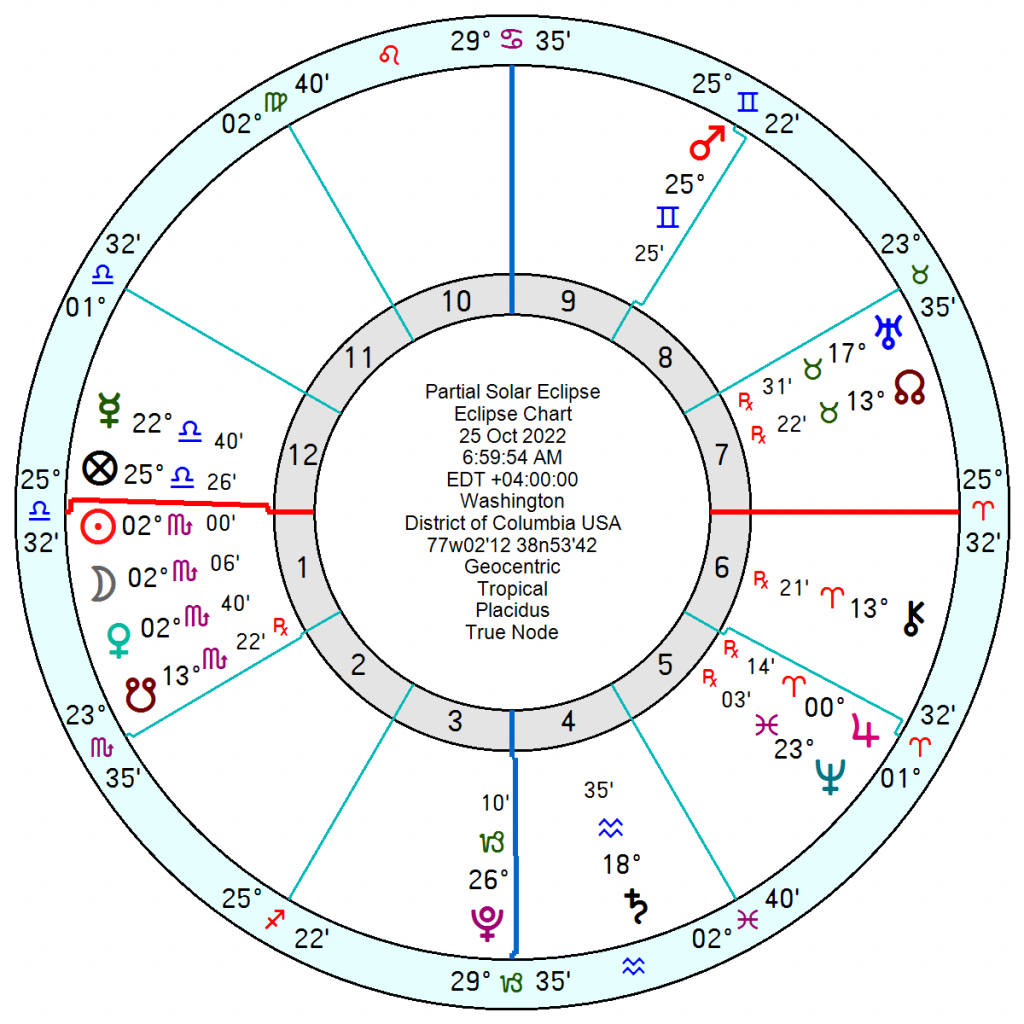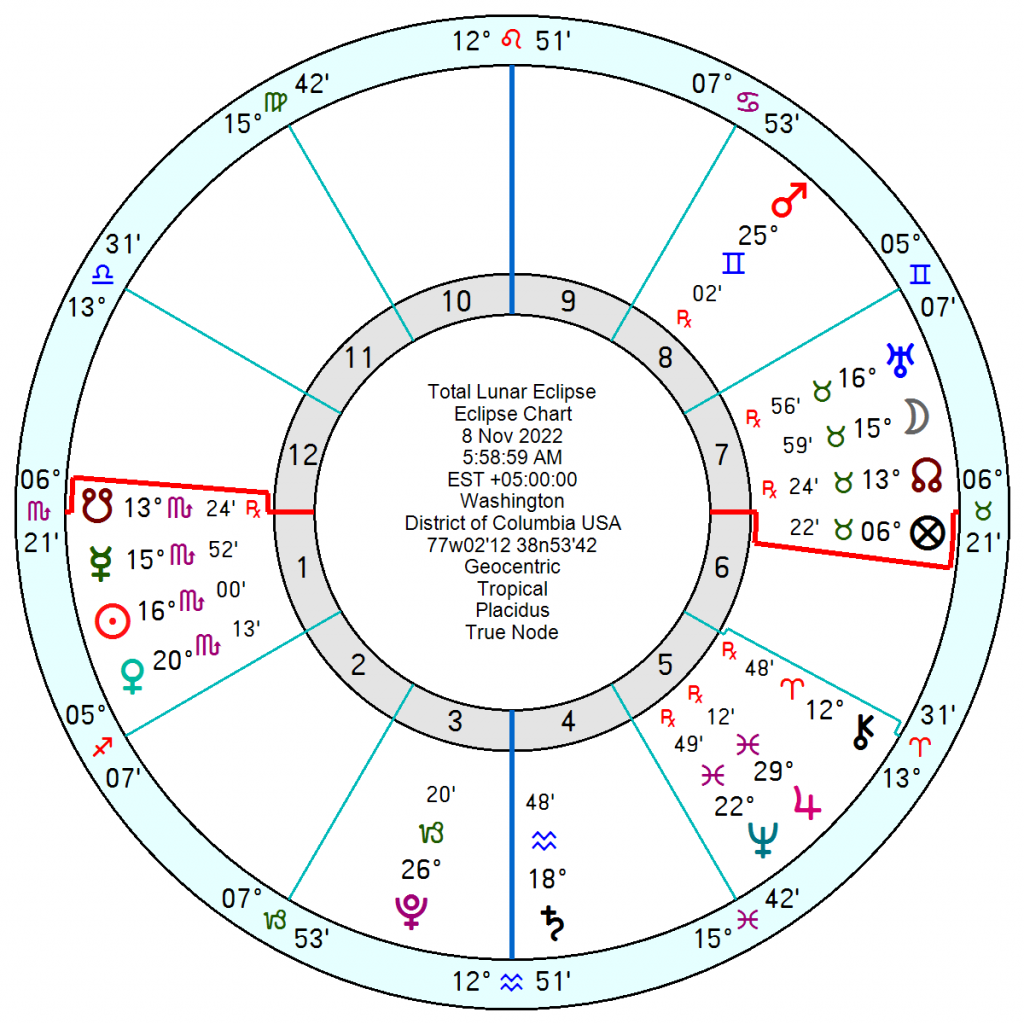 Joe Biden's term of office has neither been as explosive as was feared from the challenging Inauguration chart nor as progressive as Democrats would have wished. Errant senators have blocked landmark legislation and the messy Afghanistan withdrawal was damaging to his reputation. But the worst may yet be – almost certainly will be – to come.
The red flags on the Term chart, 20 January 2021 11.48 am, Washington, were the Uranus Mars conjunction square Saturn, Jupiter, Sun in Aquarius. Uranus Mars tends to be argumentative with a defiant no-compromise stance, and can amount at times to violence. Which might well be indicated by the square to Saturn, with a military as well as a revolutionary leaning. Jupiter in the middle will soften the effect marginally though it could also point to overly ambitious plans coming adrift.
When these combustible planets come to exact aspect by Solar Arc will be September 2023 onwards, peaking around New Year into January 2024. Even before then the pressure will be ramping up from tr Pluto conjunct the Term Sun from March 2023, on and off till late 2024; at the same time as tr Pluto is conjunct the Saturn/Pluto midpoint which could be grim world events or economic hardship.
From March/April 2024 there are several less than encouraging influences – a depressing/deprived mood from tr Pluto conjunct the Sun/Saturn midpoint running on into 2025; plus panicky muddled Neptunian communication snafus and confused misjudgments. Over the coming mid terms this November the term chart has a couple of undermining Neptune conjunctions to two Jupiter midpoints which will be less than celebratory.
Biden's own chart has some luck this year but running alongside that is a calamitous tr Neptune opposition his Mars/Pluto midpoint picking up mid this April to mid May, repeating August to mid September, and again Feb/March and Nov/Dec 2023 which will lower his energy and morale. Plus the Eclipses in Taurus and Scorpio in 2022 and the Lunar Eclipses in 2023 will all be rattling up his Scorpio planets and Pluto for a series of potentially life-changing crises.
From early 2023 to late 2024 he has tr Pluto square his Sun/Neptune midpoint bringing confusion, indecision and muddled thinking. Tr Pluto will square his Moon from late March 2024 on and off till late 2025, which can accompany family pressures or even health issues. Plus he has a catastrophic-setback tr Uranus square his Mars/Saturn midpoint from July 2024, running on through October and again in early 2025. Tr Uranus is also opposing his Sun from August 2024 onwards hinting at a radical change.
He has an extremely stalwart chart with four Scorpio planets and Pluto in Leo as well as a Taurus Moon ; and the White House is never a walk in the park with constant crises piling on top of one another. But he does look exceptionally stressed and some of the above could indicate health issues.
There is a good deal of affection for him in the US. And with Mitch McConnell's intervention the senior Republicans along with Pence may just be about to bust Trump's bubble. So all is not gloom, doom and misery but his astrology is not upbeat whichever way you slice it.
ADD ON: At the Midterms this November Joe Biden's personal chart has pluses and minuses with a smattering of mild, upbeat Jupiterian influences in place; as well as a self-deceptive, confused and Mercury/Neptune. And tr Saturn squares his Pluto/Node which suggests relationships separating abruptly and general stuckness.
Kamala Harris, who is labouring against major challenges in 2022 and 2023 with tr Pluto square her Libra Sun looks irritable and frustrated with tr Pluto hitting two Mars midpoints. And tr Pluto square her Saturn Node midpoint which tends to be distressed/depressed, grieving. And highly strung/anxious.
  There is nothing totally catastrophic on their charts – at that point anyway – but they are not exactly singing and dancing.
Add On: Eclipses covering the mid terms.
The Solar Eclipse at 2 degrees Scorpio on 25 October 2022 on the run up has the New Moon conjunct Venus in the 1st for Washington turning the spotlight on that location. It is in a Saros series which Bernadette Brady describes as ' being forceful, and taking power. It has a manic flavour about it.' This is reinforced by a ruthless and stressed Pluto on the IC inconjunct Mars, and an argumentative Air Grand Trine of Mercury trine Mars trine Saturn in Aquarius in the 4th.
  Saturn is even more magnified on the Lunar Eclipse on November 8th itself falling again in the 4th square the Sun, Mercury, Venus in Scorpio opposition a divisive Moon Uranus. Such a highlighted/afflicted Saturn points to an emotional chill, insensitivity and square Uranus to an oppressive mood. Saturn Uranus can be dictatorial even by those who claim to be progressive. You could argue this either way – Saturn strives to maintain the status quo which is Democratic or it favours the conservative party, the GOP. Whichever the dice lands there will not be great rejoicing in the capital.
  The Lunar Eclipse will rattle up Joe Biden's Mars and Mercury so he'll be impatient and argumentative though his communication skills and perhaps even thinking abilities may come under scrutiny.