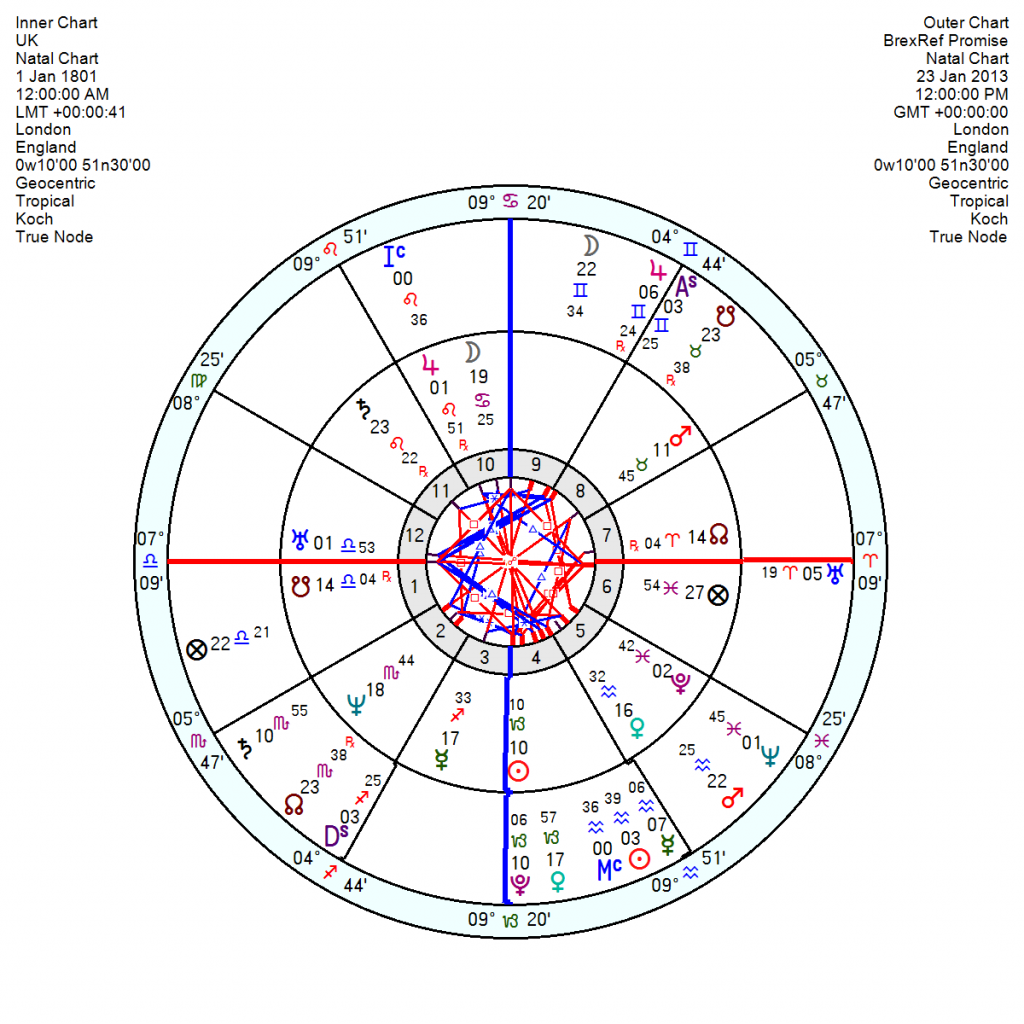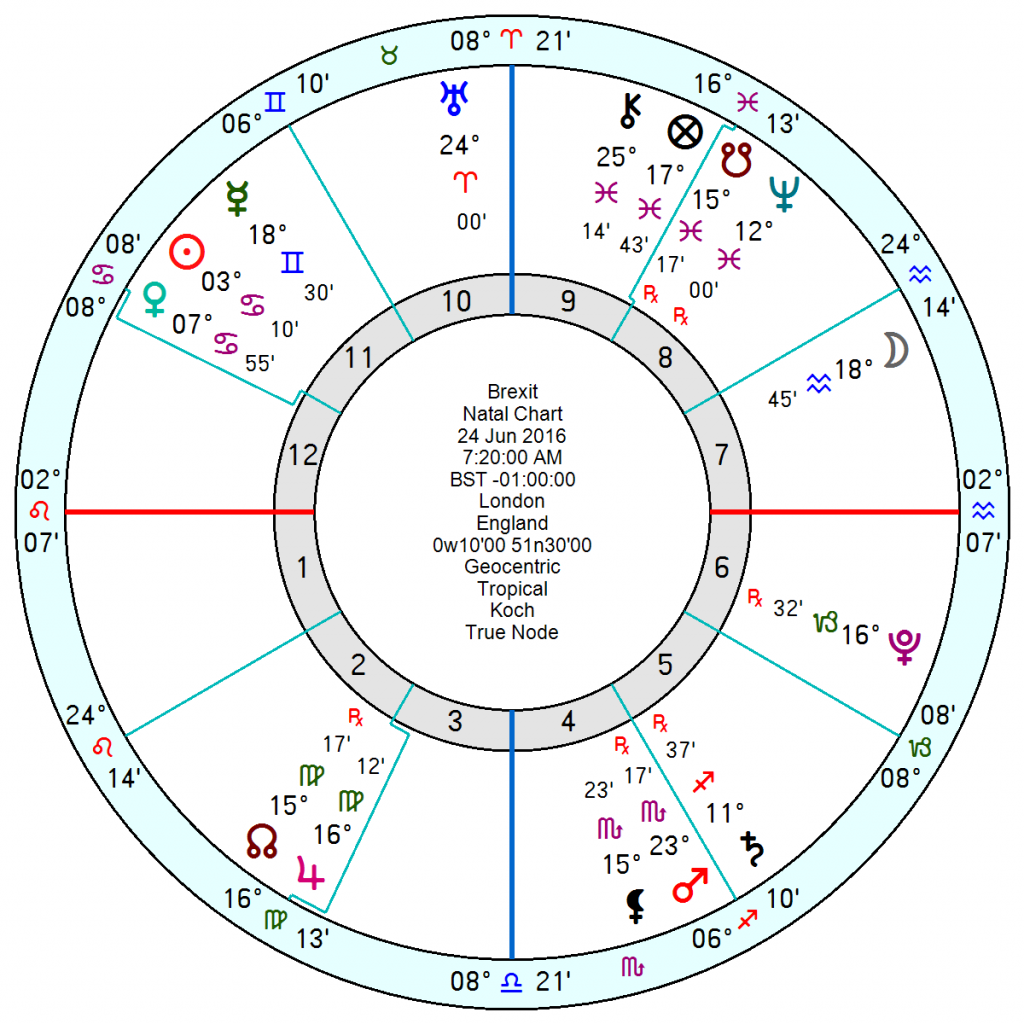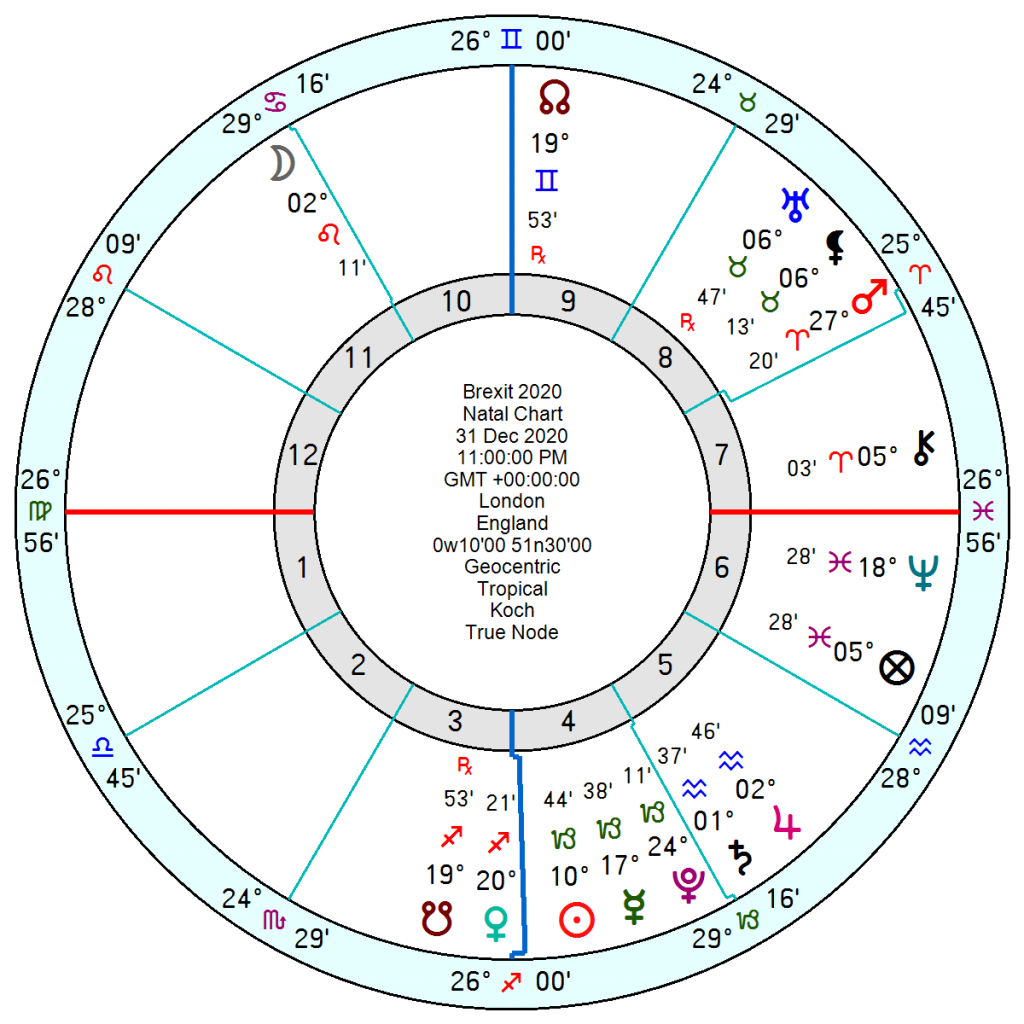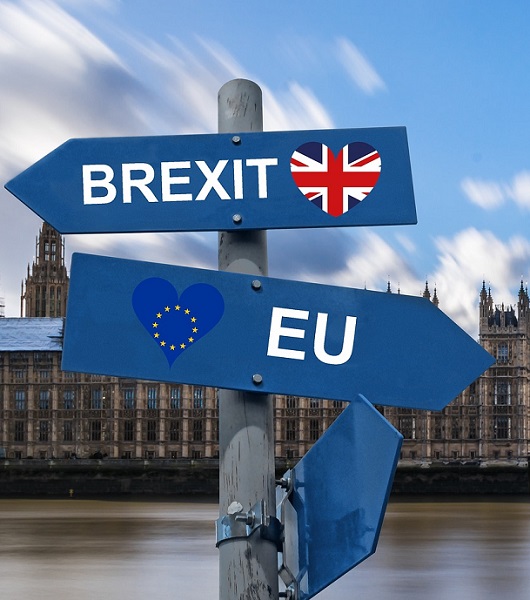 Hindsight being a wonderful thing, looking at the astrology it was clear from 2013 when David Cameron promised a referendum that there was a strong potential for a partnership split. He was only echoing what previous political leaders had pledged but by 2015 he was able to make it happen.
In 2013 tr Uranus was poised on the cusp of the UK 7th house which is often a divorce signature for the several years following. And even more significant and challenging was tr Pluto in Capricorn exactly conjunct the UK Sun – that often presages civil war or changes on a momentous scale. At the time less happened than fitted the astrology but the timebomb was obviously ticking.
   By 2016 the disruptive tr Pluto square tr Uranus had been upsetting the status quo out in the world and fomenting an urge to toss old certainties out of the window. By this time both tr Pluto and tr Uranus had been in hard aspect to the UK 7th house North Node and Sun/Moon midpoint throughout the campaign in 2015 and right up to the vote and after. Both these influences in an individual chart would be indicative of a divorce especially where cooperation does not come naturally as is the case with a leadership/stand-alone Aries Node. Though there is an argument with an Aries 7th house North Node that flouncing off to be independent is not the mature decision. Learning to be interdependent is what is required spiritually.
The 2016 Brexit vote was also undertaken with a messy, over-hopeful, unrealistic Neptune opposition Jupiter square Saturn in place; and an aggravated, no-compromise Uranus inconjunct Mars in vengeful Scorpio – so it was never going to be a clean break.
The eventual Brexit leaving chart of 31 December 2020 hints at financial shocks and massive difficulties with an 8th house Mars square Pluto as well as Saturn and Jupiter. So it was never going to be sweet and amiable. It looks increasingly logjammed in 2024 with the Solar Arc Pluto square Mars exactly; jolting with tension in 2025; and won't really clear bad blood until almost the end of the decade.
I'm oddly enough not a great believer in 'written in the stars' meaning a literal and concrete event has to happen. There are always choices, different ways of handling the influences which could come up with a different result. The best analogy is sailing a boat. The captain has no choice about the direction or force of the wind, but can decide whether to meet it head on, let it blow from behind or ignore it and get blown over – i.e. there are choices about making best use of the inevitable.