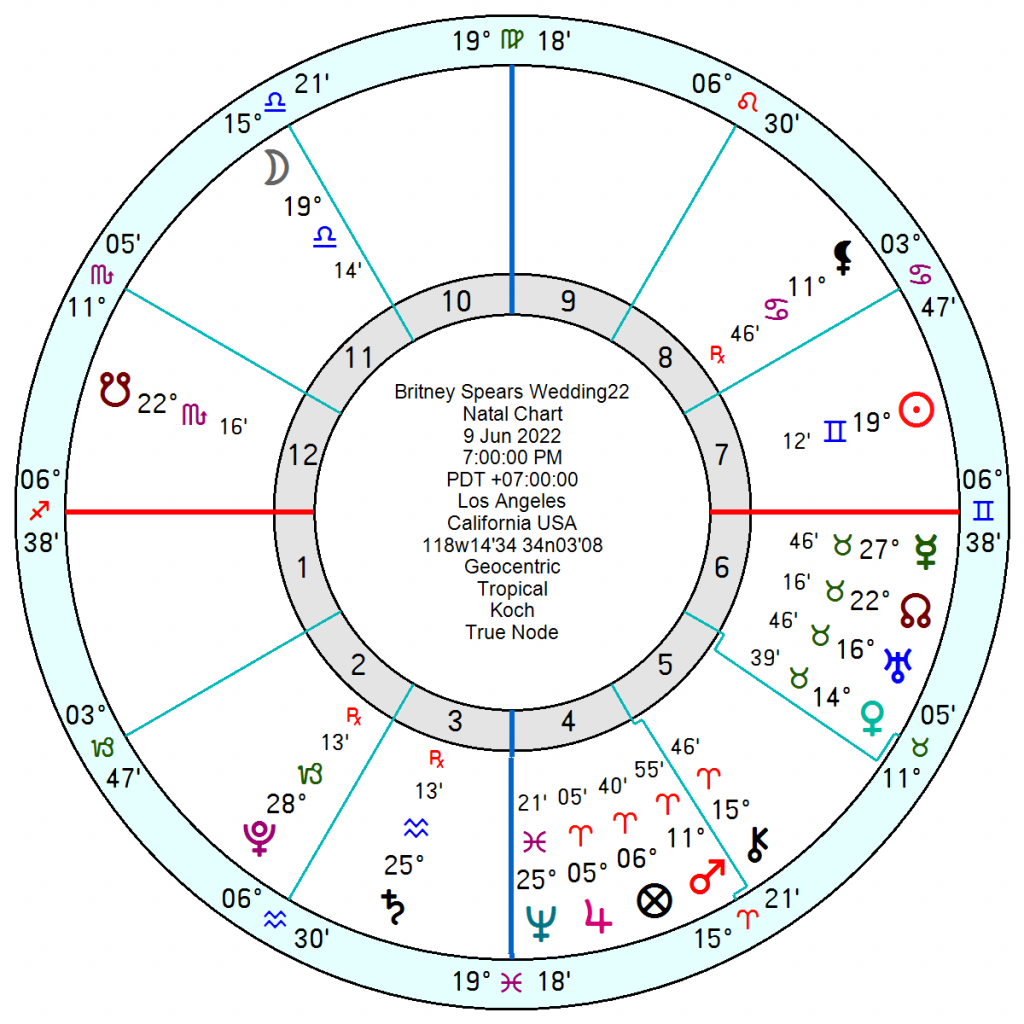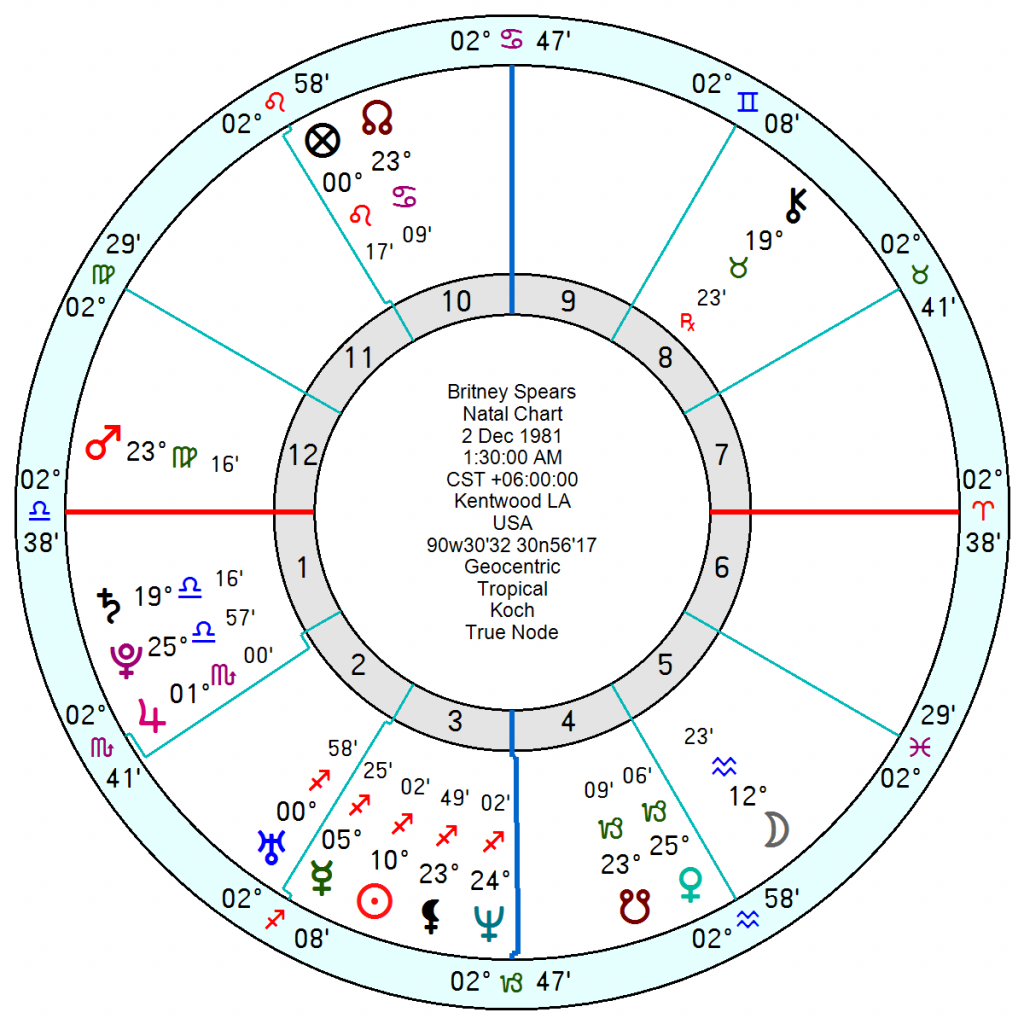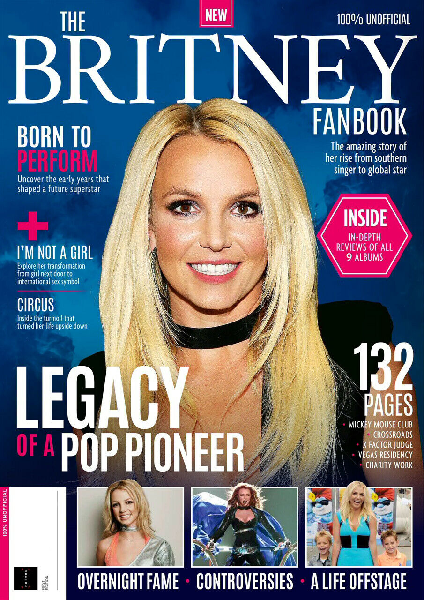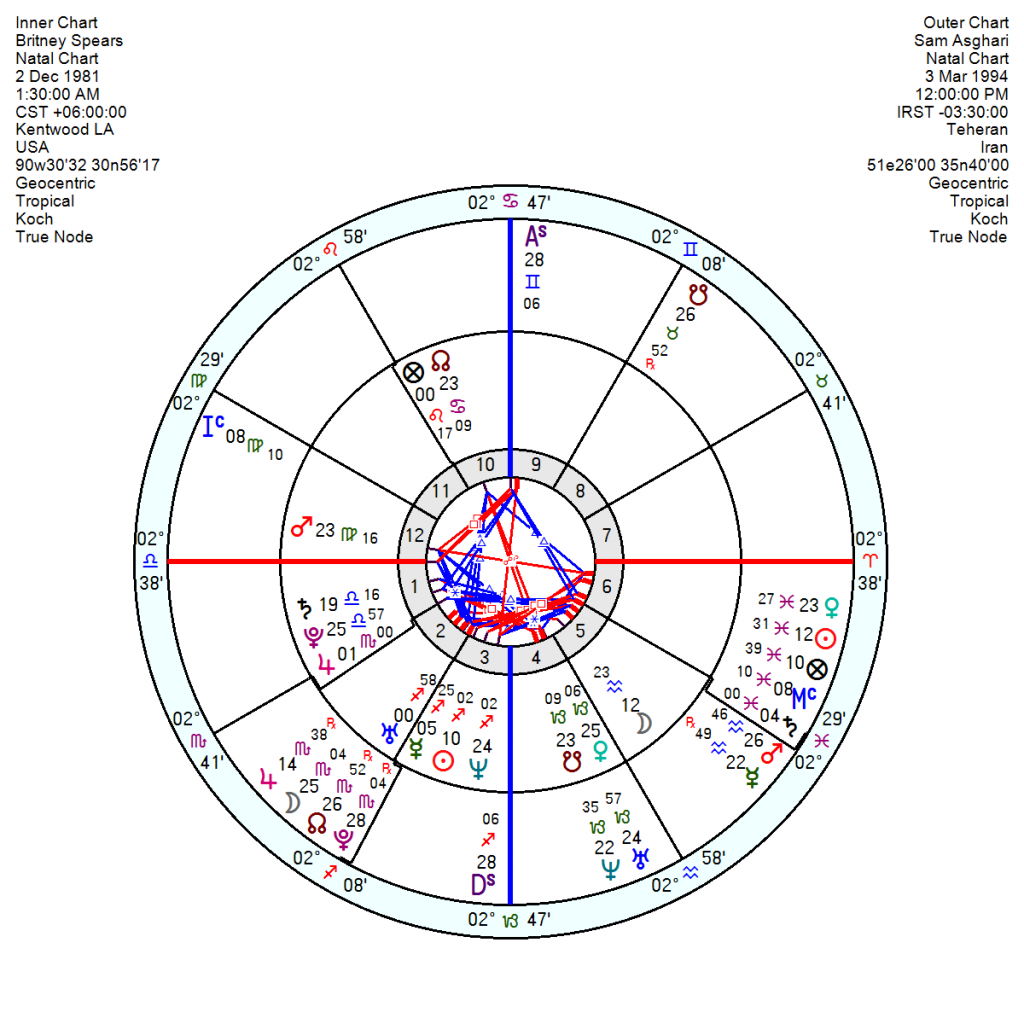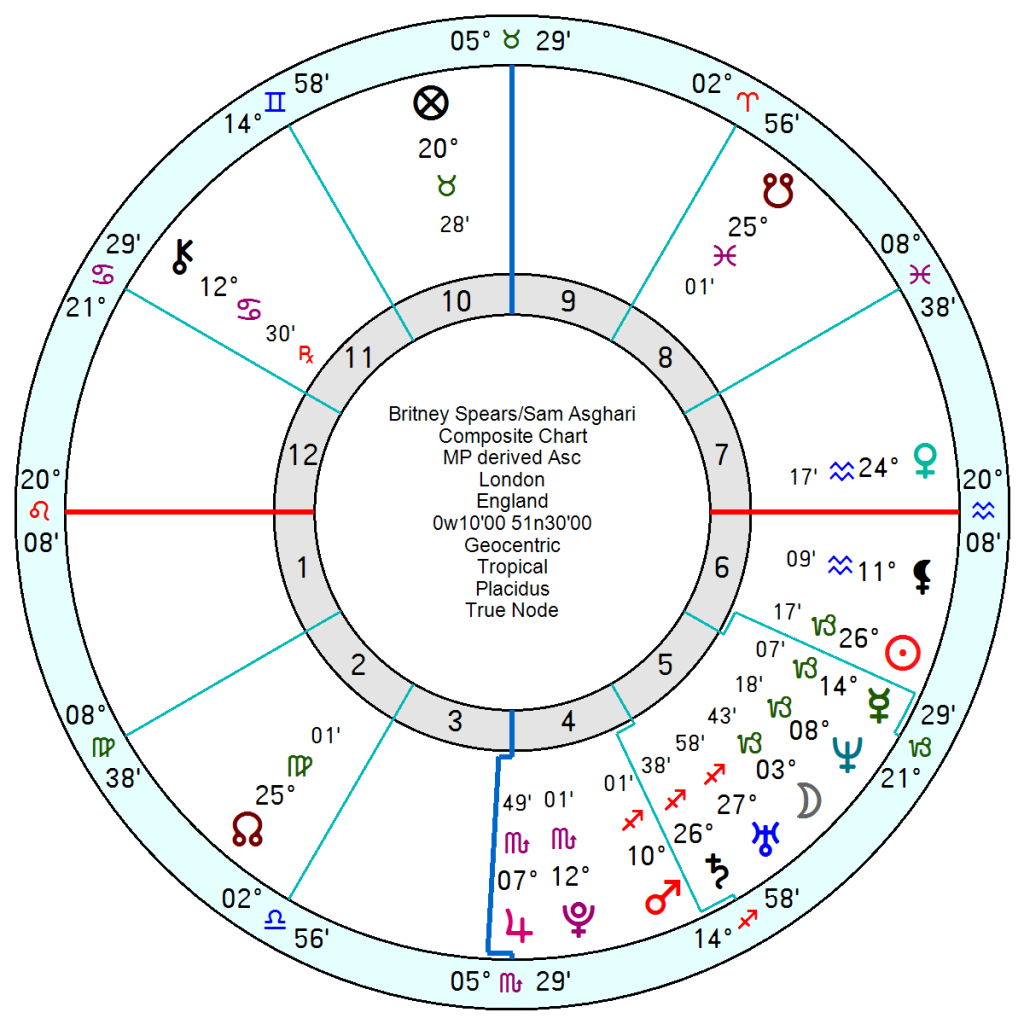 Britney Spears pledged her troth for the third time yesterday to her long-time, twelve year younger boyfriend Sam Asghari at a glitzy Los Angeles do. Reports indicate evening and the wedding pics have his watch at 7.45 so I'm assuming circa 7pm. There was a Gemini Sun in a sensible trine to Saturn and trine a Libra Moon so an Airy, emotionally detached affair. The Sun was also in a vague, unrealistic square to Neptune; with a super-enthusiastic Jupiter Mars in Aries; an excitable, needs-space Venus Uranus; and a serious Mercury in Taurus square Saturn, sextile Neptune trine Pluto which last won't make light-hearted communication easy.
She has tr Jupiter just over her Descendant moving through her 7th house of close relationships for a few months which is positive for one-to-one partnerships.
Though it's a year where she will have panicky moments of plans not working with tr Neptune opposition her Mars, around earlier this year and returning late September through October and again January/February 2023.
But she's on a confident roll no matter what with tr Pluto square her Jupiter/Pluto midpoint on and off till late 2023 and then square her Jupiter in 2024/25. She may go over the top and overdo the enthusiasm but she'll be up rather than down.
 His birth date is unverified either 3 March or 23/24 March 1994.  The later date would work better putting his Aries Sun and Venus in her 7th. But it isn't certain.  
Add On: 3 March appears to be supported from their Instagrams which makes him a Sun Saturn in Pisces with Venus also in Pisces; plus the highly-strung, excitable Uranus Neptune in Capricorn and a trio of Scorpio planets – Jupiter, Moon, Pluto. His chart has an abundance of Water signs where hers has only one and she's Air/Fire so they'll either complement each other; or totally mystify each other since they won't understand where the other is coming from.
Both have Jupiter in Scorpio so will be attracted to money and indulgence. His Pisces planets fall in her 6th so he'll get her organised on the work front and will be comforted by her wealth with his Scorpio planets in her 2nd.
It'll be an edgy combination but she's not exactly a settled personality. There is a composite Jupiter Pluto conjunction in the relationship chart which is a sign of a power couple – together they boost each other's morale and make a splash together. But these relationships sometimes come apart at the seams if one tries to outdo the other. [This depends on his birth date being accurate.]