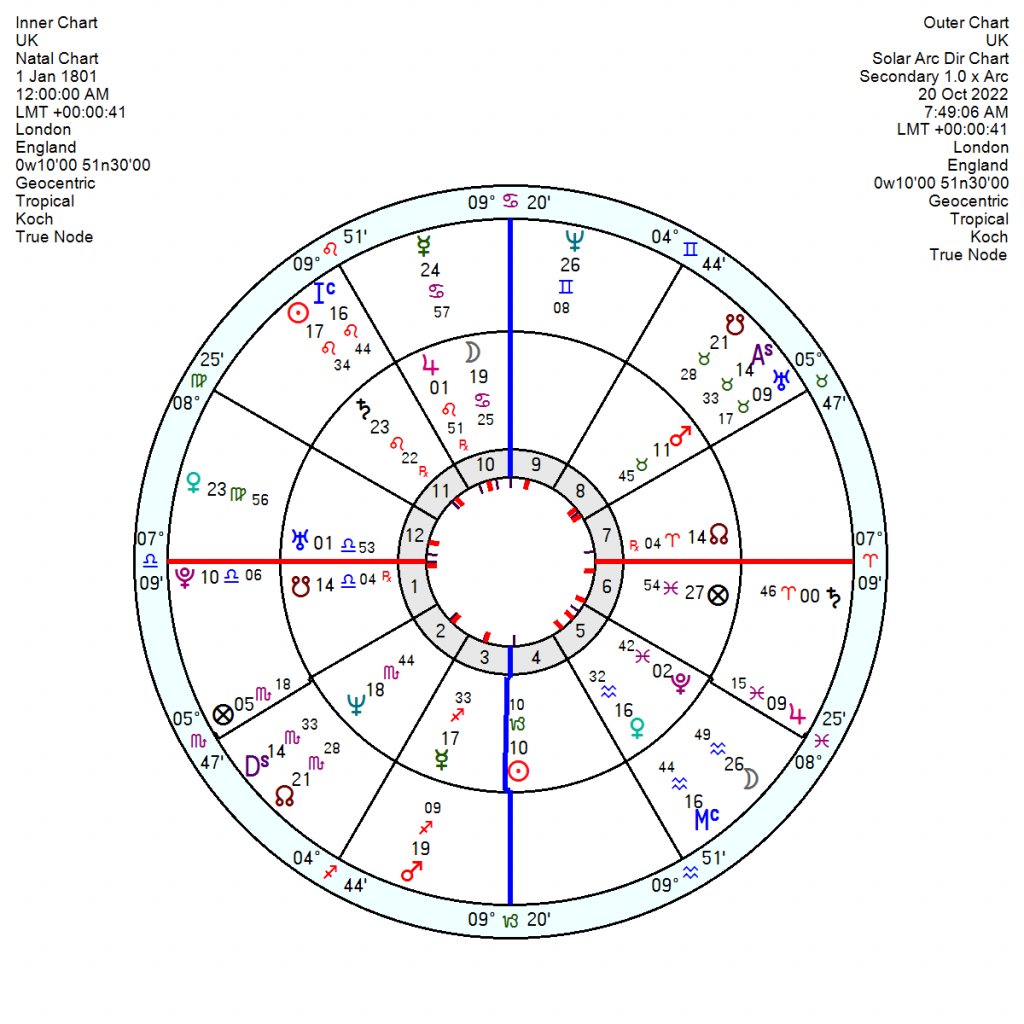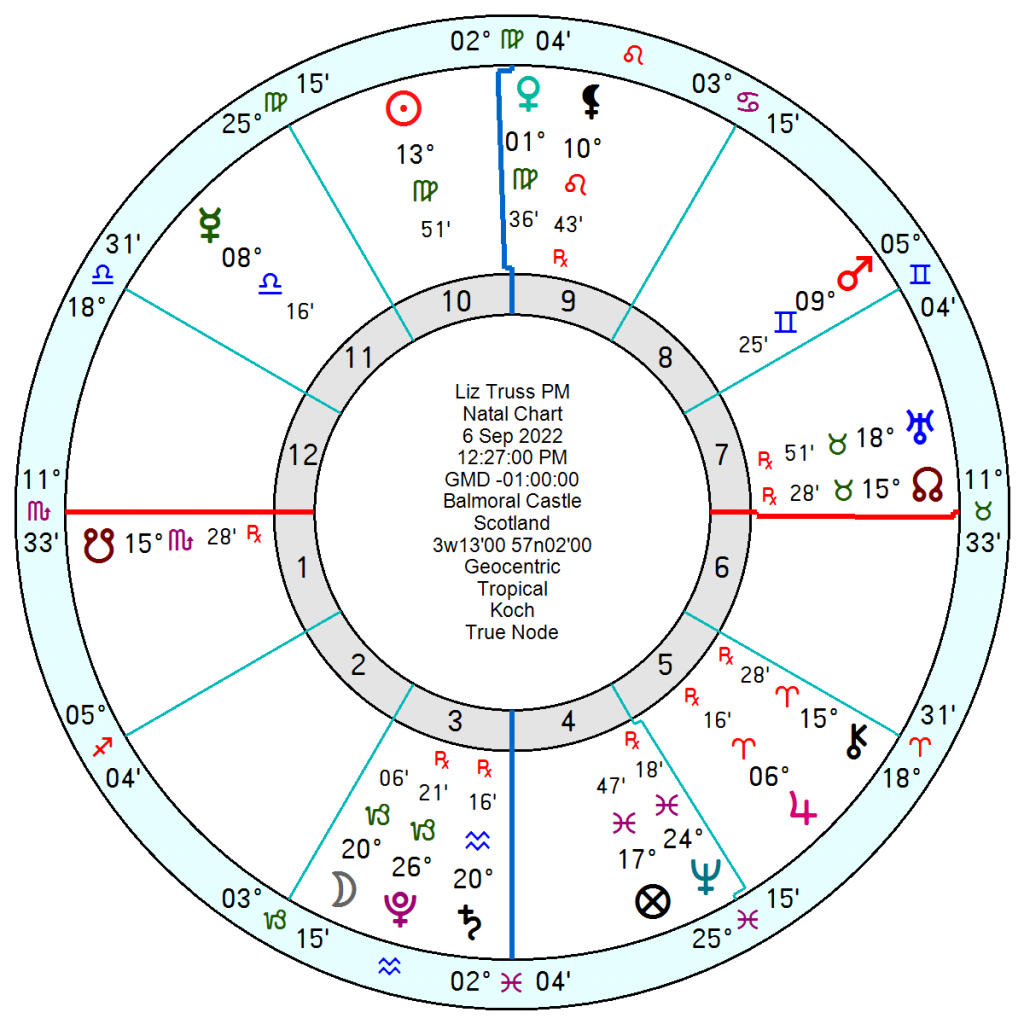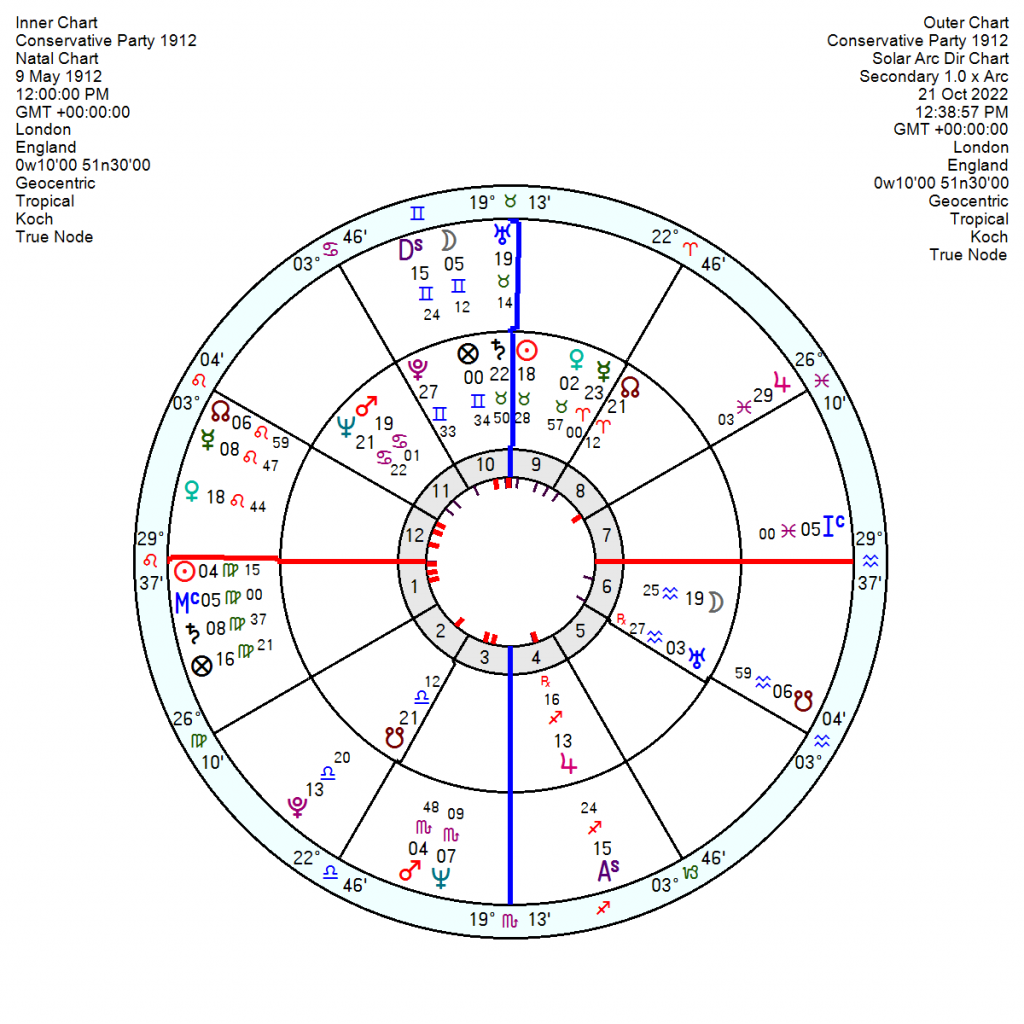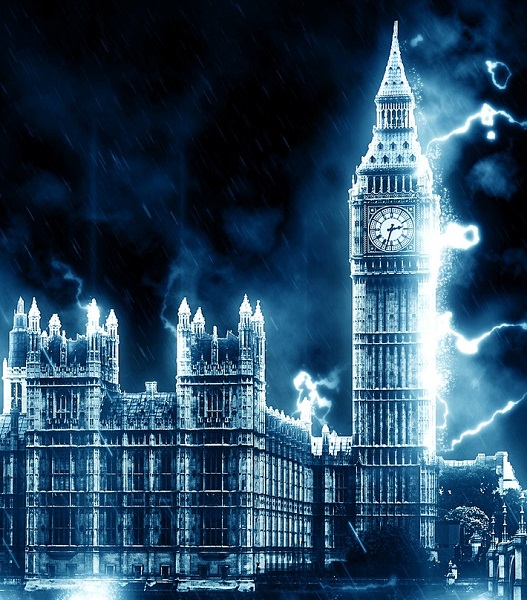 Hitting rock bottom may be the UK's only hope of sobering up after years of cataclysmic choices in policies and leaders. The UK's superpower status died after WW11 but the country retained a reputation of gravitas, not least because of Queen Elizabeth 11 for the past seventy years. The Tories have now reduced UK Inc to a global laughing stock with a banana republic government drowning in a shambles of Italian operatic proportions.
What is flagging up on the UK chart exactly now is a crisis of history-changing proportions.
The UK chart has a Yod of Jupiter in Leo sextile Uranus inconjunct Pluto – such a Yod has all of Pluto's fixated, refuse-to-budge qualities and can be coercive as well as self-destructive. The positive qualities give it the potential to be influential on a global scale, sometimes after a long period in obscurity.
When a configuration like this one moves by Solar Arc Directions to impact key planets on the chart, it triggers a crisis sometimes stretching over several years . With luck and sensible management a breakdown that leads to a breakthrough.
This Plutonic Yod has moved by Solar Arc to have the SA Pluto exactly square the UK Sun now for this paralysis of government and arguably a nation stunned by the departure of the Queen's steadying presence. The legs of the Yod move by Solar Arc to have the SA Uranus conjunct the UK 8th house Mars exact mid 2025 for an almighty economic/financial car-crash of sorts. On this basis the UK should be into calmer waters in three years from now after a stormy passage, hopefully wiser and ready to start down a new path.
Before then the Solar Arc Saturn will oppose the UK Uranus for a high-tension jolt in late 2023. At the moment the 2nd house financial Neptune is catching the tr Saturn square at the moment and tr Uranus opposition through 2023. That does suggest heavy pressure on personal finances but will also contribute to a mood of nerve-jangling confusion. Plus tr Saturn conjunct the UK Pluto throughout 2023 and tr Uranus square the 11th house (legislature) Saturn exact from August 2023 onwards – though that will be in force at the moment since all the UK's Fixed planets are reverberating in shock which will tug on that Saturn.
So much for the UK. Not fun but the astrology makes sense which is bizarrely reassuring even if it does not promise instant bliss.
Liz Truss's Term chart does have tr Saturn exactly square the divisive 7th house Uranus now leading to eruptions and crockery-throwing spats. The Fixed Saturn in Aquarius on the focal point of a square to Uranus NN opposition SN lacks adaptability and because it can't or won't bend, it will at one point break. But for once a Term chart is not being illuminating.
  The Conservative Party 9 May 1912 chart is spot on with the Solar Arc Uranus conjunct the Sun exactly now and rolling on for some months – a thunderbolt strikes. Plus the Scorpio Solar Eclipse late this month opposes their Venus bringing an emotional crisis and a feeling of not being loved. With the November Lunar Eclipse conjunct their Sun for an existential crisis.