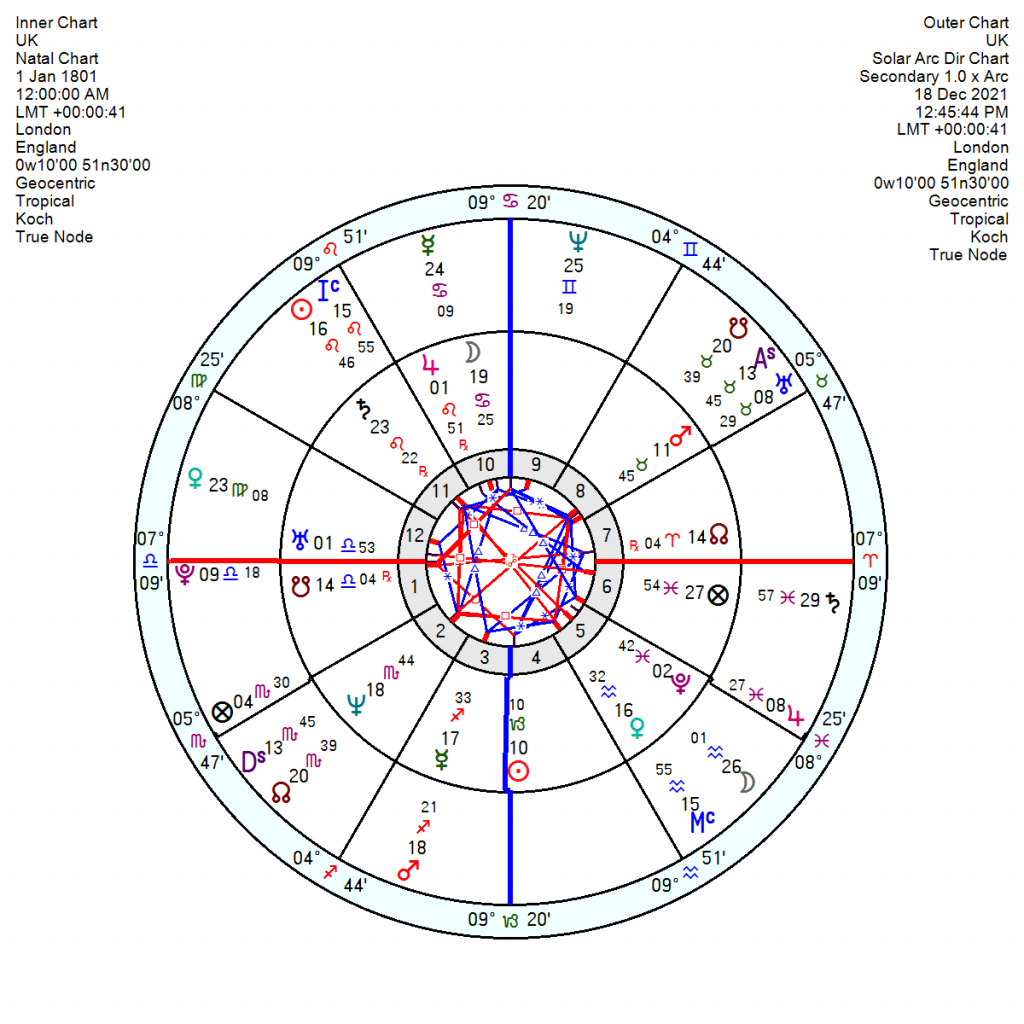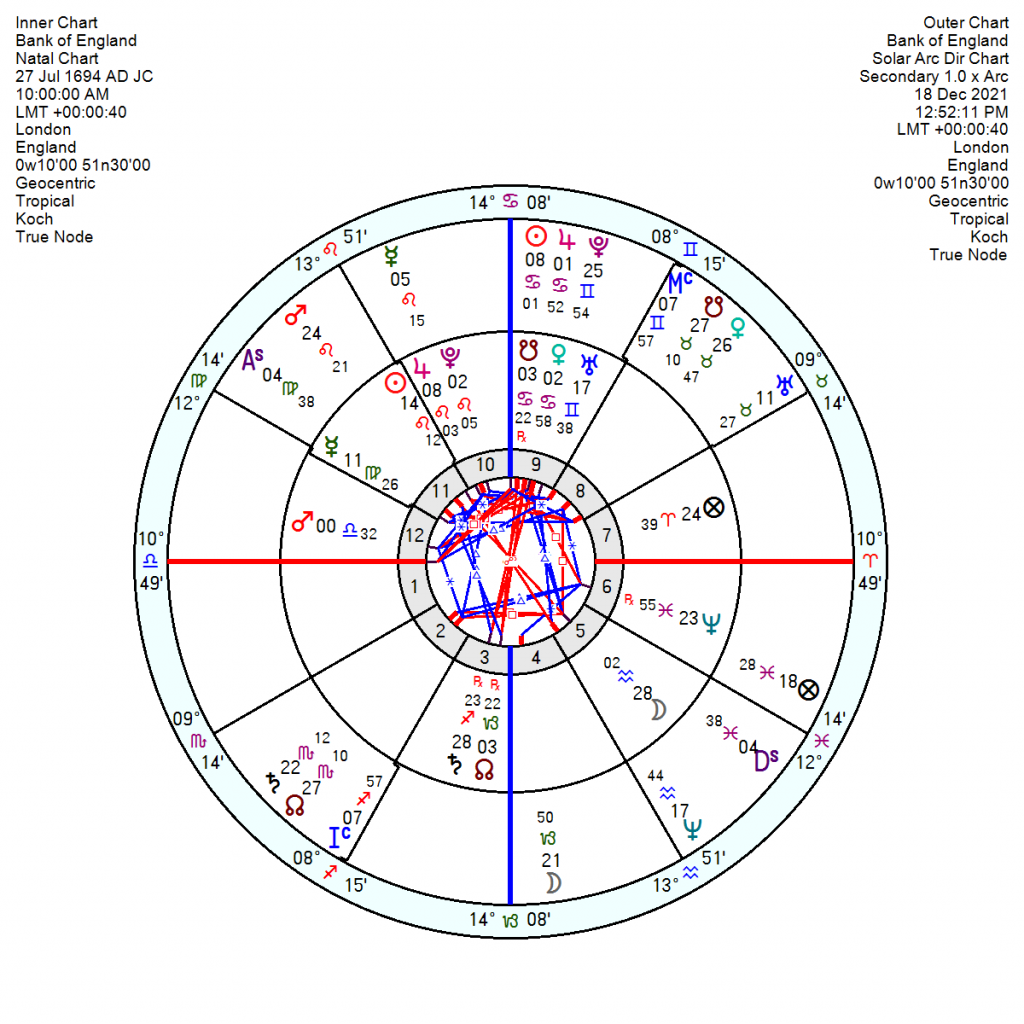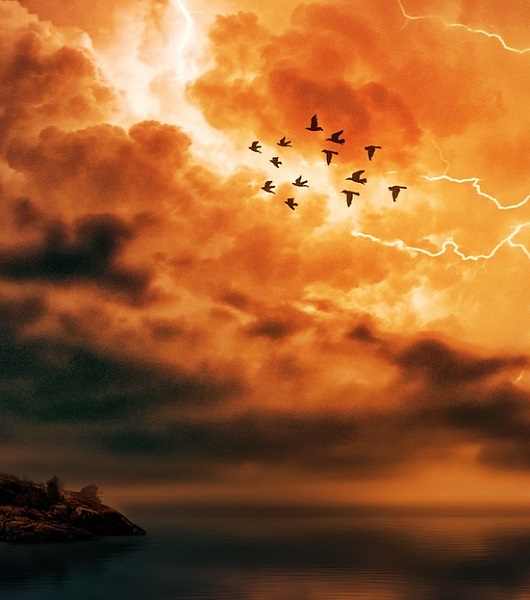 The UK is blundering into 2022 hoping for the best but not quite grasping that life-as-we-knew-it won't return for a while – and not all of it will be the pandemic. With such a fixed chart the country is designed for endurance and continuing along the same track. Uranus, bringer of thunderbolts and lightning, planet of sudden change and disruptor of the status quo, was always going to toss stability and sameness up in the air for several years as it jolted its way round the UK's Taurus, Aquarius, Scorpio, Leo planets from 2021 to mid 2024.
Uranus started its white-knuckle ride in spring 2021 and has intensified this month with the key UK 8th house Mars being battered and bruised by tr Uranus conjunct all month; with the tr Saturn square in the final week of this month raising the tensions further. The 8th house rules financial matters, so economic glitches of considerable proportions will be part of the result. It is also emotional and points to a hidden, slow-burning anger, so the depths of the UK's psyche are being shaken up.
Tr Uranus will return for a final conjunction to Mars through February to mid March.
  But this is only for starters since the UK 5th house investment-ruling 5th house financial Venus and Neptune in the UK 2nd house of personal money are also in for the dampening, deflating effect of tr Saturn in hard aspect from late January to early February, late February to early March and October to mid November 2022. Tr Uranus will square the UK Venus through May, again in December 2022; and oppose the UK Neptune July to mid October.  Both of these Uranus hard aspects linger into early 2023 and it will be spring 2024 before it clears the UK Saturn in Leo, which latter could bring changes to the legislature as well as future prospects. This coming October will be anxiety-provoking and uncertain economically.
   All of these influences are part and parcel of tr Uranus moving through the UK's 8th house until 2027 which will bring  a roller coaster economic ride but will also trigger a deeper transformation in the country's sense of self.
Which isn't to herald the end of times since Uranus comes round every 84 years so the UK has lived through it twice before and survived. It doesn't necessarily suggest the pandemic will last for ever but the economic fall out of the lockdowns and the Brexit hit have yet to be fully recognised.
The late April 2022 Taurus Solar Eclipse will also impact the UK Mars which could trigger a flurry of arguments, protests and may accompany major accidents.
What's to be cheerful about? The empowering, morale-boosting Jupiter/Pluto midpoint will get a lift from tr Uranus mid June to early July, mid October to mid November and April 2023 – which may be sporting triumphs.
The pervasive sense of moving away from a past that is no longer relevant is partly the result of tr Pluto moving through the UK 4th house since 2012 which is when the seeds of Brexit were sown by the EU's intransigence in the face of David Cameron's pleas. It rolls on for the rest of this decade, bringing a slow transformation of internal identity and the foundations on which the UK rests.
Tr Saturn is moving through the UK 5th house until February 2024 which won't make for a light-hearted, party mood; though Jupiter from early 2023 through the UK 7th may help; and better news on the financial front, at least in small ways, will come courtesy of Jupiter through the UK 8th from June 2023 for a year.
  Although the Bank of England chart hints at a truly difficult economic patch in 2023/24 with a trapped, scary tr Pluto trine Mars in 2023/24; an uncertain, worrisome tr Neptune square Saturn in 2024 along with a discouraging slog from Solar Arc Pluto opposition the Saturn; and a jolting Solar Arc Uranus square its Sun.  This may well be the knock on from a global hiccup since other central banks look agitated as well. See previous post 10 September 2021.
There is a risk in the present climate of confused panic to catastrophise and imagine the worst. It won't be comfortable but it won't be terminal. Change is never easy for individuals with heavy concentrations of Fixed planets and it is even more so for a country. This is the breaking-eggs stage of making the new omelette which will take several years but a new day will dawn down the road. Transitions always involve a step backwards before progress comes. Worth remembering in personal turnarounds.