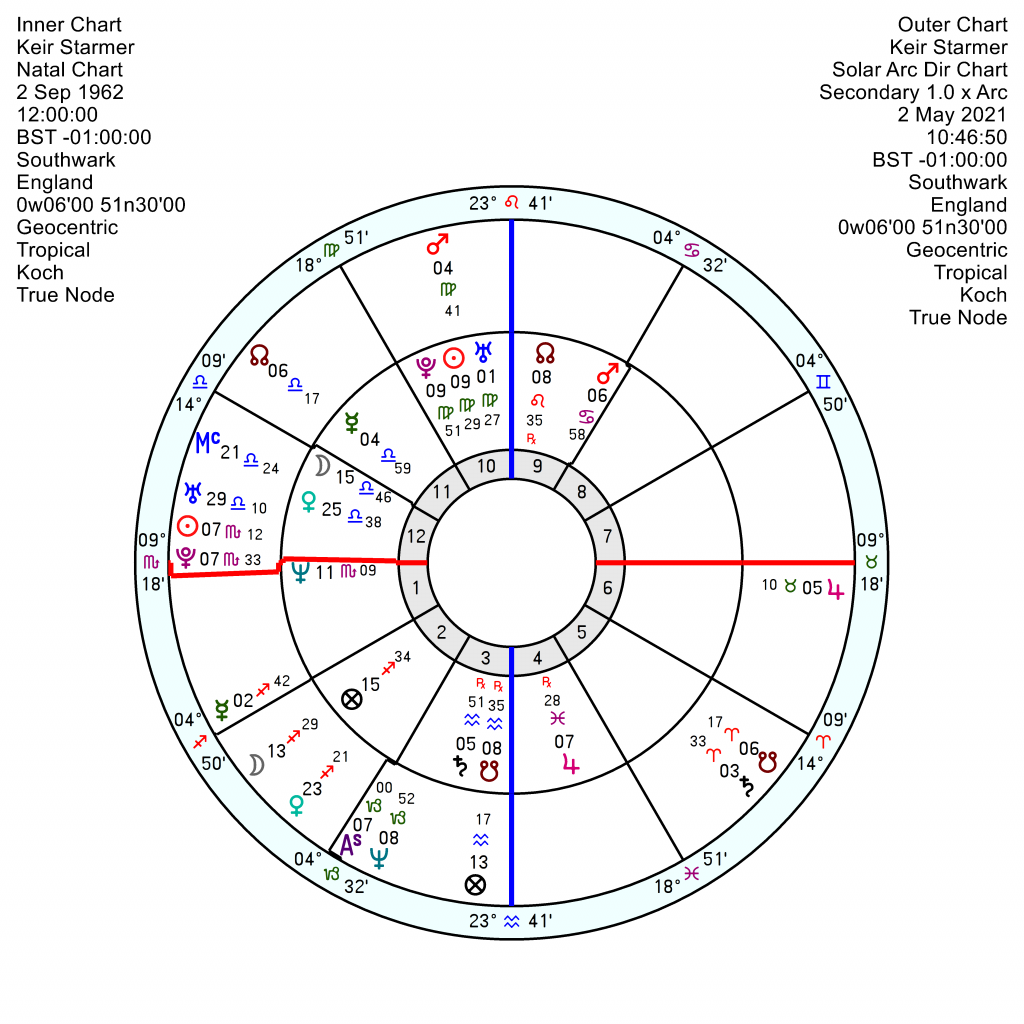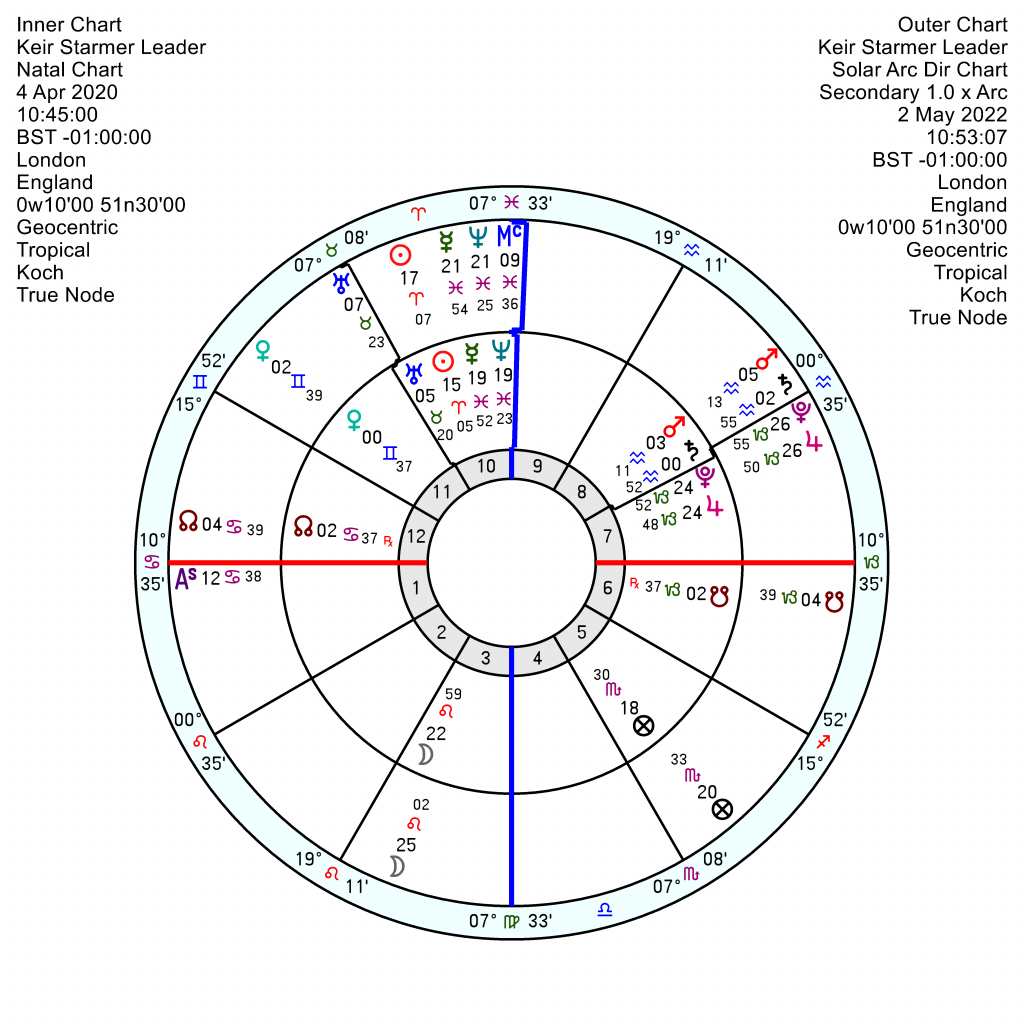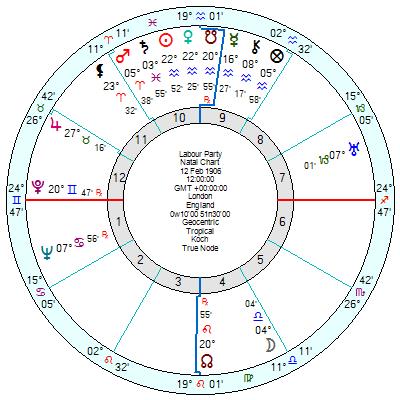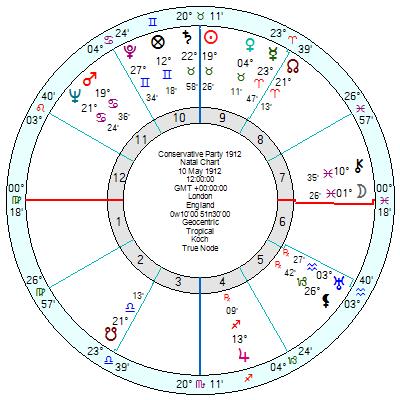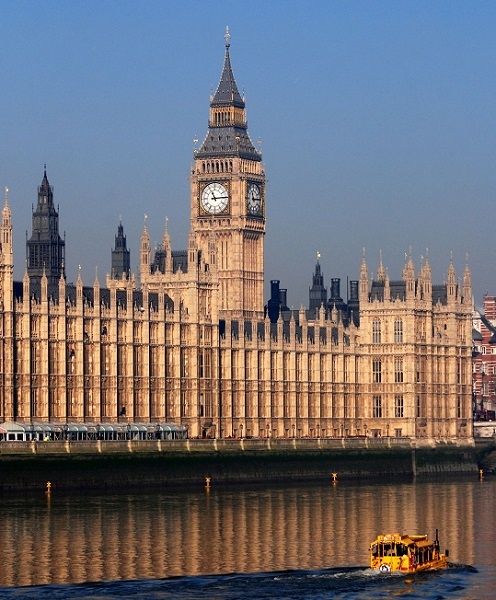 Polls are indicating a lessening in support for Boris Johnson and the Conservatives days before a raft of council and mayoral elections, a key parliamentary byelection in Hartlepool and elections to the Welsh Senedd and the Scottish parliament. The sleaze and dishonesty allegations are beginning to bite though Johnson is still seen as a more effective leader than Keir Starmer because of the vaccine roll out.
Caveat – polls almost invariably get it wrong. But Starmer's dull persona and no visible-policy strategy is doing Labour no favours even in the face of gross impropriety in No 10.
Born 2 September 1962 Starmer has a self-protective Water Grand Trine of Mars trine Neptune trine Jupiter in Pisces, formed into a Kite by Jupiter opposition an influential and innovative Sun Pluto Uranus in Virgo – so he doesn't lack talent. But his Neptune is on the focal point of a Fixed T Square to a Saturn opposition North Node. He will have a vision for a better society but too much Neptune can blunt the edge of decisiveness needed to push ambitions ahead.
His Neptune is catching the highly-strung opposition from tr Uranus over this election and will be jittered and jangled all year with tr Saturn in square as well. Over this week he has tr Neptune opposition his Mercury/Pluto midpoint as well which will be undermining, leaving him lost for effective arguments.
  Where his leadership chart bucks up will be from mid this August to late November with tr Pluto conjunct the Jupiter but he was elected at a rotten time with a restrictive Mars Saturn conjunction in the 8th which comes to exact across mid 2022 which doesn't sound encouraging. 2022 looks an exceptionally tough year for his leadership with one upbeat Jupiter probably not making enough headway against a raft of negative influences.
I'm never that convinced by political party charts but for what its worth the Labour Party 27 February 1900 chart looks upbeat at the same time as Starmer's leadership chart – mid August to late November, though that's only one ray of sunshine amidst a run of pressured and swampy transits for the next two years.
The Labour Party 12 February 1906 chart does have an upbeat tr Pluto trine the Jupiter from February 2022 on and off to late 2023 which will bring a modicum of success in the midst of considerable setbacks.
  Boris Johnson's relationship chart with the Conservative Party, 10 May 1912 chart, is running out of enthusiasm from 2022 onwards so he may not deliver what they expect.
  2023/24 look highly disruptive years for both the LP and the Tory Party charts with hard tr Uranus aspects to the Sun Venus and Sun Saturn respectively. So both parties may be sent back to the drawing board for a redesign as the next election approaches in May 2024 if it sticks to schedule.  
Now that I think about it, that's when tr Uranus will square the UK's 11th house Saturn which rules the legislature for even more upheavals, tensions and forced change.