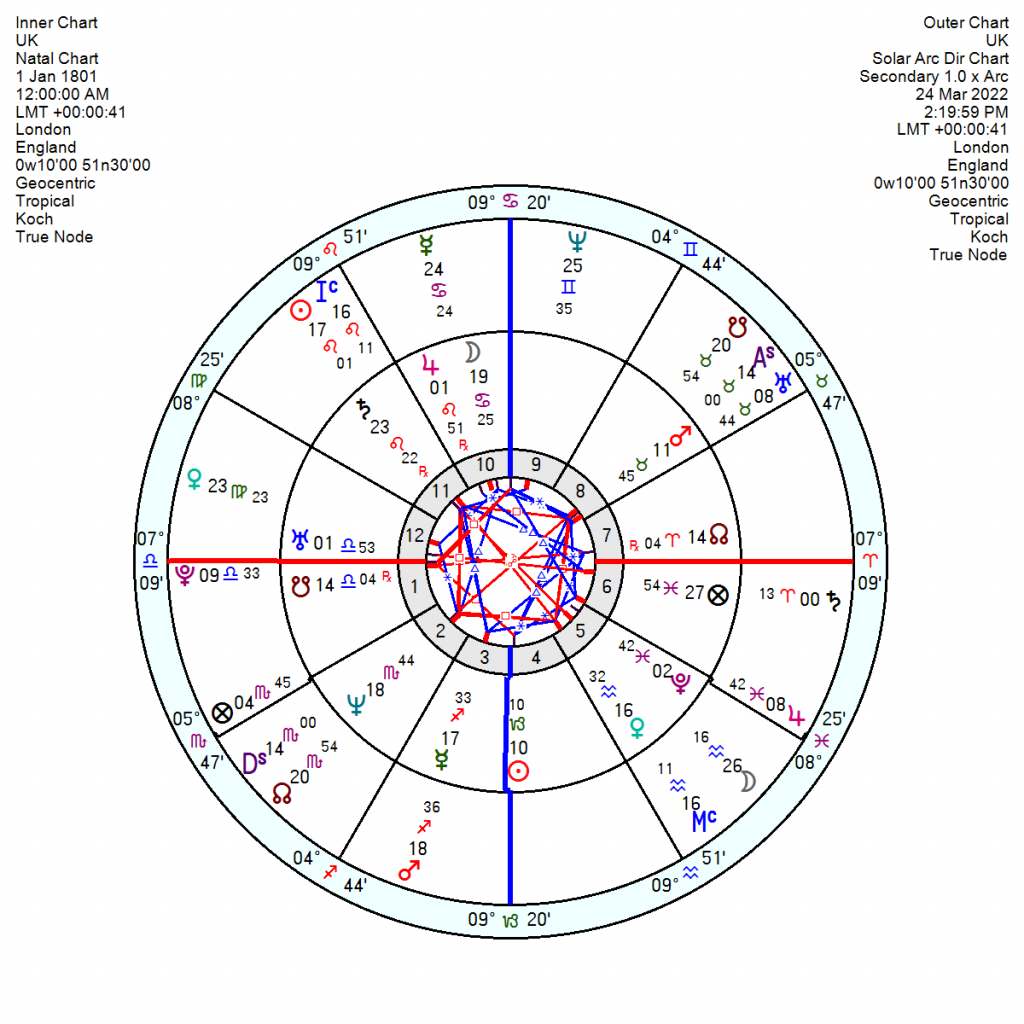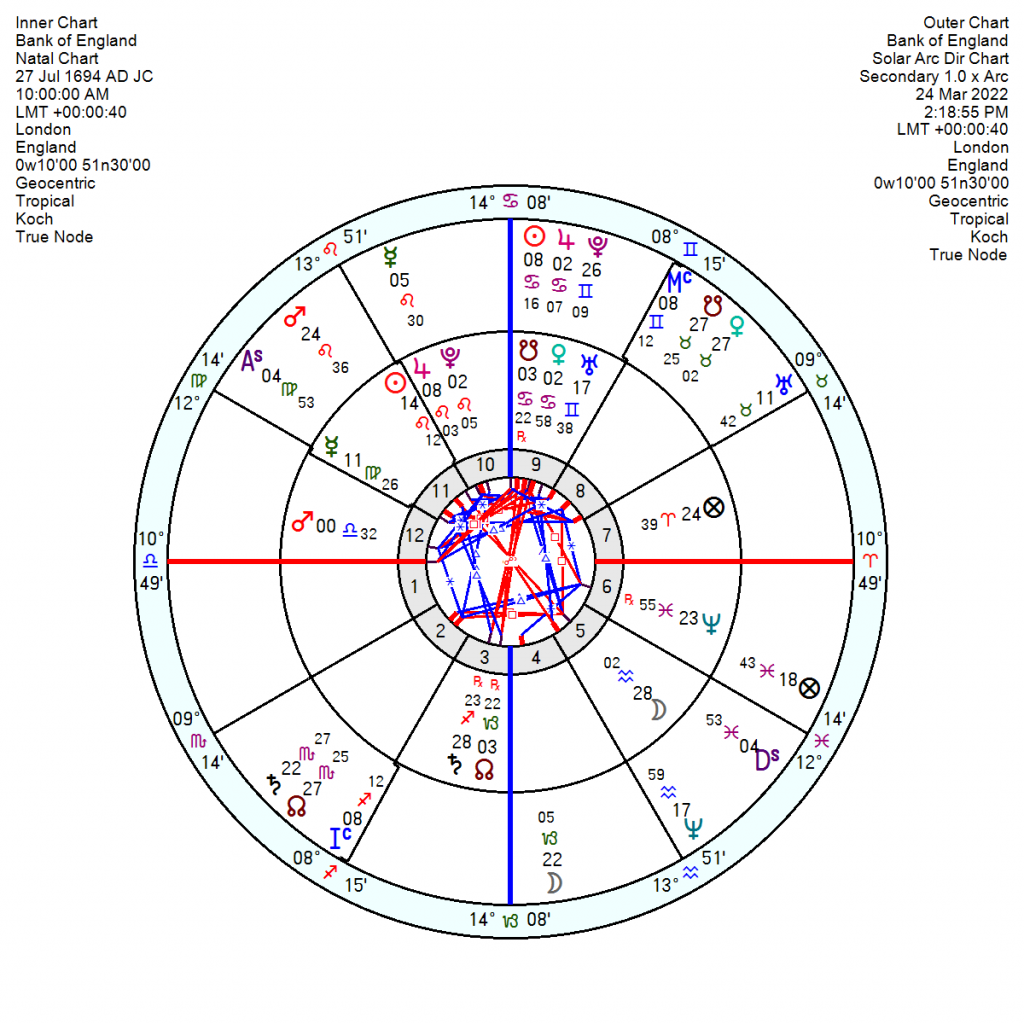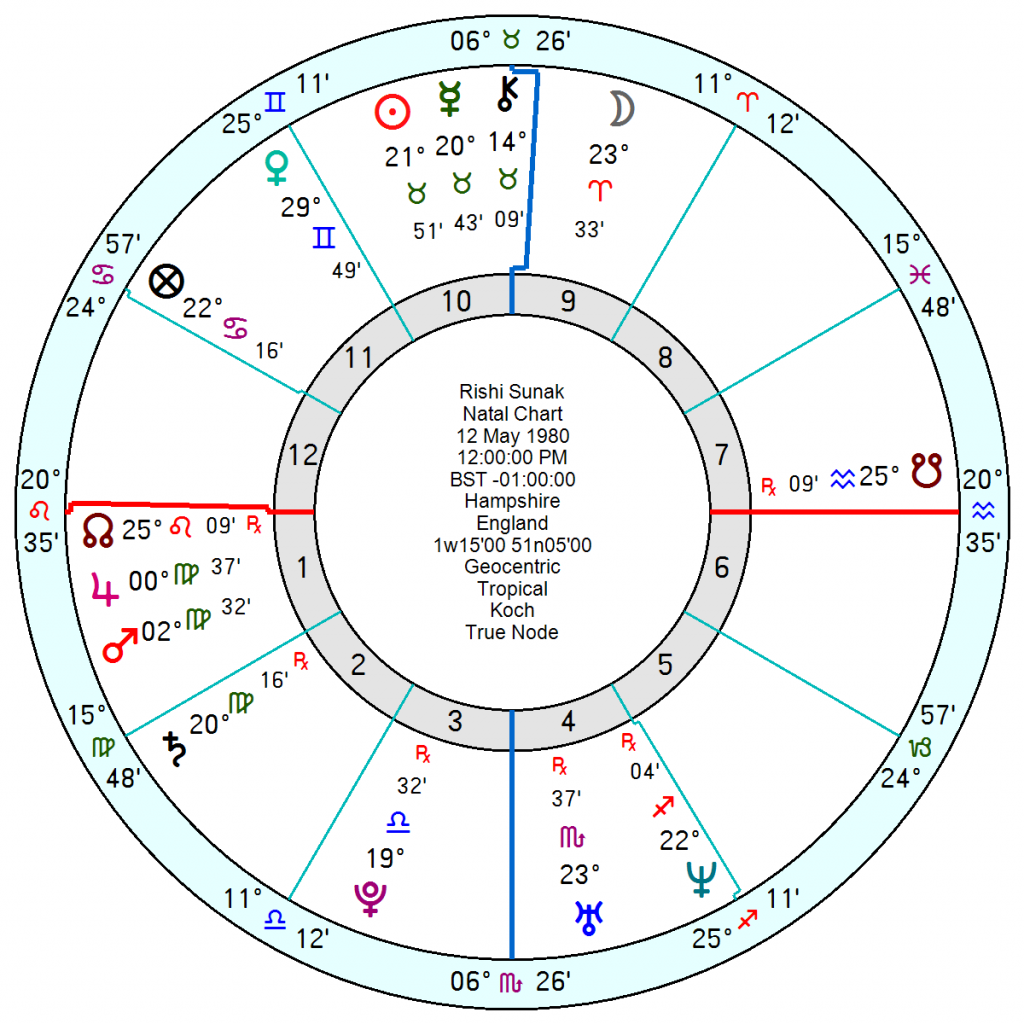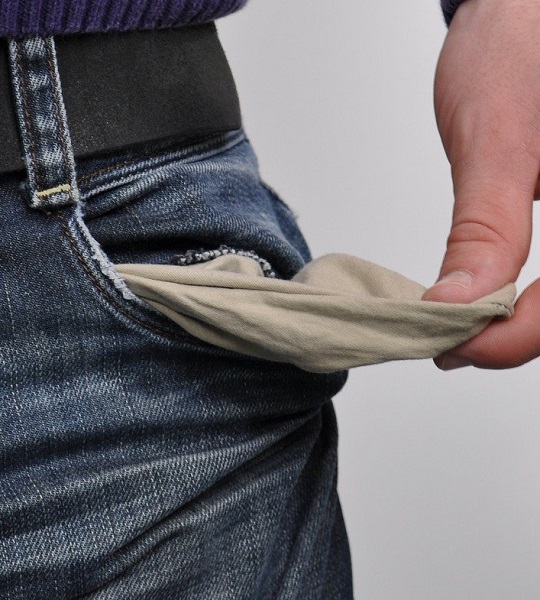 A stolid Taurus Chancellor with a meticulous Saturn in Virgo is not a great match for a harum-scarum Prime Minister with the attention-span of a gnat and less interest in economics except when it comes to handing out largesse from the money-tree.
Yesterday's budget seems to have pleased no one with sensational headlines about a historic plummeting of standard of living in the coming months and several years ahead. Which fits the astrology – see previous post of December 19 2021. This is a reprise with not much of cheer to add.
[Post-budget headlines have been damning. The worst fall in the standard of living since records began. The highest level of taxation since the 1940s. More than a million people to fall into absolute poverty. Nothing for the out-of-work and disabled. Food and energy prices spiralling out of control.]
Transiting Uranus is rattling through the financial 8th house until 2027 which will be erratic and unpredictable, not necessarily all negative but unstable economically. This year Uranus squares the financial Venus and opposes the financial Neptune for high anxiety and upsets.
The blocked Solar Arc Pluto square the UK Sun, exact in 8 months, will not add to the cheer of the nation. Though it may not be financial. That is followed by a Solar Arc Saturn opposition the UK Uranus, exact in 18 months which will bring disruptions, and tensions, again not necessarily focussed on economics. And the Solar Arc Sun will square the 2nd house financial Neptune late 2023/into 2024 which will bring financial disappointment.
Tr Uranus will square the 11th house UK Saturn from July 2023 to early 2025 which will shake up the legislature and may bring pressure for significant changes.
Tr Pluto square opposition the UK Jupiter in 2023/24 will bring a confident push but there's still the biggest financial jolt to come in 2025 with the Solar Arc Uranus conjunct the 8th house Mars.
It won't be the end of the universe but will be a rocky and swampy ride. Not that any country looks exactly cheerful through the same period but it will be a notable time of historical change for the UK.
The Bank of England chart shows up 2023 to 2025 as the road-blocked and high-stress years.
Rishi Sunak, 12 May 1980, will find his hopes won't work out this year and next with tr Pluto square his Mars/Neptune midpoint; with gloom through 2023 from tr Saturn in Pisces opposition his Jupiter Mars and upheavals also in 2023 from tr Uranus conjunct his Sun Mercury and opposition his Uranus. He may decide discretion is the better part of ambition and bale out to a financial institution.
  Much is made in the media of his embattled relationship with the PM  – which is certainly riddled with doubt and suspicion with a composite Sun Mercury opposition Neptune Saturn. But there's not too much showing in the near future without Sunak's birth time.
Add On: Brexit chickens coming home to roost.
UK goods exports have underperformed the rest of the world – as Brexit limits UK trade performance. UK goods exports fell 14 per cent in the three months to January compared with the same period in 2020, in contrast to the global average of an 8.2 per cent rise over the same period.
"While most other advanced economies have seen a strong recovery in trade, UK exports remain below pre-pandemic levels."
The OBR noted that "none of the new free trade agreements or other regulatory changes announced so far would be sufficient" to have a material impact on its forecasts for UK trade. It has estimated that leaving the EU would result in the total UK imports and exports being 15 per cent lower than if Britain had remained part of the EU.
UK exporters will continue "to be slowly cut out of global supply chains, due to the extra administrative burden for EU firms of sourcing goods from Britain".
https://www.ft.com/content/021c629d-5853-4111-9600-ab5f0eb65a35