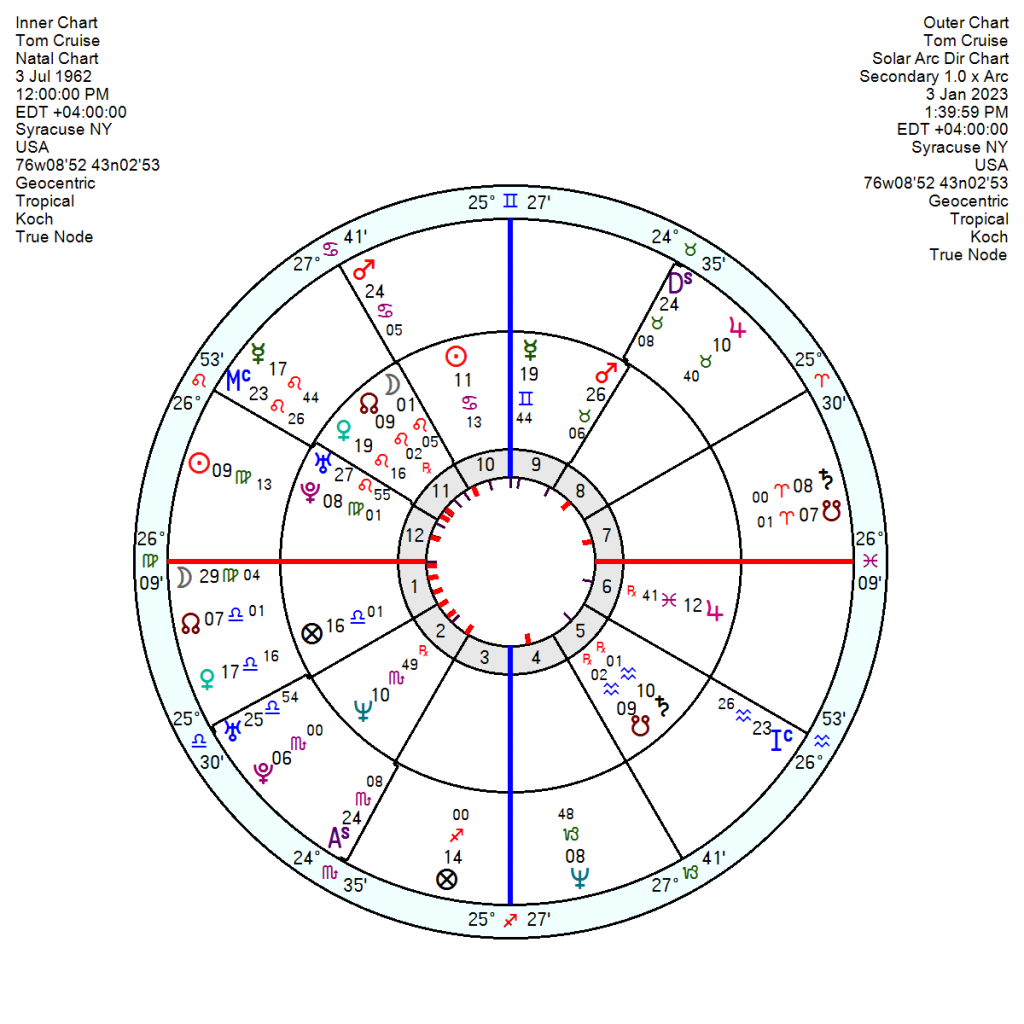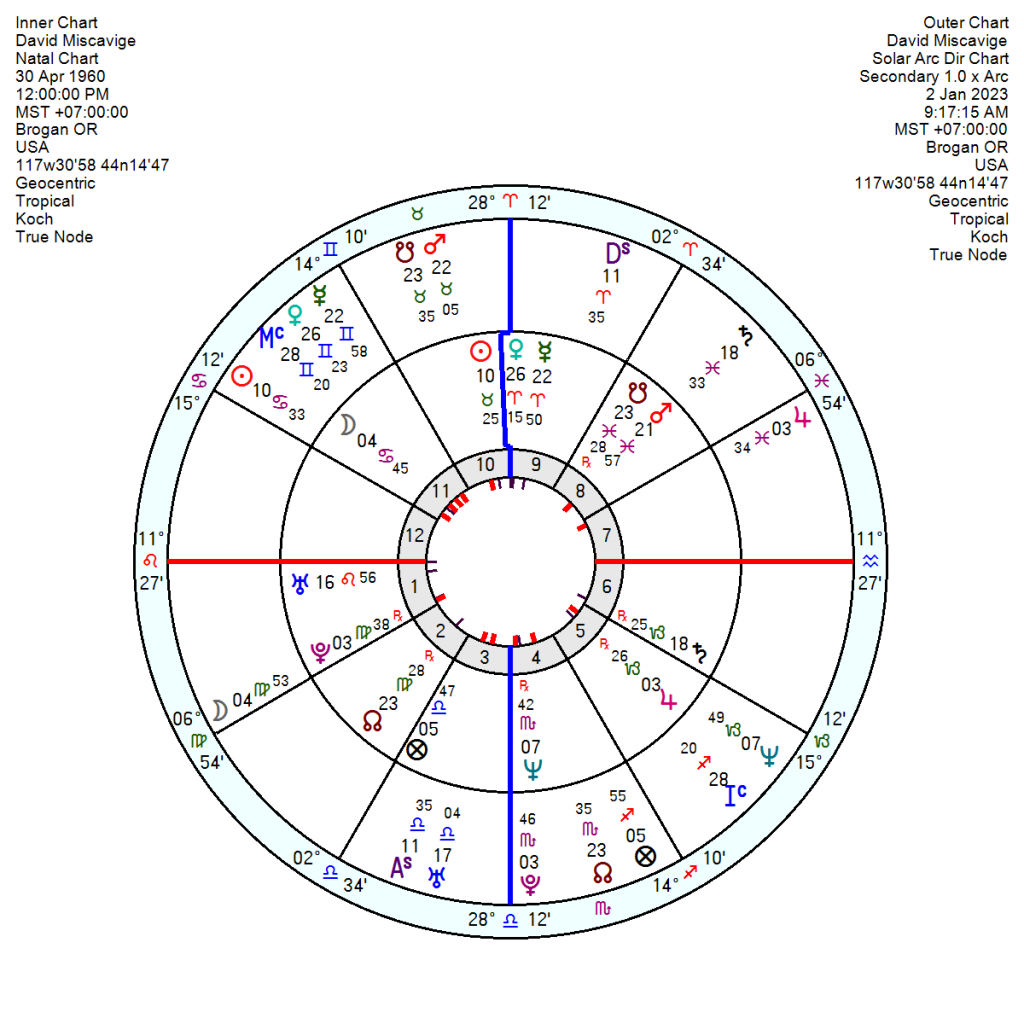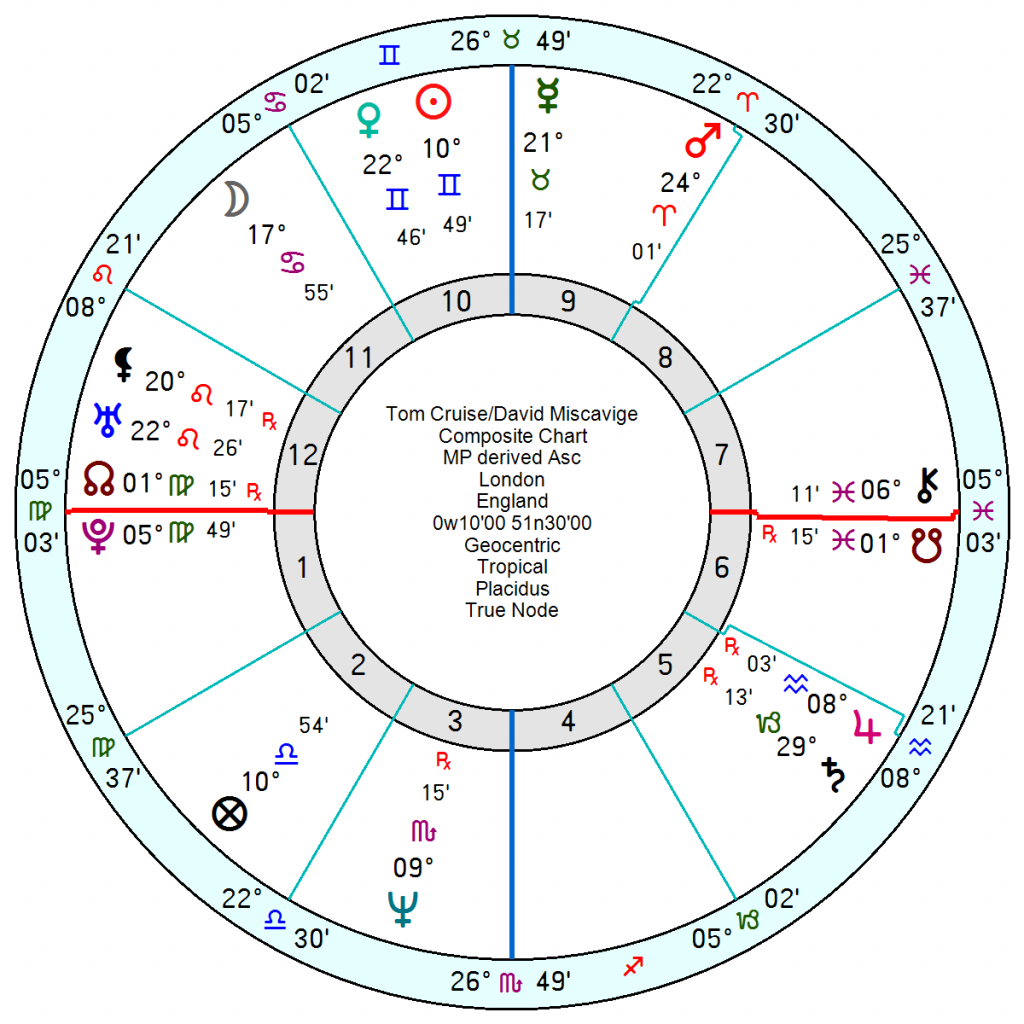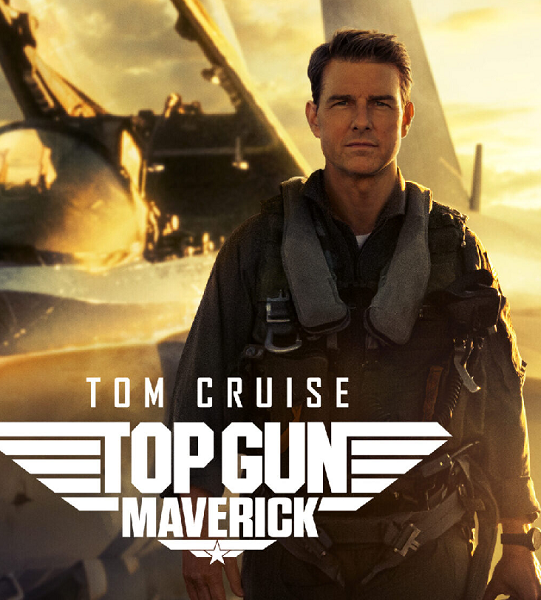 Tom Cruise is still hitting the hot spot at sixty with yet another box office blitz in Top Gun: Maverick which is his highest-grossing movie yet. He has been going strong since his breakthrough in the 1980s with the original Top Gun, and The Color of Money, Rain Man, Born on the Fourth of July and then in the 1990s he starred in A Few Good Men, The Firm, Interview with the Vampire and Jerry Maguire. Since then, he has largely starred in science fiction and action films – six of the hugely successful Mission: Impossible films amongst others. All of this despite his involvement with the scandal-ridden Scientology Church which has had no impact on his popularity.
Born 3 July 1962 New York, without birth time, he is a Sun Cancer in a creative, self-protective Water Grand Trine to Neptune trine Jupiter opposition Pluto – making influential and super-confident Pluto his driving planet. His filmic (and evasive) Neptune is also in an imaginative though can-be-neurotic square to Saturn in Aquarius opposition a 'leadership' North Node in Leo. He's well designed for the fantasy business. And his action-man tendencies come from a heavyweight Mars in Taurus in an adventurous and adrenaline-junkie square to Uranus. At the moment his Solar Arc Jupiter is opposition his Neptune giving his movie ambitions a tremendous boost.
2024 may be less buoyant with tr Saturn in Pisces undercutting his Jupiter opposition Pluto; and 2025/26 will be slow going with his Solar Arc Saturn square his Sun.
 His best buddy David Miscavige, who took on the mantle from Ron Hubbard to run the scientology business has seemingly disappeared out of sight as lawyers have been trying for four months to serve a federal trafficking suit brought by former members but have failed to locate him. Three ex-Scientologists refer to repeated sexual assault of children by senior Scientology officials, and allege human trafficking, forced labor, and other forms of child abuse.
Miscavige, 30 April 1960 Brogan, OR, is a Sun Taurus with an Earth Grand Trine of Sun trine Pluto trine Jupiter formed into a Kite by Sun opposition Neptune – materialistic, a good businessman, super-confident with Neptune in Scorpio as a driving planet which covers the spectrum from spirituality to outright cons. He also has a Yod onto wayward, maverick Uranus which will be rattled up mid this March onwards with tr Uranus square his Uranus and more so by 2025/26, potentially pushing his life onto a different track.
He'll face some jeopardy from this June; though his greatest trials will come in 2024 to 2026 with his Solar Arc Uranus square his Saturn and his Solar Arc Saturn conjunct his Mars which will be a considerable setback.
It's a highly controlling and possessive relationship with Cruise with the relationship chart having a composite Sun square Pluto though the Sun is also trine Jupiter so reassurance and morale-boosts are included. But there is also an irritable, resentful composite Mars square Saturn which usually occurs in a one sided relationship where one partner has to suppress their identity to make it work. That has been under strain over the past two years and more so through 2023/24 with tr Pluto in hard aspect. Be interesting to see if any cracks show.