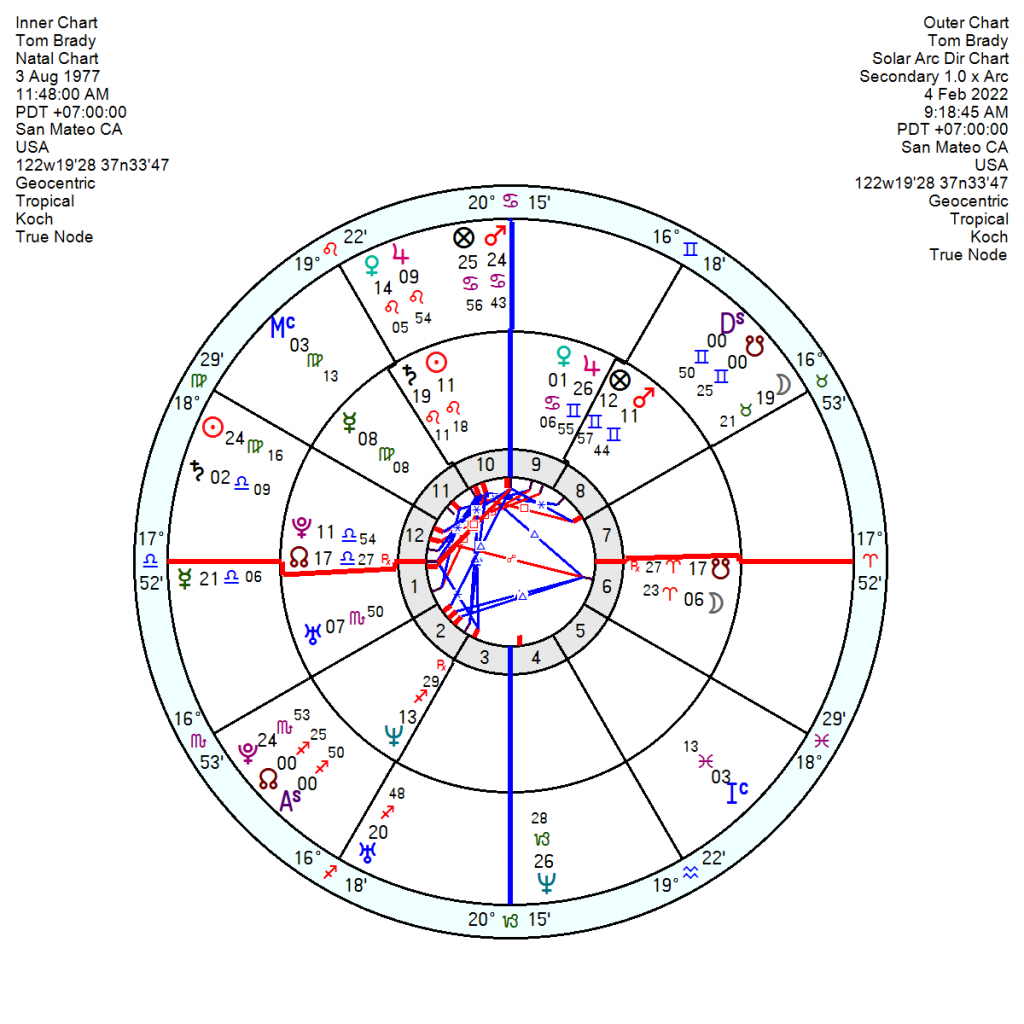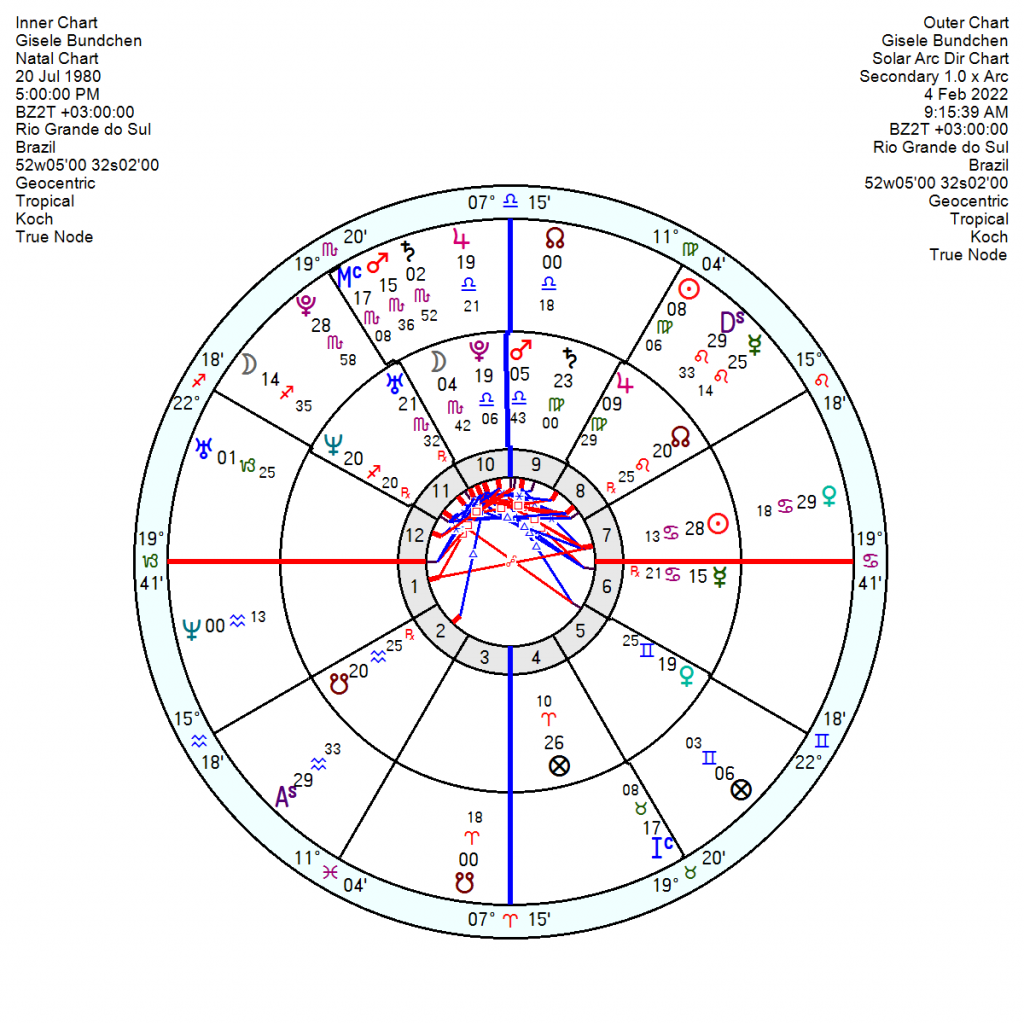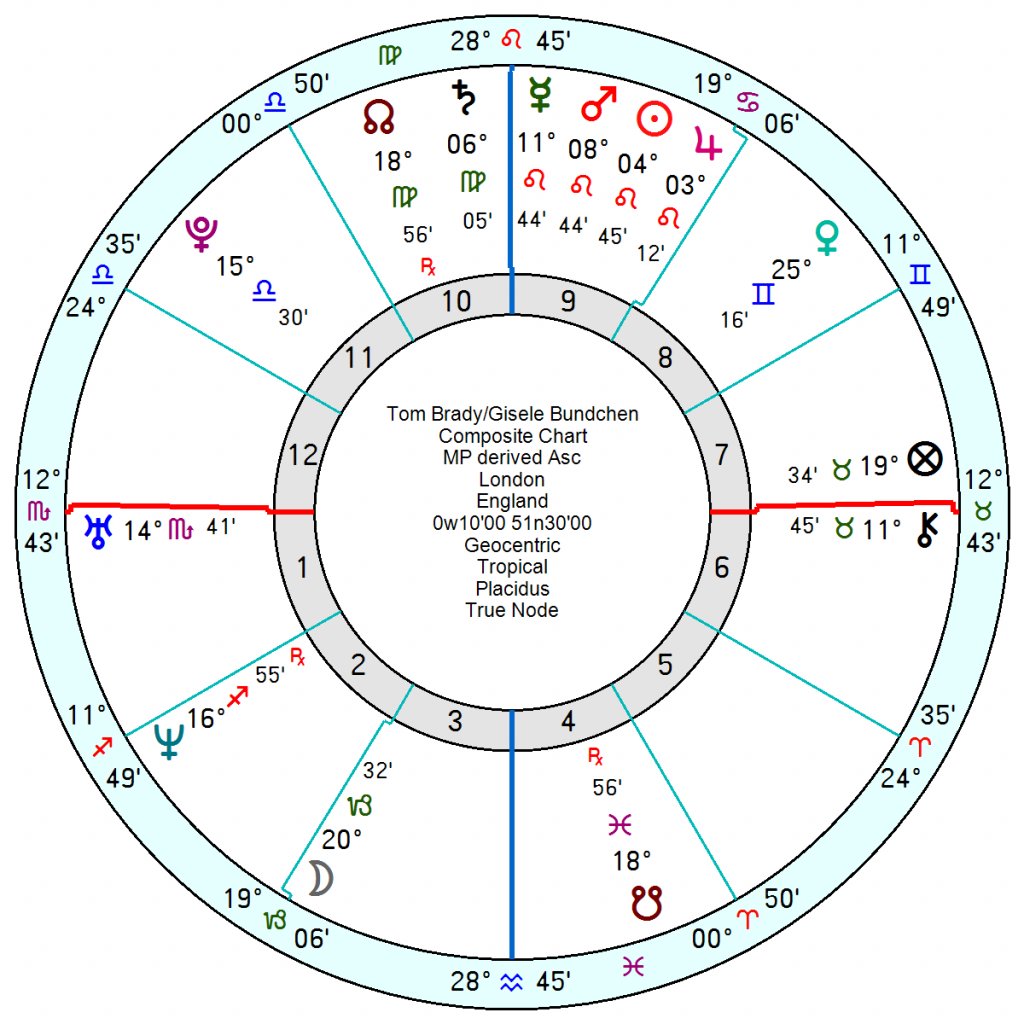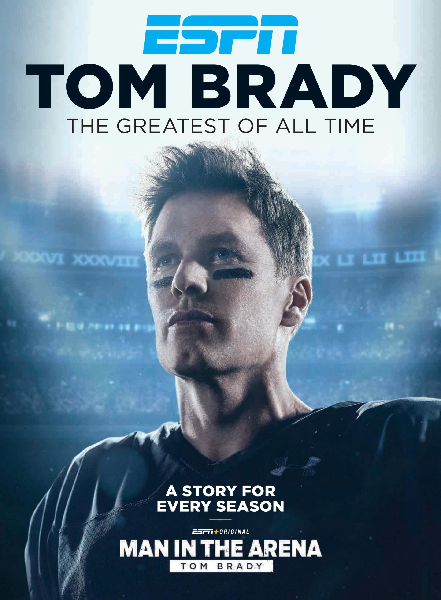 Tom Brady, the American football quarterback, whose name is synonymous with his sport, has announced his retirement after a 20 year career, seven Super Bowls and every quarterback record in the book. He said he no longer wanted to give 100% commitment to the game to pursue other interests so is retiring at the top of his game. He is building a new mansion with his wife model Gisele Bundchen (reportedly worth a combined $650 million) in the exclusive Indian Creek Island on Miami Beach only doors down from Ivanka and Jared Trump.
Brady was born 3 August 1977 at 11.48 am San Mateo, California and although slow to start in his sports career had a dogged perfectionist streak which saw him battling to the top. He has an ambitious 10th house Sun conjunct Saturn on the cusp of his 11th. That Saturn is interesting since although it will fuel his need to be important he has also foregone top fees to ensure his team mates got their fair share of the budget.
He also has an inspirational and entrepreneurial Fire Grand Trine of his Leo Sun trine Neptune (surprisingly common amongst athletes) trine an Aries Moon. This is formed into two Kites by Moon opposition Pluto and Neptune opposition an 8th house Mars. He has a super-complicated, highly talented and very driven chart.
His wife Gisele Bundchen, the top earning model up to 2017, is reputably even wealthier than Brady. She was born 20 July 1980 5pm Rio Grande do Sul, Brazil, and has two children with him and looks after a third from a previous relationship of his. She has a sociable 7th house Cancer Sun square a controlling and influential 10th house Pluto with her ambitious Mars also conjunct her Midheaven. She has a light-hearted Venus in Gemini in an ethereal opposition to Neptune and a seductive trine to Pluto.
It doesn't look the most intuitive match with Brady's Saturn falling in her 8th conjunct her North Node and his Pluto conjunct her Midheaven – Saturn would cut down on warmth and bring hard lessons with the Node involved and he'd be fairly controlling as well. But her Sun is in his 10th which would boost his reputation though her Pluto is conjunct his Ascendant so she'd be keen to control his image. Her intense Scorpio Moon is conjunct his Uranus and his Aries Moon is opposition her Mars both of which would be ratchety and require space. They would never have survived together in a nine-to-five suburban existence for sure, but their pressured schedules individually which would keep them apart a good deal of the time would help.
Their relationship chart does have a morale-boosting composite Sun, Jupiter, Mars, Mercury conjunction so they'll have kept afloat on sheer exuberance and their respective success; but there will have been explosive moments with the composite Mars Mercury square Uranus, sextile Pluto and trine Neptune.
He already has business interests in sporting products and has just branched out into fashion. Tr Pluto moving through his 4th could be domestically unsettling but may be soaked up in the new house they intend to build from scratch. He does look on edge for the next few months, February especially, with unforeseen disruptions – and his focus will be on his finances for the next two years. It won't all go to plan with a major obstacle slowing him to a halt when his Progressed Mars squares his Pluto in two or three years but before that he'll be on a high.
  If anything she looks more stressed ahead with tr Saturn moving through her low profile First Quadrant into and through her chart area of personal finances for two years ahead.  Tr Pluto will oppose her Sun from this March, on and off till late 2023; and tr Neptune will oppose her Saturn this year for uncertainty and anxiety. With a career-stopping Solar Arc Saturn conjunct her 10th house Moon by 2024.
But that could be from various factors not all connected to his retirement. Though it will be a challenging transition since he's renowned as being obsessive.