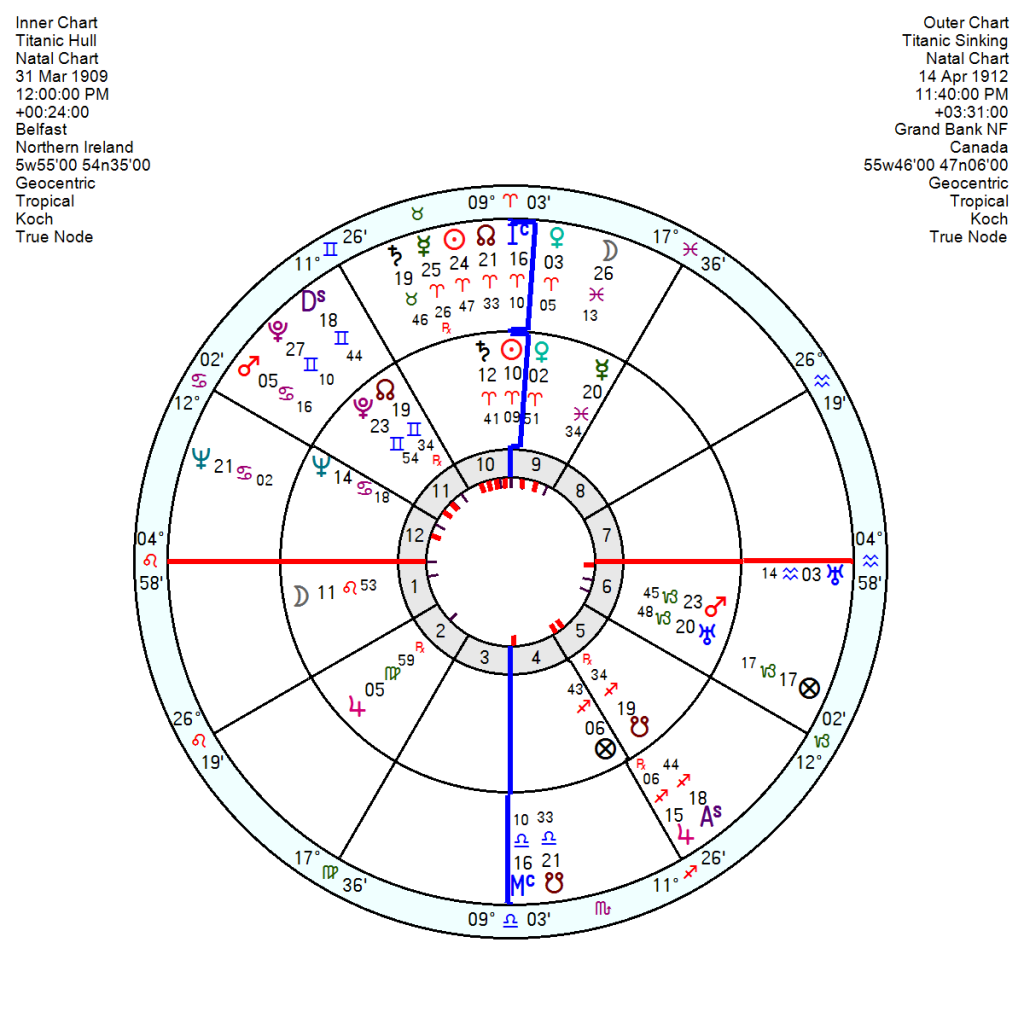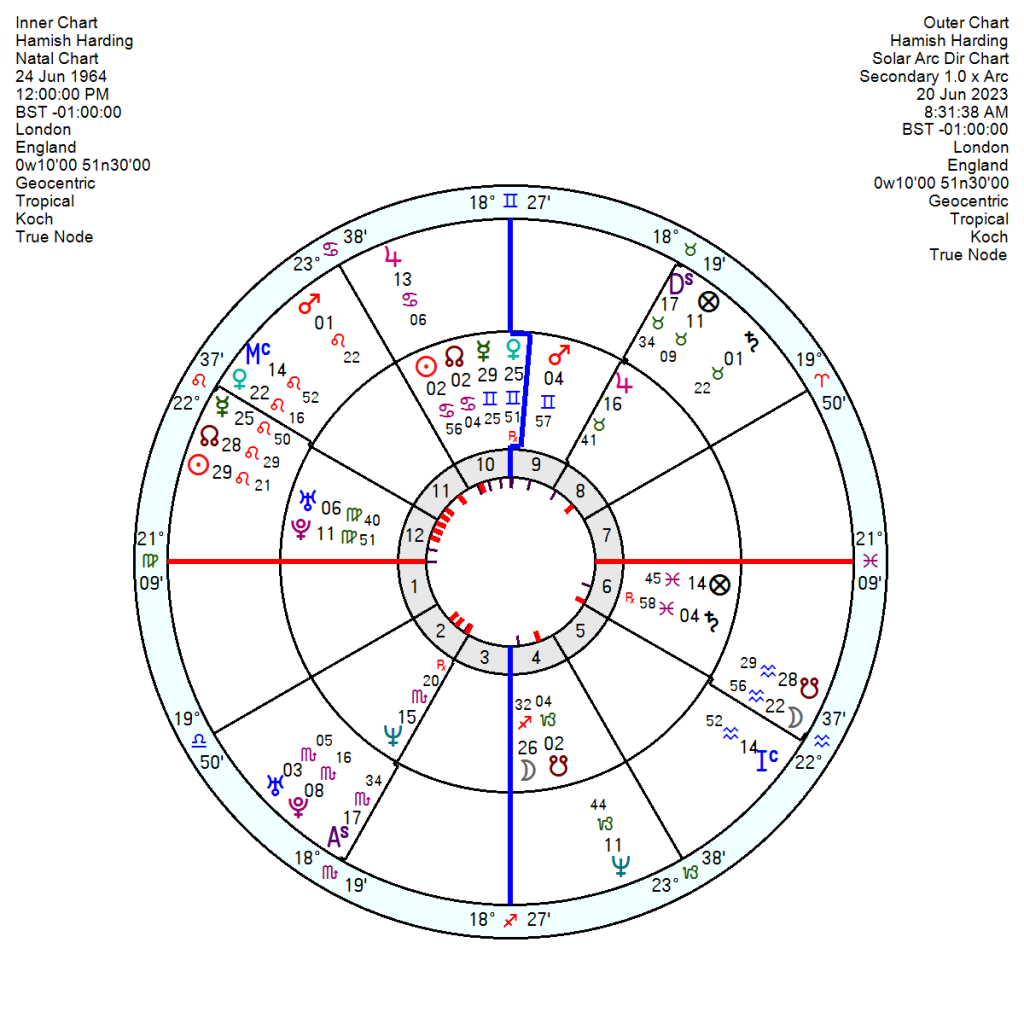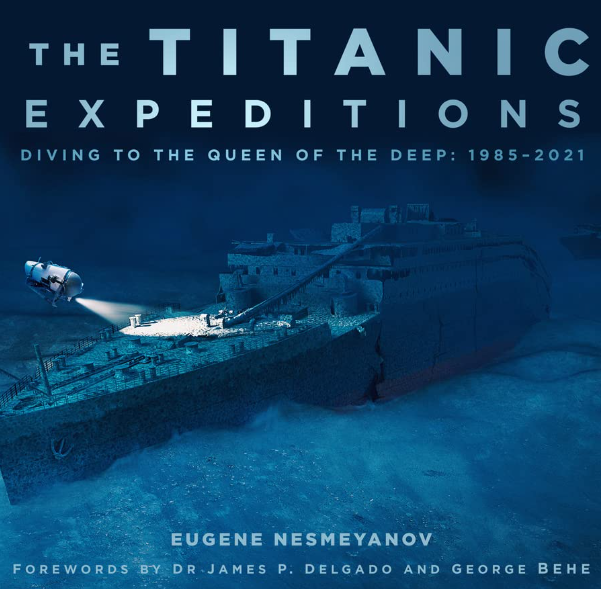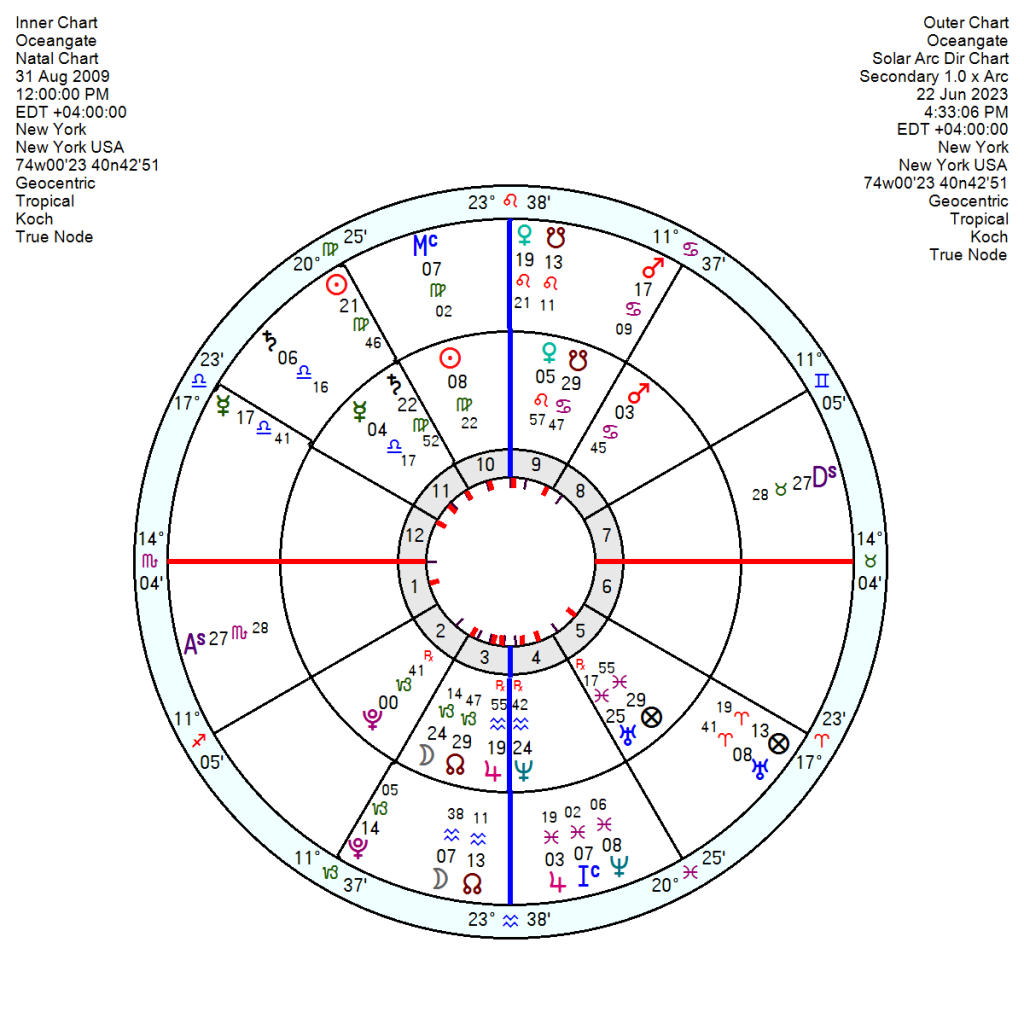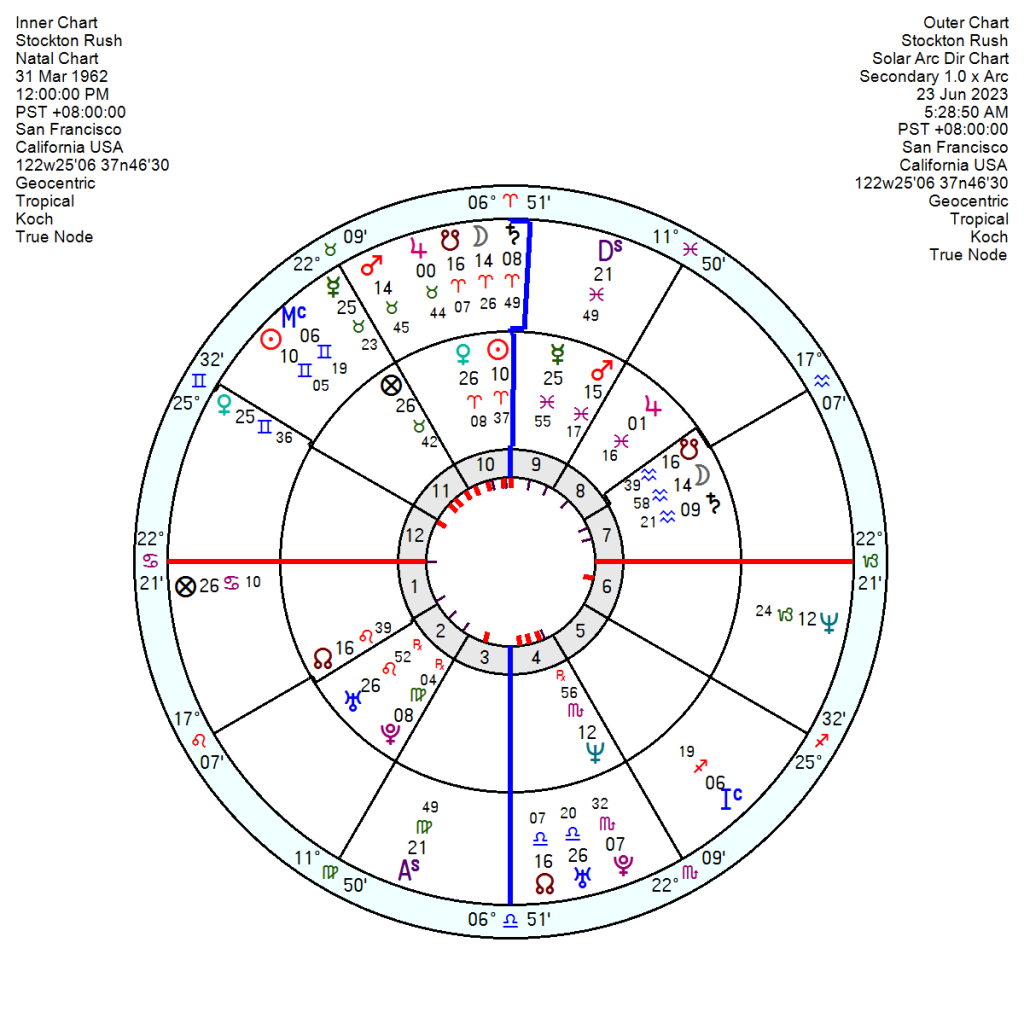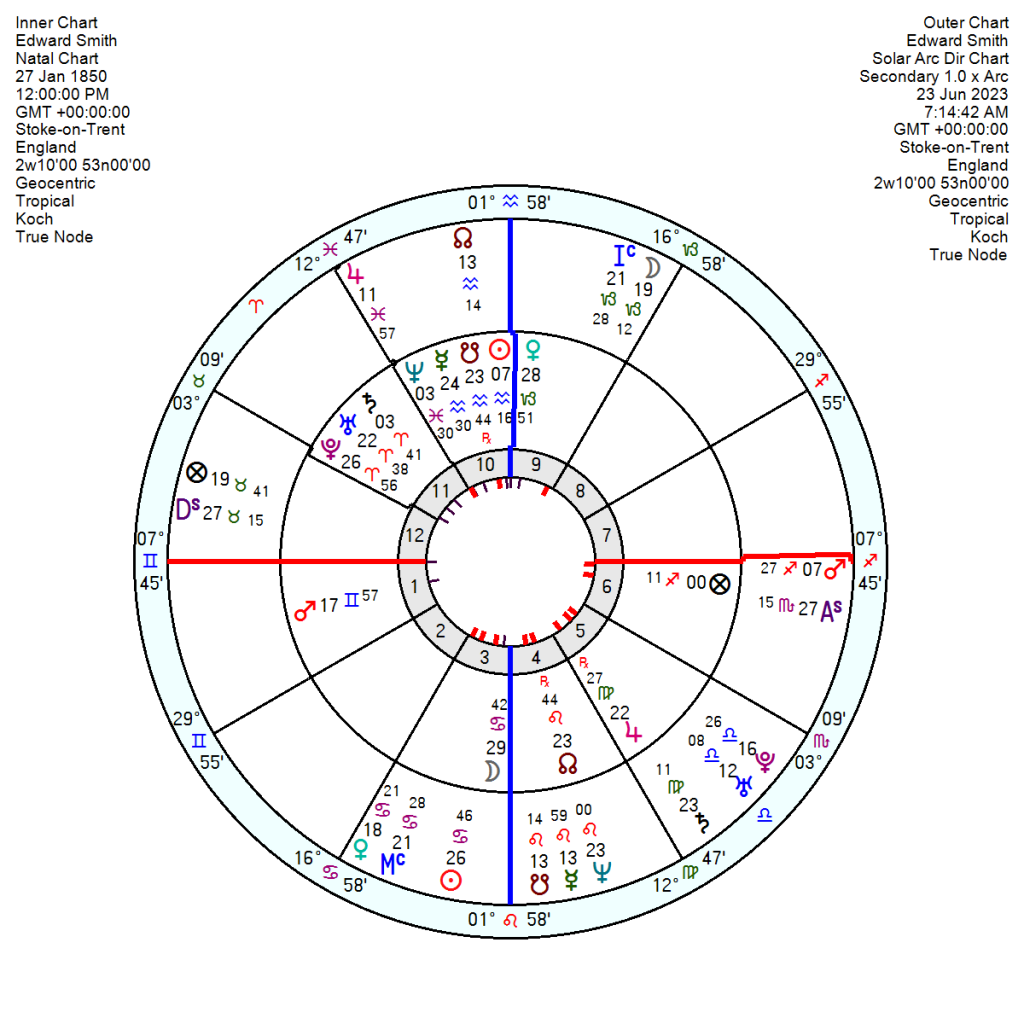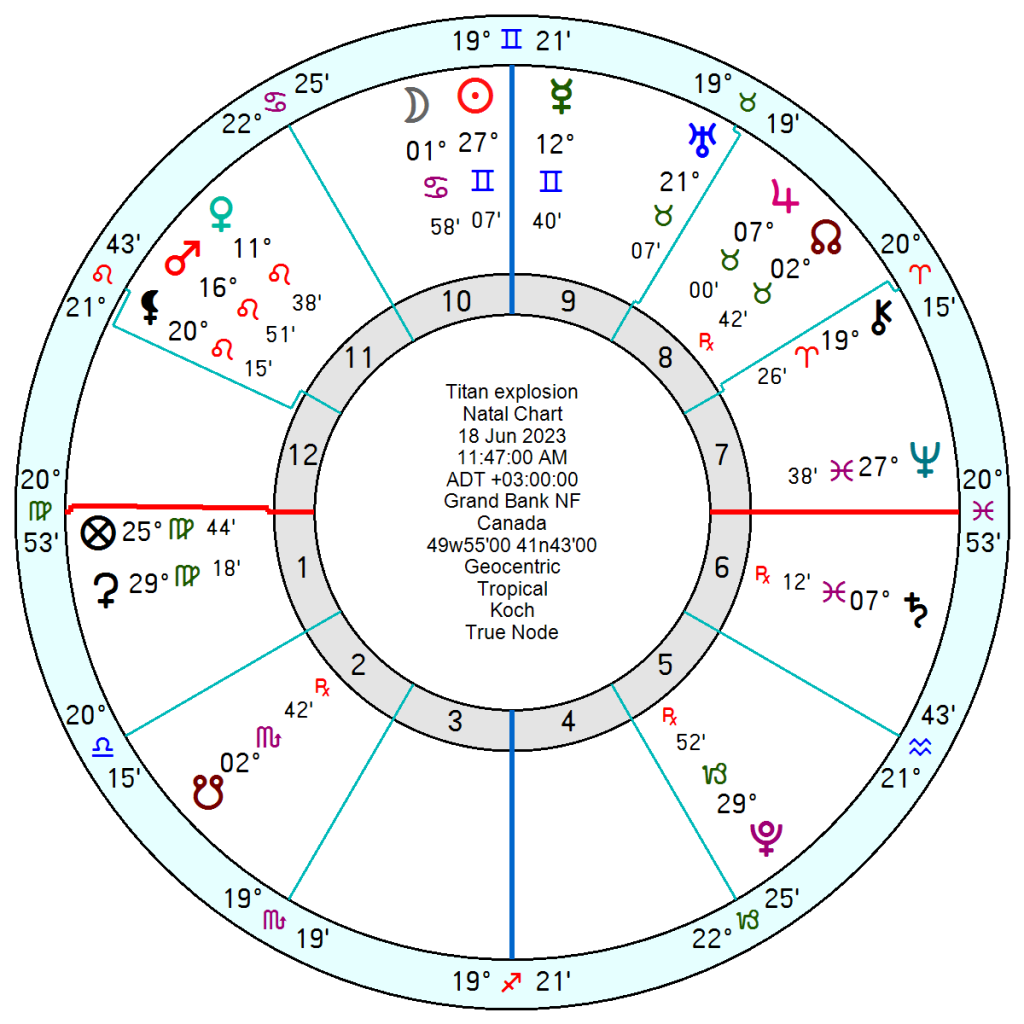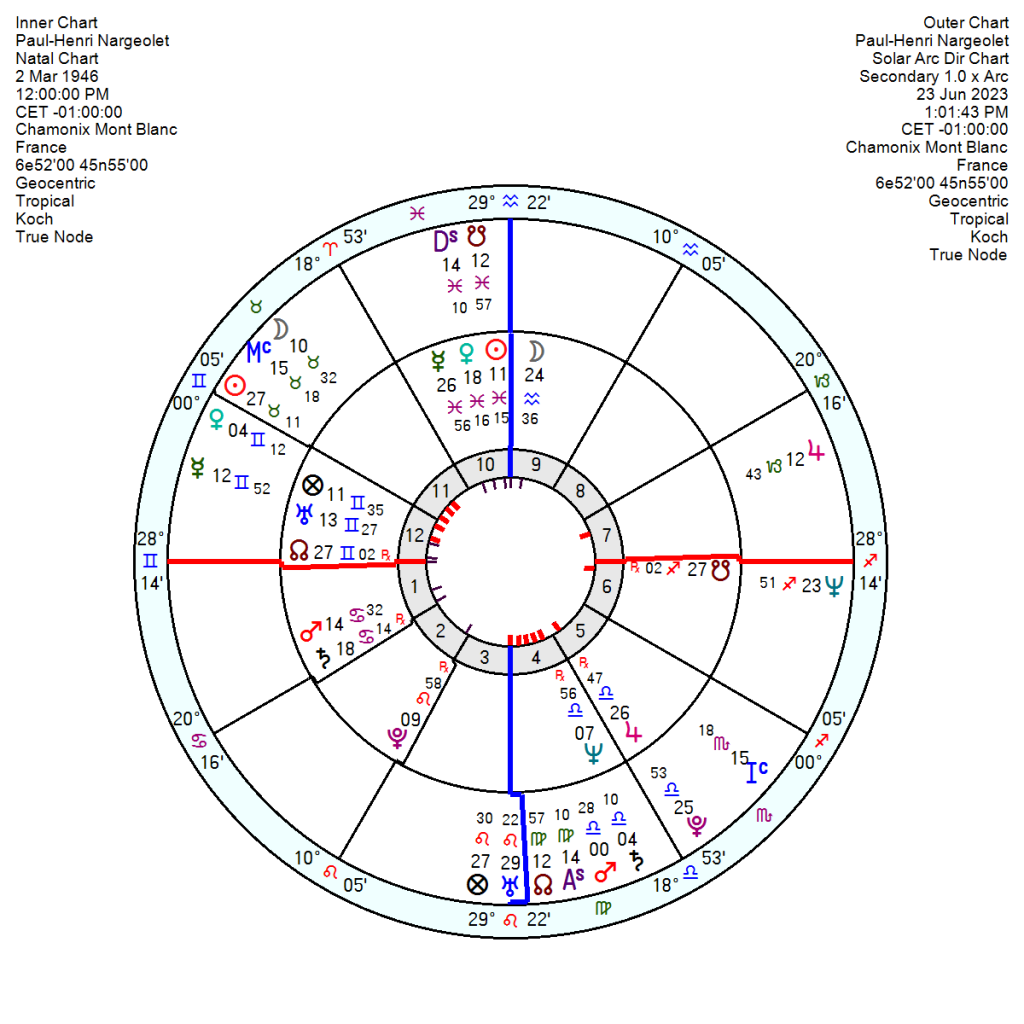 The Titanic's hull was laid down on 31 March 1909 – which is a better chart than the launch chart of 31 May 2011. And it sank on 14 April 1912 at 11.40pm off the Canadian coast.
The initial chart has a tough Sun Saturn conjunction in Aries with an explosive/disruptive Mars Uranus in Capricorn opposition Neptune and inconjunct Pluto and North Node in Gemini. When it sank tr Neptune had moved to close the opposition to Uranus (and Mars) to exact. With the tr North Node in Aries also square the Mars Uranus.
Hamish Harding, the billionaire on board the lost submersible, was born only five days after Boris Johnson, 24 June 1964, and has the same reckless, ramped-up Mars in Gemini on the focal point of a whirlwind T Square to Saturn opposition Pluto Uranus; and the over-hopeful Jupiter opposition Neptune. His Sun North Node in Cancer is square the Titanic's Venus and his Venus in Genii is conjunct the Titanic's Pluto – which explains the attraction.
I can't find any dates at the moment for Oceangate whose tin can sub it is – except for 2009 set up – it started on Pluto's entry into Capricorn and exited at the end.
Hideous beyond belief. And the warning bells were ringing loud and clear beforehand. The volunteers must have had a delusional sense of invulnerability.
Add On: Thanks to Xhane for Oceangate 31 August 2009.
Not only does it have the over-optimistic Jupiter Neptune conjunct, the Solar Arc Neptune is now exactly opposition the Virgo Sun and tr Uranus is square the Jupiter/Neptune midpoint = coming down to earth with a bump (having to face cold reality.) Tr Neptune is also conjunct the Uranus this year and the SA Sun is moving to conjunct the Saturn within months – nothing good coming out of all that.
Add On: Stockton Rush, March 31, 1962, San Francisco, chief executive and founder of OceanGate, the pilot of the Titan submersible, was always an adventurer. He was believed to be the world's youngest jet-transport-rated pilot and initially wanted to travel to Mars. Instead he went underwater. He was descended on his father's side from two signers of the Declaration of Independence, and his wife's great-great-grandparents died on the Titanic.
He had an Aries adventuring (and impractical) Sun on the focal point of an ego-centric yod inconjunct Pluto sextile Neptune – Tierney describes such a yod Sun as inclined to 'abuse of personal will and authority.' He also had a rules-don't-apply-to-me Pluto opposition Jupiter and a do-or-die determined Pluto opposition Mars. And a stubborn Saturn in Aquarius (Moon) opposition North Node square Neptune.
There is a line where audacious courage crosses over into hubris and therein lies delusion and disaster.
His midpoints are also instructive. His Sun opposition his Neptune/Pluto midpoint hints at megalomaniac ambitions wrapped round deceptive fantasies.
The Titanic movie director James Cameron said Rush was like the Titanic Captain who sailed ahead despite warnings. Edward Smith, born 27 January 1850 in England, was a Sun Aquarius with most notably Uranus Pluto in Aries inconjunct Jupiter. When the Titanic sank with him on board the transiting North Node was then at 21 degrees Aries about to conjunct his Uranus. That degree is being rattled up at the moment by the Eclipses this year. At the moment also his Solar Arc Sun is posthumously square his Pluto and his SA Neptune opposition his North Node – disturbing his rest.
There are unconfirmed birth dates for other passengers – Shahzada Dawood, 12 February 1975 and his son Suleman, 18 June 2004, both Karachi, Pakistan. If accurate, Aquarian senior looks hard-driving with Saturn in Cancer opposition Mars square Pluto. His son has a late Gemini Sun conjunct Betelgeuse which tr Neptune is square now. It opposes Pluto natally. His Mars is conjunct Procyon.
Add On: The explosion happened just under two hours after launch on 18 June – chart above.  
Add On: Paul-Henri Nargeolet, 2 March 1946, Chamonix, France, the oceanographer, was also on board. He was known as "Mr Titanic" having visited it more than 30 times, and salvaged artefacts from the ocean floor which did not meet with the approval of relatives of the dead.
Like Rushton he had his Sun on the focal point of a Yod to Pluto sextile Neptune, in his case a Pisces Sun which squared a maverick Uranus. He also had a hard-edged Mars Saturn in Cancer, which had faint resonances with Dawood senior's Saturn Mars Pluto T square. His North Node was at 27 degrees Gemini which seems to keep repeating as a significant point through several charts.