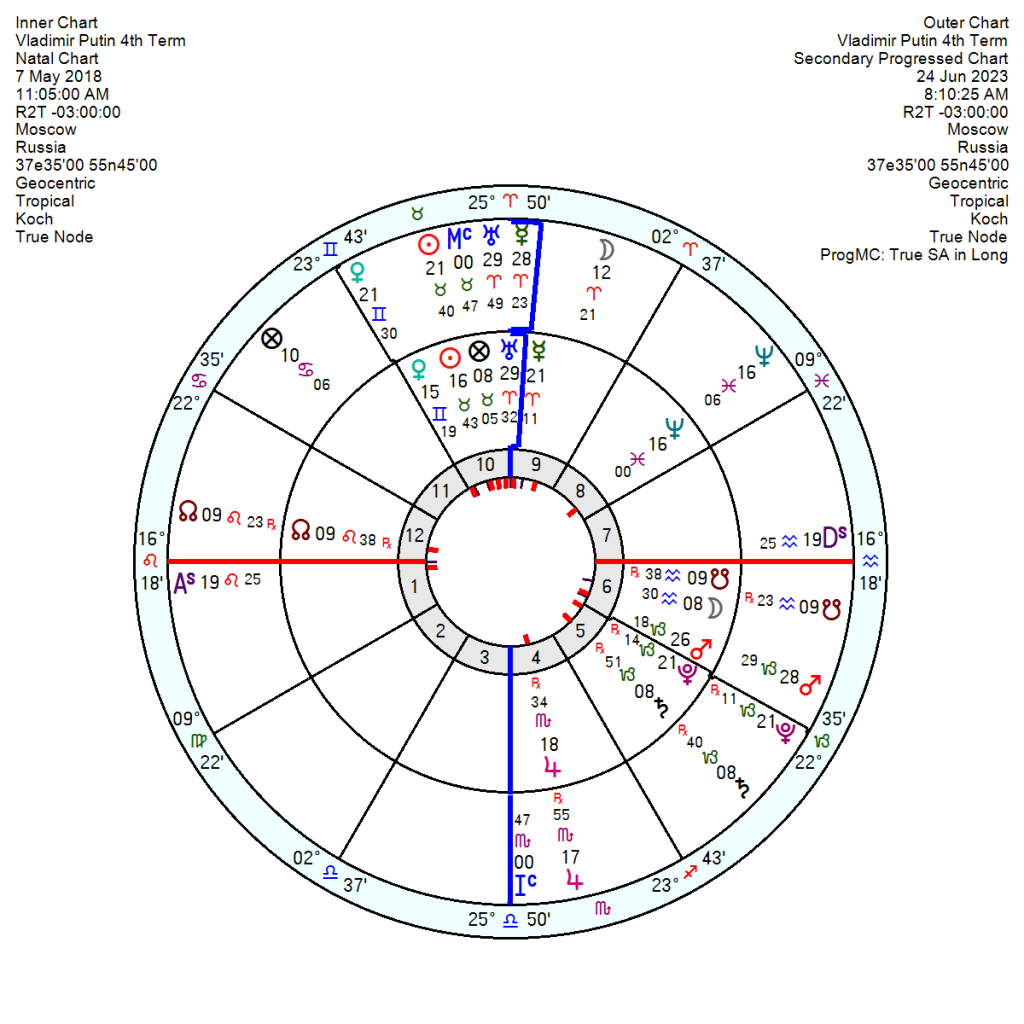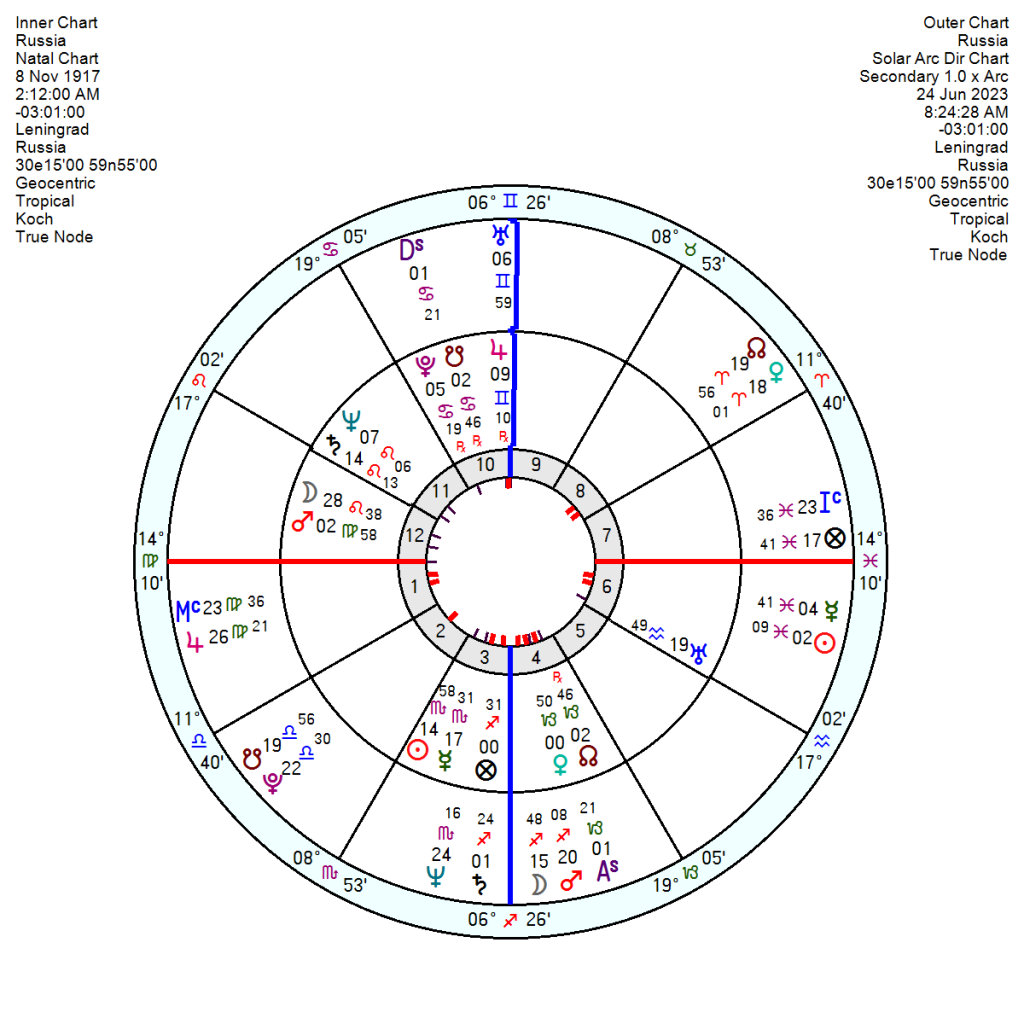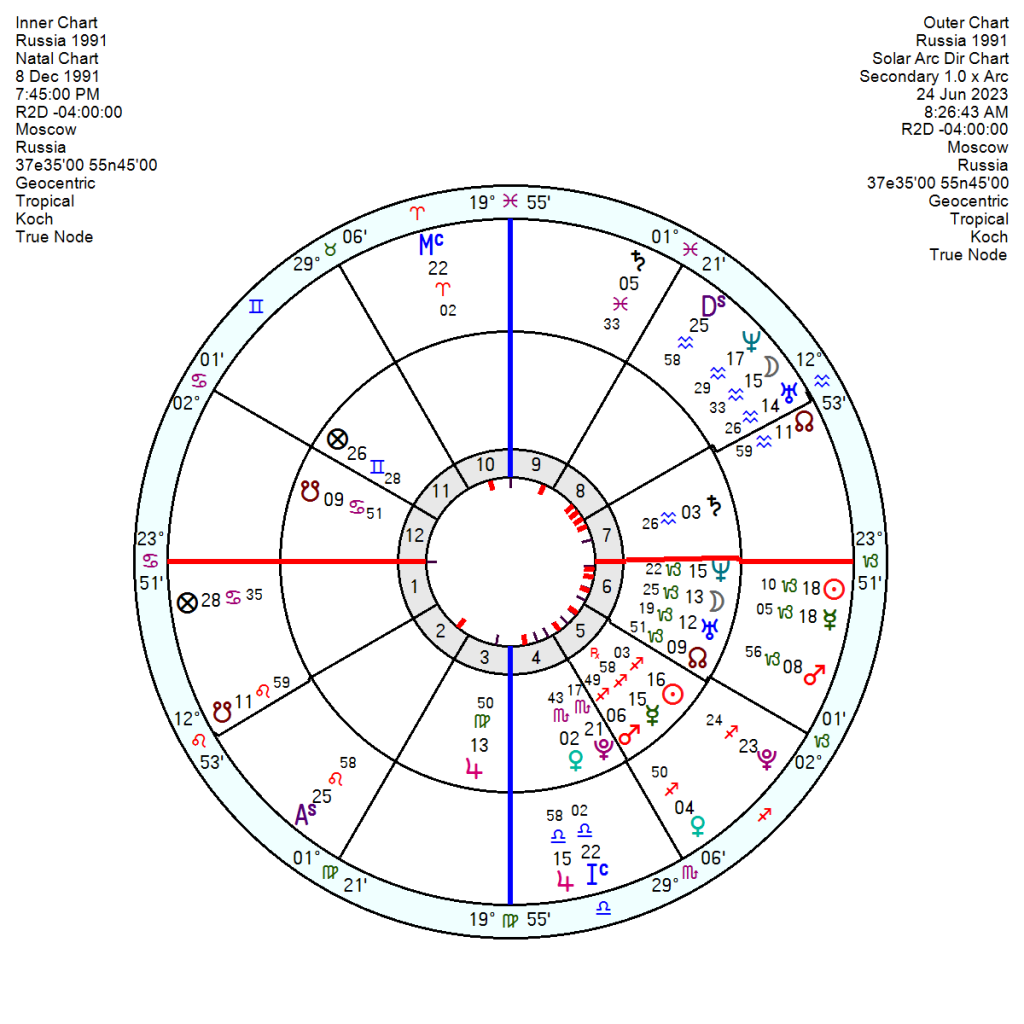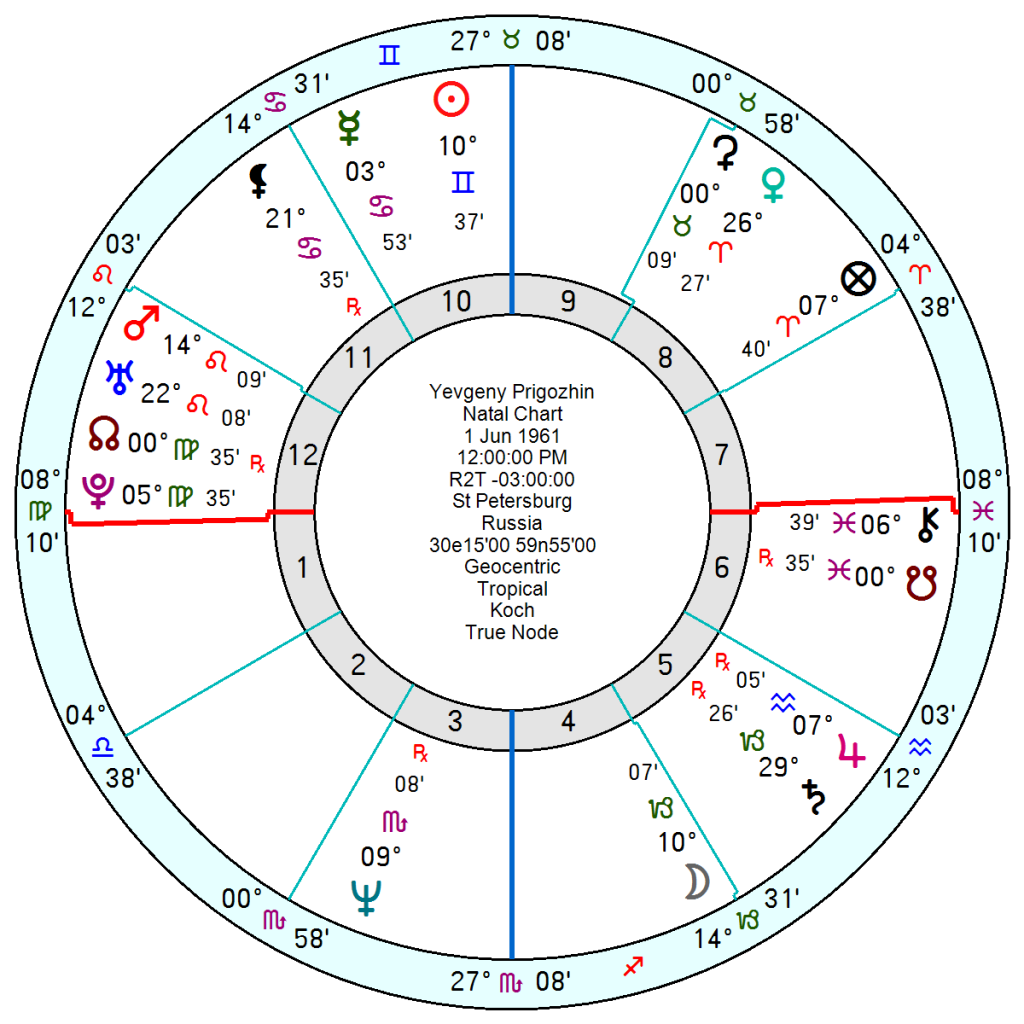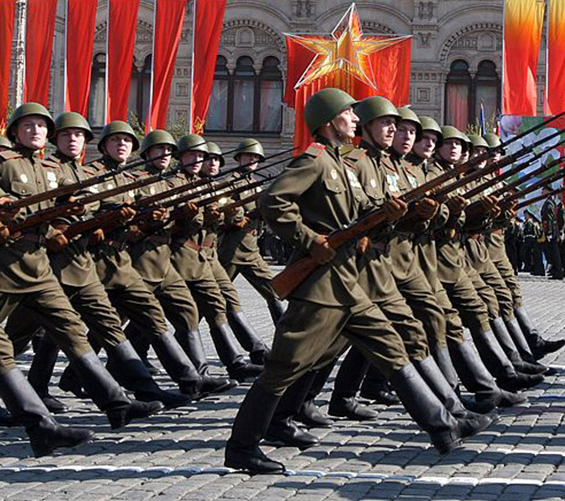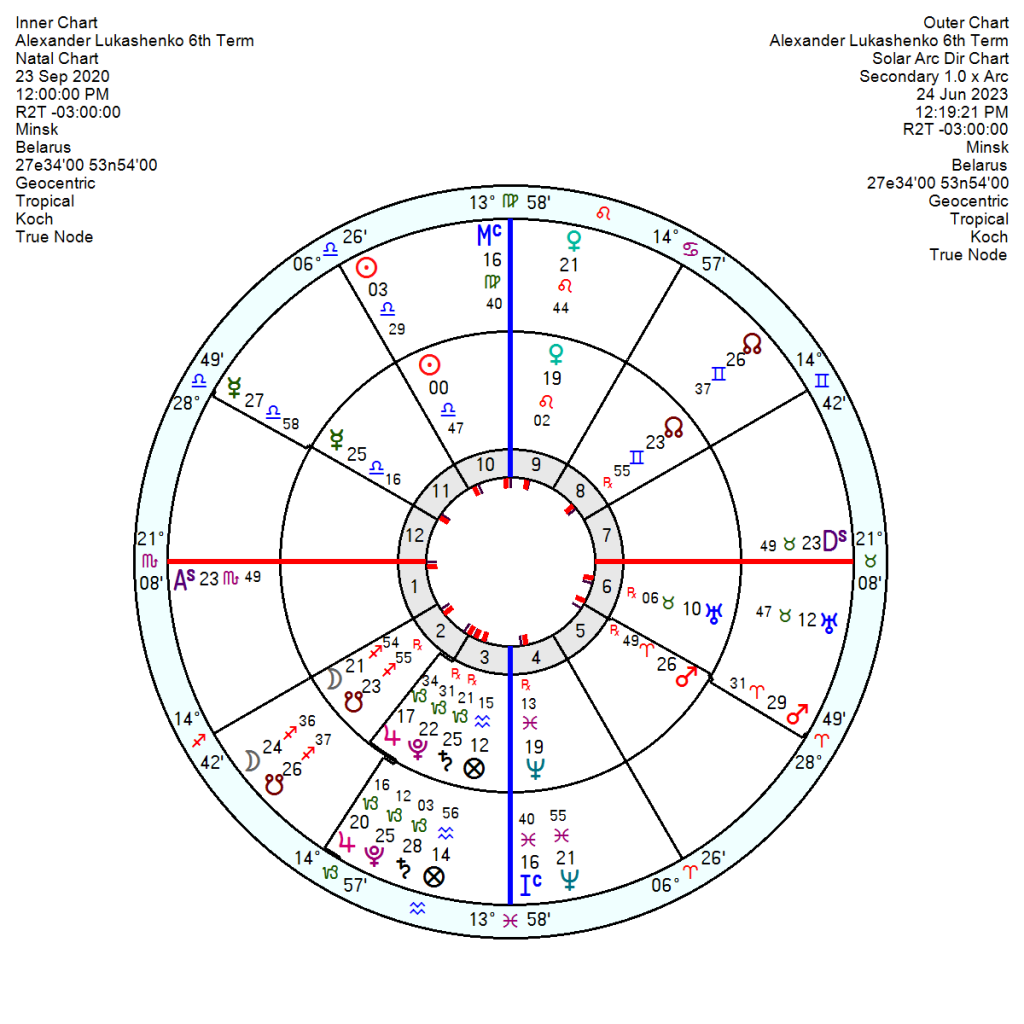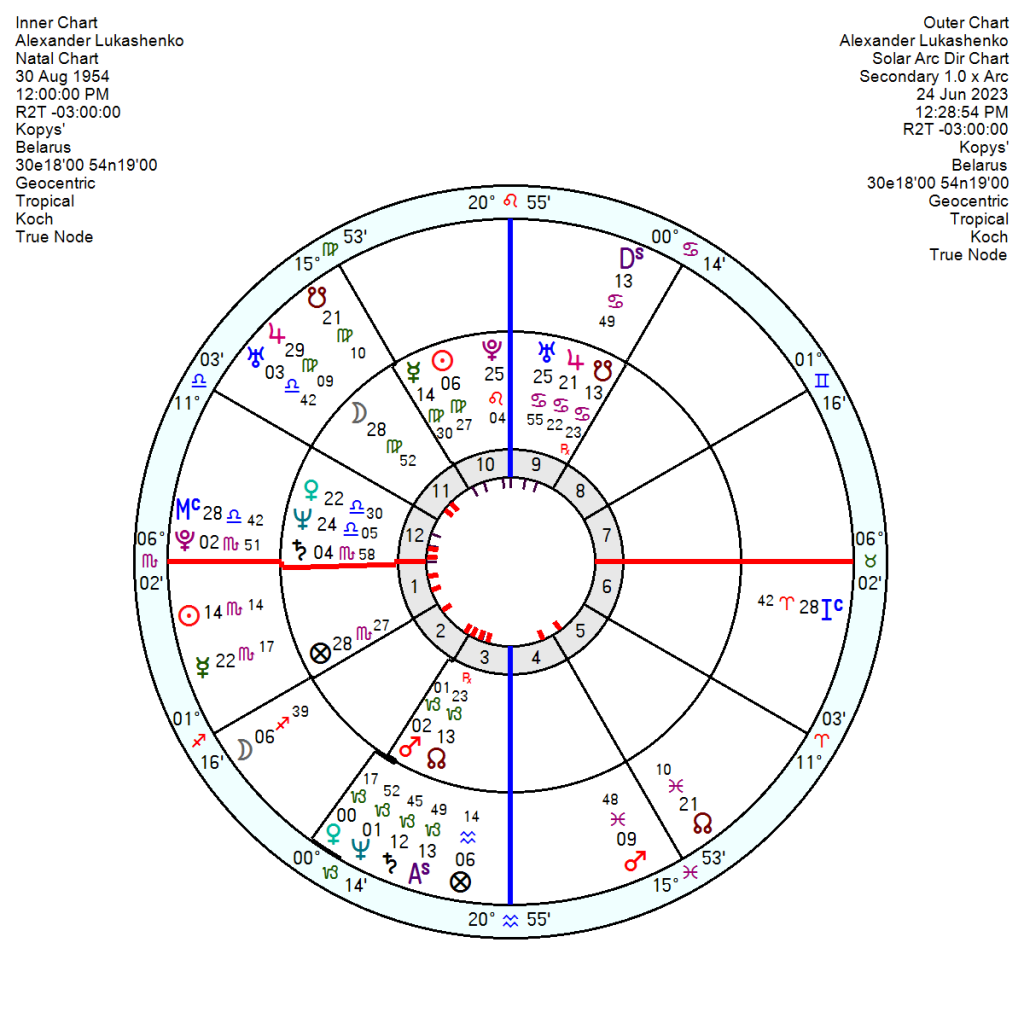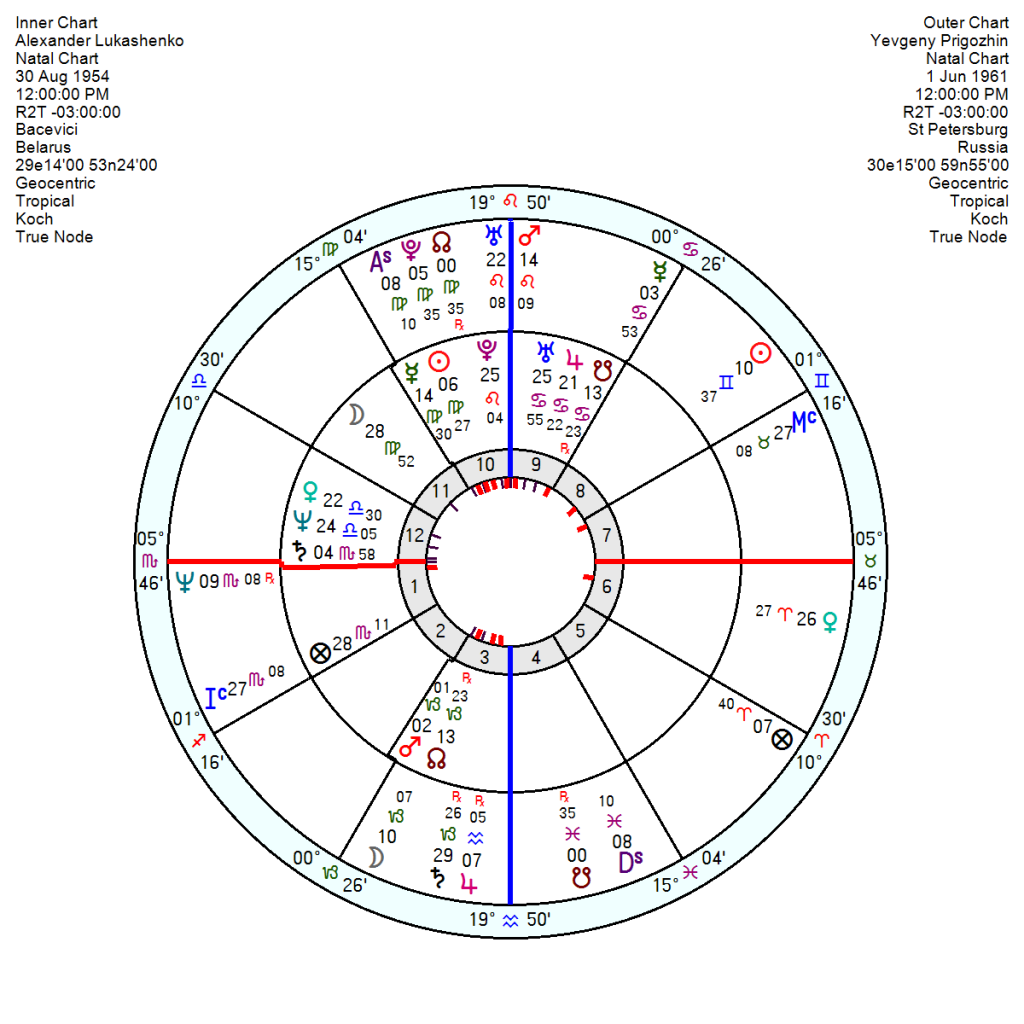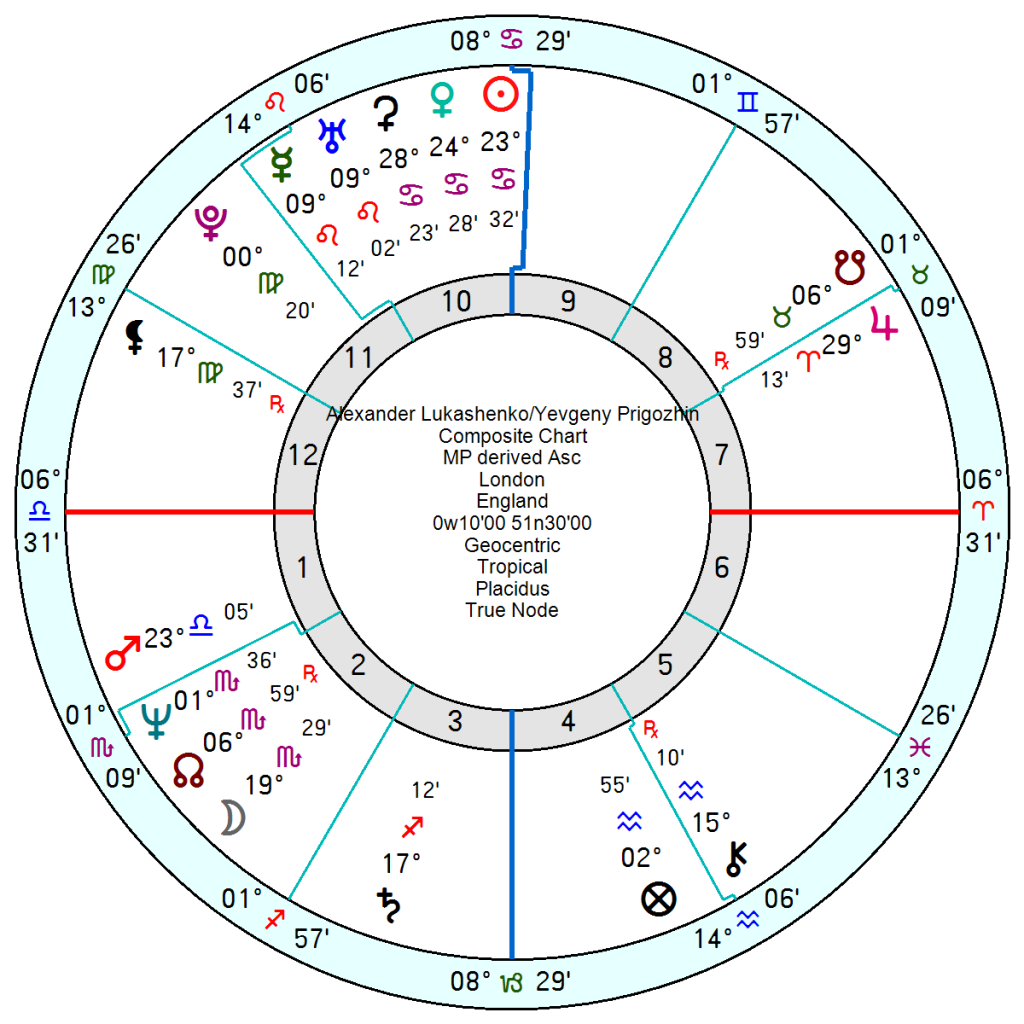 Putin's pet mercenary thug and, believe it or not, catering chef, Yevgeny Prigozhin, has turned to bite the hand that brought him to power and wealth. Putin has accused him of mutiny as he marched onto Russian territory with his hardened band of convict killers and threatened to topple Russian military leaders.
Rumblings of discontent from YP have been swelling in recent weeks but it still feels like a black swan of improbability that changes all calculations as to the course of the Ukraine invasion.
Birth dates of individuals are not always reliable but Putin's 4th Term, 7 May 2018 11.05pm is sound. It described a brutally ruthless and violent administration but one that was prone to revolution and destabilization with Mars Pluto in Capricorn square Uranus. Tr Pluto started to square the Uranus this February, repeating now and extending on and off, into and throughout 2024. This is a classic topple-off-perch moment for a leader. Worse still the Solar Arc Pluto is conjunct the Mars exactly now and in effect for a few months which is trapped, high-risk, enraging, paralysed.
The Russia 8 November 1917 2.12am Leningrad chart has had tr Uranus shaking up the Fixed T Square of Saturn opposition Uranus square the Scorpio Sun Mercury since 2021 – and tr Uranus is now on the final leg of being square the Uranus, repeating for a final time over this coming New Year. Such a Fixed chart will take a fair battering before it shifts trajectory and maybe this is when critical mass is reached which will jolt the country into significant change. This year as well the Solar Arc Sun is in a car-crash collision with the Russia Mars which tr Saturn is also opposing throughout this year.
The Russia 8 December 1991 7.45pm chart is also showing signs of disruption and upheaval with tr Uranus opposition the Pluto exactly now and repeating into 2024. Aggravations and setbacks are indicated from tr Saturn square the Mars and more so with SA Saturn square the Mars in 2024/25.
The 14 October 2023 Solar Eclipse has Saturn sitting on the Midheaven located to Moscow for a moment of hard reality. The April Solar Eclipse had Pluto conjunct the Midheaven from the 9th located to Moscow which could point to a meltdown.
Yevgeny Prigozhin was born 1 June 1961 according to wiki, spent time in prison for teenage stealing and became rich through Russia's reinvention in the early 1990s, running restaurants which supplied the Kremlin and government officials. His Wagner mercenary military started around the time of the Crimea invasion and now has interests in several African countries and the Middle East. His internet companies are also alleged to have interfered in the US elections.
If his birth date is accurate, he is a Gemini Sun square Pluto, inconjunct Neptune and trine Jupiter – super-ambitious, controlling and lucky. He also has an excitable, uncompromising and explosive Mars Uranus in Leo; an over hopeful Jupiter conjunct Saturn and square Neptune.
Tr Pluto is conjunct his Saturn exactly now for a determined push against great odds, fuelled by a highly-confident tr Uranus opposition his Jupiter/Pluto midpoint. He'll hit a bumpy patch of upheavals and upsets from early this July, on and off into early 2024, as tr Uranus squares his Uranus. He'll meet road blocks through this year as well as tr Saturn opposes his Pluto. But it is 2024 which looks disastrous and high risk for him.
His relationship charts with both Russia 1917 and 1991 don't show much love for his homeland with 2024/25 being the years of greatest strain. His relationship chart with Putin 1952 looks devastated and not improving over the next three years. With Putin's 1950 birth date it looks more clearly a time of reversal with tr Pluto opposition the composite Uranus at zero degrees Leo, followed by tr Pluto in a devastating square to the Neptune across this summer and later in the year; and if it survives that long extreme turbulence in 2024/25.
Add On: Belarus, where the military appear to have increasingly come under Kremlin control recently with Putin threatening to send nuclear warheads there, is on red alert. There are unconfirmed reports the authoritarian president Lukashenko has gone to Turkey but it may just be his family. His 6th Term chart, 23 September 2020, is deadlocked at the moment with the Solar Arc Pluto conjunct Saturn and square Mercury now – under immense strain – with a complete dead-halt and maybe termination come 2024 if not before as SA Pluto squares the Mars.
Lukashenko, 30 August 1954, looks to be dissolving into panic with his SA Neptune conjunct his Mars now and worse in 2024. The Belarus country chart, 25 August 1991, looks depressed and panicked with transiting and SA Saturn opposition the Sun this year and tr Neptune opposition the Mars all year as well.
  The shock waves will ripple in several directions.  
Add On: Thoughts from the Telegraph.
Belarus leader may 'live to regret' Wagner deal, say experts.
Under the deal brokered by Lukashenko, Prigozhin will in future live in exile in Belarus. It still remains unclear if he will be bringing members of the Wagner militia with him. One analyst said it was likely that Prigozhin was "dumped" on Lukashenko by Putin. "The only plus that there could be for Lukashenko is he may want to use Prigozhin as personal army against any potential revolt."
 They do not make happy bedmates with Prigo's control-freak Pluto conjunct Luka's Virgo Sun; Prigo's tough-minded Saturn square Luka's Neptune and opposition his Uranus which will induce high nervous tension; and worse still Prigo's Uranus conjunct Luka's controlling Pluto which could upset his applecart in Belarus.
  Their relationship chart is competitive and heading for muddle and mayhem in 2024 with tr Pluto square the composite Neptune. With a fair amount of pushing and pulling and oneupmanship games through this year as well as tr Pluto squares the composite Jupiter.