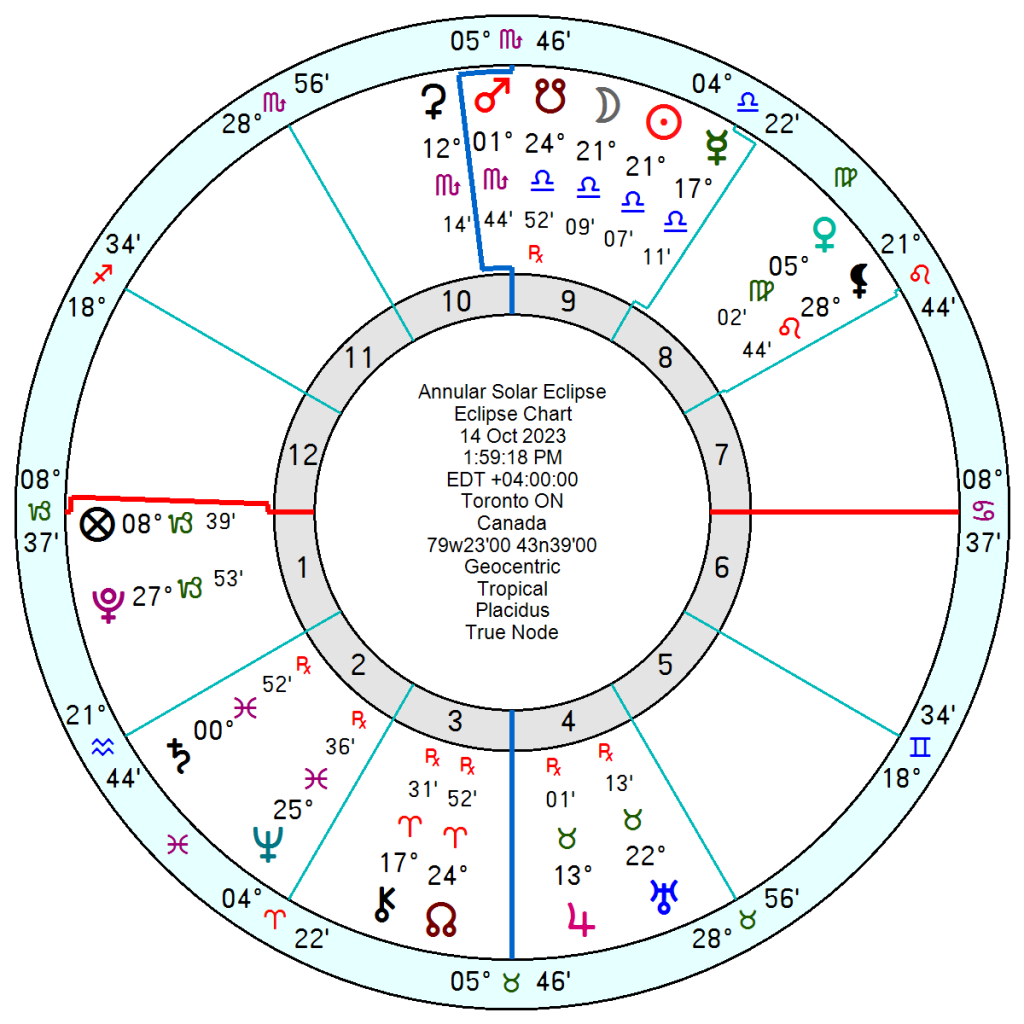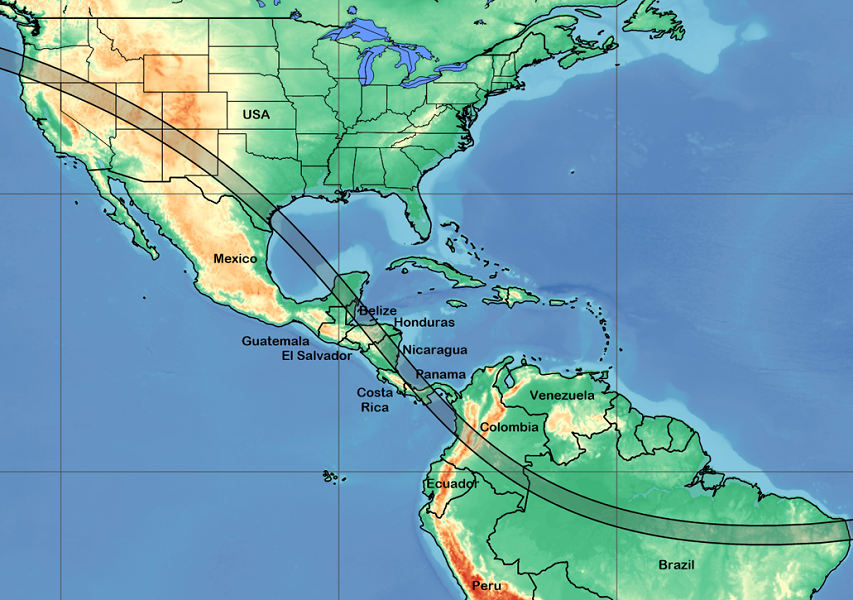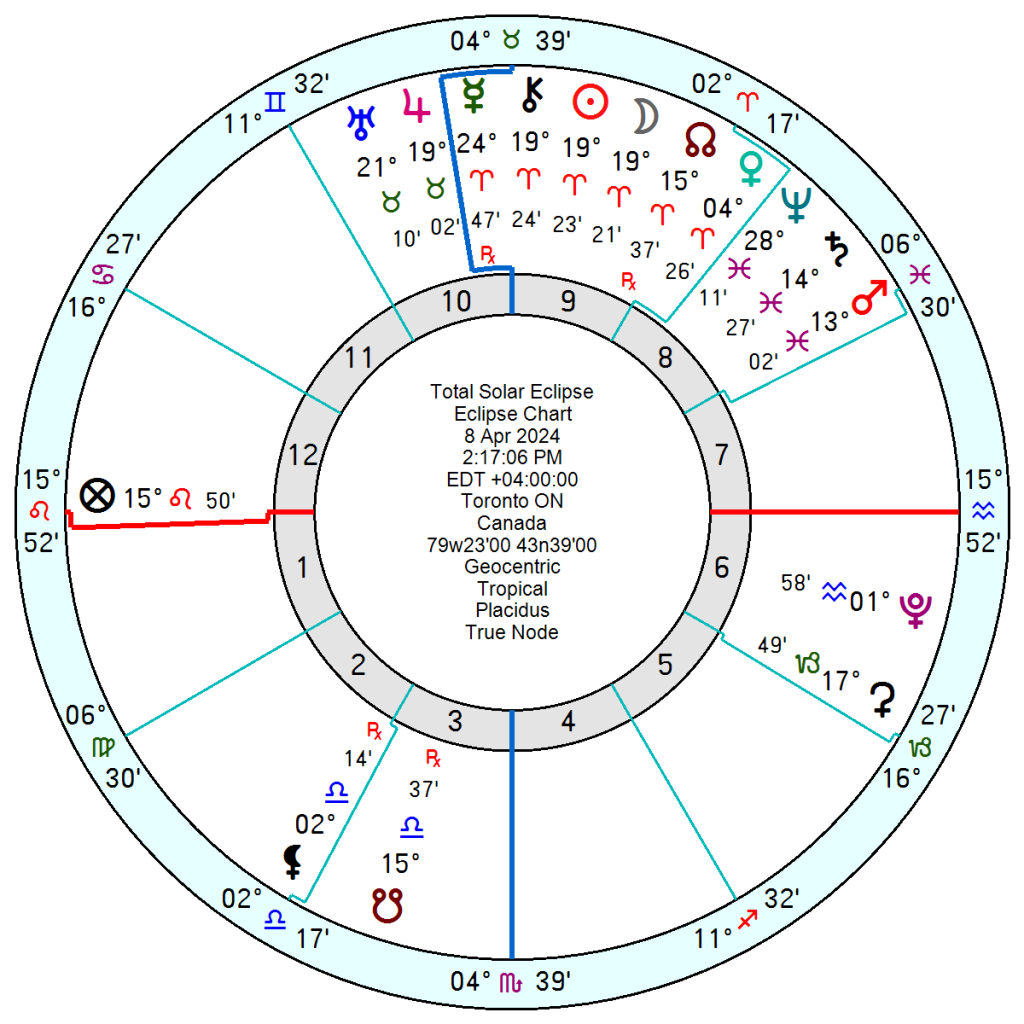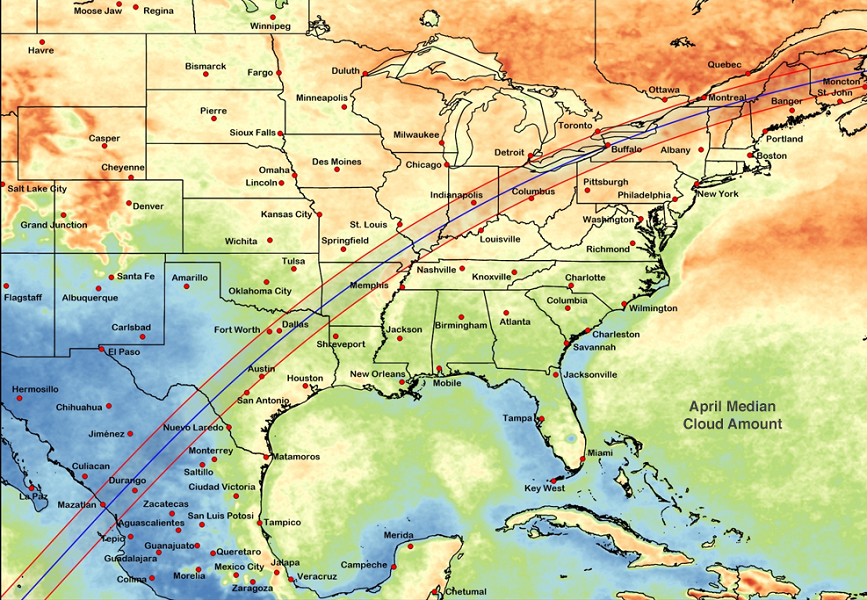 The path of the October 2023 Solar Eclipse runs across the USA, Mexico, Colombia and Brazil and the path of the Total Solar Eclipse in  April 2024 across the USA and Canada. They fall at 21 degrees Libra and 19 degrees Libra respectively.
This October eclipse is the trickier with a New Moon square Pluto; Pluto square Mars and trine Uranus; and the Sun on the focal point of a yod inconjunct Neptune sextile Uranus. Pressured, challenging, power issues, high-risk/ruthless and trapped with a fated feel. It is in a Saros Series, according to Bernadette Brady, pointing to immense power, anger and force. Huge obstacles will suddenly clear or a potential crisis will surface and events will move at great speed. Around before in 2005, 1987, 1969, 1951, 1922, 1915.
The April 2024 Solar Eclipse is less stressed though it has a Mars Saturn conjunction hinting at restrictions and accidents though that sits side by side with an adventurous Jupiter Uranus and is in a Saros Series that demands freedom.
Both eclipses impact on Canada's Ascendant/Descendant axis so image and neighbourly relationships will be up for review. This October's eclipse in Libra also impacts Canada's Solar Arc Pluto which again points to partnership aggravations and power struggles.
  What I am puzzling over is Neptune on Canada's Ascendant which is on the focal point of a yod inconjunct Saturn sextile North Node – it will also be drawn into the spotlight. A yodal Neptune tends to live in an ivory tower, yearns for calm and harmony and can be escapist. It also goes along with feelings of unworthiness which can lead to a defeatist attitude. (All of which is far from my own view of Canada which I always think of as robust and resourceful.) Eclipses are challenges to change in a particular area and clearly a rebrand on an outer level also requires serious inner work in parallel.
The two eclipses also impact on the USA's Saturn in Libra, the 2024 one more strongly than the 2023 one but it is still in orb. Saturn in Libra puts an emphasis on cooperation and a responsible justice system – neither of which are too obvious at present. So maybe a wake up call to move towards a stance of integrity, decency, ethics and a willingness to take other's viewpoints into consideration. Hmm. An eclipse on Saturn is a wake up call of a different order, usually accompanying a sharp reality check.-
What struck me looking at the USA chart, which is nothing to do with the eclipses, though it may be relevant to the eclipse path running across the USA is the Solar Arc Saturn moving to conjunct the US Mars in mid 2024 and the year later SA Saturn squares the Neptune.
Looking back to see what happened on the previous Solar Arc Saturn hard aspects to the USA Mars, climactic extremes appear to be one outcome:-
1935 – 1937: Solar Arc Saturn square Mars and opposition Neptune:- The Dust Bowl heat wave reaches its peak, sending temperatures in Chicago to a record-high 109 °F (43 °C). The strongest hurricane makes landfall in the Upper Florida Keys killing 423.
1936 A tornado hits Tupelo, Mississippi, killing 216 and injuring over 700 (the 4th deadliest tornado in U.S. history). Two tornadoes strike Gainesville, Georgia. 203 die and 1,600 are injured in the 5th deadliest tornado in U.S. history.
A major heat wave strikes North America; high temperature records are set and thousands die. Wisconsin, Michigan, and Indiana all set new state records for high temperature.
And as SA Saturn squares the US Neptune exactly in early 1937 – the worst school disaster in American history as the New London School in Texas suffers a catastrophic natural gas explosion, killing in excess 399 students and teachers.
The previous SA Saturn hard aspect in opposition to the US Mars and square Neptune: – 1845: Texas joined the US which led to the Mexican-American War and contributed to the growing divide over slavery that led to the Civil War in 1861.
The Great Fire of Pittsburgh destroys much of the American city of Pittsburgh. The Great New York City Fire breaks out in Lower Manhattan.
It won't be exactly the same but disaster and accidents tend to be Saturn Mars events and military involvements as well.
I just noticed that this April's Solar Eclipse at 29 degrees Aries was exactly conjunct the Uranus on Putin's 4th Term chart – and that certainly is having an effect.
Studying eclipses could be a full time occupation and then some.