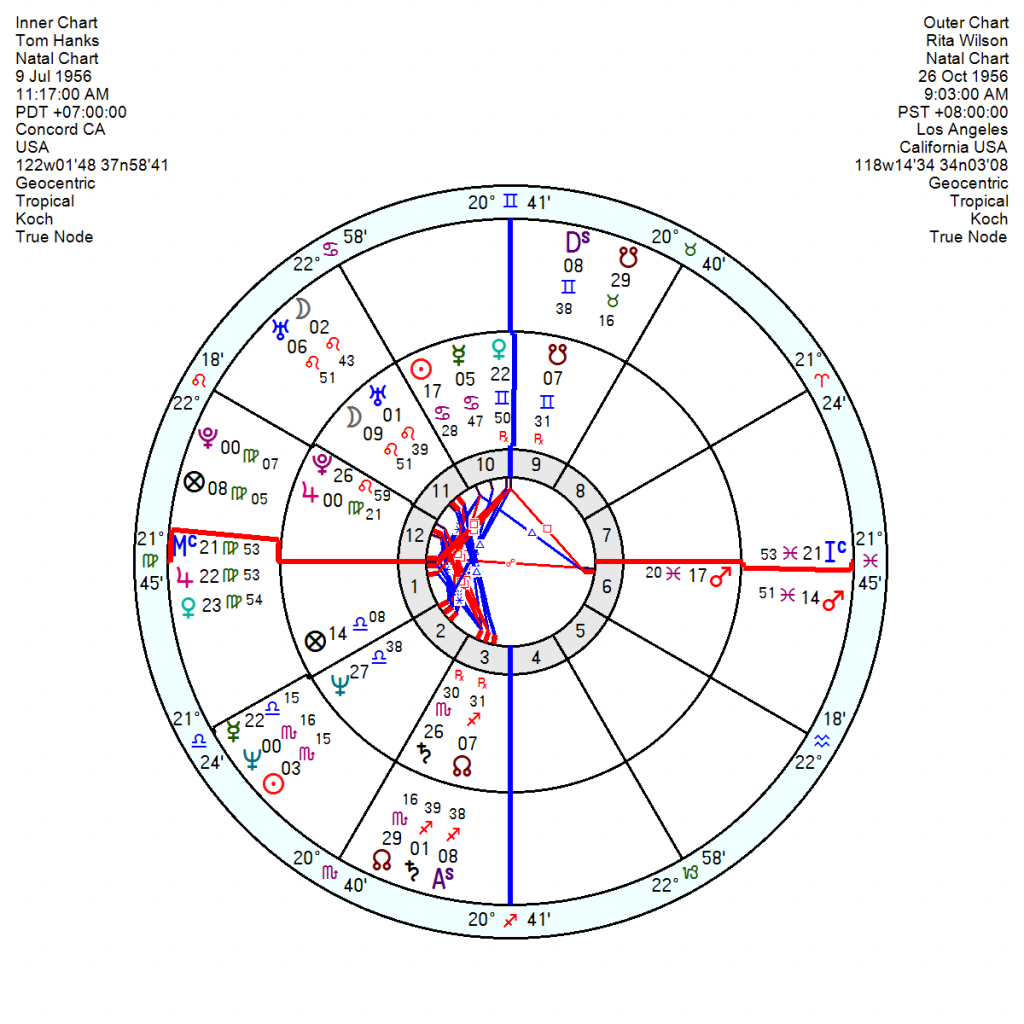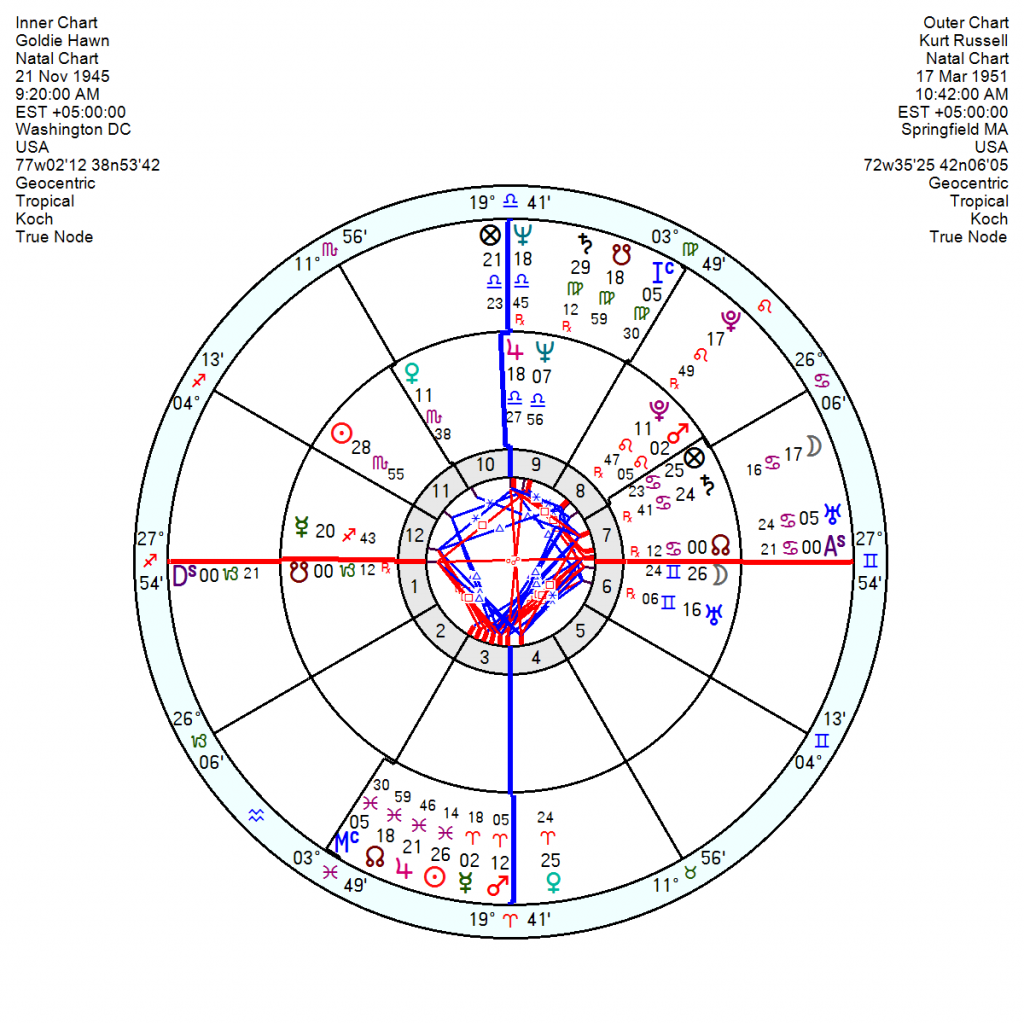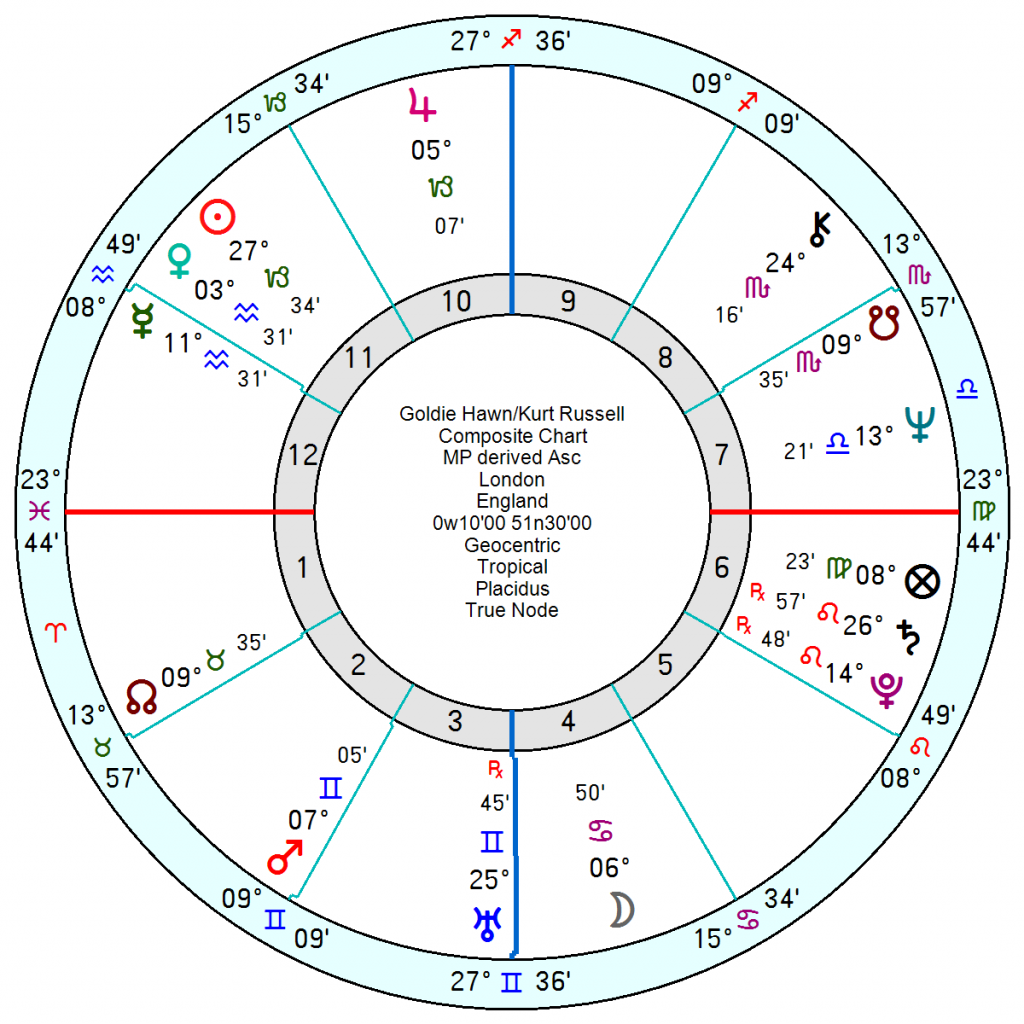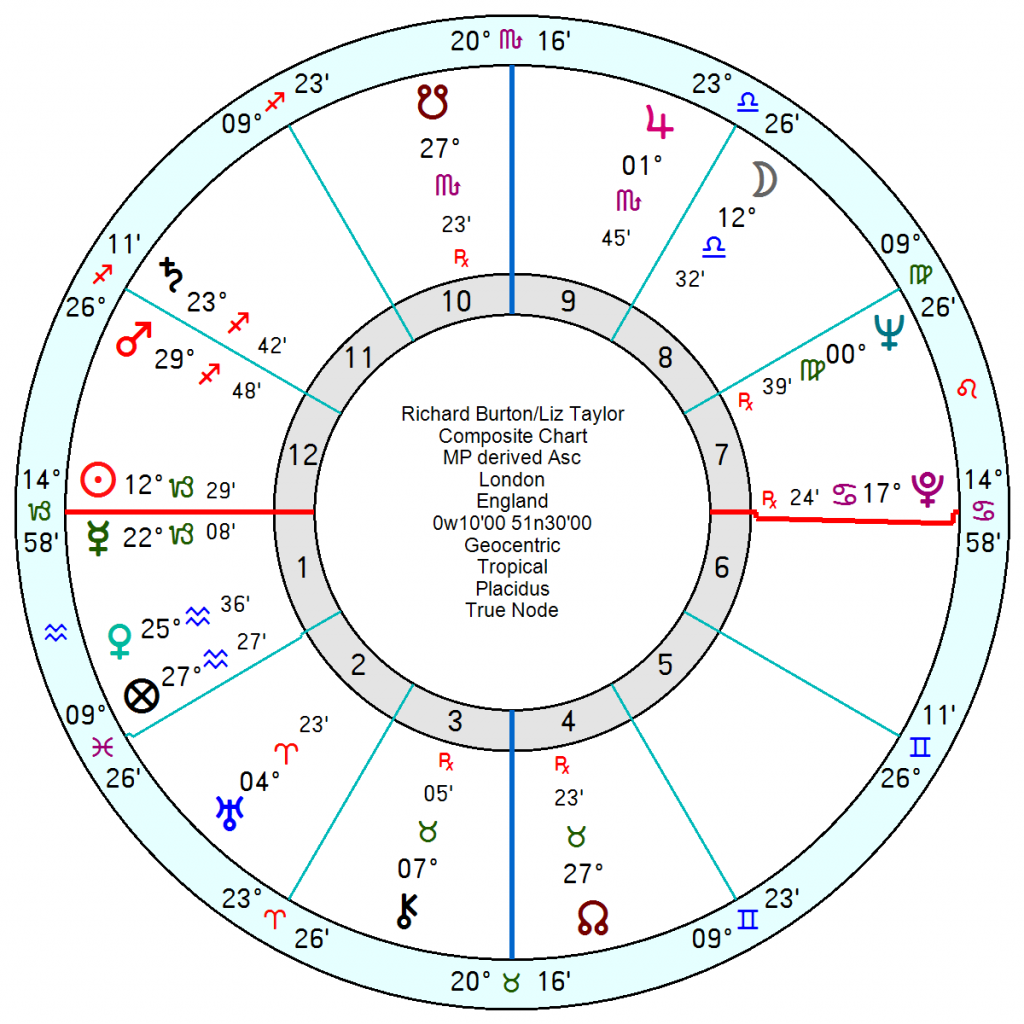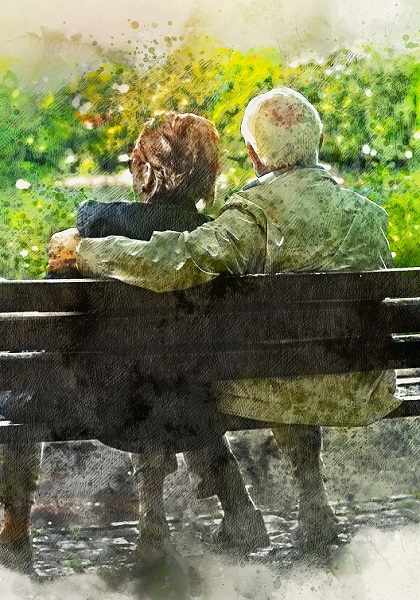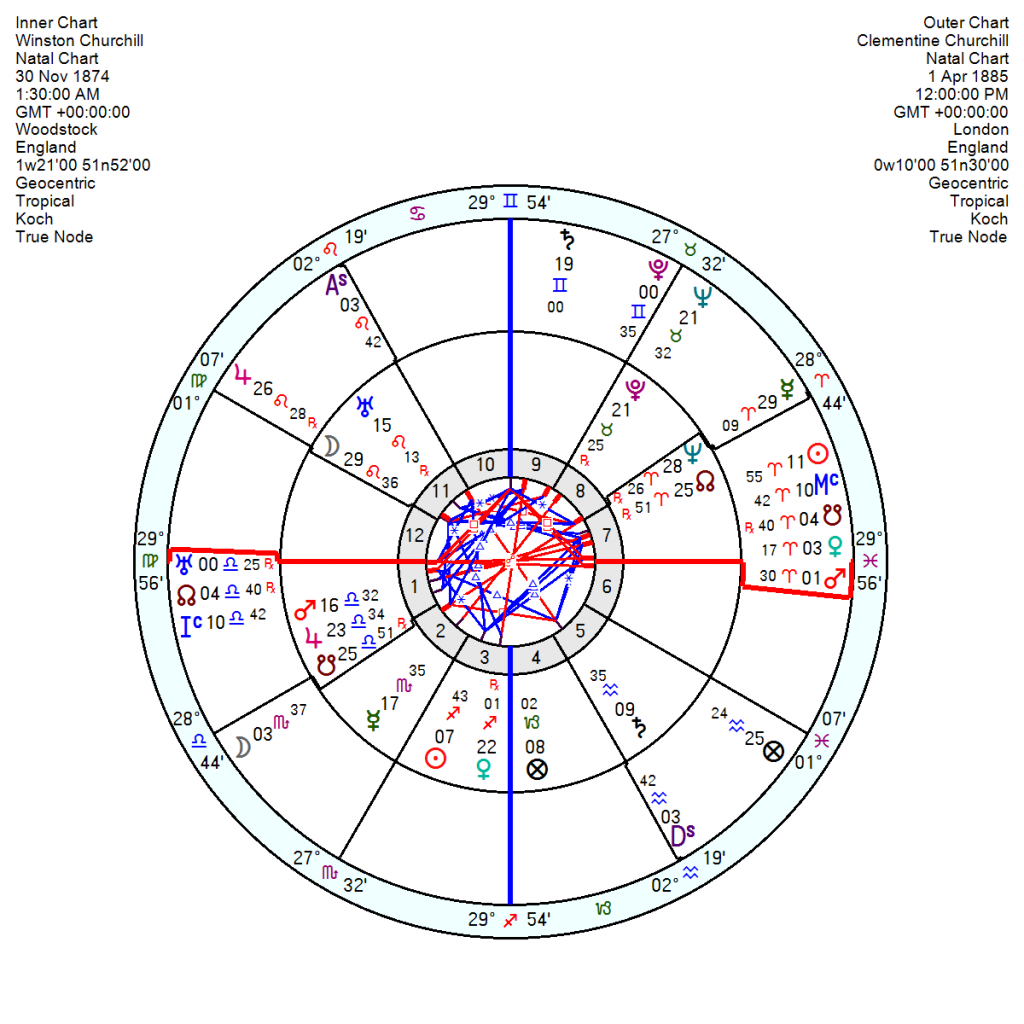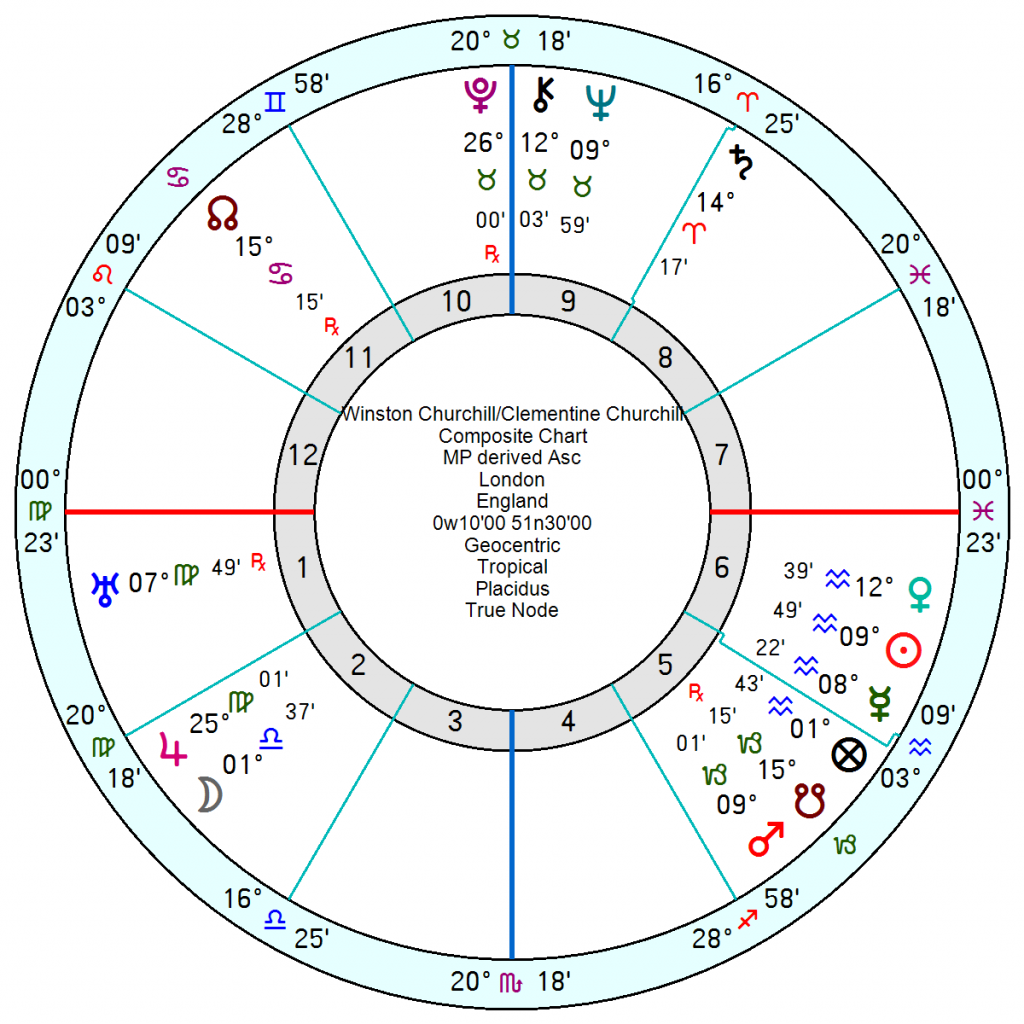 Long lasting does not always equate to contentment when it comes to marriages and iconic Hollywood pairings, even more than most, can hide private torment behind a red carpet smile. Though a few slide through to be exceptions to the rule.
Tom Hanks is reputed to have a stable, happy bond with his wife of 33 years Rita Wilson. He's a Sun Cancer which chimes well with her Scorpio Sun mellowed by Neptune. Both have emotionally changeable Moon Uranus in Leo, so like a varied domestic life and money. His charming Venus in Gemini on his midheaven which falls in her relationship 7th house fits well with her Venus Jupiter in Virgo on her midheaven, which falls in his 1st house – both of them are good at public relations. His Jupiter is conjunct her Pluto which is good for joint enthusiasm and influence.
She's not that easy a personality with a Scorpio Sun Neptune square Uranus Moon. But what will make a difference is a composite Sun Jupiter conjunction in their relationship chart squaring onto the Nodes. In relationships Jupiter smooths round rough edges, gives hope through the rougher patches and is mutually supportive. Saturn which brings longevity and the ability to endure together in their case comes from the composite Saturn square Pluto Mercury.
Goldie Hawn's near 40 year marriage to Kurt Russell is another listed as rock solid. She's not an easy temperament with a Scorpio Sun trine Saturn and Mars Pluto in the 8th. But he's an adaptable Sun Jupiter in Pisces which will help – and both have lucky Jupiter in their 10th so successful careers will have helped to keep their bond afloat. The relationship chart does have an affectionate composite Sun Venus and good communication from a Grand Trine of composite Mercury to Neptune and Mars, focused onto Pluto – so the ties that bind are strong. There is also a composite Yod, as seems to be a pattern in many high-profile iconic matches, of Uranus sextile Saturn inconjunct Sun.
The renowned Hollywood match to stand the test of time – Paul Newman and Joanne Woodward – had the classic crossover of his Pisces Moon close to her Pisces Sun and his Sun in Aquarius sharing a resonance with her Aquarius Moon though not conjunct. Their relationship chart had a composite Yod of Saturn sextile Venus inconjunct Pluto; as well as a composite New Moon (= more whole when together); and an upbeat composite Mars Jupiter.
Another composite Yod onto Pluto is in the relationship chart of Humphrey Bogart and Lauren Bacall. Though it was a stormier affair with a composite Venus square Mars Uranus. Bacall's Virgo Sun was square his creative/neurotic Neptune opposition Saturn and her Pluto was opposition his Mars (Sun) in Capricorn.
Yods point to a synergy between the couple which irrevocably – and sometimes surprisingly – changes the course of each of their lives in a radical way, which would otherwise not have happened.
Liz Taylor and Richard Burton's tempestuous and impossible on-off relationship – she Pisces with a Scorpio Moon and he Sun Saturn in Scorpio with a Virgo Moon – had a composite Yod of Jupiter sextile Neptune inconjunct Uranus. It also had an explosive, gritty, unfair-treatment composite Saturn Mars conjunction with Mars in a no-compromise square to Uranus.
Queen Elizabeth's relationship chart with Prince Philip – she Taurus with a Leo Moon and he Gemini with a Leo Moon – had a Yod onto Uranus from Saturn sextile Neptune and an unfair/one-sided composite Saturn opposition Mars. In normal circumstances it would probably not have survived but given the Royal stricture against divorced, they soldiered on – with separate lives at points. Oddly enough Gunter Sachs study of best relationship sign matches found Taurus/Gemini to be one of the longer lasting for marriages – not what you'd think. But an adaptable with a fixed sign probably helps.
Queen Victoria and Prince Albert – she New Moon in Gemini and he Virgo Sun Scorpio Moon – also had a composite Yod in their relationship chart onto Uranus from Sun sextile Mars.
Prince Charles and Diana has – not surprisingly – a composite Yod in their relationship chart – of Pluto sextile Neptune Mars inconjunct Moon, with Neptune Mars in a disruptive square to Uranus.
  Yods don't always – clearly – bring marital bliss but they have a fated quality of affecting the destiny of each in a profound way.
Add On: Another high profile example is Winston and Clementine Churchill who had a 57 year marriage, not always easy, hence her – 'divorce never, murder frequently' comment. He was a Sun and Venus in Sagittarius with Moon and Uranus in Leo. She was a Sun, Venus, Mars in Aries opposition Uranus with her Aries planets falling in his 7th house of partnership. A fiery match especially given her Uranus sitting on his Ascendant but they would resonate and she would appreciate adventure and excitement – and also demand space. Her Jupiter in Leo was conjunct his Moon and her Moon was either late Libra, maybe conjunct his Jupiter, or in early Scorpio – both of which would smooth out a few wrinkles. The synastry is noisy but not bad at all. 
  Their relationship chart had an Earthy Grand Trine of Uranus to Neptune to Mars which would help. Plus a power-couple, enthusiastic and supportive Jupiter trine Pluto, maybe involving the Moon. A one-sided, unfair-treatment Mars square Saturn – and he was undoubtedly egregiously self-absorbed. Plus an idealistic/disappointing Sun Venus square Neptune.  
Nowadays it might not have made it through the rough patches since it could have burnt out with too much Fire, but separating was not done lightly back then.