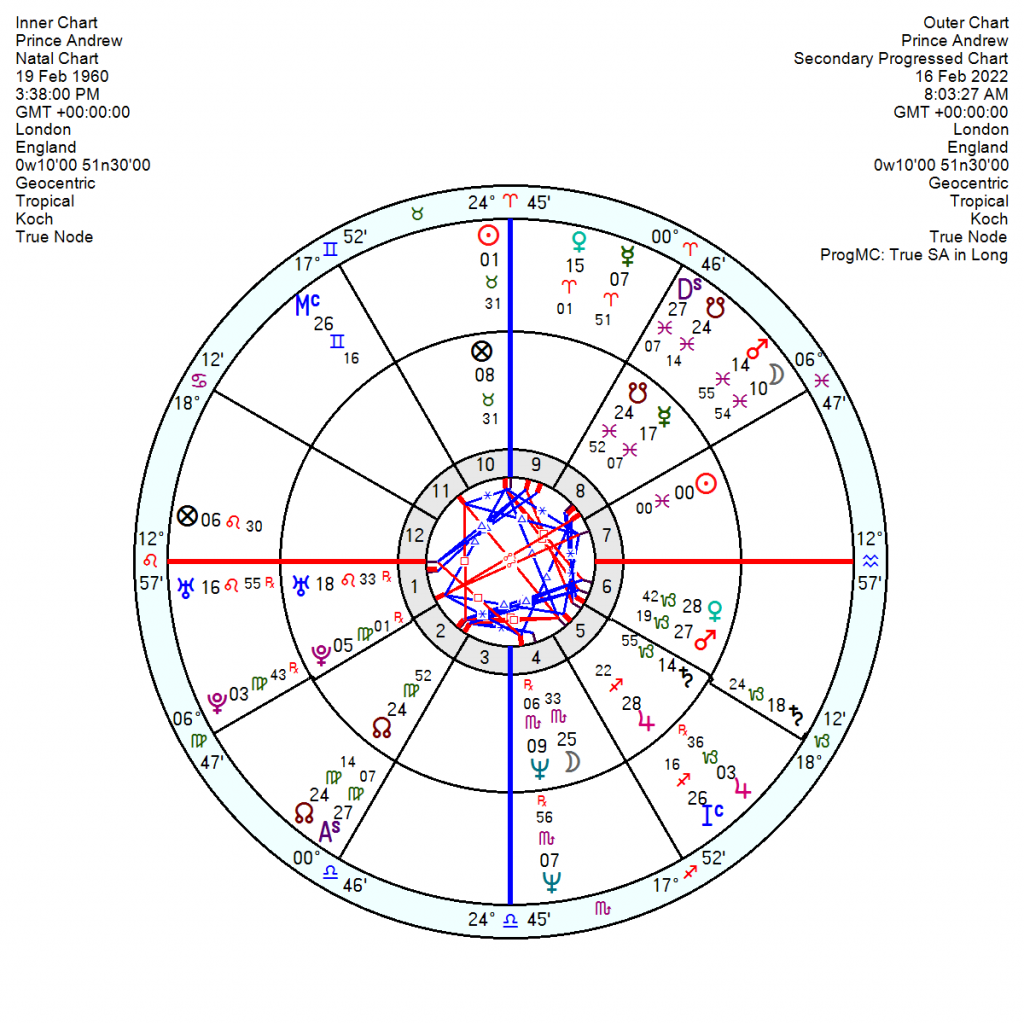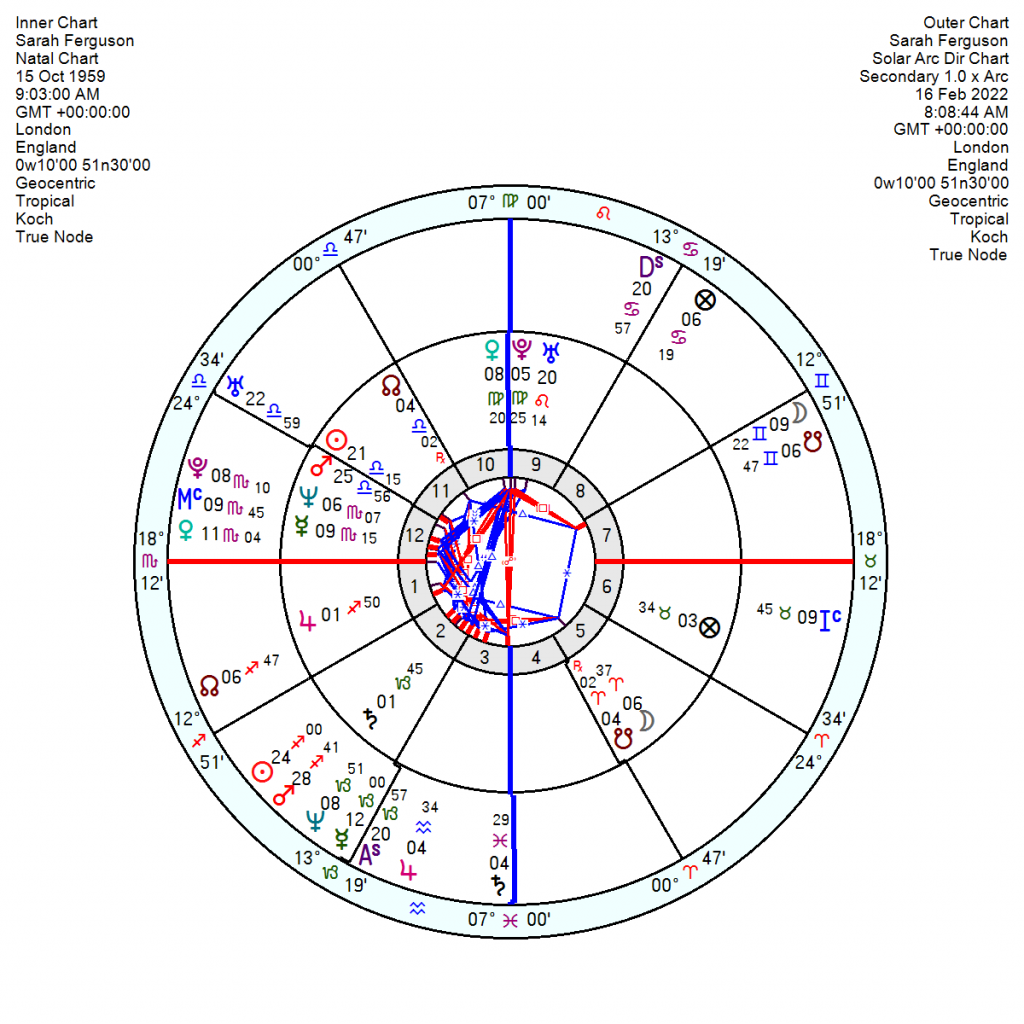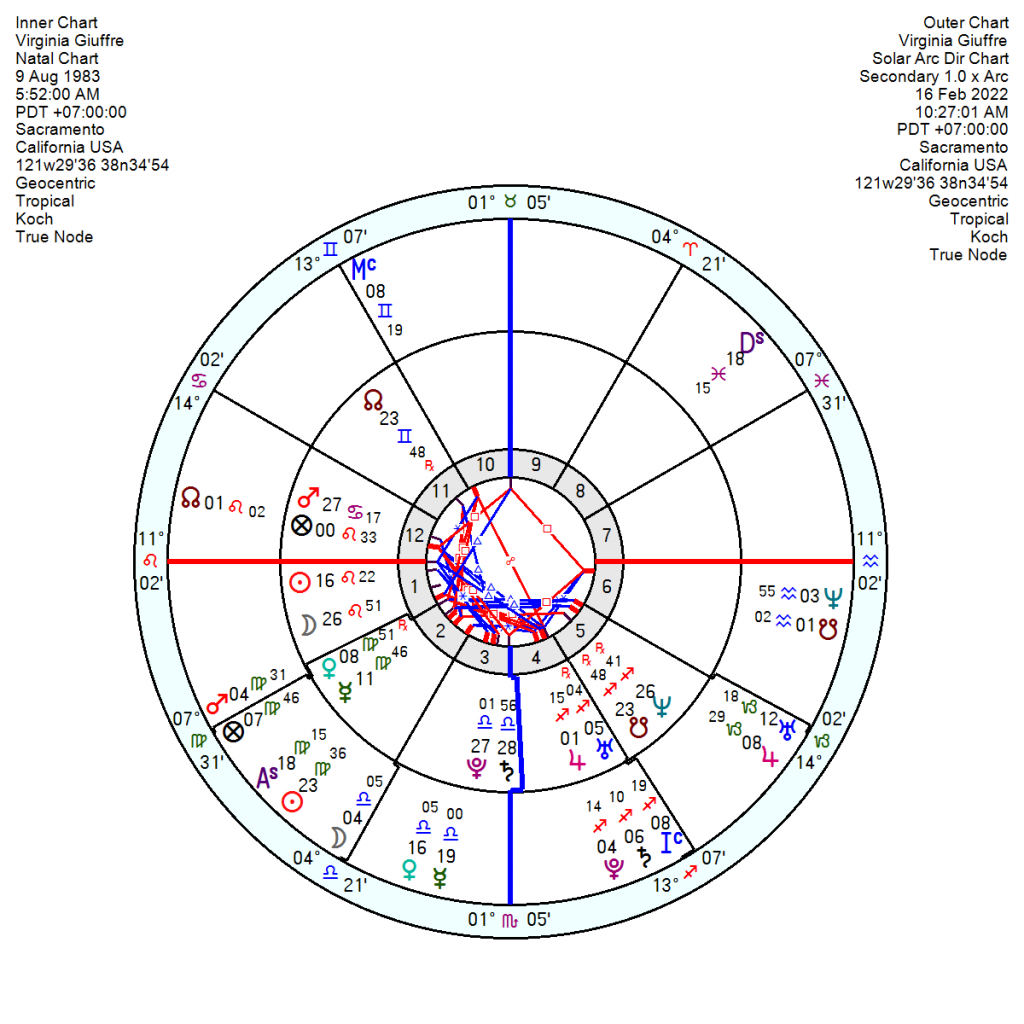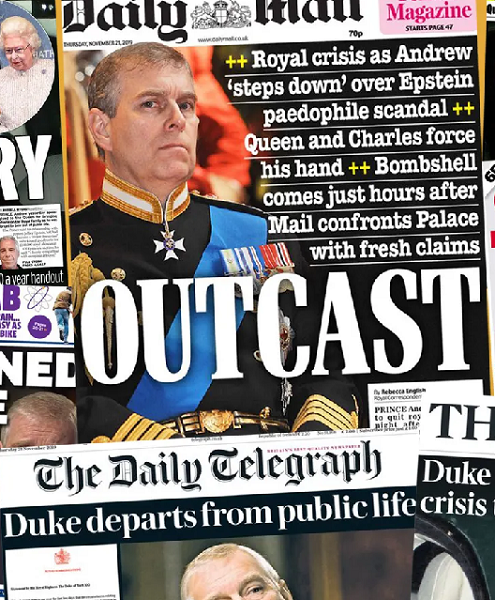 Prince Andrew appears to have reached a settlement with Virginia Giuffre, on the eve of the court case, estimated to be over £10 million, without admitting much apart from regret at his friendship with Jeffrey Epstein. Legal experts say it would have cost him more money to avoid having to confess to meeting her which he has always denied. His sanctimonious pledge to help the victims of sex trafficking in future were reckoned to be a desperate attempt to keep a door open for a return to public life down the line. ???
  What was always mystifying about his astrology was the sprinkling of Jupiter around – a lucky break tr Uranus opposition to a Jupiter midpoint now till mid March; a Solar Arc Jupiter conjunct his 7th house Sun, exact within weeks; and a go-ahead and usually successful tr Pluto conjunct his Sun/Jupiter midpoint from early 2023 to late 2024 which will super-charge his confidence. In his deluded state he may feel he has escaped jeopardy.
That's on the upside. On the downside – tr Pluto is in a frustrating, scary, trapped conjunction to his Mars this month and then his Venus, which will ramp up his emotional reactions – rage, jealousy, envy – on and off till late 2023. Given they sit in his 6th house, it could also have health implications, especially with his Solar Arc Moon moving to conjunct his Mars, exact within weeks, which can bring a shock, and then conjunct his Venus in 2023.
Plus his Progressed Moon is moving through his 8th house from a few months back and running on till August 2023 which is deep, a time of inner conflict, and can offer the chance of transformation through suffering. His Solar Arc Saturn is also moving through his 8th about to conjunct his hidden Mercury, exact within 7 months which could drag more murk into the open, perhaps financial, since there are questions over his money-laundering Kazakh buddies and how he supports a lavish lifestyle on minimal income at the moment.
He's also got a stressed and bad tempered April this year; followed by calamities late May to mid June, November and March 2023 as tr Uranus opposes his Mars/Pluto midpoint. Then tr Saturn in Pisces will conjunct his Sun and oppose his Pluto throughout 2023 which will be sobering.
His future depends largely on Prince Charles and William, once he loses his mother's protection. His relationship with Charles, never good at the best of times, has been jolted and jarred since late 2021, as he lost his final titles and patronages, right through till early April as their composite Moon square Saturn is being pounded by the tr Uranus square tr Saturn. There may be tense discussions about how much visibility he will have at Prince Philip's memorial and the Queen's Jubilee. Their relationship will remain wreathed in fog through this year.
But it is William he has to watch out for. With his brother Charles there has always been a competitive irritation and emotional chill. But his nephew seriously dislikes him and that will become a major obstacle to any re-emergence. Their relationship chart has tr Pluto square the composite Sun in 2023/24 with worse to follow. There is a Yod in their relationship chart of Mars Neptune sextile Pluto inconjunct Sun Mercury, so it may be that William has a clear eye as to how his own destiny could be knocked off track by the antics of his rancid uncle.
Sarah Ferguson, 15 October 1959 9.03 am London, is also looking strangely relieved in the near future. Though her prospects look anything but rosy in particular on the financial front in coming years. Andrew in the past has baled her out but that may no longer be possible as the purse strings tighten for him and her profligate spending and incompetent financial management land her in more trouble.
Virginia Giuffre, who had indicated through her lawyer that she would accept a settlement only if he admitted guilt, may assume that a large enough sum handed to herself and to sexual abuse charities is vindication enough. But for all that she is not looking too happy. Tr Pluto is in a frustrated and trapped opposition to her Mars this month and on and off till late 2023, with tr Pluto also square her Pluto Saturn which is change under extreme stress. She also has a disruptive tr Uranus square her Leo Sun from late May on and off into early 2023. Tr Jupiter through her 8th will help, bringing money her way at the moment; as well as a sense of leaving the past behind. A trial would have been a punishing ordeal for her.
  More will emerge on this in coming days.  One question being raised is about justice for the rich – they can buy their way out of admissions by paying out vast sums. The other is who paid? – provoking questions by Republicans about the Queen's wealth.