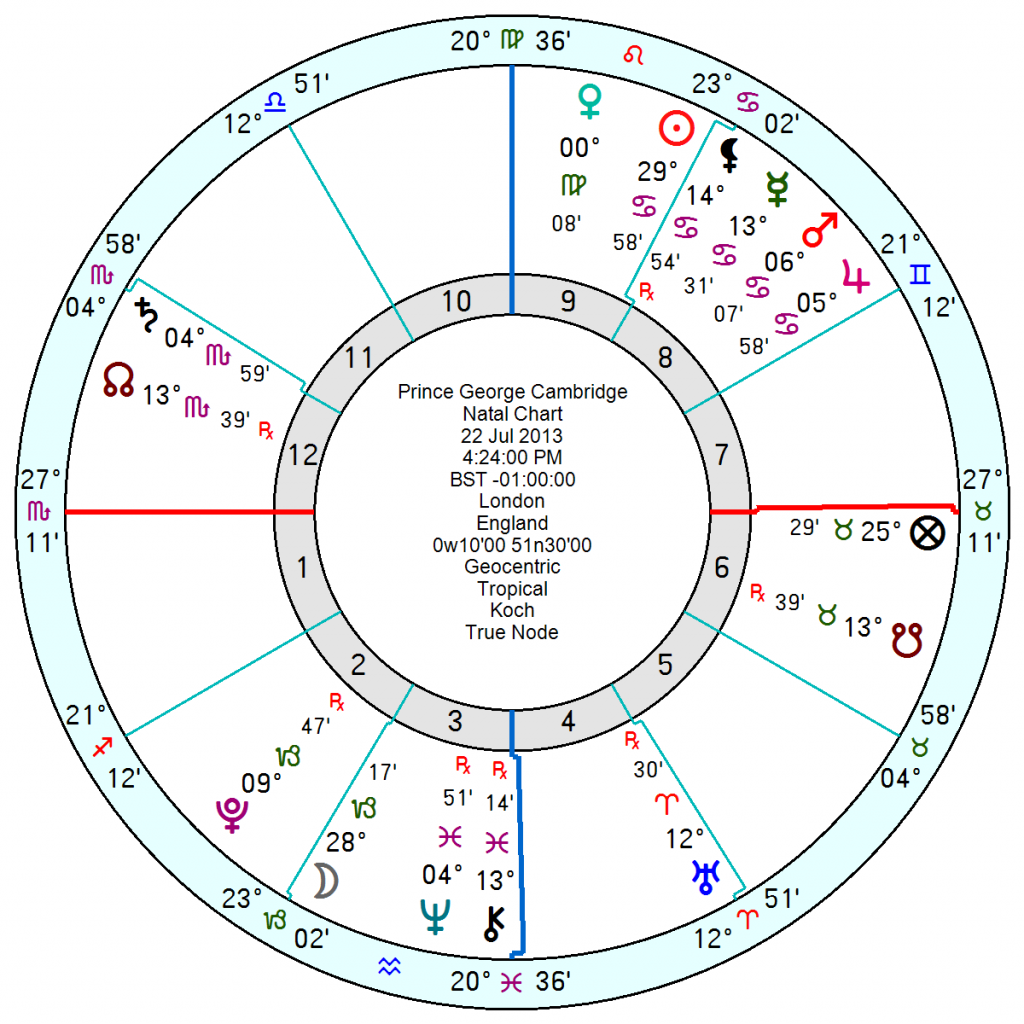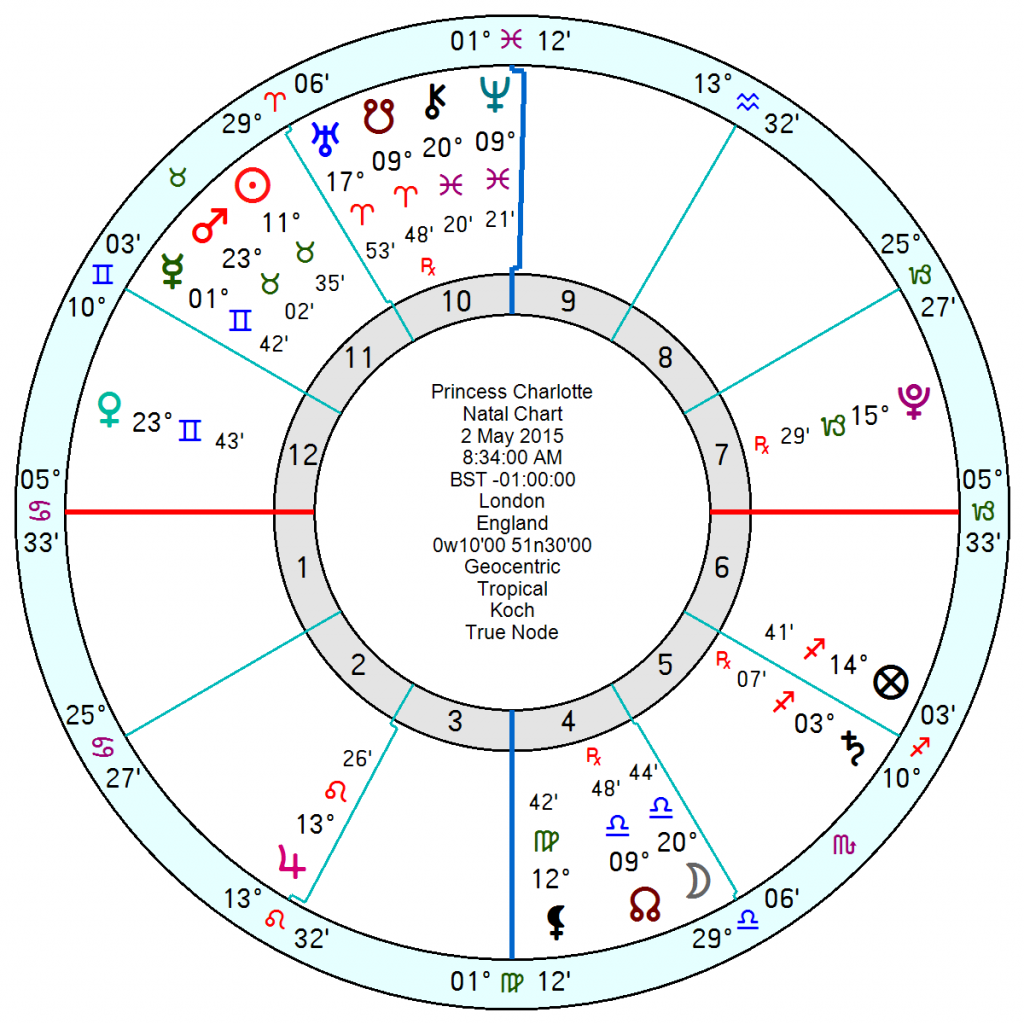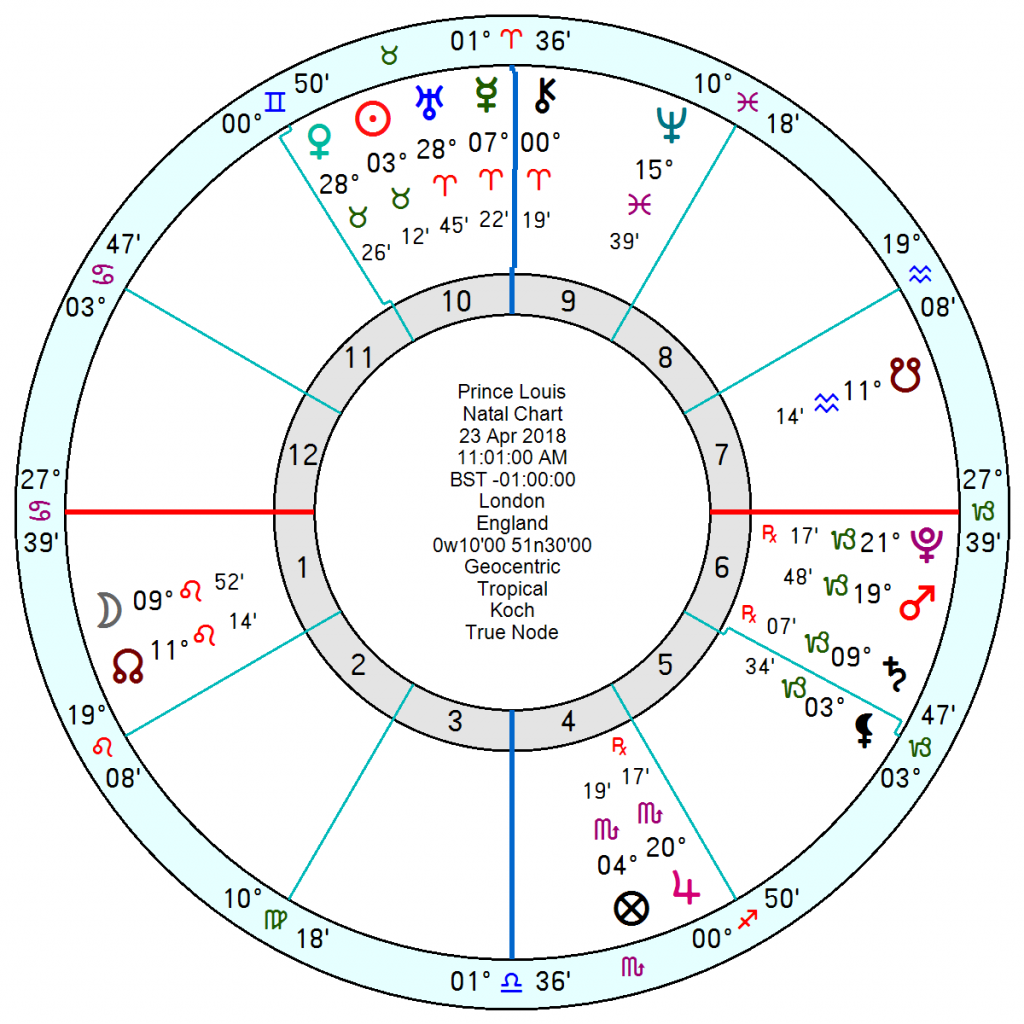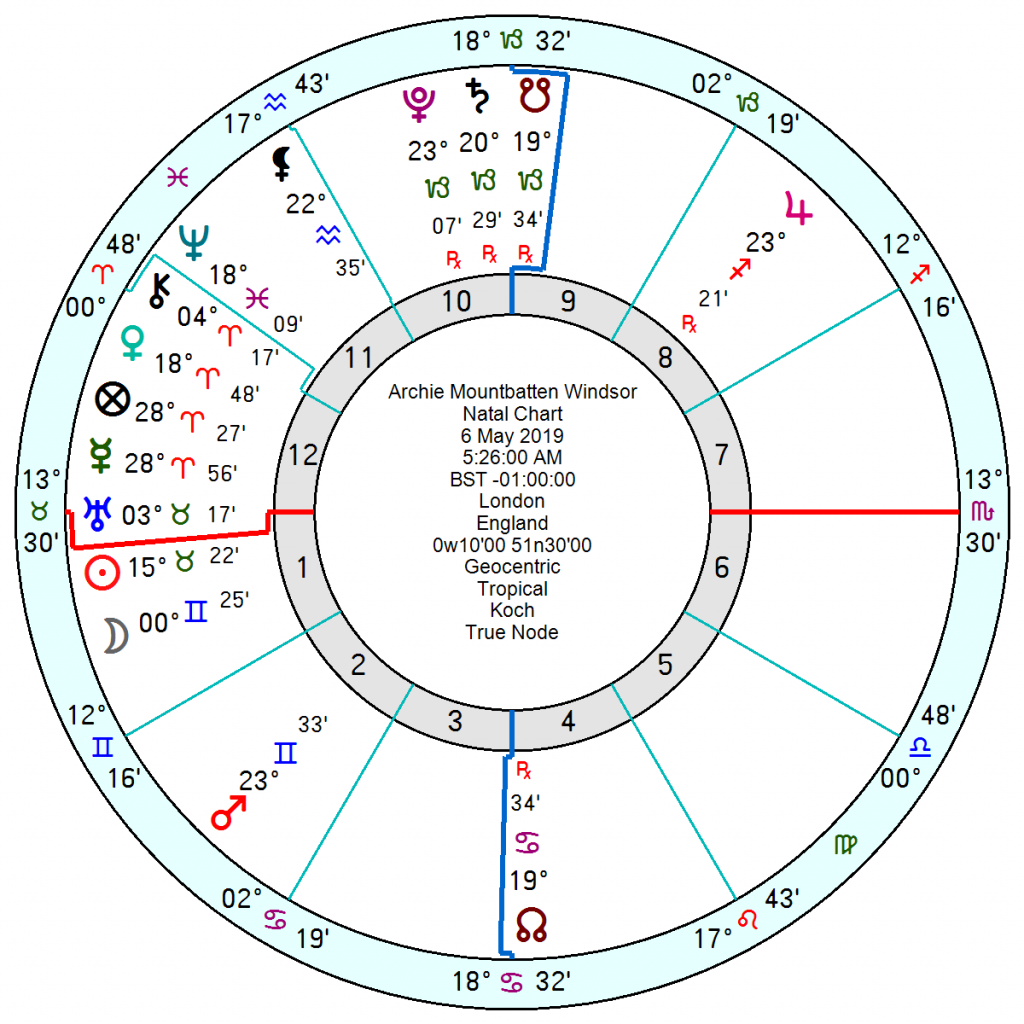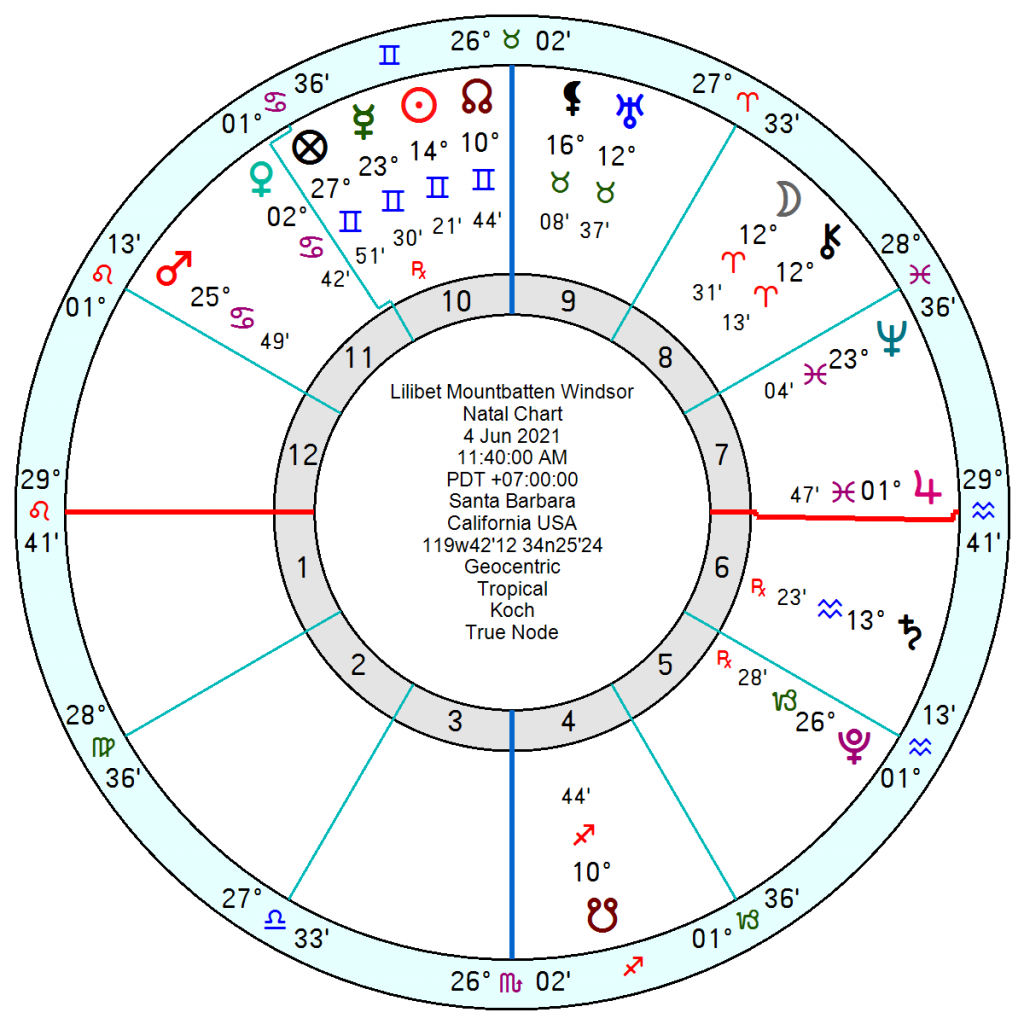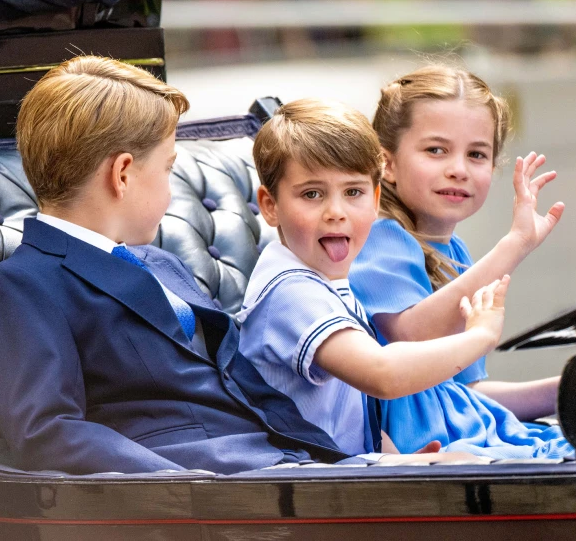 The Queen's great-grandchildren are making the most of a family jubilee with Louis's balcony antics taking the edge off the formality. Even the Sussex minis are across, with Lilibet, celebrating her first birthday, meeting her namesake for the first time.
Of Kate and William's three, Prince George the eldest with the heaviest burden to bear being in the direct line of succession, is the quietest. Born 22 July 2013 4.24 pm London, he has a final degree Cancer Sun in the well-travelled and well-read 9th house; with a private Water Grand Trine of an 8th house Mars Jupiter in Cancer trine Neptune trine Saturn in Scorpio, formed into a Kite by Mars Jupiter opposition Pluto. He'll be ultra-determined but tend to live within his own bubble of reality and not be overly outgoing. With a 9th house Venus he's likely to marry a foreigner.
Princess Charlotte, 2 May 2015 8.34 am London, has a friendly Sun and Mars in Taurus in her 11th with an intense Sun trine a 7th house Pluto, sextile a helpful/healing Neptune on her Midheaven. Her Jupiter in flamboyant Leo is highlighted being on the focal point of a Yod to Pluto sextile Neptune – not short of ambition or confidence, she will make a difference.
Prince Louis, 23 April 2018 11.01 am London, is a Taurus like his sister, with a tempestuous chart. His 10th house career-oriented Sun is trine a sensible and hard-working Saturn, but is also conjunct a wayward Uranus which in turn is square Pluto Mars in Capricorn. His life is likely to be dramatic with a fair few crises. He has an indulgent Venus in Taurus opposition Jupiter in Scorpio; and his flashy Leo Moon in his 1st is conjunct a 'leadership' North Node – he'll make a splash one way or another.
Harry and Meghan's two follow slightly similar pattern with the eldest Archie, 6 May 2019 5.26am London being the more serious. He does have an outgoing Taurus Sun on his Ascendant but it is trine a battened-down and determined as well as dutiful Saturn Pluto in Capricorn in his 10th. His Saturn Pluto are also square a 12th house Venus and Mercury in Aries – so he won't be a light-hearted gaddabout for sure. He does have an 8th house (= generous grandparents) Jupiter in a lively opposition to Mars square Neptune – he'll be attracted to showbiz pzaazz as well as making money. If his birth time is accurate, his mother comes across as overly rigid and disciplinarian.
Lilibet, 4 June 2021 11.40am Santa Barbara, CA, has a 10th house Gemini Sun and Mercury trine a hard-working 6th house Saturn sextile an 8th house Aries Moon – destined for a public career, communicative, emotionally secretive. An expansive Jupiter in her 7th will make her a persuasive and popular social companion; but a Mars in Cancer opposition Pluto does suggest major aggravations in her life.
Louis and Archie will clash mightily with their Capricorn planets clashing – though that may not matter much down the road.