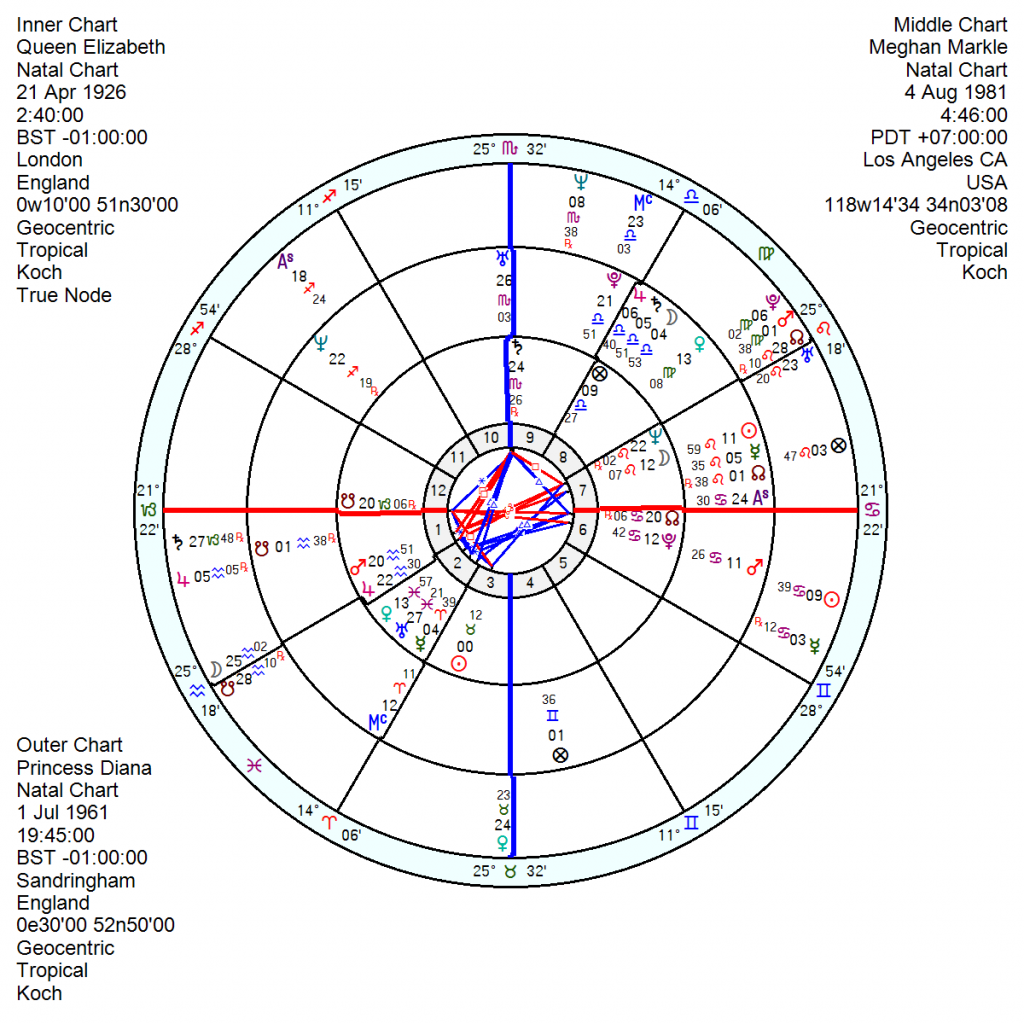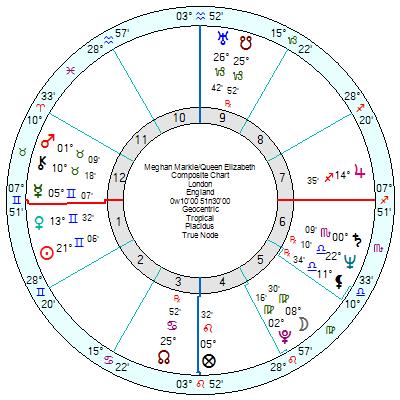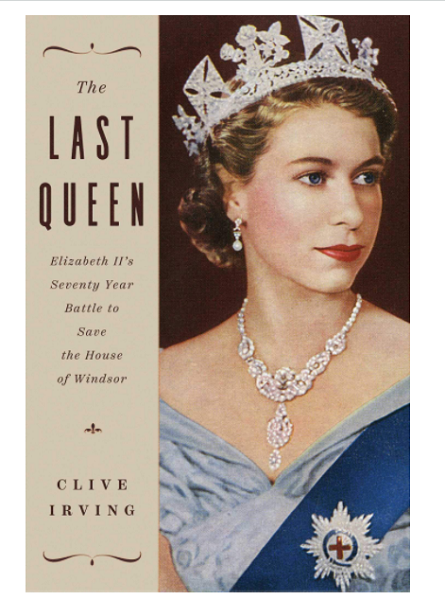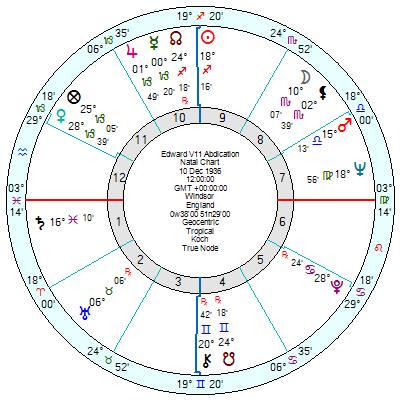 The never-ending tragi-soap opera of Meg-Haz versus the Royals lumbers on with tit for tats growing increasingly hostile. Claims are now being made, if you believe the Daily Mail, that Kate and Camilla are being blamed from the California side for leaking tales of bullied aides.
The reality is – slashing through the undergrowth of too many charts – is Meghan's most difficult relationship in the Royal family is with the Queen. HMQ's rigorously dutiful, obsessively conscientious and strait-laced Saturn in Scorpio on the Midheaven clashes badly with Meghan's freedom-loving, rebellious and unconventional 5th house Uranus. And even more aggravating is Meghan's volatile Mars in Cancer which is conjunct HMQ's strong-minded 6th house Pluto which gives the Queen very clear ideas about how work and duty are carried out.
Princess Diana had the same problem with her disruptive Aquarius Moon opposition Uranus squaring onto HMQ's Saturn MC and her Cancer Sun conjunct HMQ's Pluto.
Both Diana and Meghan appear to have (had) similar 'wrecking' tendencies when coming up against the constraints of a rigid system where personal wishes are discounted in favour of sacrifice and obligation.
HMQ's relationship chart with Meghan has a strand of affection and friendliness from a composite Sun Venus opposition Jupiter. But that is on the surface. Underneath there's a composite Mars opposition Saturn square Uranus which suggests a bond which one side will find unfair since it demands total allegiance and respect for the other and requires personal ego-needs to be suppressed. So it will feel one-sided and with Uranus in the middle, the tendency will be for it to explode at some point.
Diana's relationship chart with HMQ was not quite as difficult but there was still a needs-space, different-agenda composite Sun Uranus and a power-struggling-for-the-upper-hand Jupiter opposition Pluto.
The relationship between the Queen and Meghan was already under strain by the time of the 2018 marriage with tr Uranus throwing hand-grenades onto that volcanic Mars Saturn Uranus composite T Square and continuing to shake it up thereafter. Tr Pluto is now sitting exactly conjunct the focal point composite Uranus through this year and next and then grinding down on the composite Saturn and Mars till mid decade, so it won't get easier.
Although Harry is now down the line of succession the Queen will regard this as a danger point for her life's work with Meghan's Uranus on her Midheaven having the potential to derail what she has stood for.
Two thoughts. One is I wish people would stop saying Americans don't understand the Royal pecking order. There is no hierarchy more starkly rigid than that of the Hollywood 'star' system. Try upstaging the diva at the top of the cast list and see what happens? Meghan was six down the SUITS dramatis personae, not even a co-star. She's knows very well what deference is all about.
The second: It always struck me that Diana's downfall was her inability to let go and not get her own back. She always had to retaliate, so hung onto hurts and resentments and kept the ping pong matches of bitterness running. Meghan appears to have the same trait. Diana did have a Mars Pluto conjunction on the focal point of a mini-Grand Trine to her Sun trine Neptune which would be part of the reason. Meghan has a 4th house Pluto which on its own will contribute to her need to maintain control and the upper hand where family are concerned. And her Pluto squares her Mars/Node midpoint which interestingly Ebertin describes as forced separation of relationships and will also give her a vengeful streak.
Third thought – I have a theory that at the end of life – sometimes – what has been brushed under the carpet in an individual life surfaces. The old persona is ditched or melts away since there isn't the energy to keep up the pretence and what was always there comes into the open. Maybe the Di-Meg phenomenon is the Queen's unconscious desperate to kick over the traces and say to hell with protocol and deference. She's in no position to act it out but she must yearn to be free.
PS: There are surprising astro-similarities to King Edward's Abdication in 1936 which rocked the Royal Family to its foundations. The Nodes and Eclipses were almost the same degree of Sagittarius as last December's – still in effect. Uranus was in early Taurus and Pluto in late Cancer.