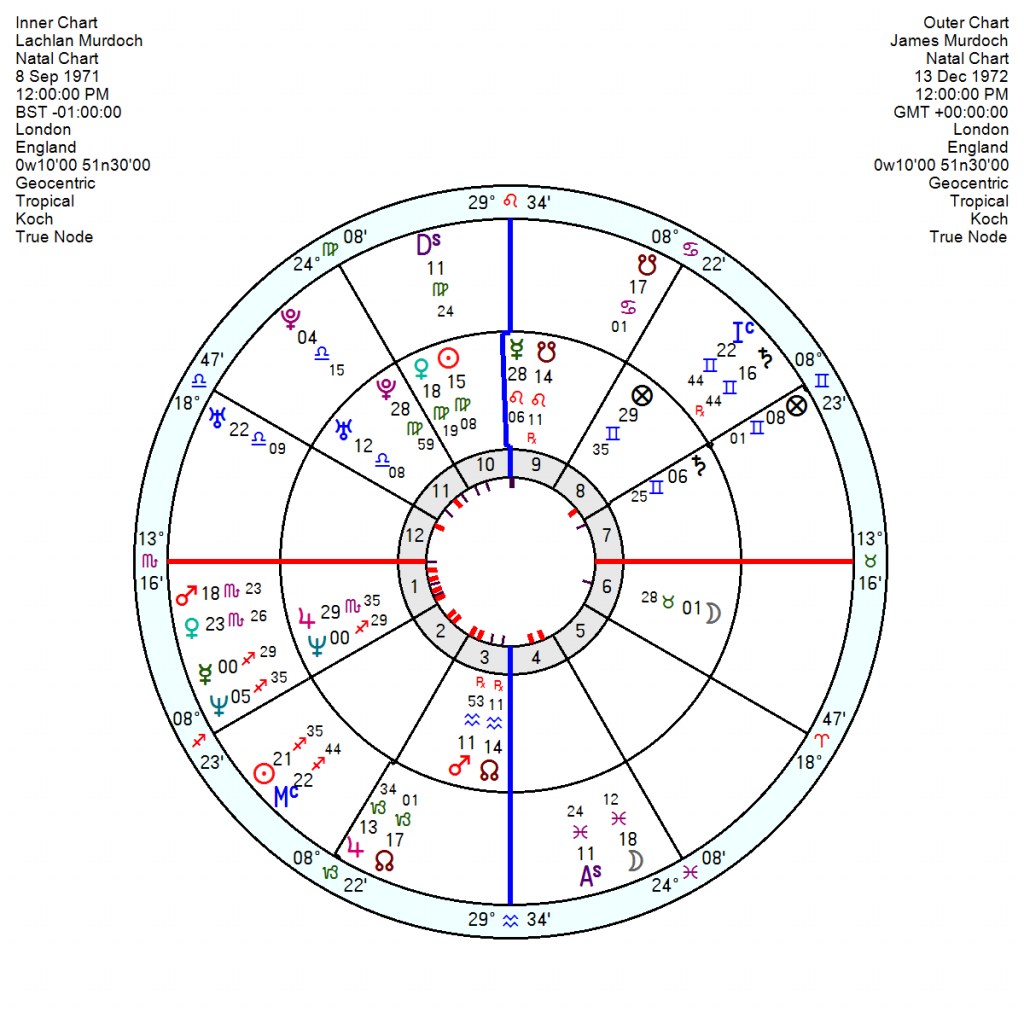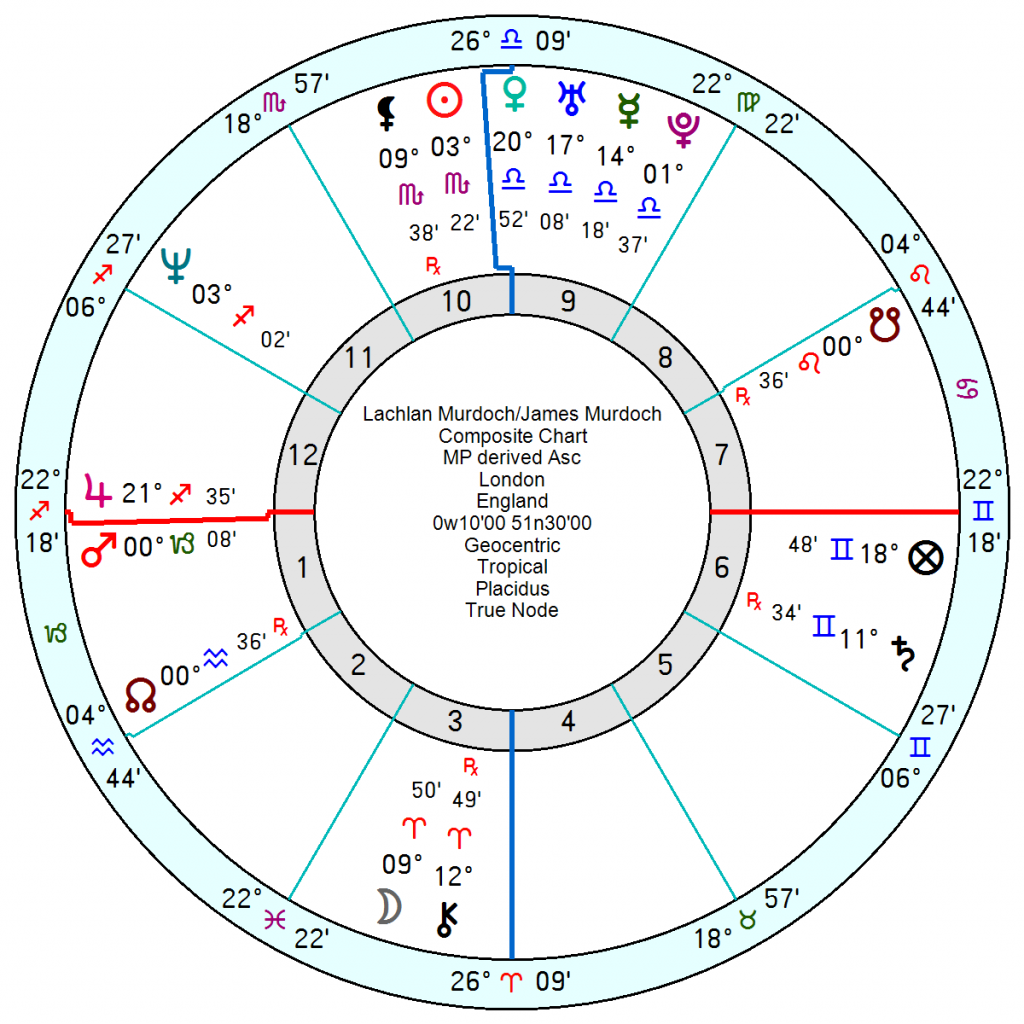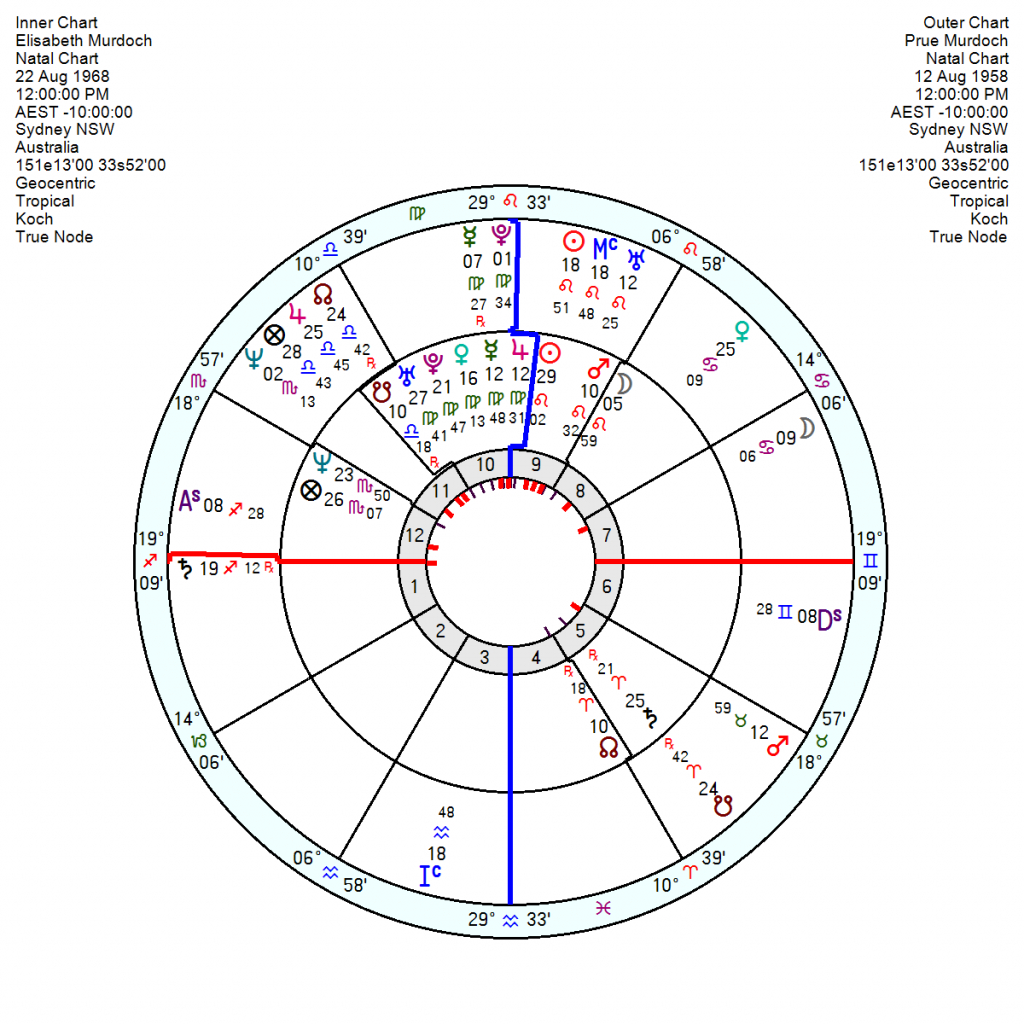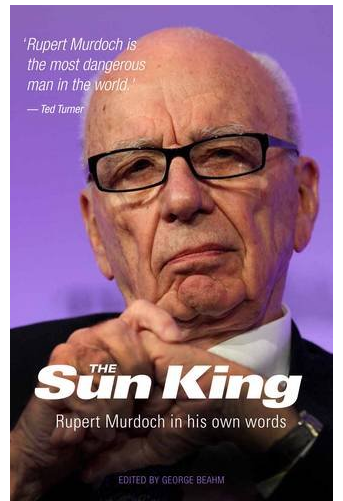 A titanic family struggle is waging amongst another tribe where sibling rivalry could break out into open warfare when the patriarch dies. The Murdoch clan is braced for a bitter fall out with the two senior sons, the named successor Lachlan and spurned James at odds, with sisters Prue and Elisabeth, who also have a say, keeping their loyalties veiled pro tem.  
  Plans to merge Fox and News Corp which is causing angst amongst other shareholders is thought to be a Lachlan move to shore up his control but is likely to run into heavy opposition from left-wing, liberal-minded James.
An insider said "There is going to be a lot of jockeying for position and a lot of ugliness, and Lachlan will not get away with maintaining the status quo." Rupert Murdoch himself acknowledged in 2000, "If the kids fought hard enough, the whole thing would break down; there is no mechanism against that happening."
What doesn't help – though it is intriguing – is that all four siblings have their Mars in a different Fixed sign, all in hard aspect to each other. Lachlan has Mars in ornery Aquarius, James Mars in vengeful Scorpio, Elisabeth Mars in flamboyant Leo and Prue Mars in Taurus. All are heavyweights, not inclined to budge when the chips are down.
Lachlan, 8 September 1971, a Sun Venus in Virgo, clashes with James, 13 December 1972, whose Sagittarius Sun opposition Saturn squares Lachlan's Sun Venus – a chilly, critical interface. Their relationship chart has a struggle-to-the-death composite Pluto square Mars with no quarter given – tr Neptune Saturn in Aries in 2025 will stretch that dislike to the limit.
Lachlan does fare better with Elisabeth, 22 August 1968, since her Jupiter, Mercury, Venus, Pluto in Virgo favour his Virgo Sun though there is still a ratchety, irritable composite Mars Saturn conjunction in their relationship chart so not all sweetness and light.
But Elizabeth fares even less well with James since that relationship chart has a composite Mars Pluto conjunction which is being undermined between now and 2025.
  Prue's birth date is questionable – maybe 12 August 1958 from a genealogy site. If accurate it makes her a feisty Sun Uranus in Leo trine Saturn and square Mars. She won't be seeing eye to eye with Lachlan over the next two years.
Being born into a dynasty isn't all champagne and roses.