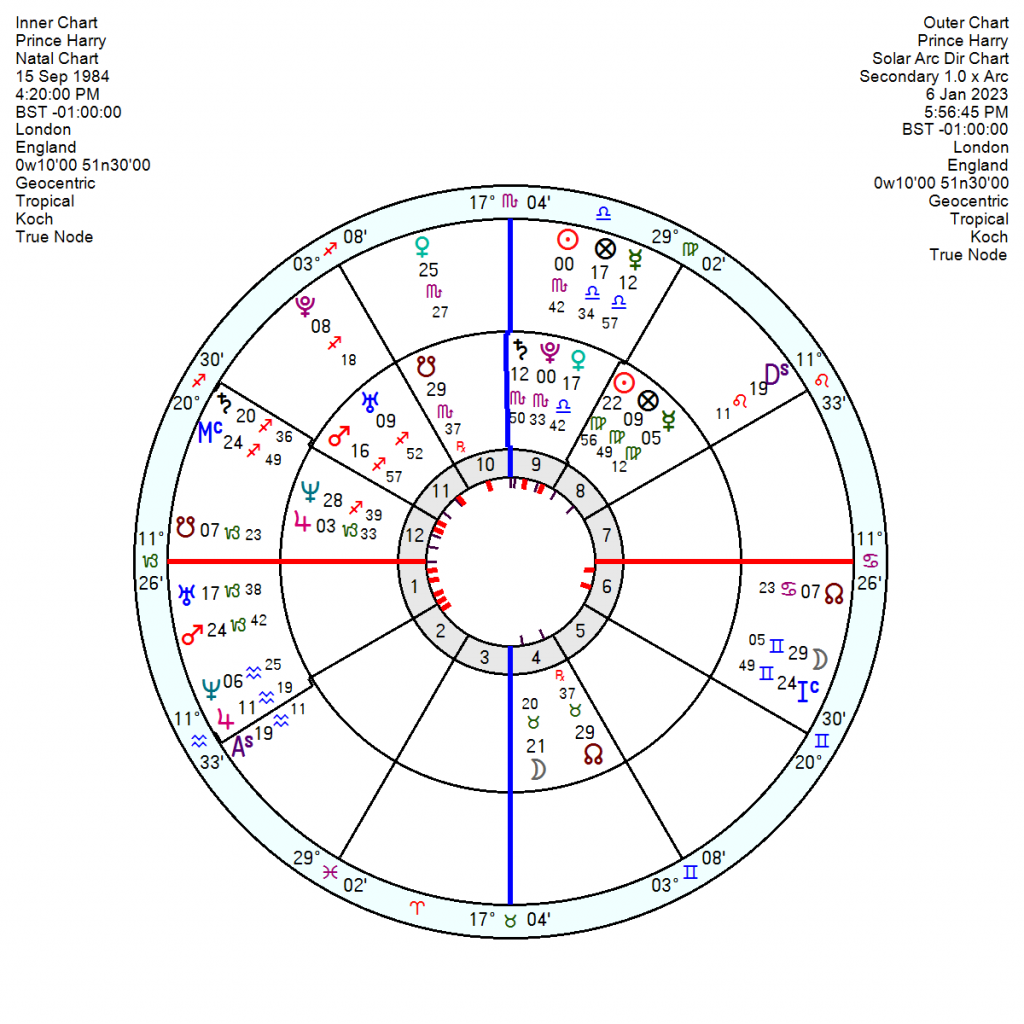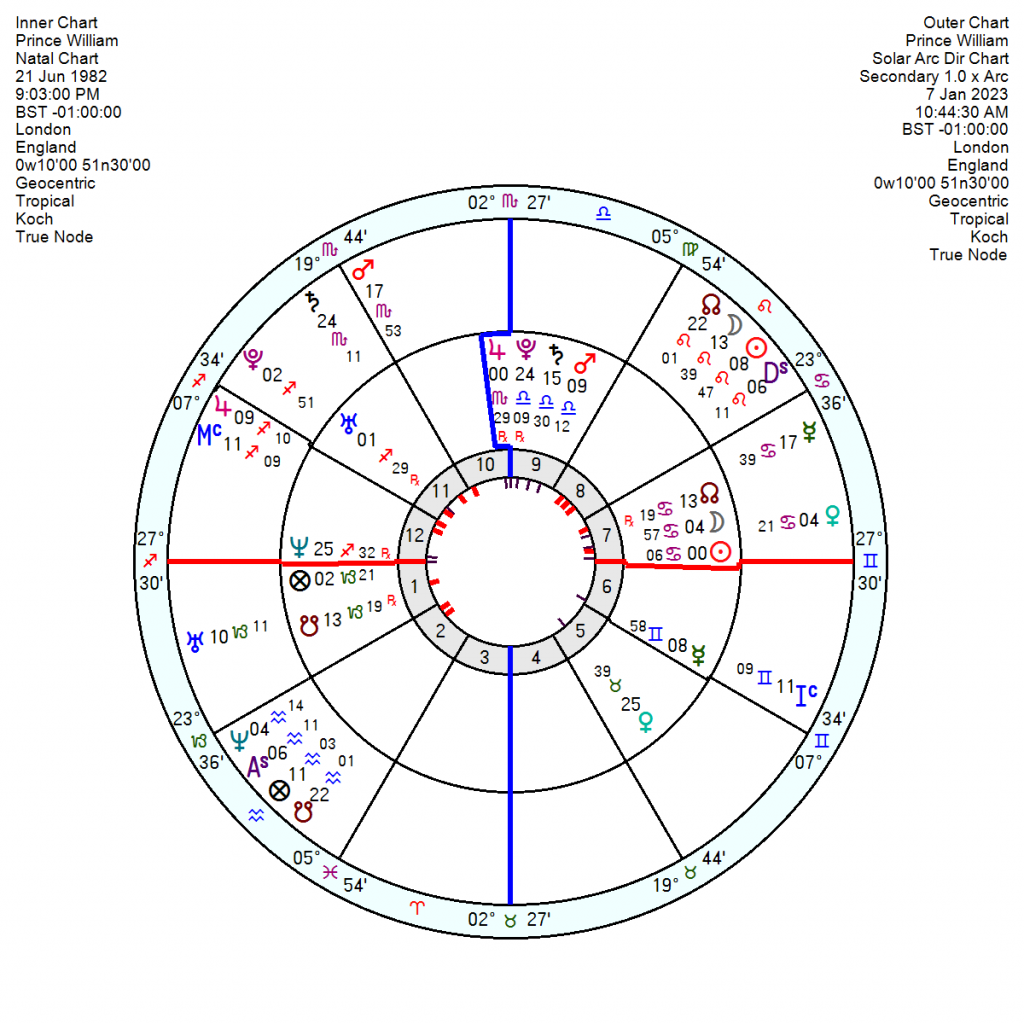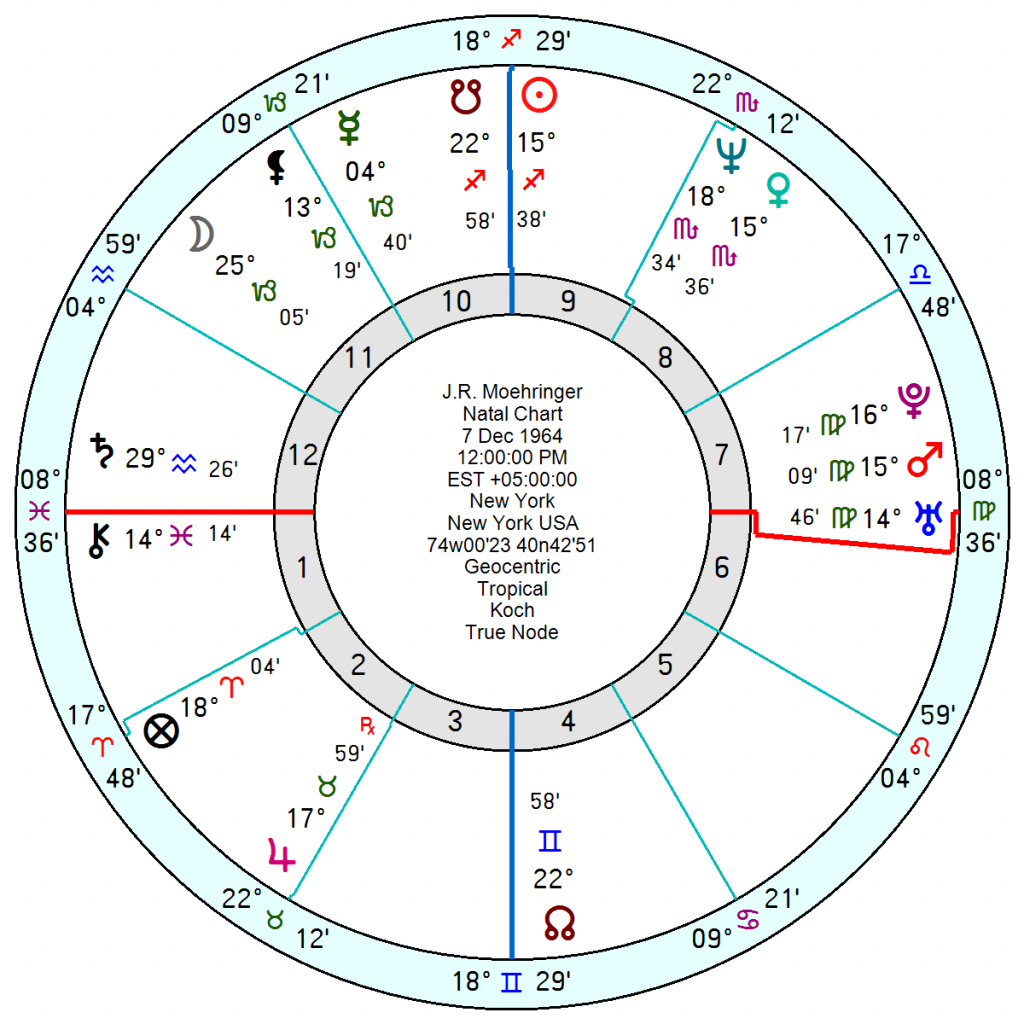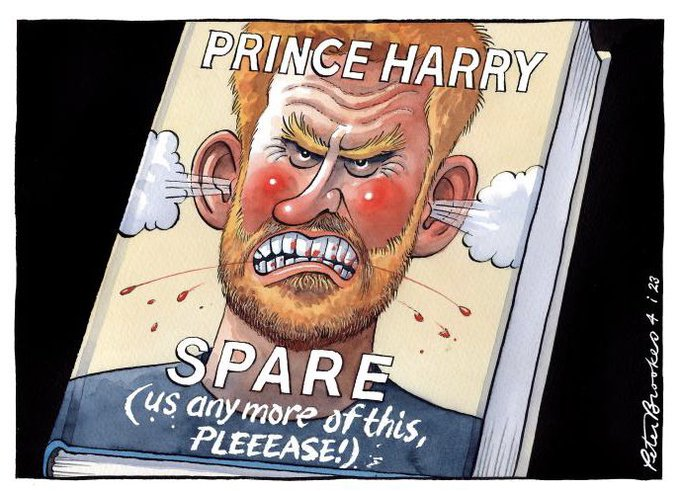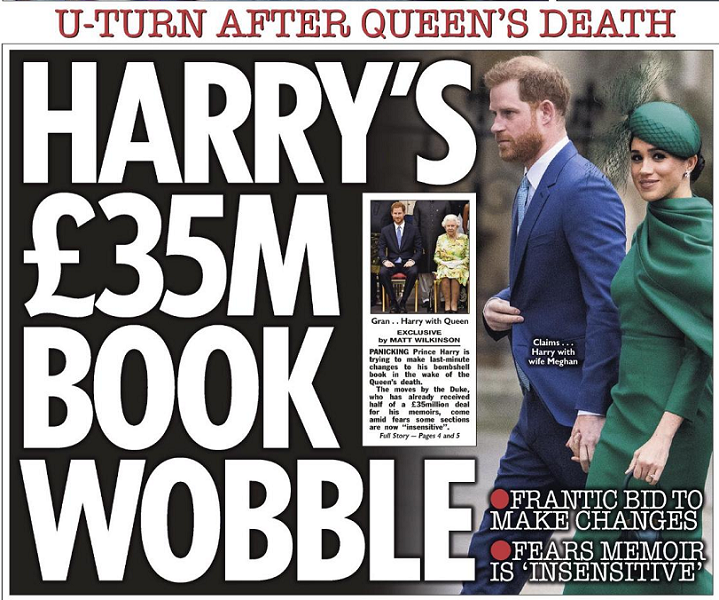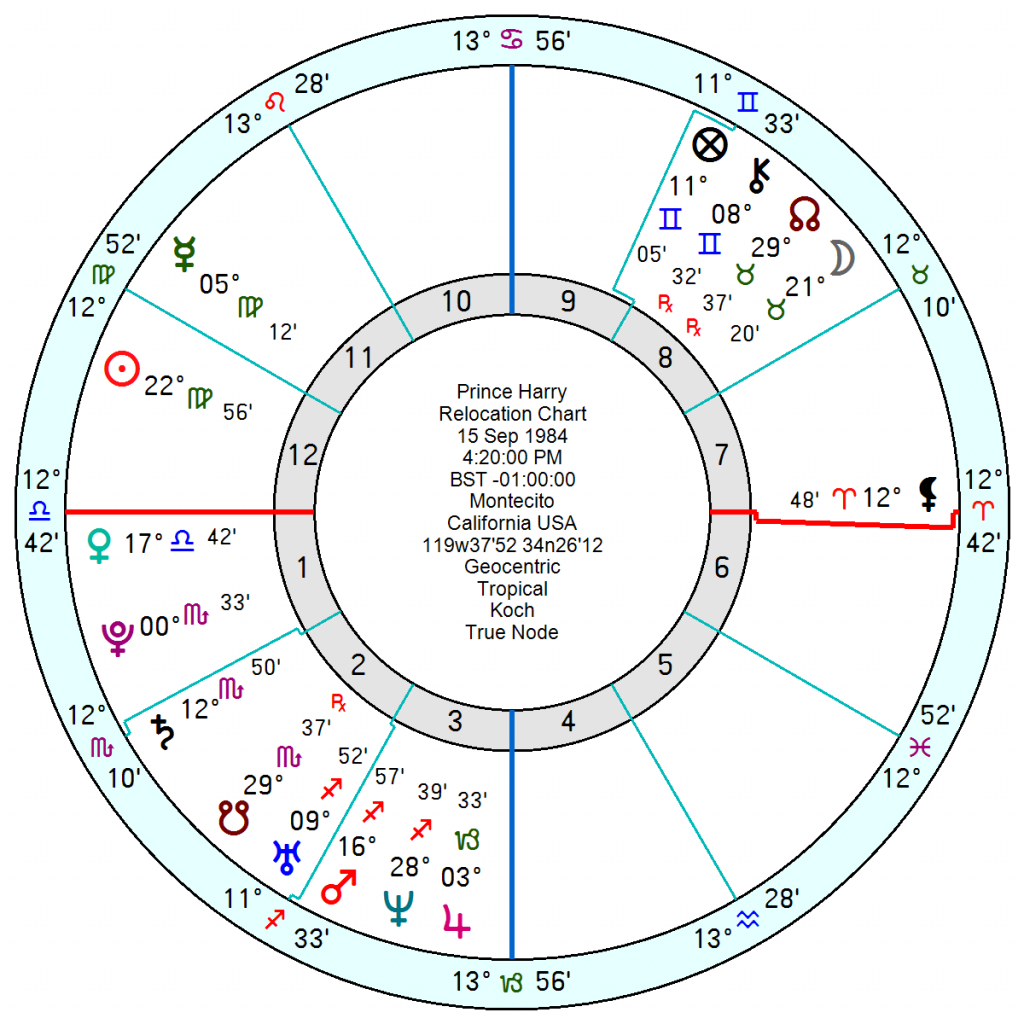 Oh dear, oh dear, oh dear – the expected car crash happened. What possessed his ghost writer, publishers, friends (does he still have any?) to advise Prince Harry to publish such an industrial quantity of petty gripes that make him look utterly pathetic. He'll never live it down and it'll haunt him for the rest of his days – and that's just the personal stuff. The Taliban are a different order of stupidity. It reminds me of one of the letters that therapists suggest clients write to their family which is NEVER to be sent. Get it off your chest and keep it to yourself.
He knows he's screwed up – his Solar Arc Sun is exactly conjunct his 9th house (publishing/opinionated) natal Pluto grinding him to a complete halt and tr Pluto moves to square both from late March 2023, which will put him through the mill still further and pound him till late 2024.
He does have tr Saturn moving through the lowest point of his low-profile First Quadrant which is often when unresolved psychological issues surface to be sorted out (hopefully) but is a period when staying less visible is advisable. His tr Pluto square his natal Pluto from March this year is also the start of his mid life crisis (38 to 42/3 years old) which is followed by tr Neptune square natal Neptune and then tr Uranus opposition his natal Uranus by 2027. Carl Jung thought that embracing the mid life crisis and going through a painful process of transformation which pulls away the past is what makes the second half of life vibrant and fulfilling. Ducking the challenge leads to stagnation.
He's also got multiple other tricky influences – two affecting his future direction are tr Uranus opposition his Midheaven this April for a sharp change of plans; with an indecisive, undermining tr Neptune square his Solar Arc Midheaven from mid next month on and off into 2024. Plus an emotionally upsetting Solar Arc Uranus square his Venus exactly now; and a family disappointment/confusion Solar Arc Moon opposition his Neptune. Plus more family upsets from this June onwards with tr Uranus conjunct his Moon.
He ought to be down a rabbit hole and stay there to sort out his scattered wits.
Prince William has one confused/disappointed midpoint but on the whole looks upbeat and keen to push on. What is showing is tr Saturn square his focal point 5th house Venus in Taurus for a few days late this month into February. It isn't necessarily sibling related but it suggests a sadness or separation and however relieved he may be that it has backfired on Harry it will make him grieve for what was once a reasonable connection and be embarrassed for his brother's screw up. William is highly emotional with a New Moon in Cancer and reactive with his Mercury trine Mars and opposition Uranus – he is renowned for having a temper as indeed many Royals, including back generations had, including the late Queen's father George V1.
What is notable is that Harry's Pluto is conjunct William's Jupiter Midheaven – and if ever there was a power-struggling, oneupmanship tussle that's it. Harry's grinding and vengeful resentment from Pluto in Scorpio, which CANNOT let go, compels him to damage/destroy William's success. For all Harry's early protestations that he never wanted to be king, he really cannot bear that his brother will be.
J.R. Moehringer, the ghost writer, 7 December 1964, is talented but probably (certainly) a bad fit in the circumstances. He is a Sun Sagittarius square a volcanic and angry Pluto, Mars, Uranus in Virgo so he would not be a calming force through the research/writing, quite the reverse. And he's also (sigh) one of the Jupiter in Taurus opposition Neptune (and Venus) bunch which falls across Harry's IC/MC axis = scandals caused by instability – or over hopefulness. That relationship looks fraught exactly now and on for the next three years.
Harry's relationship with Ted Sarandos of Netflix isn't great ahead (see previous posts in search) and Oprah looks to be backing off big time.
Exhausting and toe-curling to watch.
Add On; There are IT gremlins afoot. I keep trying to post the below as a comment and it disappears!!! So have put in as an add on.
Leading on from a comment by Yanette on the Sibling Rivalry post below:
' Harry was drink drug using from @age 16. His book talks about cocaine from age 17, cannabis and magic mushrooms. Long term drink/drug use from adolescence into adulthood can lead to serious mental health issues surfacing in late 20s and 30s. Add to that possible PTSD or similar from Diana's death and/or his time in the army (I'm not diagnosing, just a guess),and yes it makes sense it first came to a head in the period of his 2nd Afghanistan deployment (@age 28/29) and leaving the army (@31 years old).'
And he's still using. He merrily – evidently – describes have a good sniff of nitrous oxide/laughing gas provided for birthing mothers when Archie was being born. Acc to the report it emptied the supply. He brushes it off as a joke.
I have friends with kids with drug problems and they head into their forties still not having got their act together. Kids in their late teens and early 20s still have fairly malleable brain structures which drugs can mess up.
Astrologically the two major transition – grow up – phases are the First Saturn Return at 29 and the mid life crisis 38 to 42. I remember my first Saturn Return as fairly traumatic but I got through it and got a grip thereafter.
Harry seems to have ducked both. If his mental trauma did all start to surface in his late twenties to early thirties that was when tr Pluto was crossing his Ascendant – beginning an immensely helpful and insightful phase of many years. But that clearly didn't work too well for him.
I'd reckon the strong possibility is that it was early and continued drug use that is his key problem. Plus perhaps PTSD on top. Both of them require specific therapeutic intervention, tailored to the problem. Touchy feely or explore your early environment therapy isn't what is needed.