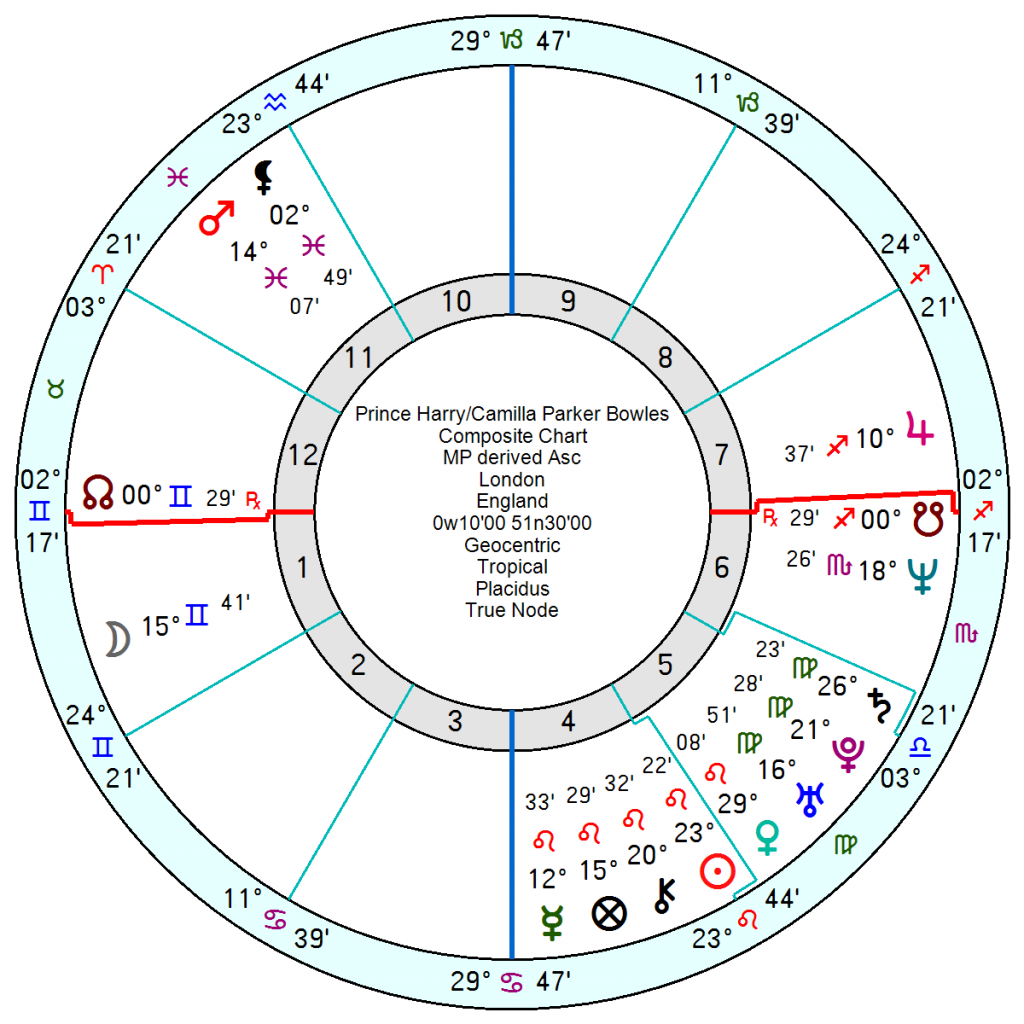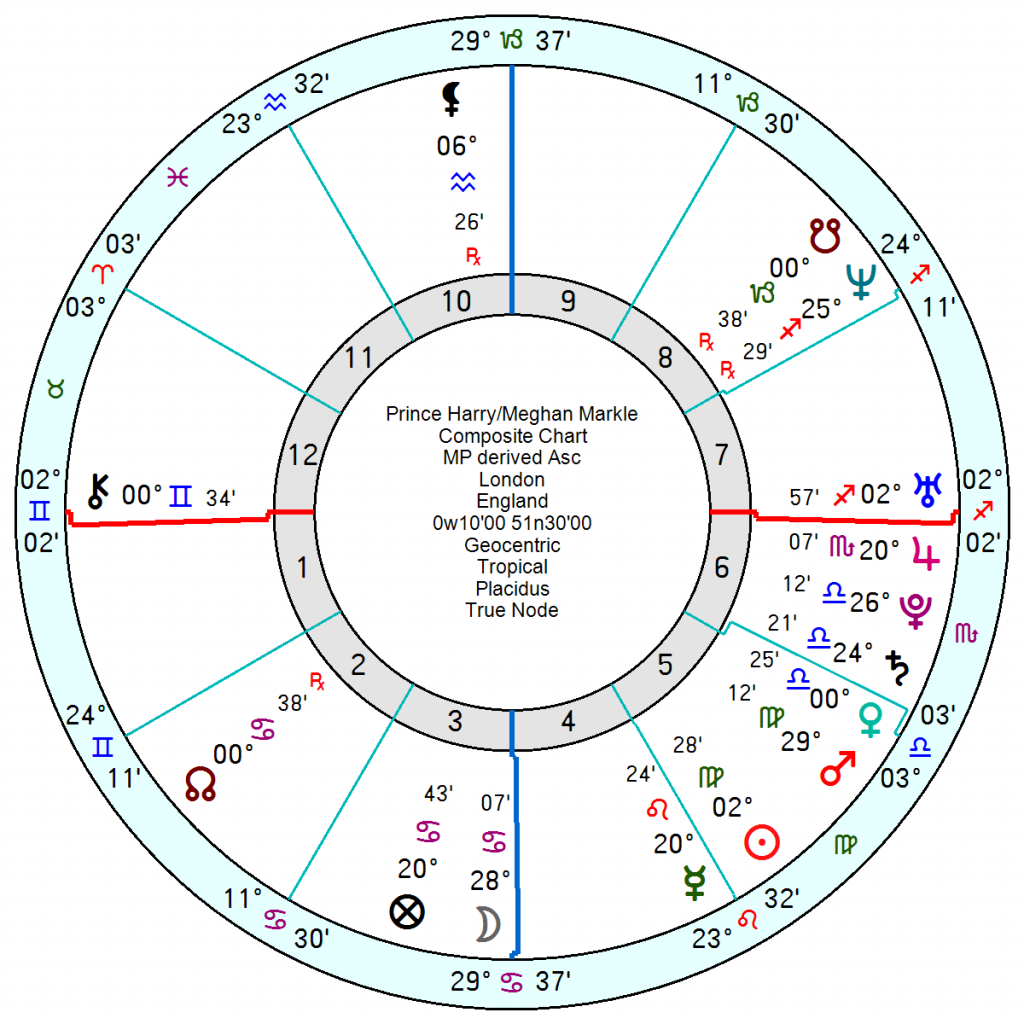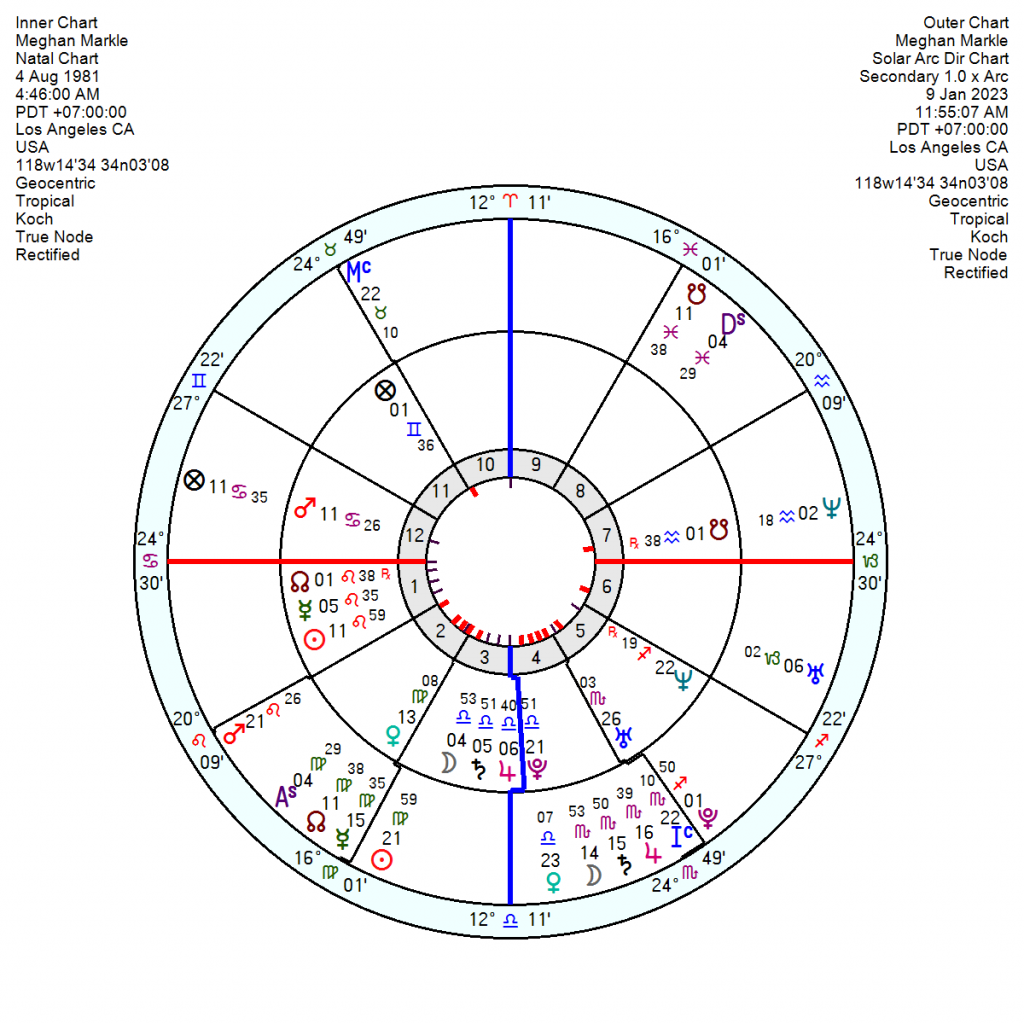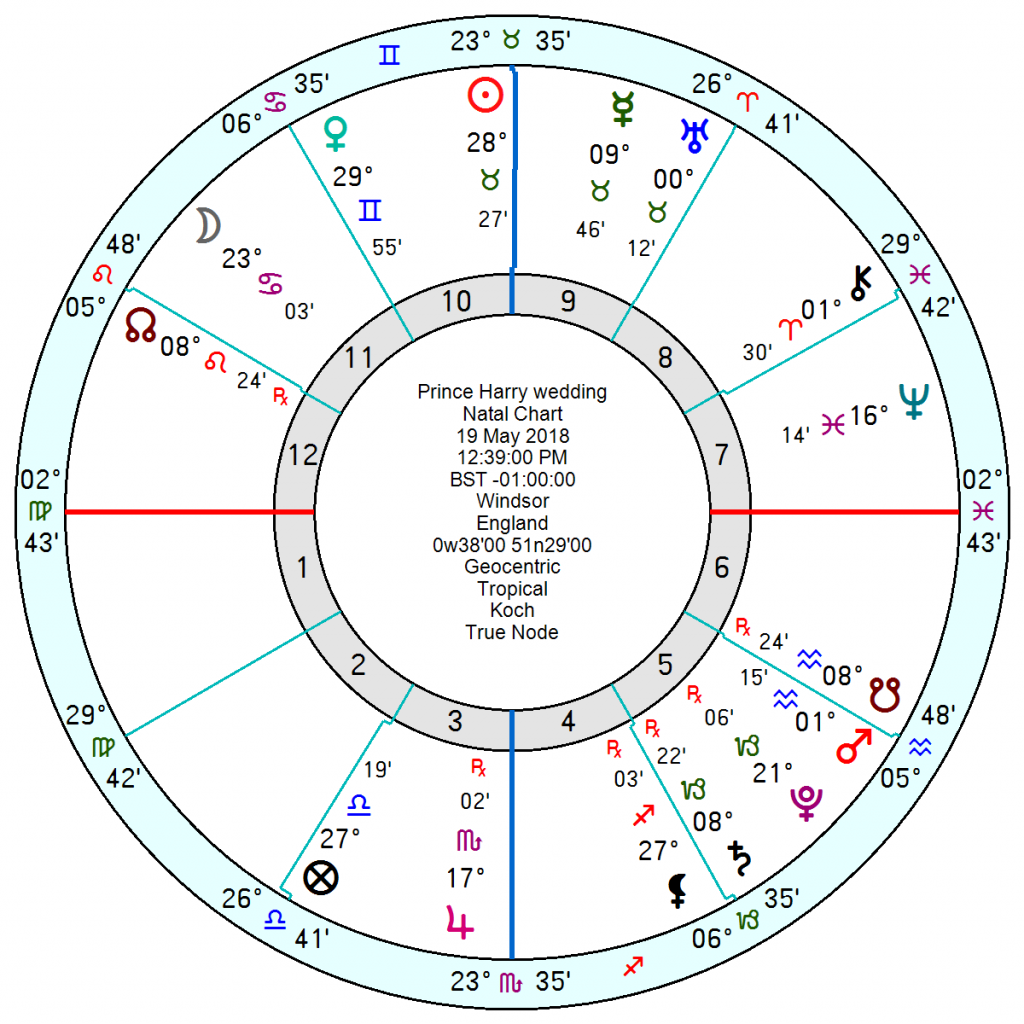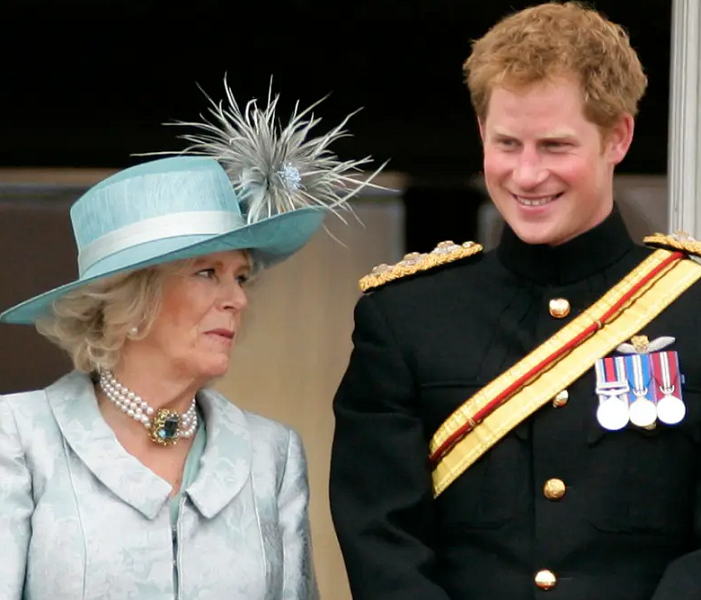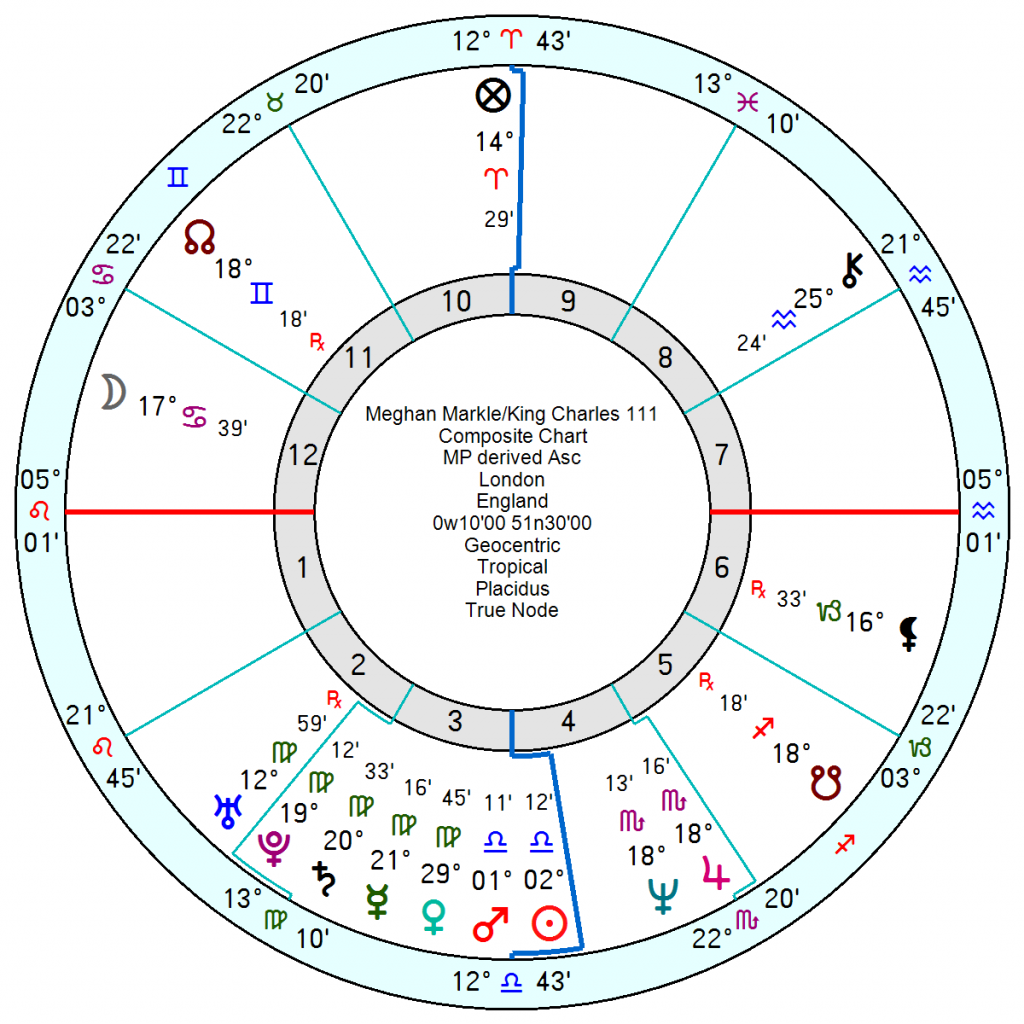 Will the hole Harry is digging for himself get deeper? Regrettably the answer seems to be a resounding yes. Whatever justifiable grievances he has had are being buried under a welter of half truths, wholly untruths and confabulated narratives that don't fit the facts. His agitated, hostile and prickly dismissal of any other version suggests a pathological need to live in his own bubble of reality.
Saturn moving into Pisces from this March for two years is going to put a damper, not to say descend a deluge, on all of Harry's relationships with Will, his father, Camilla, Kate and Princess Anne. His attacks and bitter dislike of Camilla will, worsen in 2024, with an eruption or two through this year.
On his personal chart late 2024 looks like bringing a seismic upheaval in his plans for the future with his Solar Arc Pluto conjunct his Uranus with a sharp reality check in 2025 from Solar Arc Saturn square his Sun.
His relationship chart with Meghan has been under severe pressure through 2022 and before with tr Pluto square the composite Saturn Pluto and now opposition the composite Moon. It is a bond that only holds while the resentment is aimed outwards at others, rather than being addressed as a dynamic of their relationship. But that can't hold for ever. Tr Pluto is back opposing the composite Moon from the middle of this month and on and off till late 2023. With tr Pluto conjunct their composite Midheaven at 29 Capricorn from mid February on and off till late 20924 which will bring heavy discussions about future direction. Tr Pluto conjunct Midheaven can destroy reputations. Tr Saturn will oppose their composite Sun from late March on and off through 2023 which will bring a sense of separation. 2024 sees tr Neptune opposition the composite Mars for a feeling of failure about the relationship and that rolls through into 2025/26.
Meghan's Sun/Moon midpoint at 8 degrees Virgo catches the tr Saturn opposition in 2024 which will cast a chill if not a separation on their togetherness. Harry's Sun/Moon midpoint doesn't catch a Saturn conjunction till 2027 but it isn't unusual for marriage partners to react at different times to a split, depending on their psychological capacity for letting go.
Meghan has her Solar Arc Sun square her Neptune now which is undermining and confused and is into her mid-life crisis in 2024 which can often lead to hasty decisions and with tr Uranus moving into her 11th she will be radically changing her outlook on future plans. 2026 looks undermining on the domestic and family front.
She does have tr Jupiter moving across her Midheaven from this March until May 2024 which is usually successful and high profile on the career front.
2028/29 look car-crash years for her with disruptive and explosive Solar Arcs.
Their wedding chart always did look turbulent with Mercury Uranus square Mars and a Sun trine Pluto and trine Mars and Moon opposition Pluto. It'll be under considerable stress with tr Pluto moving into Aquarius upending the Uranus in square from late March and worsening in 2024/25 with tr Pluto conjunct the wedding Mars.
There is nothing to say they absolutely have to part company but given her marital history and his family history it could be more likely and there are enormous strains coming up.
ADD ON: Wilt. Meghan may write her own memoir. Spare us. There is something sick, almost malevolent about the whole sorry, sordid and regrettably riveting spectacle.
Meghan's relationship chart with Kate with a controlling composite Sun Pluto conjunction has been under strain for some time but worsens dramatically from late this March as tr Pluto squares the composite Sun for two years – aggravated further in 2024 by tr Uranus rattling up the explosive Venus Uranus square Mars Moon.
Camilla will also be wilting vis a vis the Montecito Madame through 2023 and more so in 2024.
Meghan's relationship chart with father-in-law Charles will be high tension this spring; and heading fast downhill in 2024 with tr Neptune opposition the composite Venus as well as tr Pluto trine the Mars for a frustrated and angry mood; with worse in 2025 as tr Neptune Saturn in Aries square the Sun Mars.
A folie a deux that feeds off envy, hatred and vengeance