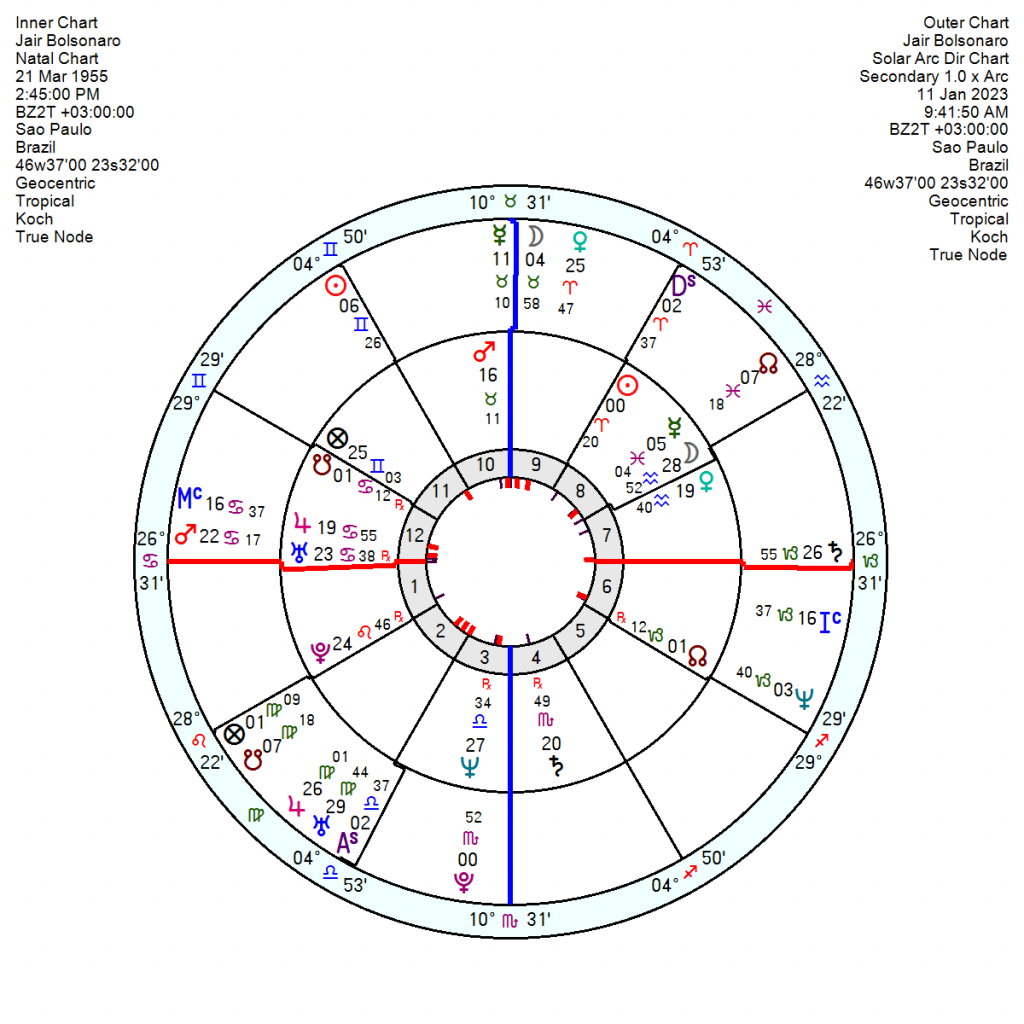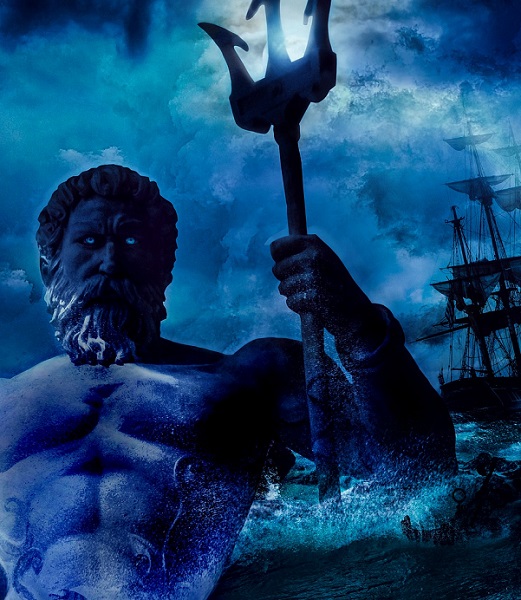 Jair Bolsonaro, the defeated far-right Brazilian president, lurking in Florida is facing calls for his extradition after his supporters stormed the Supreme Federal Court and Congress buildings.
A pro-Trumper and mutual backslapper, he's described as a populist with fascist tendencies and he's another of the Jupiter in hard aspect to Neptune types and was sworn in on a Jupiter square Neptune in 2019.
  There is something swirling at the back of my mind about Brexit, Trump and that whole Jupiter Neptune energy around in square in 2016, extending on to the Boris Johnson, Kevin McCarthy Jupiter Neptune opposition – and the rise of populist hi-jackers of democracy.    The siren call of Neptune leading to shipwrecks.
  Before leaving Bolsonara – his personal chart looks very stormy ahead with tr Uranus heading to make an explosive conjunction to his Mars in Taurus from the middle of this March rattling up his beyond-stubborn Fixed Grand Cross. Uranus then proceeds to hit his Venus and Saturn before mid 2023 and his Pluto in 2024 – which will substantially upend his life.  Plus his Solar Arc Mars will conjunct his Uranus in late 2023/early 2024. Tr Pluto is also in a confused/devastated square to his Neptune throughout 2023.
Astrologers tend to waft off into oceanic flights of fancy when it comes to Jupiter Neptune but it's beginning to haunt me. Even Prince Harry – may his name never be mentioned again this century!! – has a Jupiter Neptune conjunction in the 12th. And he must represent something in the zeitgeist to have attracted this amount of attention.
In the money world Jupiter Neptune is associated with financial bubbles bursting as the dream comes apart at the seams and hopes/speculative investments hit the deck with a thud.
Andre Barbault thought conjunctions of Jupiter and Neptune brought "a swing to the left" with "democratic, socialist, or even more or less revolutionary" tendencies.
Kind of maybe with the Jupiter Neptune conjunction in Pisces in early 2022. But it has hardly brought an 'inspiring vision — to — provide a counterbalance to the difficult despair brought by by the pandemic.' The Ukraine invasion, a Jupiter Neptune in Pisces event – an overly optimistic dream from Putin's malevolent playbook – certainly proved that hope is no match for harsh reality. The Ukrainians were better fighters.
There is something odd swirling out there in the ether. Maybe it is my Saturnine soul yearning for a reality check – and preferably not after the event. Getting carried away on other people's flights of fantasy is not good.
An astrological website has helpfully outlined events of previous Jupiter Neptune conjunctions which turn up every 13 years: https://danwastro.substack.com/p/dreaming-big-jupiter-and-neptune
1856 (Pisces): Crimean War ends, Paris Declaration Respecting Maritime Law abolishes privateering (privately owned warships for hire)
1869 (Aries): Japanese Civil War ends, first woman testifies before US Congress, National Women's Suffrage Association founded in New York
1881 (Taurus): Boer War ends, American Red Cross founded, Andrew Watson, world's first black international football player, makes debut
1894 (Gemini): International Olympic Committee founded, world's first minimum wage law enacted in New Zealand
1907 (Cancer): Hague Conventions on laws of war, Anglo-Russian Entente ends Great Game, Anarchist International founded, first elections with universal suffrage and female candidates held in Finland
1919-20 (Leo): Treaty of Versailles, League of Nations, International Labour Organisation, Communist International, Save The Children founded, 19th Amendment gives voting rights to women in the US
1932 (Virgo): World Disarmament Conference takes place in Geneva, first woman elected to the US Senate
1945 (Libra): Second World War ends, United Nations founded
1958 (Scorpio): US-Soviet detente leads to suspension of nuclear tests, Campaign For Nuclear Disarmament (CND) founded, European Economic Community formed, Egypt and Syria unite as United Arab Republic, Iraq and Jordan unite as Arab Federation
1971 (Sagittarius): Médecins Sans Frontières (MSF) and Greenpeace founded, Seabed Treaty outlaws nuclear weapons on ocean floor, South Pacific Forum formed
1984 (Capricorn): US-Soviet detente reduces nuclear tensions, UK agrees to return Hong Kong to China, GNU free software project begins
1997 (Capricorn): Kyoto Protocol on climate change, Comprehensive Nuclear Test Ban Treaty (CTBT), Madeleine Albright becomes first female Secretary of State in the United States, UK hands Hong Kong back to China
2009 (Aquarius): Treaty of Lisbon, Barack Obama becomes first black President of the United States.
This is all thinking in progress – any thoughts and clarity welcomed.