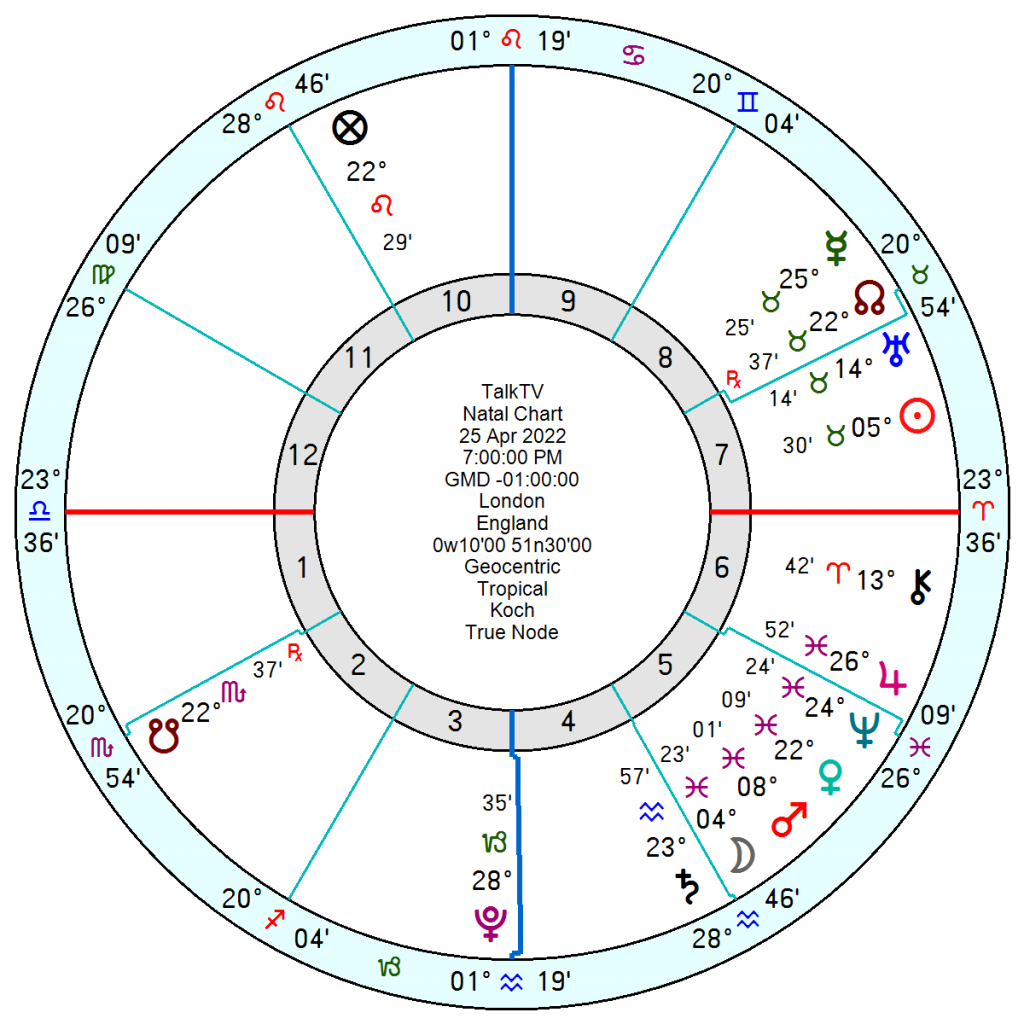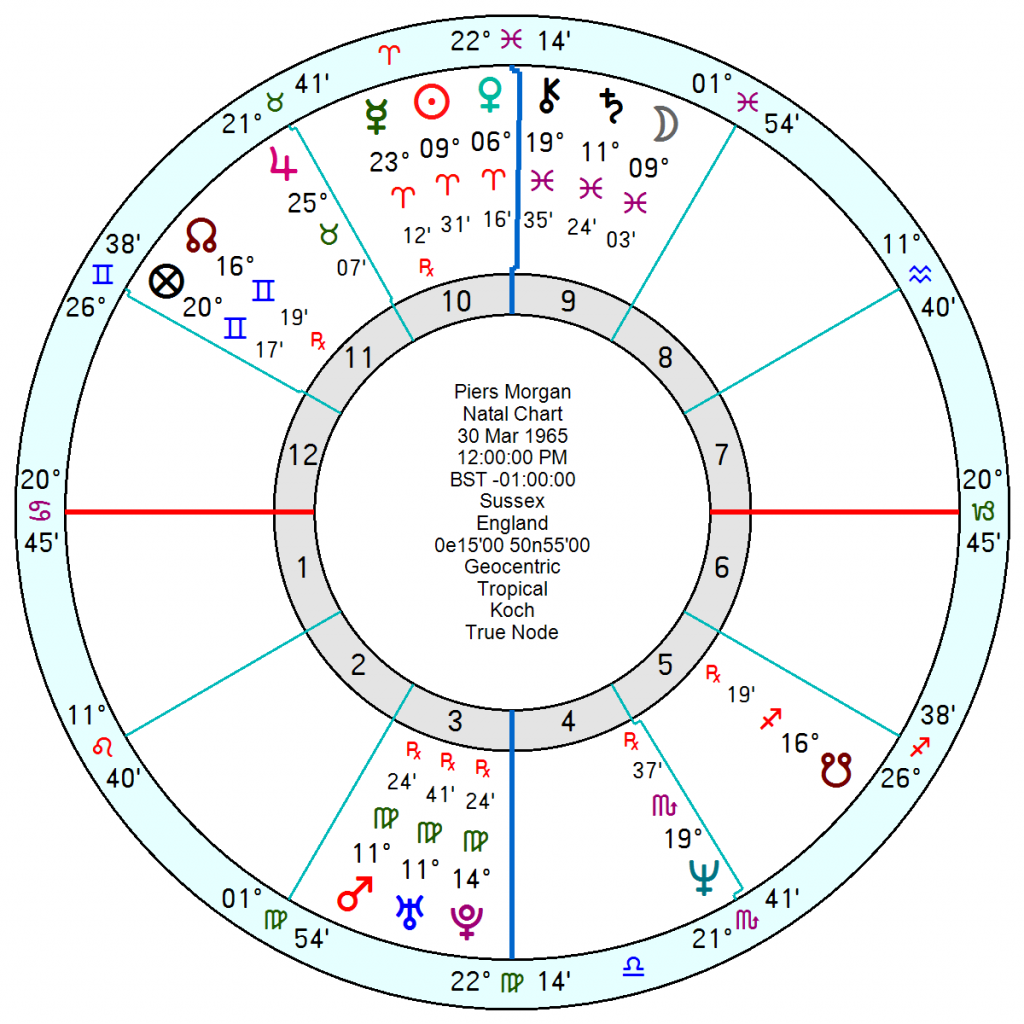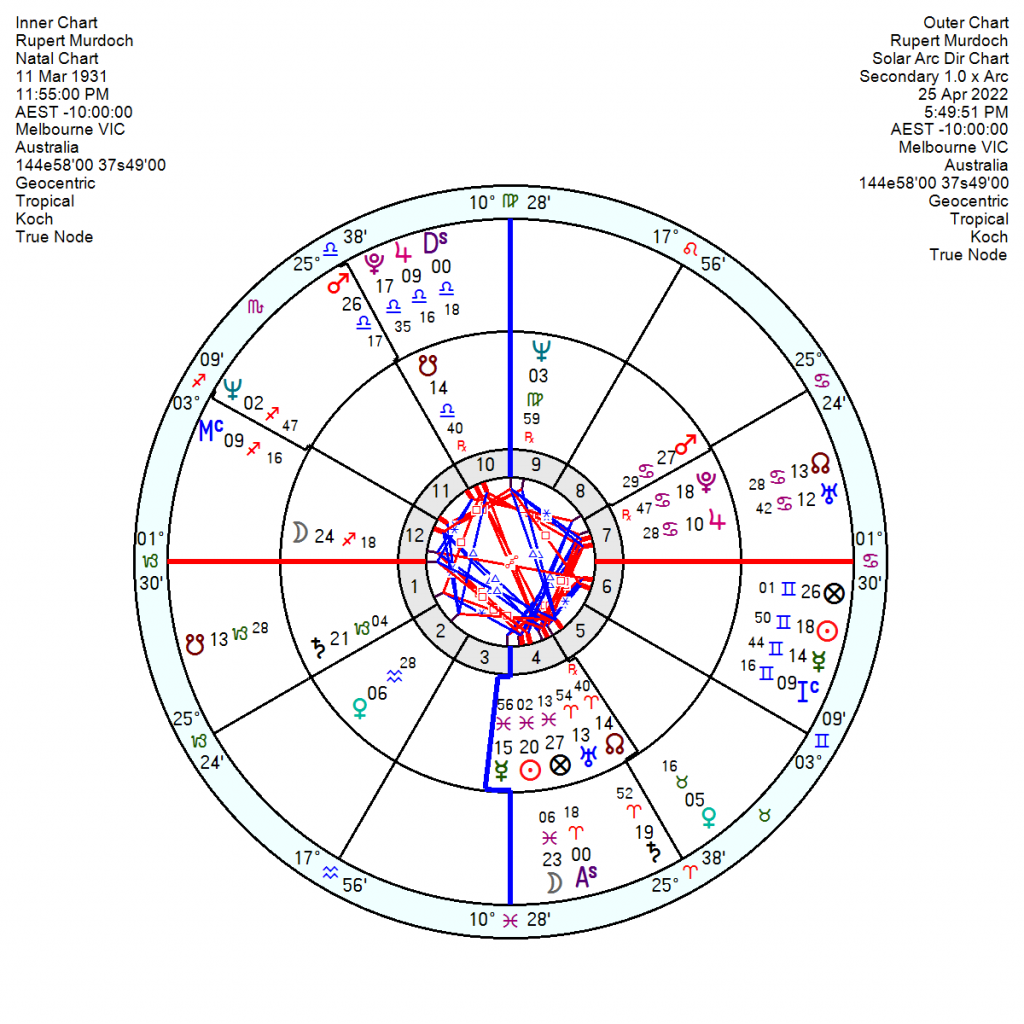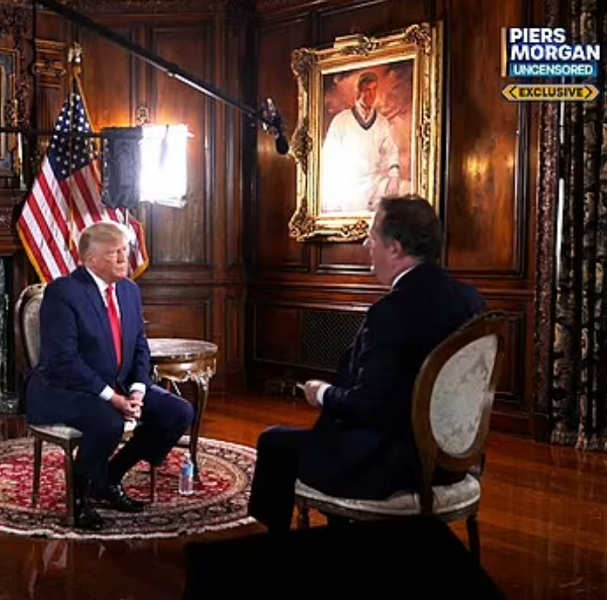 TalkTV, launching tonight, marks a return to British TV not only of Piers Morgan, but also his boss Rupert Murdoch. The mogul has been out of the sector since the sale of Sky four years ago and this is seen as his shot across the bows of the BBC as well as other news media. There is some scepticism about whether there is public appetite for opinionated TV news. And despite claims it will be a "news programme unlike any other that currently exists in the UK" there is doubt as to its prospects.
  It launches at 7pm with a heavily afflicted and curiously placed Mercury in Taurus which does not augur well. Mercury is in the hidden 8th trine Pluto on the IC sextile over over-hopeful Neptune, Jupiter, Venus and square Saturn. Admittedly there is a showy Moon, Mars, Venus in the entertaining 5th but that hardly seems enough to balance out a battened down Mercury – especially for a news channel.
Piers Morgan is the undoubted draw opening tonight with a Trump spectacular, hoping to reprise his breakfast show success which came to a dramatic end over his Meghan Markle brickbats after the Oprah interview.
Born 30 March 1965 he has a charming, if impulsive Sun Venus in Aries with Mercury also in Aries – and has all of Aries renowned rubber-ball prowess for reinventing himself, having had a roller coaster career with three headline sackings followed in each case by a resurgence. His take-no-hostages approach to expressing his unvarnished opinion comes from a volcanic collection of Mars, Uranus Pluto in Virgo opposition Saturn (Moon) in Pisces. Plus he has a sunnily optimistic Jupiter in Taurus opposition Neptune.
He's not in his best of phases with a frustratingly trapped tr Pluto opposition his Mars/Node in 2022/23 with a raft of Neptunian disappointments this year and the next two; plus mega-confusion in 2023/2024. Not ideal.
The original SKY TV launch on 5 February 1989 had Jupiter in the 10th conjunct the midheaven and was a robust chart. This is more news and less entertainment but doesn't have a chart indicating a lasting triumph.
Rupert Murdoch, 11 March 1931 11.55pm Melbourne, AU, is now into his nineties and not at his most successful astrologically with tr Saturn moving through his low profile 1st Quadrant. Tr Pluto is opposing his 8th house financial Mars in 2022/23 which will be blocked and risky – though given his age that could apply to other factors than this venture. Though he does also have a couple of mildly upbeat Jupiter midpoints as well.