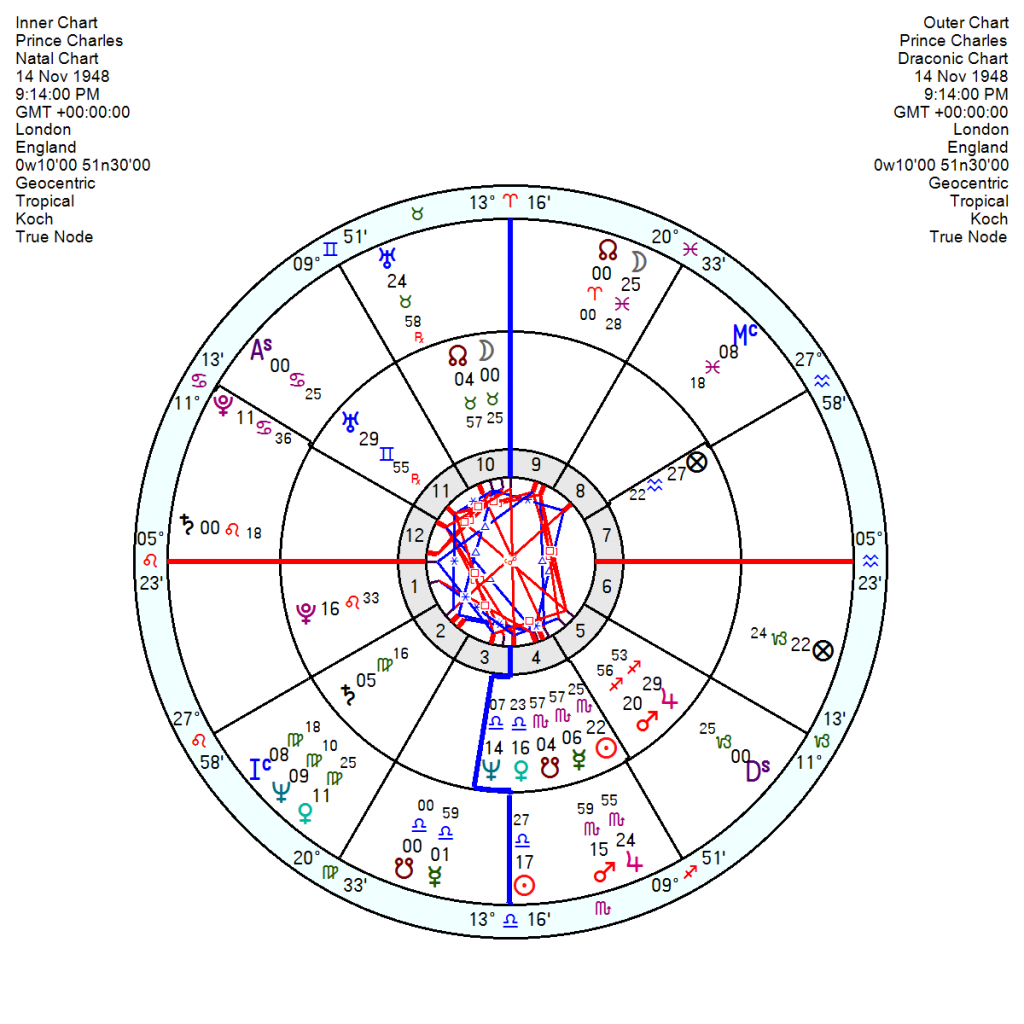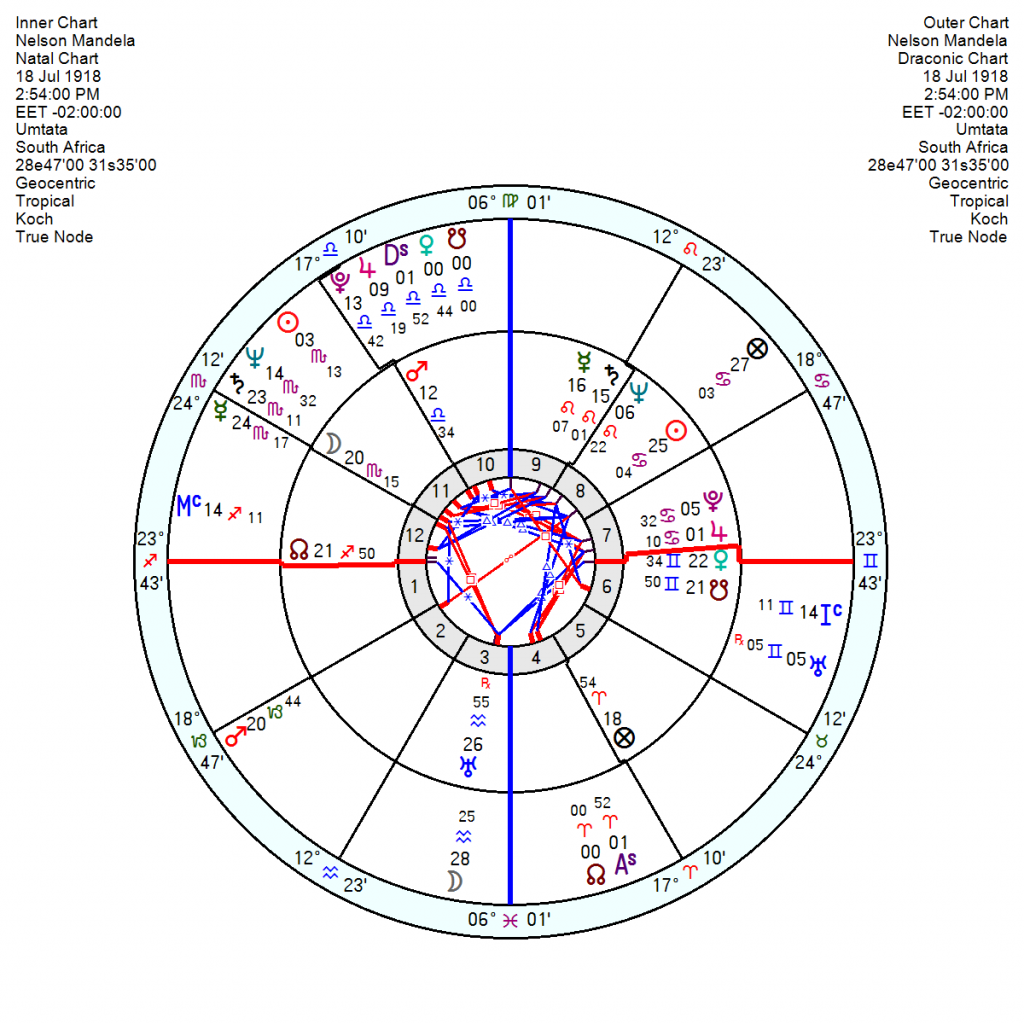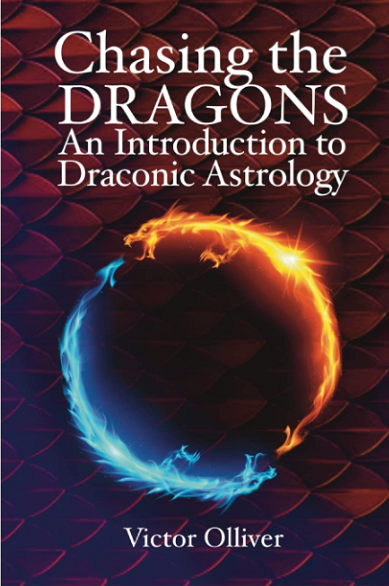 Draconic astrology has become a hot topic with the emergence of Victor Olliver's excellent and extensive book. Highly readable, sensible, clear in explanations, stuffed with examples, it humanises and grounds what could be a fairly arcane technique to pin down soul purpose in a life.
A draconic chart shifts the position of the North Node to zero Aries and moves all other planets by the same number of degrees while keeping the original houses. I pay little attention to complaints that techniques in astrology don't make sense. There's no rationale for Solar Arc or Progressions or indeed transits for that matter but they work. The Royal and celebrity examples in the book make a great deal of sense with Victor's lucid descriptions of the natal (tropical) and draconic charts. He is very definite that the natal chart is the foundation chart and isn't superseded by the draconic.
However it's an area of astrology that needs study before making comment so this will have to be a very preliminary thoughts-in-progress post. I'll put up a couple of examples below from the book. And hope along the way others will pitch in when they have read the book and it can be returned to on a later post.
I have two hesitations about the subject. The first is that you can get confused (more than usual) by getting recommended to this technique or that and there are a truckload of possible choices out there. At some point an astrologer, while keeping an open-mind about what might be useful to fill a knowledge gap, has to refine down what they work with. Otherwise they drown in too much information.
The other is self-centred, since au naturellement, I headed first for my own chart. Where Prince Charles shifts from a Scorpio start in life to Draconic Libra; Karl Marx from Taurus to Aries; and Queen Victoria from Gemini to Taurus, with changes in elements and triplicities, I don't. The shifts in these individuals are elegantly and insightfully described in the book.
  In my case I shift from Virgo to Taurus with a strong Air element in both; and 12th house moves to 8th house with a strong 9th house in both. So Earth Air stays as is with a leaning towards more fixed – and hidden becomes more hidden in house terms.  I'm just not sure how to interpret that.  Plus the Draconic and Natal charts in synastry aren't as clear cut as in the examples given, certainly as far as conjunctions are concerned. In an odd way my 8th house Draconic element makes sense to me especially Chiron conjunct Algol in the 8th though I'm not sure I could articulate what. Anyway it is early days so will require more pondering.
Prince Charles has his Draconic Jupiter conjunct his 4th house natal Scorpio Sun = family brings bounty and success. His Draconic Uranus in his 10th makes him a trailblazer.
Britney Spears Draconic Jupiter Pluto sits in her natal 10th for mega-success; as does Nelson Mandela's Jupiter Pluto. Oprah Winfrey's Draconic Jupiter is conjunct her natal 8th house Pluto – for the Midas touch.
I think I'm confused already so will stop. All too new and will take time to absorb.
There's a free calculator if you want to try your own chart.
https://horoscopes.astro-seek.com/draconic-chart-astrology-calculator
Also on astrodienst: https://www.astro.com/astrology/aa_article210601_e.htm