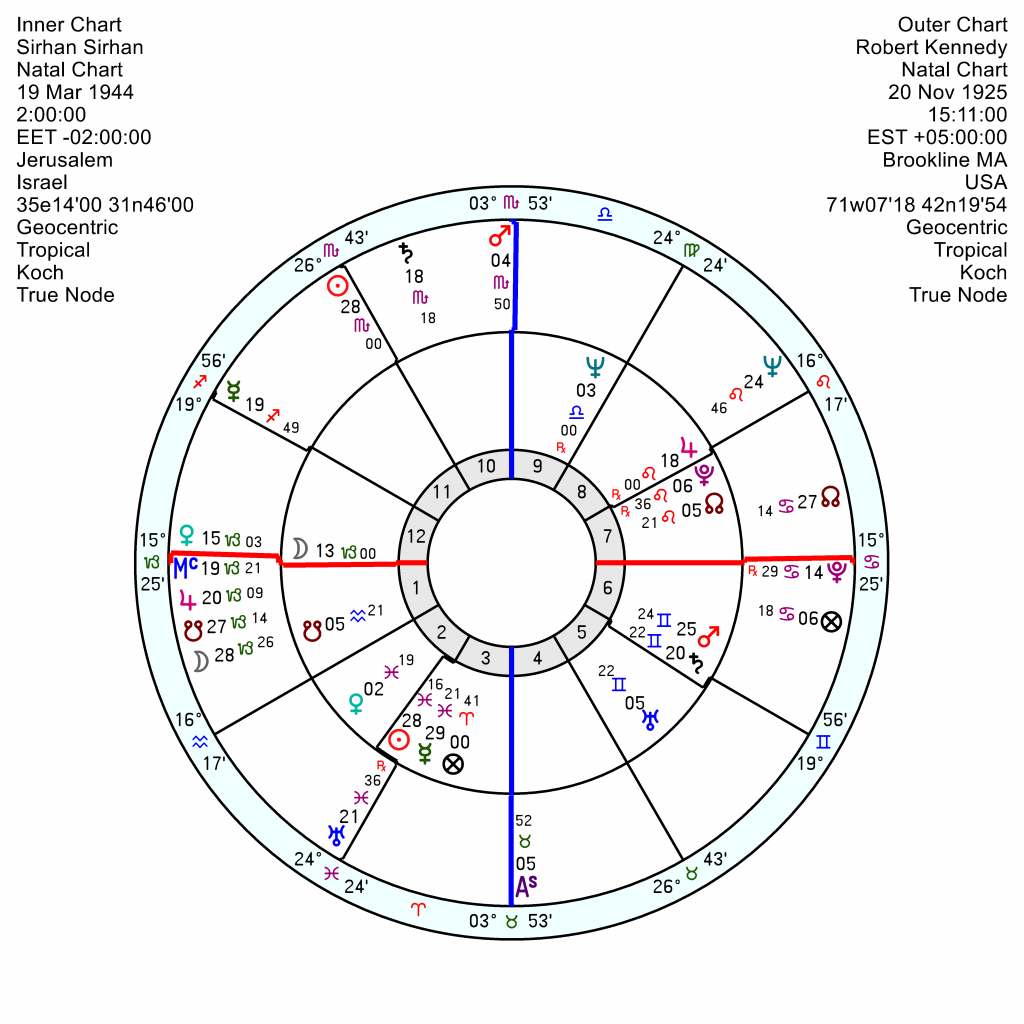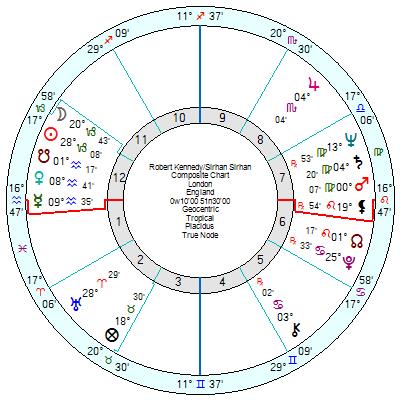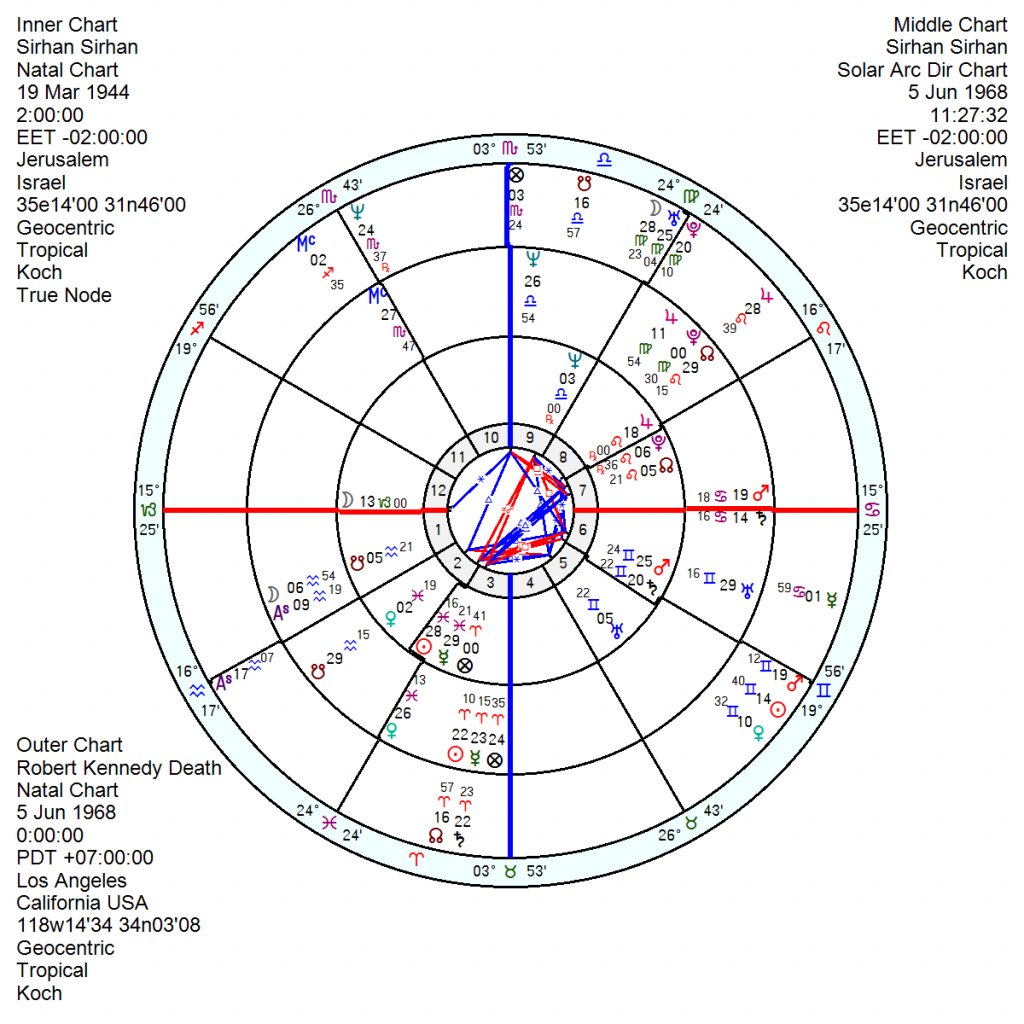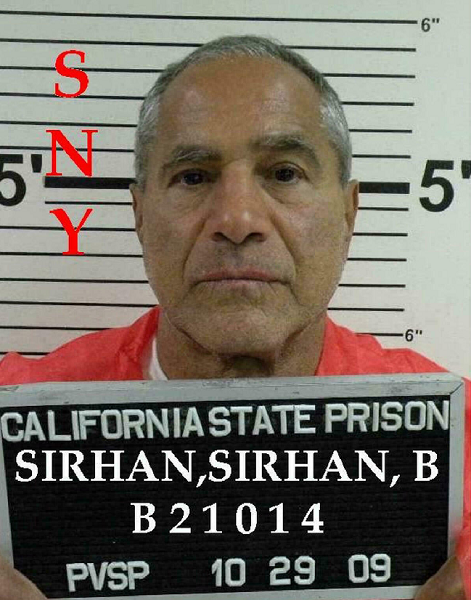 Sirhan Sirhan, the Palestinian militant who shot Robert F. Kennedy in 1968 and was sentenced to death, later commuted to life in prison, may be cleared for parole after 53 years inside. Two of the Kennedy children appealed on his behalf but it still has to be signed off by the California Governor Gavin Newsom. He said he did it at the time because of Kennedy's support for Israel.
  He was born 19 March 1944 2am in Jerusalem and has a 3rd house Sun Mercury in Pisces – oddly enough Pisces is a sign that often crops up with ISIS zealots – Neptune's cold-blooded idealism.  His Sun is also in a hard-edged, can-be-cruel square to Mars Saturn in Gemini.
Robert Kennedy's Mars in Scorpio was conjunct SS's Midheaven and Kennedy's Pluto conjunct SS's Descendant so it would be a hostile and combative interface.
When the shooting took place at midnight on 5th June 1968 in Los Angeles, Sirhan's Mars Saturn (in traditional astrology associated with assassination) had moved to conjunct his Descendant and Kennedy's Pluto; and tr Saturn in Aries was conjunct Sirhan's Solar Arc Sun; with his Solar Arc Uranus square his Mercury (Sun). There was a potent transiting Yod at that point of tr Neptune sextile Uranus Pluto inconjunct Saturn, so it was a key trigger for Sirhan with his Solar Arc Sun feeling the full force of it.
His relationship chart with Robert Kennedy had a stressed composite New Moon opposition Pluto square Uranus – a disruptive and rebellious chemistry; with the signature 'assassination' composite Mars Saturn conjunct as well.
  The USA at that point having been rattled by JFK's death five years before was even more unnerved with tr Pluto moving to square the USA Mars and then conjunct the USA Neptune. In 1963 when JFK was killed, tr Uranus Pluto in Virgo was square the USA Uranus and sitting on the Mars/Uranus midpoint. The 1960s was a longish phase of panicky upsets courtesy of Uranus Pluto in Virgo.  
Another significant point – Sirhan's Pluto North Node in Leo is conjunct the USA 'leadership' North Node – which was the point badly hit by 9/11, so is an extremely sensitive marker where the USA's pride and reputation are concerned.
Sirhan looks on a downward slide ahead no matter what happens with tr Neptune square his Saturn this year and then his Mars/Saturn midpoint and on to conjunct his Sun before mid decade.