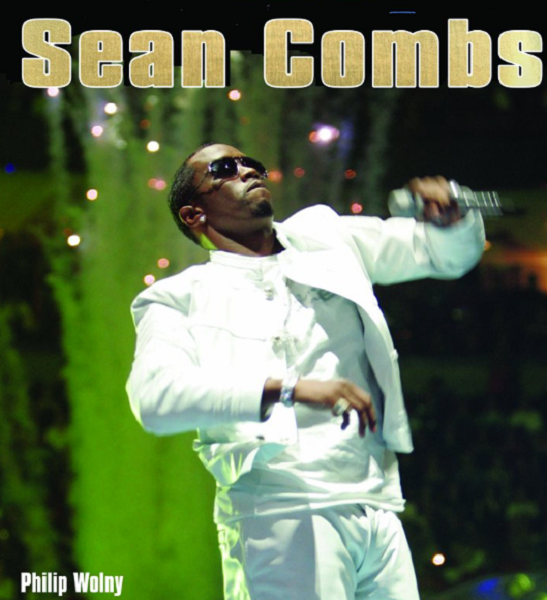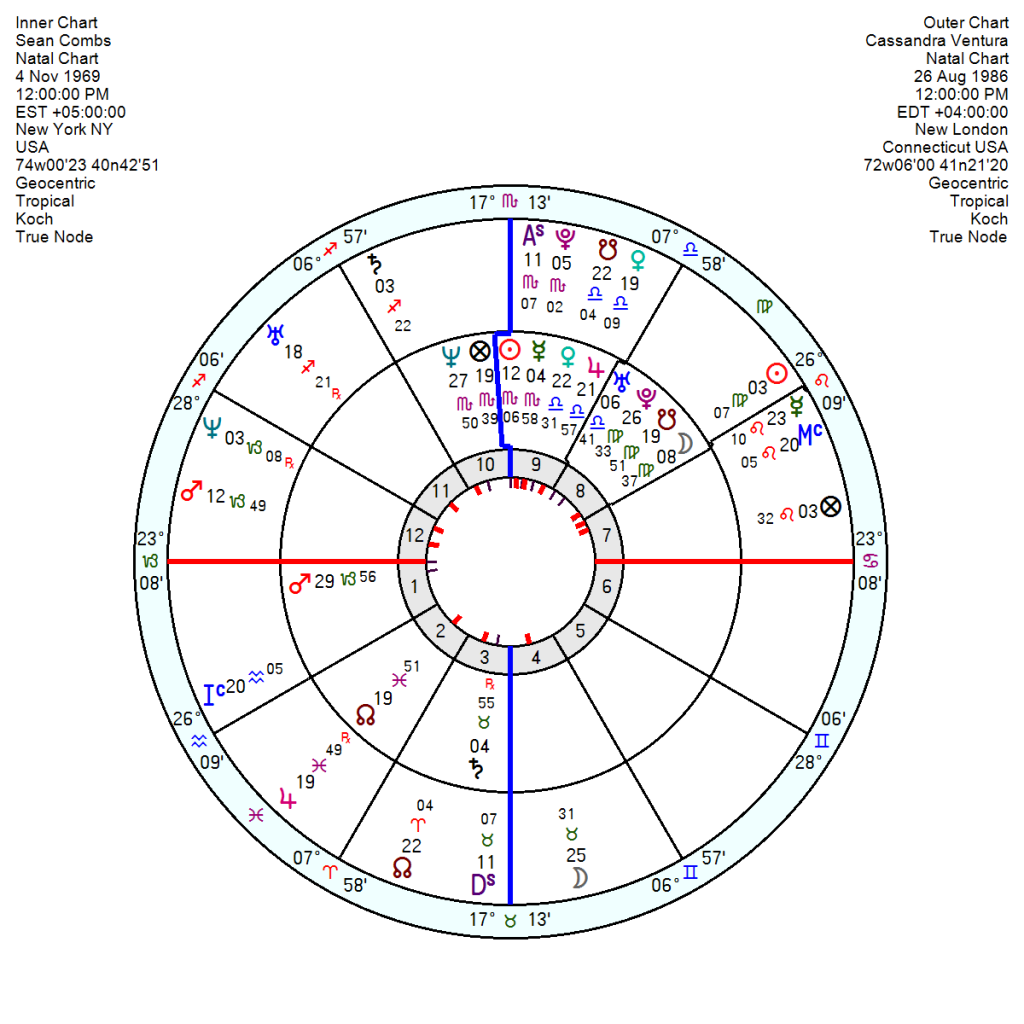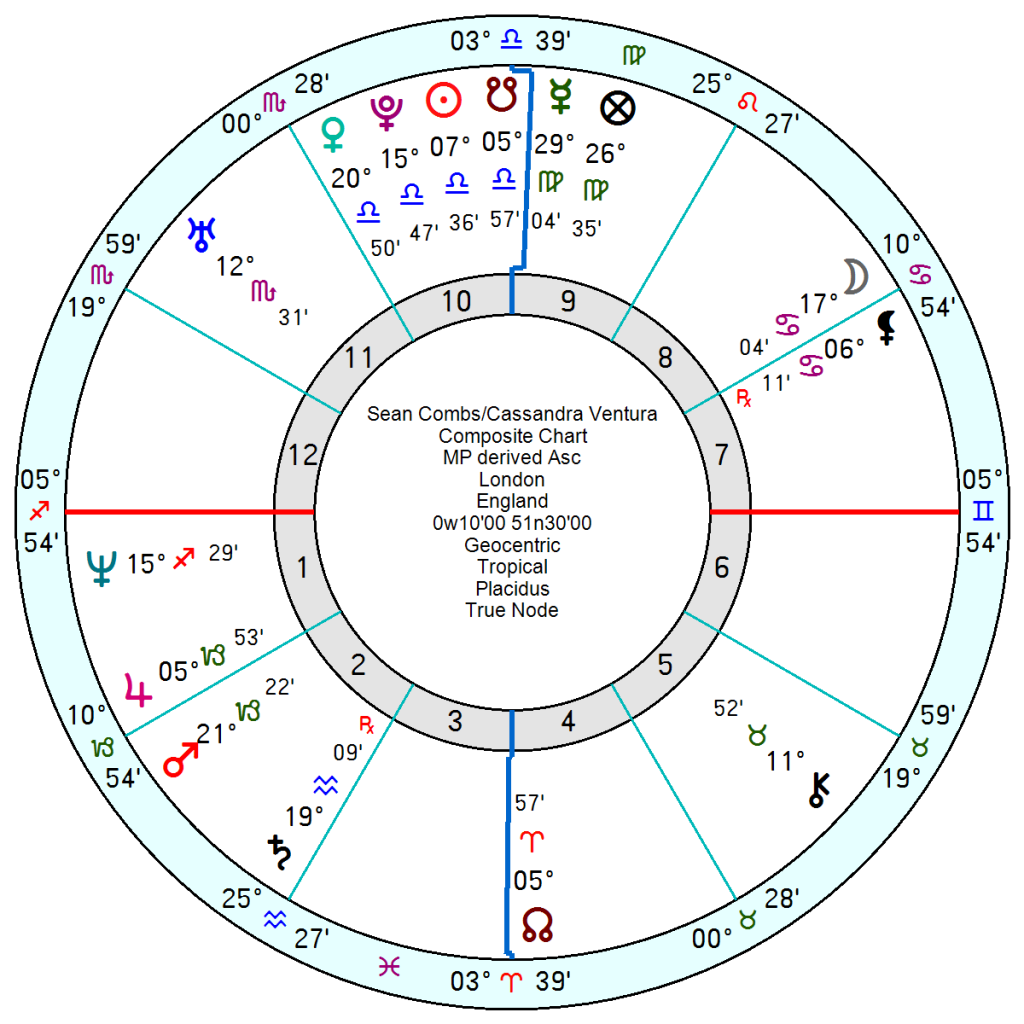 Sean Combs – Diddy – the billionaire rapper and record producer, has settled out of court for an unnamed sum a slew of sexual assault allegations from a former girlfriend singer Cassie Ventura with no admission of guilt.
His wide ranging career, drenched with music awards, including founding a clothes retailer, being a brand ambassador for a vodka outlet, and co-founding the television network and news website Revolt in 2013.
He was born 4 November 1969 New York, with a father (former Air Force and and an associate of a convicted New York drug dealer) who was shot dead when Sean was two years old.
His chart was rattled up by recent eclipses with his Mercury in Scorpio opposition Saturn in Taurus in line with the recent Lunar Eclipse; and his Venus Jupiter in Libra catching the Solar eclipse. He does have an intense chart with a Scorpio Sun and Neptune in Scorpio on the focal point of a mini Grand Trine of Mars in Capricorn trine Pluto. The Mars Pluto Neptune a legacy no doubt from his military father with drug connections.
His get-it-together 5th harmonic is exceptionally strong giving him the ability and drive to craft a solid life for himself. His 18H is also ominously notable with overtones of too much pleasure seeking not always from admirable diversions.
Cassie Ventura, 26 August 1986, Connecticut, was in her late teens when she met him and he in his mid thirties and they were together for more than ten years.
She is a Sun Virgo trine Neptune and sextile Pluto giving her an ambitious streak with her Sun square Saturn hinting her determination to be successful was fuelled by low self esteem.
 Her Jupiter in Pisces is conjunct his North Node which would bring them together to promote popular trends and her Sun is probably conjunct his Virgo Moon. But her Mars in Capricorn squares his Uranus for a clash of conflicting needs; and her Pluto conjunct his Mercury and opposition his Saturn would lead to no-win discussions and trapped situations.
All of which is repeated in their relationship chart with a controlling composite Sun square Pluto; a power-struggling, resentful and emotionally unhealthy and fraught Venus Pluto square Mars and trine Saturn; a chained together Pluto trine Saturn and an ever hopeful Sun square Jupiter.
He is not moving into an easy few years with tr Pluto conjunct his Mars till late 2024 and then tr Pluto moves onto a discouraging square to his Saturn and Mercury in 2025/26 – which will be trapped, frustrating and scary. The fates doling out a taste of his own medicine perhaps. There are various other allegations from several women which may now be pushed into further action.