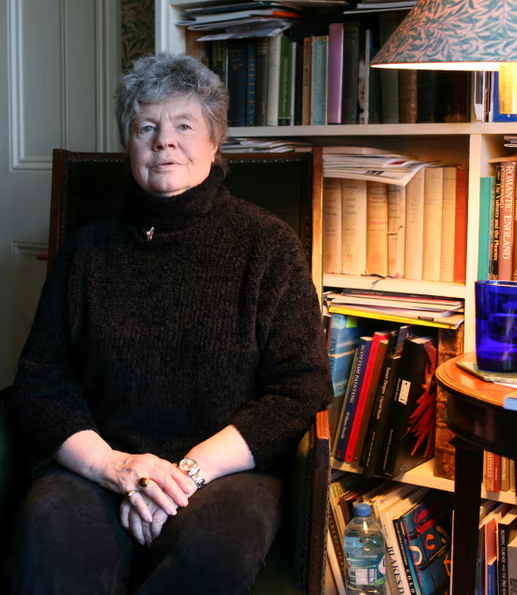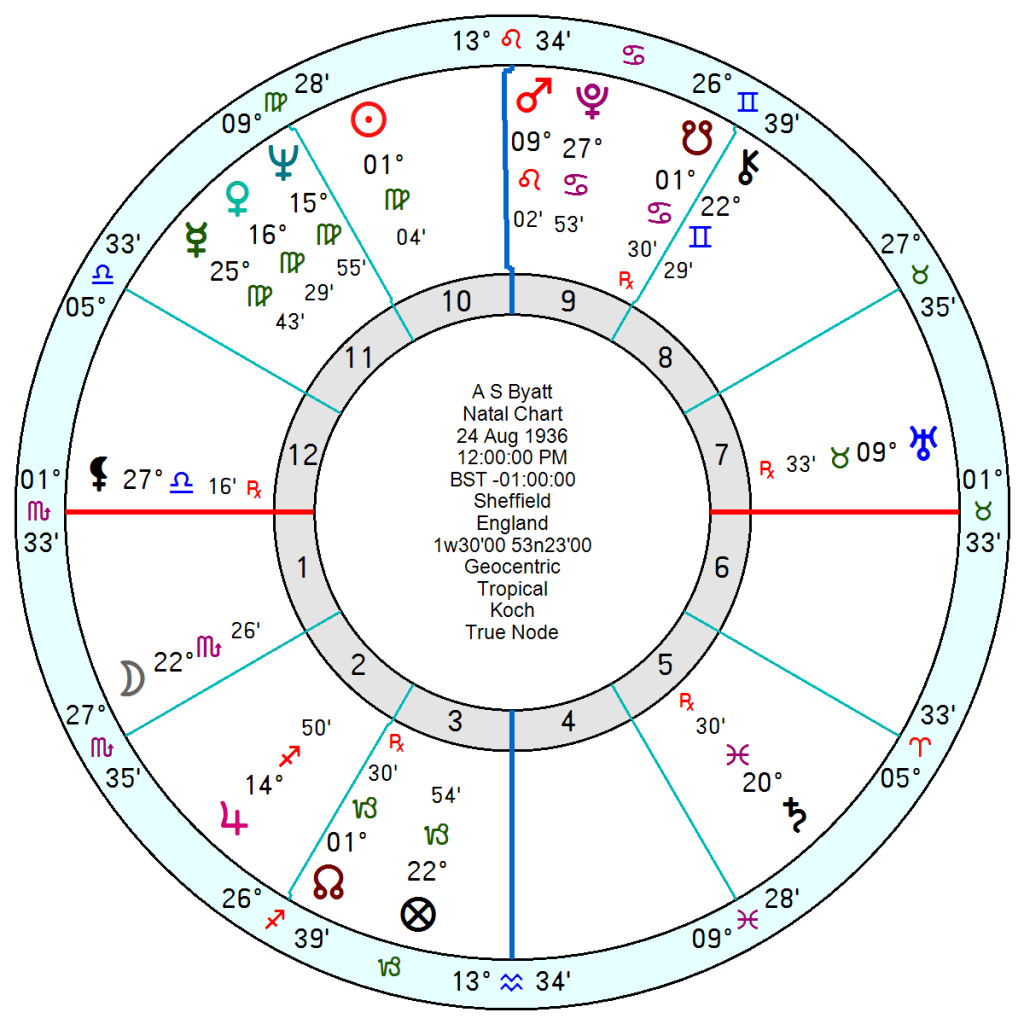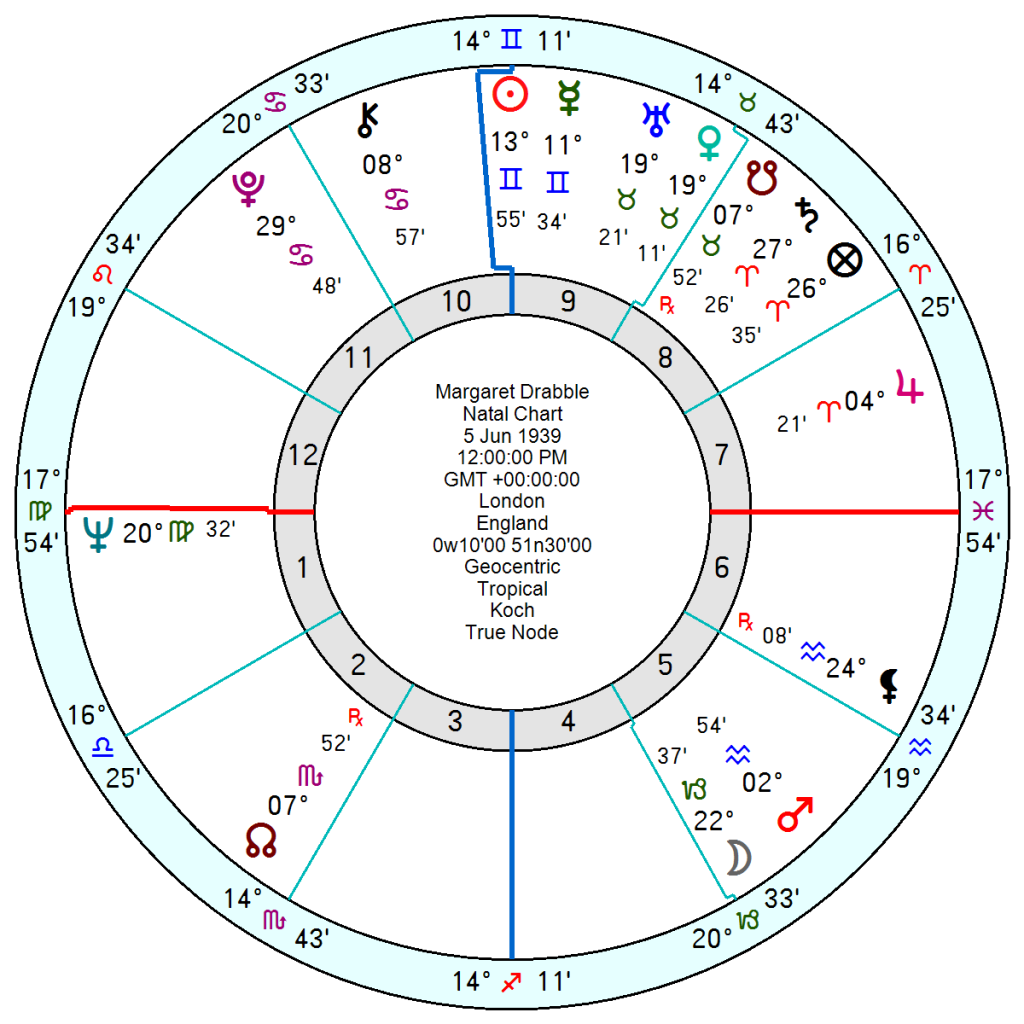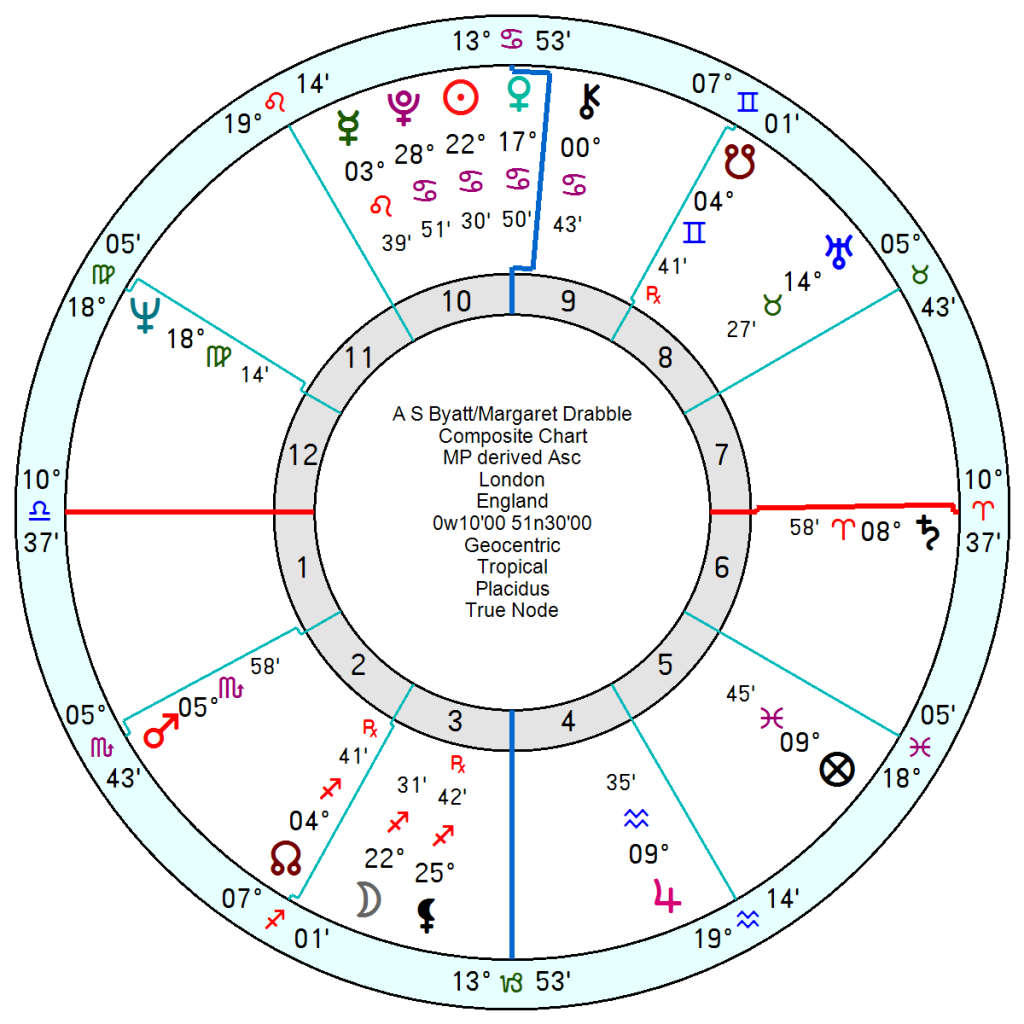 Antonia Byatt, Booker prize winner for her novel Possession, once described as the most consciously intellectual woman writer since George Eliot, has died. To her intense frustration, what interested the press most about her was her difficult relationship with her younger sister Margaret Drabble, who outshone her at Cambridge and became a bestselling novelist some decades before her.
Antonia was born on August 24 1936 in Sheffield, the eldest of four children, with a circuit judge for a father and a depressed mother who was given to fits of rage because of her restricted life as a housewife. Antonia was ill in bed with asthma for much of her childhood and read voraciously. In later years she was described as 'unsentimental, uncompromisingly intelligent and with limited capacity for making or enjoying jokes' and formidable to meet.
She had a Virgo Sun and Neptune, Venus and Mercury also spread out through Virgo, the writers' sign. Her Scorpio Moon was trine Saturn and trine Pluto, a hint of an ungiving, under-nurturing mother. Her saving grace would be Jupiter in Sagittarius square Venus Neptune in Virgo giving her optimism and an active imagination.
Her sister Margaret Drabble, born 5 June 1939 just before the outbreak of war, is a Sun Mercury in Gemini – another writers' sign. She has a truly difficult Mars (maybe Moon) opposition Pluto square Saturn in Aries T square; and probably an Earth Grand Trine of Capricorn Moon trine Neptune trine Uranus Venus in Taurus. Like her sister, she was badly affected by their unhappy, melancholy mother. She later remembered: "When I was a child of nine or ten years old, I was so depressed that I used to wish I could die in my sleep.'
  She wrote her first novel Summer Birdcage at the kitchen table when she was a young mother in 1963 which explored the relationship between two sisters. Its success and the books following made her one of the leading literary lights of Swinging London.  The result for her sister Antonia was a feeling "that I wasn't a real person, that there was somebody coming who was the real person and that everybody would see I hadn't been there".
Antonia's Booker prize did not come for almost another thirty years but she did pick up a huge readership in the latter half of her career and there were suggestions that Antonia's late success was driven by a determination not just to escape Margaret's shadow but to eclipse her in turn.
Their relationship chart had a controlling composite Sun Pluto which would however unconsciously lead to a tussle for the upper hand. There was an emotionally chilly composite Venus square Saturn; a composite Venus sitting on the focal point of a highly strung (and creative) Uranus trine Neptune. And an argumentative Mercury opposition Jupiter square Mars; with Mars also square Pluto.
Competitive Mars often rears its head in sibling stand offs. Olivia de Havilland her sister Joan Fontaine, famously at odds, in their relationship chart had a composite Sun Mars conjunction. As does King Charles and Prince Andrew. Prince William and Harry have a composite Sun square Mars.
Sibling rivalry casts a long shadow.