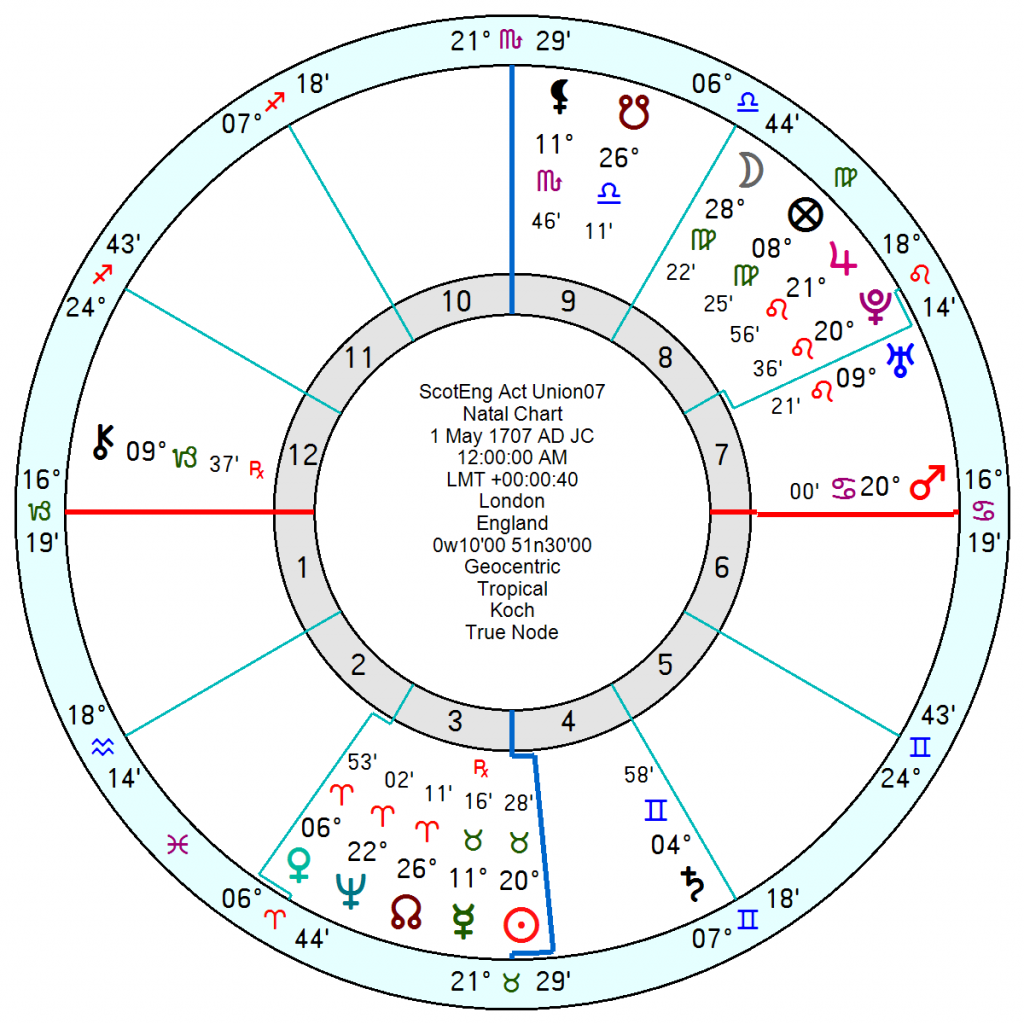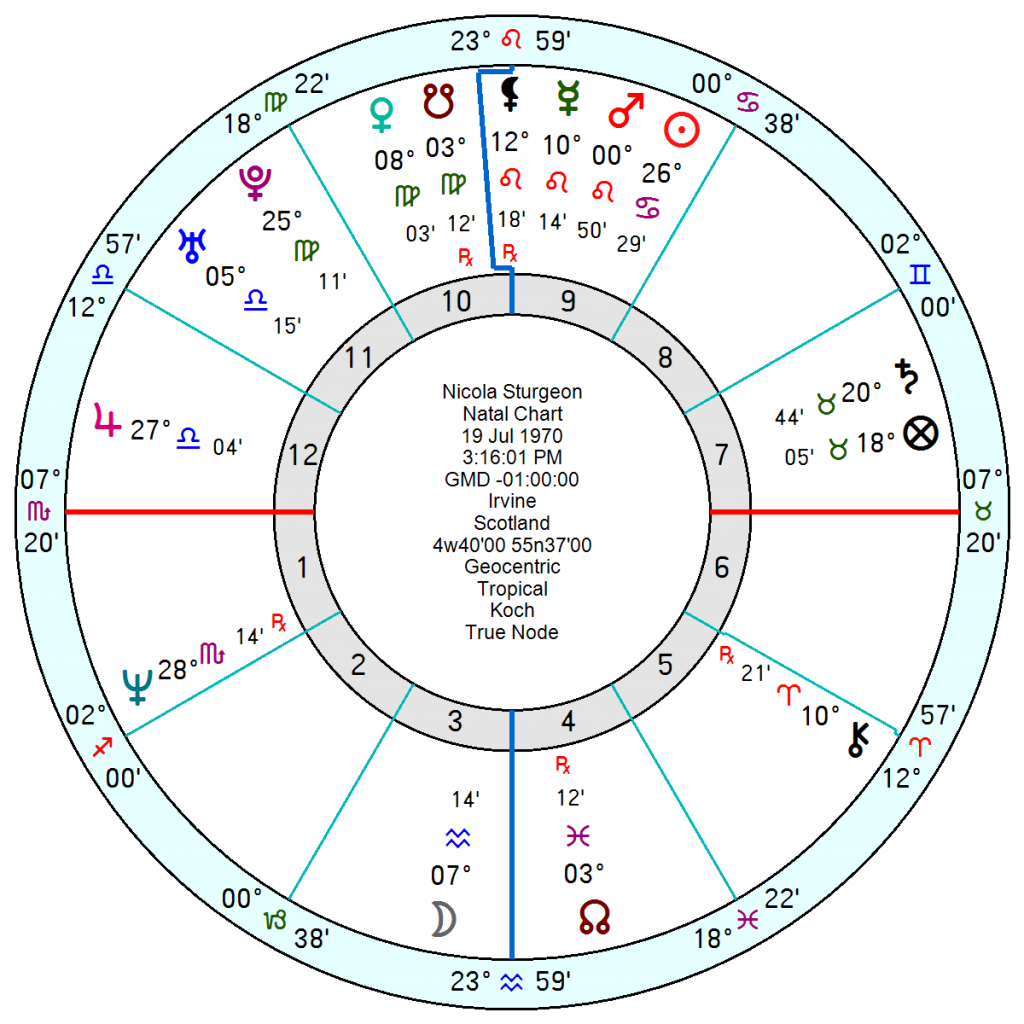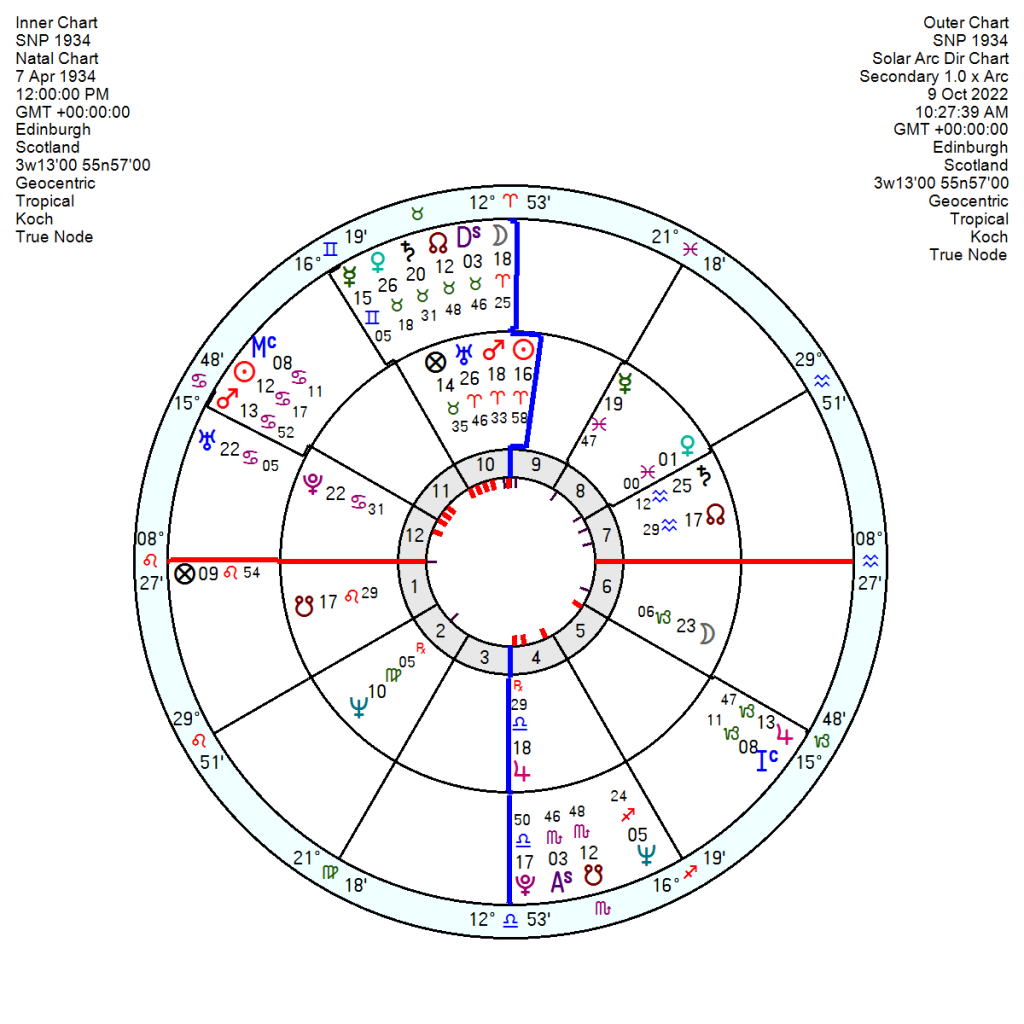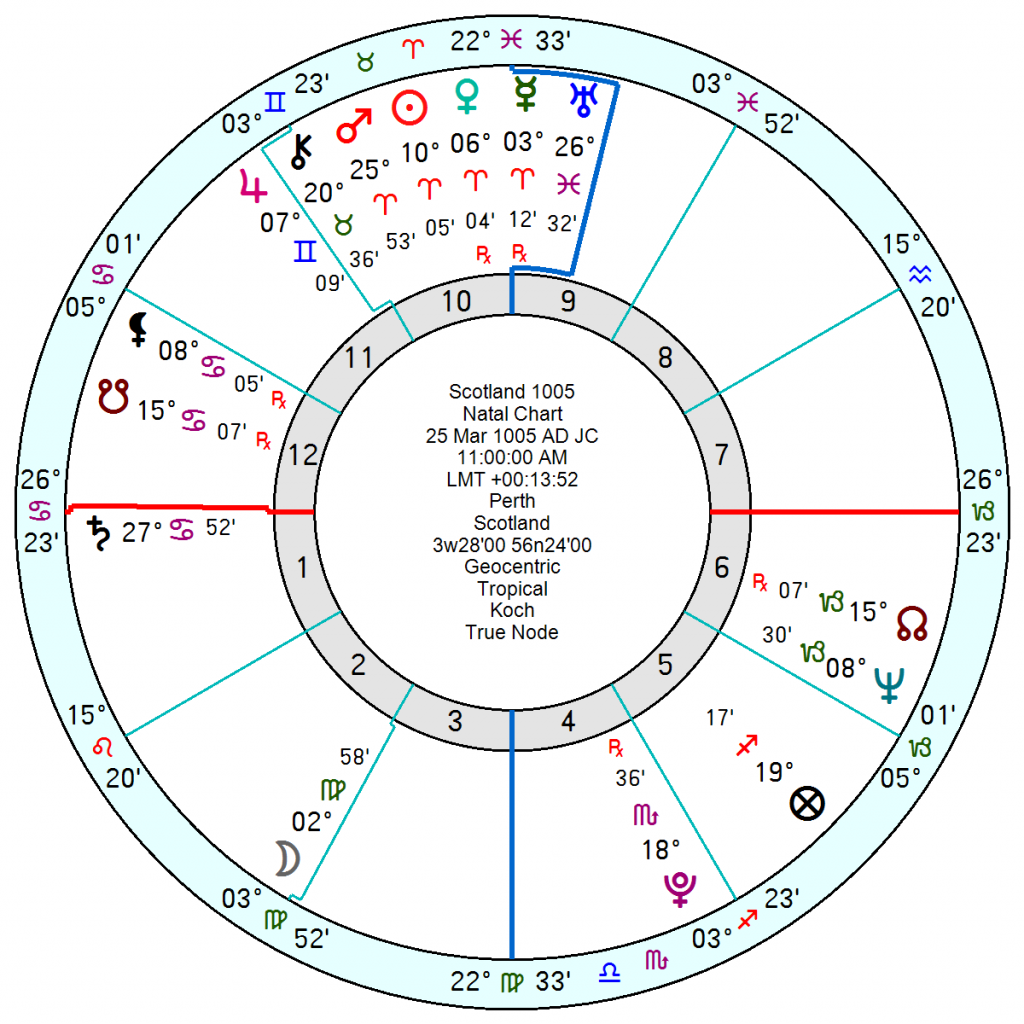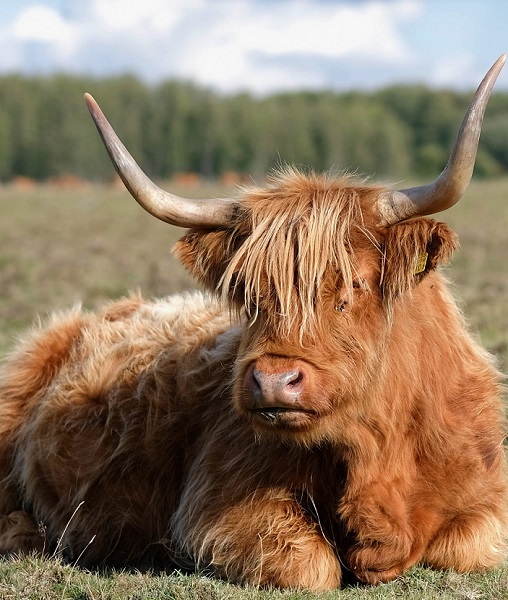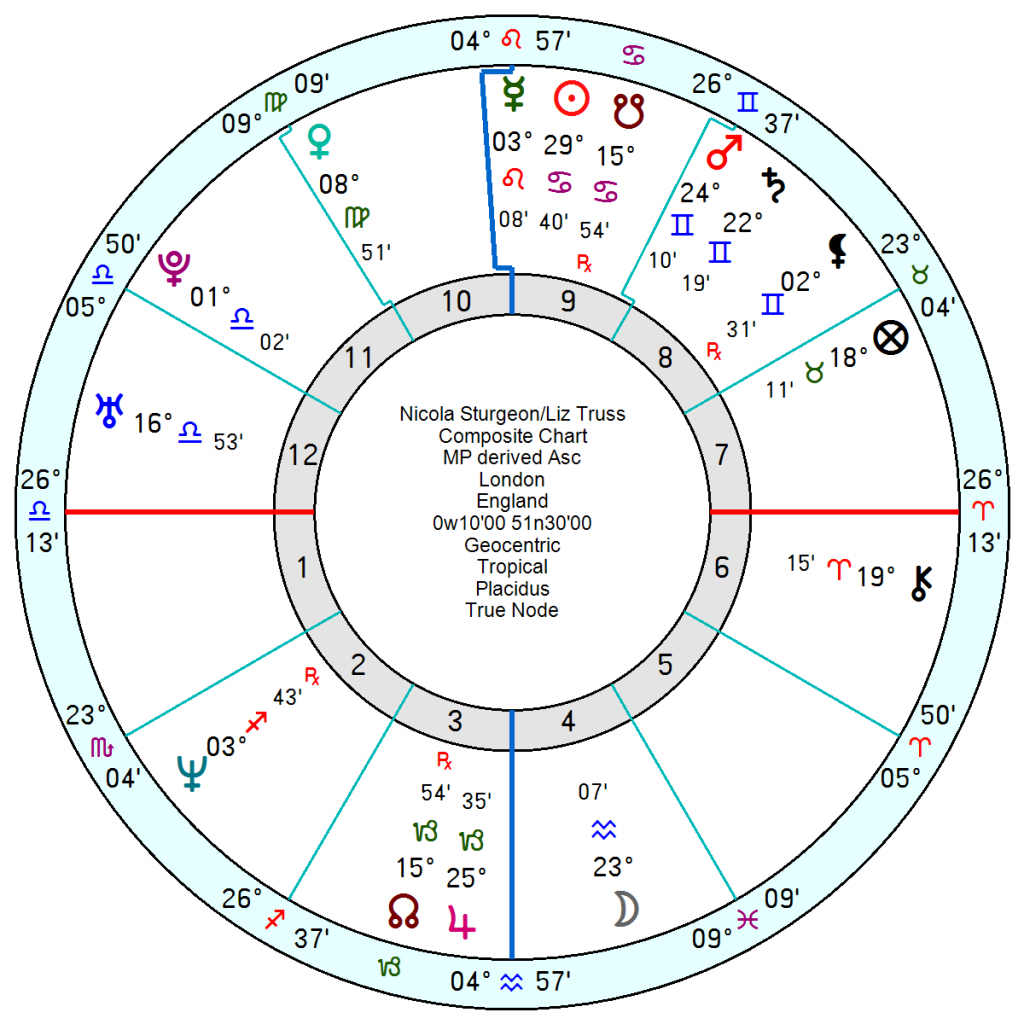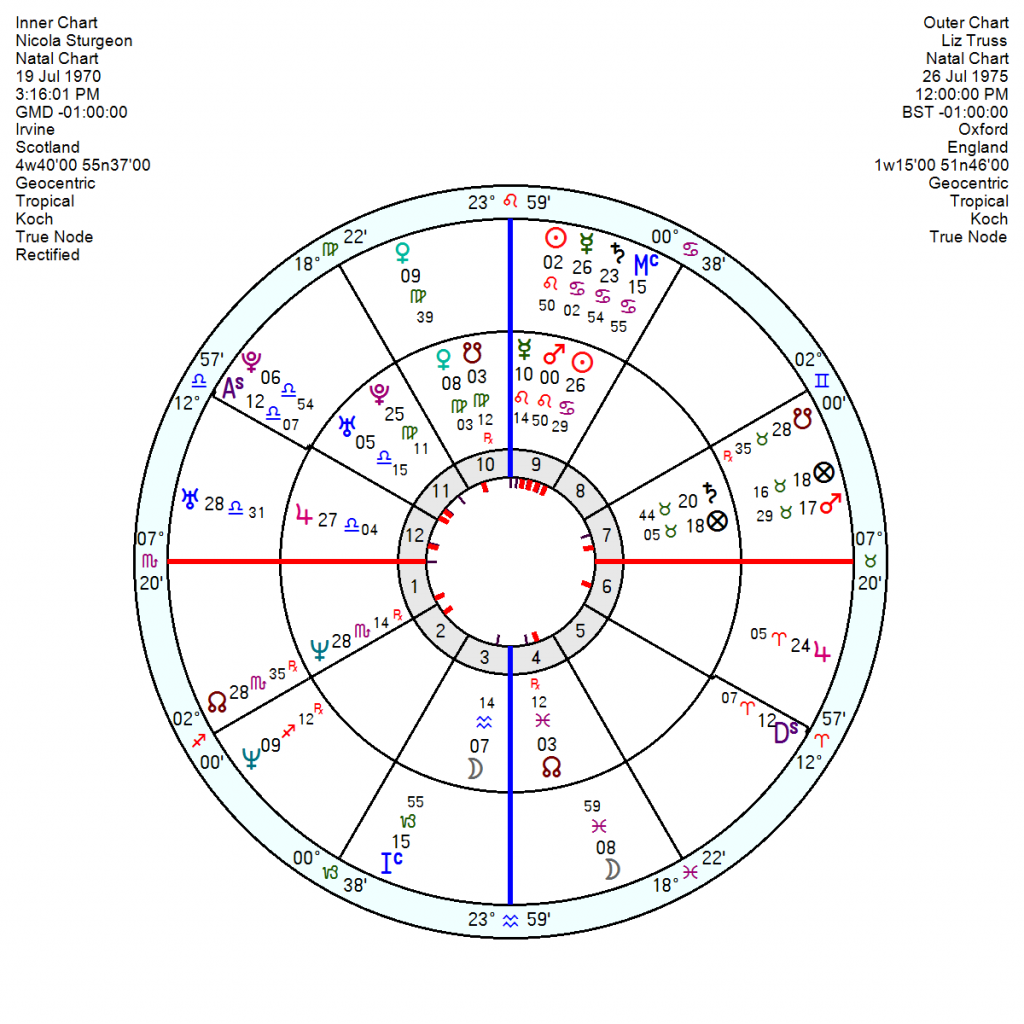 All the indications are that the push for Scottish independence has stalled despite Nicola Sturgeon's stalwart protestations about the next Westminster election being a 'de facto referendum' if she is not allowed one beforehand. The SNP has never won more than 50% of the vote even in their heyday so even this is wild hope is unlikely to succeed. And while the Tories have crashed in Scotland, Labour support has surged – a Labour win down south would leave the SNP powerless. Recent polls showed, for the first time, that Labour Opposition leader Keir Starmer has a higher net positive rating in Scotland than Sturgeon.
What is intriguing in this context is that the chart for the Scotland England Union of 1 May 1707 is showing signs of upheaval and disruption from late May 2023 onwards on and off till April 2024 with tr Uranus conjunct the Taurus Sun and square Pluto Jupiter in Leo. It is a robust, tied together enduring entity and has been through a good many stormy phases in the past, including the 1930s the last time tr Uranus was in Taurus, when the Scottish National Party was formed. But it isn't clear what could be expected this time round.
There's no real indication that voters are persuaded the risks of independence are outweighed by the risks of Union, nor any signs that Sturgeon is making much progress over the next two years.
Nicola Sturgeon, 19 July 1970 3.16pm Irvine, Scotland, has two astrological stumbling blocks. One is tr Pluto opposing her Cancer Sun now till early this December, then moving onto to a trapped, frustrating opposition to her Mars in 2023 to late 2024. That looks like grind-to-a-halt time. The other is her Saturn in Taurus opposition Neptune square her Leo Midheaven which is catching the downbeat tr Saturn hard aspects at the moment, worsening in early 2023; and even trickier the tr Uranus hard aspects knocking her confidence and pushing her onto a different career/life direction from mid 2023 onwards for two or three years.
The SNP chart, 7 April 1934, is in an agitated and unstable phase with tr Pluto square the Uranus till early this December and has a violent surge of (probably) misplaced confidence in 2023 with the Solar Arc Pluto conjunct Jupiter and opposition Mars which could well backfire damagingly.
The Scotland 25 March 1005 AD chart is also showing signs of turbulence with tr Uranus opposition the Pluto at 18 degrees Scorpio (and tr Saturn in square) – that runs into early 2023. Plus tr Pluto is sextile the Uranus.
There is a definite shift afoot but it is not remotely clear to what end since independence looks less likely than before.
  A wait-and-see scenario.   
 Add On: Sturgeon's relationship with Liz Truss is even worse than with the previous incumbent. Her relationship chart with Boris Johnson had a chilly composite Sun Mercury square Saturn.  With Truss, she has an active-dislike and aggravated composite Mars Saturn conjunction which is being undermined by tr Neptune in square picking up from next month and worsening through February 2023 till December 2023. No love lost there and there will be immense pressures brought to bear with tr Pluto opposition their composite Sun as well through 2023/24.
Their synastry is every bit as bad with Truss's unbending, chilly Saturn in Cancer conjunct NS's Sun with Truss's Uranus in square. Truss's Sun is conjunct NS's forthright and argumentative Mars. Truss's bulldozer Mars in Taurus is conjunct NS's Saturn for maximum impatience and irritation.
Nicola Sturgeon will not be backwards about venting her spleen, for sure. And on Truss's present form she'll have plenty of targets to fire darts at.