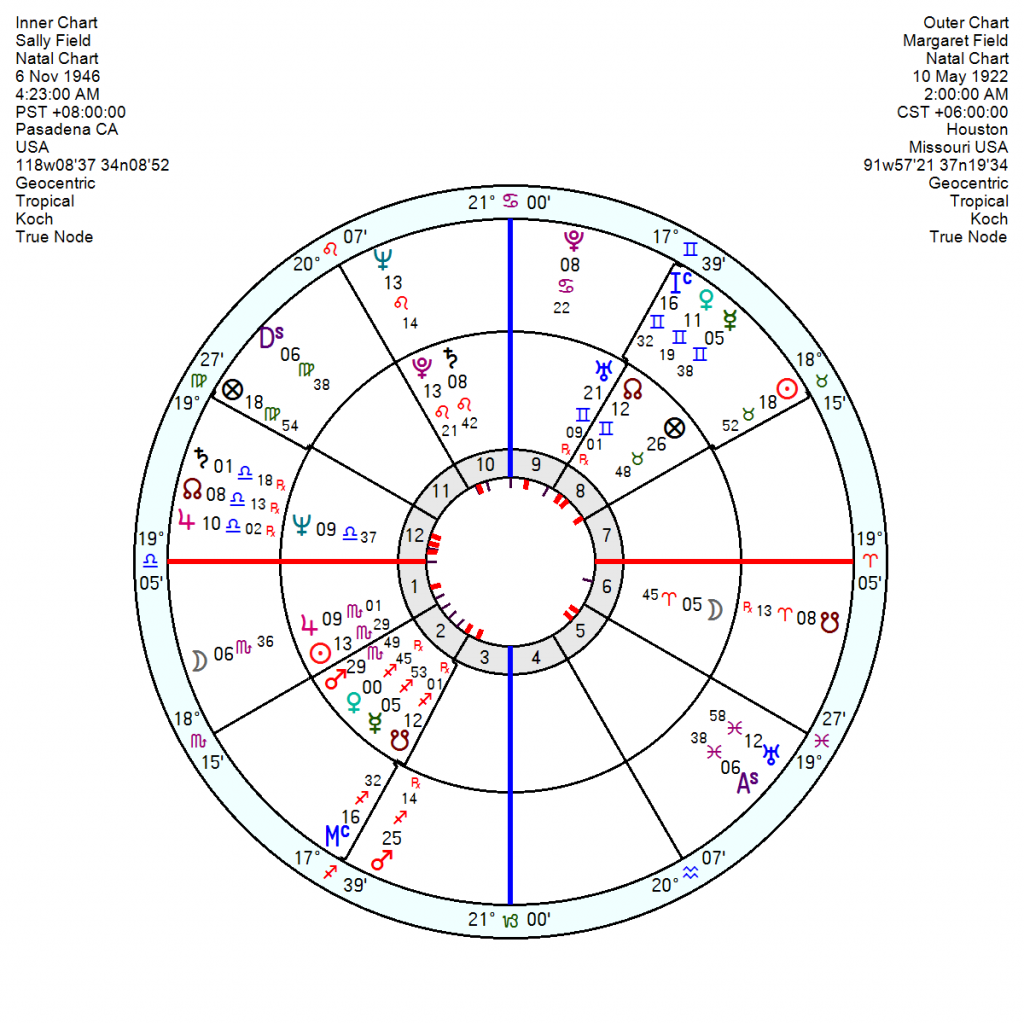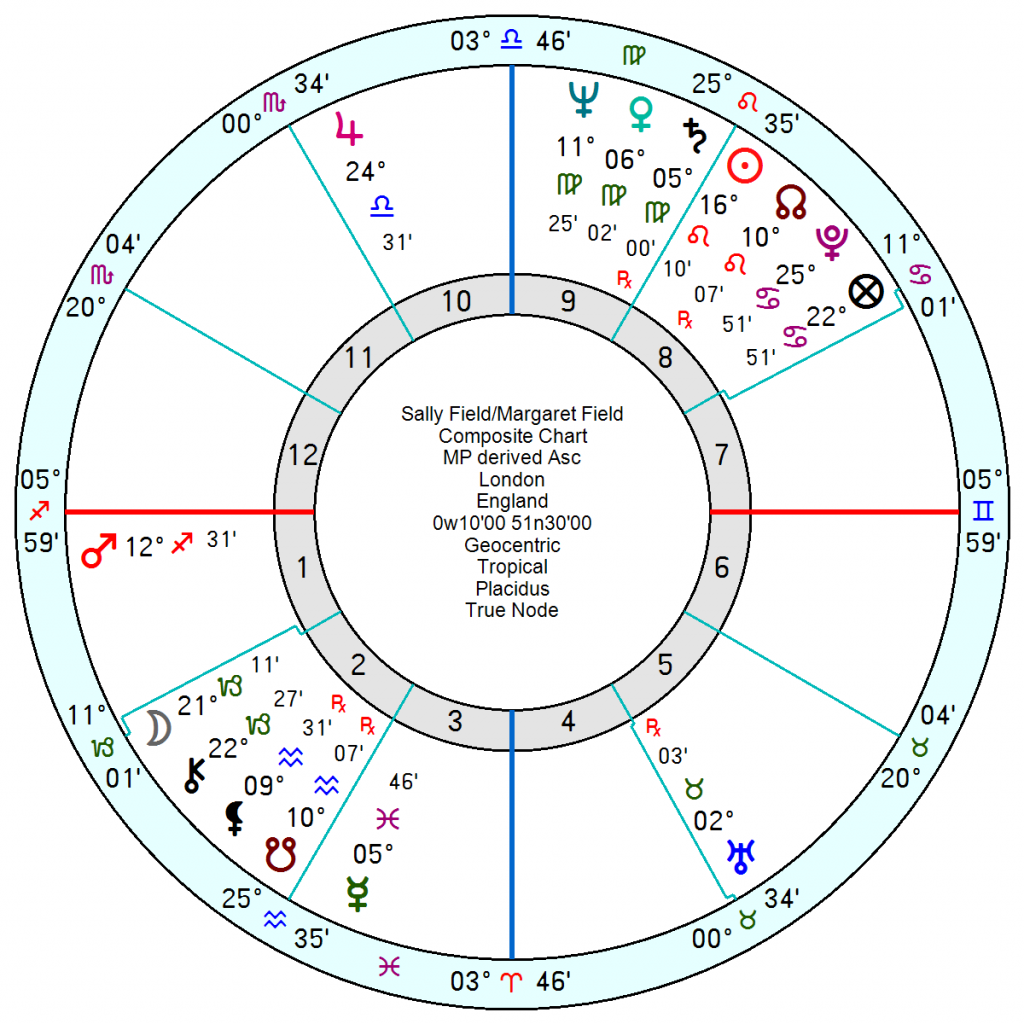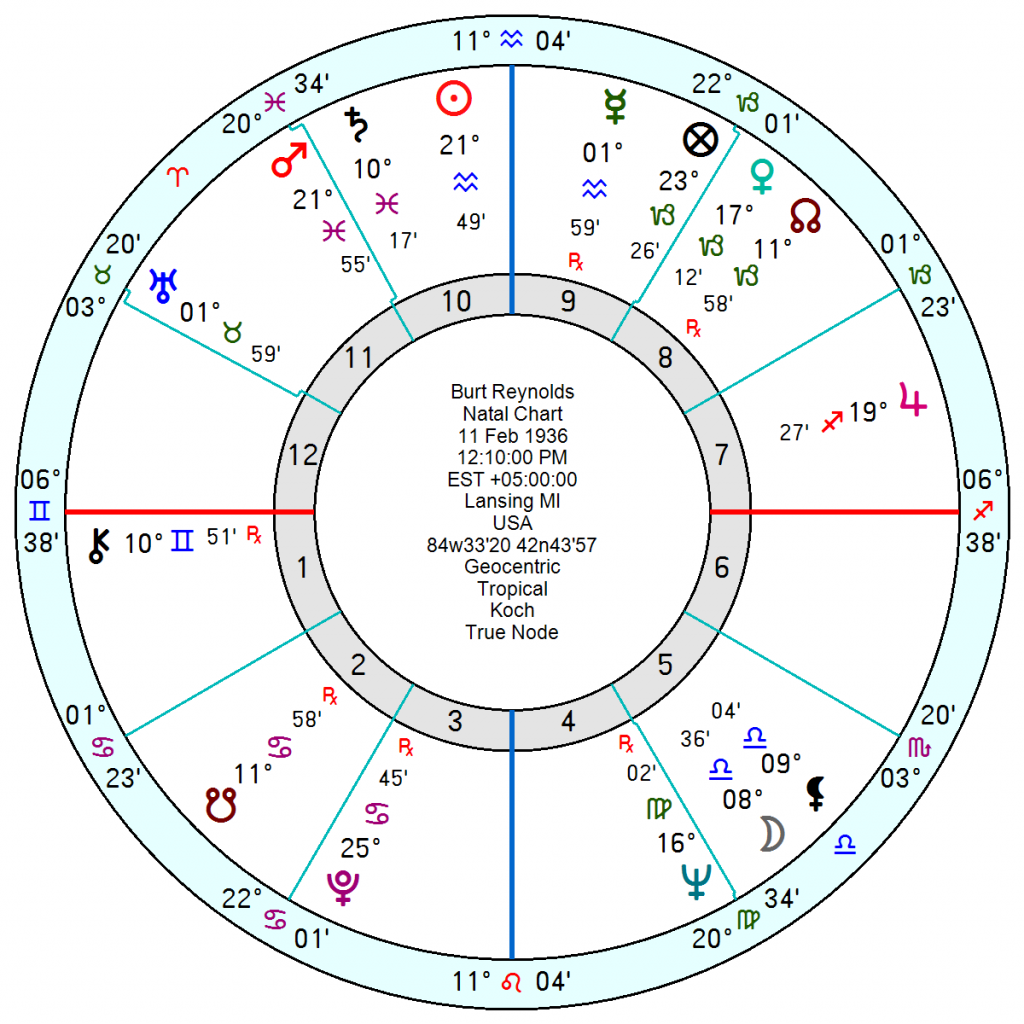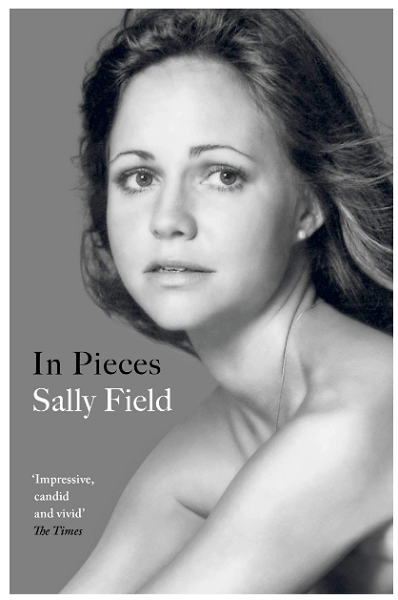 Actress Sally Field was given the Screen Actors Guild (SAG) lifetime award at their recent annual gig to add to her shelf-full of two Oscars, two Golden Globes, three Emmys, a Tony and two BAFTAs. She is known as talented, meticulous and not always easy to work with. But her comment that 'easy is overrated' when accepting this recent gong gave a hint about her approach – as well as reflecting a harsh truth about her life.
  She was born 6 November 1946 4.23am Pasadena, California to a father who left when he discovered his wife was pregnant by another man. Her mother was an actress with a drink problem who in later years knowingly allowed her stepfather to abuse her for years. Sally started in television roles at 20 and, as with Jane Fonda, found her stride after meeting the acting coach Lee Strasberg.
  Her much publicized relationship with actor Burt Reynolds was a nightmare – he took hysterical fits if she tried to talk about herself, refused to allow her to pick up her Emmy for Sybil and tried to prevent her playing Norma Rae for which she won an Oscar.
She is a Sun Jupiter in Scorpio square Saturn Pluto in her 10th, fitting her for tortured and bleak roles like Sybil. Her Aries Moon opposes Neptune and trines Mars in last degree Scorpio, Venus, Mercury in Sagittarius – which is a hugely complex relationship to her mother – Neptune addictive, Mars angry, Venus affectionate. Her Sun square Pluto and Saturn would attract her to controlling partners who suppressed her self-worth. Just as well she had Jupiter on hand to give her some buoyancy or she'd have sunk.
Her Uranus is unaspected which so she would have difficulty finding an outlet for her rebellious spirit, or it would surface sporadically then disappear.
Burt Reynolds always was a monstrously bad fit for her, although with her history of childhood abuse, not too surprising, 11 February 1936 12.10pm Lansing, MI – a Sun Aquarius like her abusive stepfather.
His controlling Pluto was conjunct Sally's midheaven so he would want to dominate; with his Mars in trine giving him a ruthless streak. Their relationship chart has a horrific composite Mars trine Saturn Uranus trine Neptune, with Saturn Uranus opposition Jupiter. Showbizzy from Mars Neptune, looked successful from a driving Jupiter, autocratic and high-tension from Saturn Uranus, cruel from Mars Saturn Uranus.
  Her relationship with her mother, born 10 May 1922 2 am Houston, Texas, a Sun Taurus square Neptune with a controlling 5th house Pluto was another kind of bad with her mother's evasive Neptune conjunct Sally's Saturn Pluto; and her mother's Saturn Jupiter in Libra square Pluto in hard aspect to Sally's Moon and Neptune – cold, rejecting, sugary-sweet at times, possessive/controlling and very very confusing. Their relationship chart also has a cruel, cold composite Mars square Saturn, Mercury, Venus, Neptune.
Poor kid, it's a miracle she emerged with any sanity intact.
Her creative, get-it-together 5th harmonic is strong; as is her artistic 7H; and her actresses' 15H.
   What intrigues me – at the risk of setting off a firestorm – is her Saturn Pluto in her 10th. I know a couple of people with this personally and it is not easy to handle or reflective of a harmonious mother relationship. It also appears in Archie Mountbatten Windsor's chart, Harry and Meghan's son. And was one of the things which set off alarm bells in my head about the sugary sweet Meghan. A Saturn Pluto mother is cold, hard, controlling – certainly induces a strong work ethic in the child who is landed with it, which is no bad thing, but at the cost of emotional nurturing.